The 5 Best Dairy Free Meal Replacement Shakes in 2023
Lactose intolerance is a serious issue that affects 75% of the world's population. Despite the prevalence of it and the discomfort it causes, healthy dairy-free meals might be hard to find.
That's where the best dairy-meal replacements will be able to help you. They are an easy solution for a healthy meal on the go, at the office or at home.
While finding the top dairy-free meal replacements shouldn't be hard, you might often find shakes filled with artificial ingredients, as well as, generally low-quality products. That is why I have personally tested over 55 different dairy-free shakes and compiled a list of the best here.
I have taken into account the quality of the ingredients, the completeness, source of protein, and of course the taste and texture of the shakes. This list of the top dairy free drinks is the honest result of all the testing carried over the last two years.
Our Top Dairy-Free Meal Replacement Shakes
Best Dairy-Free Meal Replacement Shake in the US: Lyfefuel Daily Essentials
Best Value: Rootana
Best Dairy-Free Meal Shake for Weight Loss: Instant Knockout Complete
Best Dairy-Free Shake in Europe: Vegan Complete 360 Meal
Best Dairy-Free RTD: Orgain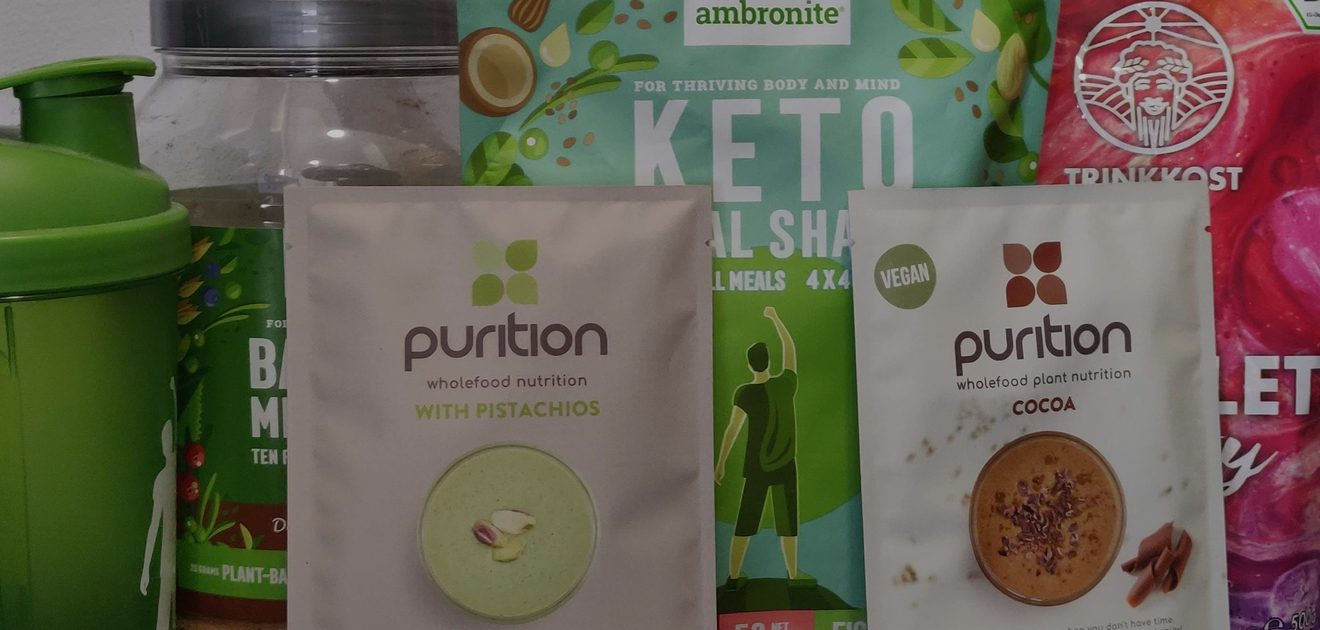 ---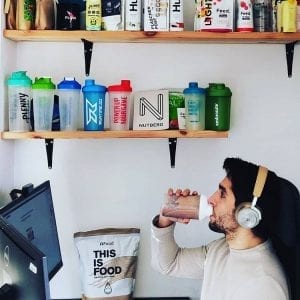 Meet the Expert
I'm Enaut, the owner of Latestfuels and I dedicate my life to testing all the meal replacement shakes in the market.
Over the last two years, I've been lucky enough to convert my passion into my job. I care about the details and I try to provide the finest information to the readers. Then, you can feel safe with the choice that you make.
Enjoy your meal shake!
---
The Best Dairy-Free Meal Replacement Shakes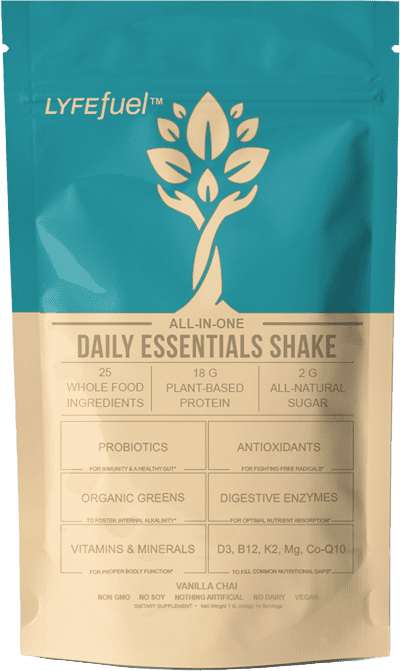 Pros
The best US based dairy free shakes
High quality ingredients
No artificial sweeteners, no artificial flavours, no soy, no dairy, no gluten
Includes probiotics and prebiotics
Cons
Price higher than the average shake
Only original flavour available
Fails to provide all micronutrients
It's hard to find a meal replacement shake that's as complete as LyfeFuel's Daily Essential. This dairy-free meal shake has quickly become one of our favorites.
What's so great about LyfeFuel? Well, it's just fully plant-based, but it's also made with real food ingredients only and with the aim of providing you with as many nutrients as possible. In fact, when I spoke to the founder of the company he stated that he was looking at providing nutrients people were lacking, instead of those that we have in abundance.
Consequently, LyfeFuel's Daily Essentials is a low calorie shake (110kcal), but with 18g of protein, tons of fiber, prebiotics, antioxidants, and rich in key vitamins. For instance, each serving provides you with extra vitamin B12 (often lacking in plant-based diets), vitamin D and vitamin K2.
On top of that, the shakes are really tasty, so it's really the perfect dairy free shake to boost your health.
Nutrition
| | | |
| --- | --- | --- |
| per serving | LyfeFuel | DV (%) |
| Energy (C/P/F) | 19/65/16 | – |
| Energy (kCal) | 110 | 5 |
| Fats (g) | 2.0 | 3.0 |
| Saturated (g) | 0.5 | 1.0 |
| Carbs (g) | 6.0 | 2.0 |
| Sugars (g) | 3 | |
| Fiber (g) | 1.0 | 4.0 |
| Protein (g) | 18.0 | 36.0 |
| Sodium (mg) | 295 | 13.0 |
---
Pros
Best Value shake
Vegan, soy free, non-GMO
No artificial sweeteners, no stevia
Best tasting Chocolate shake
Rootana is a new meal replacement brand that has blown me away. They do dairy-free meal replacement shakes that have no artificial sweeteners nor stevia.
This is a really welcome addition, since many meal replacement shakes contain artificial flavorings and/or sweeteners that add a chemical flavor to the shakes.
Consequently, Rootana's dairy-free shakes have a super delicious clean taste, that doesn't leave any weird aftertaste in your mouth. I truly enjoy having them.
But it's not all about the taste! They also offer you an incredibly healthy meal shake that can go toe-to-toe with the best meal replacement shakes but for half the price!
As such, I think that Rootana offers incredible value and it's definitely a shake to try!
Nutrition
| | | |
| --- | --- | --- |
| per serving | Rootana | DV (%) |
| Energy (C/P/F) | 46/21/33 | – |
| Energy (kCal) | 400 | 20 |
| Fats (g) | 13.0 | 17.0 |
| Saturated (g) | 2.0 | 10.0 |
| Carbs (g) | 44.0 | 16.0 |
| Sugars (g) | 12 | |
| Fiber (g) | 8.0 | 29.0 |
| Protein (g) | 21.0 | 42.0 |
| Salt (g) | 0.7 | 12.0 |
---
3. Instant Complete
Best Weight Loss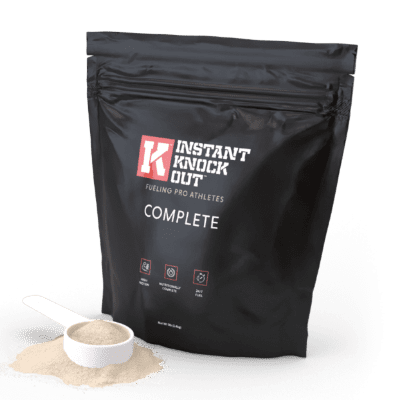 Pros
Made in the US, fast shipping
Vegan, soy free
35g of protein per serving, 13g of fibre
Very filling and keeps you energized for hours
With CUT can lose weight more rapidly
Extra vitamin D, chromium and vitamin A
Instant Knockout Complete has been designed to help you lose weight while maintaining lean muscle mass. That's why it's packed with 35g of plant-based protein (pea and brown rice protein) and 13g of fiber. These two ingredients (among others) help you stay full for longer.
Unlike other dairy-free weight loss shakes that simply cut calories and also use subpar ingredients, Complete does not cut any corners. It will still provide you with all nutrients you need, including essential omega-3 fatty acids and significant levels of vitamins and minerals. Plus, you won't see any syrups or filler ingredients in the list.
On top of that, if you want to accelerate your weight loss, you can try CUT at a 25% discount when buying together with Complete. According to Instant Knockout, this thermogenic booster will kill your hunger cravings, accelerate your metabolic process and help you burn calories. Worth a try.
Nutrition
| | | |
| --- | --- | --- |
| per serving | Complete | DV (%) |
| Energy (C/P/F) | 45/35/20 | – |
| Energy (kCal) | 400 | 20 |
| Fats (g) | 13.0 | 17.0 |
| Saturated (g) | 10.0 | 50.0 |
| Carbs (g) | 35.0 | 13.0 |
| Sugars (g) | 3 | |
| Fiber (g) | 13.0 | 45.0 |
| Protein (g) | 20.0 | 40.0 |
| Salt (g) | 1.1 | 18.0 |
---
4. Vegan Complete 360 Meal
Best in EU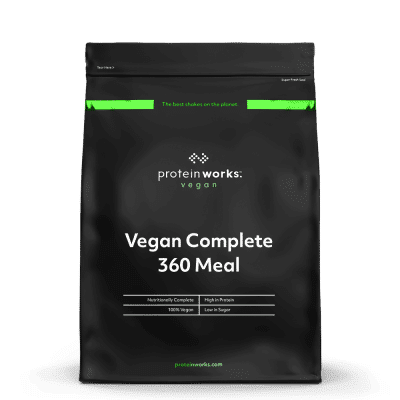 Pros
Tons of high quality protein
Free of lactose, maltodextrin and added sugar
30g of protein, high in fibre and low in sugar
Excellent taste
Very affordable, particularly when making use of discounts
Cons
Only 3 flavours to choose from
US needs to buy from GBP shop
Complete 360 meal is the real deal; one of the healthiest shakes as well as the tastiest that you can buy. On top of that, thanks to the fantastic discounts, you can get each meal under $1.5.
When it comes to nutrition, Complete 360 meal is a vegan shake, with a custom blend of pea, rice and hemp protein to provide you with a complete amino acid profile. Besides this, it's a low-sugar, high fibre and high-protein shake. A filling and satisfying shake that makes you feel good.
Lastly, there's the taste. These are mouthwatering shakes, particularly Double Milk Chocolate. Without a doubt, one of the best chocolate shakes you can buy.
Enjoy free shipping to the US for orders over $100. For Europe and the UK this requirement is even lower.
Nutrition
| | | |
| --- | --- | --- |
| per serving | Complete360 | RI (%) |
| Energy (C/P/F) | 46/30/24 | – |
| Energy (kCal) | 400 | 20 |
| Fats (g) | 11.0 | 19 |
| Saturated (g) | 1.3 | 6.5 |
| Carbs (g) | 45.0 | 17 |
| Sugars (g) | 1 | 1 |
| Fiber (g) | 10.0 | 35 |
| Protein (g) | 30.0 | 60 |
| Salt (g) | 0.3 | 5 |
---
5. Dare Motivation
Best UK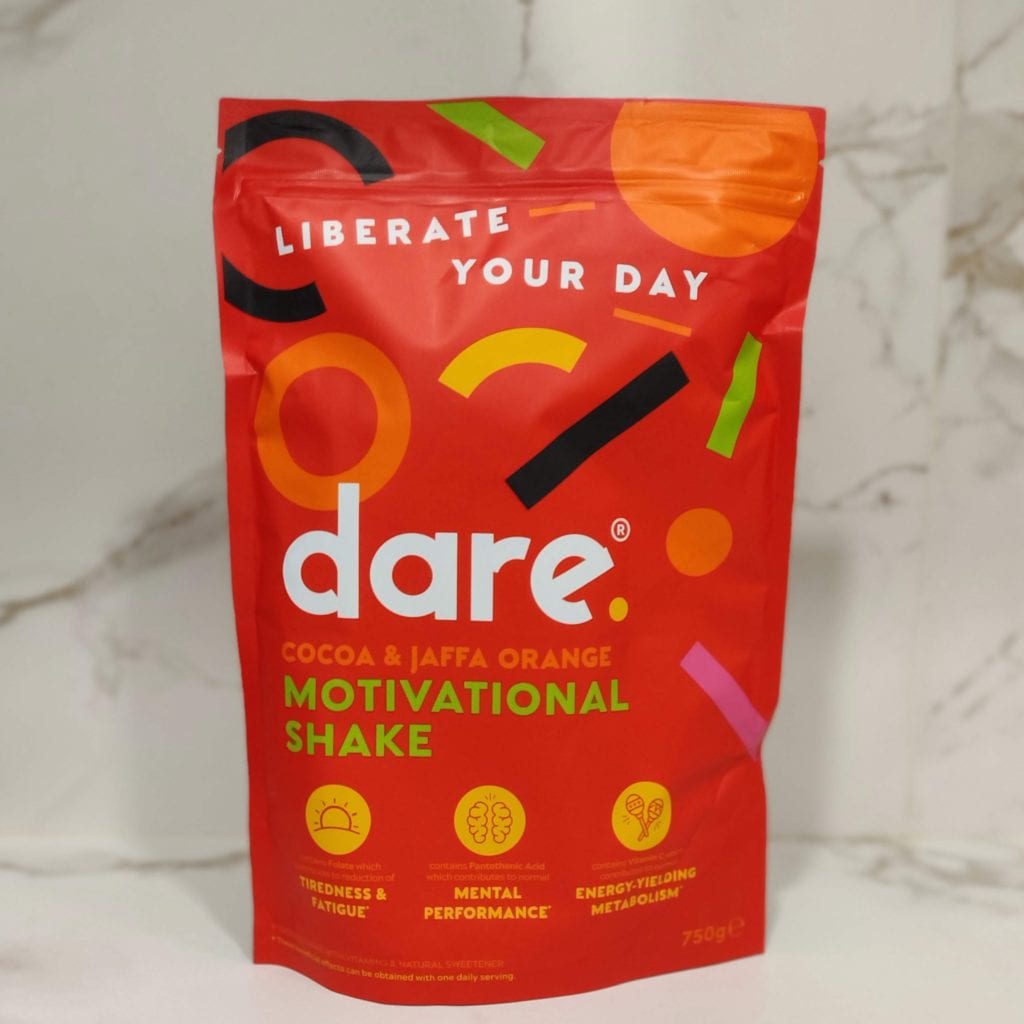 Pros
No dairy, fully plant based, non-GMO, gluten free
All 3 flavours are incredibly tasty; in particular Cacao & Vanilla Frosting
216kcal per serving, only 2.4g of sugar, plenty of fibre and 20g of protein
Affordable
Cons
Only available in the UK
All flavours are cacao based
After having tried so many plant-based meal replacements, very little suprises me now. However, Dare Motivation shakes provided me with and excitement and enjoyment, I could have not guessed. They were wonderful.
That's why I put Dare in my best dairy-free meal replacement shake list. Despite being a small company, and only delivering in the UK, I think they are worth a try if you live there.
Firstly, the shakes are delicious. My favourite was Cacao Vanilla Frosting. I would recommend letting it sit for 15-30min if you like a thicker shake, and drink it as soon as you prepare it if you like it thinner.
Secondly, nutritionally they are very well rounded. While 216kcal are closer to a snack – I do double servings; might do well if you are looking to lose some weight in 2022 or you have smaller caloric needs (e.g. not active women).
Thirdly, I think they are rightly priced. They are not the cheapest shakes you can buy, but for less than £2 you can enjoy a meal.
Nutrition
| | | |
| --- | --- | --- |
| per serving | Dare | RI (%) |
| Energy (C/P/F) | 40/37/23 | – |
| Energy (kCal) | 216 | 10 |
| Fats (g) | 5.7 | 8 |
| Saturated (g) | 1.0 | 5 |
| Carbs (g) | 13.0 | 5 |
| Sugars (g) | 2.4 | 3 |
| Fiber (g) | 9.6 | 48 |
| Protein (g) | 20.0 | 40 |
| Salt (g) | 0.22 | |
---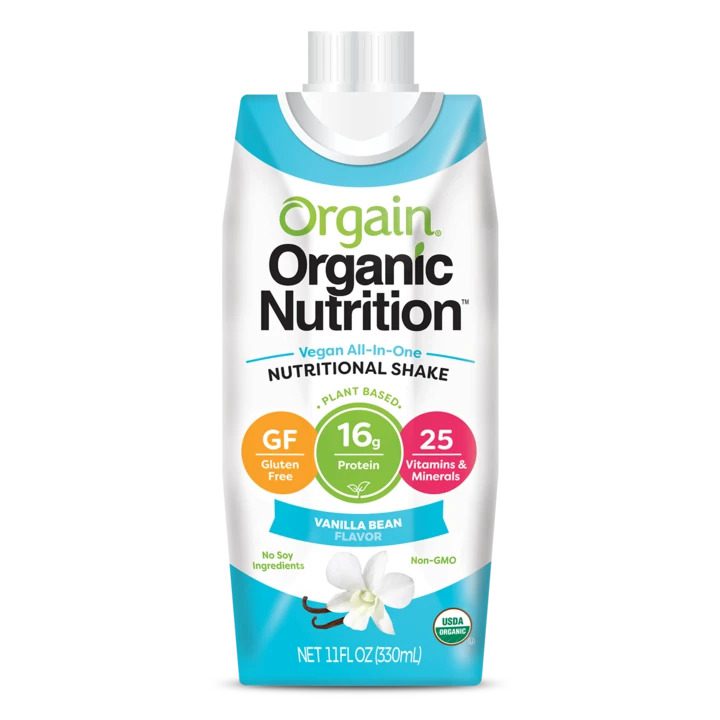 Pros
Organic, gluten free, soy free
Easy to drink and convenient RTD format
Lower calorie shake: 220kcal, good for weight loss
25% subscription discount- loyalty reward
Cons
Only 2 flavours to choose from
Just available in the US
If you are looking for an organic dairy-free meal replacement, Orgain is the ideal brand for you. They specialize in USDA organic-certified nutritional products with top-quality ingredients.
Their nutritional shake comes with all you need, including 25 vitamins and minerals, 16g of protein per shake (pea and chia blend), and all the essential fats. Unfortunately, this drink is quite high in sugar (10g per serving), but on the flip side it contains no artificial sweeteners.
Enjoy one of the 2 flavours that they offer (Smooth Chocolate or Vanilla Bean) in the convenient RTD format that allows you to get your meal no matter where you are.
Get 10% off with the code LATEST!
Nutrition
| | | |
| --- | --- | --- |
| per serving | Orgain All in One | DV (%) |
| Energy (C/P/F) | 47/21/32 | – |
| Energy (kCal) | 250 | 13 |
| Fats (g) | 7.0 | 9 |
| Saturated (g) | 1.0 | 5 |
| Cholesterol (mg) | 20 | 7 |
| Carbs (g) | 32.0 | 12 |
| Sugars (g) | 11.0 | 22 |
| Fiber (g) | 2.0 | 7 |
| Protein (g) | 16.0 | 32.0 |
| Sodium (mg) | 260.0 | 11 |
---
Looking for a Dairy Free Protein Powder?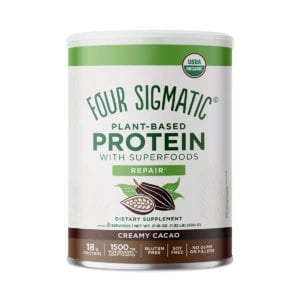 Four Sigmatic Protein – Best US
Organic, plant-based, soy free, natural
18g of dairy free protein: Hemp, pea, chia, pumpkin
Great taste and smoothness – no artificial flavouring
Reduces fatigue and helps you with energy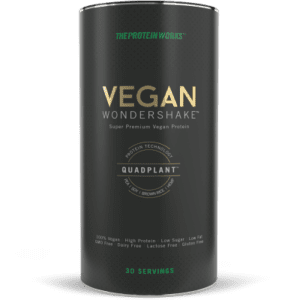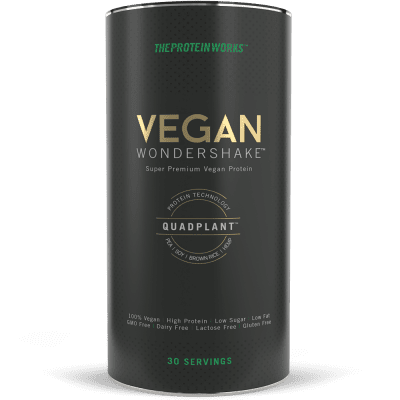 WonderShake – Best Tasting
Dairy-free, gluten free
21g of protein, and only 89kcal
Best tasting protein shake I've tried; start with Cookies N' Cream
Quadplant blend: soy protein isolate, pea protein isolate, hemp and brown rice protein
Why Go Dairy Free?
As mentioned at the start, it might not even be a choice. 75% of the world's population lacks the ability to digest lactose (the main component in milk), which causes discomfort. These might be bloating, gas and abdominal cramps.
Nevertheless, it can also be a personal choice to stop eating or drinking dairy. One of the main reasons for that is to reduce the environmental impact that each of us has, since the dairy industry is one of the biggest sources of CO2 contamination.
What Are the Issues Going Dairy Free?
No matter your reasoning behind removing dairy from your diet, you need to make sure you are getting high-quality protein. In fact, many of the best protein sources come from milk: whey protein, milk protein and casein, namely. These are complete sources that provide you with all the essential amino acids that your body needs. Not only that, but they have some of the highest absorption rates, making them the gold standards of protein sources.
Plant-based proteins, on the other hand, often lack some essential amino acid. For instance, pea protein is low in methionine. One of the few complete sources is soy protein isolate. Otherwise, manufacturers tend to mix two different proteins to make it complete, such as pea and rice protein.
Looking at this is important and has been one of the points that I have looked at when deciding which were the best dairy-free meal replacement shakes.
What Other Factors Have I Looked At?
Besides the above mentioned, there are other important factors to take into consideration when looking at the best lactose-free meal replacements:
Taste and texture. Obviously one of the most important factors is how palatable the shakes are. Luckily, I have tried over 75 shakes over the past two years, and I have been able to find out which ones are best. Even if taste can be very subjective, I found out that people tend to agree with my recommendations.
Use of whole ingredients. Many meal replacement manufacturers tend to use more processed ingredients in order to save money. While they do deliver the essential nutrients, the matrix in which they are delivered is lost. Plus, you might lose important compounds like antioxidants that have key roles in a healthy diet.
Price. Needless to say, this is often one of the deciding factors for most consumers.
Extras. Some brands go beyond providing you with the essential nutrition and add probiotics, antioxidants, prebiotics, lack of added sugars…
Conclusion: The Best Dairy Free Meal Replacement Shakes are
… probably Lyfefuel and Instant Knockout. They both have a great balance of high-quality ingredients, while providing you with most of your body needs (macro/micronutrients).
However, there are plenty of great dairy-free meal replacement shakes, as shown in this list. Luckily, the complete food market has made a bet on vegan shakes and most brands are trying to avoid animal-derived ingredients, such as dairy.