Dare Motivation Review | Great and Exciting Meal Replacement Shakes
This is the Dare Motivation review, where we will have a look to this motivational meal replacement shakes from the UK. In fact, Dare is quite a quirky brand; with very colorful branding, and unique flavours. For instance, they have Cocoa & Jaffa flavoured shakes. Sounds pretty exciting, doesn't it?
Without further ado, let's have a look to Dare shakes and find out if they are as tasty as they sound.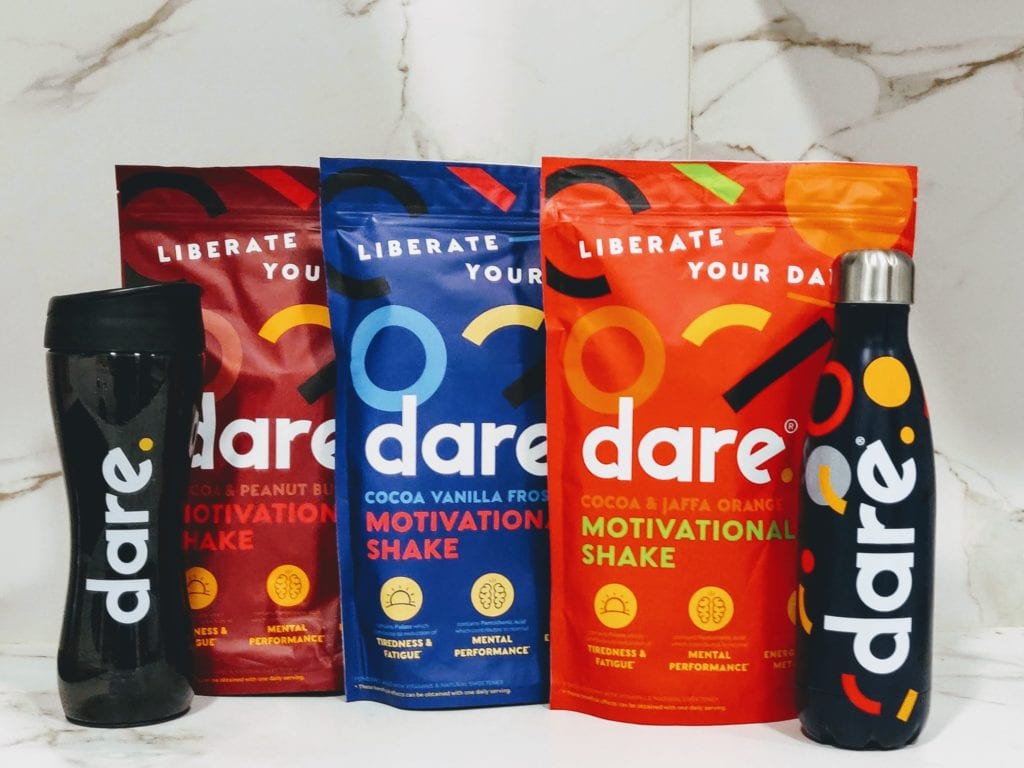 ---
Dare Motivation Review at a Glance
Flavours: Cocoa & Jaffa Orange, Cocoa & Peanut Butter, and Cocoa Vanilla Frosting.
---
Opinion
Summing up the experience from this Dare Motivation review, I must say that I was very positively surprised with their vegan meal replacement shakes.
In fact, having tried hundreds of products, there's little that surprises me; and Dare did this both nutritionally and taste-wise. Furthermore, I think that the unique mouthwatering taste of their shakes is their biggest strength.
Plus, I also really enjoyed their colourful and playful branding; even though some choices (like the shaker) seemed to be done for the looks, instead of the functionality.
As such, if you are willing to pay a little extra (when compared to main stream powders), you will be able to get a wonderful meal replacement with Dare.
What I like
1. Quirky flavours, but absolutely mouthwatering. Starting from Cocoa Vanilla Frosting, I think all three are among the best tasting shakes I've tried.
2. Different ingredients. Not fully, but the mix of proteins is certainly unique; and I believe helps the flavour a lot.
3. High in protein, low in sugars, and high in fibre. Plus, they add probiotics and greens to boost the nutritional intake.
4. Branding. There's almost no other brand like Dare. Colourful, fun and emotional.
5. 100% of the recommended intake for vitamins, and minerals. Certainly, I love how nutritious (besides just macros) these shakes are.
6. Gluten free, vegan, and free of artificial sweeteners.
7. Free UK shipping.
What I dislike
1. The free shaker is not functional. Even though it might look cool, I found it not very practical, and I stopped using it after the second time.
2. Thin shakes. I personally enjoy thicker texture. Having the shake rest for 30 minutes to 1 hour did help a lot, though.
3. All flavours are cocoa based. I love them, but it would be cool to see something else.
4. The zip in the bags is not great.
5. Price can be expensive at low volumes.
6. Scoop can be quite inaccurate. This is the case for most meal replacements, but 2 scoops varied from 38-45g for me most of the time (below the 50g serving). I would recommend using a scale.
Improvements
1. Expand to the EU. Unfortunately, Dare is only available in the UK, for now.
2. New free shaker.
Nutritional Breakdown
When it comes to nutrition, Dare shakes are plant-based meal replacements, high in protein and filled with nutrients. Not only that, but they are also gluten-free, and without any artificial sweeteners.
Thus, generally speaking, Dare Motivation shakes are healthy drinks that aim to boost your nutritional intake. In order to do so, they also add active ingredients (matcha green tea, green tea extract), greens (alfalfa, kale…), and probiotics.
Dare Motivation Nutrition Overview
| | |
| --- | --- |
| | Dare Shakes |
| Kcal/meal | 216 |
| Macros (C/F/P) | 40/37/23 |
| Vegan | Yes |
| Keto | No |
| Features | GF |
| Non-GMO | Yes |
| Organic | No |
| Includes Probiotics | Yes |
| Artificial Sweeteners | No |
| Synthetic Additives | Yes |
| Contains All Micronutrients | Yes |
| Controversial Ingredients | None |
Based on Cocoa & Jaffa Orange.
SOYBEAN Protein Powder, Cocoa Powder (Sunflower Lecithin) (20%), Flaxseeds Powder, Tapioca Fibre, Gluten Free OATS, Orange Powder (6%), Organic Toasted Pumpkin Seeds Powder, Organic Sunflower Protein Powder, Botanical Blend: Maca Root Powder, Turmeric Root Extract, Green Tea Extract, Matcha Green Tea, Acai Berry Fruit Extract, Alfalfa Powder, Kale Leaf Powder, Spinach Powder, Organic Brown Rice, Pink Himalayan Salt, Micronutrient Blend*, Sweetener: Steviol Glycosides (Stevia Leaf Extract), Lactobacillus Acidophilus.
Carbohydrates
Based on 216kcal serving:
Total Carbs: 13.4g, 5% of RI.
Sugars: 2.4g, 3% of RI.
Of which added: 0g.
Fibre: 9.6g, 48% of RI.
Looking at the numbers, it's remarkable how rich in fibre Dare Motivation shakes are. This is a positive sign, due to the general lack of fibre in Western diets and the beneficial properties this has. In fact, a high fibre diet might help reduce risk of diabetes, keep cholesterol low among other things.
That said, overall Dare shakes are relatively low in carbohydrates, and the gluten-free oats are the 5th ingredient in terms of volume.
Protein
Per 216kcal serving:
Total Protein: 20g, 40% of RI.
Source: soybean protein powder, organic toasted pumpkin seeds, organic sunflower protein powder, and organic brown rice.
First off, it must be noticed that this is a plant-based protein mix. Secondly, it's worth saying that the sources are pretty uncommon in the meal replacement industry. Not only because of the quantity (usually 1-2 protein sources), but because of the essence, too.
For instance, while soy is a common source, it's usually use in its purest form, soy protein isolate instead of soybean powder. While the first is more pure, Dare believes the second to be healthier.
Besides, the rest of the sources are uncommon because on their own they have low absorption and incomplete amino acid profiles. However, in conjunction, they are a fine way to get some good plant/seed protein.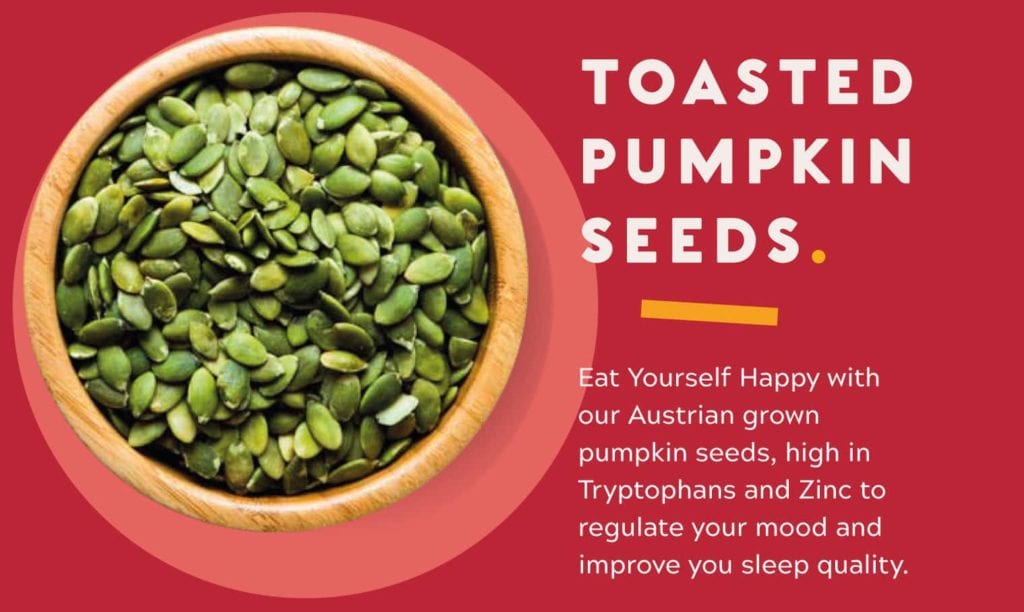 Fats
Per 216kcal serving:
Total Fats: 5.7g, 8% of RI.
Saturated Fats: 0.9g, 5% of RI.
Omega-3s (ALA): 2.1g.
Omega-6s: ?g.
The main fat source is flaxseed powder, which is reach in essential omega-3 oils. Consequently, each Dare shake provides with 2.1g of omega-3s, which is almost enough for the day.
On the contrary, we don't see other common plant oils that are paired with flaxseed often (sunflower, for instance); nor MCTs. While I wouldn't mind the first, I like that there aren't any unnecessary saturated fatty acids in form of MCTs in Dare.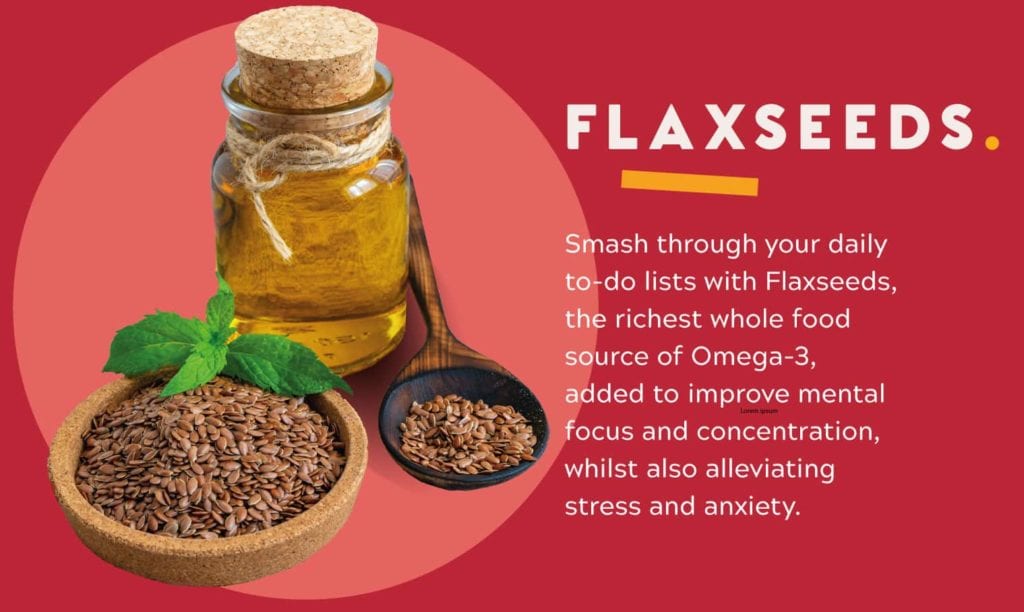 Micronutrients
Another highlight of Dare Motivation drinks is how rich they are in micronutrients. Even though, most brands opt to provide you with 20% (per 400kcal) of the recommended intakes, Dare goes a step beyond and has 100%.
This is true for vitamins, while for minerals is closer to 30% on average.
Although, this is exceptional, I would like to know if there's any K2, vit D3 and other forms of vitamins present in their mix..
Extra Ingredients
Lastly, I would like to mention the green blend that Dare adds to their shakes. It is, in fact, trying to provide you with all the angles, and as such, they have alfalfa powder, matcha green tea, turmeric root and other plants.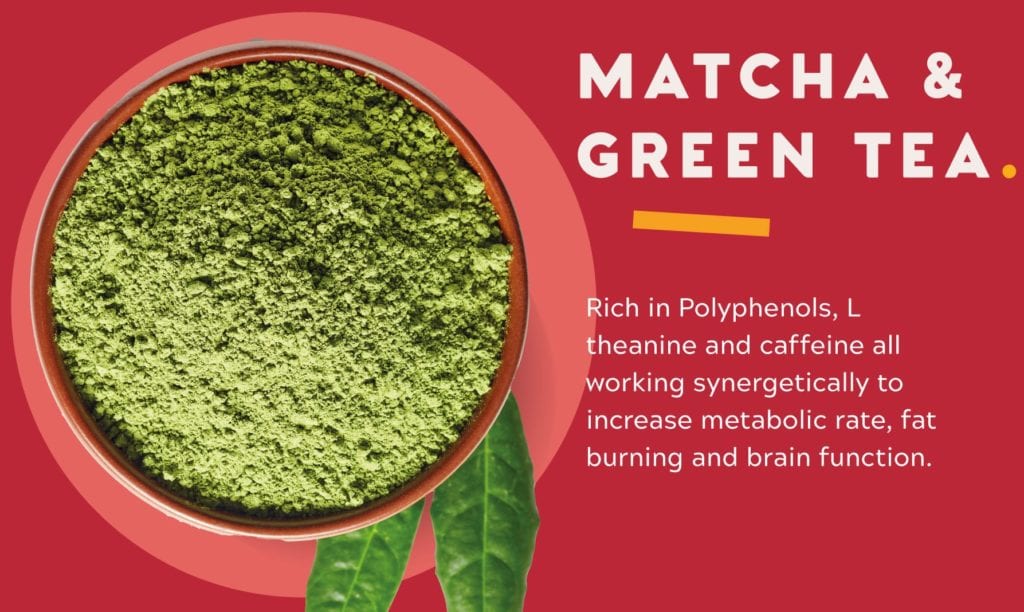 These, in turn, are rich in phytonutrients like antioxidants, adaptogens and other active compounds that boost your health.
Besides, they also add probiotics (Lactobacillus acidophilus) to help you with digestion.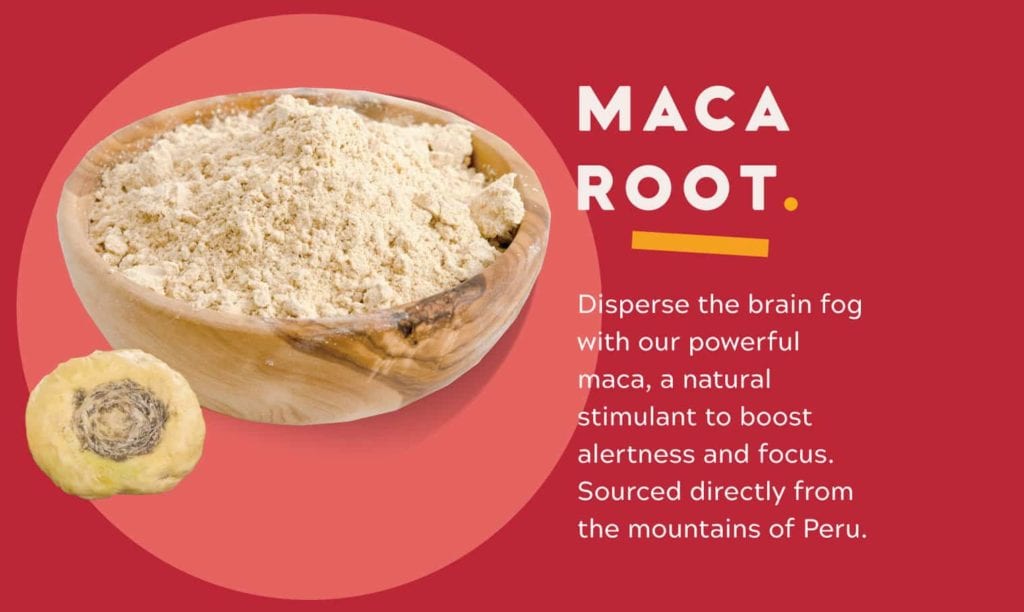 Allergens
Dare Motivation shakes contain soy.
Tasting Test
This British brand has some daring and excentric flavours like the discussed Cocoa and Jaffa Orange. Therefore, from the get-go it was offering a unique proposition.
Luckily, Dare Motivation shakes didn't disappoint, and provide me with an intense and mouthwatering experience. In fact, there's little to dislike, and all three flavours are truly enjoyable.
| | |
| --- | --- |
| Best flavour | Cocoa Vanilla Frosting. |
| Taste | Intense, rich and truly enjoyable. All three shakes are exactly what they say. |
| Texture | Thinner than most shakes, although with no bits. The only one that has a slightly sandy texture is Cacao Peanut Butter, due to the roasted peanuts |
| Easy to Mix | Mixes great. |
| Satiety | A 200kcal serving did OK keeping me full for 2h, but I usually opted for a double serving to keep me going for longer. |
| Easy to Clean | Generally easy to clean, although the provided shaker is awful to wash up. |
| Afterthoughts | These shakes are sweet, but clean. They go down nicely, and they do so by providing you a wonderful experience. |
Pro-tip: If you like the shakes a little thicker I highly recommend you leaving the drink settle for 1-2h before consumption. It becomes a godlike drink afterwards.
What's the Best Flavour?
As mentioned above, I found all three flavours truly enjoyable, and remarkably different from each other, despite cocoa being one of the primary focuses.
Starting with Cocoa and Jaffa Orange, I must agree that this was the most surprising. For those who like Jaffa Cakes, this will be it. The refreshing taste of oranges is very noticeable and gives another dimension to the shake.
Similarly, Cocoa Peanut Butter is a chocolate based shake, with clear hints of roasted peanuts. Despite that, I found this to be the weakest link, with a more grainny texture.
On top of them all, Cocoa Vanilla Frosting. Simply sublime, and one of my favourite shakes that I've tried. Sweet, wonderful like a milkshake.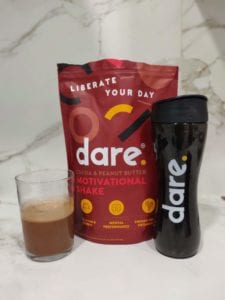 More about Dare Motivation

Learn about Dare Motivation, Review
Behind the scenes, Dare is a small 2 man army: Dr. Ben Hamida and his wife Melissa. This young couple achieves the incredible feat of working 2 full-jobs (including NHS doctor) and taking care of 3 children.
In fact, it was during his long shifts when Dr. Hamida realized he needed an improved form of nutrition. This was the spark that pushed him to develop Dare, a nutritional shake that could fuel him and his colleagues.
Currently, the brand is on their 2nd iteration of the meal replacement shake. The unique style, spirit and branding has given Dare success; and it's starting to make a dent in the UK meal replacement market.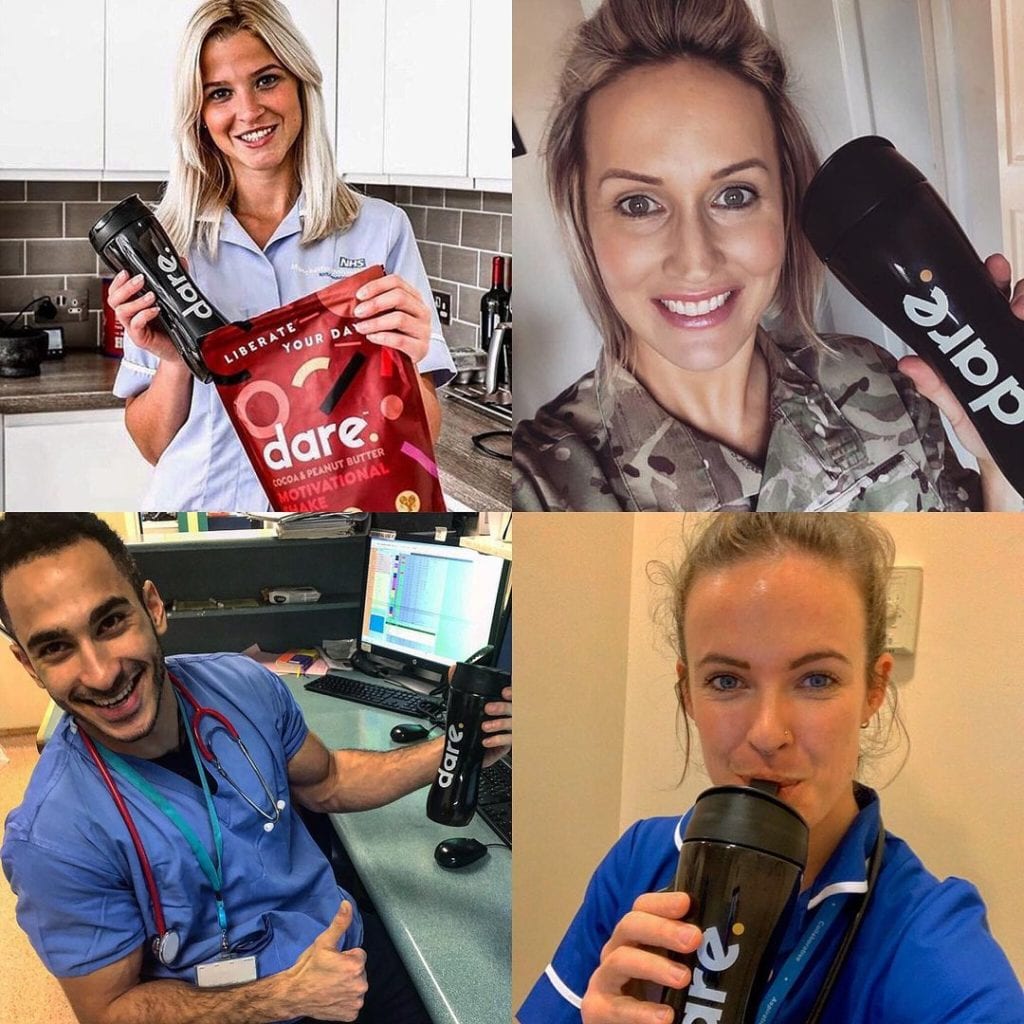 Dare Motivation's Mission
We created the dare Lifestyle Brand to help motivate others to live their best lives and have a bit of fun along the way!

Dr. Ben Hamida
Like mentioned beforehand, Dare is more than just functional food. It's a fun brand with a cool meal replacement product that wants to make eating healthy fancy.
As such, much of the branding is colourful, enticing and, might I say, daring. Consequently, even the website offers a experience quite unique and personal to what other brands do.
Packaging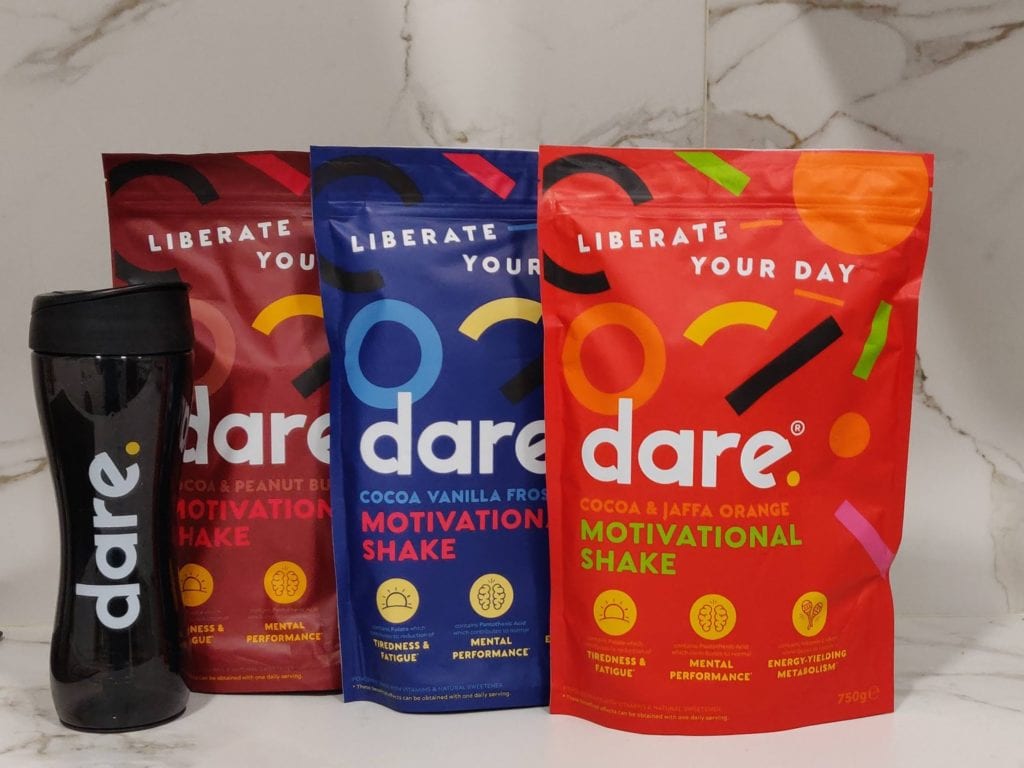 As far as packaging goes, Dare Motivation only offers one size: 15 meal bags (216kcal per meal). It's a good size if you are not a heavy user or you actually plan to use the smaller meals.
They are wrapped in a colourful manner, but do well keeping the product fresh. My biggest issue with the bags is the zip, which is hard to close.
Pricing
Let's come down to the actual facts, though. What's the price of dare shakes? Are there just another fancy overpriced meal shake?
I would say that the answer to that is mainly no. While buying a single bag of Dare is expensive, prices go down fast the more bags you buy. Plus, you can then enjoy 10% of with subscription:
15 Meal bag (750g) –> £3.9/400kcal; £30 per bag.
2x 15 meal bags –> £3.0/400kcal; £49 total.
With subscription (10%): 15 Meal bag –> £3.5/400kcal; £27 total.
| | | |
| --- | --- | --- |
| # of bags | No Subscription | Subscription |
| 1 | £2.00 | £1.80 |
| 2 | £1.63 | £1.47 |
| 3 | £1.53 | £1.38 |
| 4 | £1.47 | £1.32 |
| 5 | £1.40 | £1.26 |
| 6 | £1.38 | £1.24 |
| 7 | £1.36 | £1.22 |
Price per meal (216kcal) for Dare Motivation. Cheapest price is achieved at 12 bags.
Therefore, while certainly is not the cheapest shake in the UK, it's quite affordable for what it offers.
| | | | |
| --- | --- | --- | --- |
| Price (£)/400kcal | Dare | Huel | C360 |
| Expensive | 3.90 | 1.47 | 2.00 |
| Cheap | 2.30 | 1.09 | 1.00 |
Shipping
When we look at shipping, Dare currently only delivers to the UK. However, you will be able to enjoy free shipping in orders above £20 (basically any order).
The Shaker
One of the most unique things about Dare is their free shaker. I've tested hundreds of products, but I've never quite gotten a shaker like what dare offers.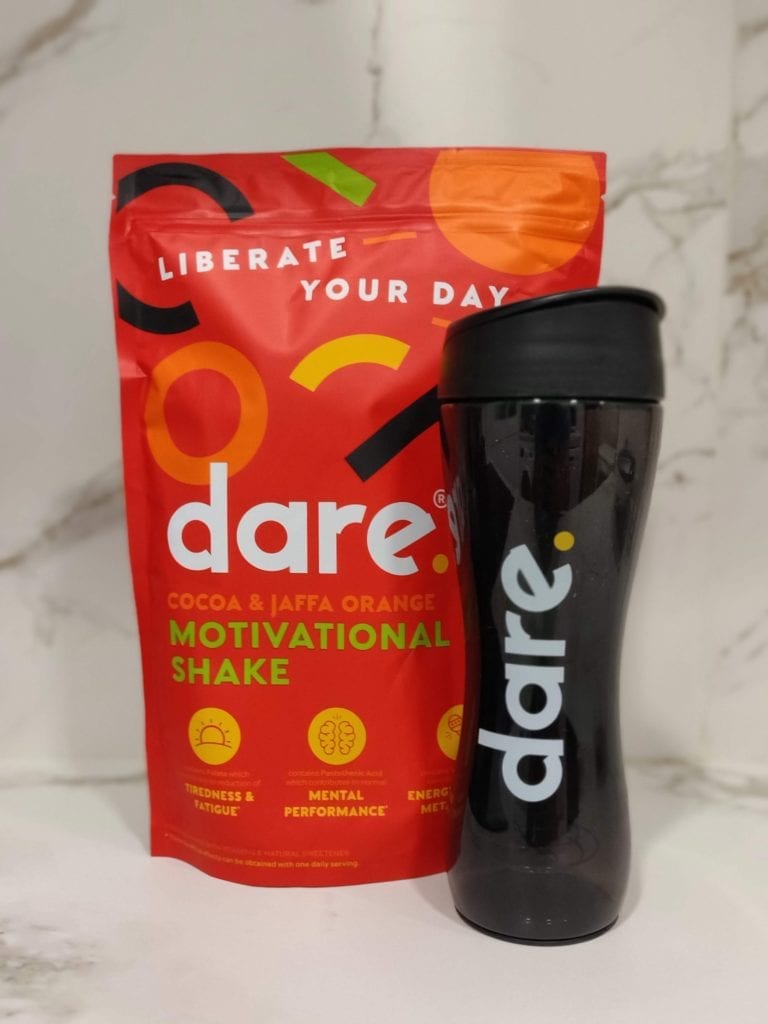 While most of you might notice the shape is different, it's not the only thing that is. The lid, the way of drinking from it and even the mesh (for blending) are.
For starters, it's designed to drink upright, and you suck from a straw (instead of tilting the shaker). Furthermore, the lid has 2 different openings to help you finishing the last bits.
However, in my experience, this shaker is all about looks, but has very little functionality. Blends well, but it's a nightmare to drink from, and I feel that the straw changes the flavour. Plus, it's awful to wash properly.
I will stick to my usual shakers.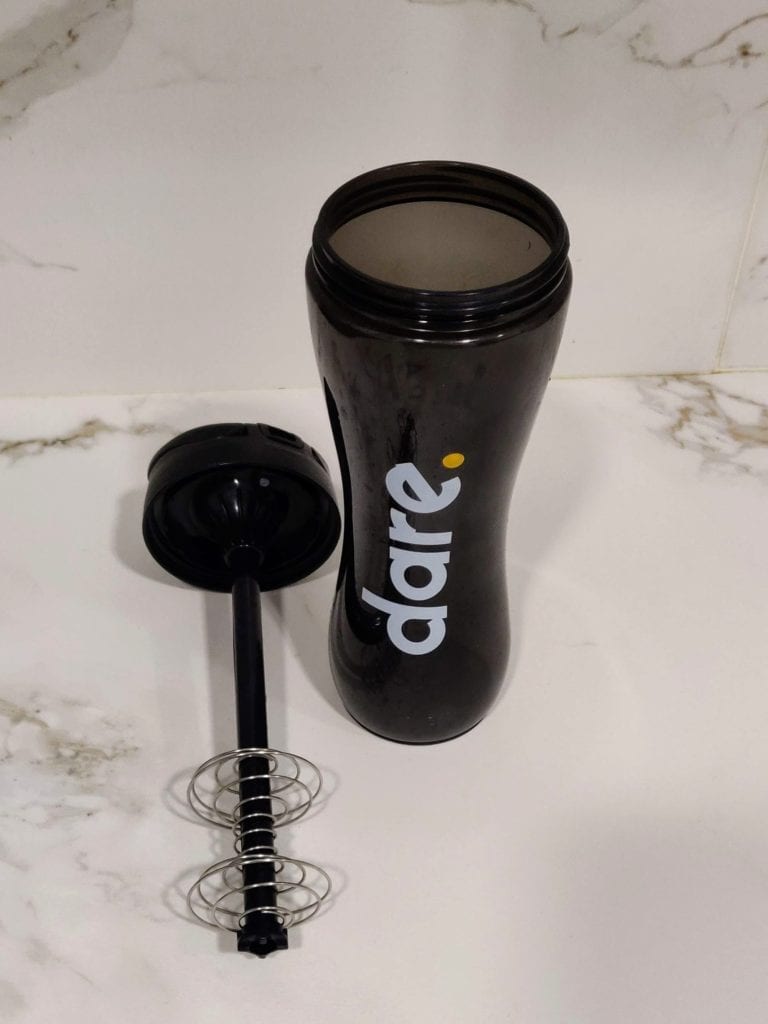 Dare Motivation vs
Beforehand, I've mentioned that Dare Motivation shakes are only sold in the UK. As a matter of fact, this is one of the most competitive markets, where you can find from the best keto shakes, to ready to drinks, bars and all types of complete food.
While it's true that Dare offers a unique angle, with the lower calorie meals, and a funkier style; the competition is still tough.
Overview
| | | | | |
| --- | --- | --- | --- | --- |
| | Dare | Complete 360 | Huel | Plenny |
| price ($)/400kcal | 3.90 | 2.00 | 1.47 | 1.40 |
| kcal/serving | 216 | 400 | 400 | 400 |
| Macros (C/P/F) | 40/37/23 | 45/30/25 | 40/30/30 | 40/20/33 |
| Protein (g) | 20 | 30 | 30 | 20 |
| Sugar (g) | 2 | 1 | 1 | 3 |
| Fiber (g) | 10 | 10 | 6 | 8 |
| Fats (g) | 6 | 11 | 13 | 31 |
| Vegan | Y | Y | Y | Y |
| Organic | N | N | N | N |
| Real Food based | Y | N | N | N |
| Artificial Sweeteners | N | Y | Y | Y |
| Synthetic Additives | Y | Y | Y | Y |
| GMO | N | N | N | N |
Prices shown are most expensive option.
Out of all these, Complete 360 meal also offers a diet version with less calories (207) and a similar macro composition to that of Dare.
Dare Motivation Shakes vs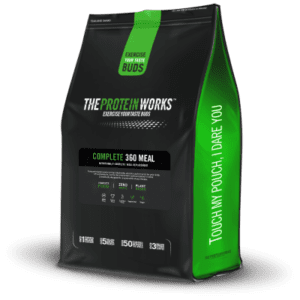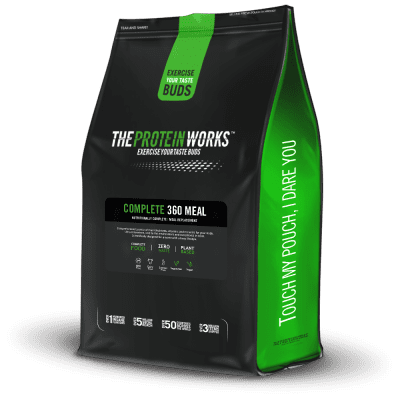 This is one of my favourite shakes; a great combination of nutrition, affordability and taste. In fact, they offer far more flavours to choose from than Dare. Their shakes are also slightly thicker, and have a different sweetness (sucralose vs stevia). Still, great option.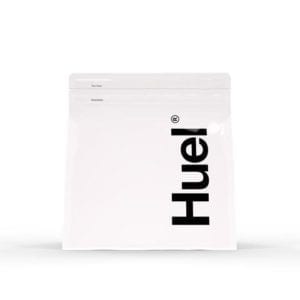 The most popular brand is from the UK, and Huel offers particularly good deals there. Thus, price wise is a lot more affordable. They also offer far more options besides powder meals. However, I don't think the shakes taste as good as Dare's do.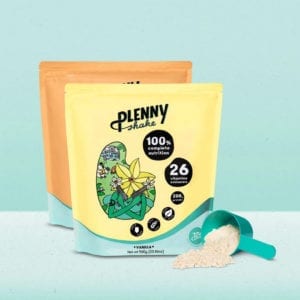 One last option I want to mention is Jimmyjoy's Plenny Shake. This is also known for its affordability and OK taste. Plus, you can get really good meal replacement bars from them. The shakes are more oaty and less sweet than Dare's.
On top of all these, there are plenty more options, such as shakes for weight loss (Exante), organic shakes, ketogenic shakes etc. Make sure to look around if Dare is not the right option for you.
Dare Motivation FAQ
Can I use Dare for weight loss?
While it's not especifically designed for weight loss, it can certainly help you. It is very rich in nutrients, low in calories and can keep you full for few hours.


Is Dare Motivation vegan?
Yes, the shakes are 100% plant-based.


What is the shelf life of Dare Motivation?
It should last for at least 12 months if the package is unopened.


Does Dare Motivation contain any caffeine?
They contain a tiny bit of caffeine, with less than 5mg per serving.


Where is Dare manufactured?
Dare Shakes are manufactured in the UK.


Can I use Dare as post-workout nutrition?
Yes, in fact I think that it's got a great mix of quality protein, carbs and fats that can help you recover faster.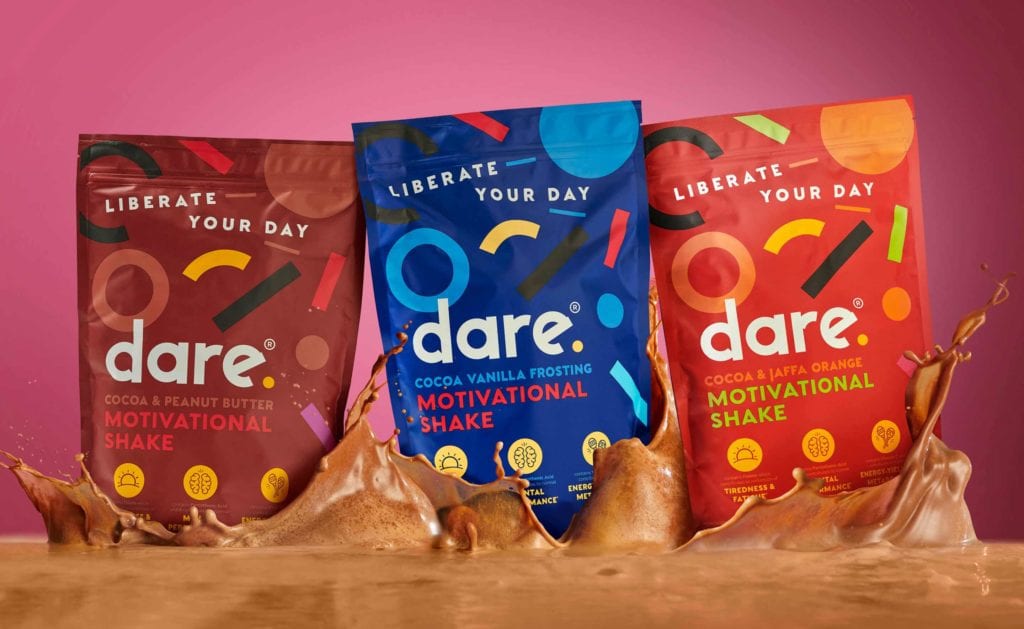 ---
Verdict – Dare Motivation Review
Finally, we have come to the end of this Dare Motivation review. If you've made it this far, you might noticed that I'm highly surprised with this brand.
There are few things that I love:
The taste in all 3 flavours is superb and quite unique.
Nutritionally, this is a very balanced and rich shake; with plenty of micronutrients.
Dare is a really cool brand.
However, I must say that it's a little pricey, particularly at smaller purchases; and if you are considering having bigger meals (400kcal or so). Some of the choices, like the shaker, also seem more about the looks, and less about the functionality.
With all that said, I think that Dare Motivation is one of the best meal replacements available in the UK and I can't wait for them to expand elsewhere. I highly recommend it if you live in the UK!
Dare Motivation
Starting at £2/serving
Pros
All shakes taste great, and different
Cool branding, web design and nice customer experience
Very well balanced nutrition
Very rich in nutrients - 100% of RI for vitamins per serving
Free UK shipping
Cons
Only available in the UK
Not as affordable as main stream shakes
Free shaker is awful to use
Recommended serving might be too small for a meal
All flavours are cocoa based