Superbodyfuel Review | The Cheapest Shake in the US is Good
Welcome to the re-review of the long standing Super Body Fuel product stack! As you will find out during this Superbodyfuel review… the more things change, the more they stay the same.
Since the initial review of SBF in 2018 the world is in a very different place at the moment, most notably due to the worldwide pandemic. However, Super Body Fuel as a brand continues to progress with its line meal replacement products, that serve multiple uses, and cater to multiple price points.
In fact, they still have the cheapest powder in the whole market and great international shipping terms, as they used too.
We said that Superbodyfuel is one of the most interesting brands in the US market, but is this still true? Let's find out!
---
Superbodyfuel Review at a Glance
Flavours: Plain (Unsweetened), Chocolate, Vanilla, Cinnamon, Pumpkin Spice, Original, and Strawberry.
---
Opinion
Superbodyfuel (originally Schmilk) is the ultimate brand for those looking for cheap meals and/or want to have more customization options.
Because all their powders require to add milk or oil or some form of extra nutrients, they leave more room to play around. This is really interesting, but has a major drawback. It is harder to achieve optimal nutrition and well balanced shakes that other companies offer from the get go.
Thus, it might put off those who are newer to meal replacements and nutrition.
On the other hand, the ultra competitive prices, and customer care are a staple of SuperBodyFuel shakes.
What I like
1. Competitive pricing. Milk Fuel is the cheapest shake you can buy in the US, and the rest of products are equally well priced.
2. Lots of flavours and great at keeping you full. Plus, each product line has the same flavors!
3. Awesome packaging! The bags are really good. They are thick, lined and resealable. This goes for both the meal bags and the sample bags!
4. Community driven brand. The CEO is very approachable and has been a member of the meal replacent community since the start.
5. Free shipping to the US and good international shipping terms. This paired with the inexpensive prices makes Superbodyfuel shakes affordable almost everywhere.
6. Detailed instructions. Very clear breakdowns of how it's best prepared, and what outcomes can be expected by using different additives or amending volume.
7. 20% subscription discount.
8. Hypoallergenic shakes. These are gluten-free, vegan, free of artificial sweeteners and without nuts. Perfect for those who have many allergies
What I Dislike
1. Not the most convenient and beginner friendly. Having to add calories from other sources requires some extra knowledge of nutrition.
2. Most flavours taste very similar. Despite having 6 different options, they do resemble each other significantly.
3. Could mix better and improve the texture a little. Due to the ingredients, this is a slightly granular shake with more bits than other competitors.
4. Website UI could be improved upon. There aren't many pictures of the products and it has a very barebones feel to it that can make it feel less trustworthy.
5. Having to add your own fats can skew nutritional output. For instance, if you add whole milk, you will get a shake that's high in saturated fats.
6. No shaker bottle included.
Improvements
1. All-in-one shake. Offer a simpler option, such as a "just add water" option.
2. Offer single serving bags as an option. Their sample bags are great and single serve packs are very convenient.
3. Site/Brand facelift. I don't hate it, but it can use some attention. He has said that a new site is in the works. Stay tuned.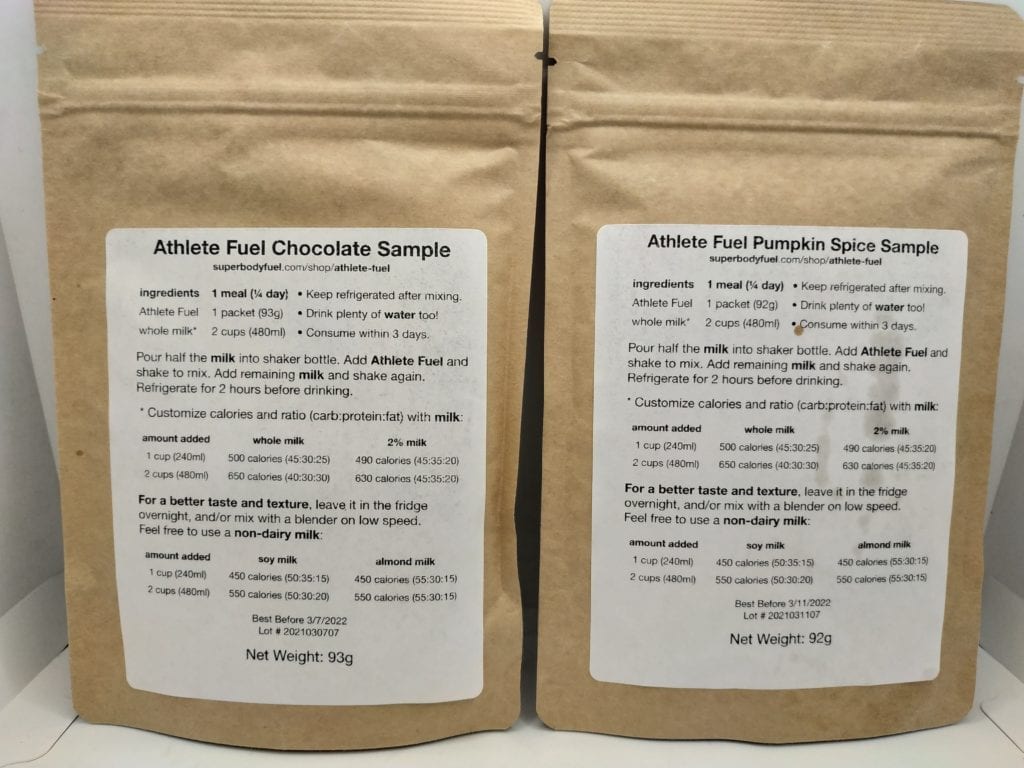 Taste Test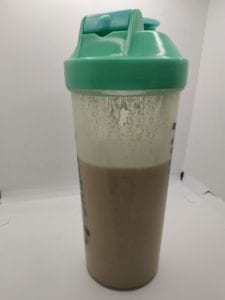 | | |
| --- | --- |
| Best flavour | Strawberry. |
| Taste | For most you can mainly notice the oaty background texture, like a finely blended oatmeal with flavourings. SBF has many flavor options, many of them taste like a strong original base, with "x" flavor added. This has its pros and cons. This allows them to remain very consistent, so there is no segmentation in the flavor stack such as one product containing gluten, while the others don't or another not being vegan friendly, etc. On the flipside, many of the flavors will taste 80% the same, so if you like one, you may very well like all of them, and vice versa. |
| Texture | Has plenty of bits, granular and thick if you leave it in the fridge. |
| Easy to Mix | Could mix better. |
| Satiety | No issues staying full for over 4h with each serving |
| Easy to Clean | Not so much, since many of the oat bits stay stuck on the walls of the shaker. |
| Afterthoughts | While there are no wild differences between flavours, and these are not ultra strong, Superbodyfuel shakes are easy to consume regularly. A taste that you get used to it, and enjoy the commodity off. |
Pro-tip: Let it be in the fridge for a while to improve texture, flavour and consistency.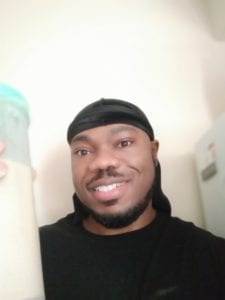 As always, I'll start with vanilla and chocolate, as they are so common and easily comparable to products from other companies. I took the time to prepare as directed, including putting it back in the fridge as directed. Trust me, it does make a difference. 
Vanilla
Vanilla was OK, not great, but not bad. Very much like plain rolled oats with hints of whipped cream. It was relatively thick, smelled like vanilla extract and has a granular texture, that gives it an almost hearty feel to it, think of finely ground oatmeal that tickles going down. I prefer smooth, but not a deal breaker.
Chocolate
The chocolate had a very rich cocoa scent that put a smile on my face. Here's the thing….it's good, better than vanilla, but tastes a lot like vanilla also. Same texture and heartiness as well.
Pumpkin
Pumpkin spice smells amazing, almost like holiday potpourri. The spices do help dull the base taste a bit more, think of it like chai. Solidly my second favorite.
Cinnamon
With cinnamon, same base taste, with a flavor similar to the milk left after eating cinnamon flavored cereal. I liked cinnamon more than vanilla and chocolate, though by and large, they all taste very similar. 
Strawberry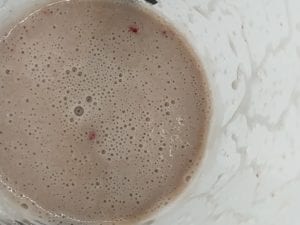 Now strawberry was a different story! I tasted completely different. In the picture, you'll notice bits of real strawberry. Feels like this one was engineered from the ground up. I really like this one! By far the best!
I can say that I was very full after drinking them. I was not hungry for a while, well passed my normal time to eat again. Also, if you are lactose intolerant like I am, you are free to substitute for plant based milk, with the understanding this will affect the nutrition content, and also the taste of the product to some degree. I switched to oat milk from whole milk (or cream)… which did help my level of comfort.
Ranking SuperBodyFuel Flavours from Best to Worst
That said, I'll rate them in order of best to worst IMO. Understanding that the differences between what I feel is the best, and the worst are very minor:
Strawberry
Pumpkin Spice
Cinnamon
Chocolate
Vanilla
Original
Plain (Unsweetened)
Does The Product Type Affect the Taste?
The other added benefit of original base flavor, is that it's also consistent throughout the product stack as well. In our review sample, I had a chocolate flavor of each product.
I could not find a difference taste wise between the chocolate + whole milk in Athlete/Milk Fuel, versus the chocolate + water & heavy cream in Super/Keto Fuel. The texture was thick and a bit grainy in all of them as well.
So rest assured, that if you plan to change SBF products, or use multiple different SBF products, you'll have a consistent experience.
Nutrition Breakdown
Super Body Fuel contains no artificial sweeteners or synthetic additives across its product stack. Its base powders are all gluten free, soy free, nut free, and dairy free. Obviously this will change depending on what you choose to blend the product with.
The powders' sweetener of choice is monkfruit extract. Its flavoring is also all natural including ingredients like cocoa powder, vanilla extract, ceylon, cinnamon and freeze-dried strawberries as well as spices like ginger, nutmeg and cloves..
| | |
| --- | --- |
| | Milk Fuel |
| Kcal/meal | 500 |
| Macros (C/P/F) | 45/20/35 |
| Vegan | Yes* |
| Keto | No* |
| Features | GF, SF |
| Non-GMO | Yes |
| Organic | No |
| Includes Probiotics | No |
| Artificial Sweeteners | No |
| Synthetic Additives | Yes |
| Contains All Micronutrients | Yes |
| Controversial Ingredients | None |
Based on Milk Fuel only, with whole milk as recommended. It can be vegan if you used a plant-based milk.
Energy
The macronutrient split can vary a lot depending what you add to the powder (oil, milk or cream) and in which quantities.
Below I point out some examples of the recommended uses and how macronutrients are split on each. It is worth pointing out, that even if the macronutrient distribution maybe suitable, you may not get all the nutrients you need, thus look beyond it.
Milk Fuel
Without milk:
200kcal/serving (53g)
2,000kcal/day (10 servings)
16P/69C/15F
With 2cups of whole milk:
500kcal/serving
2,000kcal/day (4 servings)
20P/45C/35F
With 2cups of almond milk:
400kcal/serving
2,000kcal/day (5servings)
10P/70C/20F
Super Fuel
No added oil:
260kcal/serving (71g)
2,080kcal/day (8 servings)
39P/48C/13F
With 2 tbsp of avocado oil (30ml):
500kcal/serving (71g)
2,000kcal/day (4 servings)
20P/25C/55F
Heavy cream 4 tbsp (60ml):
462.5kcal/serving (71g)
1,850kcal/day (4 servings)
20P/30C/50F
Athlete Fuel
Without milk:
330kcal/serving (85g)
2,640kcal/day (8 servings)
39P/47C/14F
With 2cups of whole milk:
630kcal/serving (85g)
2,520kcal/day (4 servings)
30P/40C/30F
With 2cups of almond milk:
525kcal/serving (85g)
2,100kcal/day (4servings)
30P/55C/15F
Keto Fuel
No added oil:
210kcal/serving (53g)
2,100kcal/day (10 servings)
48P/18C/44F
With 2 tbsp of avocado oil (30ml):
450kcal/serving (53g)
1,800kcal/day (4 servings)
15P/5C/75F
Heavy cream 4 tbsp (60ml):
462.5kcal/serving (53g)
1,650kcal/day (4 servings)
20P/5C/70F
Fats
MUFA and PUFA are all from avocado oil/heavy cream. It does not take into account the 3.5g from the powder.
Milk Fuel
With 2 cup of whole milk (473ml):
Total Fats: 19.0g. 27% of the DRI.
Saturated Fats: 10g. 50% of DRI.
Monosaturated (MUFA): 1.4g. This is 2% of the calories per serving.
Polyunsaturated (PUFA): 0.2g. This is 0.3% of the calories per serving.
Super Fuel
With 2 tbsp of avocado oil (30ml):
Total Fats: 31.0g. 44.3% of the DRI.
Saturated Fats: 4.5g. 22.5% of DRI.
Monosaturated (MUFA): 20.7g. This is 29% of the calories per serving.
Polyunsaturated (PUFA): 2.4g. This is 3% of the calories per serving.
Heavy cream 4 tbsp (60ml):
Total Fats: 26g. 40% of the DRI.
Saturated Fats: 14.3g. 72% of DRI.
Monosaturated (MUFA): 5.4g. This is 7.6% of the calories per serving.
Polyunsaturated (PUFA): 0.9g. This is 1% of the calories per serving.
Athlete Fuel
With 2 cup of whole milk (473ml):
Total Fats: 21.0g. 30% of the DRI.
Saturated Fats: 10g. 50% of DRI.
Monosaturated (MUFA): 1.4g. This is 2% of the calories per serving.
Polyunsaturated (PUFA): 0.2g. This is 0.3% of the calories per serving.
Keto Fuel
With 2 tbsp of avocado oil (30ml):
Total Fats: 37.0g. 52.9% of the DRI.
Saturated Fats: 13g. 65% of DRI.
Monosaturated (MUFA): 20.7g. This is 39% of the calories per serving.
Polyunsaturated (PUFA): 2.4g. This is 5% of the calories per serving.
Heavy cream 4 tbsp (60ml):
Total Fats: 32.0g. 45.7% of the DRI.
Saturated Fats: 22.8g. 114 % of DRI.
Monosaturated (MUFA): 5.4g. This is 7.6% of the calories per serving.
Polyunsaturated (PUFA): 0.9g. This is 1% of the calories per serving.
Which Oil to Use: Avocado Oil vs High Oleic Sunflower Oil vs Olive Oil
All three options are mainly composed by monounsaturated fatty acids (70%+); and in the case of high oleic sunflower and olive oil this is primarily oleic acid (omega-9). Oleic acid has been proposed as the number one factor on the blood pressure reduction induced by olive oil.
All three oils are rich in MUFA and low in saturated fats. The main issue however, is that they are really low in omega-3 content; which in this case is alpha-linolenic acid and has terrible conversion rate (sub 15%) to the essential fatty acids that the body requires (EPA and DHA).
Thus, choosing among them might be a preference (price, availability) issue. For instance, olive oil contains vitamin K and certain minerals, such as iron, to a greater extent than sunflower oil. On the other hand, sunflower oil is rich in vitamin E.
| | | | |
| --- | --- | --- | --- |
| per 100g | Avocado | Olive | Sunflower |
| Total Fat | 100g | 100g | 100g |
| Saturated | 12g | 13.8 | 9.9 |
| MUFA | 71g | 73.0 | 83.7 |
| PUFA Total | 13.5g | 10.5 | 3.8 |
| PUFA (O6) | 12.5 | 9.8 | 3.6 |
| PUFA (O3) | 1 | 0.7 | 0.2 |
Lastly, MCTs in Keto Fuel
When compared to Milk Fuel, Athlete Fuel and Super Fuel, Keto Fuel already has 9g of saturated fats in the powder form (the others have around 1g).
This is because Keto Fuel has medium-chain triglycerides in the mix. Common addition to keto mixes, due to its use as energy source and positive regulation of ketone production.
Carbs
Per serving:
Milk Fuel
With 2 cup of whole milk (473ml):
Total Carbs: 58.0g. 22.3% of the DRI.
Sugars: 23.0g. 46.0% of DRI.
Fiber: 7.0g. 35.0% of DRI.
Super Fuel
With 2 tbsp of avocado oil (30ml):
Total Carbs: 31.0g. 11.9% of the DRI.
Sugars: 0.0g. 0.0% of DRI.
Fiber: 8.0g. 40.0% of DRI.
Athlete Fuel
With 2 cup of whole milk (473ml):
Total Carbs: 62.0g. 23.85% of the DRI.
Sugars: 23.0g. 46.0% of DRI.
Fiber: 8.0g. 40.0% of DRI.
Keto Fuel
With 2 tbsp of avocado oil (30ml):
Total Carbs: 9.0g. 3.5% of the DRI.
Sugars: 0.0g. 0.0% of DRI.
Fiber: 8.0g. 40.0% of DRI.
The base source of carbohydrates for Superbodyfuel shakes (the base powder) is gluten-free oats. The oats will give a peculiar texture and flavour to the meals, but they are also one of the best complex carbohydrate sources. In fact, they also provide some protein (17% of mass) and healthy fats.
For Milk Fuel and Athlete Fuel, milk will be an important source of carbohydrates; purely from lactose. While lactose can be 50% of an infants energy source, the ability of digesting lactose can be reduced drastically, and many are lactose intolerant.
Medium-Low GI
Even if the sugar content might seem high, the GI of milk is between 30-40. Plus the glycemic index of oats is around 50, thus the overall impact of milk fuel in your blood sugar levels should not be that high.
For Keto Fuel and Super Fuel the GI will be even lower, due to the high fat quantities, that slow down the absorption of carbohydrates.
Regarding the fiber content, besides the small amount oats will provide, all powders have a cellulose, acacia gum, xanthan gum mix that will provide some insoluble fiber.
Protein
Per serving:
Milk Fuel (plus milk) – 24g (48% of RI).
With 2 cup of whole milk (473ml):
From milk: 16g.
From powder (rice): 8g.
Super Fuel – 25g (50% of RI)
Athlete Fuel (plus milk) – 48g (94% of RI)
With 2 cup of whole milk (473ml):
From milk: 16g.
From powder (rice): 32g.
Keto Fuel – 25g (50% of RI)
The protein source for the base powder is organic brown rice (which makes the powder vegan). Brown rice is lower in total amino acid content and essential amino acid content when compared to whey. Particularly, in lysine (almost 5 times less). That is why the mixes include L-lysine, too.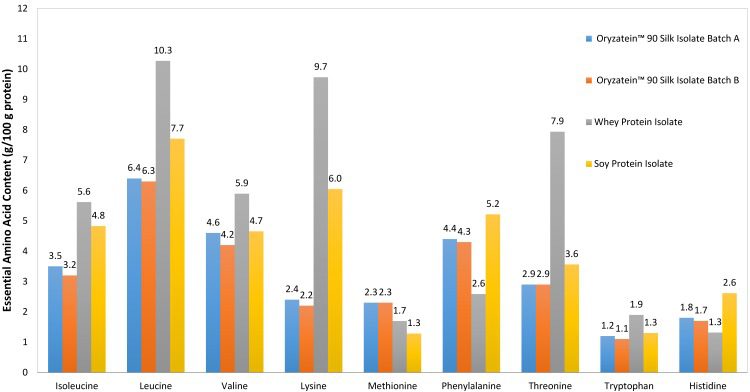 Another issue with rice protein is that the digestibility is lower than whey. This is, you will need more protein from that source to achieve the same results. Keto Fuel and Super Fuel will provide you with 25g of brown rice protein per serving, which would add to ~100g of protein a day. This should be enough for those who are not overly active or are not looking to build muscle mass.
Athlete Fuel and Milk Fuel: Mix of Milk and Brown Rice Protein
Athlete Fuel and Milk Fuel will get at 16g of protein from milk (33% of total and 66% of total, respectively). Milk protein will be a combination of casein (slow digestion protein) and whey protein (arguably the best protein source). This mix of protein should provide a really high mix of amino acids.
In the case of Athlete Fuel, each 630kcal serving will provide you with 48g. This is almost the daily recommended amount. However, this would be what active people should be looking at. 4 servings of Athlete Fuel would provide you about 142g, which is about 1.78g/kg for a 80kg person.
Even if the recommended intake is 50g for females and 55g for males (0.8g of protein per bodyweight), this is the minimal to prevent muscle atrophy. Anybody looking to build muscle or with more active lifestyle should look to consume at least 1.6g/kg. Not only that, but additional protein intake can help weight management, weight loss, and prevent muskuloskeletal issues in the elderly. In fact, there are arguments to increase the recommendations to 1.2-1.6g/kg.
If you do not require as much protein, Milk Fuel should be enough, with 24g of protein per serving.
Micronutrients
Superbodyfuel shakes have different micronutrient mixes (in terms of quantity). For instance, Milk Fuel and Athlete Fuel powders only include 2% of calcium in the powder, which when you add milk becomes 40% of your daily values (because milk is high in calcium).
While I understand this allows them to cut costs, I would rather see at least 25% of each micronutrient, so the user can have the flexibility to add water or non-dairy milks (not as rich in calcium, soy for instance).
Otherwise, all shakes offer at least 25% of the daily values, that when combined with oil or milk even provide 100% of certain vitamins and minerals (most values are over 30%).
Besides the quantity, the vitamin sources are interesting. For instance, they provide Vitamin K1 and K2 (200% per serving) from  50% phytonadione (K1), 25% menaquinone-7 (K2) and 25% from menaquinone-4 (K2).
Allergens
All SBF shakes are allergen free.
More about Superbodyfuel

Super Body Fuel was originally founded as Custom Body Fuel by Alex Cho Snyder (known as axcho on/off Reddit) in 2014. He was intrigued by Rob Rhienhart's (founder of Soylent) Soylent experiment in 2013. As someone with several allergies, he was eating a very strict diet, which was enjoyable to eat, but was tedious to balance cooking, cleaning and meal prep alongside his full time job as a software engineer.
He eventually began checking out the DIY Soylent scene that was emerging, experimenting with different formulas and concoctions. This blossomed from an interest, to a hobby, to a side business.
Initially, he wanted to come up with a decent recipe, brand it, and outsource it to a larger manufacturer, but being a perfectionist….he quit his day job to focus on it full time. Seeking to create "optimal nutrition for all", Super Body Fuel is your ideal diet, in one shake.
Ever since, products like Schmilk (Milk Fuel) have evolved together with the company, which now employs 6 people and it is located in San Francisco's Bay area (nice place). If you have time, I strongly recommend you to read the blog posts of this adventure. Alex is a great writer and a truly likeable guy.
All Super Body Fuel Meal Replacements Reviewed
Super Body Fuel offers four primary complete food products. For two of them, they recommend adding milk (or plant-based alternative) to make it complete: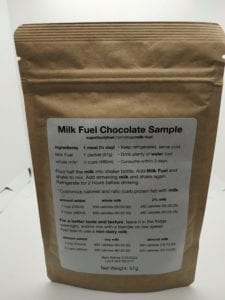 Milk Fuel
An inexpensive option that uses milk to balance the protein & fat profile.
500kcal/meal
Macros: 45C/20P/35F
Price no subscription: $1.00/400kcal*
Price subscription: $0.80/400kcal*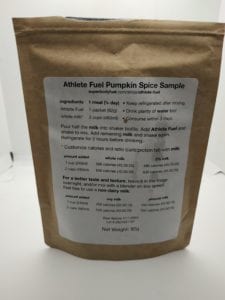 Athlete Fuel
A high protein version of Milk Fuel containing more than double the amount of protein per serving.
630kcal/meal
Macros: 40C/30P/30F
Price no subscription: $1.59/400kcal
Price subscription: $1.27/400kcal
Regarding the other two, you need to add oil, or heavy cream: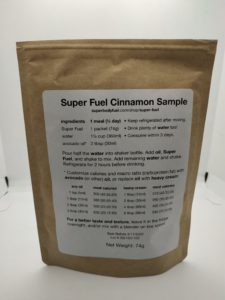 Super Fuel
A lower carb alternative that opts for oil/heavy cream to balance fat profile.
500kcal/meal
Macros: 25C/20P/55F
Price no subscription: $2.0/400kcal
Price subscription: $1.60/400kcal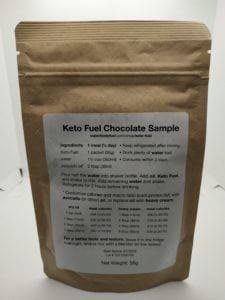 Keto Fuel
An ultra low carb variant designed for keto diets. Also derives its fat from oil or heavy cream.
450kcal/meal
Macros: 5C/30P/65F
Price no subscription: $2.22/400kcal
Price subscription: $1.78/400kcal
Alongside meal replacements, SBF also offers supplements that can be added to water or juice to aid in a balanced diet.
Super Protein – A hypoallergenic protein mix that offers 25g of protein per serving.
Super Fiber – A keto friendly fat and fiber mix containing 34g of fat, and 12g of fiber per serving.
Super Electrolytes – An alkaline additive that is an optimal electrolyte mix.
Super Micros – A rich micronutrient mix designed to be combined with shakes or smoothies.
Superbodyfuel Packaging
All SBF bags pack at least 20 servings. Milk Fuel comes in bag of 20 or 40 servings, while the rest only offer the first option. There are also sample options that provide you with one serving of the desired flavour and powder type.
Shelf Life
Superbodyfuel states that the powder is save to consume at least for one year, if stored in a dry cool place. It does not specify how long will last once opened, but I would recommend consuming it withing 3 months maximum (always storing it sealed and in a dry place).
Shipping and Return Policy
The product is available to everyone worldwide with a few exceptions, including the UK and Germany due to strict customs.
Outside the US, shipping will generally take a couple of weeks. Depending on your country, there may be extra taxes and fees. 
Free in the US above $100.
$20 for  orders from Canada above $100.
$30 for orders from anywhere else above $100.
This has allowed people like Horacio, a usual reader and AUS lenter, to access affordable meal replacement options that are not available otherwise in Australia.
I have tried Super Body Fuel, from the USA. Came without a problem. […]I guess I'll continue with Super Body Fuel – Athlete. Oh well, at least it's tasty. But hey, I'd love to know what you think of it ;). […]

[…] I bought 2 bags and shipping was 30% of the price.

I did ask the SBF guy a couple of questions, and he was nice and quick-answering indeed. It's just that the openness of Huel's decisions / evolution / composition is very easy to miss; it feels like SBF requires more trust.
Refund Policy
According to Alex the founder, SBF will accept any unopened bags that are sent back to them for a full refund. They will also fully refund "if someone has an allergic reaction or digestive problems, we'll refund them. Similarly, if the batch is not mixed well enough and the taste or texture is off, we will also refund them."
Pricing & Subscription
All single serve samples are $5 + shipping.
As for the actual products, the price will vary with the type of meal you opt for, and you can always enjoy a 20% subscription discount:
Milk Fuel – $50 per bag (40 meals) –>$1.25 per meal; plus added cost of milk. With subscription: $40 –>$1/meal.
Super Fuel – $50 per bag (20 meals) –> $2.50 per meal; plus oil/fat costs. With subscription: $40 –> $2$2.50 – $3 per meal per meal.
Athlete Fuel $50 per bag (20 meals) –> $2.50 per meal. Using subscription: $40 –>$2 per meal.
Keto Fuel – $50per bag (20 meals) –>$2.50 per meal. With subscription $40 –>$2 per meal.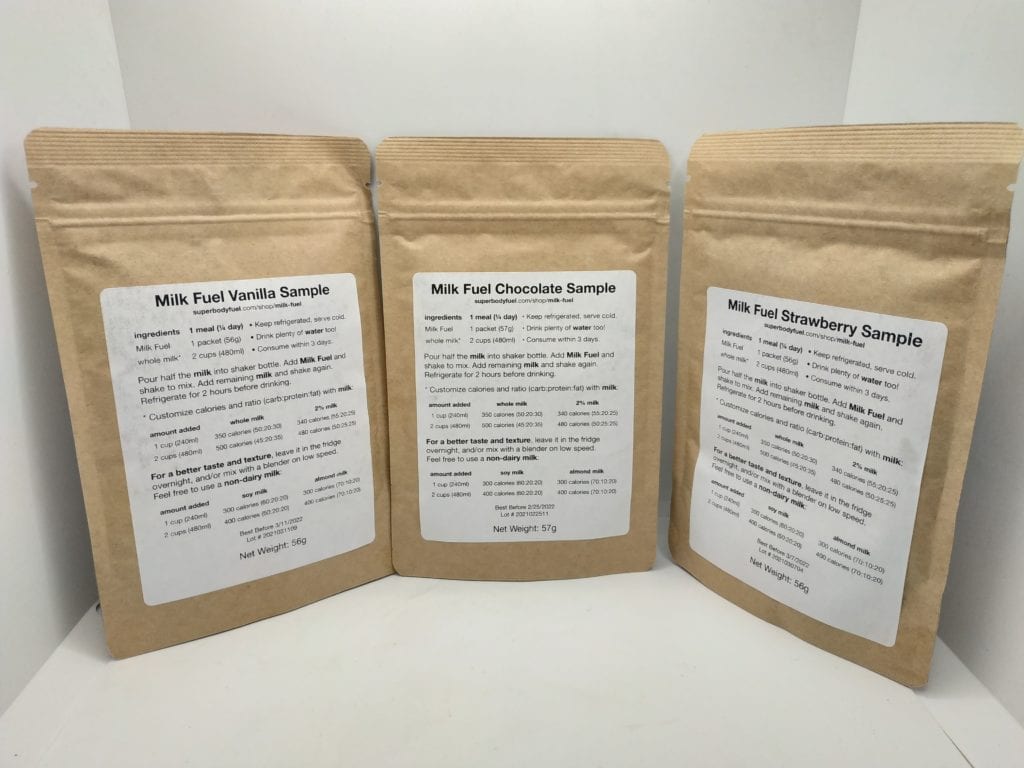 Note that Strawberry is considered a premium flavor due to its inclusion of real freeze dried strawberries, and thus costs more to produce. Thus, it will be slightly more expensive that of that shown above.
Also, you will be charged the full single purchase amount in the first month. Subscription pricing will take effect in the second month and going forward.
On top of that, keep in mind your choice of milk, oil or cream will be an added cost.
Superbodyfuel FAQ
Is the oil/milk included with the powder?
No, you have to buy the oil separately. Fortunately, it's pretty cheap and easy to find at local grocery stores.


How much oil or milk do I need to add?
It varies depending on how many calories you want, but it's usually around one or two tablespoons of oil per meal (or one or two cups of milk per meal, for milk-based recipes). Instructions with the exact amounts and calories are included on the label.


What kind of oil can I use?
Any oil that is mostly monounsaturated fat is a good choice, because it is easily digested and liquid at room temperature, but stable enough not to go rancid or oxidize. And unlike either saturated or polyunsaturated fat, no one says it's bad for you!


Do I need a blender to mix it all up?
A lot of people like using a blender, but you don't need one. A shaker bottle is a convenient and cheap alternative – one bottle is the perfect size for a meal.


Why do I have to let it sit in the fridge?
Letting the mixture sit in the fridge does two things. First of all, it gives time for the powder to dissolve more thoroughly and for the flavors to mix and mellow out. If you are making Keto Fuel or Super Fuel, for example, this allows the salty, sour, and bitter tastes of the electrolytes to dissipate as the ions dissociate. It also allows the fiber to absorb water and expand, thickening the resulting mixture slightly and giving it a smoother texture.

Secondly, it just tastes better cold! Think smoothie or milkshake.


Is Superbodyfuel perishable? How long is it good for?
The powder is non-perishable.  It should be good for at least a year, sealed and stored dry. Once mixed with water or milk, it can last for a few days in the fridge. Unrefrigerated, try to drink it within a few hours.


Is Milk Fuel Vegan?
Yes, milk fuel is vegan, gluten-free and soy-free.


Can I supplement it with other foods?
Of course! You don't have to eat it exclusively – just fit it into your lifestyle however you want. Some people like to blend it with a banana, or have it for breakfast and lunch while eating a normal dinner.

And you are always welcome to add your own flavorings to try.  Experiment!


Superbodyfuel vs
The task of comparing SuperBodyFuel shakes to others in the market isn't easy, since each of them has something unique. For instance, it could be argue that Keto Fuel is one of the best keto shakes that you can buy; cheap and tasty. Similarly, both Milk Fuel and Super Fuel have been the go to Soylent alternatives for many enthusiasts.
Anyhow, the reason why you would buy SuperBodyFuel meal replacements is similar: they are very affordable, offer customizable nutrition and they are reasonably tasty.
Overview
| | | | | |
| --- | --- | --- | --- | --- |
| | Soylent | Huel | Plenny | Milk Fuel |
| price ($)/400kcal | 1.82 | 2.12 | 1.75 | 1.00 |
| kcal/serving | 400 | 400 | 400 | 500 |
| Macros (C/P/F) | 38/19/43 | 40/30/30 | 5/18/79 | 45/20/35 |
| Protein (g) | 20 | 30 | 20 | 20 |
| Sugar (g) | 15 | 1 | 3 | 23 |
| Fiber (g) | 6 | 7 | 8.2 | 7 |
| Fats (g) | 20 | 13 | 15 | 19 |
| Vegan | Y | Y | Y | Y |
| Organic | N | N | N | N |
| Real Food based | N | N | N | N |
| Artificial Sweeteners | Y | Y | Y | N |
| Synthetic Additives | Y | Y | Y | Y |
| GMO | N | N | N | N |
Prices shown are most expensive option. Many of these include way to lower it.
As shown above, most of the Milk Fuel competitors are vegan. If you are looking for more natural shakes, I recommend looking at Ample. Otherwise, if you are in the market for a keto shake, you have plenty of options including Sated, or HLTH.
Despite having multiple ways to lower their prices, Milk Fuel is still the cheapest meal replacement shake you can buy in the US.
Super Body Fuel vs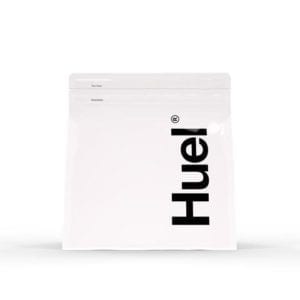 In the table above, I've shown the main differences between Huel Original and Milk Fuel. However, they also offer another low carb powder, ready to drink meals, bars and more complete food. While taste wise I don't think Huel is better than Superbodyfuel, they do have a better offering and perhaps slightly more balanced shakes.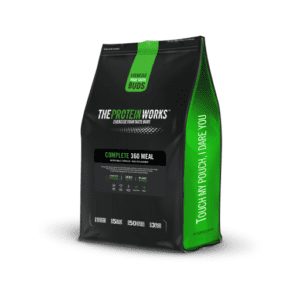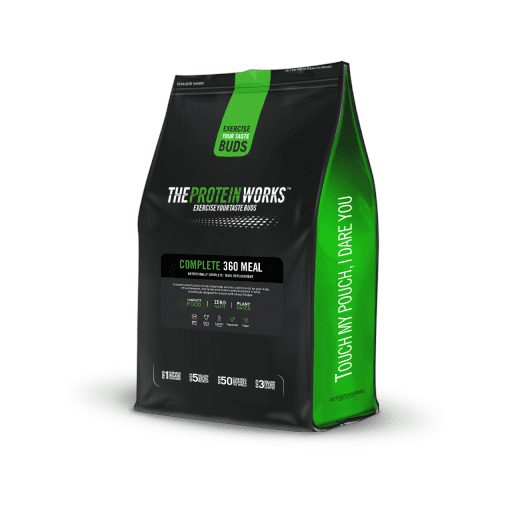 Another interesting alternative to Milk Fuel is Complete 360 meal. While it's slightly more expensive; they offer better tasting shakes and complete nutrition without having to add anything. This is one of my go-to shakes.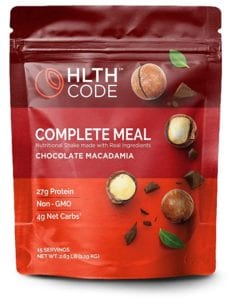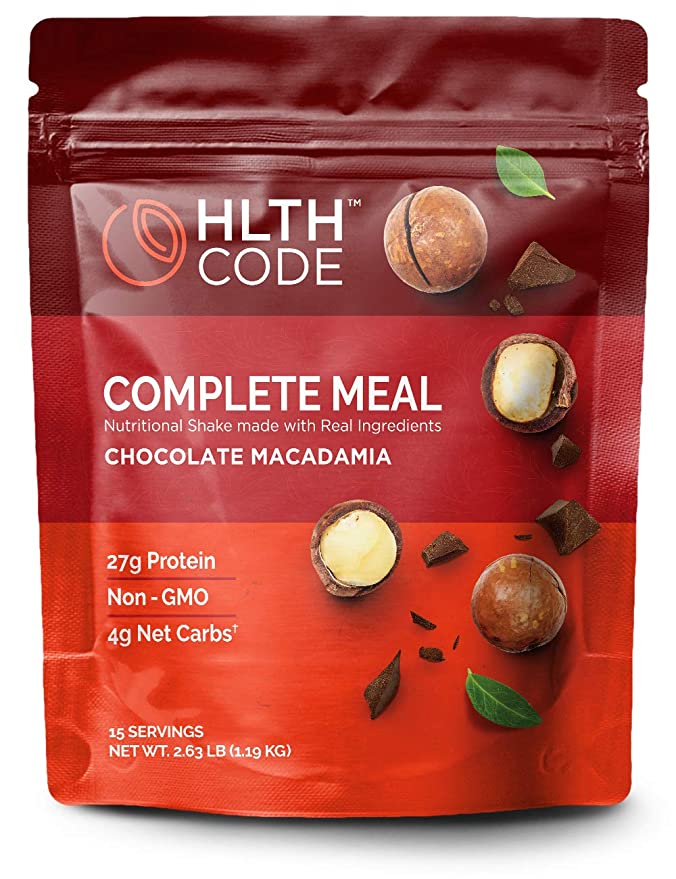 Instead, if you are on the lookout for a low carb or keto friendly meal, HLTH might be the shake for you. Unlike Super Fuel, there's no need to add oil, and with just adding water you have a complete meal. Plus, the shakes are sweeter and smoother, as well as less oily, which I personally enjoy better.
All this said, I want to remark that there are plenty of options out there. Superbodyfuel shakes are a great budget option, but if you are looking for convenience, you might find better alternatives.
---
Verdict – Superbodyfuel Review
Super Body Fuel has been on the scene for awhile now, and is every bit as good as it was a few years ago.
Summing all up, I must say that Superbodyfuel is a very interesting brand that delivers a curious array of meal replacement powders. All four powders are different to each other, and offer nutritional profiles that satisfy different needs.
Their shakes taste decent, are natural and scale well for all budgets. Being able to be so competitive on price I feel is their strongest attribute, as well as, good shipping terms overseas.
Furthermore, Mr. Snyder (owner) has been hard at work, constantly iterating the formulas and experimenting with new flavors. Hopefully, they will improve the site and perhaps create a more convenient all-in-one powder to lower the barrier of entry.
As such, while I would personally opt for more convenient powders, I would strongly recommend Milk Fuel and the rest of products for those on a budget or are looking for a customizable shake.
Super Body Fuel
$1/400kcal
Pros
4 different formulas with different macro profiles.
Milk Fuel is the cheapest blend in the US.
Customizable.
Good taste.
Subsidized shipping to CAN.
Cons
You need to add your own milk or oil.
Super Fuel, Keto Fuel are more expensive than Milk Fuel.
Relies heavily on milk for nutrition.
Taste is pretty similar for all flavours