Huel Essential Review | Is the Cheapest Meal Shake Any Good?
Welcome to this Huel Essentials review, the last powder-based meal replacement shake that the British brand launched recently.
In fact, it took many by surprise when the industry leader, Huel launched one of the cheapest meal replacement shakes in the market. While their prices have always been affordable, their star products are usually in the middle of the pack when it comes to price.
Instead, Huel likes to focus on nutrition and quality. High-protein meal replacement shakes that are 100% plant-based and provide you with all the nutrients your body needs. Furthermore, Huel would never sacrifice quality and has always been top-notch in quality control, customer service and overall experience.
As such, when I first heard about Huel Essentials, the meal replacement that costs £1/$1.5 per serving, one thought immediately came to my mind:
"What has Huel sacrificed in order to make it so cheap?"
Well, we shall find out in this Huel Essentials powder review, and if this is indeed another great product by Huel or if it is a miss.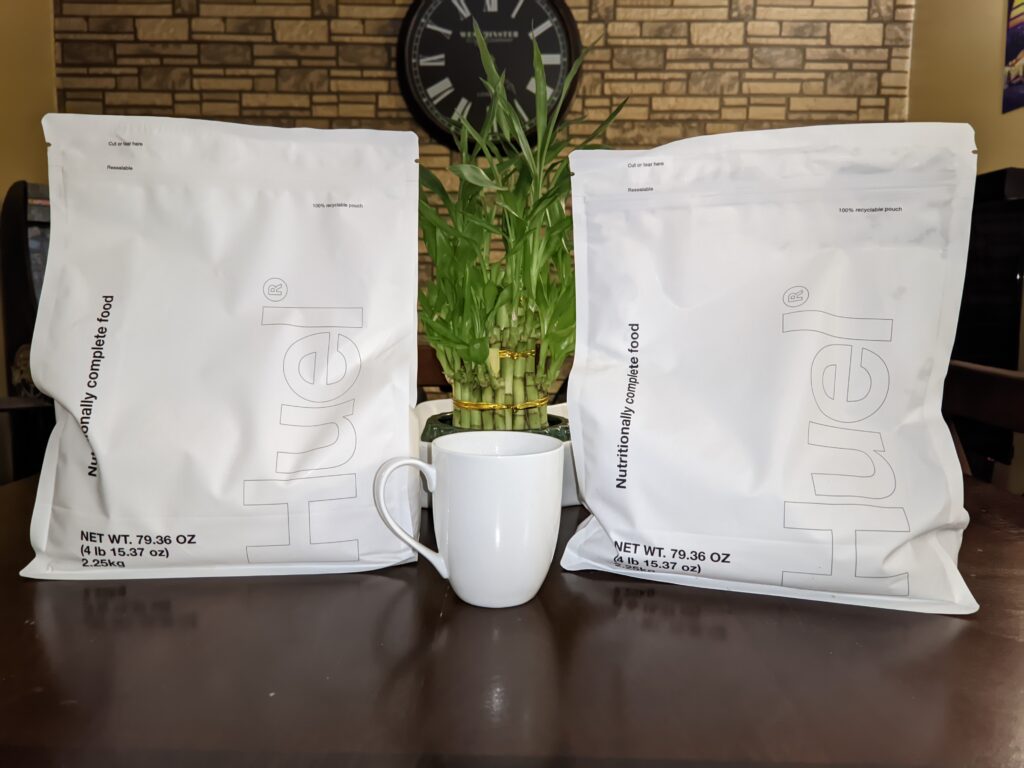 More on Huel
Here at Latestfuels, we've tried all Huel Complete Food products. These include their Hot & Savory meals, their ready-to-drink shakes, bars and other powders.
We have known about the brand since 2016 and tried most of the iterations of their star product, Huel Powder.
On top of that, we have tried and tested over 150 products and we have written in-depth reviews so that you can know what to buy.
---
Huel Essential Review at a Glance
Flavors: Vanilla & Chocolate.
---
Opinion
Initially, even before knowing all the details, I was extremely excited about Huel Essentials.
At £1 per meal, it was the cheapest meal replacement shake in the UK and among the cheapest in the US.
Even more, it was something I had been asking for a while, an affordable meal for those who might be struggling. I've always believed that meal replacement shakes can be a solution to the food problem we currently have in our countries.
As such, I was happy when I first heard about Huel Essentials. But now, how did Huel lower the price of their complete food powder by so much and what had they sacrificed?
Time to find it out in this Huel Essentials review.
What I like
1. Unbeatable value/price proposition. Very few shakes offer as much for as little.
2. Good alternative to Huel Black and Huel Original. Nutritionally different to the other powders.
3. £1/$1.5 without needing to buy in bulk. The best prices are available from the get-go.
4. Huel is a great brand to buy from.
5. Great customer service.
What I dislike
1. Only 2 flavors. I fully suspect that more will be coming soon.
2. Thin texture. I found Huel Essential to be a little too watery for my liking.
Nutritional Breakdown
As mentioned beforehand, all Huel products are:
Vegan (100% plant-based).
Dairy-free
Non-GMO
Complete (have all the essential nutrients)
High in protein
Additionally, some are even gluten-free and free of any artificial sweeteners.
Overall, Huel is known for prioritizing nutrition over taste, and has some of the healthiest meal replacement shakes on the market.
However, there are some key differences with Huel Essentials:
More carbs and less protein
No medium chain triglycerides
No probiotics
No kombucha
In short, Huel has gotten ridden of the fancy extra stuff (probiotics, kombucha and MCTs), and increased carbs (cheaper ingredients) for protein (more expensive). Still, it's arguably more balanced as a meal and 100% complete.
Huel Essential Nutrition
| | |
| --- | --- |
| Kcal/meal | 400 |
| Macros (C/P/F) | 60/20/20 |
| Vegan | Yes |
| Keto | No |
| Features | Soy Free, Dairy Free |
| Non-GMO | Yes |
| Organic | No |
| Includes Probiotics | No |
| Artificial Sweeteners | Yes |
| Synthetic Additives | Yes |
| Contains All Micronutrients | Yes |
| Controversial Ingredients | None |
Carbohydrates
Per serving:
Total Carbs: 63g, 23% of DV.
Net Carbs: 5g, (Total Carbs – Dietary Fiber – Non-digestible Carbs)
Sugars: 1g.
Fiber: 7g, 25% of DV.
As previously mentioned, Huel Essential is higher in carbohydrates than both Huel Black and Original.
While this is part of offering a more affordable meal, it is also the only shake that fully complies with the US Health and European Food and Safety Administration guidelines. In these, it is recommended that 45-60% of the total calories come from carbs.
Thus, Huel Essential is actually more in line with a normal diet than the other two powder options, when it comes to carbs.
Futhermore, you will get plenty of fiber that will promote gut health and keep you full for longer.
Protein
Per serving:
Total Protein: 20g, 40% of DV.
Source: Pea protein, brown rice protein
As far as Huel is concerned, all their complete food meals tend to be high in protein.
In this case, Huel Essential Powder is not the one with the highest amount of protein per serving (that would be Huel Black at 40g), but it has a very respectable amount at 20g per serving (100g/day).
This will put you above the recommended values and can offer a good boost even to those in high protein diets.
They use plant-based protein sources, pea and rice, often seen together due to their synergistic effects. That said, it's worth mentioning that almost all the protein comes from pea, and very little from rice.
No problem, since research has shown that pea protein can be as effective as whey protein promoting muscle growth together with strength training.
Fats
Per serving:
Total Fats: 9g, 12% of DV.
Saturated Fats: 1.5g, 8% of DV.
Omega-3s: 1.5g
Omega-6s: 3.0g
Another hallmark of Huel meal replacement shakes is the high omega-3 fatty acid content. All their powders are rich in flaxseed and alpha-linoleic acid (ALA). .
Even though, ALA converts poorly to DHA and EPA (actual omega-3 that your body uses), at the quantities that Huel offers, you will still get plenty.
Great news since many manufacturers don't include these essential fatty acids that our diets are deficient in. They can help you with heart conditions, joint problems, and cognitive performance.
No MCTs, No Problem
One key difference with other Huel products is the lack of medium-chain triglycerides. These are short saturated fats that your body uses for fuel more efficiently than the average saturated fat.
Although, MCT oil supplements are common and some research indicates that can help you feel fuller for longer, promote weight loss, and even help against bacteria, it's not enough to deem them necessary in your diet.
In fact, in my opinion, they simply add unnecessary saturated fatty acids in your diets, and for some this should be a plus.
Micronutrients
As for every other complete food product, Huel does an excellent job at providing you a full scope of vitamins and minerals.
You will get on average 20% of your daily values and even some choline (good for your brain).
Despite the fact that you might not get vitamins K2 or D3 found on premium shakes like LYFEfuel, there are no real complaints in this regard.
Allergens
Huel Essential contains gluten.
Taste Test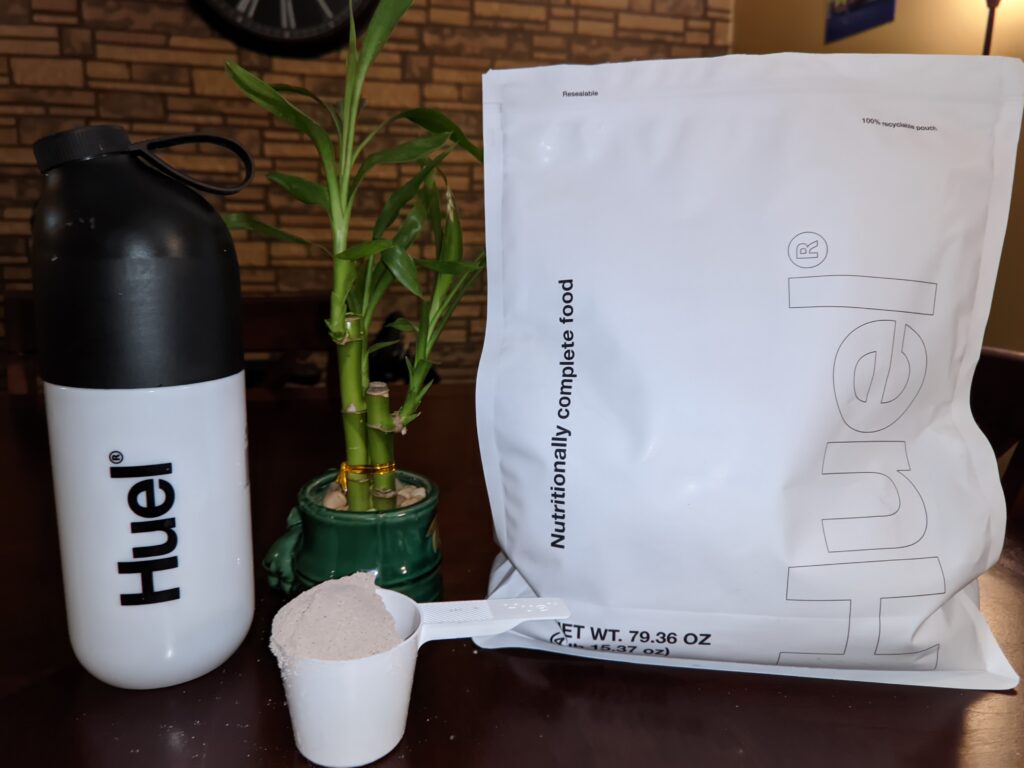 Huel Essential Taste Review
For now Huel Essential is only available in two flavors: Vanilla and Chocolate. This is something that Huel has done previously (starting with a small offering) and I would expect to have more exciting flavors soon.
Now, into the topic that actually matters.
How does Huel Essential Taste?
According to some user Huel Essential reviews, it is less sweet than Huel Black and less thick. In fact, the main difference with Huel Original and Huel Black is in the texture.
Huel Essential is thinner than both Huel Original and Huel Black. I suspect this is primarily due to the lower protein content (which helps thicken the shake).
As far as the taste goes, Huel Essential Vanilla is like a light vanilla ice cream. On the other hand, the Chocolate flavor is more like a thin milkshake, as opposed to the gritty thick Huel's. Still, it does not have the strength in flavor some of the other competitors offer, and I would like a stronger chocolate flavor.
More about Huel
I've talked extensively about the British company in my Huel Review, so please check it out for more details.
However, for those who are new to the company, here is a small summary.
Founded in 2015 by Julian Hearn and James Collier.
One of the oldest meal replacement companies
Known for excellent customer service, high protein shakes, unique approach to branding and strong moral compass
100% plant-based, environmentally focused and committed, and driven by nutrition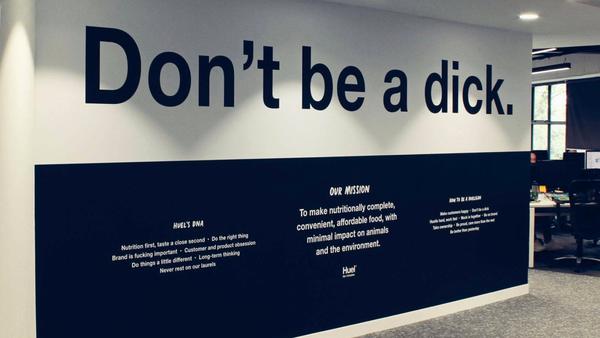 Other Huel Products
Huel is not only one of the most successful complete food companies, but also the one with the biggest offering.
They offer ready-to-drink meal replacements, bars, hot options and more. There are extensive reviews on the site if you are interested:
Pricing & Shipping
Obviously, one of the biggest appeals of Huel Essential is its price.
It's advertised ad £1 or $1.5 per meal (400kcal) which puts it right in the contest for the cheapest meal replacement shake you can buy.
Technically, you can only achieve this price when you subscribed (10% off), as the price without a subscription is $1.65/meal.
How Much Will Huel Essential Cost Me?
However, I believe this should not be an issue, since you can subscribe in 2- to 8-week intervals and get only 2 bags (45 meals).
Huel Essential price in the US:
2 bags (minimum order) – 45 meals –> $74.44 in total or $1.65/meal.
2 bags w/ subscription – 45 meals –> $67.00 in total or $1.49/meal
Price in the UK:
2 bags (minimum order) – 45 meals –> £50.00 in total or £1.11/meal.
2 bags w/ subscription – 45 meals –> £45.00 in total or £1.00/meal
In Europe it will cost you:
2 bags (minimum order) – 45 meals –> €64.44 in total or €1.43/meal.
2 bags w/ subscription – 45 meals –> €58.00 in total or €1.29/meal
Note that there is no bulk discount as seen in other Huel products, as Huel Essentials is meant to be for those on a budget that cannot make big purchases.
Huel Essential Price vs Huel Black Price vs Huel Original
So how does it compare to the other Huel powder meals?
Product
Total Price
(Non-sub/sub)
Serving Price
(Non-sub/sub)
Huel Essential (45 servings)
$74.44/$67.00
$1.65/$1.49
Huel Original (34 servings)
$83.34/$75.00
$2.45/$2.21
Huel Black (34 servings)
$94.44/$85.00
$2.78/$2.50
Prices shown are for minimum order.
Shipping
Huel Essential is currently available in the US, Europe and the UK.
In the UK, you will get next-day delivery and free shipping for orders above £49. For the US, you will get free shipping on orders above $59 and you should get your order within 2-5 days. As for Europe, you will qualify for free shipping on orders higher than €50.
Huel Essential vs
For this section, I like to compare products to their competitors.
However, it is clear that one of the most interesting points is to compare Huel Essential vs Huel Original vs Huel Black. Let me help you find the right Huel product for you.
Head to Head
| | | | | |
| --- | --- | --- | --- | --- |
| Category | Huel Essential | Huel Original | Huel Black | |
| serving price | $1.65 (USD) | $2.45 (USD) | $2.7 (USD) | |
| serving size | 400ml | 450ml | 500ml | |
| serving amount | 1 scoop | 1 scoop | 2 scoops | |
| servings per bag | 22 | 17 | 17 | |
| kcal/serving | 400 | 400 | 400 | |
| Packaging | Bag | Bag | Bag | |
| Flavors | 2 | 10 | 9 | |
| Protein (g) | 20 | 29 | 40 | |
| Sugar (g) | 1 | 1 | 5 | |
| Fiber (g) | 1 | 8 | 8 | |
| Fats (g) | 9 | 13 | 18 | |
| Carbs (g) | 63 | 37 | 16 | |
| Vegan | Y | Y | Y | |
| Organic | N | N | N | |
| Micronutrients | 27 | 27 | 27 | |
| Artificial Sweeteners | Y | Y | N | |
| Gluten | Y | Y* | N | |
| GMO | N | N | N | |
| Protein Source | Pea/Rice | Pea/Rice | Pea/Rice | |
| Availability | World | World | World | |
Huel Essential vs Huel Black vs Huel Original: Price
Starting with the price, Huel Essential is the cheapest of all three. Even though you can get close with Huel Original when you buy in bulk (16 bag orders), for most there's going to be a $0.5 per meal difference at least.
As shown in the previous section, Huel Black is the most expensive of them all.
Huel Essential vs Huel Black vs Huel Original: Nutrition
As mentioned in the nutrition section there are some key differences with Huel Essential:
Less protein and more carbs
No MCTs
No probiotics, no kombucha, no acerola cherry
Huel Original is not gluten-free, but can be bought in as a gluten-free meal replacement.
As for Huel Black, not only has the highest protein content, but it's the only shake without artificial sweeteners (only has stevia and coconut sugar). Plus, it's gluten-free and a low-carb shake.
Huel Essential vs Huel Black vs Huel Original: Taste
Besides these, it's also true that both Huel Black and Huel Original have much more flavors.
They also have a thicker texture, and Huel Black tastes sweeter, without the sucralose aftertaste. The flavors are also stronger than Huel Essential, which feels more watered down.
Huel Essential vs Huel Black vs Huel Original: Misc
So what's the winner and is Huel Essential for you?
I would say that if budget is your #1 concern, then for sure. However, if you can afford to pay more, I personally enjoy the thickness of Huel Black and Original more. They also have more flavors, including my favorite Salted Caramel.
That aside, I also enjoy the higher protein content to support my active lifestyle, and I find it's also better for weight loss.
Other Huel Essential Alternatives
If you are looking for other Huel alternatives, you should look at Soylent (US), Mana (US, UK, EU) and Jimmyjoy.
They all have somewhat affordable meals (Jimmyjoy in particular), as well as, good tasting shakes.
One Huel Essential alternative I would like to highlight is Complete 360 Vegan in the UK. I much better love the taste of these shakes (Double Chocolate is amazing), plus you have more flavors to choose from. A 4kg bag will cost you £49 or £1.22 per meal. It has more protein than Huel Essential and probiotics.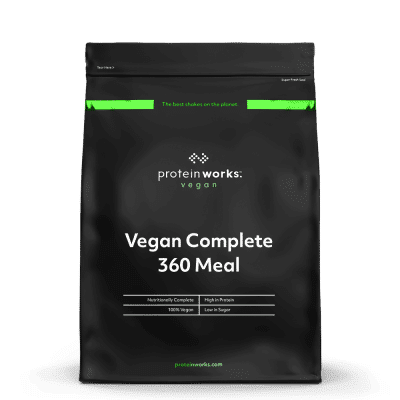 Huel Essential FAQ
Is Huel Essential worse than Huel Original?
No, in fact for many people Huel Essential might be better suited than Huel Original and Huel Black. Huel Essential will still provide you with complete nutrition.


Does Huel Essential contain gluten?
Even though Huel Essential contains oat flour, which does not naturally contain gluten, it is handled by factories that deal with gluten. So, there's the risk of cross-contamination.


Is Huel Essential vegan?
Yes, all Huel products are 100% plant-based.


Is there an Unflavored & Unsweetened version of Huel Essential?
Not yet.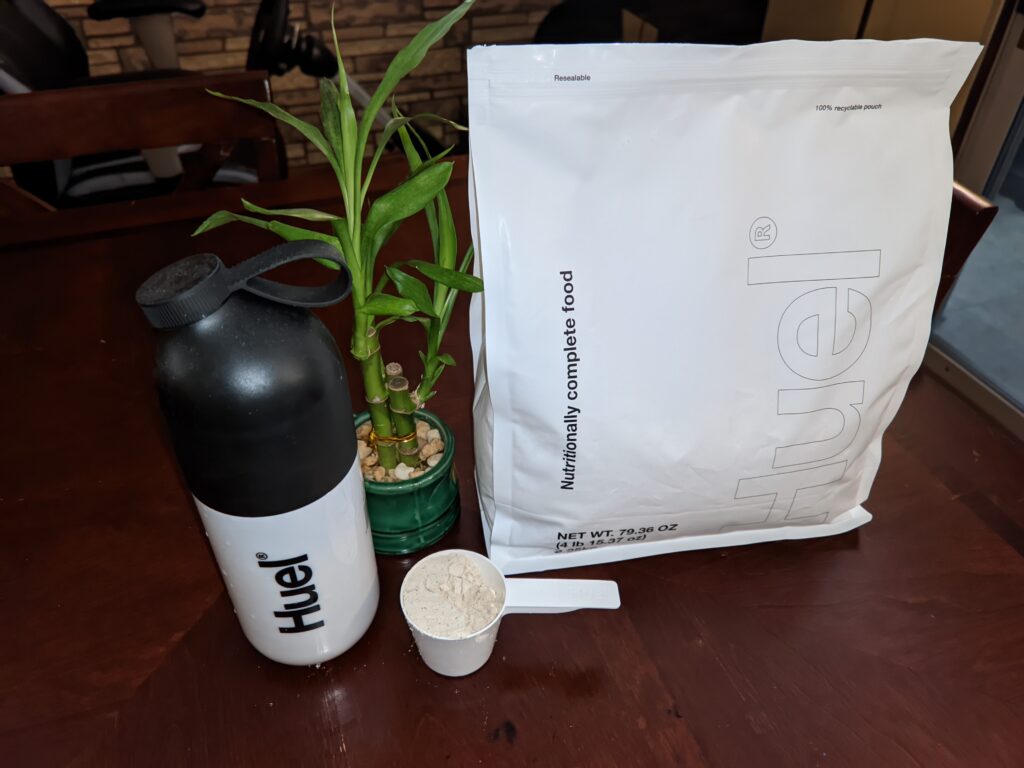 ---
Verdict – Huel Essential Review
All coming to an end, which are the takeaways from the Huel Essential reviews and should you buy this product or not?
Ultimately, it will depend on two factors:
Is budget the most important thing for you?
Do you need the extra protein other Huel products have?
On paper, and after carefully analyzing the product in this Huel Essential review, it is simply amazing. It ticks most boxes and offers you a complete meal for only £1 or $1.5 – the cheapest you can get. Plus, you can do so without having to commit hundreds of dollars to get bulk discounts.
As such, it will be very welcome for anyone on a budget.
Furthermore, nutritionally you are sacrificing very little to nothing. It is still 100% plant-based, without soy, and contains 20g of protein, only 1g of sugar, and all the vitamins and minerals. It's as solid as other Huel products, just with less protein and no MCTs. A trade worth making for most.
The one downside of Huel Essential is the taste, and texture, as well as the flavor offering. It's thinner than other Huel products and less strong, which is not of my liking. Sadly, there are only 2 flavors too, which means you won't get the amazing Salted Caramel the other two have.
Bottom-line: While it's not the best meal replacement shake ever, nothing beats the price/value proposition. An absolute bargain and a lifesaver for many.
Only in the UK, but I would recommend Complete 360 Vegan instead of Huel Essential:
£1.22 per serving (use the code LATESTFUELS12 for extra discount) when buying 4kg -> ~£49
Fully vegan
29g of protein per serving
Low in sugar, high in fiber
Contains digestive enzymes and probiotics
Better taste