Is Black The Best Huel Has To Offer? Review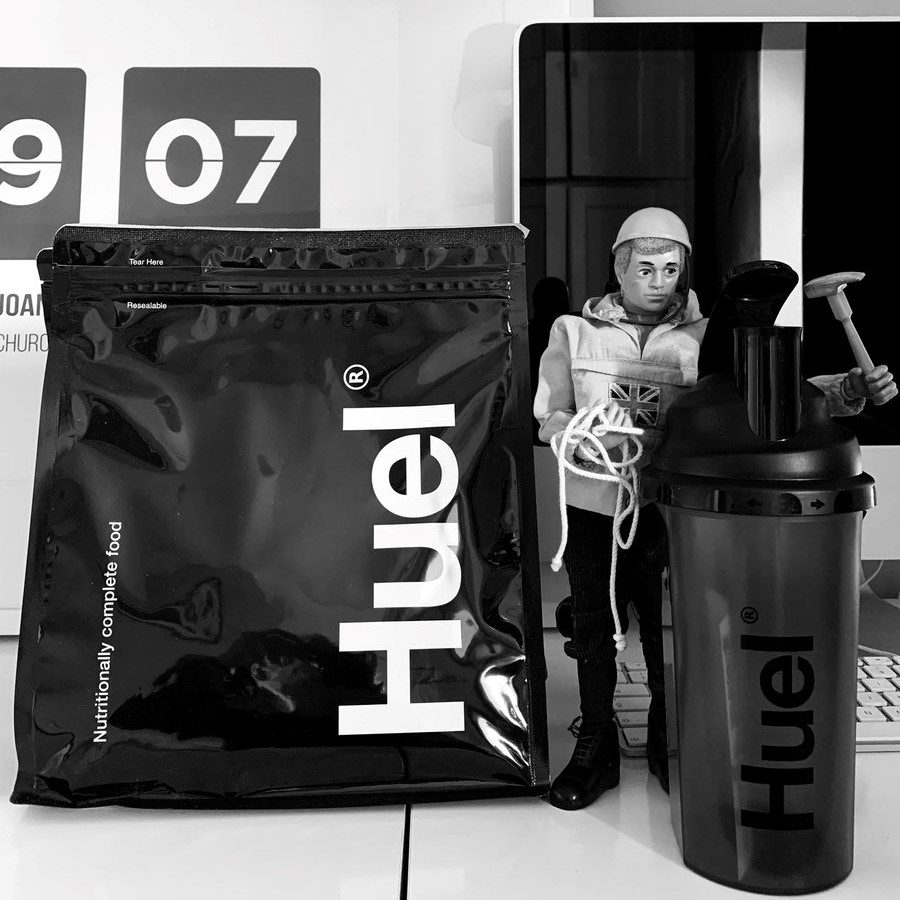 Huel Black is the latest product from the industry leader Huel: a low carb, high protein meal replacement. A shake designed to give you all your body needs, but particularly useful for those who are looking to lose weight in a healthy manner or those interested in boosting their protein intake even further. Huel Black has a plant based formula with no artificial sweeteners, and no gluten; but has also added green tea, kombucha and probiotics. All of which sound great and healthy; but are they really necessary? More importantly, how does Huel Black taste? Let's find out in this Huel Black review.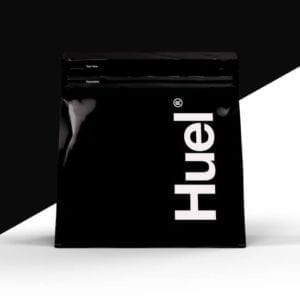 Flavours: Chocolate, Vanilla, Coffee Caramel*, and Peanut Butter*.
Ingredients: Pea Protein, Ground Flaxseed, Brown Rice Protein, Tapioca Starch, Sunflower Oil Powder, Organic Coconut Sugar, Natural Flavor, Maltodextrin, Medium-Chain Triglyceride Powder (from Coconut), Xanthan Gum, Potassium Citrate, Potassium Chloride, Corn Starch, Calcium Carbonate, Sodium Chloride, Steviol Glycosides, Kombucha Tea Powder, Green Tea Extract Powder, Vitamin C, Bacillus Coagulans MTCC5856, Niacinamide, Lutein, Calcium-D-Pantothenate, Lycopene, Pyridoxine Hydrochloride, Riboflavin, Retinyl Acetate, Thiamine Mononitrate, Zeaxanthin, Menaquinone-7, L-Methylfolate, Potassium Iodide, Vitamin D2 (as Ergocalciferol), Plant-Derived Vitamin D3 (as Cholecalciferol), Cyanocobalamin.
Huel Black has been a huge success for the British company with sales now accounting for 28% of the total. Hueligans were shouting for a low carb offering (particularly in the USA), and when the brand finally launched it, they answered. Such hype, such expectations from the brand that aims for perfection, the brand that has one of the best meal replacement shakes. In fact, I love Huel Powder, I think it's a golden standard in the industry.
Therefore, my disappointment was even bigger when I discovered that it just didn't taste as good as I hoped it would. Because I didn't love the premise, I really wanted to love the taste. I think it is too high in protein and too low on carbs to be something I would use daily.
What I like
1. Unique macronutrient distribution ideal to lose weight with or use a post-workout boost. Despite the fact that I don't think it is an ideal macro distribution for the overall diet, I can see it working perfectly for people looking to lose weight or want a complete post-workout meal.
2. Texture. Even though, I have my reservations about the taste, I must admit that the texture was very smooth and pleasantly thick. However, I must admit that few might find it too thick.
3. Nutritional quality. Huel tries to provide you with all the nutrients you need and more in the most balanced way possible. No exception for Huel Black, which offers you top notch nutrition.
4. Great bags. Each bag is packed with 17 meals. The bags not only look great in Black, but they are also sturdy and thick. The safety of your food is ensured.
5.Satiety. No complaints on this end either. I found myself full for over 4h each time I had a shake (400kcal).
6.Extremely low blood glucose response, and low GI. The low GI was to be expected due to the limited amount of carbs. Nevertheless, great to see.
7.Gluten-free and no major allergens.
What I dislike
1. Too much protein. I never thought that I would say so, but I find Huel Black has too much protein for regular use. Particularly if you are planning on having more than one meal, since I think you will struggle getting your energy from the adequate macronutrients.
2. Taste is just not great. Quite a let down, especially for the chocolate version. The vanilla shake is comparable to the Huel Powder one, however, in both I found that the pea protein taste was too strong.
3. No sample packs. This is just the Huel way, but having to buy 2 bags (~€60|£55|$65) of powder for something you are not sure to like is too much.
4. The free shaker is serviceable, but just about. I find the lid to be extremely annoying when drinking from it, as well as somewhat flimsy.
5. Too much ALA. While this is an essential fatty acid often lacking in our diets; I think that Huel Black has it on excess. Especially for those that will consume more than 2 shakes a day.
Improvements
1. Neutral flavour. I suspect that the pea flavour will be even stronger in this case, but I would like to see Huel Black Unflavoured so I can mix it with the Huel Boosts.
2. Improved chocolate.Please.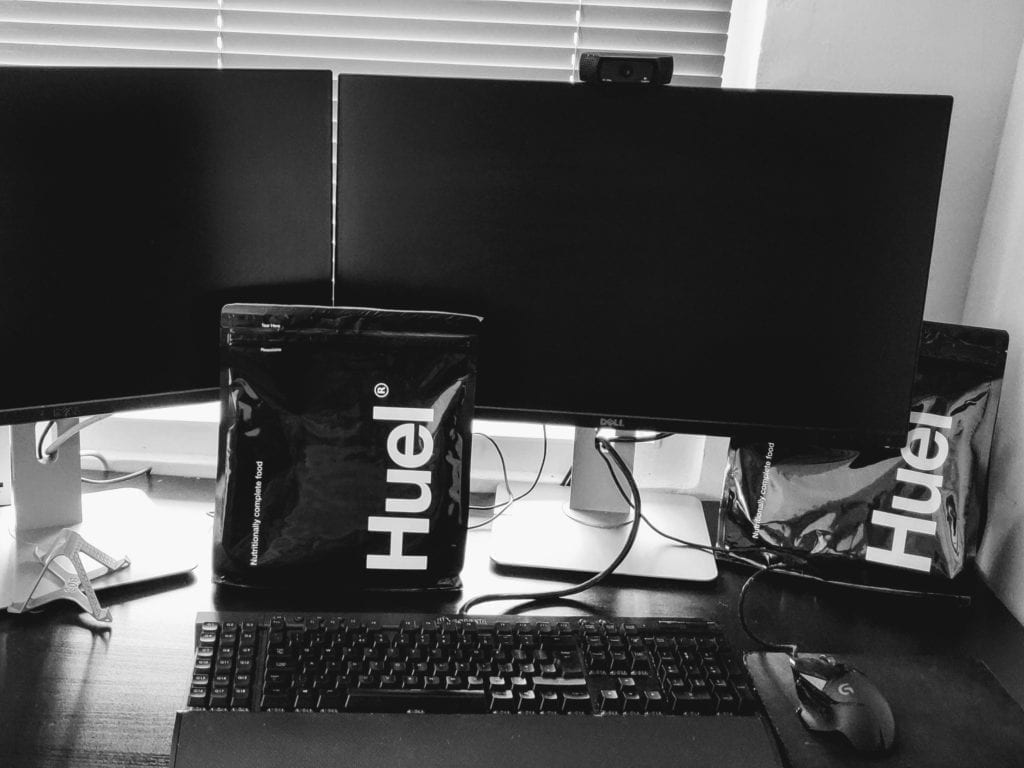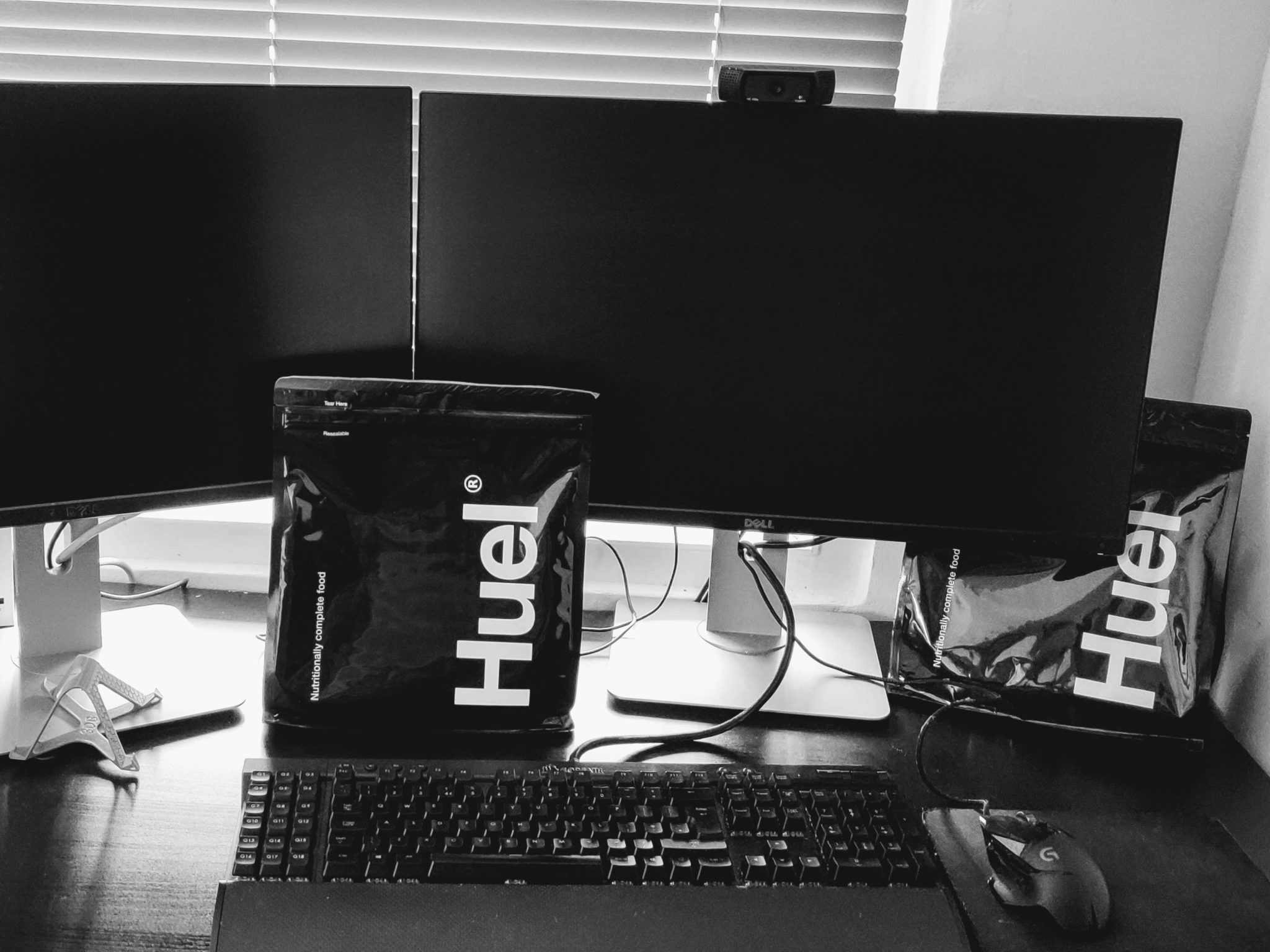 This was the biggest disappointment I have had when tasting a product in a long time. I am a big fan of Huel Powder, I have always been, despite its graininess and low flavour profile. I thought it tasted natural and mixed very well with other ingredients (fruits, peanut butter, cacao powder etc.). It gave you a nice vanilla taste, as well as a great base to create thousands of Huel recipes.
TIP: Each scoop is closer to 50-55g in my experience, as opposed to the 45g that Huel estates. Use a scale for more accurate measurements.
Huel Black, More Like Huel Yuck
The main issue with Huel Black is that the pea protein dominates the tasting experience. It overpowers the rest of the flavours and makes the shake not very enjoyable at all, in my opinion. Clearly, it is a consequence of pea protein being the largest ingredient. However, I must say that in other shakes with similar composition (Jake Light) I didn't notice such a strong influence.
As for the texture of the shakes, it must be said that they are really thick, and I strongly recommend mixing it with over 400ml per serving. Even 500ml of water might be necessary if you like to leave yours overnight in the fridge.
Huel Black Chocolate or Vanilla?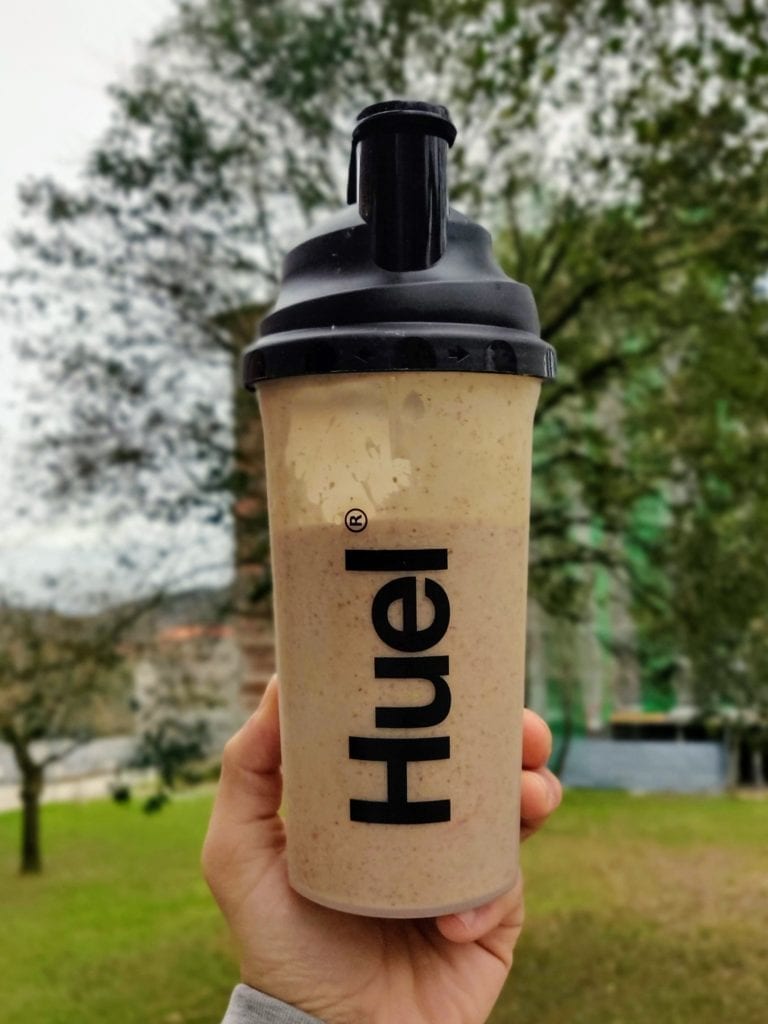 The answer is simple: Vanilla. In spite of the fact that I would've like the chocolate one better on paper, I think the Vanilla one is more enjoyable. Of both, it reminds me of Huel the most, it is nice and mask the background the best. I like the fact that it is not overly sweet, but has some sweetness to it and a strong vanilla aroma.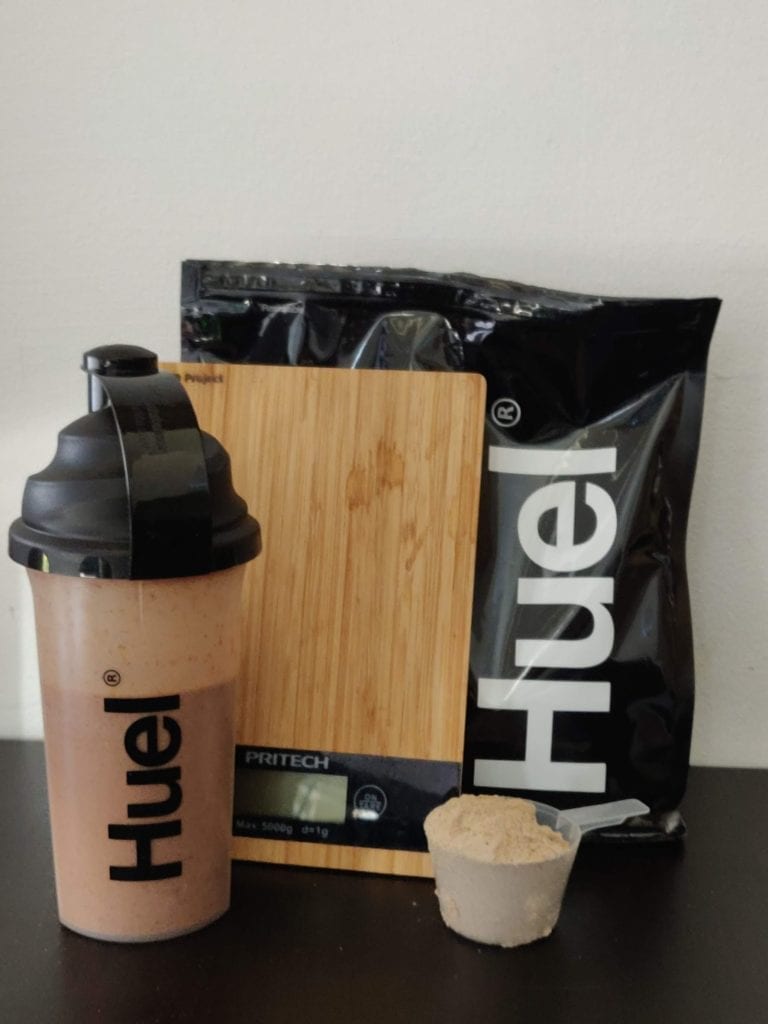 The chocolate one, in my experience, hardly tasted like it. I tried it with both water and milk (big mistake, don't use dairy milk), and the shake had a very mild chocolate flavour. The pea protein was overpowering, making a struggle to finish the shake. I think that this flavour has much to improve upon. Stick to your Huel Powder Chocolate or the RTD.
Macronutrients per Serving (g)
Protein(g)
Carbs(g)
Fiber(g)
Fats(g)
% of Energy from Each Macronutrient
Carbs 20%
Prot 39%
Fats 41%
% of Recommended Intake per serving
RI based on 2,000kcal
RI based on 2,500kcal
The exact values will vary ever so slightly between the UK and the US versions.
Huel Black is a plant based meal replacement, gluten free and free of artificial sweeteners. Besides that, the most stand out feature is the macronutrient distribution, which is really low in carbohydrates and very high in protein (even more so than their normal powder). While this macronutrient split is something many Hueligans (Huel consumers) have been asking for; it is even further away from the nutritional guidelines (UK, US, WHO):
45-60% of energy should come from carbs.
No more than 30-35% from fats.
The rest should come from protein.
Carbohydrates
Based on Chocolate (UK):
Total: 17.0g, 6% of RI.
Sugars: 4.4g, 5% of RI.
Fibers: 6.6g, 22% of RI.
There are very few carbs in Huel Black. Despite the number not being low enough to be suitable as a keto shake, it is much lower than most are used to. The main source is tapioca starch, instead of the oats that you will find in Huel Powder. This makes a big difference on the texture (smoother for Black) and taste (removing the oat taste). Arguably, nutritionally tapioca starch is weaker, since it won't provide you with a complex matrix of nutrients like oats will do.
Besides tapioca, Huel Black has organic coconut sugar as carb source. It is interesting that Huel chose not to add any artificial sweeteners and instead add real sugar to the shake (4.4g per serving). However, the overall blood glucose response is still lower in Huel Black due to the higher fat and lower total carb content.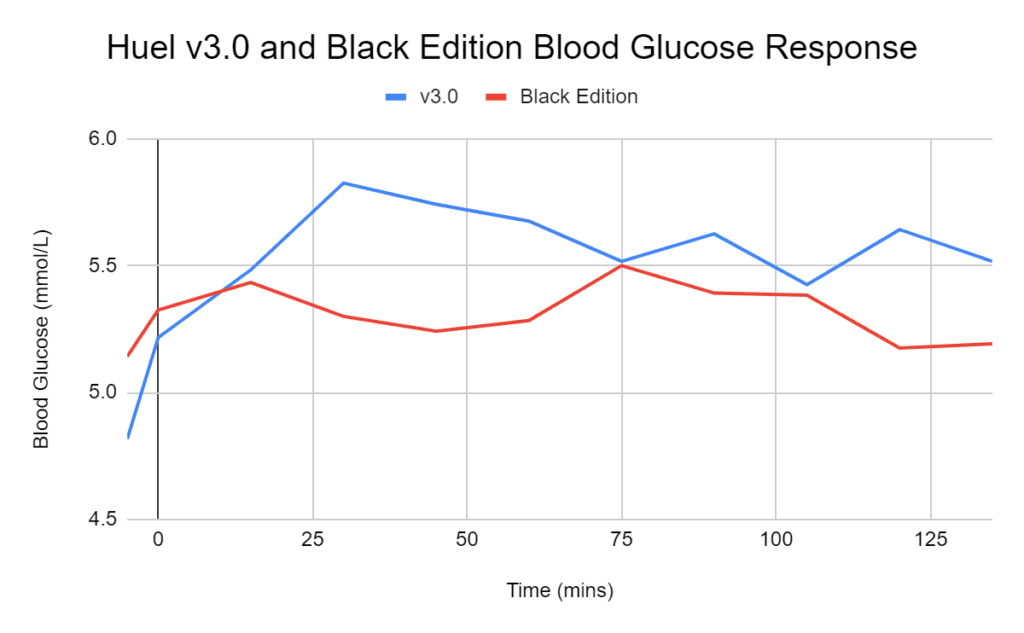 Fats
Per serving (RI based on EU recommendation for 2,000kcal):
Total Fats: 18.0g. 26% of the RI.
Saturated Fats: 2.5g. 13% of RI.
Monosaturated (MUFA): 2.5g. This is 26.5% of the calories per serving.
Polyunsaturated (PUFA): 12.0g. This is 11.9% of the calories per serving.
Omega-3: 6.1g.
Omega-6: 5.2g.
MCTs: 1.1g.
No trans fats or cholesterol.
High in Omega-3, a Huel Trademark
There's usually two factors that are characteristic of Huel shakes: high protein content and extremely high omega-3 content. The latter is included as alpha-Linolenic acid (ALA), which is an essential fatty acid (your body can't make it) necessary to synthetsize eicosapentaenoic acid (EPA), and docosahexaenoic acid (DHA). EPA and DHA, in turn, are key to protect cells and have multiple essential roles in the immune system.
Despite the importance of these essential fatty acids, the western diet is often lacking on them. However, the amounts that Huel provides per serving exceed the daily recommended amount of ALA three-fold:
| Life Stage | Recommended Amount of ALA |
| --- | --- |
| Birth to 12 months* | 0.5 g |
| Children 1–3 years | 0.7 g |
| Children 4–8 years | 0.9 g |
| Boys 9–13 years | 1.2 g |
| Girls 9–13 years | 1.0 g |
| Teen boys 14–18 years | 1.6 g |
| Teen girls 14–18 years | 1.1 g |
| Men | 1.6 g |
| Women | 1.1 g |
| Pregnant teens and women | 1.4 g |
| Breastfeeding teens and women | 1.3 g |
*As total omega-3s. All other values are for ALA alone.
The amounts on Huel should not have any harmful effect, but I would recommend not taking any omega-3 supplements on top.
Protein
Per serving:
The biggest source of protein in Huel Black is pea protein, paired with brown rice protein (no soy). These pairing is often used in vegan shakes to achieve a more well rounded amino acid profile, since they are both complementary (have large quantities of EAA that the other source lacks on).
Amino Acid (mg)
Per 90g
Per 2000kcal
RDA*
% of RDA
Tryptophan
465
2327
280
166%
Threonine
1519
7594
1050
145%
Isoleucine
1693
8463
1400
121%
Leucine
3452
17258
2730
126%
Lysine
1525
7623
2100
73%
Methionine
1079
5397
1050**
171%
Cysteine
712
3559
Phenylalanine
2213
11065
1750***
250%
Tyrosine
2161
10805
Valine
2245
11225
1820
123%
Histidine
1431
7153
700
204%
Arginine
2960
14802
Alanine
2345
11724
Aspartic acid****
3529
17646
Glutamic acid*****
6257
31283
Glycine
1779
8896
Proline
1988
9941
Serine
2066
10331
Why So Much Protein?
The truth is that Huel Black has more protein per serving that in theory most would look for. Usually, being higher than the recommended guidelines is not an issue, since these are based on the minimum you would require not to suffer from muscle atrophy (around 0.8g of protein per kg of bodyweight, can vary with sex). However, consuming 2,000kcal (one day) of Huel Black will put a 80kg person above 2.2kg, which is often the higher end recommended for athletes and those looking to build muscle.
| | | |
| --- | --- | --- |
| Bodyweight | HB per Serving | HB per Day |
| 60kg | 0.66g/kg | 3.33g/kg |
| 70kg | 0.57g/kg | 2.86g/kg |
| 80kg | 0.5g/kg | 2.5g/kg |
| 90kg | 0.44g/kg | 2.22g/kg |
Protein (g) provided by Huel Black per kg of bodyweight for different weights.
So, is this too much? For many people it will be. However, extremely high protein intake has been proven efficient over short periods for weight loss.
Micronutrients
Each serving of Huel Black provides you with at least 20% of your daily recommended vitamins and minerals.
Per 90g serving
Per 2000kcal
% RI* (NRV**)
per 90g serving
% RI* (NRV**)
per 2000kcal
Vitamin A (µg)
180
900
23%
113%
Vitamin D2 (µg)
2.0
10
80%
400%
Vitamin D3 (µg)
2.0
10
Vitamin E (mg)
3.2
16
25%
125%
Vitamin K2 (µg)
35
175
47%
233%
Vitamin C (mg)
60
300
75%
375%
Thiamin (mg)
0.24
1.2
22%
109%
Riboflavin (mg)
0.28
1.4
20%
100%
Niacin (mg)
3.2
16
20%
100%
Vitamin B6 (mg)
0.34
1.7
24%
121%
Folate (µg)
80
400
40%
200%
Vitamin B12 (µg)
0.8
4
32%
160%
Biotin (µg)
12
60
24%
120%
Pantothenic Acid (mg)
1.2
6
20%
100%
Potassium (mg)
700
3500
32%
160%
Chloride (mg)
160
800
20%
100%
Calcium (mg)
260
1300
33%
163%
Phosphorus (mg)
370
1850
52%
257%
Magnesium (mg)
100
500
23%
117%
Iron (mg)
7.8
39
54%
271%
Zinc (mg)
3.8
19
37%
185%
Copper (mg)
0.56
2.8
50%
250%
Manganese (mg)
1.1
5.3
55%
275%
Selenium (µg)
32
160
55%
273%
Chromium (µg)
9
45
23%
113%
Molybdenum (µg)
37
185
76%
380%
Iodine (µg)
30
150
20%
100%
Phytonutrients and Probiotics
One aspect that Huel likes to highlight about their products is the presence of phytonutrients. These are naturally occurring compounds, mostly in vegetables, that whilst not essential, might have beneficial health effects. Usually, you can only find these ingredients in the best green powders, and not in all meal replacement shakes.
However, there are some that they add:
Lutein, 1.2mg.
Zeaxanthin, 0.1mg.
Lycopene, 1.0mg.
Green tea catechins, 40mg.
On top of that they also add, Bacillus Coagulans (198mn) as probiotics. These, often added or present in yogurts, is beneficial for gut bacteria and the microbiome.
Huel Black also contains some caffeine (0.6-12.2mg) and some Kombucha.
Allergens
Huel Black contains no major allergens, but it contains coconut.
Huel Black's macronutrient profile is quite unique, perhaps only similar to Jake Light. However, there are other low carb options in the market:
Huel Black vs Ample V (US).
Huel Black vs Soylent Powder.
Huel Powder 3.0 vs Huel Black.
Ample V Vs Huel Black (US)
Ample is a US based meal replacement brand that specializes in high quality, all natural shakes. Their blend is usually low in carbohydrates, low in protein and high in fats; so it is often appealing for customers looking for low-carb shakes.
Flavours
Huel Black: Chocolate, Vanilla, Peanut Butter, and Unflavoured.
Ample V: Berry.
Ample also has their Original blend, and a Ketogenic blend (available in Chocolate flavour too).
Price
Price

Huel Black

Ample V

US ($)
per 400 (expensive)
2.45
9.00
per 400 (cheapest)
1.73
4.47
Ample V is available in bottles (with 400kcal or 600kcal servings) and in bulk pouches.
Nutrition
| | | | | |
| --- | --- | --- | --- | --- |
| per serving | Huel Black | DV (%) | Ample V | DV (%) |
| Energy (C/P/F) | 20/39/41 | – | 23/20/58 | – |
| Energy (kCal) | 400 | 20 | 400 | 20 |
| Fats (g) | 18 | 23 | 26 | 39 |
| Saturated (g) | 2.5 | 13 | 13 | 63 |
| Cholesterol (mg) | 0 | 0 | 0 | 0 |
| Carbs (g) | 24 | 9 | 23 | 8 |
| Sugars (g) | 4 | 8 | 4 | 8 |
| Fiber (g) | 7 | 23 | 11 | 44 |
| Protein (g) | 39 | 79 | 20 | 40 |
| Sodium (mg) | 395 | 17 | 380 | 15 |
The main difference in between these two blends is the protein/fat content. Huel opts for a higher protein blend, as opposed to Ample, which provides more energy from fats. As such, they have higher saturated fat content, which is not always a positive thing.
When looking at the ingredients, Ample has a larger list and lacks any synthetic vitamins and minerals. However, they also fail delivering all the micronutrients that your body needs.
Both are gluten-free shakes and also dairy free; so great for people who have many intolerances.
What Should I Buy?
For most people Huel Black will be the clear winner, because it is much more affordable. On top of that, it provides you with all the nutrients your body needs, while Ample fails with vitamins and minerals. Nevertheless, if you are looking for a low carb blend that is not high in protein, then Ample will be a better shake for you.
---
In my opinion, Huel Powder is la creme de la creme; e.g. one of the best powders you can buy. It has a great balance between taste, nutritional output and affordability. In the last year, it has also gotten multiple new flavours, so never get bored of it.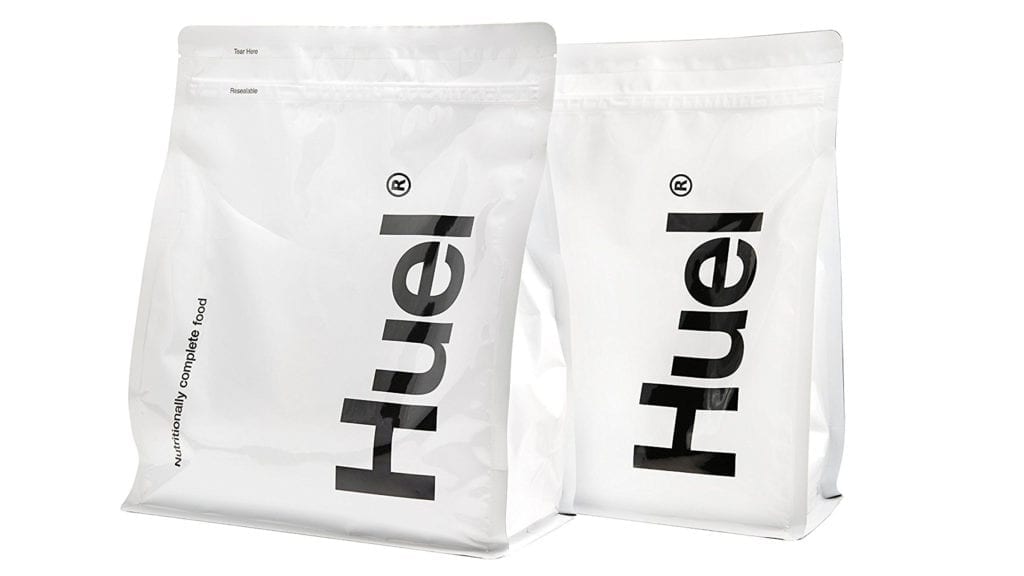 Flavours
Huel Black: Chocolate, Unflavoured, Vanilla, Peanut Butter*, and Coffee Caramel*.
Huel Powder: Unflavoured & Unsweetened, Chocolate, Vanilla, Berry, Coffee and Mint Chocolate.
Price
Price

Huel Black

Huel Powder

US ($)
per 400 (expensive)
2.45
1.82
per 400 (cheapest)
1.73
1.74
UK (£)
per 400 (expensive)
1.63
1.47
per 400 (cheapest)
1.22
1.10
EU (€)
per 400 (expensive)
2.29
2.03
per 400 (cheapest)
1.78
1.30
Note that Huel Powder Gluten Free is more expensive than the standard Huel Powder.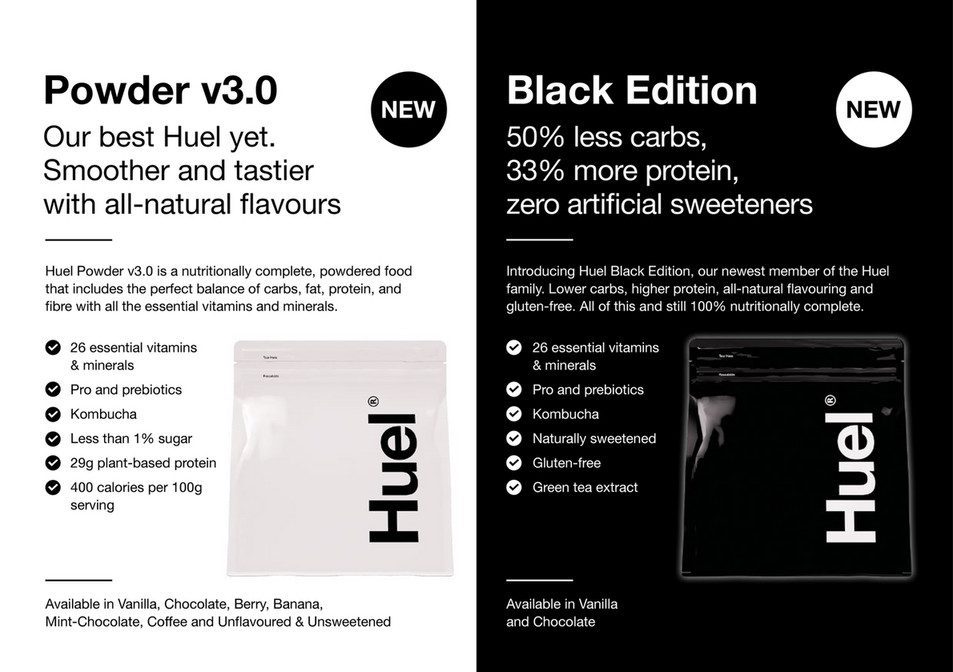 Taste
As I've discussed a few times in this review, Huel Powder's taste is just better. There isn't such a strong pea flavour in the background, and instead, there's the taste of oats, which I find more pleasant. On top of that, the flavours, particularly chocolate feel more achieved and enjoyable.
Nutrition
| | | | | |
| --- | --- | --- | --- | --- |
| per serving | Huel Black | DV (%) | Huel Powder | DV (%) |
| Energy (C/P/F) | 20/39/41 | – | 40/30/30 | – |
| Energy (kCal) | 400 | 20 | 400 | 20 |
| Fats (g) | 18 | 23 | 13 | 17 |
| Saturated (g) | 2.5 | 13 | 2.5 | 13 |
| Cholesterol (mg) | 0 | 0 | 0 | 0 |
| Carbs (g) | 24 | 9 | 46 | 17 |
| Sugars (g) | 4 | 8 | 1 | 2 |
| Fiber (g) | 7 | 23 | 7 | 23 |
| Protein (g) | 39 | 79 | 30 | 60 |
| Sodium (mg) | 395 | 17 | 330 | 14 |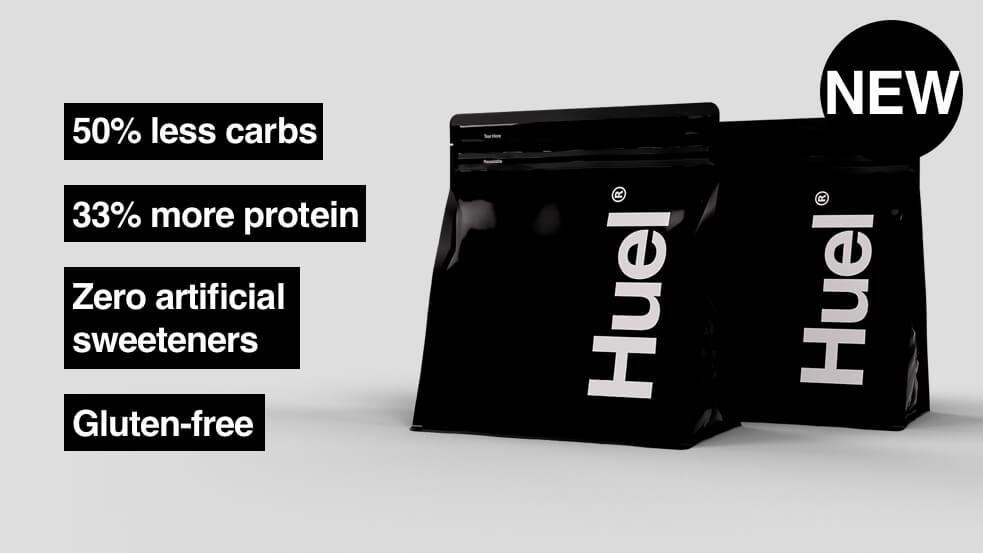 The main difference, besides the listed in the picture (lack of sucralose, and gluten free) is the macronutrient profile. In my opinion, a 40C/30P/30F is more balanced and better suited for the general population.
What Should I Buy?
I would recommend Huel Powder for most people since it is one of the best dairy free meal shakes you can buy. Not only is slightly more affordable, has more flavour options, and tastes better; but I think that the macronutrient split will be better fitting. However, if you despise artificial sweeteners, or really want a low carb option, then Huel Black could be your tea. I just think that Huel Powder offers a better package for most.
---
If you are wondering how does Huel Black compare with Soylent Powder, I recommend you looking at the in-depth comparison.
Flavours
Huel Black: Vanilla, Chocolate, Peanut Butter, and Unflavoured.
Soylent Powder: Original and Cacao.
What Should I Buy?
Huel Black is the healthiest, nutritionally better rounded option between the two. I also think that it is the better shake if you are looking to lose weight, with the extra protein and fiber. These will help you feel full for longer. The only angle in which Soylent Powder has an edge is the taste and the affordability.
---
Looking for a ketogenic alternative to Huel Black? I strongly recommend you look at the best keto shakes that I have tried.
Is Huel Black vegan?
Yes, Huel Black is entirely plant-based and vegan friendly.


Is Huel Black gluten-free?
Yes, all flavours are gluten free.


Is Huel Black suitable as a ketogenic meal replacement?
No, while Huel Black has a very low carbohydrate content, it will not be enough to put your body in a ketogenic state. You would need even less carbohydrates for a keto shake.


What is the difference between Huel Black and Huel Powder?
Firstly, and most importantly, the macronutrient distribution. Huel black has 50% less carbs, and 33% more protein content, thus it should be aimed for different people. On top of that, Huel Black does not contain any artificial sweeteners (sucralose) and uses sugar, instead. Huel Black does also not contain any oats, and thus it's gluten-free.


What is the shelf-life of Huel Black?
It should last at least 12 months when stored in a dry, cool place.


Are the bags recyclable?
The bags are not recyclable, since they are composed of multiple layers of plastic in order to prevent nutrients from decaying.


Can I use Huel Black to lose weight?
Certainly, if you use it together with a caloric deficit, it can be a very good tool to lose weight. Huel Black should do a good job at keeping you full for long and providing you all the nutrients you need in a daily basis.


How many grams are in each scoop of Huel Black?
According to Huel, each scoop will provide you with 45g of powder. However, in my experience, it is closer to 50-55g; which could make a big difference per serving (up to 20% more calories).


Is Huel Black available in Ready to Drink format?
Currently not. However, I wouldn't be surprised if this was a reality by the end of the year (2020).


---
Verdict
Huel Black is a cool meal replacement, but I don't think it's better than Huel Powder. Especially when it comes to taste, Huel Black is not as tasty and enjoyable, due to the strong background flavour of pea protein.
Besides, I find the low carb, ultra high protein profile not adequate for my daily needs, and I would struggle to recommend it to anyone over Huel Powder. However, Huel Black can be great for those who use meal replacements sparingly or once a day. Particularly if you workout or are looking to lose weight.
Despite my criticism about the taste and macronutrient profile, I believe that the nutritional quality of Huel Black is top notch. It offers a vegan and gluten-free meal full of nutrients that will make you feel satisfied and help you feel better. Certainly an improvement over most other meals you will have on the go.
In conclusion, I would not recommend Huel Black unless you do tons of sport or are looking to lose weight; and I think it is better suited for those who consume less than one shake a day.
Huel Black
Starting at £1.63 | $2.21
Pros
Unique macros,plus vegan and gluten-free.
Great for satiety, without making you feel bloated.
Top notch nutrition.
Ideal to lose weight with.
Well-priced.
Cons
Taste is not very enjoyable.
Too much protein and ALA.
No sample packs to try it out.