Huel Black Review | Is This the Best Huel Has to Offer?
Welcome to the Huel Black review, the most popular low carb high protein meal replacement shake in the market.
In fact, with 40g of protein, it's the favorite for those looking to boost their protein intake and/or lose weight. Perhaps is this, or the fact that it's gluten-free and without artificial sweeteners that's made it so popular.
Either way, Huel Black's success has taken even Huel by surprise, and after 1 year of launch, it's already their best-selling product.
On our first Huel Black review, the Editor in Chief (Enaut), was rather disappointed by the taste and thought that it was a fatal flaw in an otherwise excellent product.
In this Huel Black review, Johnny had a fresh look to better understand what makes this shake so popular; and if it actually tastes as bad as originally thought or if something has changed.
Let's find out if you should buy Huel Black!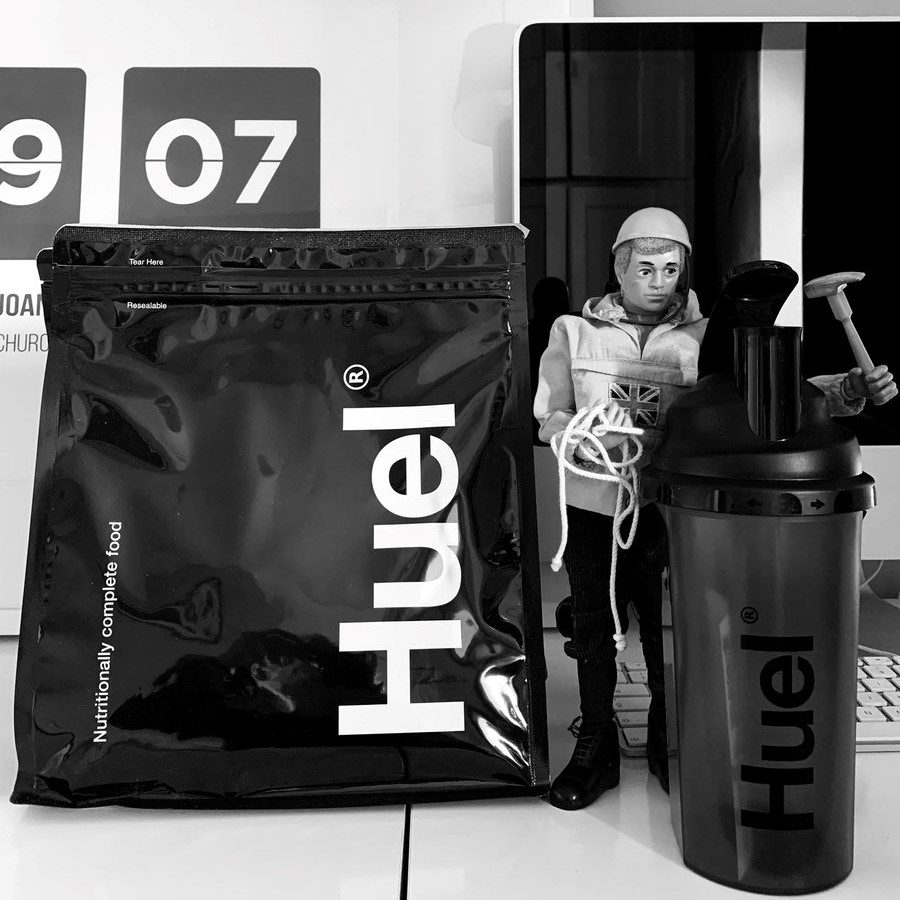 Huel Black Edition at a Glance
Huel Black is nutritionally complete, which means every meal contains about 40g of protein, 17g net carbs, 17g of fats including omega-3s + omega-6s, 6-8g of fiber, plus 27 essential vitamins and minerals. All of this at only 400 kcal per serving!
Flavours: Unflavored, Vanilla, Chocolate, Coffee Caramel, Peanut Butter, Banana, Salted Caramel, Cinnamon Roll, Cookies n' Cream, and Strawberry Shortcake (Strawberries & Cream in the UK).
Opinion
I tried Huel back in 2018 (Original, not Black). I think It was the vanilla flavor, and I completely hated it! However, a lot has changed since, including the inception of Huel Black.
Diving into our box we have two bags of Huel Black Edition, two scoops, a very unique shaker and a small catalog outlining other products. The flavors we have are Coffee Caramel, and Peanut Butter. The bags are super thick, heavy, and resealable with the usual solid background, and transposed color typeface. The only way to tell the flavors apart is to look at the labels that have the titles, which are on the back. Ugh!
The shaker has been reimagined, and has been worked on for three years prior to its release. It looks a lot like a large pill, to be honest. However, upon use, I find myself really liking the new Huel shaker.
What I like
1. 40g of protein! Best in class!
2. No oats! Shouldn't have that strong oatmeal taste. This also makes it gluten-free.
3. Variety. Range of 8 flavors to choose from.
4. Gluten-free, soy-free, free of artificial sweeteners, and plant-based.
5. Good for people looking to bulk up, increase their protein intake or even lose weight.
6. New flavors (Coffee Caramel and Salted Caramel) are great.
7. Free Shipping in US & UK
8. Affordable. Despite not being the cheapest in the market, it's rather cheap for what they offer.
What I dislike
1. Indistinguishable bags. Flavor name is on the back panel and the bags all look the same.
2. Chocolate flavor could be improved.
3. Hard to find caffeine content. This a personal pet peeve of mine.
4. Two-bag minimum order. This is just the Huel way, but having to buy 2 bags (~€60|£55|$65) of powder for something you are not sure to like it's too much.
5. Too much ALA. While this is an essential fatty acid often lacking in our diets; Huel Black might have it in excess. Especially for those that will consume more than 2 shakes a day.
Improvements
1. Make the bags easier to tell apart at first glance.
2. Allow for single-bag orders. Add samples too.
3. The powder could be smoother.
Nutritional Breakdown
Huel Black Edition's formula has many advantages over their original powdered offering.
In comparison, Black Edition contains 50% fewer carbs, 33% more protein and is free from gluten and artificial sweeteners!
As such, it's ideal for those who are looking to avoid sucralose or other artificial sweeteners.
Huel Black Nutrition Overview
| | |
| --- | --- |
| | Huel Black Edition |
| Kcal/meal | 400 |
| Macros (C/P/F) | 20/40/40 |
| Vegan | Yes |
| Keto | No |
| Features | Soy Free, Nut Free, Gluten Free, Dairy Free, Palm Oil Free, Vegan |
| Non-GMO | Yes |
| Organic | No |
| Includes Probiotics | Yes |
| Artificial Sweeteners | No |
| Synthetic Additives | Yes |
| Contains All Micronutrients | Yes |
| Controversial Ingredients | None |
Chocolate values. Some values may vary slightly.
Ingredients: Pea Protein, Ground Flaxseed, Brown Rice Protein, Tapioca Starch, Sunflower Oil Powder, Organic Coconut Sugar, Natural Flavor, Maltodextrin, Medium-Chain Triglyceride Powder (from Coconut), Xanthan Gum, Potassium Citrate, Potassium Chloride, Corn Starch, Calcium Carbonate, Sodium Chloride, Steviol Glycosides, Kombucha Tea Powder, Green Tea Extract Powder, Vitamin C, Bacillus Coagulans MTCC5856, Niacinamide, Lutein, Calcium-D-Pantothenate, Lycopene, Pyridoxine Hydrochloride, Riboflavin, Retinyl Acetate, Thiamine Mononitrate, Zeaxanthin, Menaquinone-7, L-Methylfolate, Potassium Iodide, Vitamin D2 (as Ergocalciferol), Plant-Derived Vitamin D3 (as Cholecalciferol), Cyanocobalamin.
Carbohydrates
Based on Chocolate (UK):
Total: 17.0g, 6% of RI.
Sugars: 4.4g, 5% of RI.
Fibers: 6.6g, 22% of RI.
There are very few carbs in Huel Black. Despite the number not being low enough to be suitable as a keto shake, it is much lower than most are used to.
The main source is tapioca starch, instead of the oats that you will find in Huel Powder. This makes a big difference in the texture (smoother for Black) and taste (removing the oat taste). Arguably, nutritionally tapioca starch is weaker, since it won't provide you with a complex matrix of nutrients like oats will do.
Besides tapioca, Huel Black has organic coconut sugar as carb source. It is interesting that Huel chose not to add any artificial sweeteners and instead add real sugar to the shake (4.4g per serving).
However, the overall blood glucose response is still lower in Huel Black due to the higher fat and lower total carb content.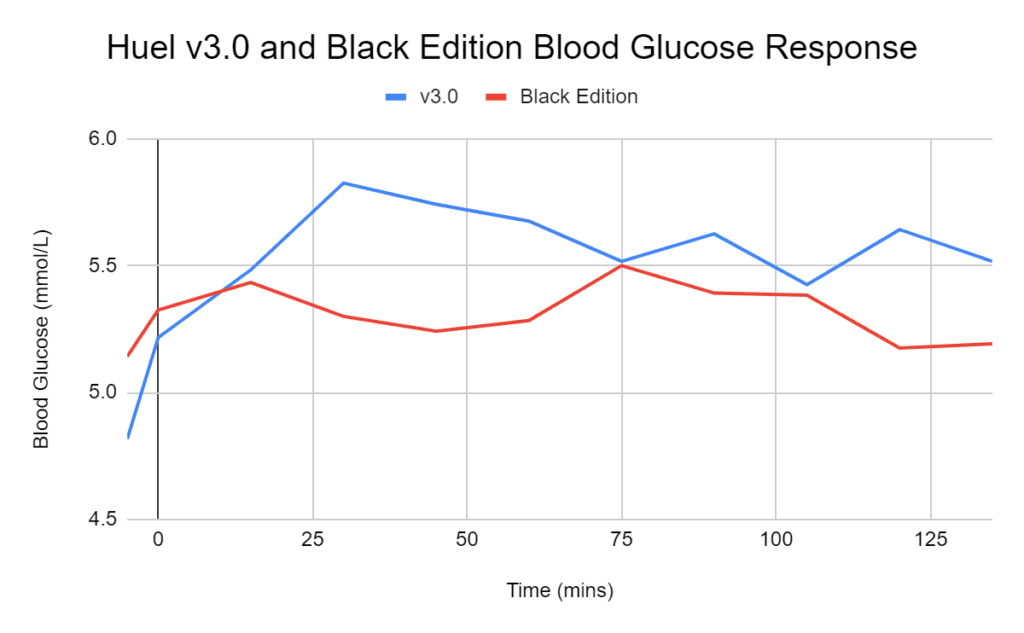 Fats
Per serving (RI based on EU recommendation for 2,000kcal):
Total Fats: 18.0g. 26% of the RI.
Saturated Fats: 2.5g. 13% of RI.
Monosaturated (MUFA): 2.5g. This is 26.5% of the calories per serving.
Polyunsaturated (PUFA): 12.0g. This is 11.9% of the calories per serving.
Omega-3: 6.1g.
Omega-6: 5.2g.
MCTs: 1.1g.
No trans fats or cholesterol.
High in Omega-3, a Huel Trademark
There are usually two factors that are characteristic of Huel shakes: high protein content and extremely high omega-3 content.
The latter is included as alpha-Linolenic acid (ALA), which is an essential fatty acid (your body can't make it) necessary to synthesize eicosapentaenoic acid (EPA), and docosahexaenoic acid (DHA). EPA and DHA, in turn, are key to protecting cells and have multiple essential roles in the immune system.
Despite the importance of these essential fatty acids, the western diet is often lacking in them. However, the amounts that Huel provides per serving exceed the daily recommended amount of ALA three-fold:
| Life Stage | Recommended Amount of ALA |
| --- | --- |
| Birth to 12 months* | 0.5 g |
| Children 1–3 years | 0.7 g |
| Children 4–8 years | 0.9 g |
| Boys 9–13 years | 1.2 g |
| Girls 9–13 years | 1.0 g |
| Teen boys 14–18 years | 1.6 g |
| Teen girls 14–18 years | 1.1 g |
| Men | 1.6 g |
| Women | 1.1 g |
| Pregnant teens and women | 1.4 g |
| Breastfeeding teens and women | 1.3 g |
*As total omega-3s. All other values are for ALA alone.
The amounts on Huel should not have any harmful effect, but I would recommend not taking any omega-3 supplements on top.
Protein
Per serving:
Total Protein: 39g, 80% of RI.
Source: Pea protein isolate
The biggest source of protein in Huel Black is pea protein, paired with brown rice protein (no soy). This pairing is often used in vegan shakes to achieve a more well-rounded amino acid profile, since they are both complementary (have large quantities of EAA that the other source lacks on).
Amino Acid (mg)
Per 90g
Per 2000kcal
RDA*
% of RDA
Tryptophan
465
2327
280
166%
Threonine
1519
7594
1050
145%
Isoleucine
1693
8463
1400
121%
Leucine
3452
17258
2730
126%
Lysine
1525
7623
2100
73%
Methionine
1079
5397
1050**
171%
Cysteine
712
3559
Phenylalanine
2213
11065
1750***
250%
Tyrosine
2161
10805
Valine
2245
11225
1820
123%
Histidine
1431
7153
700
204%
Arginine
2960
14802
Alanine
2345
11724
Aspartic acid****
3529
17646
Glutamic acid*****
6257
31283
Glycine
1779
8896
Proline
1988
9941
Serine
2066
10331
Why So Much Protein?
The truth is that Huel Black has more protein per serving than, in theory, most would look for.
Usually, being higher than the recommended guidelines is not an issue, since these are based on the minimum you would require not to suffer from muscle atrophy (around 0.8g of protein per kg of bodyweight, which can vary with sex).
However, consuming 2,000kcal (one day) of Huel Black will put an 80kg person above 2.2kg, which is often the higher end recommended for athletes and those looking to build muscle.
| | | |
| --- | --- | --- |
| Bodyweight | HB per Serving | HB per Day |
| 60kg | 0.66g/kg | 3.33g/kg |
| 70kg | 0.57g/kg | 2.86g/kg |
| 80kg | 0.5g/kg | 2.5g/kg |
| 90kg | 0.44g/kg | 2.22g/kg |
Protein (g) provided by Huel Black per kg of bodyweight for different weights.
So, is this too much? For many people, it will be. However, extremely high protein intake has been proven efficient over short periods for weight loss.
Micronutrients
Each serving of Huel Black provides you with at least 20% of your daily recommended vitamins and minerals (27).
Phytonutrients and Probiotics
One aspect that Huel likes to highlight about its products is the presence of phytonutrients. These are naturally occurring compounds, mostly in vegetables, that whilst not essential, might have beneficial health effects. Usually, you can only find these ingredients in the best green powders, and not in all meal replacement shakes.
However, there are some that they add:
Lutein, 1.2mg.
Zeaxanthin, 0.1mg.
Lycopene, 1.0mg.
Green tea catechins, 40mg.
On top of that, they also add, Bacillus Coagulans (198mn) as probiotics. These, often added or present in yogurts, are beneficial for gut bacteria and the microbiome.
Huel Black also contains some caffeine (0.6-12.2mg) and some Kombucha.
Allergens
Huel Black contains no major allergens, but it contains coconut.
Tasting Test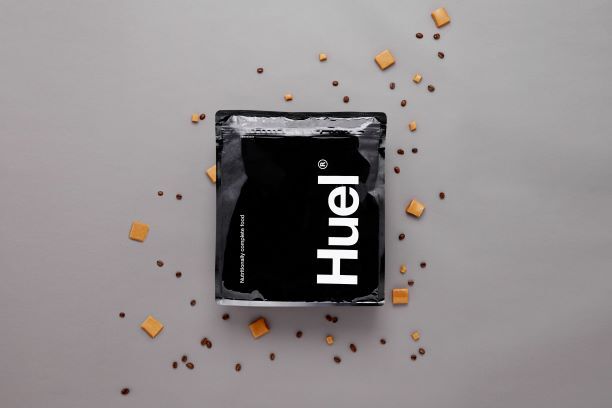 | | |
| --- | --- |
| Best flavour | Salted Caramel |
| Taste | Both were really good. Coffee Caramel just edges out the win here. Quite different to Huel Original, less oaty- biscuit-like. |
| Texture | THICK! Feels like a real meal with the grainy bits. |
| Easy to Mix | It depends. Blending would be best. It did ok with the included shaker, but you will have to shake vigorously. |
| Satiety | The best! Really full afterwards, and hunger returned slowly, not in a flash. The volume of the shake (500-600ml per portion really helps). |
| Easy to Clean | Honestly, not really. I recommend cleaning ASAP when done drinking. Also best if you can use high water pressure. |
| Afterthoughts | Careful with its high fiber. One thing that jumps out is the volume of both. They are both thick and hearty, much like oatmeal or porridge, and require 500ml of water for prep. I think it would have a somewhat better texture if it were blitzed with a high-speed, powerful blender. |
Pro-tip: leave it sit for a few hours (or overnight in the fridge) to smoothen the shake.
---
Huel Black Flavors Ranked
Quick ranking of the Huel Black flavors for those who are too lazy to read:
Salted Caramel. S tier.
Peanut Butter. A+
Coffee Caramel. A+
Vanilla. A
Strawberry Shortcake. A-
Cinnamon Roll. B
Banana. B
Cookies & Cream. D
Chocolate. D
Time to "Re-Huel" – Huel Black Taste Review
We only have 3 of the 8 flavors to try today. My taste tests will be prepared using a standard shaker bottle first, as I want to focus on the flavors without having to worry about Huel's shaker possibly not doing a good job. I will have a separate section solely about the shaker.
Peanut Butter
I'm a big peanut butter fan, and am always willing to give something peanut butter flavored a try, so I'm pretty excited about this one. When you open the bag, it has a very earthy smell, but you can't miss the smell of peanut butter powder. 
With it all prepped and ready to go, the taste takes a backseat to the texture. It was thick and had lots of small bits in it. Though I didn't shake well, but that's just the way it is. It's not bad in my opinion, but it took some getting used to. Anyway, the shake was pretty good. Not too sweet, no overwhelming oatmeal taste, and the right amount of peanut butter flavor. 
An overall well-balanced offering.
Coffee Caramel
Another bold flavor with Coffee Caramel. Like with Peanut Butter, the scents of both mentioned flavors are fragrant, with the coffee being the stronger of the two, but the caramel had a sweet smell. Diving on in, and now knowing what to expect texture-wise, this one is really good too! Not too strong with either flavor, and is perfectly sweetened. 
Honestly, it will be hard to choose a winner between the two, as I've enjoyed both.
Vanilla
Surprisingly, one of the best flavors. it is nice and masks the background the best. I like the fact that it is not overly sweet, but has some sweetness to it and a strong vanilla aroma.
Chocolate
Awful. There's no other way to put it. There's very little chocolate, and the background flavor overpowers it.
I tried it with both water and milk (big mistake, don't use dairy milk), and the shake had a very mild chocolate flavor. The pea protein was overpowering, making a struggle to finish the shake.
Strawberry Shortcake
Initially, I wasn't very fond of this flavor. I thought it lacked the "berriness" and I found it to be too creamy for my taste. However, I kept coming back to it day after day, and by the end I was even looking forward to having it.
In the end, it is much better than I initially thought. Solid A.
Cookies N Cream
I didn't care for this one. I can tell they really went for the whole Oreo thing, but the result was more like bad oreo knockoff. So ultimately, it tastes like a subpar chocolate with an odd aftertaste. Its not undrinkable….but likely one of the worst offerings in the stack.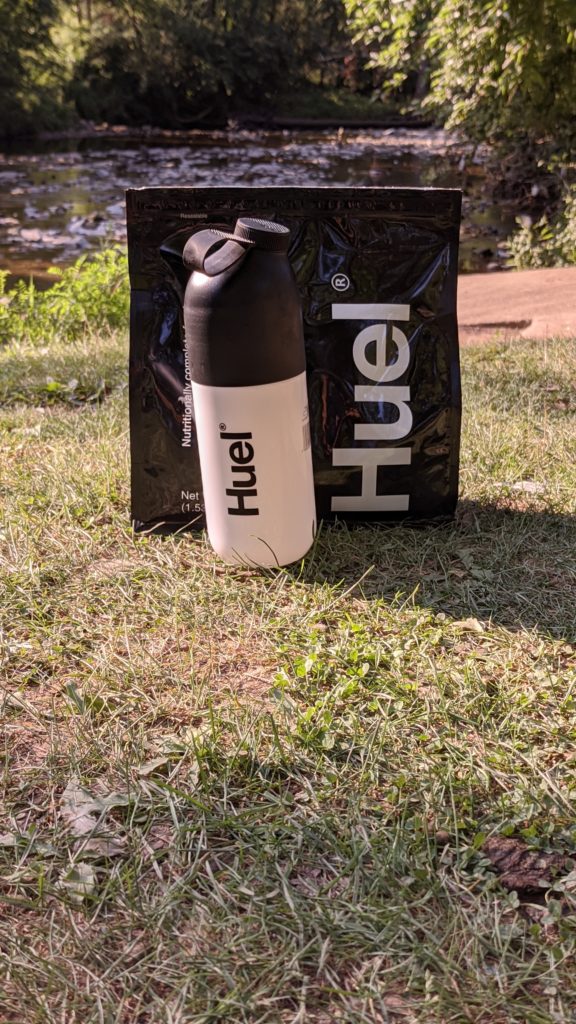 More about Huel

About Huel
Shaking Up the Food Industry & Consumer Mindsets
Huel was founded by Julian Hearn in 2014 in Aylesbury, England. The original recipe was formulated by registered nutritionist James Collier, founder and former owner of MuscleTalk, a bodybuilding website, with the intention of providing the recommended daily amounts (RDAs) of nutrients as stipulated by the European Food Safety Authority, in a vegan and environmentally friendly product.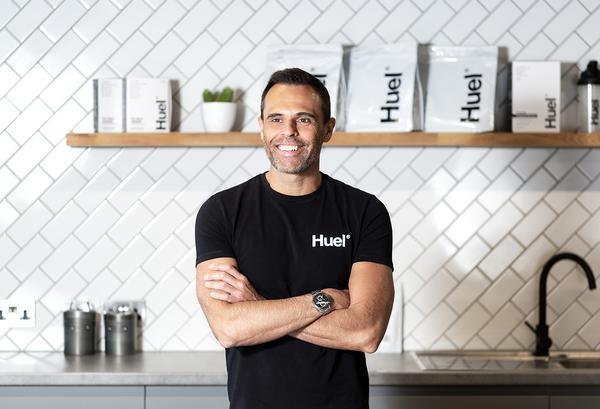 Other Huel Products
You can find more about other Huel products, such as the Original powder, bars, or the RTD in the main Huel review, or by using the search bar above.
Huel Black Pricing & Shipping
Huel Black Edition can be found on their website, or on Amazon. Please note that on Amazon, Huel is only available via third-party sellers, so no subscribe & save discounts are available.
Besides, Huel Black Edition is sold in 1.5kg bags. Each bag contains 17 servings, and all first orders will come with a free shaker and scoop.
Orders have a 2-bag minimum and a 16-bag maximum. A 10% discount is available for those who opt to subscribe. 
Pricing
Subscription delivery intervals are as short as once a week, to once every ten weeks. Also, additional discounts can be had the more bags you buy. Check out the delta between the minimum order, and the maximum order.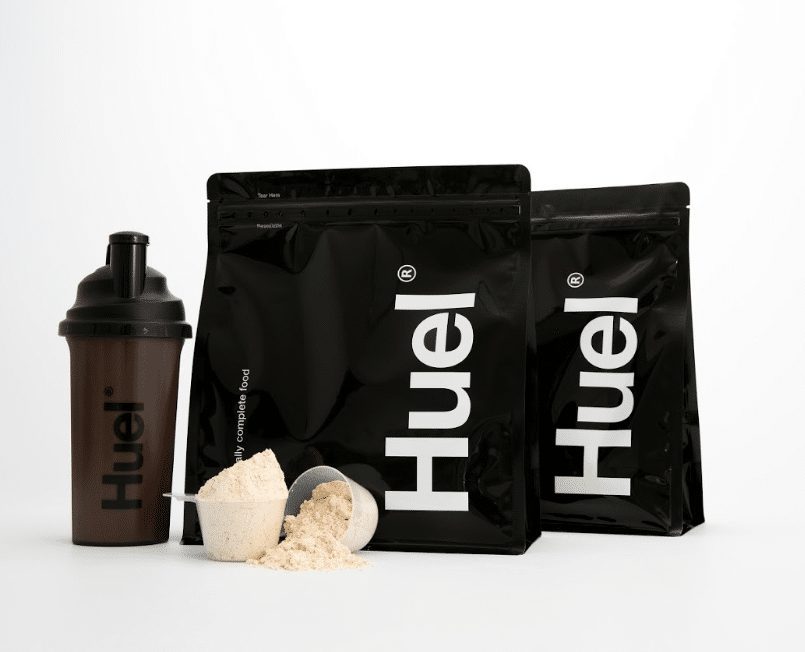 Prices in the US are as follows:
Quantity
Total Price
(Non-Sub/Sub)
Serving Price
(Non-sub/sub)
2 Bags
(34 servings)
$103/$85
$2.78/$2.50
16 Bags
(272 servings)
$602.72/$542.4
$2.22/$1.99
Pricing scales based on number of items purchased
However, in the UK Black is slightly cheaper:
Quantity
Total Price
(Non-Sub/Sub)
Serving Price
(Non-sub/sub)
2 Bags
(34 servings)
£63.34/£57
£1.86/£1.68
16 Bags
(272 servings)
£432/£388.8
£1.59/£1.43
Pricing scales based on number of items purchased
As for the rest of Europe:
Quantity
Total Price
(Non-Sub/Sub)
Serving Price
(Non-sub/sub)
2 Bags
(34 servings)
€83.34/€75
€2.45/€2.21
16 Bags
(272 servings)
€485.28/€436.80
€1.78/€1.61
Pricing scales based on number of items purchased
All in all, Huel Black is not the cheapest meal replacement shake, but it can be quite affordable, particularly in the UK.
Shipping
In the UK, delivery is free for orders over £15, and they offer free next-day delivery for orders over £20.
In the US, Huel provides free shipping on all orders over $25, and orders usually arrive in 3-7 days. The primary courier used is FedEx, but some orders may be shipped via USPS.
Orders to Alaska, Guam, Hawaii, Puerto Rico or the Virgin Islands do not qualify for free shipping and costs will vary depending on the weight.
Huel also ships internationally. You'll be charged depending on the location and order weight. Below is a chart outlining costs.
| | | | | | | |
| --- | --- | --- | --- | --- | --- | --- |
| Delivery zone | 1kg | 1 – 5kg | 5 – 10kg | 10 – 15kg | 15 – 30kg | Country |
| Zone B | £15.00 | £29.00 | £44.00 | £60.00 | £105.00 | Hong Kong, Malaysia, New Zealand, Singapore, South Korea, Taiwan |
| Zone C | £15.00 | £28.00 | £46.00 | £59.00 | £97.00 | India, Israel, Kuwait, Saudi Arabia, United Arab Emirates |
| Zone D | £19.00 | £35.00 | £53.00 | £69.00 | £119.00 | Bermuda, Brazil, South Africa |
| Zone E | £19.00 | £35.00 | £52.00 | £69.00 | £120.00 | Maldives |
| Zone T, U & V | £13.00 | £24.00 | £34.00 | £43.00 | £71.00 | Iceland, Switzerland, Malta, Cyprus |
The Huel Shaker – Great With Some Minor Flaws
Admittedly, I was concerned about the shaker. I appreciate new designs and what it takes to get one engineered and offered, just many that veer away from the blender bottle style are often letdowns.
My meal was mixed well near the top, ok in the middle, and not great near the bottom with a couple of marble-sized clusters resting on the shaker's floor.
It's not without shortcomings but may have a future. Here's what I think they got right:
High-quality build. Not flimsy, and feels durable.
Extra air space. Gives more room for a good mix when shaking.
Comfy rubber finger strap.
Easy to drink from and no leave left-overs. One of the greatest things, it's that the drinking hole is to the side, which allows to drink the shake more easily. Not only that, but unlike with other shakers it allows you to drink all of it, because there's no dead space on the top.
Easy to clean. No weird holes, or ridges and the ability to open it from the middle make it one of the easiest shakes to clean.
Good to scoop in.
And things I'd like to see in a revision:
Measurement markings. Only has a sticker and small notch indicating 500ml. If you want to make more or less, you're guessing those amounts.
Make it clear, or more translucent. Hard to see how much is inside without light, which makes measuring the water hard.
Add an extra mixing device near the bottom. The single grate isn't enough for Huel's thick and clumpy powder.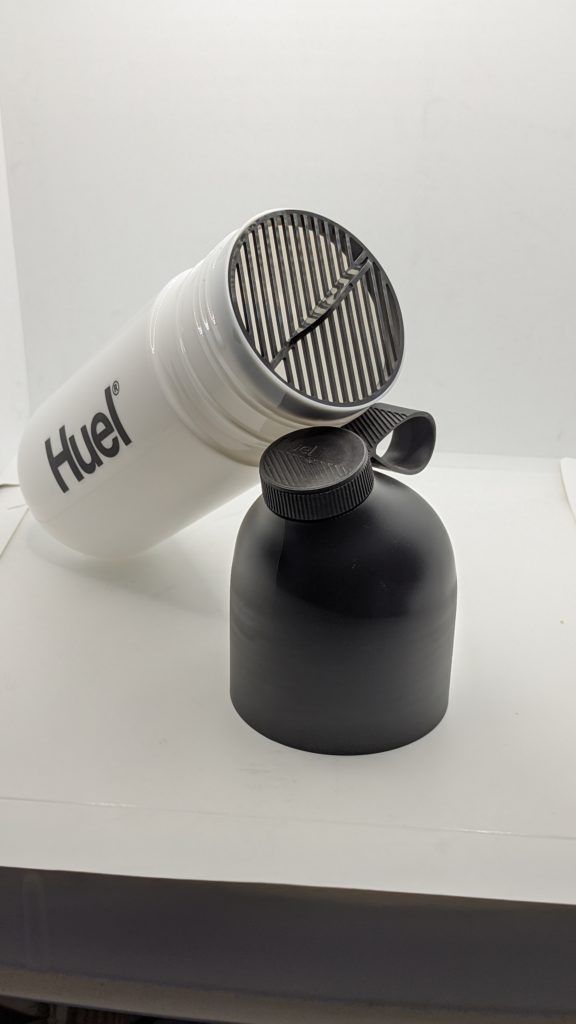 Huel Black Edition vs
Huel Black sits in a unique spot where it offers an absurd amount of protein, no artificial sweeteners, no gluten, and no soy in a plant-based complete meal. The combination of those features makes it very appealing to a wide array of people, but it also comes with some drawbacks, like the pricing.
So how does Huel Black compare to other competitors, and even more, how does Huel Black compare to the original?
In my opinion, Huel Powder is la crème de la crème; e.g. one of the best powders you can buy. It has a great balance between taste, nutritional output and affordability. In the last year, it has also gotten multiple new flavours, so never get bored of it.
Price
Price
Huel Black
Huel Powder
US ($)
per 400 (expensive)
2.45
1.82
per 400 (cheapest)
1.73
1.74
UK (£)
per 400 (expensive)
1.63
1.47
per 400 (cheapest)
1.22
1.10
EU (€)
per 400 (expensive)
2.29
2.03
per 400 (cheapest)
1.78
1.30
Note that Huel Powder Gluten Free is more expensive than the standard Huel Powder.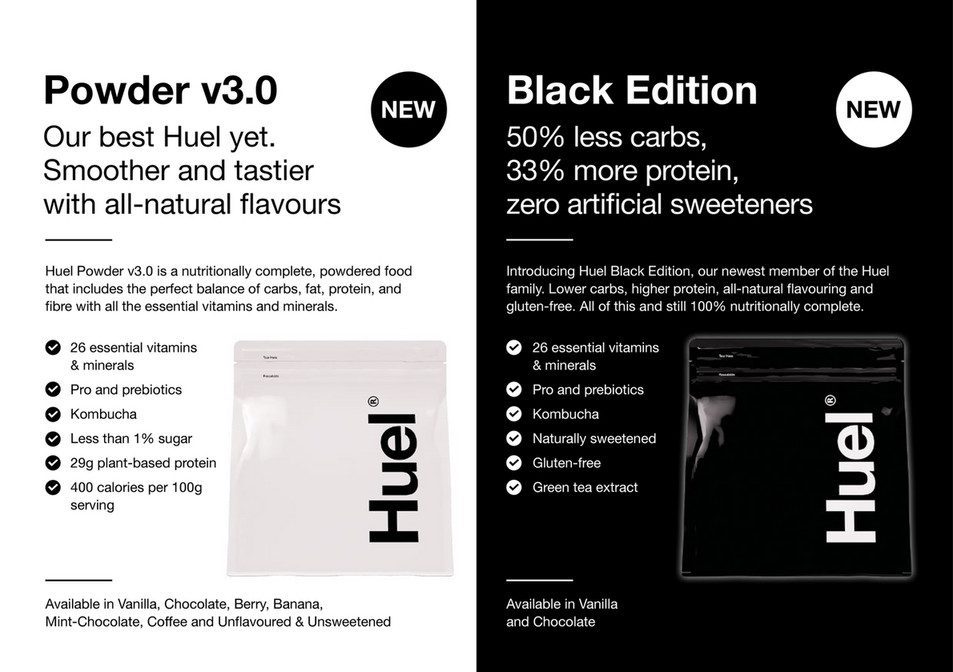 Taste
As I've discussed a few times in this review, Huel Powder's taste is just better. There isn't such a strong pea flavor in the background, and instead, there's the taste of oats, which I find more pleasant. On top of that, the flavors, particularly chocolate feel more achieved and enjoyable.
Nutrition
| | | | | |
| --- | --- | --- | --- | --- |
| per serving | Huel Black | DV (%) | Huel Powder | DV (%) |
| Energy (C/P/F) | 20/39/41 | – | 40/30/30 | – |
| Energy (kCal) | 400 | 20 | 400 | 20 |
| Fats (g) | 18 | 23 | 13 | 17 |
| Saturated (g) | 2.5 | 13 | 2.5 | 13 |
| Cholesterol (mg) | 0 | 0 | 0 | 0 |
| Carbs (g) | 24 | 9 | 46 | 17 |
| Sugars (g) | 4 | 8 | 1 | 2 |
| Fiber (g) | 7 | 23 | 7 | 23 |
| Protein (g) | 39 | 79 | 30 | 60 |
| Sodium (mg) | 395 | 17 | 330 | 14 |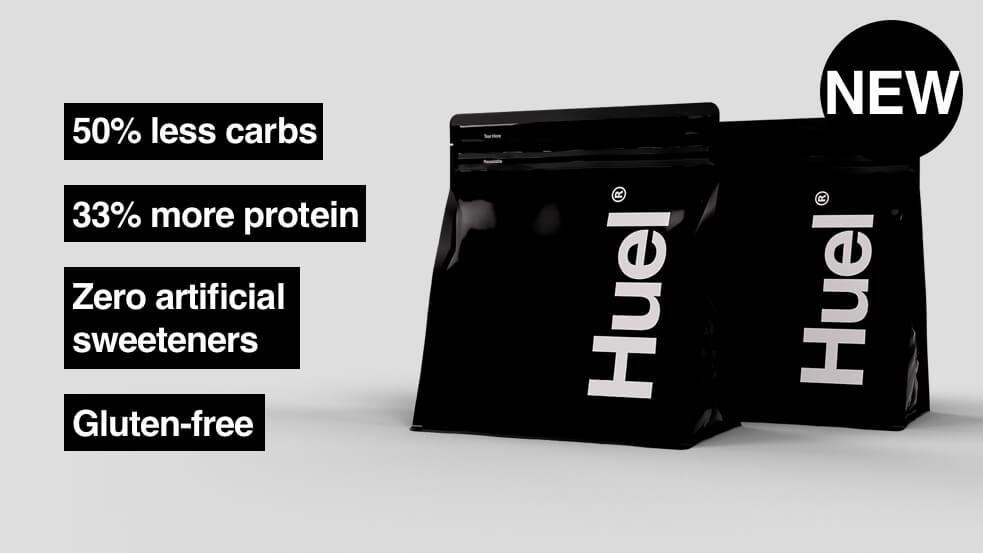 The main difference, besides the listed in the picture (lack of sucralose, and gluten-free) is the macronutrient profile. In my opinion, a 40C/30P/30F is more balanced and better suited for the general population.
What Should I Buy?
I would recommend Huel Powder for most people since it is one of the best dairy-free meal shakes you can buy. Not only is slightly more affordable, has more flavour options, and tastes better; but I think that the macronutrient split will be better fitting. However, if you despise artificial sweeteners, or really want a low-carb option, then Huel Black could be your tea. I just think that Huel Powder offers a better package for most.
Let's put the US champ, Soylent up against the UK champ, Huel! For a deeper comparison, you can check out the Soylent vs Huel article.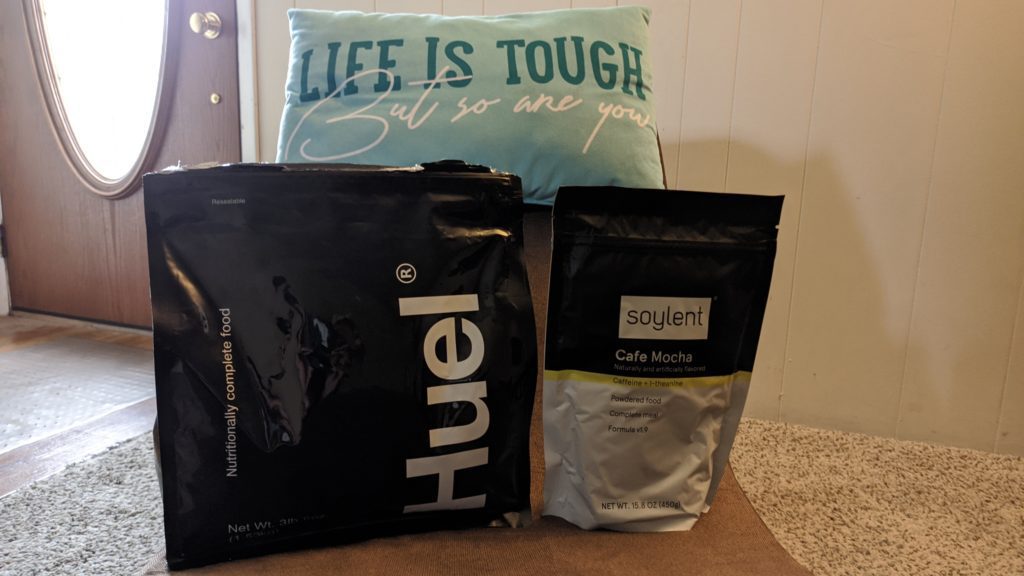 Lets see how it measures up head to head! We'll compare Huel Black Chocolate flavor to Soylent's Cacao Powder.
| | | |
| --- | --- | --- |
| | Huel Black | Soylent |
| serving price | $2.45 (USD) | $1.83 (USD) |
| serving size | 2 scoops + 500ml | 2 scoops + 350ml |
| Packaging (servings per) | 2 Bags (34) | 7 Bags (35) |
| kcal/serving | 400 | 400 |
| Carbs (g) | 24 | 42 |
| Protein (g) | 40 | 20 |
| Sugar (g) | 5 | 16 |
| Fiber (g) | 8 | 6 |
| Fats (g) | 17 | 19 |
| Micronutrients | 27 | 28 |
| Vegan | Y | Y |
| Organic | N | N |
| Artificial Sweeteners | N | Y |
| Synthetic Additives | N | Y |
| GMO | N | Y |
| Protein Source | Pea/Rice/Flax | Soy |
Prices shown are most expensive option.
Bag count is the minimum of one standard order.
Fewer carbs, less sugar & double the protein! Not to mention no GMOs or artificial sweeteners. Need we say more?
Though in Soylent's favor, you'd have to buy an outrageous amount of Huel to match Soylent's default per serving price.
It all comes down to what you live with, and how much that is worth to you.
Huel Black Alternatives
So it's Soylent the only valid Huel alternative? No, and as a matter of fact, there are multiple other meal replacements that are great alternatives to Huel Black.
Instant Knockout. This is a meal replacement shake designed for weight loss. It comes with 30g of protein, 7g of fibre and it's incredibly filling. It was created in conjunction with MMA fighters to help them feel energized while on a caloric deficit.
HLTH Complete Meal. If you don't mind not being dairy-free, this is your low carb high protein shake. Delicious, smooth and nutritionally very well rounded, they are one of my favourite shakes. Plus, they contain no artificial sweeteners!
Complete 360 Meal. 30g of protein, vegan, and all the nutrients you need. This is the recipe for this mouth-watering shake, that's also available in 6 flavours. This is the best alternative in Europe.
Another popular alternative in the US is Kachava. I highlight the key differences in the Kachava vs Huel in-depth comparison, but basically, it offers a more natural even healthier alternative to Huel. Only good for those who really don't care about how much they spend on food, though.
Huel Black Edition FAQ
Are the vitamins and minerals in Huel easily absorbable?
Yes. All forms used in the Huel vitamin and mineral blend are readily absorbed to provide adequate nutrition.


What is the glycemic index of Huel?
Huel Black Edition has GI of 19.


Is Huel suitable for those with histamine intolerance?
Huel uses pea protein isolate which removes the majority of histamine.


Aren't liquid diets bad for you?
The skepticism of liquid diets is often due to lack of chewing. Huel has fine-milled oats as the carb source and these are a lot easier to break down.



Is Huel organic?
No. Organic ingredients are far more expensive, and this doesn't fit in with our mission to provide universally affordable, nutritionally complete food.


What is sustainable nutrition?
Food that provides essential nutrients in proportions that contribute to good health, is affordable, and produced with minimal impact on the environment.



What is the shelf-life of Huel Black?
It should last at least 12 months when stored in a dry, cool place.



Are Huel bags recyclable?
The bags are not recyclable, since they are composed of multiple layers of plastic in order to prevent nutrients from decaying.



What is the difference between Huel Black and Huel Powder?
Firstly, and most importantly, the macronutrient distribution. Huel black has 50% less carbs, and 33% more protein content, thus it should be aimed for different people. On top of that, Huel Black does not contain any artificial sweeteners (sucralose) and uses sugar, instead. Huel Black does also not contain any oats, and thus it's gluten-free.

Is Huel Black healthy?
Yes, Huel Black is healthy and you might see many benefits like increased energy, better intestinal flow, weight loss… when taken as part of a balanced diet.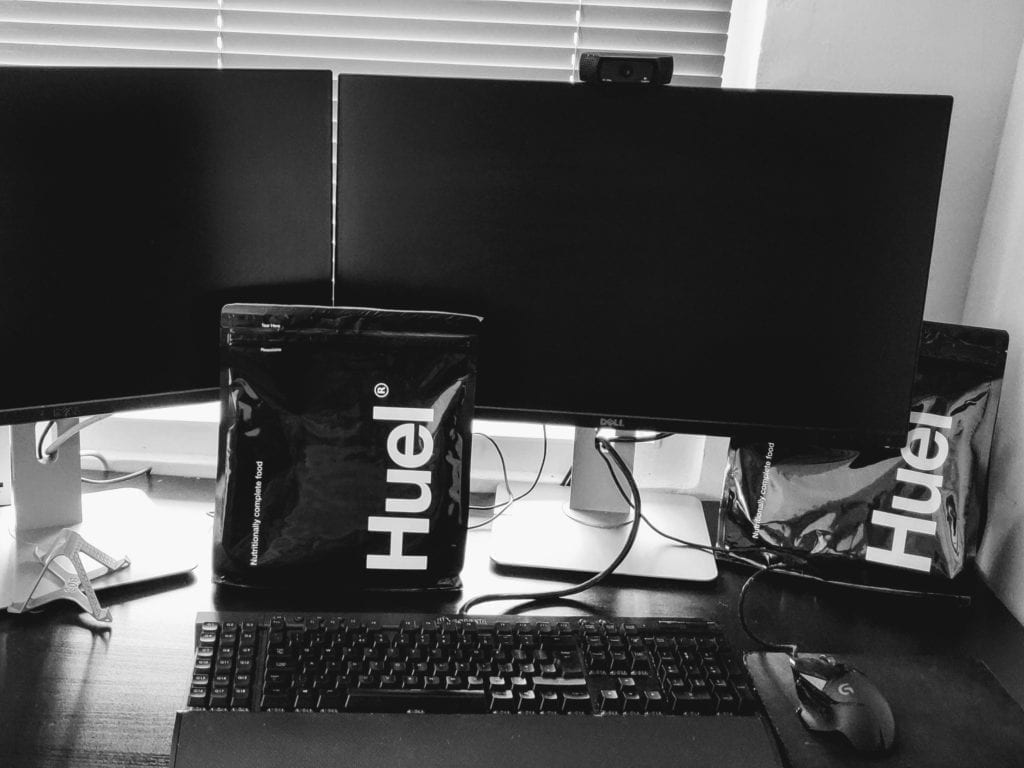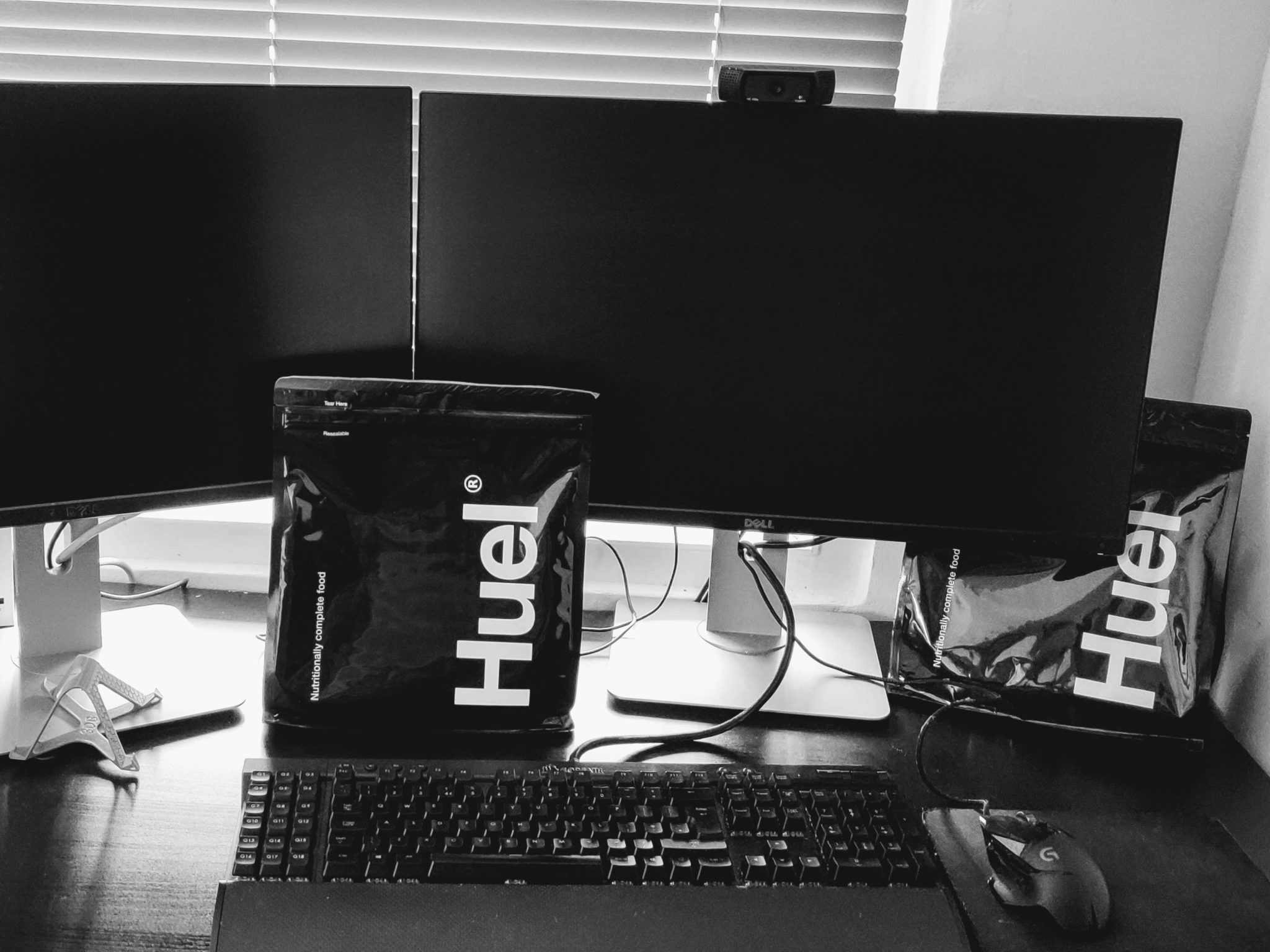 ---
Verdict – Huel Black Review, Is It Worth It?
I'm glad I had a chance to revisit Huel. My first go with it was memorably awful, and this is a complete 180. 
While I don't think Huel Black is perfect, and as with anything, will not appeal to everyone. When shaken, it's very much like drinking a bran muffin. And you definitely have to tread lightly if you are not used to that much fiber in a day.
That aside, I really enjoyed how hearty it was, how it wasn't too sweet or not sweet enough (like old Huel) and how the flavors were so well-balanced. They are easily identifiable through smell and taste, without being overbearing.
Nutritionally, it offers something quite unique. Tons of protein 40g per serving, no artificial sweeteners and a gluten-free shake that's also plant-based. There are very few shakes that offer anything like it, which I think it's the reason why it's become so popular.
Besides, I do like the new shaker too. It's great to see innovation in that space. Many companies that try to reinvent the wheel with shaker bottles, often end with a swing and a miss. This is no homerun, but I'd call it a solid base hit.
Lastly, a word about culture. It's so important to foster a healthy culture in any work environment and I appreciate companies who commit to this, as Huel has.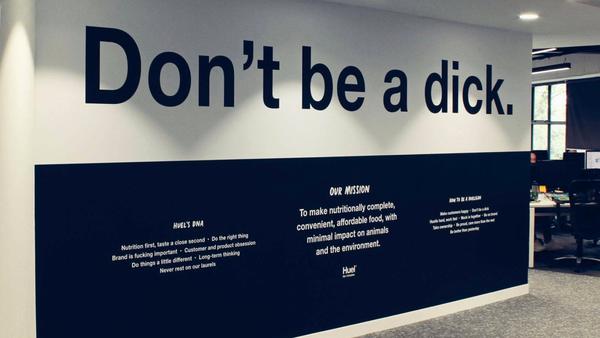 Now I see why Huel has been, and continues to be such a big player in the European complete food scene. It's a product that is polished from top to bottom. They are a very purpose-driven brand, and I recommend Huel Black Edition.
Huel Black
Starting at £1.86 | $2.78
Pros
40g of protein, no gluten, no soy
Great for satiety, without making you feel bloated.
Top notch nutrition.
Ideal to lose weight with.
Well-priced.
Cons
Taste can be divisive, not easy to like
Too much protein and ALA.
No sample packs to try it out.
Thick texture might not be for everyone