What Are the Best Greens Powders and Are They Worth It?
Greens or super green powders are a product category that I previously thought to be useless. However, after doing more research, testing and reviewing the best green powders, I've changed my mind.
In fact, superfood green powders have now become regular in my diet; and I definitely feel healthier because of it.
If you are the type of person who eats tons of fruits and vegetables, and eat more than your recommended 5 a day, then green powders are not for you.
But according to a CDC study, 9 out of 10 Americans don't eat enough vegetables or fruits!
Therefore, green powders are the ideal supplement, because they are made of fruits, vegetables, and mushrooms.
Thus, they can provide you with a much-needed boost to your diet, in a single drink!
Let's find out what the best green powders are!
What Are Green Powders?
So what are greens?
Simply put, they are powdered vegetables and herbs that you mix with water to get an incredibly nutritious drink.
With a single serving, you will get a concentrated blend of superfoods (berries, spinach, kale, etc) that will boost your vegetable and fruit intake.
This is extremely important because plants are extremely rich in vitamins and minerals, but low in calories.
Furthermore, they are not only rich in essential nutrients (micronutrients), but they are also an extremely great source of antioxidants, anti-inflammatory agents, flavonoids, beta-gloucans… and phytonutrients.
These can boost metabolic activities, support, our immune system, help us fight inflammation, improve our cognitive health, or help us get rid of toxins.
Unfortunately, there are tons of green powder products that are rubbish.
Examples of these include green drinks with extra calories, artificial additives and other substances that might lower the quality of the greens blend. As such, I put all my effort and knowledge into the field to find out what the best greens powders you can buy are.
Latestfuel's Top 3 Greens in 2023
---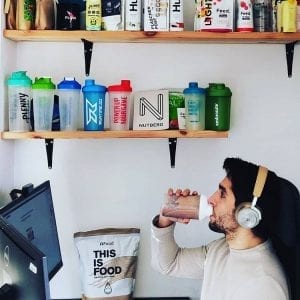 Meet the Expert
I'm Enaut, the owner of Latestfuels and I dedicate my life to testing meal replacements and nutritional products.
I studied Biochemistry at the University of Bath; which made me fall in love with the effect nutrition has on health.
Since, I've been lucky enough to convert my passion into my job. I care about the details and I try to provide the finest information to the readers.
All so you can make a safe choice.
---
1. SuperGreen Tonik – Best Greens Powder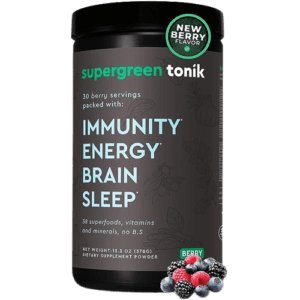 | | |
| --- | --- |
| Nutrition | 90% |
| Greens Blend | 90% |
| Taste | 85% |
| Mixability | 95% |
| Price | 85% |
Pros
Clean, high quality ingredients that work
Added adaptogens to boost metal performance and reduce stress
Transparent formula
100% of your DV for almost all vitamins and minerals
3rd party tested, and made in the US
Cons
Premium price – best bought in bulk
Berry is much better than Mint
If you are looking for a high-quality green blend then this is the product for you. SuperGreen Tonik is manufactured in the US and third-party lab tested for your insurance.
However, that's not what I like the most about it. In fact, it's the insurance that they have chosen ingredients with proven benefits (ashwagandha, spinach, kale, Rhodiola…).
Plus, they don't hide the quantities behind a "proprietary blend", so you can know that you are getting enough of each and that no filler is added!
Furthermore, they infuse the greens blend with vitamins and minerals that have key roles in proper brain and body function. For instance, you get 100% or more of B-group vitamins which are essential in brain function, memory, and focus.
When tested, it was the green blends that made the biggest difference in our day-to-day lives. Our energy levels were higher and mood was better.
All of this, with a nice, clean-tasting berry flavor. I would've loved to see an unsweetened/unflavoured version, too; so that people that don't like stevia can enjoy it, as well.
Enjoy now with the code LF10 (10% off) and free shipping to the US!
Ideal for: those looking for a high quality greens in the US, and don't mind paying extra.
---
2. Enso Supergreens – Best Budget Greens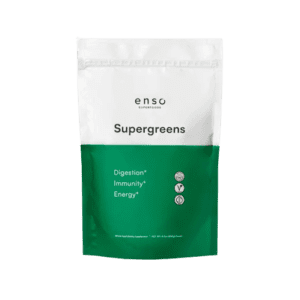 | | |
| --- | --- |
| Nutrition | 75% |
| Greens Blend | 70% |
| Taste | 80% |
| Mixability | 85% |
| Price | 90% |
Pros
Clean & without fillers
Plenty of spirulina and chlorella
Fully organic
Very affordable
Cons
Proprietary blend hiding ingredients
Not the most health benefits
This greens powder is a great option for those who want to improve their nutrient intake without having to pay too much.
Even though, it does not have as a comprehensive greens blend as SuperGreen Tonik (or other greens on this list), Enso offers a very effective blend.
This is because they don't have much in terms of fillers like oat grass, barley grass etc, and instead the main ingredients are spirulina and chlorella. Both have been scientifically proven to help you detox, boost your immune system, and help you fight free radicals.
Ideally, they wouldn't hide the exact quantities of each ingredient behind a proprietary blend, but you should get at least 2g of the abovementioned.
Taste-wise, Enso offers a very clean and refreshing product. Unlike other green drinks, it's not stuffed with artificial sweeteners or flavorings or colorants.
All in all, a great bang for your buck.
Ideal for: Want the health benefits without having to pay extra.
---
3. Amazing Grass – Most Flavors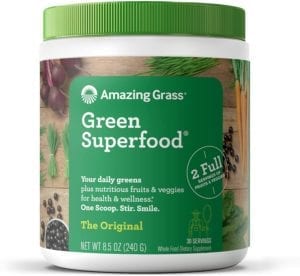 Pros
Great pricing and good quality
Few different mixes available: with extra antioxidants, with vitamins, detox…
16 greens, plus probiotics and digestive enzymes
Simple, affordable and efficient
Cons
Flavoured are not as healthy (extra calories)
Best prices when buying in bulk
When I did my Amazing Grass review, I was very positively surprised. It was a brand that I did not expect much of, and I realized that in fact, they were one of the best green powders.
I love the simple formula with 16 greens in efficient dosages at a very affordable price. Because they don't add any extravagant ingredients, they are able to keep the price low (almost as low as half a dollar).
Yet, when I look at the core blend, I see the usual superfoods: spinach, chlorella, spirulina, alfalfa, broccoli, and more. They claim that one serving can replace 2 full servings of fruits and veggies.
Besides, if you want something with extra vitamins or perhaps extra adaptogens, you can look at the other Green options they offer.
Ideal for: People who are looking for a good greens powder but don't want to break bank to purchase it.
---
4. Huel Greens – Most Surprising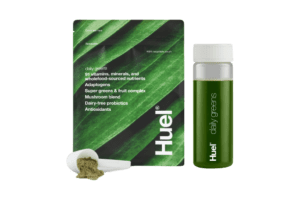 Pros
Very affordable
85 superfood, vitamins and minerals
Organic greens only
Includes probiotics and adaptogens
Great company to buy from
Cons
Proprietary blend
Only available in US
Huel Greens is the newest product in this list, only launched at the start of 2023. However, as highlighted in our Huel Greens review, this is an excellent first product by Huel.
For those unaware, Huel is the best meal replacement shake company in the world, and they do a plethora of nutritional products, mostly based on providing you with complete nutrition.
Consequently, Huel Greens is their latest addition to give you complete nutrition.
This organic greens powder has 60 superfoods, all the vitamins and minerals, probiotics, and adaptogens.
The formula closely resembles the premium blend AG-1 offers, but the Huel Greens is significantly cheaper. It only costs $1.5/per serving!
And to our surprise, the pineapple-flavored drink was more pleasant than most greens drinks.
However, we did not like the fact that Huel hides the ingredients behind a proprietary blend. Furthermore, much like in AG-1, many of the ingredients in Huel Greens are in low doses and are not effective.
When tested, we found Supertonik to be more effective at boosting our health and mood.
Ideal for: those who are looking for a food value greens powder.
---
5. Athletic Greens – Best All-in-One Green Powder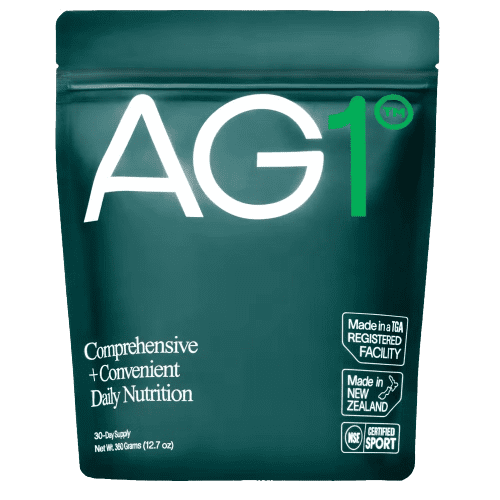 Pros
Contains probiotics and digestive enzymes for an extra boost
Includes 75 carefully chosen ingredients to provide you all your body requires – Extremely nutrient dense
NSF Certified for Sport – product has met the highest quality standards
Vegan, Paleo, Keto… friendly. Hypoallergenic
The website provides you with in depth info about each ingredient
Cons
Not the most affordable
Only available in Europe and North America
Athletic Greens AG-1 is the complete package when it comes to green superfood powders. Not only does provide you with more than your daily values for many vitamins and minerals (Vitamin C, E, B1, B2, B5, Zinc…); but it's also an excellent source of dairy-free probiotics and includes digestive enzymes that enhance your gut health.
While more expensive doesn't always mean better; in this case, paying extra will provide you with a NSF-approved green supplement.
This means that each ingredient has been tested, the product has undergone strict microbiological examination, and that has ultimately been approved for use by pro athletes and Olympians! That's how you know you are getting one of the best superfood powders.
Besides all this, you can consume Athlete Greens at ease no matter which diet you follow: keto, paleo, vegan… It contains no gluten, dairy, corn, egg, peanuts or allergens of a kind. Just a great vegetable powder supplement.
That said, as highlighted in negative AG-1 Athletic Green reviews, there's no escaping the price. This is the most expensive green supplement you can buy.
Ideal for: Those who want the best of the best and the complete package. It is also considered by many to be the best tasting greens powder.
---
6. Super Greens by TPW – Best Tasting Greens Powder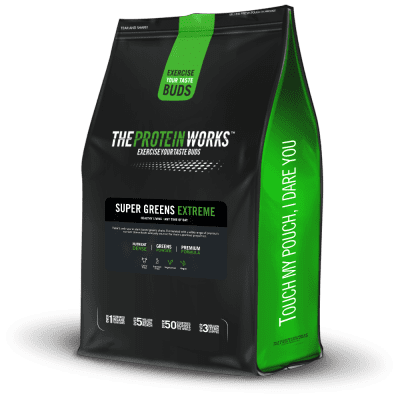 Pros
Balanced blend of vegetables and fruits with some adaptogens
5 awesome flavours, including unflavoured
Best tasting green powder
Only 26kcal per serving
262 positive reviews (96%)
Ultra fast UK delivery, and fast EU too
Cons
International shipping is free but at £100, otherwise €6.99
No exact info on micronutrients
Protein Works is a superb nutritional company with two amazing green powders: Super Greens and Super Greens Extreme. While both are great, I've opted to list Super Greens, since it's the more affordable option.
Super Greens contains 13 different vegetables, including, spirulina powder, kale, spinach, and moringa powder. This last is incredibly rich in vitamins A, B6, C, and magnesium, for instance. All 13 will ensure a wide array of nutrients, anti-inflammatory compounds, antioxidants etc.
Besides that, the most noteworthy aspect of this green drink is the mouthwatering taste. While I'm usually an "Unflavoured" kind of guy, these green drinks are worth having flavored. My favorite is Tropical Punch.
All this for a mere £0.46 per serving! Why not upgrade to the Extreme version with even more vegetables and nutrients?
Ideal for: People looking for good-tasting green drinks at a great price.
---
7. Deep Greens by Zhou – Best Organic Green Powder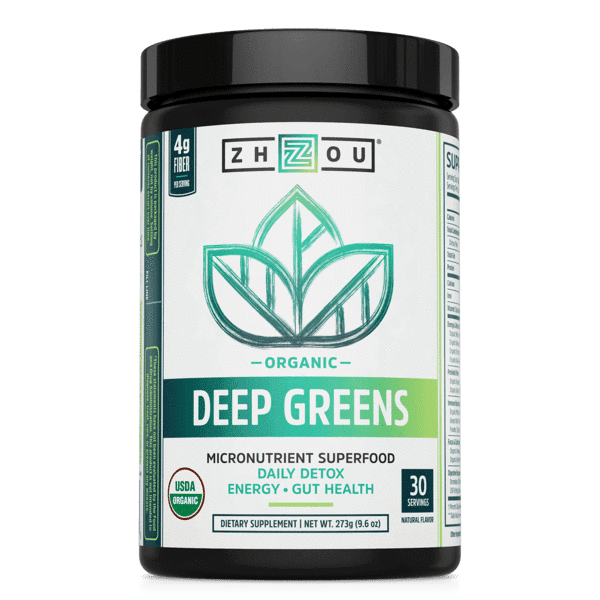 Pros
USDA organic certified and made in the USA (UTAH)
Includes adaptogens to boost your mental performance and awareness
Contains prebiotic fiber; digestive enzymes, and probiotics
Very affordable: less than $1 per serving
Cons
International shipping is available but it's expensive
Doesn't show you how much of each micronutrient you get
Zhou's Deep Greens formula is the best organic greens powder; as well as, one of the most affordable ones. For US citizens, Zhou is the best bang for your buck, and a great way to support US products.
Besides, Deep Greens is one of the best greens powder on the market. It contains 650mg of antioxidant-rich herbs (organic matcha powder, beet root, ginger etc.); plus, almost 3 grams of prebiotic fiber; and some adaptogens like ashwagandha and reishi mushroom powder. On top of that, it also contains digestive enzymes and probiotics.
I think that for many Deep greens will be the best superfood powder they can get. A solid combination of quality organic greens, reasonable price and a great blend of active ingredients.
Ideal for: People looking for the complete package at an affordable price. Great US based product, only containing highest quality organic ingredients.
---
8. Complete Greens – Best Green For Weight Loss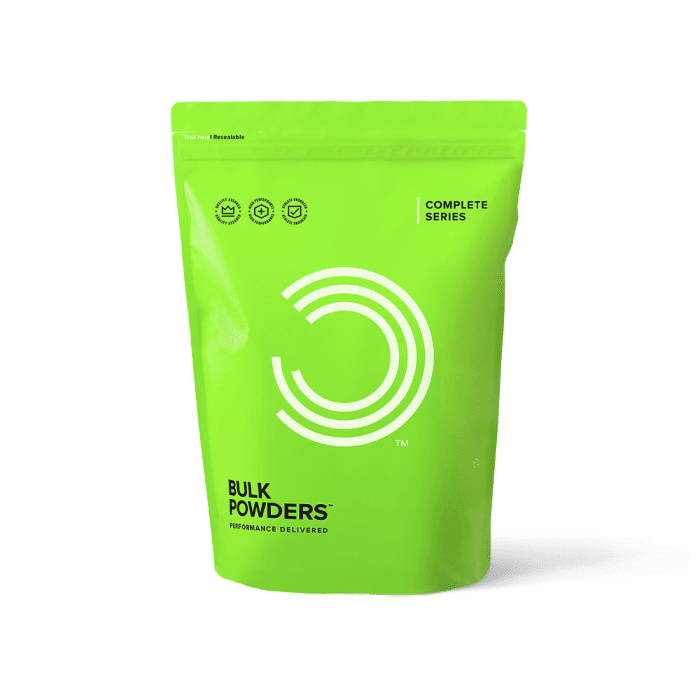 Pros
Only 27kcal per serving and less than 1g of sugar
Includes ingredients that help you with weight loss and body fat control
Available in 4 flavours: unflavoured, apple & lime, mixed berry, peach & mango
Vegan, soy-free, gluten-free, dairy-free
Available in the USA and in Europe
Cons
Contains fewer ingredients than other powders
Exact values for micronutrients are unclear
Most greens can be helpful with weight management, so why is Bulk Powder's Complete the best green powder for weight loss?
In one side it has very low calories per serving, with a mere 27kcal. The green mix is very low in sugars and fats; while being extremely nutrient-rich. It also contains 2g of fiber per serving which has been linked to increased satiety and improvement to gut flora. Adding it to your smoothie will help slow down glucose absorption, while benefiting digestion.
Besides that, it also contains spirulina and chlorella; which have been found to help on weight loss.
Plus, I would use the extensive catalogue Bulk Powder's offer to also buy some 5-HTP capsules, which can further help you to reduce the carb cravings.
Ideal for: Those who are looking to improve their diet, boost their green intake and perhaps lose some weight.
---
Best Protein Powders with Greens
If you are looking for an all-in-one kind of deal, there are some excellent proteins with greens that will suit you. Get the best of both, a quality protein with the nutrient-rich superfood mix. The best way to make your protein powder truly shine and make it extra healthy.
1. Raw & Organic Protein & Greens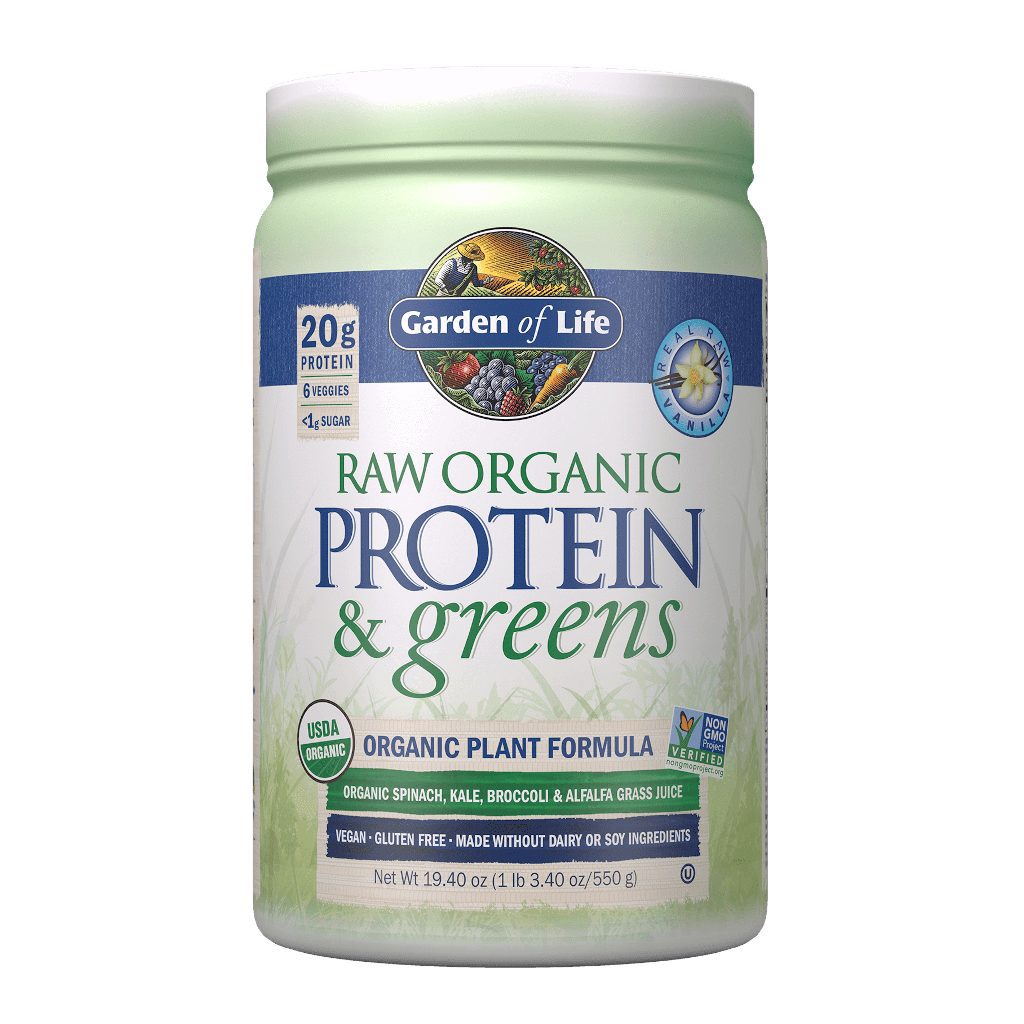 Pros
USDA organic certified, made from real food and without soy
20g of protein, 100kcal, balanced amino acid profile
Excellent taste and smooth
Available in the USA and in Europe
Cons
Less greens than only greens powders
Shipping from US to UK can be slow
Garden of Life is the master of raw and organic meal replacements; natural and with the full nutritional power of each ingredient. Their Protein and Greens drink is no different, an excellent shake that delivers in both nutrition and taste.
It contains 20g of protein from various plant-based sources; including, organic pea, organic rice, organic garbanzo and various more. All without added sugars, synthetic ingredients, sweeteners of preservatives.
On top of that, they add 6 powerful greens: organic alfalfa grass juice, organic spinach, organic kale, and organic broccoli, carrots and beets. While this is not as impressive as some of the other entries on this page, it will still provide you with a powerful boost without the hassle of buying two products.
Ideal for: People looking for plant based organic protein with some extra nutrition.
---
2. Orgain Organic Protein & Superfoods – Best in US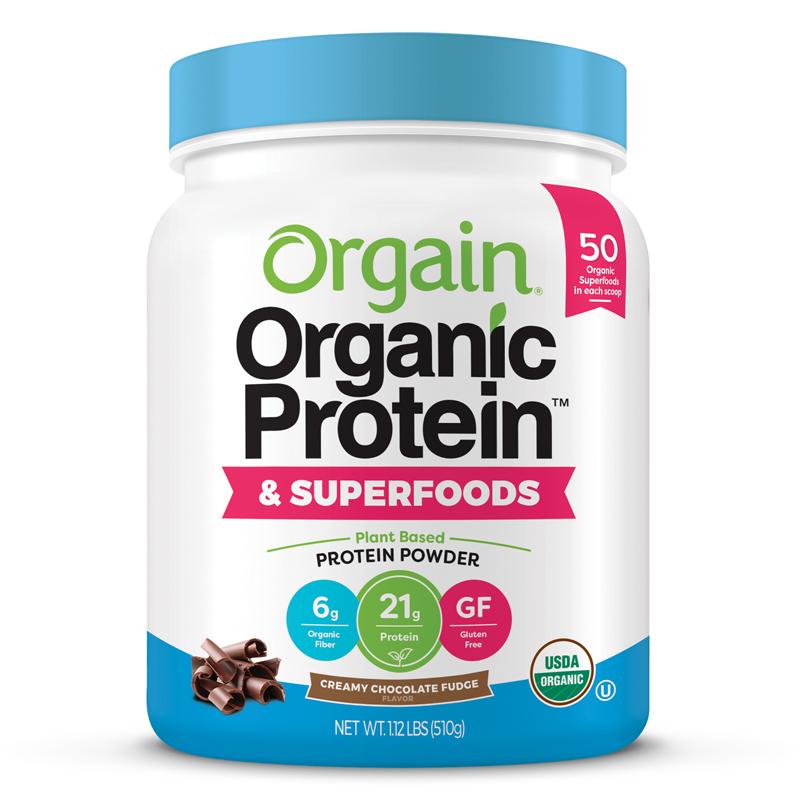 Pros
USDA organic certified, without soy, no added sugars, no-GMO
20g of protein, 170kcal and 6g of fiber
50 organic superfoods to provide you with all the greens you need
Tasty and easy to mix
Highly rated
Cons
More calories per serving – some from carbs
Only in the US
Orgain is the other powerhouse when it comes to organic nutritional supplements. Similarly to Garden of Life, they believe in the nutritional power of quality ingredients and avoid GMOs and synthetic additives.
However, Organic Protein & Superfoods is a more powerful blend, since it contains 50! organic vegetables, fruits and seeds. Amaranth, quinoa, adzuki, pumpkin berries, acai, turmeric… are just but some of them. As such, it offers an even more nutrient-rich drink packed with antioxidants, anti-inflammatory agents and health-boosting elements.
The downside is that it has 170kcal, as opposed to the lower calorie green drinks mentioned above. That said, you can be sure these are not empty calories; quite the opposite.
Enjoy the two awesome flavours (personally, I recommend Creamy Chocolate Fudge!) and boost your mornings or post-workout shakes!
Ideal for: those who want protein and greens without sacrificing anything.
---
What Should You Expect from Green Powders?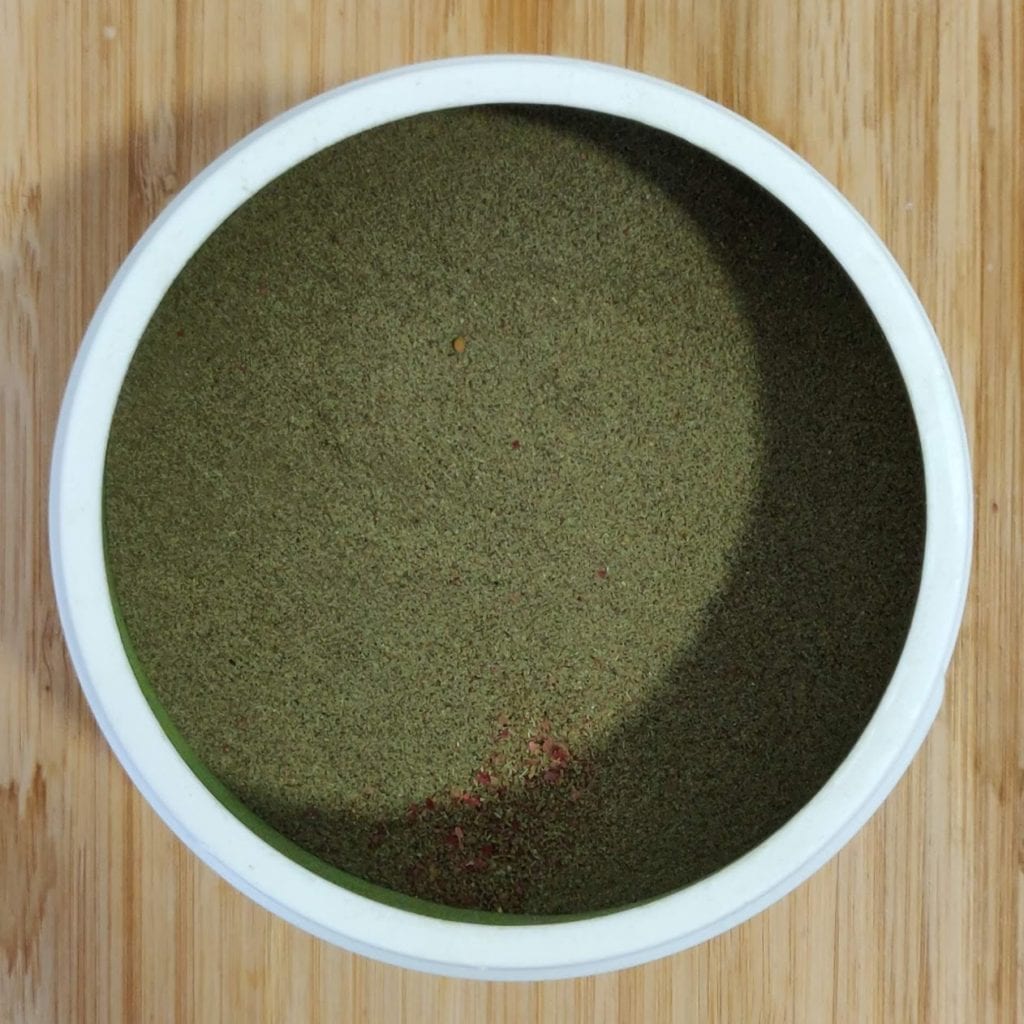 In the most basic form, powdered greens should provide you with a nutrient and phytonutrient boost; without adding many calories. The best green powders will include "superfoods" or nutrient rich vegetables that will give you vitamins, minerals and phytochemicals (phytonutrients). More advanced green mixes might also include adaptogens, digestive enzymes or probiotics to further boost your health.
Let me explain a few key concepts and why greens are the best superfood supplements you can take:
a) Micronutrients
Micronutrients are composed by vitamins and minerals. Both are essential nutrients and are required to consume on a daily basis. Failing to consume enough can lead to diseases such as anaemia (lack of iron), blindness (lack of vitamin A), or scurvy (lack of vitamin E).
While micronutrient deficiency might not be as prevalent as it is in developing countries, most of the US population consumes below dietary intake recommendations. This is often due to calorie-rich, nutrient-poor diets and leads to fatigue, decreased ability to fight illnesses, and increases the likelihood of chronic diseases.
Most greens supplements won't provide you with 100% of every micronutrient, but they will be rich in key vitamins and minerals. Look at the back labels for exact info. To get 100% of every vitamin and mineral I recommend consuming meal replacements or multivitamins.
b) Phytonutrients
Phytonutrients or phytochemicals are non-essential chemical compounds that can have positive effects in metabolism, digestion, toxin regulation, the immune system… The reason why these are considered non-essential is that their role/mechanism of action might be unclear; and they are not essential for life (unlike fats, carbs, protein, vitamins and minerals).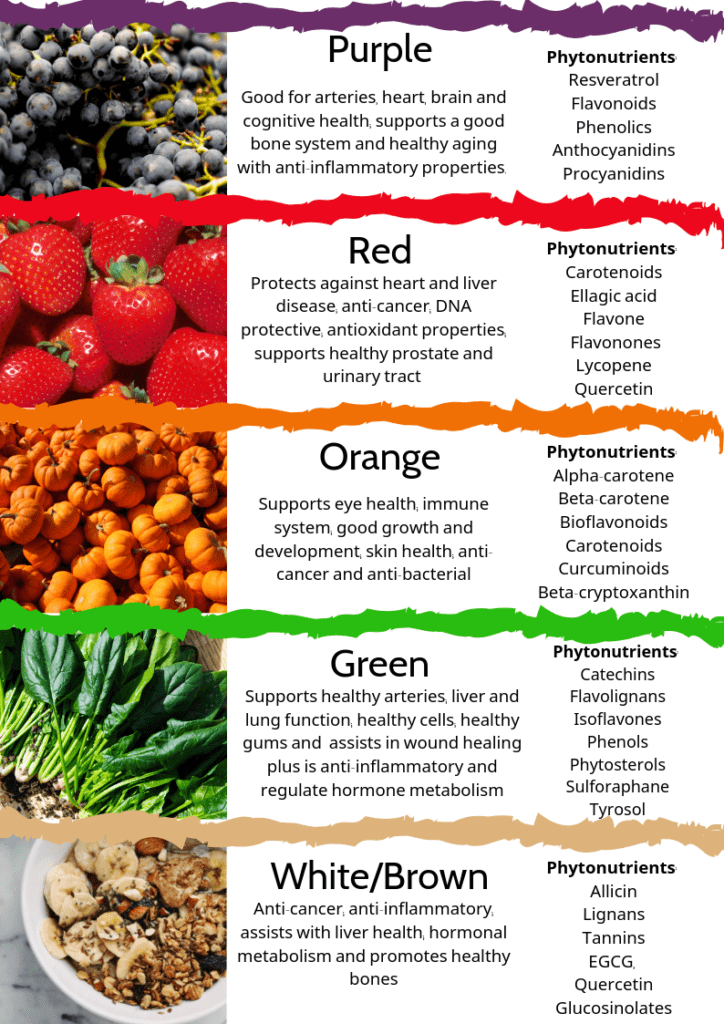 Nevertheless, there's strong evidence that certain phytonutrients have a positive impact on our health. For instance, carotenoids (found in vegetables such as carrots) are linked to antioxidant activities. This ensures that free radicals don't damage our cells and DNA. Carotenoids are also vital in eye health, immune system activity and reduced risk of diseases.
Other important phytonutrients include: lignans, resveratrol, curcumin acid, ellagic acid and flavonoids.
Vegetables and fruits are the main source of phytonutrients for humans. This is one of the main reasons why national health organizations recommend consuming them daily; and yet, most fail to meet the standards. Green powders will are extremely rich in phytonutrients and thus are likely to have an outstanding impact on your overall health.
c) Adaptogens
What are adaptogens? Simply put they are herbs or plants that contain chemical compounds that can help you relieve stress, improve your focus or alter your mental state. For instance, there is considerable evidence ashwagandha has notable effects on reducing anxiety. Another great example is Panax ginseng's positive effect on increasing cognition, reducing fatigue and overall well-being.
It is worth noting, that the evidence for all adaptogens is not equal. I would recommend doing your own research for each of the individual ingredients. However, I took this into consideration when choosing the best green powders and only include those with stronger claims (Examine.com is a great place to start).
Not all greens will include or should include adaptogens. Consider what you are looking for and decide accordingly. This should be a bonus feature when buying your daily greens powder mix.
d) Digestive Aid: Probiotics, Prebiotics and Digestive Enzymes
Gut health and the care of the gut flora has become increasingly important. We know that there are ~100 trillion microbes in our gastrointestinal tract (microbiota) that help us with digestion, absorption of nutrients and keeping pathogens at bay. Despite that, the functioning, bacteria balance and how to help regulate this homeostasis remains largely unknown.
Probiotics might be able to help you restore the balance of your microbiota, as well as, introduce beneficial bacteria that can result in less gut inflammation. However, research around probiotic supplements lacks the appropriate quality control and might be biased.
On the other hand, prebiotic fiber has proven benefits in promoting healthy bacteria (acting as food), healthier waste flow, as well as, smaller positive impact in preventing cancer, mineral absorption etc.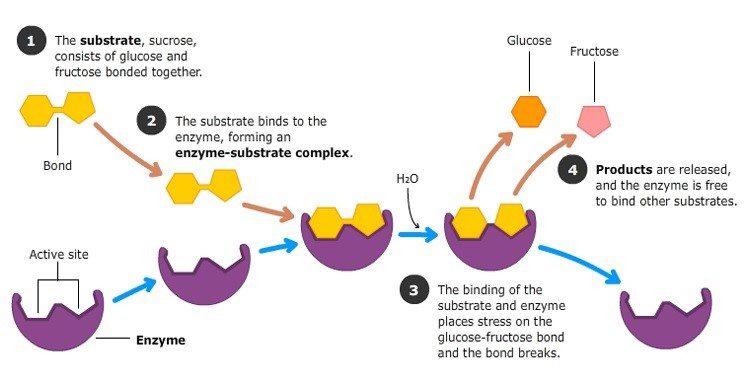 Finally, digestive enzymes are proteins that are required to break down nutrients. A good example of this is lactase; which is necessary to break down lactose (milk sugar). The lack of lactase is the main reason for people being lactose intolerant; thus is added to "lactose-free" milk. Many fruits contain naturally occurring enzymes that help you break down the food you eat. Thus, reducing any digestive stress and pain that this might cause.
Probiotics, prebiotics and digestive enzymes are not essential but are more likely to help your digestion than do harm. I would especially consider looking at them if you usually have issues processing what you eat. All greens supplements will help you keep a healthy gut.
5 Reasons Why I Use Greens (and so Should You)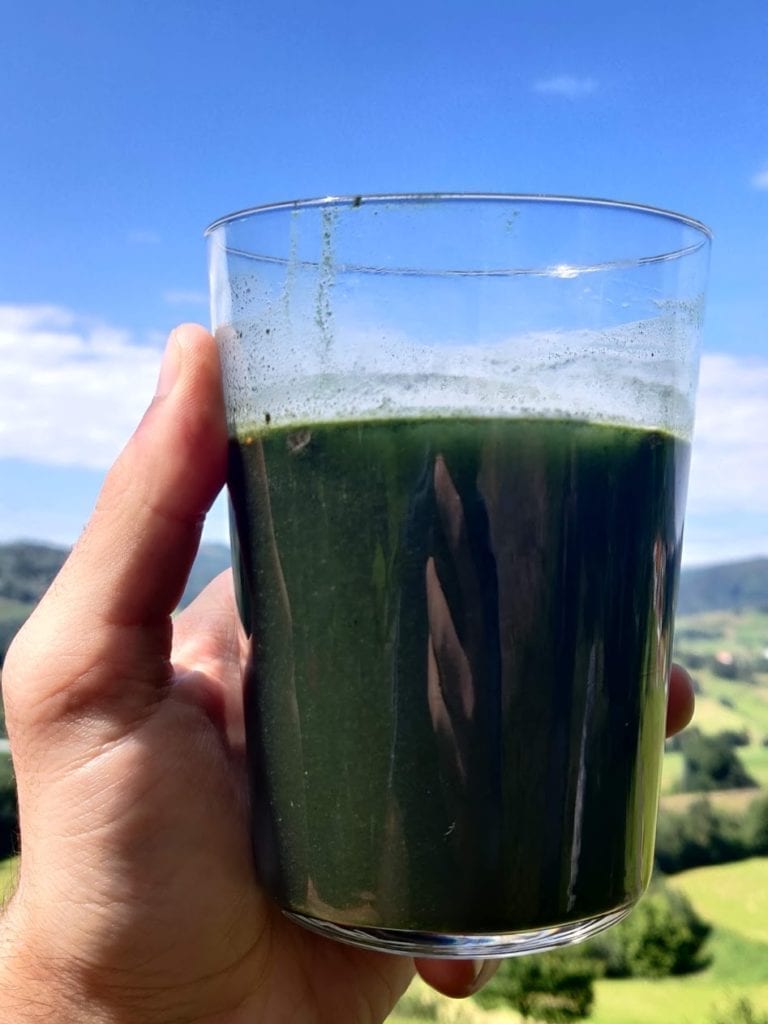 As mentioned previously, even I was skeptic to purchase green drinks and powders. What did I need them for? After much deliberation, I came up with 5 reasons why I thought greens superfood powders were worth it.
1. Most of Us Don't Eat Enough Fruits and Vegetables
75% of US population doesn't consume the recommended daily intake of fruit; and over 80% fail to reach the recommended intake for vegetables. Global consumption is also low according to WHO data.
Adequate consumption is linked with reduce risk of CVD, diabetes, stroke etc. This is almost entirely due to their rich content on micronutrients and phytonutrients; while being low in calories.
Greens provide an easy way to reach your daily recommended for veggies and take essential nutrients from natural sources.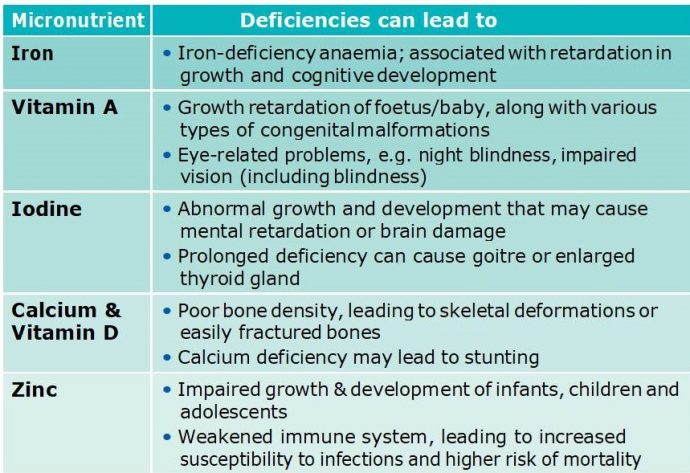 2. Clear Positive Impact on Health
As mentioned above, vegetables and fruits are primordial for a healthy lifestyle. The nutrients and bioactive ingredients that they provide have proven positive effects on overall health. Benefits vary from cognitive health, enhanced immune system, improved metabolic performance, to decreased risk of chronic diseases.
The top green powders contain many superfoods like spinach, kale, spirulina, etc. that are incredibly nutrient-rich while being low in calories. Thus, you will be getting nutrients that otherwise you would be missing.
3. Easy and Simple
One of the main benefits is the format. Consuming one drink of greens is as simple as mixing it with water. It doesn't require you to plan your meals in advance or to make sure you buy enough vegetables and fruits. You will no longer have to be aware of their expiration dates or any other nuisances.
One serving of greens a day will provide you with most of the benefits. Nonetheless, including fresh veggies in your diet is highly recommended.
4. Greens Can Help You with Digestion
They will not be helpful only to those who commonly have issues digesting their foods, or suffer from stomach aches every time they eat. Nonetheless, they will help you absorb nutrients better or cleanse unwanted compounds.
Plus, indirectly they will help you balance your gut microbiota; which will result in a more efficient gastrointestinal tract and digestive system.
5. They Do More Good than Harm
In fact, you cannot truly overdose in green powders (unless you are taking a weird mix with too many active ingredients, unwanted sugars or excessive serving sizes). If you stick to the best greens mentioned above, you can be sure that consuming them will do you more good than harm.
Basically, they provide you with an insurance policy that at best will highly improve your health; and at worse, it will do very little for you (or you won't be able to notice the change).
So are green powders worth it? In my eyes, they are. The best green powders will be at worst a small boost to your overall health; and for most, a great way to get the benefits from vegetables and fruits. Benefits, such as, reduced oxidative effects, improved gut health, reduced inflammation, better nutrient absorption, increased cognitive snappiness and many more.
Ingredients to Avoid when Choosing the Best Super Greens Powder
Due to how competitive the market is some brands might try to take advantage and include unwanted ingredients to make the powders cheaper or taste better. Do not fall for these gimmicks and make sure that your mix only contains the best green superfoods.
Here are a few details to look out for:
Added sugars. Unfortunately, an issue that is way too common in the food and supplement industry. Hidden and added sugars are omnipresent. Make sure that the total amount of sugars is relatively low, and they are naturally occurring (no sugar or syrup is included in the ingredient list!).
Too many calories. When you are taking your green powder supplement, you should not be consuming an extra meal. Thus, I would advise to keep the calorie count to a minimum (>100kcal per serving at max). Excess of calories will make you put on weight, and they are probably coming from unwanted sources.
Extra protein. Because proteins are fashionable, some green powders will add too much extra protein. I would recommend against it, since they will be adding calories that you don't want. Avoid green drinks with more than 10g per serving.
Cognitive boosters in excess. Having some adaptogens can be helpful; but few green powders will go the extra mile and add cognitive boosters like green tea extract, taurine, caffeine… You don't want to drink an energy drink; so be on the lookout.
Fillers. Not all fillers will have calories, but that doesn't excuse them. Certain ingredients like soy lecithin, soy lecithin, corn, starches… add nothing to the mix, and they are there just to make it cheaper.
Artificial additives. In general, I tend to favour green powders without any artificial additives, even if they are synthetic sweeteners or multivitamins. The reason for this is simple: I'm looking to have the closest experience to consuming fruits and vegetables.
Chemicals. Most fresh vegetables contain some traces of heavy metals and similar chemicals. Consequently, green powders can also be rich in elements like lead; which can be toxic. As such, those manufacturers that test their products for heavy metals using 3rd party companies, such as Athletic Greens, might be a safer bet.
More isn't always better; so if you choose a greens powder from outside this list, make sure it doesn't contain any unwanted surprise!
Consuming Green Powders
Basically, it's as easy as mixing the recommended serving with water and stirring. Enjoy your greens drink!
However, there are a few nuisances that you might want to consider:
Timing. When is the best time to drink your greens? While you can drink them at any time, I would advise you to do it in the morning (breakfast) or around lunch. Why? Because some phytonutrients will help you with digestion. For instance, soluble fiber will reduce carbohydrate absorption. Others might help with lipid absorption, breaking down nutrients, reducing stomach distress etc.
Just with water or as a green smoothie? It is a matter of preference. I personally take them with my meal replacement shake in the morning; which makes it the ultimate healthy drink. One thing to remember is that unflavoured products are the best green powders for smoothies.
Should you consume greens while on a weight loss diet? Yes, since it will help you enhance your nutrition without adding too many calories. Make sure you check the caloric content of the greens!
Multivitamins, fat burners, MCT oil, collagen… Do I need any other supplements? In theory no. It largely depends on the rest of your diet and your personal goals.
FAQ
Are greens safe to consume during pregnancy?
Most green powders will be safe to consume. I would try to minimize ingredients and reduce adaptogens. However, I am not a doctor and I strongly advise you to consult with one before buying any.


Are all green powders vegan?
Not all the powdered greens are vegan; particularly if they include extra vitamins and minerals. Some might come from animal origin. Thus, I recommend looking for a "plant-based" certification.


Will green superfood powders help detoxify my body?
Not directly. Most of the detox in the human body is done by the liver and by specialised cells/mechanisms. However, certain active ingredients present in green powders can help with liver functioning (e.g. present in milk thistle, spirulina and broccoli).


Are green powders good to boost your immune system?
Green supplements will be very valuable to boost your immune system; however, they will not be helpful fully preventing or curing illnesses. Examples for this include, antioxidants, zinc, iron, carotenoids… all which are present in greens.


What is the best green powder for women?
Any of the products mentioned above are great for both men and women.


I am taking medication. Will greens interfere with it?
Always check with your doctor before purchasing any supplements. For most, there shouldn't be any issues with greens; however, certain ingredients like ginseng, tea extract, etc. can interact with some medications (such as blood-pressure regulators).


Can green powders help you with weight loss?
Powdered greens can be a great way to make sure you are getting the nutrients you need while you are dieting; as well as helping you stay sharp and healthy. However, they will not have significant effects on your weight loss.


Can I consume greens drinks if I'm following a keto diet?
Yes, you should have no issues consuming the above mentioned picks for the best green powders. However, be on the lookout for sugars, as some products might have too many of them.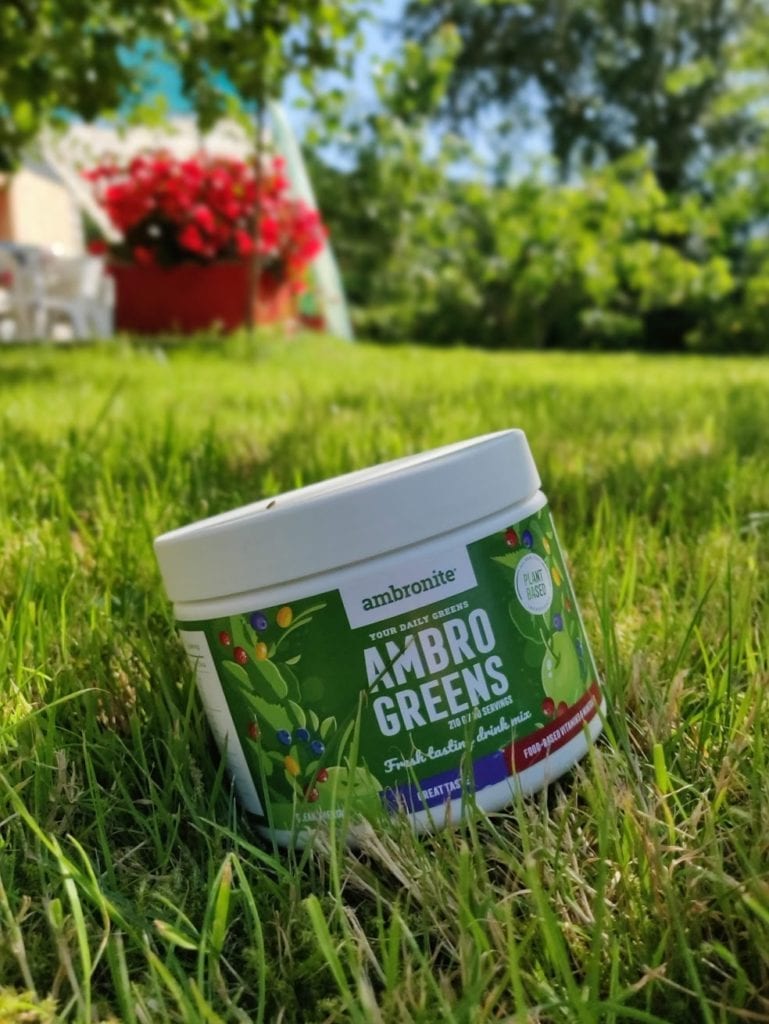 Final Thoughts
Green powders are no magic. They are not the cure to cancer or the easy trick to loss weight. They are much simpler and natural than that.
The best green superfood powders are simply a carefully chosen selection of vegetables and fruits. Thus, greens will help you reach your daily recommended intake of plants. This is one that most adults in the West fail to reach, despite having proven benefits for our overall health.
As such, I have recently been converted to buying green powder supplements on top of my meal replacements. Simply they provide me with a convenient way to ensure I take my 5 a-day. Now, I can feel safe that I'm getting enough antioxidants, vitamins, minerals… no matter how the day has been. This is my way for complete nutrition.
Thus, when people ask me if green powders are worth it; I can assure them they are and I recommend anyone who can afford them to buy some.
Sources and Interesting Reads
1. Global Assessment on Phytonutrient Intake. Murphy MM, Barraj LM, Spungen JH, Herman DR, and Randolph RK; 2014.
2. Data on Micronutrient Deficiency. Ourworldindata.
3. Micronutrients in health and disease. Shenking A; 2006.
4. Examine.com. Great source of information of supplements and active ingredients.