9 of the Best Meal Replacement Bars for On the Go (2023)
The best meal replacement bars are a balanced and healthy on-the-go alternative to protein bars and other snack options.
The truth is that bars are our favourite snacks. Protein bars, crunchy bars, nuts bars, cereal bars… Easy to grab, store and eat on the go. No matter if you are on top of Everest, trapped in your daily commute, or just finishing your workout at the gym; you can always eat one.
However, finding the ideal bar, the best-tasting bar, or the bar with the most protein, or the bar that fits your diet and budget is hard.
Finding a bar that can you can use to replace a meal is even harder. It requires the bar to be nutritionally complete and to. contain vitamins and minerals.
So, here I bring you the best meal replacement bars that will help you lose weight or help you achieve your nutritional goals.
How to Find A REAL Meal Replacement Bar
If you go around looking for other best meal replacement bar lists, be careful and remain critical. There are many lists out there that include protein bars and snack bars on these lists.
You can find below why a protein bar and a meal replacement bar are not the same thing; but in short, protein bars are nutritionally lacking and unbalanced. Particularly when it comes to micronutrients and some essential fatty acids, like omega-3s.
Regarding snack bars, more often than not, these are either too sugary or high in carbohydrates (as well as not providing you all the nutrients you would need).
Therefore, any list that includes either of those, it is not give you an honest review and real options for the best meal replacement bars that you can have.
Protein Bars vs Meal Replacement Bars vs Snack Bars
Here are a few differences between protein bars vs meal replacement bars vs snack bars:
| | Meal Replacement Bar | Protein Bar | Snack Bar |
| --- | --- | --- | --- |
| Main Goal | Replace a meal | Boost protein intake | Curb hunger |
| Serving Size (kcal) | 250-400kcal | <150kcal | <150kcal |
| Balanced Macros | Yes | No | No |
| Micronutrients (vitamins & minerals) | Yes | No | No |
| Vegan | Often | Rarely | Rarely |
---
#1 LyfeFuel Essentials- Best Meal Replacement Bar (US)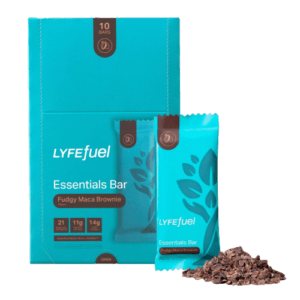 | | |
| --- | --- |
| Taste | 95% |
| Texture | 90% |
| Nutrition | 90% |
| Price | 75% |
| Overall | 88% |
Pros
Most nutritious bars
Vegan, soy-free, gluten-free
210kcal, 11g of protein, 21 essential vitamins and minerals, plus superfoods
Fudgy Brownie is delicious!
Superfood to control hunger
Cons
Only 2 flavors
Not the most affordable
LyfeFuel's Nutrition Bar is our top meal replacement bar after having tried dozens of different products.
There are many reasons to love Lyfefuel's bars, but the truth is that this is one of the most nutritious and healthy meal replacement bars you can buy.
Each serving has 210kcal, 11g of plant-based protein, and at least 25% of DV for 21 essential vitamins and minerals. They include 24 nutrient dense whole-foods including superfoods like dates, broccoli, spinach, and cranberry among others.
These are some of the most natural meal replacement bars in the market, vegan and without any artificial sweeteners or sugar alcohols to bloat the bar. This is a big issue with meal replacement bars and protein bars, even more given that recent studies have linked artificial sweeteners (erythritol common in bars) with increased risk of cardiovascular diseases.
On top of that, LyfeFuel's is one of the best meal replacement bars for weight loss due to its incredibly filling formula. The high fibre and protein content help you keep full for longer than other snack bars, while keeping you energized for hours.
Regarding the taste, both flavors had a clean taste. We enjoyed the Lemon one, but it has a more polarizing profile. On the other hand, Fudge Maca Brownie is an absolute hit, and probably the safest option.
The main downside of LyfeFuel's Essential Bars is the price. However, considering all the nutritional goodness that you get, we believe they are well worth the price.
You can also start with a 10% discount using the code LATESTFUELS10.
#2 PowderMatter Bar – Best Meal Replacement Bar in Europe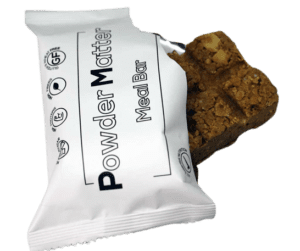 | | |
| --- | --- |
| Taste | 90% |
| Texture | 80% |
| Nutrition | 85% |
| Price | 85% |
| Overall | 85% |
Pros
Natural, real-food based
Plant-based and whey-based options
Intricate, exquisite taste
Almond-Chocolate is awesome
Great to swap meals with
Handy squares to do half-servings
Cons
High in naturally occurring sugars
This is one of the most obscure picks in this best meal replacement bars list, but has been one of our favorites for years now.
Powdermatter bars have some of the most intricate and complex flavor profiles. Unlike many other bars with boring, flat, sweet taste, Powdermatter's are a culinary experience. They are filled with natural ingredients like dates, tahini, and raw almonds (varies with flavor).
Plus, all Powdermatter bars are made by hand! You can taste the care and love that has gone into making each single bar.
They offer both vegan and whey-based meal replacement bars. Each bar has 400kcal, no added sugars, 8g of fiber and 21g of protein at least. They are also gluten-free and follow the ESFA nutritional guidelines.
Our favorite is Chocolate Almond, but Coconut Chocolate is also a great choice. If you are bored of the same old sweet, artificial bars, try Powdermatter's Bars!
#3 Plenny Bar – Most Affordable Meal Replacement Bar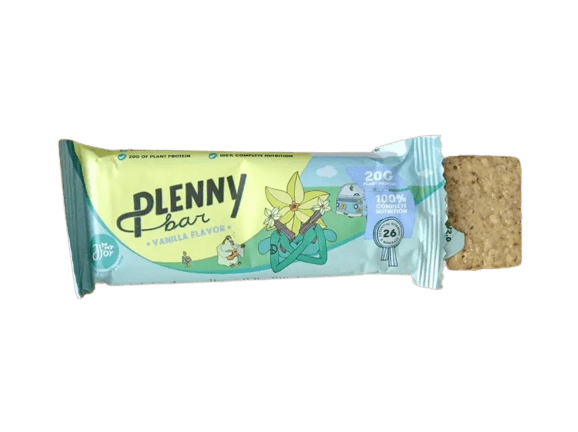 | | |
| --- | --- |
| Taste | 80% |
| Texture | 90% |
| Nutrition | 80% |
| Price | 80% |
| Overall | 82% |
Pros
Most affordable meal bars
Vegan
400kcal, 20g of protein, only 5g of sugar
7-flavors to choose from
Salted Caramel is great
Cons
Tends to be out of stock in the US
Can be a little dry
On the other side of the spectrum we have Plenny Bars by Jimmyjoy.
These are some of the most affordable vegan meal replacement bars you can buy in the US, UK and Europe.
They offer 400kcal, 20g of protein, and all the essential nutrients your body needs. They also have omega-3 fatty acids, probiotics and 8g of fiber. Unlike Lyfefuel, they include more processed ingredients and have a more functional approach.
However, this also means that they are a far cheaper option. Plus, they offer 7 different flavors including Caramel Sea Salt (awesome), Chocolate, Vanilla, Almond & Fig, Mocha, Apfelstrudel, and Cherry.
The texture is a bit harder, more like a flapjack and less protein-bar-like. Because each serving gives you 400kcals, they can easily be used to replace meals, too.
In our experience, they are the perfect blend of a good tasting bar, with OK nutrition, and a great price.
#4 Perfect Bar – Best-Tasting Meal Replacement Bars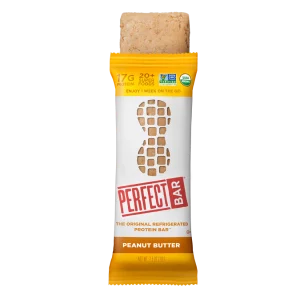 | | |
| --- | --- |
| Taste | 95% |
| Texture | 90% |
| Nutrition | 60% |
| Price | 80% |
| Overall | 81% |
Pros
Great taste
Multiple flavor options
Organic whole food ingredients
Chocolate Mint is insanely tasty
17g of protein per bar
Cons
Not vegan-friendly
Not nutritionally complete
High in sugars
Perfect Bars have been one of our latest findings.
Unlike the name suggests, they are not perfect, particularly in the nutritional aspect. They only provide you with 10 vitamins and minerals, as opposed to the 21 that many other bars give you.
However, they are some of the best-tasting meal replacement bars in the market. They sell 8 delicious flavors, including Peanut Butter, and our favorite Chocolate Mint that will improve anybody's day.
Nutritionally, while this is not a complete meal bar, it is still pretty good. They use organic whole-food ingredients, including 13 superfoods. Thus, each 340kcal bar will have 17g of protein and 1.3g of omega-3 fatty acids – which many Americans don't have enough of.
Sadly, they also have 19g of sugars per bar! While it comes from honey and not refined white sugar, this is still a considerable amount.
#5 Saturo Bar – Best Tasting Snack Bar in Europe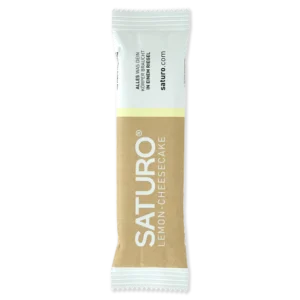 | | |
| --- | --- |
| Taste | 85% |
| Texture | 80% |
| Nutrition | 80% |
| Price | 75% |
| Overall | 80% |
Pros
3 delicious flavors
200kcal, 10g of protein
Perfect to use as a snack
26 vitamins and minerals
Filling
Affordable
Cons
More synthetic than alternatives
Not great to replace meals with
Saturo is a German meal replacement brand with excellent high protein vegan shakes. However, in this case, we are looking at their meal replacement bars.
The Saturo bars are 200kcal complete meal bars with 26 vitamins and minerals, plus 11g of protein. These are also vegan meal replacement bars best suited as snack bars between your meals.
We say so, due to the low calorie profile, but also because they will easily fill you up for 2h.
On top of that, their Lemon Cheesecake and Fudge Brownie are truly enjoyable to eat. They are a little more chewy and artificial than other bars on this list, and they can get tiring if you eat too many of them at once.
However, for the occasional snack to power you through meals, Saturo Bars are fantastic. Definitely worth a try if you live in Europe.
#6 Feed. – Best Meal Replacement Bar Selection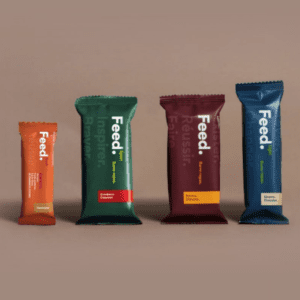 | | |
| --- | --- |
| Taste | 85% |
| Texture | 80% |
| Nutrition | 80% |
| Price | 70% |
| Overall | 79% |
Pros
4 different variations: original, light, sport, snack
All plant-based
From 100kcal to 400kcal bars
Original tastes great – love the Chocolate bars
Best range of nutritionally complete bars
Cons
Light, Sport, Snack are expensive
Only available in EU, UK
The French manufacturer Feed. has always been great at making meal replacement bars. In fact, they offer 4 different types of meal bars:
Original. 400kcal and designed to replace a meal.
Sport. With extra protein and to fuel your workouts.
Light. Meal replacement bars for weight loss.
Snack. Snack bars that you can enjoy between meals.
Honestly, all of them have their strengths and weaknesses, but are pretty damn good overall. Unfortunatley, Snack and Light bars are a little expensive for what they offer. That said, they taste amazing and do what they meant to perfectly.
Our favorites are the Original meal replacement bars. They are the perfect size to replace a meal with (400kcals), have 20g of protein and all the nutrients you need. Plus, their Chocolate and Coconut are among the best-tasting meal replacement bars in Europe.
The Sport bars are great, too. However, they do resemble protein bars a little more. They are more powdery than Original bars, and not as tasty.
All in all, if you live in Europe and are looking for meal replacement bars
Ingredients
Feed. Bar (chocolate): agave syrup, vegetable protein (pea, soy, rice), vegetable flour (flaxseed (antioxidant: natural rosemary extract), rice, chick peas), isomaltulose, 7% almonds, 6% low-fat cocoa, buckwheat seeds, corn fibre, acacia fibre, gluten-free oat flakes, rapeseed oil, stabiliser: glycerine, mineral salts (calcium phosphate, potassium carbonate, magnesium citrate, magnesium carbonate, zinc gluconate, selenium, copper gluconate, iron gluconate or fumarate, manganese gluconate, chromium chloride, potassium iodide), flavouring, vitamins (A, D3, E, C, B1, B2, B3, B6, B5, B8, B9, B12), preservative: potassium sorbate, antioxidant: soy tocopherols and natural rosemary extract.
Allergens
Allergens might vary with the flavours, but all bars contain soy. They might also contain almonds.
#7 Vitaminbar by Jakefood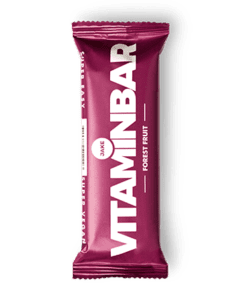 | | |
| --- | --- |
| Taste | 85% |
| Texture | 80% |
| Nutrition | 75% |
| Price | 70% |
| Overall | 76% |
Pros
5 flavors to choose from
Vegan
333kcal, and all vitamins and minerals
Includes caffeinated option
Available in US, UK, EU
Bulk buy discounts
Cons
Contains maltodextrin
Ships from EU
Vitaminbars are meal replacement bars from Jake, that with 333kcal each will give you 25% of your daily micronutrients. Thus, in theory you could have 4 of these (1332kcal) and have all the daily vitamins and minerals that you would need.
Despite the fact, that I would advise against doing so; it means that they are perfect to replenish your needs for micronutrients. They are very nutritious and filling at the same time, which makes them ideal as a weight loss snack or meal.
Not only that, but Vitaminbars have plenty of fibre and protein, two nutrients that help you with the satiety feeling and have been proven benefitial in weight loss.
Vitaminbars are available worldwide, but are particularly affordable in Europe. In fact, they are one of the best budget meal replacement bars, too. Each bar starts at €2.33/400kcal including shipping and can be bought as cheap as €1.98/400kcal.
While you cannot buy them individually (you need to buy 20,40 or 80), you will be able to enjoy a bulk discount.
Ingredients
Vitaminbar (Forest Fruit): Oat flakes (gluten), glucose syrup, pea protein, rice syrup, sunflower oil, hydrolysed wheat (gluten), oligofructose, rice protein, cranberries sweetened 3.0% (cranberries, sugar, sunflower oil), black currant sweetened 2.0% (black currant, apple juice concentrate, sunflower oil), minerals (dipotassium phosphate, calcium carbonate, magnesium oxide, ferric(III)diphosphate, zinc oxide, copper(II)gluconate, manganese sulphate, chromium(III)chloride, potassium iodide, sodium selenite, sodium molybdate), emulsifier: lecithin, colour: beetroot concentrate, flavours, acid: citric acid, salt, choline bitartrate, vitamins (ascorbic acid, tocopheryl acetate, nicotinamide, calcium-D-pantothenate, riboflavin, thiamin hydrochloride, pyridoxine hydrochloride, retinyl acetate, folic acid, vitamin K, biotin, ergocalciferol, cyanocobalamin), lycopene.
Allergens
Vitaminbars contain gluten.
#8 Vitaline – Best Organic Meal Replacement Bar EU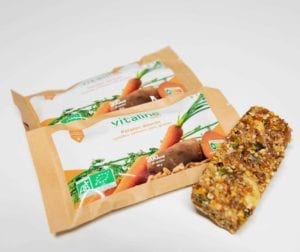 | | |
| --- | --- |
| Taste | 80% |
| Texture | 80% |
| Nutrition | 85% |
| Price | 70% |
| Overall | 76% |
Pros
4 flavors to choose from
Vegan, organic, dairy free
Super healthy
No synthetic additives
High in protein
Good bulk discounts
Cons
Only in EU
Weird flavors – taste
This is a very unique bar in many aspects. Starting from the quality of ingredients, all of which are organic and very few highly processed. Vitaline's meal replacement bar might be most natural bar, and this is reflected in the ingredient list and the taste.
In fact, when you try it, you will be amazed by how much you can taste each ingredient, particularly the carrot and the sweet potatoes. You will be able to see and distinguish them with your eyes and your palate. Surprisingly, the sweetness mostly comes from the vegetables and not any sugar or syrup.
The result is that they score the highest in Nutriscore (a ranking developed by the French Health Department). While this ranking system has its limitations, it does a good job showing the high value nutrients, balanced omega-3/6 profile and other important markers.
Unfortunately, this premium build is reflected on the price, starting at €2.99 per 200kcal. Nevertheless, you will be able to reduce it to €2.5 per bar when you buy in bulk.
Certainly a must-try if you live in Europe and the best organic meal replacement bar.
Ingredients
Carrots Turmeric: Cereales, nuts and seeds 45%(gluten-free oats * , pumpkin seeds*, almonds*, cashews*, flaxseeds*, toasted buckwheat seeds*), vegetables 18% (carrots*, sweet potatoes*, onions*), unrefined rice syrup*, pea proteins* , lemon juice*, acacia fibre *, curry*, lithothamnium, turmeric*, Guérande salt, acerola*, moringa*, roucou*, son de riz*, curry leaves*, basil*, lemons*, spinach*, parsley*, amla*, thé vert*, shitake*, lichens*. * = organic.
Allergens
Vitaline's bar contains cashew nuts and almonds.
---
Popular Meal Replacement Bars in the US
There are many other popular snack bars, protein bars and meal replacement bars in the US.
We've tried many of them, including Atkins Keto Bars, Huel Bars, Ka'chava Meal Bars, RXBars etc., and the reality has often been disappointing.
For instance, Atkins Keto Bars are full of low quality processed ingredients and lack vitamins and minerals.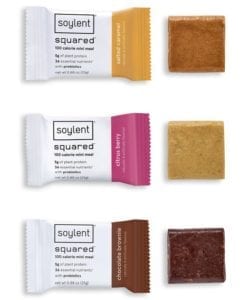 ---
Meal Replacement Bars in the World
As seen in the table below, most of the options are from European brands, with very limited presence from elsewhere. While there are some American brands that produce meal replacement bars (Redcon, GreenBelly) that are not mentioned here, these will lack all the micronutritents.
Therefore, while they will be valid to replace you meals sporadically or in situations where better alternatives are limited (when hiking, travelling or commuting, for instance); I have decided to exclude them.
Meal Replacement Bars Worldwide
Europe (prices in €)
From
Ships to
Kcal/bar
Price/bar
Price/400kcal
%E (C/P/F)
Vegan
Powdermatter
CZE
EU
400
3.00
3.00
39/25/36
Yes*
Huel
UK
EU
250
2.50
4.00
47/25/28
Yes
Feed Bar
FRA
EU
400
3.50
3.50
49/20/31
Yes
Feed Light
FRA
EU
255
3.67
5.87
42/22/36
Yes
Feed Organic
FRA
EU
400
4.50
4.50
42/22/36
Yes
Vitaline
FRA
EU
200
2.50
5.00
51/15/34
Yes
Plenny Bar
NED
World
400
2.13
2.13
44/20/36
Yes
Saturo Bar
AUT
EU
250
2.50
4.00
50/20/30
Yes
Vitaminbar
NED
World
333
2.20
2.64
43/22/35
Yes
GO Bar
NED
World
207
1.50
2.98
35/18/47
Yes
US (prices in $)
Essentials Bar
USA
USA
210
4.00
800
25/20/55
Yes
Meal Squares
USA
USA
400
2.96
2.96
35/20/45
No
Soylent Squared
USA
USA
100
1.00
4.00
44/19/37
Yes
Rest (prices in $)
One Square Meal
NZL
NZL
694
3.18
1.83
60/10/30
No
Ruffood Bar
CHN
CHN
400
36/28/46
No
As mentioned in my Best Meal Replacements of UK piece, Huel is cheaper in the UK, therefore it might be an interesting option for those living there. The bars are moister and more likable than in the past.
If you live in Europe, I strongly recommend trying the different bars and finding the one that is best suited to your needs. Most of them are significantly different from each other.
---
A Guide to Meal Replacement Bars
What Is a Meal Replacement Bar?
After my little rant at the start of this best of, I find my self obliged to state what I consider a meal replacement bar. It will be a complete food product that will provide you with both macronutrients and micronutrients in a balanced way, according to the health guidelines.
Thus, it will contain fats, carbohydrates and protein in sensible levels; and it will not be overly rich in any of the three macronutrients (unless it is a keto bar and it has high fat content).
Together with that, it will provide you all the essential amino acids, fatty acids (like omega-3), and fiber that your body requires to function properly and prevent long term health issues.
Finally, they will include all vitamins and minerals in the bars and not just a few. For instance, a bar with 400kcal (20% of your daily caloric income, based on a 2,000kcal diet) should include 20% of your vitamins and minerals.
Is a Protein Bar a Meal Replacement Bar?
This is a common misconception people seem to have, particularly seeing how much of a positive connotation the word "protein" carries in our society. Nevertheless, protein bars are NOT a meal replacement bar.
As the name suggests, they are but a way to boost your protein intake, a snack with considerable amounts of protein. You can skip the occasional meal with a protein bar, but you should not used them with that objective regularly.
Why?
The macronutrient distribution will be unbalanced, they will have too much protein. E.g. Quest Protein bar: 25% of energy from carbs, 31% from fat and %44 from protein.
Besides the quantities, there is also the issue of quality. Protein bars mostly care about providing you with good protein; thus, they will have low tier carb and fat sources. Plus, they will not give you give you essential fatty acids like omega-3s.
Vitamins and minerals. Most protein bars will have none or close to none.
Things to Look For When Buying a Meal Replacement Bar
Then, what should I look for if I am looking to replace my meals with a bar? What would the ideal meal replacement bar have?
First and foremost, it should have an sensible spread of macronutrients. The European Food and Safety Agency has the following Acceptable Macronutrient Distribution Ranges (AMDR) for a healthy diet:
Carbohydrates: 45-65% of the total energy.
Fats: 20-35% of the total energy.
Protein: 10-30% of the total energy.
Anything close to these is admissible.
Secondly, it should contain a good source of protein that will provide you with all the amino-acid you need. Equally, it should contain mostly monounsaturated and polyunsaturated fats, and few saturated fats. It is primordial that includes some omega-3 fatty acids, since Western diet is deficient on it (imbalances in omega-3/6 can cause obesity and other health issues). Similarly, you should look for a bar without too many sugars, and good amount of fiber.
Finally, each bar should at least have all the vitamins and minerals that you require in relation to how many calories it has. For example, a 400kcal bar should have 20% of your vitamins and minerals.
Issues with Meal Replacement Bars
While all this sounds simple to achieve, the reality is that manufacturing a well balanced meal replacement bar is full of complications. This is partially due to the restrictions in the format and the ingredients that you can use.
For example, you will see an increase of saturated fat content in bars (when comparing to powder). The issue with fats is that monounsaturated and polyunsaturated fatty acids are liquid in room temperature, whereas saturated fatty acids are solid. Thus, they are easier to use in bars.
Similarly, when we look at carbohydrates, we will observe that not many use oats (great source of dietary fiber and complex carbs). Why, if they are so common in powders? Oats in bars would not be milled as finely and would cause issues with the texture (fibrous) and consistency of the bar.
On top of that, oats do not bind very well. In fact, binding is why you would see so many sugars, syrups and sugar alcohols. They add moisture, improve the texture and make the bars tastier. Unfortunately, high sugars are too common.
Even after all that there are multiple issues like the effect that vitamins and minerals have on the taste and texture, how to bind all the ingredients together, how to achieve a good texture, how to make sure it stays edible for long etc.
Controversial Ingredients
Those who are more picky with what they eat, and avoid sugars, artificial ingredients, sugar alcohols and so on; they will have a hard time finding the right meal replacement bars. Here are some of the ingredients that people find controversial (all these are deemed safe by the FDA, ESFA and other health authorities):
Maltitol. This is a sugar alcohol, or a sugar substitute, that provides similar sweetness to sugar, but without so many calories. Among the negative effects, it can cause stomachal pain, act as a laxative or cause diarrhea in extreme cases.
Agave syrup. Agave syrup is a sweetener that is 50-60% fructose and 20% glucose. The issue is that fructose is metabolized in the liver, and when excess, fructose is rapidly converted into fat.
Glucose syrup. It is a syrup made of 90% glucose from the hydrolysis of potato, wheat or corn. Because it is easily broken down in the digestive system, it goes directly to your bloodstream causing a spike in blood sugar. Excess sugar is linked with obesity and diabetes type 2.
Erythritol. This is a sugar alcohol with very low energy output (0.24kcal/g), when compared to normal carbs (4kcal/g). However, it still adds sweetness. While most studies have proven erythritol to be safe for human consumption, excessive consumption of 50g in a meal could cause you stomachal pain.
Are Bars as Healthy as Meal Replacement Powders?
In short, no. There are multiple reasons for this, some related to previously discussed topics and the limitations of formulating a meal replacement bar.
In general terms, meal replacement bars will have one or more of the following:
High amounts of saturated fats.
High levels of sugars or sugar alcohols.
Lack of complex carbohydrate sources, such as, oats.
More artificial ingredients.
Lack of phytonutrients.
Limited macronutrient distributions.
Counter-intuitively, most of the meal replacement powders will be closer to "real-food" than meal replacement bars will. This is due to the fact, that you will find more synthetic components in the bars and less whole food based ingredients.
---
FAQ
Are meal replacement bars healthy?
Yes, since they will provide you all the nutrients you need per meal in a balanced way. While, I personally think that they are not as healthy as the shakes; bars are still a more portable and convenient alternative.


Can I live off meal replacement bars?
I would strongly advise against it. Even though, they can be used to replace meals in a daily basis, they often contain high sugar levels or laxative ingredients that if consumed too much in a day can cause negative health effects.


Are there any cheap meal replacement bars?
Yes, you can get a meal replacement bar under €2/400kcal. However, they will be more expensive than meal replacement powders.


Ready-to-drink or meal replacement bar?
Both have pros and cons. While being the optimal meals to have on the go, bars are better for travelling (particularly air), require less space and generate less waste. RTDs on the other hand, do not require you to drink water, and tend to be nutritionally more balanced.


What is the best vegan meal replacement bar?
Most of the meal replacement bars are vegan. However, Feed. Coconut is my favourite.

---
Final Thoughts – The Best Meal Replacement Bars
Our top meal replacement bar is Lyfefuel Nutrition Bar, a highly nutritious bar filled with proteins, healthy fats, and all essential vitamins and minerals.
Unlike many other bars, Lyfefuel only uses premium ingredients and their premium vegan blend is free of soy, dairy or grains. Still, you will get 11g of protein and a bar that will fill you up for hours.
That said, in Europe Powdermatter Bars are a great alternative.
Similarly, for a more budget option, Plenny Bars are also great.
Whether you are looking for meal replacement bars for weight loss or meal replacement bars to improve your diet, we hope that you've found your pick here.
---
Sources
1.US Health Guidelines 2015-2020.
2. WHO Nutritional Guidelines.
3. EFSA Nutritional Guidelines.
4. More in: latestfuels.com/resources. A compilation with different governmental guidelines and references.
5. Ultimate Meal Replacement List. List with all the brands.