Gorilla Mode Pre Workout Review | Is Bigger Better?
Welcome to this Gorilla Mode Pre-Workout review, where you will learn all there is about the most stacked stim-free pre-workout in the market.
With the world being conscious about the body and fitness, a workout is a regular site. If one takes up an active challenge or goes to the gym, keeping your energy levels high is a need. 
Supplements are common to hear from athletes, sporting individuals, and gym lovers. They offer the best help and suffice to aid the growth and health of the person working out.
The dietary formula of the best pre-workouts comes with sufficient nutritional value to improve performance. With multiple recipes and bases available, gorilla mode pre-workout is the ultimate supplement!
The Gorilla Mode Pre-Workout – An Insight!
Pre-workouts are the mixes taken with water to offer the perfect workout experience. Coming with the best formula, they offer you strength and let you have energy. With the best mix of ingredients, they extend you an athletic experience.
With a claim to be the best in the market and offering a product like no other, Gorilla mode guarantees you the energy you need! Extending the quality blend like never before, it is the perfect blend of activation-providing components.
Gorilla Mode Review at a Glance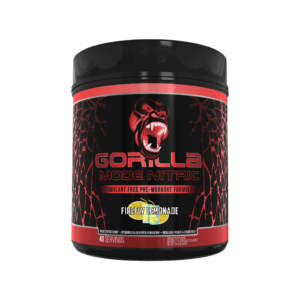 | | |
| --- | --- |
| From | US |
| Ships | World |
| Price/serving | $1.25 |
| User Reviews | Very Positive |
| Caffeine | None* |
| LF Recommended | Yes |
Flavors: Bombsicle, Cherry Blackout, Firefly Lemonade, Fruit Punch, Krush, Lemon Lime, Mango Peach, Jungle Juice, Mojo Mojito, Mouth Watering Watermelon, Tiger's Blood, and Volcano Burst.
Gorilla Mode is sold in tubs of 40 servings.
Pros
Best NO booster for muscular pumps and extensive workouts
Incredible taste
No beta-alanine
Highly effective
Better when combined
Added creatine
Cons
Double serving is required for best effects
Gorilla Mode can be too high in caffeine
Creatine can make the drink a little chalky
Gorilla Mode Ingredients
Gorilla Mind thrives on making the most effective and beastly pre-workouts and sports supplements.
They do so with full transparency, letting you know about every ingredient they put in their pre-workout supplements. This is very necessary, since less established brands might add cheap additives and fillers.
In this case, Gorilla Mode comes in two different versions:
Gorilla Mode with caffeine
Gorilla Mode Nitric, a caffeine-free version of their pre-workout
The stim-free pre-workout, Gorilla Mode Nitric, is an awesome alternative for those who suffer from caffeine (jitters, nausea, insomnia…).
| | Dose/serving | Effective Dose? |
| --- | --- | --- |
| L-citrulline | 5g | Yes – low end |
| Creatine monohydrate | 2.5g | Yes – low end |
| Betaine Anhydrous | 2g | Yes |
| Glycer Pump | 2g | Undefined |
| Malic Acid | 1.5g | Undefined |
| Agmatine Sulfate | 750mg | Yes |
| Nitrosigne* | 750mg | Half |
| Sodium Nitrate* | 750mg | N/A |
| Vasodrive-AP* | 127mg | Yes |
| L-tyrosine** | 750mg | Low |
| Kanna** | 250mg | Yes |
| Caffeine Anhydrous** | 175mg | Yes |
| N-Phenethyl Dimethylamine Citrate** | 175mg | N/A |
| Bioperine** | 5mg | Low |
| Huperzine A** | 200mcg | Yes |
Undefined* supplements that work but have no effective dosage set or might vary depending the goal. * Ingredients exclusive to Gorilla Mode Nitric. **Ingredients exclusive to Gorilla Mode.
Gorilla Mode Ingredients Analyzed
With a transparent picture for all their clients, they mention the gorilla mode ingredients on the product. With 40 serves per product, every scoop of the pre-workout mix comes with the following:
Gorilla Mode Shared Ingredients
L-Citrulline: With every scoop contributing 5000 mg, it is the best boost of NO. This gorilla nitric oxide ingredient helps in boosting your energy and contributes to cardiovascular health. It helps you work out for longer periods effectively.
Creatine Monohydrate: It helps with muscle strength and size and aids physical performance. It boosts phosphocreatine storage in the body, which aids in increasing ATP production as you work out intensely. It comes at 2500 mg per scoop.
Glycer Pump: The powder extends a 65 percent glycerol power comes 1500 mg per scoop. The hydration of muscles plays a primary role in workouts. Focusing on increasing your hydration levels during workouts, boosts your endurance. 
Malic Acid: It is 1500 mg every scoop and has a role in mitigating pain levels. Malic acid is vital to ensure exercise tolerance and soothes the pains that come with it. With it, you can stay carefree and focus uninterrupted.
Betaine Anhydrous: A scoop of 1250 mg betaine anhydrous helps to improve hydration and protein synthesis. It extends extra power for working out without stressing the muscles or wearing them out. It is the perfect need for exhaustion.
Agmatine Sulfate: It is another NO-rich ingredient with more power than locally used arginine. It is 500 mg for every scoop with an effective mechanism that helps numb or manipulates the pain receptors to function and focus on working out.
Gorilla Mode Nitric Oxide Ingredients
These are the ingredients that are solely found in Gorilla Mode Nitric Oxide. The main differences with Gorilla Mode pre-workout are:
It's focused on increasing your nitric oxide production. Therefore contains NO precursors and boosters.
There are no stimulants in the mix. No caffeine, no nootropics.
So here are the exclusive Gorilla Mode Nitric ingredients:
Nitrosigne: together with L-citrulline, it increases vasodilatation, blood flow and reduces post-exercise fatigue. It is a precursor to l-arginine, but studies have show that it's more effective than just arginine.
Sodium nitrate: nitrates act as a precursor to nitric oxide (signaling molecule that increases blood flow) and might increase exercise endurance.
Vasodrive-AP: this is a compound derived from casein (milk) that also boosts NO production.
Gorilla Mode Pre-Workout Ingredients
Unlike Gorilla Mode Nitric Oxide, their "standard" pre-workout contains popular ingredients like caffeine or L-tyrosine.
Plus other compounds like Kanna can maximize your mental performance during exercise.
Kanna (Sceletium Tortuosum): It functions for the mood and helps to reduce stress levels. The product offers 250 mg per scoop, letting you be in a good mood as it increases the rush of serotonin to the brain.
Caffeine Anhydrous: If you do not suffer from caffeine sensitivity, this 175 mg per scoop is the perfect addition to your pre-workouts. It helps with stabilizing your stress, improves performance, and aids fat burning.
N-Phenethyl Dimethylamine Citrate: This 175 mg per scoop nootropic offers the best to all your workout needs. It has the best energy and mental enhancements to help you with exercises. It extends the perfect mental state you need!
Bioperine: A 5 mg per scoop add comes from the pious black pepper fruit extract. It contains 95 percent piperine that works as the perfect inhibitor of caffeine and noradrenaline in the body. It helps the absorption of ingredients for a better workout.
Huperzine A: Coming from the extract of Huperzia serrata leaf, this 200 mcg per scoop lets your brain function effectively. It ensures perfect brain health and enhances coordination, memory, and cognitive skills over time.
L-Tyrosine: It is one scoop full of 750 mg that helps to benefit your mind more than your body. With the motive of driving a focus-intensive workout, it helps to integrate your mind. It is an amino acid to boost your cognitive functions, energy, and mood.
Allergens
Gorilla Mode Nitric Oxide contains milk.
Does Gorilla Mode Work?
How effective is Gorilla Mode? And is Gorilla Mode the best pre-workout out there?
Well, as shown in the Gorilla Mode ingredients, it is a great product that contains the right active compounds to boost your workout.
However, Gorilla Mode Pre-Workout formula is the most efficient when taken in full dose or 2 servings (as indicated). With 1 scoop (or half serving) you will be short on many key stimulants (l-citrulline, creatine, L-tyrosine…).
It's somewhat surprising that this is the case. But it has a "funny" solution.
The best blend seems to be 1 scoop of Gorilla Nitric Mode and 1 scoop of Gorilla Mode. Why?
More below.
Is Gorilla Nitric Mode Effective?
The non-caffeinated version of this pre-workout is designed primarily to boost nitric oxide production in multiple ways.
The reason for this is that nitric oxide might increase oxygen and nutrient delivery to muscles, improving exercise performance, stress tolerance and boosting recovery. While more studies should be done in the matter, NO might be effective at boosting aerobic and anaerobic exercise performance.
Thus, it's a primordial pathway to hit for any pre-workout that wants to make your workout better.
In my experience, Gorilla Nitric Mode has been one of the most effective stim-free pre-workouts I've taken.
For a more in-depth Gorilla Nitric Mode review, you can watch Derek's full breakdown:
Gorilla Mode + Gorilla Nitric Mode – The Ultimate Pre-Workout
Earlier in this Gorilla Mode review, I suggested that having one scoop of each would be the most effective.
But why?
Well, I believe that Gorilla Mode (and Gorilla Mode Nitric) falls short in some ingredients like L-citrulline or creatine when taking a single scoop.
However, taking 2 scoops would mean having 350mg of caffeine!
This is way too much for most people, particularly if you train during the afternoon/evening.
As such, you can add 1 scoop of Gorilla Mode Nitric (caffeine-free) and get more of the active ingredients (powerful dose) without having to suffer the consequences of caffeine.
Plus, you would be boosting NO pathways that are not effectively targeted in Gorilla Mode only.
What Should You Expect After Taking Gorilla Mode?
Either of the Gorilla Mode pre-workouts should help you with:
Increased performance
Fatigue reduction
More tolerance to exercise
Better focus
Improved recovery
You might also notice a bigger pump after having a great workout, as well as, a buzz during it.
It boosts your muscular strength and ability to endure pressure and fatigue. With it, you will experience a different zeal and enthusiasm for moving your body.
With an excellent boost of energy and blood flow, it contributes effectively to working out without hassles. It helps you last for the entire duration of your workout.
It comes with the perfect dose of supplements that offers you to work effectively without halting. It is the perfect combination you will need to keep your workouts going!
This gorilla mind product comes full of nootropics that help you have a focus like no other. Improving the mood, and strengthening the will, helps to elevate mind-muscle coordination.
User Gorilla Mode Reviews
At the time of writing this Gorilla Mode pre-workout review, it has a rating of 4.6/5 stars in their own website from 1940 reviews.
Similarly, the Gorilla Nitric Oxide reviews on Amazon are overwhelmingly positive.
Some of the positive reviews highlight the effectiveness of both formulas.
From the day of purchase i've already gone through about half a tub. Have not had any negative experiences with it and have no bad things to say about it. The energy boost and focus are both amazing. The pump off this pre is great for me. Love what it has to offer.

Kristine J

Even Gorilla Nitric Oxide has very favorable reviews. The users love the fact that they can feel the pump without having to take any caffeine.
Honestly I'd give this an accurate score of 8.9/10. First off this is an amazingly dosed pre workout it hits all the markers you need per recommended serving. This makes me feel hyper focused without the feeling of being stimed out of my mind. The flavor is out of this world for watermelon. Usually this type of flavor makes my stomach very sensitive, not the case here.

Only thing I didn't like about it was the creatine mono in it (although nice and helpful) it just as easily sourced elsewhere and can sometimes taste chalky if you're lazy and don't shake it before you drink every time. Overall, I would 100% recommend this product to literally anyone, especially if they do not want extra caffeine in their system.

Travis C.
When it comes to the negative Gorilla Nitric Mode reviews, some users state that they didn't feel the pump they expected, even though they loved the flavors. This was not the case for us, but it could be if you are used to very strong pre-workouts.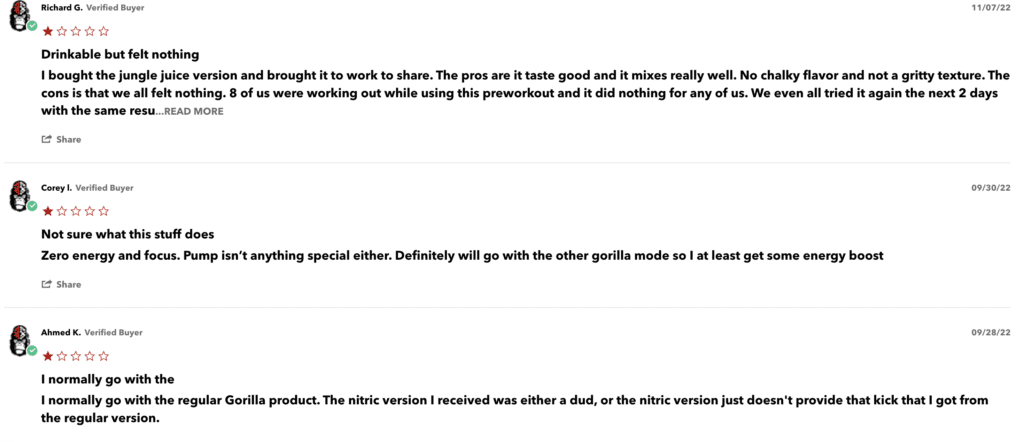 Here's another expert Gorilla Mode review by MorePlatesMoreDates youtube channel (1.6M subscribers). Note that Derek is the owner of the brand, therefore the review might be a little biased.
Gorilla Mode Side Effects
Like every other workout supplement, Gorilla Mode too comes with a blend of nootropics and other stimulating ingredients, including caffeine. It can come with a few drawbacks. 
They may contribute to sleep disruptions and insomnia. In particular if you are planning to consume the full dose with 350mg of caffeine.
Furthermore, it contributes to increased blood flow and can increase blood pressure in multiple people. It can also induce nausea or cause headaches if one fails to use it adequately.
The needs of the different bodies are different. You must know about them and your body's needs before you begin. Side effects do not come to everyone. The best is to use as per the doctor or start with a small dose initially and increase it gradually.
Gorilla Mode Taste
Good news!
Gorilla Mode is one of the best-tasting pre-workouts in the market. It's surprising that it goes down as easily as it does.
Furthermore, the texture is pretty good, even though the added creatine does make it a little chalkier than some of the other competitors without any creatine, like Legion Pulse.
The Must-Know Gorilla Mode Flavors!
This refreshing drink comes in multiple flavors to help you satisfy your tastebuds with your workouts. The following are the best gorilla mode flavor you will want to know. Pick your favorite, and get started on an efficient journey now!
Tiger's Blood: This unfolds the best punch of coconut with watermelon and strawberry. It extends you a berry blast with the coolness of coconut. It is one of the most picked flavors.
Fruit Punch: This concoction flavor comes with the blending of multiple fruits and is the best fruity choice. If you love choosing a sweetener with benefits for your workout, this could be your perfect option!
Mojo Mojito: Would you love to have a mocktail every morning? Pick this to satisfy your lemon mint taste bud for the perfect flavor tonic with an efficiency that adds to your workout. 
Firefly Lemonade: This hard-tasting flavor has the perfect balance of peach and lemon. With a lemony texture and a bitter-sweet taste, it is the best refreshment pre-workout.
Mango Peach: Who does not love to have the taste of mangoes? Try this super supplement with an exquisite mango and peach flavor to make your day. It is a never to miss taste icon!
Bombsicle: Being a unique flavor of bomb pop, get ready to experience lime, blue raspberry, and cherries in every sip you take. This refreshing flavor will blow your mind and help you get ready!
Cherry Blackout: With a black cherry flavor, this flavor lets you enjoy the cherry sweetness. It extends a less tangy taste and has a slight tinch of sweet drink. It is one of the must-pick natural flavors.
Mouth-Watering Watermelon: With an explicit taste of natural fruit, this watermelon taste will become your regular pick. This sweet satisfier is handy to help you with your taste and needs.
Jungle Juice: Try this pineapple, coconut, and mango blend to leave yourself mesmerizing. Start your day with this combo, and it will win your heart. It is wild, exotic, and captivating!
Volcano Burst: This drink offers the best rough natural sweet, and sour taste. Let it bring a burst of mango, orange, and pineapple flavor with a surge of energy and zeal!
Lemon Lime: It comes with a punch of lemons with a taste of fizz. With a resemblance to 7up or sprite, it is the best for bubbling your mind pre-workout. Pick it, and enjoy a bit of bitter taste to delight!
More About Gorilla Mind
Both Gorilla pre-workouts are manufactured by Gorilla Mind, one of the top leading hardcore fitness brands in the US.
They mostly focus on performance enhancing supplements like pre-workouts, turkesterone, nootropics, sleep supplements, and even protein powders.
They are mostly known for having high dosages and well researched products.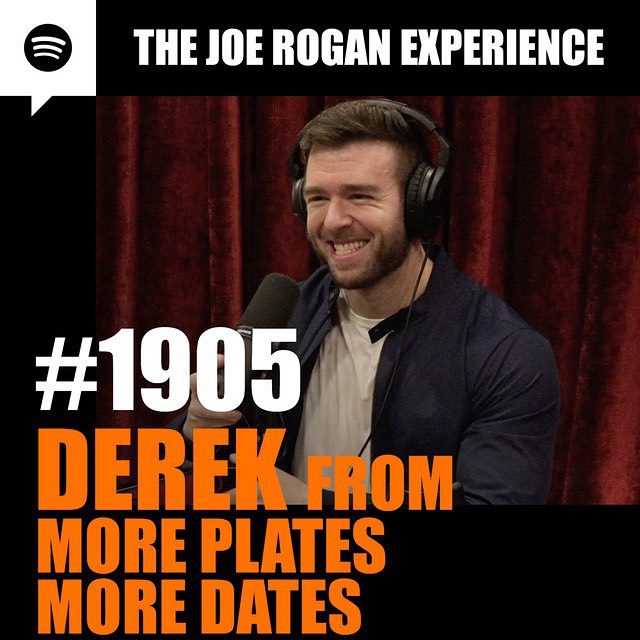 Interestingly, Derek from MorePlatesMoreDates youtube channel (1.6M subscribers) is the driver behind the brand. He's known for having a deep knowledge of performance enhancing supplements and being fully honest on how you can enhance your performance naturally and otherwise.
Note that the products sold by Gorilla Mind are not steroids and are approved supplements!
Gorilla Mode Price
Gorilla Mode pre-workout comes at affordable rates and costs for everyone wanting an excellent workout. With 11 available flavors and never to miss offers, it comes at $49.99 per tub.
It also offers a special discount if you buy three tubs together. It has an excellent price of $139.97, exclusive of the packing charges. The price efficiency also varies with the amount you use.
For a person who uses a single scoop a day for heavy workouts, the price is sufficient for 40 scoops, which equals 40 days.
On the other hand, Gorilla Nitric Mode is slightly more expensive:
40 servings (tub) –> $59.99 in total, $1.5 per serving.
As for shipping, you will qualify for free shipping in orders above $99 for the US, and $215 for international orders.
Gorilla Mode FAQ
How should I consume Gorilla Mode?
Many people take their pre-workout on their way to work out. The experts recommend taking the supplement 30-60 minutes prior to your workout routine on an empty stomach. 
 
Also, the best is to take it on an empty stomach only if you do not suffer from any gastrointestinal stress and have resistance to high caffeine. If you take it 3-4 hours before bedtime, it can disrupt your sleep.


 
Are Gorilla Mind pre-workouts suitable for women?
Yes, they are.


How much Gorilla Mode should I take?
As per the best gorilla mind review, the use of products and supplements varies. The amount of consumption depends on the intensity of your activity, fitness levels, and need for a supplement. 
 
If you are a beginner, you must start with minimum amounts and slowly increase your intake. You can alternatively contact a doctor or a fitness specialist to know about your needs.


Is Gorilla Mode safe?
For most healthy adults Gorilla Mode is 100% safe. However, I would advise caution with the caffeinated version, as it can be really high for those who are not used to caffeine.

Furthermore, it's best to consume it once a day and not consume on days that you are not working out.
Verdict – Gorilla Mode Review and Alternatives
Does gorilla mode work? It is one of the common questions if one is new to introducing it. The answer may vary from person to person, but most confirm it to be extremely effective. 
This was the case for us, and we found that both Gorilla Mode pre-workouts were awesome!
Furthermore, we were very surprised by the taste. Incredibly delicious!
However, the dosages are a little bit of a disappointment. The Gorilla pre-workouts are going to be the most effective when taking 2 servings. Otherwise, some key ingredients will be a little low. This would mean consuming tons of caffeine, which could cause an issue to many.
As such, we found that the best thing is to mix Gorilla Mode and Gorilla Nitric for the most effective workouts.
It is a never to miss product that comes from the minds of workout and fitness lovers. Try it and see yourself grow!