E-Sport Nutrition Review | Boost Your Health & Performance Now
This is the E-Sport Nutrition review, where we will have a look at one of the trendiest gaming supplement companies.
In fact, they have two different products that are primarily oriented toward gamers:
ELX Energy Drinks
IGF Meals
The first is an energy drink that comes in 9 different flavors, and we shall see how it compares to the best gaming energy drinks. The formula is certainly interesting with 0g of sugar, 150mg of caffeine and a nootropic blend to help with focus and performance.
The second, IGF Meals, is a meal replacement shake for gamers. As such, it comes in exciting flavors like Laser Lemon Cheesecake and Choco Hazelnut Golem. It's a plant-based meal replacement shake low in sugars, no maltodextrin, and high in protein.
Certainly, an interesting proposition that caught our attention and that we are going to put to test in this e-sport nutrition review. Is this a brand you should look for or should you buy another meal replacement?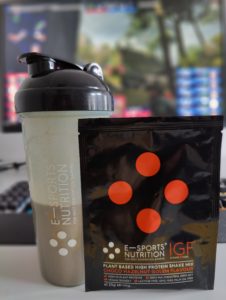 ---
E-Sport Nutrition Review at a Glance
Flavours: Choco Hazelnut Golem, Raspberry Reload, Laser Cheesecake, and Killa Vanilla.
---
Flavors: Deadmaus5 Tropi-KO, Blue Raspberry Blizzard, Orange Oblivion, Dark Ops Cola, Watermelon Magic, Lemon & Lime Blast, Mango Madness, Fruit Sucker Punch, and Apple & Kiwi Krush.
---
Opinion
Truth be told, the gaming supplement market is getting saturated. Ever since G-Fuel popped off, there have been many G-Fuel alternatives made. All of them claim to be the best energy drinks for gamers.
However, E-Sport Nutrition is not only an energy drink brand, but they also offer a dairy-free meal replacement shake to provide a healthy meal to all gamers. We all know that a gamer's diet, particularly when young, is not very healthy, per see.
As such, I think that the combo is particularly interesting. But how good are E-Sport Nutrition's products really?
Positive Thoughts
1. Affordable products. Both products are very competitive in price.
2. High in protein, plant-based, and no-soy. IGF Meals are low in sugar, high in fiber and healthy all around. Great for gamers and non-gamers alike.
3. Smooth and tasty. Lemon Cheesecake IGF Meal was crazy good, and the ELX energy drinks are smooooth.
4. ELX Gaming Drinks are competitive. A good G-Fuel alternative if you live in the UK.
5. IGF Meals are nutritionally complete. Much better than other gaming-oriented meal replacements.
6. Great products.
Needs work
1. No bulk or subscription discounts.
2. Flavors can get sickening. For regular use, I can see the IGF Meals getting too sweet and artificial.
3. ELX Drinks are low in some active ingredients.
Nutritional Breakdown
In this section, I'll mainly focus on the IGF Meal review and the nutritional value that it offers.
Surprisingly, considering that many gaming meal replacement shakes are not very healthy (like CTRL Drink), IGF meals are extremely solid.
They offer a balanced and complete meal, no maltodextrin or sugar, no cheap ingredients like palm oil, and provide you with all the nutrients that you need.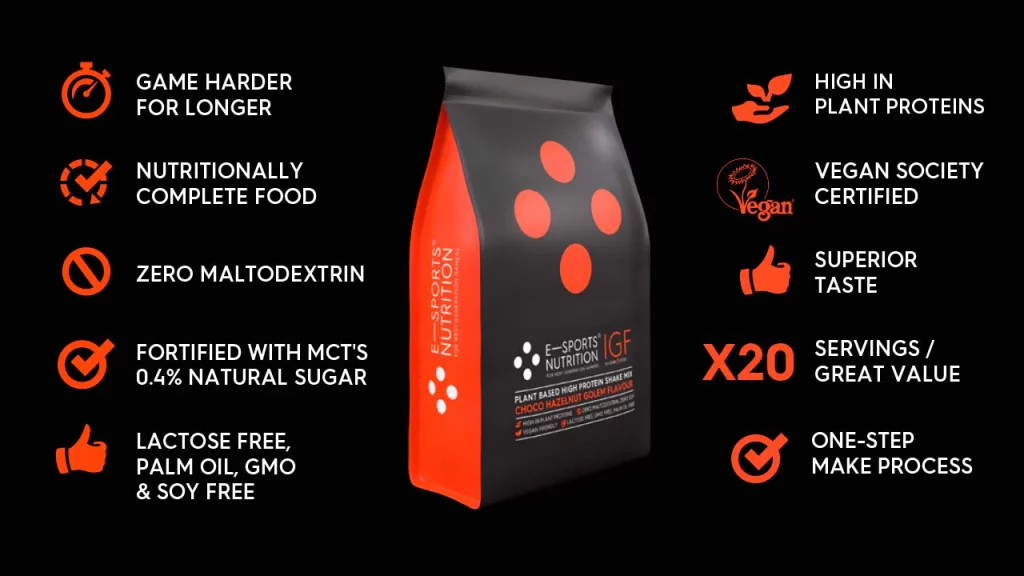 IGF Meals Nutrition Overview
| | |
| --- | --- |
| Kcal/meal | 400 |
| Macros (C/P/F) | 39/29/32 |
| Vegan | Yes |
| Keto | No |
| Features | Soy Free, Dairy Free |
| Non-GMO | Yes |
| Organic | No |
| Includes Probiotics | No |
| Artificial Sweeteners | Yes |
| Synthetic Additives | Yes |
| Contains All Micronutrients | Yes |
| Controversial Ingredients | None |
Ingredients: Oatflour, Pea Protein Isolate, Reduced Fat Cocoa Powder (8%), Flaxseed Powder, Coconut Oil Powder, Medium Chain Triglycerides (Medium Chain Triglycerides from Coconut, Acacia Gum), Rice Protein Concentrate, Flavouring, Tricalcium Citrate, Potassium Phosphate, Thickener (Acacia Gum, Cellulose Gum, Guar Gum, Xanthan Gum), Tripotassium Citrate, Sodium Chloride, Magnesium Oxide, Sweetener (Steviol Glycosides, Sucralose), Choline Bitartrate, Vitamin C (Ascorbic Acid), Zinc Gluconate, Ferrous Fumarate, Vitamin K2-7 (Menaquinone-7), Vitamin E (dl-Alpha Tocopheryl Acetate), Niacin (Niacinamide), Vitamin A (Retinyl Acetate), Copper Gluconate, Pantothenic Acid (Calcium-D-Pantothenate), D-Biotin, Lutein, Lycopene, Folic Acid, Vitamin D3 (Cholecalciferol), Vitamin B2 (Riboflavin 5-Phosphate Sodium), Vitamin B6 (Pyridoxine Hydrochloride), Thiamine (Thiamine Hydrochloride), Chromium Picolinate, Vitamin B12 (Cyanocobalamin), Potassium Iodide.
Carbohydrates
Based on 400kcal serving:
Total Carbs: 35g, 13% of RI.
Net Carbs: 23g, (Total Carbs – Dietary Fiber – Non-digestible Carbs)
Sugars: 0g.
Fiber: 12g.
Nutritionally, IGF meals are not particularly rich in carbohydrates.
On the positive side, these are low-sugar meal replacement shakes with plenty of fiber. This is a great combo to have a low glycemic index and avoid unnecessary blood sugar spikes. Fiber is beneficial for gut health, correct bowel movement, and also helps you feel full for longer.
Protein
Per 400kcal serving:
Total Protein: 29g, 58% of RI
Source: Pea protein, rice protein
Most of the protein comes from pea protein with a smaller amount coming from rice protein. These two are often used in combination because of their synergistic nature.
Rice protein is rich in methionine, which pea protein falls short on. On the contrary, pea is rich in lysine, and rice protein is low in that amino acid. Together they create the ultimate plant-based protein blend to offer you a highly digestible, complete amino-acid profile.
High protein shakes are great for gaming since they will keep you full for longer, they don't cause any sugar or carb crash, and thus, you'll feel more awake after the meal.
Fats
Per 400kcal serving:
Total Fats: 14g, 20% of RI.
Saturated Fats: 8g, 38% of RI.
Omega-3s, 500mg.
Great news!
Often companies forget to add omega-3 fatty acids, which have key roles in the brain and retina. It's also a fatty acid that is often lacking in our diets.
However, E-Sport Nutrition adds 500mg from flaxseed (ALA) which boost your daily intake. It's not as good as a pure omega-3 supplement, but works.
On the other hand, the mix is a little high in saturated fatty acids, due to the inclusion of medium-chain triglycerides. MCTs are a good source of energy and a great addition to a balanced diet.
Micronutrients
Each IGF Meal has 26 micronutrients at 20% of your recommended intake, exactly as you would expect. This way, you will get all the vitamins and minerals to sustain a healthy lifestyle.
Allergens
The only allergens found in IGF Meals are gluten and coconut.
Taste Test
E-Sport Nutrition IGF Meals Taste Test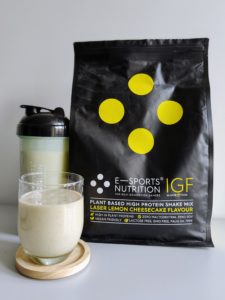 Best flavour
Lemon Cheesecake
Taste
Overall most of the shakes are pretty sweet and easy to drink. Flavors are a little artificial, but enjoyable
Texture
On the thicker side, but blends really well. Absolutely no clumps
Satiety
Great, 3h per meal without any issues.
Easy to Clean
Yes, no weird fibers attached to the shaker. Rinsing did the job.
After
Thoughts
Laser Lemon Cheesecake was awesome, and definitely a flavor I would buy. However, I can see it getting tiring when used often.
Honestly, IGF meals were a great surprise when it comes to taste.
By this point, after having tried hundreds of meal replacement shakes I know what to expect. However, Laser Lemon Cheesecake was a nice finding.
In fact, the strong lemony flavor with the added sweetness was one of the best flavors that I have tried this year. I thoroughly enjoyed it.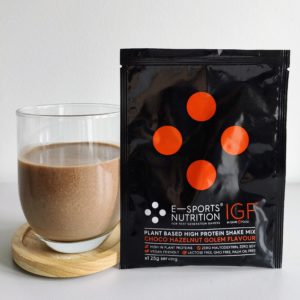 Similarly, I thought that Choco Hazelnut IGF was pretty good. Anyone who's a fan of chocolate should like this shake.
The only downside was Raspberry Reload, in my opinion. This flavor was overly artificial and sweet, almost lollipop-like. I would definitely skip this flavor.
All in all, IGF meals are delicious, albeit sweet and strongly flavored. I think that they will be best for sporadic use, as they might get a little tiring for regular users.
E-Sport Nutrition ELX Energy Taste Test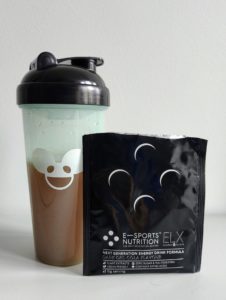 Best flavour
Lemon & Lime
Taste
Very sweet, but delicious
Texture
No chalkiness at all, incredible
After
Thoughts
You will have the feeling of consuming soda that has not been carbonated. Most of the flavors are super delicious, even though some of the fruit-based ones were too candy-like for my taste.
Now, let's talk about the ELX Energy drinks.
As you will know, the taste and texture of gaming energy drinks are extremely important, and it's often the do-or-die of these products.
Luckily, most ELX energy drink flavors are on par with the best gaming energy drinks like Sneak Energy.
Personally, I found that some of the flavors were a little too sweet and artificial, like Fruit Sucker Punch, and I enjoyed the Lemon & Lime the most. I love the sour touch these flavors bring to the table.
Furthermore, I found Dark Ops Cola to be great. I'm a sucker for cola flavors and this just hit the spot.
Besides everything else, I think that the texture is the most remarkable aspect. ELX Energy Drinks blend excellently, almost unlike any other energy drink I've tried before. Props for that!
If I had to rank the ELX Energy Drink flavors it would be:
Lemon & Lime
Dark Ops Cola
Blue Raspberry
Orange Oblivion
Mango Madness
Watermelon Magic
Apple & Kiwi Krush
Fruit Sucker Punch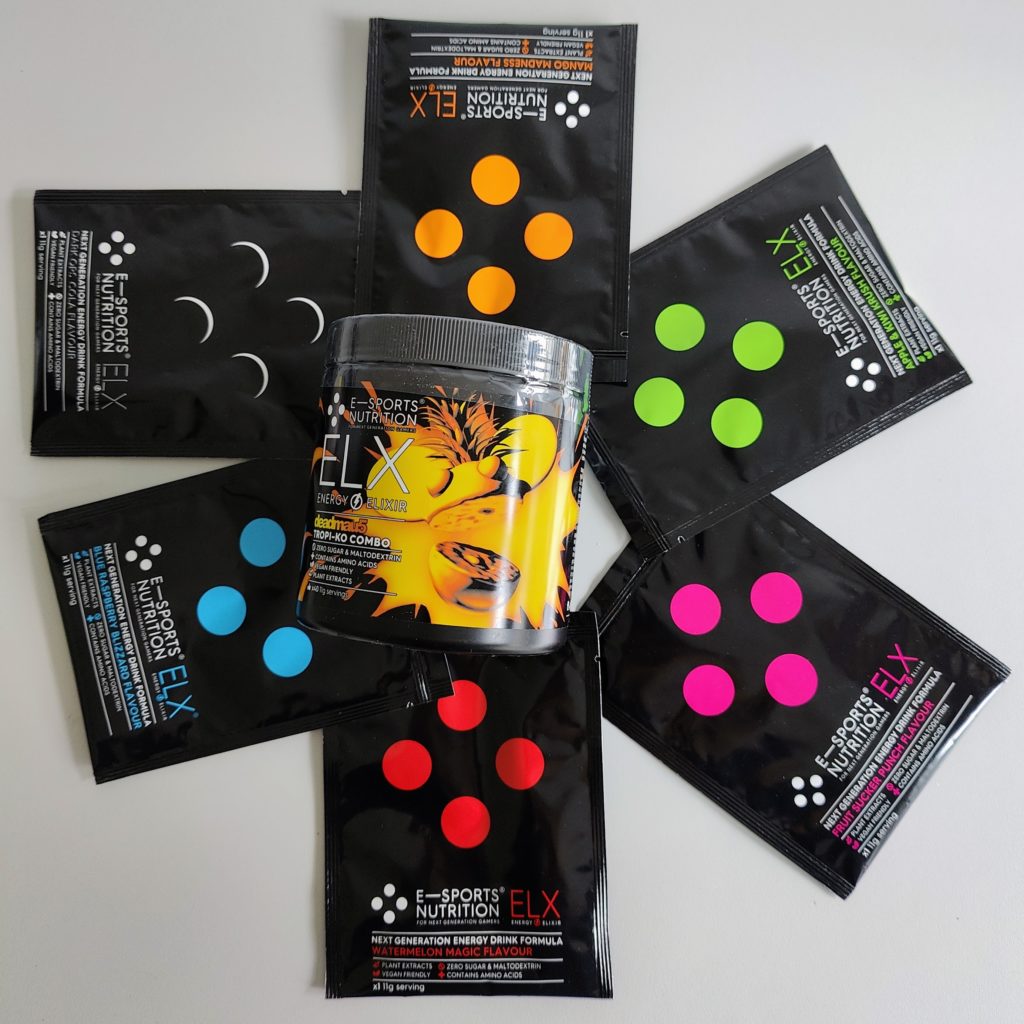 Learn about E-Sport Nutrition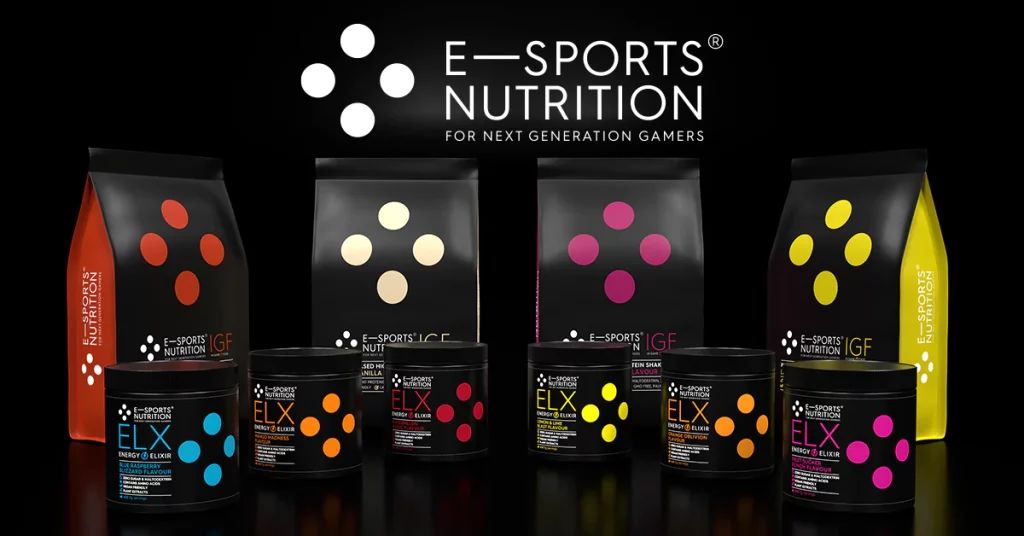 E-Sport Nutrition is a UK-based energy drink and nutrition brand that is extremely passionate about gaming and e-sports. Their goal is to improve the nutritional options gamers have, as well as, to provide a platform to unite all passionate gamers.
They believe in transparency and giving back to the community. As such, they even have an e-sport organization based in the UK.
Furthermore, even the founders are avid gamers, including a 5x Blizzcon World Champion (Gingi).
We're passionate about changing the perception and stereotype of all gamers and are committed to helping you achieve the very highest levels of performance alongside better health. 

E-Sport Nutrition Website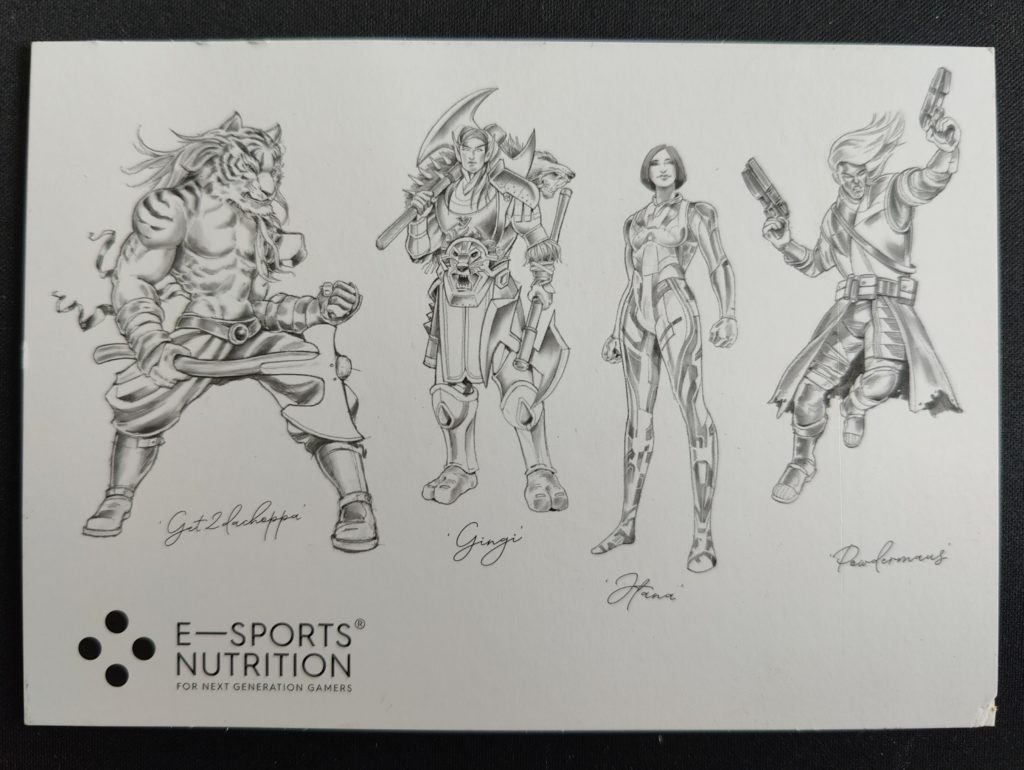 Pricing & Shipping
Ultimately, the price of the products is exceptionally important when choosing the right product for us.
E-Sports Nutrition ships to Europe and the UK, so I will display both prices accordingly.
ELX Gaming Drink Price
Starting with the gaming drink, here are the prices:
1 tub (40 servings) –> €39.85/£34.95 in total, €0.99/£0.87 per serving.
When comparing to other top gaming energy drinks, there's no denying that ELX drink is rather affordable, particularly in the UK.
They also have starter packs with 10 single-serving sample packs. These are about €24 or £20, which makes them a little more expensive per serving, but a great way to start.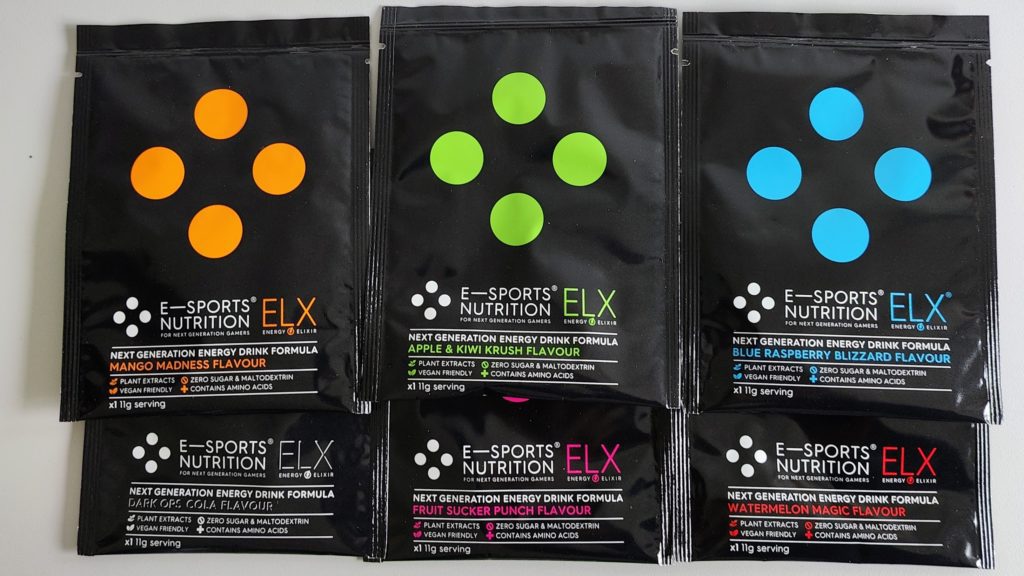 IGF Meals Price
Regarding IGF Meals price, I must say that this is one of the cheapest meal replacement shakes available in the EU and the UK.
1 bag (20 servings) –> £34.95/ €39.85, £1.75/€1.99 per serving.
This is very reasonable, but it's a shame that they don't offer any subscription or bulk discounts for their most loyal customers.
Other brands like Protein Works or Huel will have cheaper shakes that do offer such discounts.
Shipping
In the UK, you will get free shipping in orders above £75 (next day), and you will have to pay £1.95 for orders below that.
Sadly, the terms for European countries are not as favorable and it will largely depend on where you live. For instance, shipping to Spain (and most major EU countries) will cost you just under €8. After €100 you will qualify for free shipping.
Does ELX Gaming Drink Work?
As an avid gamer, perhaps you are looking to increase your performance and focus during your gaming sessions. That has led you to look for the best gaming energy drinks and you might wonder if they really work.
Good news. Gaming drinks are effective in boosting your short-term focus, reaction times, and cognitive performance.
This is mainly due to their caffeine content, as well as the added nootropics, like L-theanine. In recent studies, the combination of both led to increased cognitive performance.
E-Sport Nutrition vs
There are not many gamer-oriented meal replacement brands out there. Besides the above-mentioned CTRL Drink, made by the owners of the popular brand FaZe, there's Runtime in Europe and that's about it.
When it comes to energy drinks for gaming, that's another ball game. The competition is extremely tough, from the popular G-Fuel, Sneak, Rogue, to less-known brands like Mixt or JuJu. I've covered those who I consider the best gaming drinks elsewhere, but I'll compare ELX to some of these here.
Let's start by comparing IGF meal to some of my favorite meal replacement shakes. I won't compare it to CTRL drink, because as covered in the review, I consider it not to be a great product.
Instead, let's look at the following (all the products are available in the UK and in Europe):
Category
IGF Meal
Complete 360
YFood
serving price
£1.75
£1.15
£1.50
kcal/serving
400
400
400
$/kcal
0.004
0.003
0.04
servings per
20
10
17
Packaging
Bag
Bag
Bag
Flavors
4
13
7
Protein (g)
29
29
25
Sugar (g)
1
1
16
Fiber (g)
3
10
6
Fats (g)
14
10
19
Carbs (g)
35
46
30
Vegan
Y
Y
N*
Certified
Organic
N
N
N
Micronutrient
25
25
26
Artificial Sweeteners
Y
Y
Y
Synthetic Additives
Y
Y
Y
GMO?
N
N
N
Protein Source
Pea, Rice
Pea & Rice
Milk Protein
Availability
UK, EU
EU, US, UK
EU, UK
Other Products
Gaming drink
Diet, Hot
Bars, RTD
Complete 360 Vegan vs IGF Meal
Complete 360 Meal Vegan by ProteinWorks is one of the best meal replacement shakes in the UK. It's affordable, it offers exceptional nutritional value, and it's super tasty.
Compared to IGF Meal, I must say that they have a similar flavor + texture profile (even if they don't have the same flavors. IGF offers one more option, and Lemon Cheesecake might be the best tasting out of all their offering.
That said, when looking at the price, Complete 360 Vegan is much more affordable.
YFood vs IGF Meals by ESN
On the other hand, YFood is a German manufacturer that has started focusing the gamers, lately.
They excel at taste. I love their ready-to-drink meal replacement shakes, and the powder-based options are insane, too.
They even have more flavors than IGF, but they are all non-vegan. The YFood shakes are much thinner, too.
So I can definitely see a world where you could choose either. For dairy-free meal replacement shake lovers, IGF would be the go-to.
ELX Gaming Energy Drink vs The Best Gaming Energy Drinks
Now, when it comes to gaming energy drinks the competition is tough.
Our favorite, Sneak Energy Drinks, is from the UK for instance, and they have great deals there. That said, ELX can be a great G-Fuel alternative, since this brand is not as easily available in the UK and some parts of Europe.
| | G-Fuel | ELX Drink | Sneak | Rogue |
| --- | --- | --- | --- | --- |
| price/serving | £0.73* | £0.87 | £0.88 | £1 |
| Serving/tub | 40 | 40 | 40 | 30 |
| Energy (Kcal)/serving | 15 | 12 | 12 | 5 |
| Caffeine (mg) | 140 | 150 | 150 | 175 |
| Sugar (g) | 0 | 0 | 0 | 0 |
| Flavors | 31 | 8 | 14 | 9 |
| Availability | US, EU, UK | US, UK | UK, EU, US | UK, EU, US |
*G-Fuel ships from the US. Taxes might apply.
G-Fuel vs ELX Gaming Drinks
This is not only one of the most well-known brands but also the biggest gaming energy drink brand in the world.
G-Fuel success has been predicated in excellent marketing, collabs with influencers and the release of tons of flavors. However, quantity does not always equate with quality.
This is where ELX shines, with smoother shakes than G-Fuel's.
Furthermore, getting G-Fuel in the UK can be troublesome due to the shipping time, custom taxes and having to purchase in USD. Personally, I've had a negative experience when importing products. You could always go through a reseller, but they will have a more limited catalogue and will charge you more.
That's why I would go for ELX Drinks. A much smoother drink and more pleasant customer experience.
Sneak Energy vs ELX Drinks
These two brands come from the UK and they are extremely competitive in most angles, including price and formulation.
However, it is true that Sneak has a higher dosage of key active ingredients like Taurine, L-Tyrosine and L-choline among others. ELX, on the other hand, has l-theanine which is not in Sneak's drinks.
Taste-wise, I enjoyed the Sneak flavors a little more (like in the Blue Raspberry side-by-side) but both brands are close.
One thing Sneak Energy offers and ELX does not is canned energy drinks. So if you are willing to pay extra for the convenience Sneak will be great for you.
ELX vs Rogue
Rogue Energy is a more hardcore energy drink that contains even more caffeine content than the average gaming drink.
That said, they are similarly efficient to ELX. The extra caffeine content is a negative for me, since I don't think is necessary to achieve the focus that you are looking for in a gaming session and it can make you jittery.
If that's the case, I would opt for ELX.
Once again, it's worth noting that Rogue has cans, although I have not been able to try them out.
E-Sport Nutrition FAQ
Is E Sport Nutrition available in the US?
Sadly, it is not available in the US, yet.

Is E-Sport Nutrition vegan?
Yes! They are even certified by the Vegan Society.

How many ELX gaming drink servings can I take a day?
You could drink up to 2 servings, but I would recommend not taking more than one and if possible, not consuming daily due to the high caffeine content.


---
Verdict – E-Sport Nutrition Review
All in all, I have a positive feeling after this E-Sport Nutrition review.
The brand has certainly exceeded my expectations in multiple ways. Both IGF Meals and ELX gaming drinks are above average with some very clear highlights like:
Taste. I loved the IGF Lemon Cheesecake and some of ELX flavors
Price. Very competitive for both products
Formulas. Healthy and balanced options, for sure.
That said, whether I believe them to be the best in their respective categories is a whole other topic. I think that the brand can do some work on the site.
The website has all the info, and E-Sport Nutrition is transparent – like advertised- but information can be hard to find. The navigation, the legibility, and the overall experience leave a lot to desire.
Bottom Line – Both products are great. IGF meals will offer you high-protein plant-based meals at a reasonable price. ELX Gaming Drinks are well-priced, tasty and not chalky at all. Recommended.
E-Sport Nutrition
From £1.75/meal
Pros
Very affordable
IGF meal is well balanced
ELX Drink has no chalkiness
Delicious flavors
No crappy ingredients
Cons
Website can be hard to navigate
Flavors can get sickening
ELC is low in some key active ingredients
Not available in the US