The 5 Best Gaming Drinks For Energy and Focus (2021)
The best gaming drinks will be able to provide you with a boost in mental awareness, reduce fatigue, and help you focusing in the game. All of this without making you crash afterwards. Plus, they usually taste bloody awesome, much better than plain water.
These are some of the reasons why energy drinks for gamers have become popular lately. Brands like G-Fuel are not just a drink, but a status symbol, and a way to make gaming even more fun.
Nonetheless, not all the gamer drinks are equal; nor they will be as efficient. Some of gaming energy drinks might have negative side effects, such as, weight gain, increased fatigue or sugar crashes.
That's why I've compiled a list of the top energy drinks for gamers. These are some of the tastiest, most efficient and healthiest gamer drinks that you can buy.
---
In a Rush?
Top Gaming Energy Drink in the US
Rogue Energy
175mg of caffeine per serving.
5kcal, 0g of sugar and packed with active ingredients.
8 fantastic flavours to choose from.
Great price quality ratio.
Most Affordable Gaming Energy Drink
Mixt Energy
Awesome taste and great mixability.
0kcal, 0g of sugar, 166mg of caffeine.
Available in 8 exciting flavours.
From $0.5 per serving.
Ships Worldwide.
---
Gaming Drinks Considered
| Product | Kcal | Caffeine (mg) | Sugars | Price ($) | Ships to |
| --- | --- | --- | --- | --- | --- |
| Rogue | 5 | 175 | 0 | 1.1 | US, EU |
| Endless | 11 | 150 | 0 | 1.1 | EU, US |
| G-Fuel | 15 | 140 | 0 | 0.9 | US, EU |
| Nau | 36 | 0 | 7 | 1.4 | World |
| Sneak | 12 | 150 | 0 | 1.0 | US, EU |
| GamerSup | 0 | 100 | 0 | 0.4 | EU, US |
| Command | 0 | 150 | 0 | 1.0 | UK |
| Ghost | 0 | 150 | 0 | 1.0 | US, EU, AUS |
| Mixt Energy | 0 | 166 | 0 | 0.5 | US, CAN, EU |
| Mountain | 90 | 90 | 23 | 1.9 | US |
| Razorwire | 15 | 150 | 0 | 0.7 | World |
| Respawn | 20 | 95 | 0 | 0.75 | US |
| Runtime | 100 | 80 | 20 | 2.3 | EU, US |
EU includes UK.
Some of the popular energy drinks like Red Bull, Monster, Bang or Rockstar are often used as gaming drinks; but I have not taken these into consideration.
---
Best Gaming Drinks for Focus and Energy
1. Mixt Energy
Most Affordable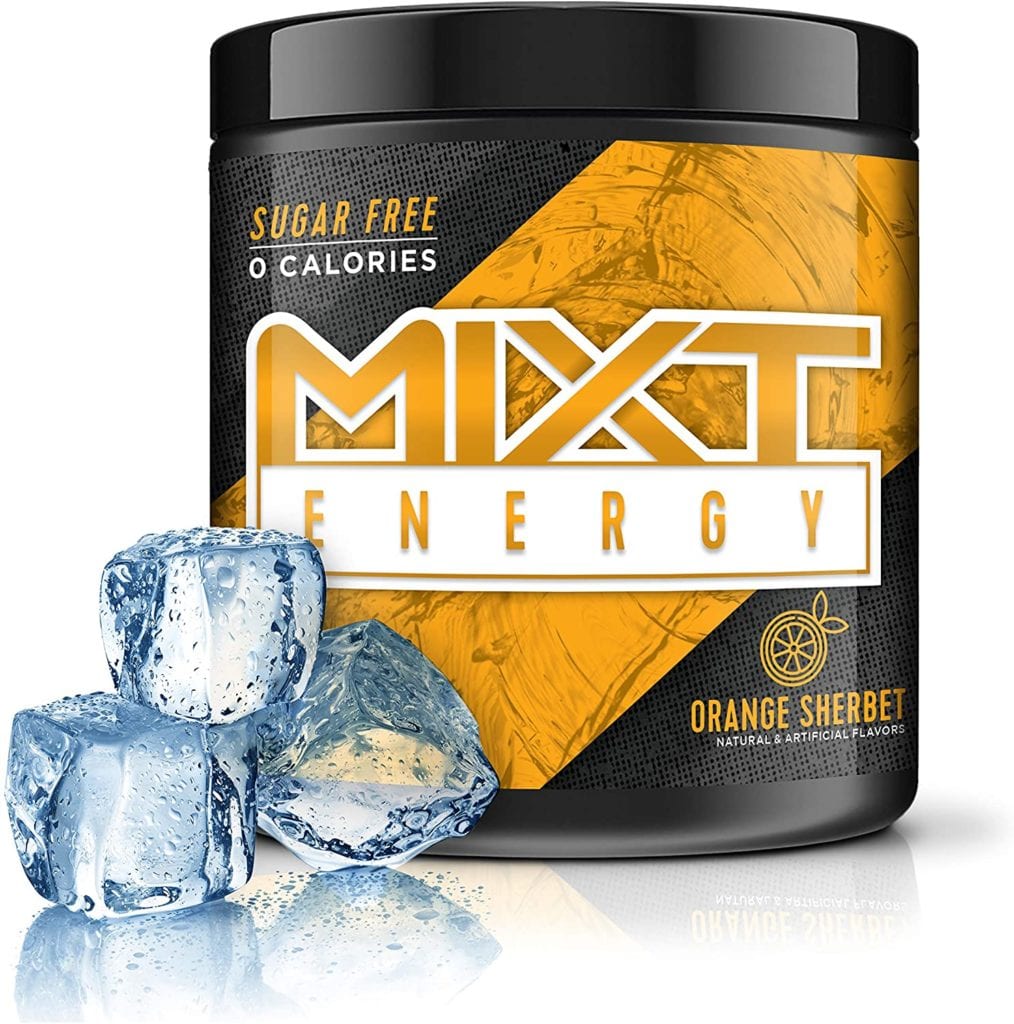 Taste
Nutrition
Price
Boost
Pros
8 great flavours available – one of the best tasting
0kcal, no sugar
166mg of caffeine
Incredibly affordable — $0.5 per serving
Mixes well
Available in EU and CAN also
Cons
Less active ingredients than other alternatives
Looking for the best deals on gaming drinks? Mixt Energy gaming drinks are the prove that good does not mean expensive. For about $0.5 per each serving, you can enjoy one of the best energy drinks with a refreshing taste.
While their formula is simpler (less fancy ingredients) than alternatives; it contains the key ingredients to boost your performance: tons of caffeine, L-theanine, L-tyrosine, and B-vitamins to help you focus.
All of this in 8 different flavours, including Fresh Lemonade (best), Rainbow Candy or Fruit Punch. Each tub will offer you 60 servings; and will cost you about $30. However, you can enjoy the Premier bundle and try out all the flavours at a discount!
Plus, you can now use the code LATEST for an extra 10% OFF!
Key Stats
Calories (kcal): 0
Sugar (g): 0
Caffeine (mg): 166mg
Price: $0.50
Starter Packs: No.
Flavours available: Fresh Lemonade, Fruit Punch, Rainbow Candy, Starfruit Blast, Sour Slurp, Grape Popsicle, Blue Raspberry, and Orange Sherbet.
---
2. Rogue Energy
Editor's Choice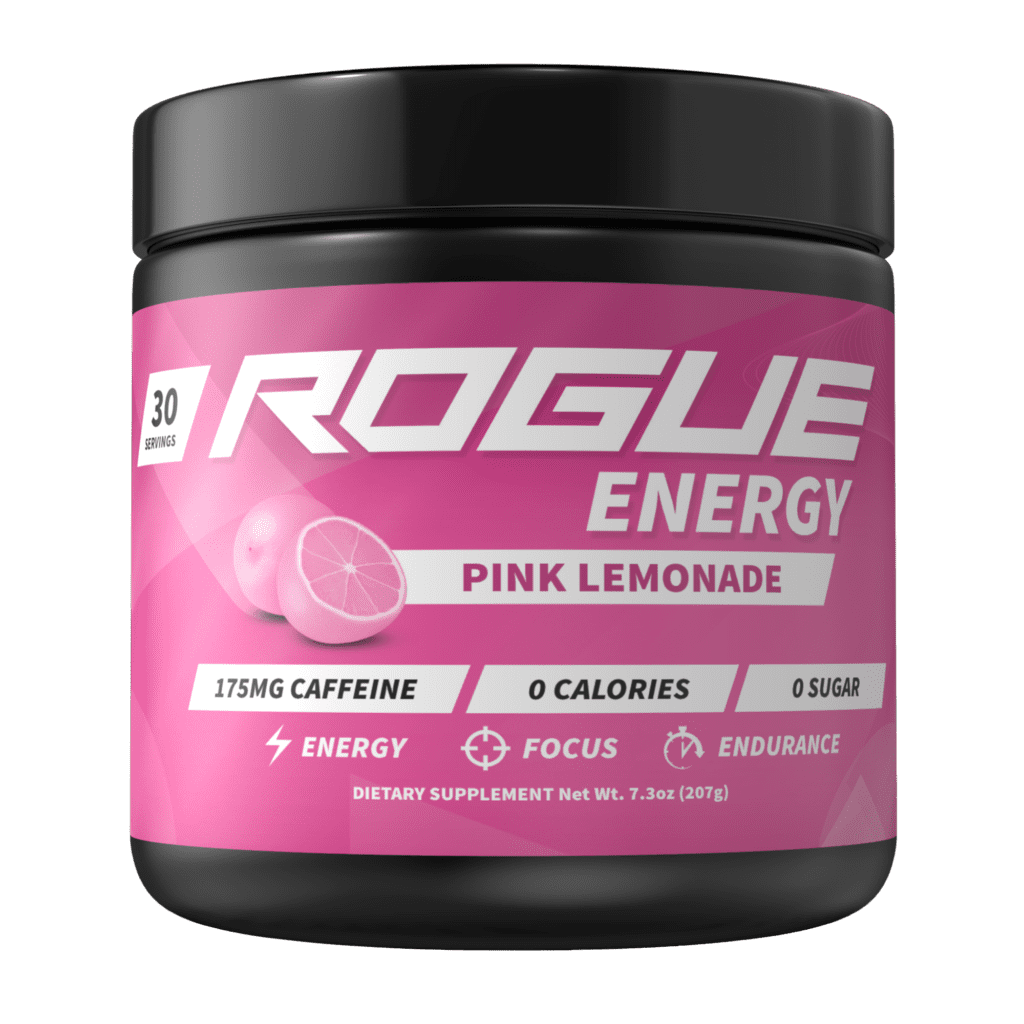 Taste
Nutrition
Price
Boost
Pros
175mg of caffeine per serving
Proven active ingredients to help you focus and energized
0kcal and 0g of sugar
Sweetened with stevia and sucralose
Cons
Not the cheapest option
175mg can be a lot for those not used to caffeine
When it comes to deciding what the best gaming drinks are I consider the price, taste and boost to be 3 of the most important factors. Rogue Energy gaming drinks offer you just that; a perfect blend of good tasting and efficient gamer drinks.
Like many of the other best energy drink for gamers, Rogue Energy has 0kcal per drink and 0g of sugar. This is perfect to both avoid the sugar crash and make gaming drinks healthier.
However, Rogue Energy packs a whooping 175mg of caffeine per serving, one of the highest in the market. This paired with their energy complex (L-carnitine, l-citrulline, taurine, glucuronolactone) will keep you energize for a longer period of time.
Furthermore, they also add N-acetyl-L-tyrosine, l-phenilalanine, choline L-bitartrate and other active ingredients to enhance your focus. Many of these ingredients have proven effects enhancing brain functioning (see below).
So what about taste? While Rogue Energy might not have as many flavours available as some of the fiercest competitors, the ones they have mix great and taste even better.
Key Stats
Calories (kcal): 0
Sugar (g): 0
Caffeine (mg): 175
Price: $1.06
Starter Pack: Yes.
Flavours available: Pink Lemonade, Mango Pineapple, Watermelon, Cherry Limeade, Blue Raspberry, Grape Popsicle, Strawberry Kiwi, and Green Apple Extreme.
---
3. Endless Nootropic
Best in Europe
Taste
Nutrition
Price
Boost
Pros
Great blend of nootropics and active ingredients for enhanced mental boost
11 kcal and no sugars
Also contains some key vitamins and minerals: C, B12, B6, iron
3 awesome flavours
Meaningful quantities of active ingredients
Best for long sessions
Cons
Harder to get in the US
Only 3 flavours
For long gaming sessions, there might not be better gaming drink that TPW Endless Nootropic. Not only has no sugar to help you avoiding sugar crashes, but it's also packed with active ingredients that help you combat tiredness and fatigue.
Their formula contains B-vitamins, for instance, which have key roles in brain signaling and function. Plus, it contains the usual suspects, like caffeine, L-theanine and taurine to provide you with that energy boost.
All in all, Endless Nootropic has more focus on enhancing your mental performance and cognition; when compared to other energy drinks for gamers.
Nonetheless, they offer 3 delicious flavours. I personally love Cool Cola Zinger.
Key Stats
Calories (kcal): 11
Sugar (g): 0
Caffeine (mg): 150mg
Price: €1/£0.80
Starter Packs: No.
Flavours available: Cool Cola Zinger, Blue Raspberry Twist, and Green Apple Kick.
---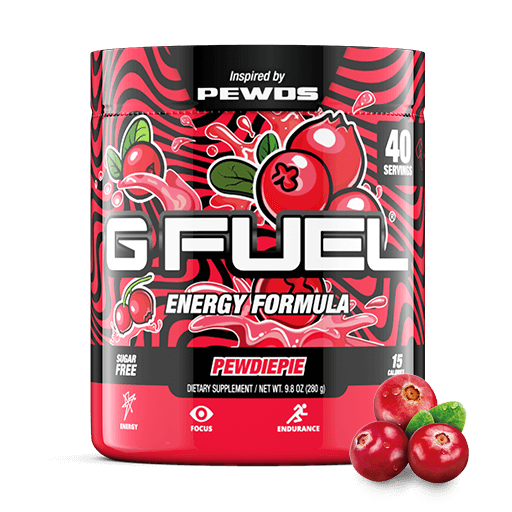 Taste
Nutrition
Price
Boost
Pros
Most flavours – usually great tasting
3 different formulas: Energy, Hydration and Ready-to-Drink
15kcal, sugar free, and with antioxidants
Clear information on the ingredient quantities
They look cool
Cons
Best availability in the US
Contains Acesulfame K
If you are looking for the best energy drink for gaming; you are probably aware of G-Fuel. They are, indeed, the most popular and beloved gamer drink brand. Why?
Because they make delicious energy drinks for gamers; and they have up to 30 flavours you can choose from. Shiny Splash, Moon Pie, Peach Rings, Sour Nightmare… are just a few of those.
However, it's not only about the taste. G-Fuel provides you with 140mg of caffeine per serving, 1g of Taurine, 1mg of ATP salt (cell fuel) and 0g of sugars to increase your energy levels while you game. Plus, they add antioxidants to the mix; albeit the levels per serving are very low to be meaningful.
That aside, it's great to see the transparency G-Fuel offers when it comes to how much of each ingredient you get. This level of professionalism adds trust to their product.
On top of all that, you need to add the cool factor. Simply, there's no cooler drink that G-Fuel.
Key Stats
Calories (kcal): 15
Sugar (g): 0
Caffeine (mg): 140
Price: $0.90
Starter Pack: Yes
Flavours available: Shiny Splash, Lirik's 9 Lives, Sour Nighmare Fuel, Faze X, Wumpa Fruit, Sonic's Peach Rigs, Star Fruit, Moon Pie Flavour, Snow Cone, Hype Sauce, Sour Fazeberry, PewDiePie, Sour Blud Chug Rug, Bubble Gum, Nemesis Tea Flavour, Spicy Demon'ade, Guava, French Vanilla Iced Coffee, Strawberry Banana, Bahama Mama, Battle Juice, Black on Berry, Ragin' Gummy Fish, Strawberry Shortcake, Rainbo Sherbet, Tropical Rain, Fazeberry, Blue Ice, Watermelon, and Grape.
---
5. Sneak Energy
Surprising
Taste
Nutrition
Price
Boost
Pros
Affordable, under $/€1 per serving
10 delicious flavours
12kcal, zero sugar, natural colours and flavours
150mg of caffeine, 1500mg of L-tyrosine
Simple formula
Cons
Not as rich in vitamins as other formulas
Contains Acesulfame K
Now, let's talk about one of the best g-fuel alternatives. Sneak Energy's gaming drinks are some of the best tasting gaming energy drinks out there.
Nutritionally, they are simple yet just what you need to re-focus. Like many other gamer energy drinks, they have low calories, 0 sugars and tons of caffeine to keep you energized. However, unlike some drink here, they contain less active ingredients. That said, you will still get the basics; L-tyrosine, L-taurine, L-theanine, choline bitartrate and L-carnitine.
All of this to the affordable price of $1/serving (€0.83) and free shipping in orders above $100 (3 tubs).
Key Stats
Calories (kcal): 12
Sugar (g): 0
Caffeine (mg): 150
Price: $1
Flavours available: Blue Raspberry, Strawberry Millions, Sour Apples, Tropikilla, Strawberry Watermelon, Stealth, Bubblegum Millions, Purple Storm, Cherry Bombs, and Blankberry.
---
6. Nau Energy
Caffeine Free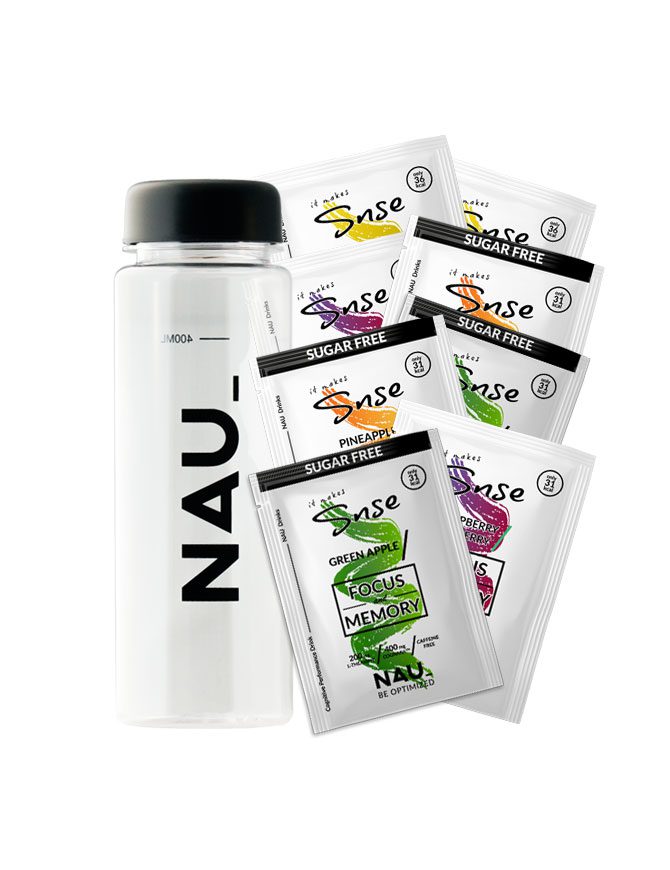 Taste
Nutrition
Price
Boost
Pros
Free of caffeine, but still able to boost energy levels
Unique formula to boost focus
Vegan, non-GMO, free of sucralose and acesulfame K
More natural taste
Only 36kcal per serving
Cons
6.6g of sugar per serving
More expensive than other alternatives
So far, all the best energy drink for gaming have been with caffeine. Hence, Nau, the caffeine free energy drink that you can use to boost your gaming sessions, without troubling your sleep.
Not only that, but Nau offers a more natural formula suitable for vegans, that doesn't contain tons of artificial sweeteners (only stevia glycosides). Consequently, Nau does contain 6.6g of sugar per serving, but only 36kcal.
Instead of caffeine, Nau uses Spanish sage and garden sage to boost your alertness, as well as L-theanine and lemon balm. These can also help you studying, since they enhance memory and help with learning.
Sadly, this more natural approach does affect the cost, with each serving costing over $1.25. Nonetheless, you will be able to get free worldwide shipping in orders above $80!
Key Stats
Calories (kcal): 36
Sugar (g): 6.6 – Sugar free options available
Caffeine (mg): 0
Price: €1.20
Starter Pack: Yes
Flavours available: Lemon Balm/Elderberry, Green Apple, Pineapple Twist, and Raspberry/Blueberry.
---
Best Meal Replacement Shakes For Gamers
Have you ever felt hungry during a gamin session? Has this lead to you to expensive and unhealthy food options (pizza, burgers, sweets)? Take-away not only negatively affect your health, but might hinder your performance within the gaming session.
That's why I usually enjoy a quick meal replacement while I game. A healthy shake that provides me with the nutrients I need and tastes delicious. No prep time required, ready in a minute and no washing dishes.
Below are some of the best shakes for gamers.
1. Complete 360 Meal
Best Meal Powder
Pros
Great nutrition at an affordable price
Delicious chocolate flavour
30g of protein, low in sugars, vegan
Includes all the nutrients (also vitamins and minerals) that you need
Cons
Only 3 flavours
Best prices in Europe
Complete 360 meal is one of the best meal replacements you can buy. Super tasty, affordable, and provides you with excellent nutrition.
Each shake has 400kcal, 30g of protein, no dairy, 1g of sugars, and all the vitamins and minerals you need. Consequently, the shakes will do great at keeping you full, and help you maintain high energy levels.
Plus, all three flavours are absolutely delicious. Personally, I'm biased towards chocolate, but both vanilla and strawberry are pretty good.
You can have all this for about £/€1.2 per serving. Unfortunately, getting C360 in the US is a little trickier and you might want to check the other options.
Stats
| | | |
| --- | --- | --- |
| per serving | Complete360 | RI (%) |
| Energy (C/P/F) | 46/30/24 | – |
| Energy (kCal) | 400 | 20 |
| Fats (g) | 11.0 | 19 |
| Saturated (g) | 1.3 | 6.5 |
| Carbs (g) | 45.0 | 17 |
| Sugars (g) | 1 | 1 |
| Fiber (g) | 10.0 | 35 |
| Protein (g) | 30.0 | 60 |
| Salt (g) | 0.3 | 5 |
---
2. Soylent Drink
Most Convenient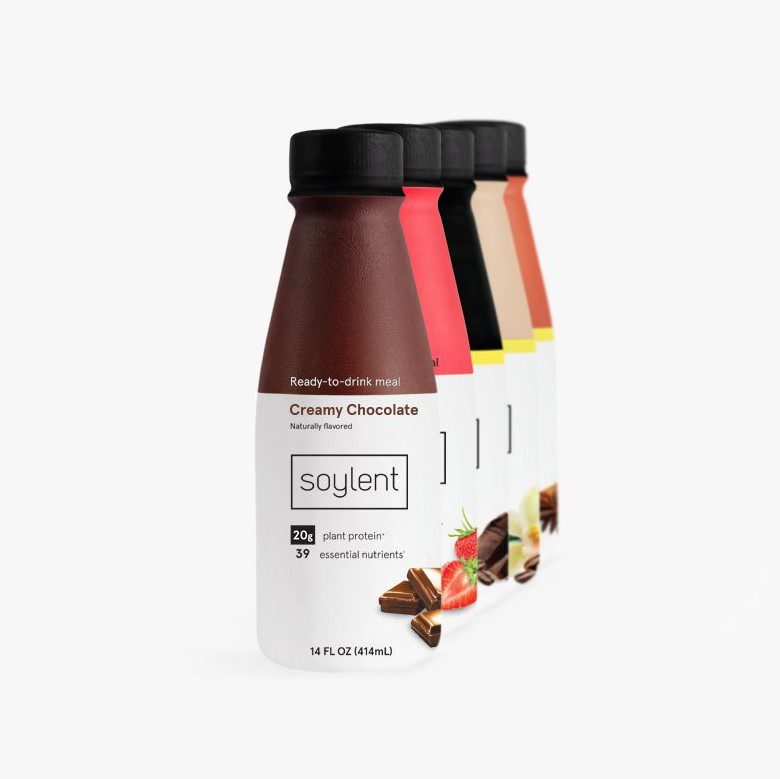 Pros
Silky smooth shakes, that are a pleasure to drink
400kcal, 20g of protein, 1g of sugar
Ready to drink, and no cleaning required
Over 6 flavours available, including caffeinated options
Also available in powder form (cheaper)
Cons
US only
Will cost about $3/meal
Are you looking for convenience? Soylent Drink will be the best option for those who want to game uninterrupted. The ready-to-drink option doesn't require you to mix it or clean it!
Furthermore, the RTDs are usually much smoother and easier to like than the powder alternatives. Even though, they cost extra, this is usually worth it as far as taste is concerned.
Regarding Soylent Drink, you'll be able to choose from Chocolate, Mint Chocolate, Banana, Strawberry, Vanilla; or the caffeinated options, Cafe Mocha, Cafe Vanilla and Cafe Chai.
Every one of them is vegan and contains 20g of protein per serving. They will keep you full for 3h without any issues, so you can keep playing non-stop.
Stats
| | | |
| --- | --- | --- |
| per serving | Soylent Optimized | DV (%) |
| Energy (C/P/F) | 26/20/54 | – |
| Energy (kCal) | 400 | 20 |
| Fats (g) | 24.0 | 31 |
| Saturated (g) | 2.5 | 12 |
| Cholesterol (mg) | 0.0 | 0 |
| Carbs (g) | 36.0 | 13 |
| Sugars (g) | 1.0 | |
| of which added (g) | 1.0 | 2 |
| Fiber (g) | 3.0 | 11 |
| Protein (g) | 20.0 | 40 |
| Sodium (mg) | 300 | 13 |
---
3. Runtime
Best Gaming Focused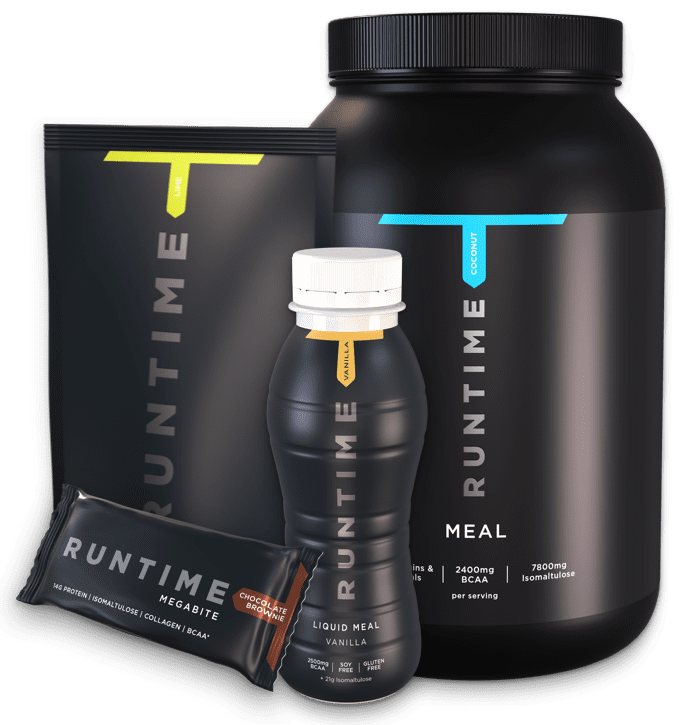 Pros
Designed for gamers
Tons of flavours available
Also in RTD
Great starter packs
Available in the EU and US
Cons
High in sugars
Not the most affordable
The German brand Runtime.GG was designed for gamers to keep them fueled during their gaming sessions. Consequently, these shakes will provide you with complete nutrition that will energize you for hours.
Each shake includes 2.4g of BCAAs, slow releasing carbs, and 400kcal. Their powder formula is available in whey based (dairy) and vegan.
However, where Runtime shines is not the nutritional aspect, but the taste of their shakes. They offer over 12 flavours, including Lemon Cheesecake (one of the best), Chocolate, Coconut, Strawberry, Caramel and more.
I would recommend starting with one of their awesome starter packs which will include multiple flavours, the RTDs, a couple of healthy snack bars, and few Performance energy drinks, too.
Stats
| | | |
| --- | --- | --- |
| per serving | Runtime Meal | RI (%) |
| Energy (C/P/F) | 20/73/7 | – |
| Energy (kCal) | 410 | 20 |
| Fats (g) | 9.2 | 13 |
| Saturated (g) | 1.6 | 8 |
| Carbs (g) | 61.0 | 24 |
| Sugars (g) | 11.0 | 12 |
| Fiber (g) | 1.8 | 9 |
| Protein (g) | 19.0 | 38 |
| Salt (g) | 0.7 | 12 |
---
Nutrition 101 – Understanding Gaming Drinks
Simply put, most video game energy drinks are powdered forms of popular energy drinks like Red Bull or Monster. Their aim is to provide you with a mental boost, increase awareness and focus, as well as, help you reduce fatigue.
In order to do so, gaming drinks rely on active ingredients that stimulate your brain (nootropics); as well as, vitamins and minerals that can produce similar effects.
Gaming drinks, on the other hand, are usually low in calories. Thus, they won't provide you with energy for physical abilities (fuel to burn); nor they will give you essential nutrients like fats, carbs, or protein. In other words, nootropics won't provide you with movement points – won't power your next action-, but they will enhance it.
Understanding Nootropics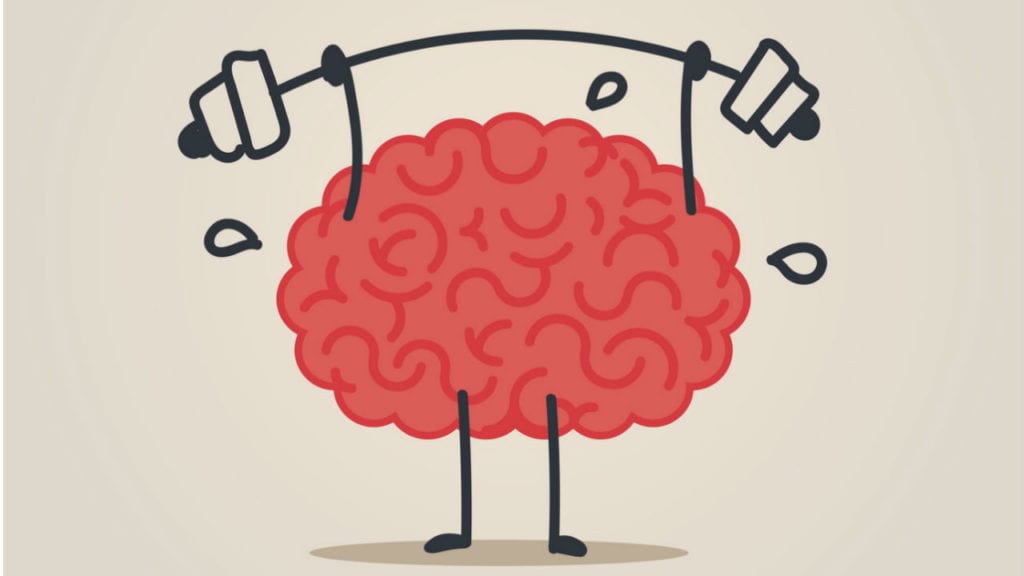 While on it's own this is a very complex topic, I will cover some of the most popular ingredients seen on gaming drinks:
Neurotransmitters: these are signaling molecules or messengers, required for the brain to tell the body what to do.
Other common ingredients found in energy drinks, include- not nootropics:
L-carnitine. Carnitine plays a key role in cellular energy production. It's usually added to increase muscular endurance, but the quantities on energy drinks are too low to have any real impact.
Vit B group. This group of 8 essential vitamins have major roles in cellular functioning, helping proper brain function and synthesis of signaling molecules. For instance, vitamin B6 has a key role in the production of GABA neurotransmitters.
Vit C. This is another important vitamin, with key roles in regulating brain signaling, as well as, acting as an antioxidant in the brain.
Ingredients To Avoid in Focus & Energy Gaming Drinks
So, are there any ingredients that you should avoid or any nutritional cues you should be on the lookout for?
In short, yes. You will find you that few companies might be giving you a mix that either is useless or hazardous to your health. Here are few things to check:
Calories. First and foremost, it is important to be aware of the caloric input of the energy drink. Generally speaking, you don't want to be drinking calorie rich drinks, since they will provide you low quality energy with very few nutrients. Drinking too many calories can lead to weight gain.
Sugar. You will do well looking out for sugars, too. If a gaming drink is rich in calories, it's likely rich in sugars, too. As a rule of thumb, you don't want to drink anything with over 10% of your DV in sugars. High sugar diets can lead to putting on weight, diabetes and obesity.
Caffeine content. Most energy drinks mentioned above have very high caffeine content (100mg + per serving). Going above 200mg per serving can be dangerous, even more if you are not used to caffeine.
Filler ingredients. Finally look out for filler ingredients that might seem out of place. This are often used to cheapen the product and don't offer anything of value to your drink.
Are Gaming Drinks Bad for You?
Looking at the ingredients above, it must be said that neither of these cause any harm in the levels present in gaming drinks. Even more, most ingredients found in the energy drinks for gamers are well below their toxicity levels.
Issue 1 – Tolerance
In spite of that, it must be said that you can build up tolerance, which will reduce effectiveness and force you to drink more (e.g. caffeine). Increasing the daily servings could have negative effects.
Issue 2 – Not if Under 18
Furthermore, due to most research being done in adults, I would not recommend consuming excessive amounts if you are under 18. Considering that your brain is still developing, some of these active ingredients can have more hazardous effects.
Issue 3 – High in Artificial Sweeteners
Lastly, it's worth mentioning that most of these contain artificial sweeteners, namely acesulfame K and sucralose. While they've been deemed safe by the FDA and ESFA, they can cause discomfort (stomach) and might have long term effects (highly unlikely).
Are Gaming Drinks the Same as Regular Energy Drinks?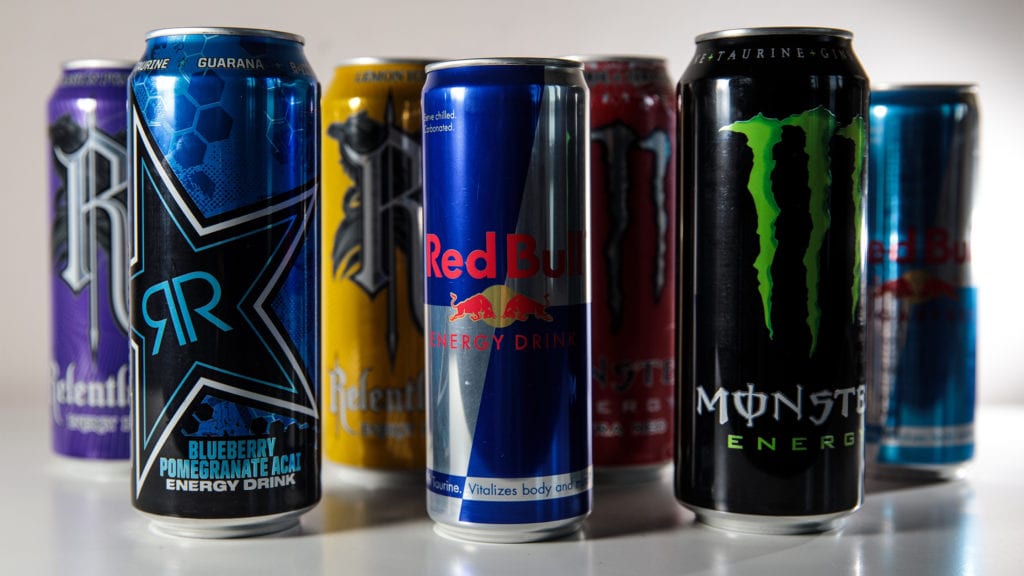 Despite being similar to standard energy drinks, gaming drinks have few key differences:
| Similarities | Differences |
| --- | --- |
| Similar core ingredients: caffeine, taurine, l-carnitine… | Gaming drinks are usually low in calories and have no sugars |
| Often have really high caffeine content | Best gaming drinks are often sold in powder vs cans –> to be more affordable |
| Same final aim: to provide you with a mental and physical boost | Regular energy drinks contain calories and sugar to provide you with fuel for physical activities |
| Not advised to consume if under 18 | Energy drinks for gamers have more flavour options |
Therefore, should you use regular energy drinks in your gaming sessions? In theory, they should have a similar effect; but if you decide to do so, I would recommend opting for a sugar free option to reduce the caloric input.
Personally, however, I would buy some of the best gaming energy drinks mentioned above due to them being more affordable, and having more flavours to choose from.
More Gaming Supplements
Are you trying to find out all the possible avenues to increase your gaming performance? Or maybe ways to keep your health at check while playing games for long hours? Here are some more supplements that might help you out: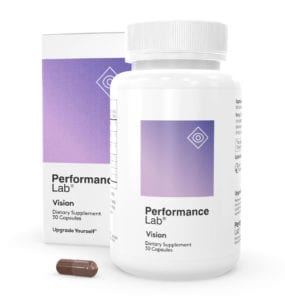 Performance Lab Vision
Protect your vision after long hours staring at the screen.
Enhances contrast sensitivity, motion detection and hand eye coordination.
Helps to reduce screen fatigue.
Safe for daily use.
Less than $1/serving.
Mind Lab Pro
Includes most proven nootropics that enhance your metal sharpness.
Made in USA and with third party testing for purity and potency.
Clear info on each ingredient.
Worldwide shipping.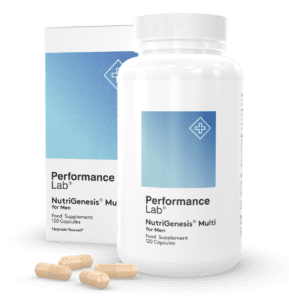 Multivitamins
Ensure you get all the essential micronutrients.
Includes minerals like zinc that have primary functions in the brain.
Daily use recommended.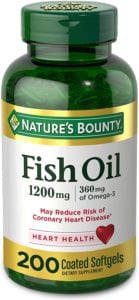 Omega-3: DHA and EPA
Omega-3 fatty acids are essential fats often missing in our diets.
EPA is great to fight anxiety, help improving eye health, and prevent mental decline.
One of the most essential and proven health supplements.
FAQ
What are the side effects of gaming energy drinks?
Consuming energy drinks for gamers should not have any major negative side effects in your health. You might notice a drop-off in energy levels and attention after the effects have worn off, though. Furthermore, long term continuous consumption might lead to tolerance; hence reduce effectiveness of energy drinks.


Are there caffeine free gaming drinks?
There are a few caffeine free energy drinks, but they are not the norm.


Are energy drinks for gamers safe to consume?
As mentioned above, gaming energy drinks are mostly safe to consume for most adults. However, I would recommend careful consumption as an underaged. Plus, consult your doctor if you see any adverse effects.


Will I notice an increase in my gaming performance?
Even the best gaming drinks for focus won't drastically increase your skills. They will, nonetheless, increase your concentration, energy levels and focus.


Can I use gaming drinks as pre-workout?
Gaming drinks and pre-workouts share many of the same ingredients; thus you might occasionally want to use your gaming drink as pre-workout. However, the latter often contain ingredients like creatine that boost your physical performance, rather than increasing focus or mental awareness.


Conclusion: The Best Gaming Drink is
… Mixt Energy. It is affordable, mixes without any issues and most flavours taste great. On top of that Rogue Energy is a great choice, too.
Nonetheless, many of the other top energy drinks for gamers mentioned here are amazing, too. For instance, Nau is the only caffeine free energy drink in the list. Alternatively, G-Fuel offers more flavours than anybody else; thus, you are likely to find your match.
All in all, the best energy drinks for gamers can give you a boost in focus and mental capacity; but won't dramatically increase your ability levels. The only way to stop being a noob is by trying harder and learning.
Have a good look to my top picks and enjoy!