InstaFlex Review 2023 | Will It Help Your Joints in 7 days?
As we age joint issues start becoming part of our lives. Inflammation, swollen joints, decreased mobility and constant joint pain are present in nearly 1/4th of US citizens. As such, finding the best joint supplements that can actually relieve joint pain is life-changing for many people.
In this Instaflex review, we shall have a look at one such supplement. Their advanced joint support formula is designed to:
Relief discomfort
Improve flexibility
All within 7 days
Big claims that we shall analyze in this Instaflex review to really gauge if this joint supplement is worth the money.
No time to read the full Instaflex joint review? These are the 5 most important takeaways:
Good budget option, but not a fully-fledged blend
Contains some good ingredients, but lacks many
Has Boswellia, turmeric extract, and resveratrol
No omega-3
We prefer Flexagain, as it offers a more comprehensive blend –> More effective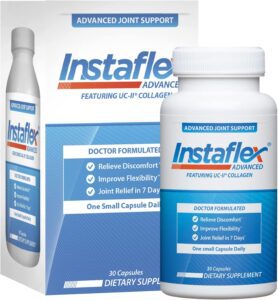 Quick Links
---
What Are the Ingredients of Instaflex Joint Support?
The first positive about Instaflex is that there are no hidden ingredients or proprietary blends. You will know what exactly are you taking and at which dosages.
This is extremely important, since popular supplements like OmegaXL, like to hide the exact quantities behind proprietary blends (often for the worse of the customer).
As you can see in the image below, the ingredient list in Instaflex is quite short:
Turmeric Extract (Rhizome 200mg)
Resveratrol (100mg)
AprexFelx, Boswellia Serrata, 100mg
UC-II Collagen, 40mg
Hyaluronic Acid, 5mg
Black Pepper Extract, 5mg
1. Turmeric Extract – 200mg
Turmeric has long been used to relieve joint pain. However, it is curcumin that comes from Turmeric that your body needs.
As such, Instaflex does a "mistake" many other joint supplements do, like Performance Flex, and provides you with the precursor rather than curcumin.
Furthermore, research has shown that higher doses of up to 500mg are required to fight osteoarthritis.
Consequently, we would've liked to see more turmeric in this blend.
2. Resveratrol – 100mg
This is not as common as other ingredients, but it's great to see it.
Resveratrol has been shown to have anti-apoptotic, anti-inflammatory, and antioxidative properties that greatly benefit RA patients. It controls various cell types that have protective functions in joints, and can improve joint health, more so when paired with omega-3.
3. ApresFlex Boswellia Serrata, 100mg
Boswellia is one of the most common ingredients found in joint supplements due to its anti-inflammatory properties.
Research has shown that terpenes found in Boswellia are effective reducing joint inflammation in arthritis patients.
In particular, AprexFlex branded Boswellia is able to improve joint health in 30 days even at dosages as low as 1100mg.
4. UC II Collagen – 40mg
Undernatured Collagen type II can help your joints in multiple ways.
On one side, it is believed that it can activate regulatory T cells (Treg) which produce anti-inflammatory bodies that inhibit tissue damage in joints.
At higher doses, it can also act as a building block, by providing the required amino acids.
The effective dose of UC II collagen is 40mg for RA and osteoarthritis treatment. However, for improved joint health and skin elasticity, dosages up to 10g are recommended.
5. Hyaluronic Acid – 5mg
The research about hyaluronic acid suggests that oral ingestion is not as efficient as injecting directly into the zone.
As a matter of fact, it is believed that it will be only mildly effective or that it will have no effects for most people trying to reduce knee pain.
That's why we don't think this is such a good addition to the blend.
What Are the Benefits of Taking Instaflex Advanced Joint Support?
As discussed at the start of this Instaflex review, the manufacturer claims that taking Instaflex has 3 main benefits:
Increased joint mobility
Decreased joint pain
Improved joint flexibility
Interestingly, Instaflex goes a step further and claims that you will be able to see all these benefits within a week.
While there might be some early signs of improvement in your joints in such short time, most joint supplements take 15-30 days to fully start working.
This does not mean that they are less efficient than Instaflex, but rather that joint supplements require time to reinforce your joints.
Does Instaflex Work?
So does this mean that Instaflex works? That you will be able to see all these improvements within a week?
Well, looking at the ingredients we can say that it might work for mild joint pain relief, but long-term it won't be as effective as the best joint supplements.
For instance, while Instaflex does have some ingredients to reduce swollen joints, it does not contain any omega-3. Doses of 1,100mg of omega-3 have been found very effective in relieving joint pain in RA patients, and it's also an essential fatty acid that most of us don't consume enough of.
Similarly, research does not back hyaluronic acid as an efficient joint supplement, and it looks like a bogus ingredient to us.
On top of that, turmeric is hugely underdosed, so it will not be as effective as it should be.
What Are the Side Effects of Instaflex?
There are no major allergens on Instaflex, and all ingredients are safe to consume for most humans.
The only ingredient that could cause some problems is Boswellia serrata. This might cause nausea to some.
On another note, it's worth noting that some Amazon Instaflex reviews have reported serious nausea and diharrea. You should stop taking Instaflex if this happens to you.
After several weeks usage I started having stomach cramps and severe diarrhea- had to miss work – see doctors – spend $1200 on a CT scan to rule out cancer. The mild joint relief is not worth the pain and the constant diarrhea I had for five weeks, which is bad for your health as you lose important nutrients. At this point I am concerned if it has damaged my health permanently. I only discovered this after I Googked its potential side effects. I spent hundreds of dollars on the product; missed work; and felt a lot of fear. Please use caution. The company should have a warning on the label of potential side effects which are easily documented on any Google search on dozens of sites.

Lucy McMahon, 1 star
Is Instaflex Legit?
Instaflex claims to be a doctor-formulated supplement. Dr. David Katz is behind this joint supplement.
Besides the egregious marketing claims of Instaflex working in 7-days, there doesn't seem to be anything shady about Instaflex.
InstaFlex Price
Regarding the price of Instaflex, we have some good news here.
Due to the smaller dosages and lack of few ingredients, Instaflex is a more affordable joint supplement than the higher-end ones, like Physio FlexPro.
You can buy Instaflex on Amazon and on their own website. Because they don't offer any bulk discounts on their own site, we think Amazon is the best place to buy Instaflex:
1 Tub (30 servings) –> $54.14 in total, or $1.77 per serving.
Is InstaFlex Worth It?
Considering the price, if you are on a budget, you might want to consider Instaflex.
That said, you might be throwing your money away if this is not effective enough for you.
That's why we think that for most users joint supplements like Flexagain, with a more comprehensive blend and higher doses will be better.
Furthermore, there are cheaper supplements like Heal n Soothe or Performance Lab Flex.
Real User InstaFlex Reviews
Fortunately, we have Amazon Instaflex reviews, as well as, customer Instaflex reviews on their own site to contrast them to our experience.
Looking at Amazon Instaflex reviews, it has a 4.2-star rating out of 7,983 reviews. This is not particularly great, considering that most Amazon reviews tend to be overly positive.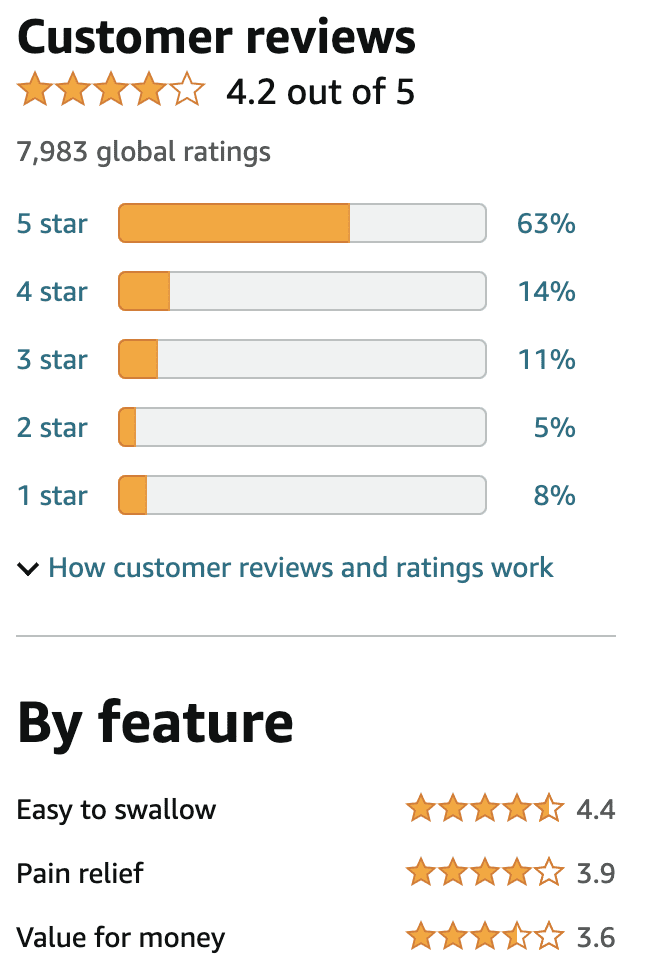 Here are some positive Instaflex reviews:
I notice that after taking one bottle the pain is eased in my knees, granted it hasn't totally relieved all the pain in my knees but it does seem to help it feel better than it did before I started taking the pills.

Gary Emerson, 4-star
Works well for my knee pain. Doesn't fix anything, but reduces swelling and pain. Takes a few days to get in your system. I stopped taking it and in a few days pain and swelling returns.

Mike Kelsay, 4-star
As you can see, even positive Instaflex reviews agree that it's not as effective for joint pain relief as advertised.
More negative user reviews of Instaflex Advanced joint support focus on the negative side effects and the cost of the product.
After reading the rave reviews of this product, I was very hopeful that it would help with my bad knee. The capsules are enormous, so I had to open them (which wasn't easy!) and pour the contents onto a spoon, then swallow down with water. At least they tasted ok. I believe turmeric is the main ingredient. But they didn't do a thing to help my knee. To be fair, my knee is in really bad condition but after all the great reviews, I was hoping for a miracle product. It's not. So if you're looking for an alternative for knee replacement, this isn't the answer. I should have known better, but I was really hoping. Save your money.

KellsBells22, 1-star
InstaFlex Reviews FAQ
What's the difference between Instaflex and Instaflex Advanced?
Instaflex Advance is the more concentrated joint supplement for which you only need to take 1-capsule a day. On the contrary, 3-capsules a day are required for Instaflex. Instaflex also contains shellfish unlike Instaflex Advanced.

Does Instaflex contain soy?
No, Instaflex is 100% soy free.


Is Instaflex suitable for vegans?
Instaflex Advanced is suitable for vegans, but Instaflex might contain shellfish.

Will Instaflex relieve my joint pain?
Instaflex might be mildly effective at removing joint pain, but it won't work for everybody.


What Is the Best Alternative to Instaflex?
After reviewing over 10 joint supplements, including Arthrozene, Biotrust 33x, Megared 4-in-1, Osteo Bi-Flex and Physio Flex Pro, we have a good idea of what the best joint supplements are.
As a consequence, we can be fairly certain that Flexagain is the best Instantflex alternative you can buy.
Other joint supplements like Physio Flex Pro or Performance Lab Flex might also be worth for some people, but none offer as comprehensive of a joint support blend as Flexagain.
#1 Joint Supplement – Flexagain
As a matter of fact, Flexagain has the most well-rounded joint supplement in the market with 11 active ingredients, all in correct dosages.
This will mean that you will have to take larger servings (more than one pill) than some other competitors, but that's the only way to ensure you are getting all you need.
This includes:
1,100mg of omega-3
Resveratrol, Ginger, Bromelain, Vitamin D, Vitamin K2, Curcumin Extract…
Ultimately, in order to tackle all key areas (swollen joints, pain relief, flexibility, mobility and overall joint health) many ingredients are required.
That's why Flexagain is our #1 pick. You might have to pay a little extra, but it's worth it in the long run.
---
Verdict – Instaflex Review, A Pass for Us
Upon reaching the end of this Instaflex joint support review, we have mixed feelings.
Instaflex has some good ingredients with anti-inflammatory effects at the right dosages (Boswellia, resveratrol), but falls short in others that help your joint health and pain relief (turmeric, for instance).
Furthermore, they add hyaluronic acid, which is not very efficient when taken orally.
As such, while we do think that it can be mildly efficient and could work short-term for some people, it is clear that it won't work for everybody.
Even looking at Instaflex Amazon reviews there were issues with Instaflex not being effective enough at joint pain relief.
Therefore, we think that it is better to spend a little more on a more complete blend that will provide better results like Flexagain.
Instaflex
From $1.77/serving