Performance Lab Flex Review | Tons of Promise, but Does It Work?
Performance Lab is one of the industry leaders when it comes to top-tier nutritional supplements. They have one of the best omega-3 supplements and also one of the best brain supplements for memory and focus, Mind Lab Pro.
However, in this Performance Lab Flex review, we will be looking at their joint supplement. Is this joint supplement as good as their other products? Can it help you relieve joint pain? How does it compare to the best joint supplements?
So there are definitely big expectations to see if Performance Lab Flex can nourish your joints, help manage the pain and stiffness, and bring youth to your joints, ultimately.
Sadly, due to the fact that they try to keep servings small (2 capsules), some ingredients found in Performance Lab Flex are underdosed, like glucosamine sulfate.
That's where our top joint supplement, Flexagain, has the edge over Performance Flex with 11 ingredients at effective dosages.
Ultimately, Performance Lab Flex is a good joint supplement that falls slightly short, due to their own constrictions. However, more of that later in this Performance Lab Flex review.
Short in time? Don't worry. Here are the 5 most important points:
Performance Lab is a trustworthy supplement company
Flex has the correct dosage of Boswellia
One of the only fully vegan joint supplements
Good ingredients, just not enough of them
For better joint support, look at Flexagain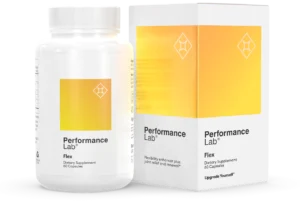 Quick Links
---
What Are the Ingredients of Performance Lab Flex?
Performance Lab Flex is a vegan, non-gmo, gluten-free, soy-free, nut-free, and dairy-free product.
That was a long way of saying that is hypoallergenic, and unlike many other joint supplements for pain relief is 100% vegan.
Besides, they use top-end ingredients like ApresFlex Boswellia serrata, instead of cheaper variations where higher doses are needed to achieve the same effect.
For those who can't see the image below, here's Performance Lab Flex ingredient list:
CurcuWin Turmeric, 250mg
ApresFlex, Boswellia Serrata, 100mg
Glucosamine Sulfate 2KCL, 500mg
Phytodroitin (mucopolysaccharide extract), 100mg
OptimMSM (Methylsulfonylmethane), 100mg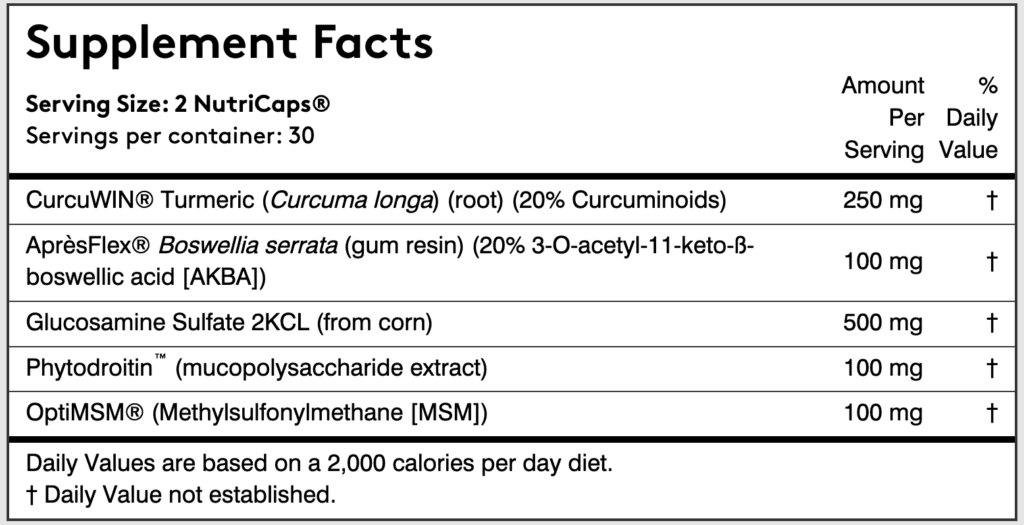 1. CurcuWIN Turmeric (Curcuma Longa), 20% Curcuminoids – 250mg
Turmeric supplements have been widely used for joint pain relief. However, there's one clear misconception.
It is not Turmeric that's helping your joints, but this is rather a precursor to curcumin. Curcuminoids are the active ingredient that reduces inflammation and pain in arthritis patients.
While dosages are not set in stone, studies have often use doses of 500mg of pure curcumin to fight osteoarthritis in knees.
As such, higher doses would be preferred.
2. ApresFlex Boswellia Serrata, 100mg
Active terpenes found in the resin of the Boswellia tree have anti-inflammatory properties.
According to the current understanding they inhibit 5-lipoxygenase, which reduces inflammation in joints in arthritis patients.
The variation of Boswellia Serrata used in Performance Lab Flex (Apres Flex), it's rich in AKBA, therefore doses of 100-250mg/day have been shown to be enough.
Besides, Boswellia has also been shown to be beneficial against, Alzheimer's, Parkinsons and many more chronic diseases.
3. Glucosamine Sulfate 2KCl from Corn – 500mg
The largest ingredient by volume is glucosamine 2KCL.
This is not as effective as glucosamine HCL in reducing joint pain for osteoarthritis patients, but still an improvement over the glucosamine sulfate used in cheaper joint supplements.
Consequently, glucosamine 2KCL is required in higher doses than glucosamine HCL to be effective, with the minimum dose ranging from 750mg upwards. Thus, we would've liked to see a little bit more added to Performance Lab Flex.
4. Phytodroitin Mucopolysaccharide Extract – 100mg
Performance Lab Flex uses vegan phytodroitin and it's an alternative to chondroitin.
Studies have shown that phytodrotin can be effective at reducing joint pain in osteoarthritis patients. However, there are conflicting reports on the efficacy of phytodroitin on its own, and it's often paired with glucosamine for improved results.
5. Methylsulfonylmethane – 100mg
Last but not least, Performance Lab Flex contains 100mg of MSM.
While studies have proven the efficacy of MSM for short-term pain relief and an increase in joint mobility, they've used much larger doses (3g 2 times a day).
In fact, 3,000mg is usually considered the effective dose.
What Are the Benefits of Taking Performance Lab Flex?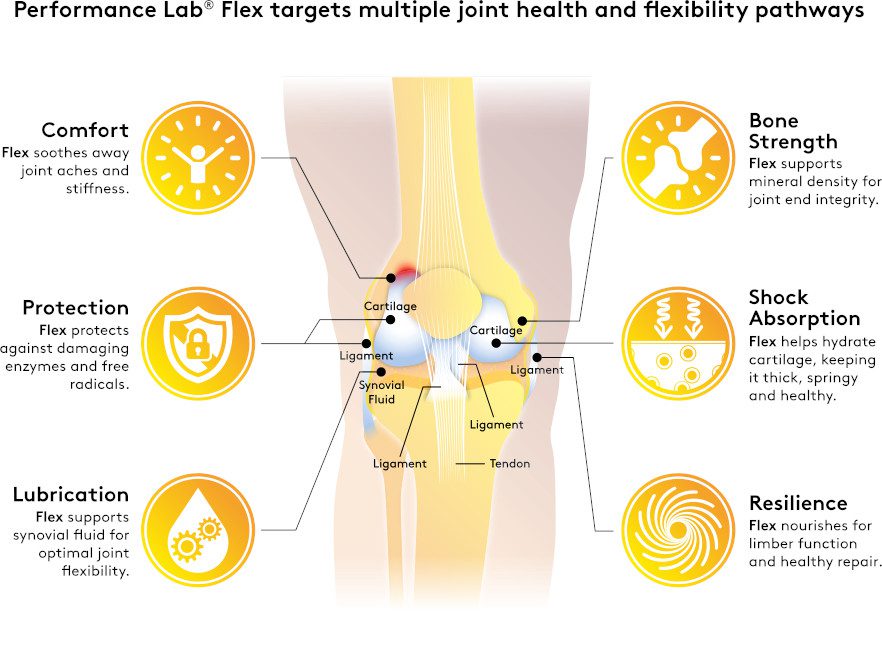 According to Performance Lab, their joint supplement should help you with:
Reduced joint pain.
Increase mobility and flexibility
Boost joint health and hydration
In the image above, you can observe some of those benefits in action.
Does Perfomance Lab Work Flex?
However, does Performance Lab Flex work? Does it provide you with all the benefits it claims?
Well, as discussed in the ingredients section is a mixed bag.
On one side, all ingredients on Flex are effective at targeting joint issues.
On the other hand, they are slightly underdosed, not as badly as other joint supplements like Heal n Soothe, and lack few key ingredients, like omega-3.
Good for Joint Pain and Reducing Inflammation
The addition of Boswellia ensures that Flex has some anti-inflammatory agents. However, it does not have omega-3 (even though Performance Lab has a great omega-3 supplement) which studies have been shown at combating RA swelling and inflammation.
Similarly, curcumin extract and glucosamine are great for reducing joint pain, but they are underdosed. Plus, adding something like reveratrol, found in Flexagain, would increase the therapeutical benefits of Performance Flex.
Performance Lab Supplements
What is perhaps most annoying is that Performance Lab offers other supplements that compliment Flex to perfection.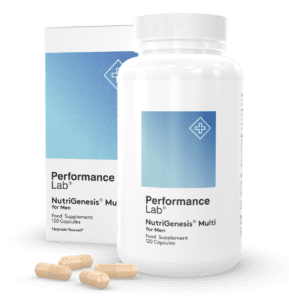 For instance, they have some of the best vitamins for joint issues. Nutrigenesis is an excellent multivitamin blend designed for increased absorption. Vitamin D deficiencies are common in RA patients, which shows some kind of correlation. Nutrigenesis can help you avoid that.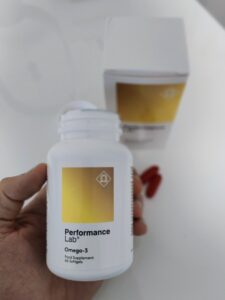 In a similar fashion, Performance Lab has one of the best omega-3 supplements that provides you 1,100mg per serving. This is the ideal dose to combat joint swelling and inflammation.
Therefore, why are these not in the mix? Why do you have to buy them separately?
What Are the Side Effects of Performance Lab Flex?
Performance Lab Flex is a fairly safe supplement to take. The only issues might be caused by Boswellia serrata, which can cause nausea to some people.
Besides that, Performance Lab Flex is one of the safest joint supplements reviewed, with 0 allergens, not even shellfish.
Is Performance Lab Legit?
Performance Lab is a UK-based company that sells nutritional supplements worldwide.
They sell premium supplements like omega-3, multivitamins, nootropics, and supplements for eye health.
Accross their repertoire, they have some that we use regularly, like Mind Lab Pro and Performance Lab Omega-3.
Performance Lab Flex Price
Besides the ingredients, the price is one of the most important factors when choosing a good joint supplements. Too many manufacturers, like Omega XL, inflate their prices for subpar products.
In this case Lab Flex is not the cheapest joint supplement out there, and it's on the expensive end. Making use of the bulk discounts they offer is the way to go:
1 tub (30 servings) –> $69 for the bottle, $2.30/serving
2 bottles (60 servings) –> $138 in total, $1.47 per serving
3+1 Bottle (180 servings) –> $207 in total, $1.73 per serving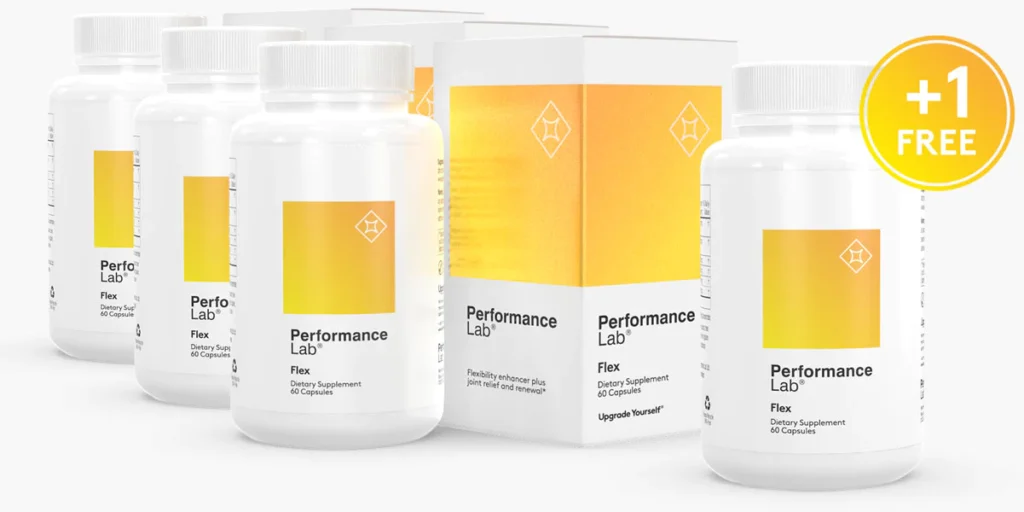 Is Performance Lab Flex Worth It?
Taking the price, the benefits and the ingredients into consideration, Performance Lab Flex can be worth it in some edge cases that are looking for a vegan joint supplement.
No other brand will give you the safeguard and as comprehensive blend of vegan joint supplements.
That said, for most users, it will be best to opt for Flexagain, which has more ingredients, it's more effective, and ultimately better value for the price.
Real User Performance Lab Flex Reviews
This joint supplement is only available in their website, therefore there are no Performance Lab Amazon reviews.
Nevertheless, Performance Lab Flex has 4.3-star reviews out of 110 ratings on their own website.
Positive user Performance Lab Flex reviews state that they have seen benefits in their joint health and pain relief.
When I first started taking Flex, it helped ease and reduce the back pain I was having. I still take it to moderate any discomfort I occasionally have. It has really helped.

Larry B, 5-stars
I've been suffering from lower back pain for many years. Having started taking 2 tablets per day, I've notice some relief recently. However, only time will tell as to the long term benefits. I will be ordering some more in the meantime. Will write another review in about 3 months time.

Michael G, 4-stars
In more extreme cases, where users were suffering from severe joint issues Flex did not seem to be as effective.
Flex didn't have any negative effects, but had ABSOLUTELY no positive effect on my back condition. Much of my back problem is the loss in much of my cartilage on the bottom 5 vertebrates. Only painful when I walk 100 feet or more, so hardly driving me out of my mind. My ex wife uses all kinds of these pills from any advertiser to maintain her health. I always laughed at her, but just decided to try this. Waste of my money I'm afraid. Wish I hadn't purchased two months worth now. But it's almost all gone and that'll be it for me. Sorry I couldn't be more complimentary. Gary L Rounds

Gary L, 1-star
All in all, the takeaway from customer Performance Lab Reviews is that it seems effective to help with mild pain, but it will depend on each individual ultimately.
A more comprehensive joint supplement might be more efficient for most people.
Performance Lab Flex Reviews FAQ
Where can I buy Performance Lab Flex?
Performance Lab Flex is only available from their website.


Does Performance Lab deliver worldwide?
Yes.


How long should I wait until I see any effects?
You should start seeing some positive effects within the first week, but for better judgement you should take the pills for at least 2 weeks.

What Is the Best Alternative to Performance Lab Flex?
In Latestfuels, we have reviewed tons of great (and not so great) joint supplements like Physio Flex Pro, Arthrozene, Osteo Bi-Flex, Biotrust 33x Joint and more.
Ultimately, most of the joint supplements have one common issue: they are not willing to make the servings big enough.
Consequently, most of them are underdose in one or more key ingredients.
#1 Joint Supplement – Flexagain
For that reason, we almost always recommend Flexagain as the best joint supplement.
It is the perfect Performance Lab Flex alternative for many reasons:
Includes 1,100mg of omega-3
Has extra ingredients for extra joint pain relief: resveratrol, ginger, bromelain, vitamin D and K2
Proper curcumin extract (not turmeric)
At the end of the day it boils down to Flexagain having more ingredients, at higher dosages, thus being more efficient at targeting the multiple joint issues.
The downside is that Flexagain's servings are bigger than Performace Lab Flex's, but we think it's worth it.
Besides, for a similar price, you just get more with Flexagain.
---
Verdict – Performance Lab Flex Review
We had high expectations for this Performance Lab Flex review, since it comes from one of our favorite companies.
However, after carefully analysing this joint supplement we can't give it top marks.
Ingredients are good, and some like Boswellia are in effective dosages. It seems that Performance Lab Flex is particularly effective at reducing mild pain and inflammation.
However, where is the omega-3? Where is vitamin D3? These are nutrients that they offer in other products, so they could have added them here.
Instead, they've opted to make a smaller serving, one that's more easily swallowed sacrificing quantity for it.
For us, sacrificing ingredients for some comfort when taking the joint supplement is not worth the trade.
That's why we recommend Flexagain instead, so that you can make sure to get the most comprehensive joint supplement in the market.
Performance Lab Flex
From $1.73/serving
Pros
Trustworthy company
Vegan, hypoallergenic joint supplement
Efficient ingredients
No proprietary blend - full transparency
Mildy efficient for joint pain
Cons
Could have more ingredients (e.g. Omega-3)
Medium - low dosages
Pricey