BioTrust Joint 33x Review 2023 | Can It Help Your Joints?
Over-the-counter joint pain relief supplements are on the raise as a way to combat evergrowing joint issues. We are sure that you have suffered from joint stiffness, inflammation or pain. It is really annoying. In this Biotrust Joint 33x review, we will have a look at this joint supplement, and help you decide whether is worth or not.
Unfortunately, BioTrust seems not to care too much about their joint supplement. Biotrust Joint 33x is criminally underdosed.
Even though it hits the right ingredients – hyaluronic acid, Boswellia, and collagen-, it's in really small doses. On top of that, hyaluronic acid is much more effective when injected into the injured zone, rather than when taken orally.
Anyhow, we will go over each point on detain in this Biotrust Joint review, but here are 5 takeaways if you are short in time:
Biotrust Joint 33x might provide you with minimal relief
High-quality ingredients, but at minimal doses
Lacks ingredients that help you with joint pain, mobility, and reducing inflammation
Biotrust Joint is not the best bang for the buck
There are better joint supplements out there, like Flexagain with 11 ingredients at effective dosages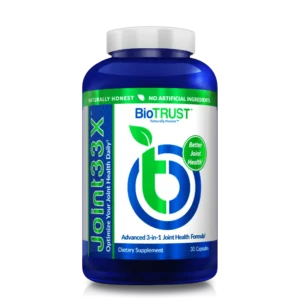 Quick Links
---
What Are the Ingredients of Biotrust Joint 3-in-1?
Sadly, Biotrust Joint 33x only has three ingredients to help you relieve joint pain.
Usually, there's nothing wrong with simple formulas, with few well-dosed ingredients. However, this is not the case for Biotrust 33x, as 2 out of the 3 ingredients are underdosed!
Furthermore, many of the best joint supplements have 5-12 scientifically proven ingredients that help with joint pain, including omega-3 or resveratrol. None of which are in Biotrust Joint 33x.
At least, it's great to see that Biotrust is not hiding under proprietary blends like other manufacturers do (Omega XL).
Please note that Biotrust Joint 33x is not vegan-friendly, as it contains chicken/rooster cartilage extracts.
For those who can't see the picture, here are the ingredients in Joint 33x:
Boswellia serrata – 100mg
Standardized Rooster Cartilage extract – 40mg

Hyaluronic acid
Collagen
Polysaccharides (filler)

UC-II Standardized Chicken Cartilage Extract – 40mg

10mg Total collagen
Collagen Type II
1. Boswellia Serrata, 100mg
Resin extracts of the Boswellia tree have long been used to treat chronic inflammatory diseases in traditional medicine.
The terpenes found in Boswellia serrata can inhibit 5-lipoxygenase, which is can cause inflammation in your body. The most effective dose is yet to be determined, but the minimal dose seems to be 100-150mg.
Studies have also shown further benefits against arthritis, Alzheimer's, Parkinson's and other chronic diseases.
One positive about Biotrust Joint 33x is that they use ApresFlex, which has more highly concentrated AKBA, and thus can be taken in smaller dosages of 100-250mg/day.
2. Standardized Rooster Cartilage Extract – 40mg
This extract is rich in hyaluronic acid.
Research on soccer players indicates that chicken extract rich in hyaluronic acid can be efficient in managing joint health. However, much higher doses were used (157mg).
Smaller amounts (80mg) of rooster cartilage have also shown positive effects vs osteoarthritis. However, this is double what Biotrust 33x contains.
Thus, it won't be as effective.
3. UC-II Standardized Chicken Cartilage Extract – 40mg
As mentioned above, chicken cartilage extract can be beneficial to improve joint health, but at much higher dosages.
Other studies indicate that better results are achieved vs rheumatoid arthritis when paired with glucosamine (a compound many competitors have, but Biotrust 33x does not.
What Are the Benefits of Taking Biotrust 33x Joint?
Because of the quality of the ingredients used, you will see some benefits when taking Biotrust 33x joint supplement.
Biotrust claims that taking the supplement will:
Supports joint health and comfort
Supports joint flexibility and function
Features three patented joint health ingredients backed by more than a dozen human studies

UC-II® supplies undenatured type II collagen, which supports joint health and mobility by supporting healthy levels of collagen
Mobilee® extract is rich in hyaluronic acid, collagen, and glycosaminoglycans, which support joint mobility and function
AprèsFlex® Boswellia extract supports healthy joints and connective tissues
As discussed in the ingredients section, these are top-quality blends that will have some positive effects on your joints.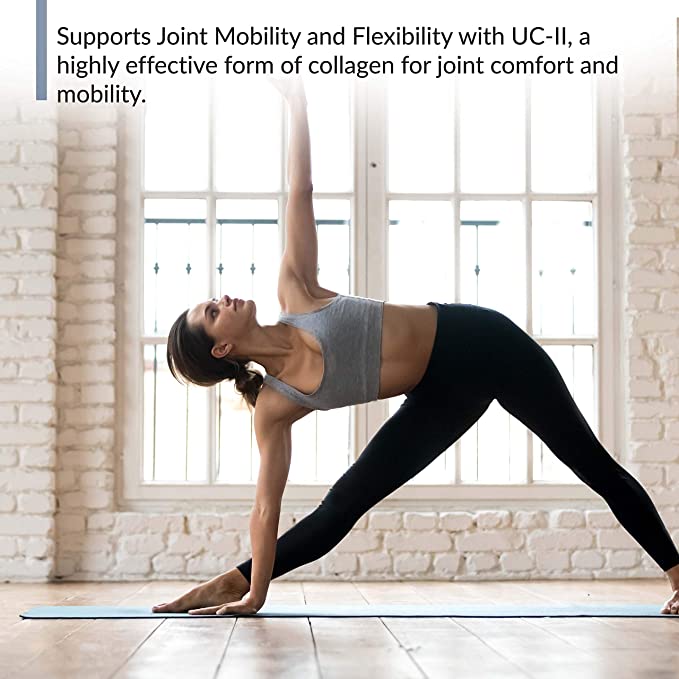 Does Biotrust 33x Joint Supplement Work?
So, ultimately, will Biotrust 33x work for you?
There's some scientific research backing the ingredients. Furthermore, it is true that with age the amount of collagen (type II mostly) in your joints declines, and the hyaluronic acid dries out.
The combination of both, plus injuries, body composition, weather etc. can negatively affect your joints.
As such, Biotrust 33x does provide you with ingredients that tackle key areas of your joint health and if you never have tried a joint supplement you will see some benefits.
However, these benefits will be shortlived, because for some reason Biotrust 33x is underdosed in Mobilee Hyaluronic acid and UC-II.
Plus, they don't add glucosamine which has synergistic effects with hyaluronic acid.
Or the other common joint supplement ingredients like resveratrol and omega-3 that help with inflammation much more efficiently than the ingredients in Biotrust 33x.
Thus, there will be more efficient joint supplements for pain relief, like Flexagain available to you.
What Are the Side Effects of Biotrust Joint 33x?
From the ingredient standpoint, this should be a fairly safe supplement to take.
Boswellia serrata can cause some nausea, but it's reduced when taken with food.
As for allergens, Biotrust is soy-free, gluten-free, dairy-free, nut-free, and should not include shellfish.
Is Biotrust Legit?
Biotrust is a company founded in 2011, which sold over 1 million products in the first year!
It has been in business since, and has donated 5.3 million meals via No Kid Hungry campaign.
So, yes, Biotrust is a legit company
Biotrust 33x Joint Price
One thing that makes or breaks a joint supplement is the price. There are many overpriced joint supplements like Osteo Bi-Flex.
However, it seems that Biotrust Joint 33x is in the middle of the pack. You can buy in on their website for:
1 tub (30 servings) –> $49 for the bottle, $1.64/serving
3 bottles (90 servings) –> $132 in total, $1.47 per serving
6 bottles (180 servings) –> $234 in total, $1.30 per capsule
It is clear that Biotrust provides you with good bulk discounts.
Real User Biotrust 33x Reviews
While it's not available on Amazon at the time of this Biotrust review, there are some 33x joint reviews from when it was available.
Overall, Amazon Biotrust 33x reviews are quite positive with a rating of 4.1-stars out of 81 ratings.
However, it is weird to see how many 3-star reviews Biotrust has.
According to Biotrust 33x customer reviews, the joint supplement was efficient at pain relief.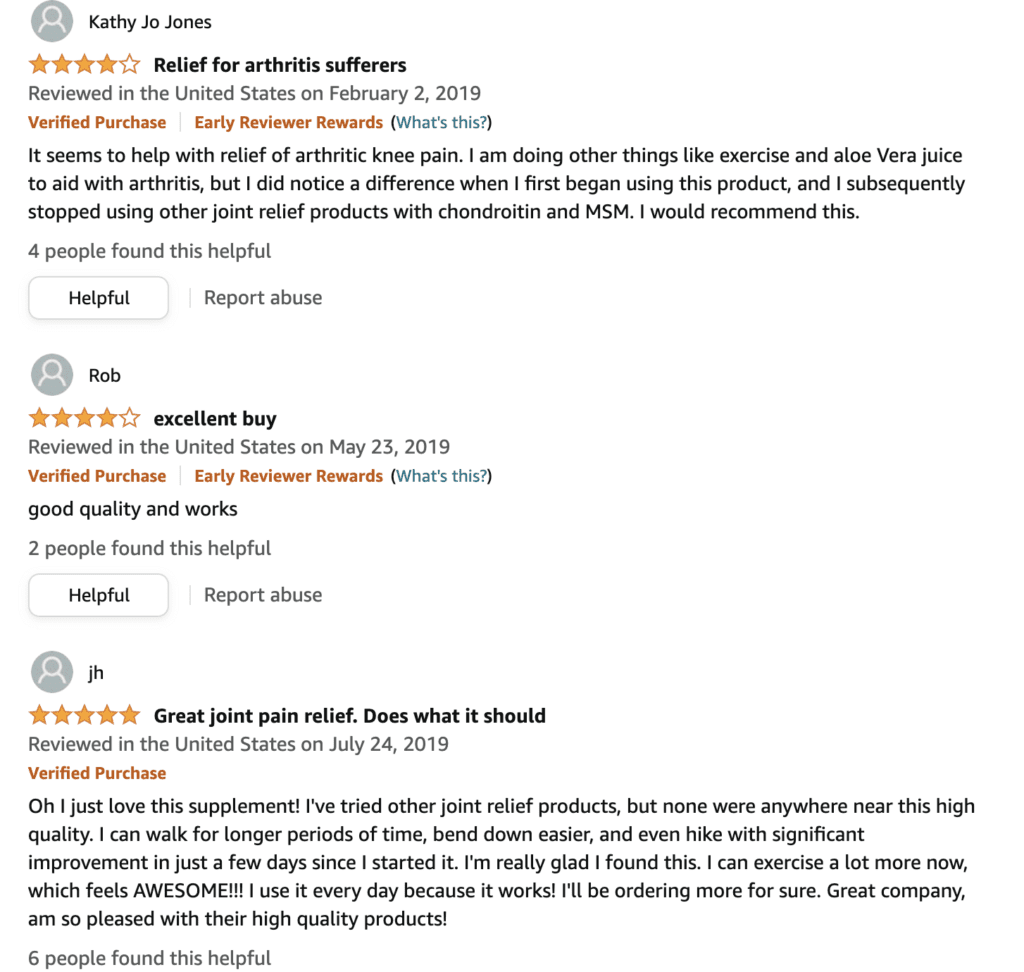 Biotrust 33x Reviews FAQ
Is Biotrust 33x safe?
Yes, there should be no strong side effects after consuming Biotrust 33x.


How long does it take for Biotrust 33x to work?
The manufacturer does not state any specific time, but it's intended to act "fast". That said, joint supplements work best when taken for at least 2 weeks.


Is Flexitrinol FDA approved?
No, Flexitrinol is not approved by the FDA.


Does Biotrust 33x contain any stimulants like caffeine?
No, Biotrust 33x is stimulant-free.

Is Biotrust 33x Joint vegan?
No, it has animal-derived hyaluronic acid and collagen.


What Is the Best Alternative to Biotrust 33x Joint Supplement?
There is a lot of competition in the joint supplement industry, with products like Physio Flex Pro, Osteo Bi Flex, Flexagain, and Arthrozene to name a few.
Unfortunately, Biotrust 33x is in the lower tier of joint supplements together with Omega XL, Flexitol, Kirlkland Triple Action, Instaflex, and Megared 4. This is, the NO BUY category.
We have reviewed them all in Latestfuels, so be sure that we will provide you with the best Biotrust 33x alternative.
#1 Joint Supplement for Pain Relief – Flexagain
Without a doubt, this is currently the best joint supplement in the market.
It offers a great blend of 11 ingredients in effective dosages, and it doesn't come short as many other competitors do.
Besides, it is particularly effective at fighting joint inflammation and relieving joint pain, because it contains 1,100mg of omega-3 (anti-inflammatory), resveratrol, and curcumin extract.
There are also more ingredients like vitamin D, glucosamine HCL or chondroitin that improve joint flexibility, mobility and overall cartilage health.
That said, it does not contain any hyaluronic acid or collagen, so it could even be complementary to Biotrust 33x.
All things considered, though, it is the most comprehensive blend in the market, particularly effective at joint pain relief and osteoarthritis patients.
---
Verdict – Biotrust 33x Joint Review, Mildly Effective
At the end of this Biotrust 33x Joint supplement review, we can't avoid the feeling that they could have done better.
Sure, Biotrust has used the highest quality ingredients – high-end hyaluronic acid and collagen – but for some reason, they've underdosed them.
As such we see the promise this product has for joint pain relief, but we believe that it falls short.
Nevertheless, it is possible that if you are not used to joint supplements you might experience some benefits early on.
That said, if you are looking for a more comprehensive joint supplement, and you are particularly suffering from joint inflammation and pain, Flexagain will offer you a better alternative.