Huel Greens Review | Will This Greens Drink Improve Your Diet?
Welcome to this Huel Greens review, an in-depth look at the latest product by the British complete food manufacturer, Huel.
For those who haven't heard of Huel, they are the most successful meal replacement company focused on plant-based, high-protein meal replacement shakes. They offer an excellent range of complete food products together with the best customer service and buyer experience in the market.
That said, green powders have not been their focus or expertise. Despite their focus on providing complete and balanced nutrition, Huel did not see the need for green powders since their launch in 2014.
So what has changed? How can green powders help you to achieve complete nutrition and are green powders essential to a healthy lifestyle?
Ultimately, we will answer all these questions in this Huel Greens review, but we shall also see if this is one of the best green powders you can buy, or if you should look somewhere else.
We will also do an in-depth comparison of Huel Daily Greens vs Athletic Greens, the most well-know greens brand in the US.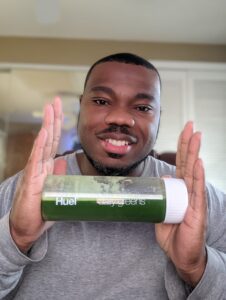 No time to read the full Huel Daily Greens review? Here are the most important points
Huel Daily Greens is a good greens supplement
It's affordable, from a reputable company, and easy to buy
Easy to prepare, easy to drink, and has a refreshing/muted taste.
It has a great blend of superfoods, particularly rich in vitamins and minerals
Adaptogen content is low – not effective
Huel Daily Greens is better than AG-1, but not as good as Supergreen Tonik
Quick Links
---
Huel Daily Greens Review at a Glance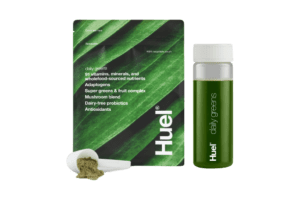 ---
Huel Daily Greens Nutrition
| | Huel Greens |
| --- | --- |
| Kcal/serving | 50 |
| Sugars (g) | <1 |
| Protein (g) | 3 |
| Fibre (g) | 2 |
| Vegan | Y |
| Organic | Y |
| # of Greens | 60 |
| Adaptogens | Y |
| Probiotics | Y |
| Digestive Enzymes | N |
| Unwanted Ingredients | None |
At first glance, Huel Green's ingredient list resembles a lot to the most popular greens powder, AG-1 by Athletic Greens.
For those unfamiliar with green powders such as Athletic Greens, they are a mix of plants, vegetables, fruits and mushrooms. These are rich in micronutrients (vitamins and minerals) and phytonutrients (antioxidants, anti-inflammatory agents, flavonoids, lignans, adaptogens…).
Therefore, the idea of green powders is to boost your essential and non-essential nutrient intake to help your body perform daily activities better and stay healthier.
Unfortunately, Huel Green's ingredients list is not as transparent as it could be. Many of the ingredient quantities are hidden behind blends, which could mean that they are in low quantities that are not effective enough.
This is a little odd, given that Huel tends to be extremely transparent on their nutrition facts. That's one of the reasons why I really enjoy SuperGreen Tonik.
Ingredients
Core Protein and Green Superfood Blend – 8.9g
This is the "bulk" of the greens blend, and I find a few odd additions.
Personally, I'm not a big fan of seeing protein in green powders, as you want to minimize the amount of calories per drink and maximize micronutrients and phytonutrients. Protein powders are not rich in either, and mostly provide protein.
Besides, it's odd to see gluten-free oats, flaxseed and tapioca starch on a green powder, and they seem to be mostly fillers. They are fine ingredients that provide you with good nutrients, but have other purposes and should be in higher doses in order to be effective.
Organic Antioxidant Greens Blend – 2.6g
This is where the real green powder blend begins.
Here, Huel Daily Green provides you with vegetables that are ultra-rich in nutrients (like antioxidants). Most noticeably, chlorella, spirulina, broccoli, carrot, spinach, kale… These are essential in any greens blend.
For instance, spinach is rich in antioxidants like lutein, beta-carotene, coumaric acid, and ferulic acid. Studies in rats have proven that spinach can be highly effective at combating DNA damage produced by high cholesterol.
Ultimately, the greens on this blend have highly effective compounds that help you combat oxygen radicals, protect your immune system, help DNA reparation, and lower the chance of chronic illnesses.
Organic Superfruit Blend – 508mg
Eating a variety of foods is extremely beneficial. They are low in calories and rich in nutrients such as vit E, vit C, potassium, or fiber, among others.
In this case, Huel Daily Greens contains tomato, coconut nectar (sugar), apple, lemon peel, acerola fruit extract, cranberries, raspberries, elderberries etc. A variety of superfoods that are also rich in phytonutrients.
Organic Adaptogen and Mushroom Complex – 173mg
For those who are unfamiliar with the word adaptogen:
These are non-toxic substances that can have neuroprotective, anti-depressive and stimulating activities.
Thus, they can enhance brain function and help you deal with stress and anxiety, as is the case of Rhodiola rosea. Alternatively, they can also enhance brain functions, such as memory and focus – like ashwagandha.
That said, the dosages of most adaptogens and mushrooms found in Huel Greens are too low to be effective.
For instance, Ashwagandha is recommended in doses of 600mg, and Maca in doses of 1.5g to 3g! This is ten times what it is in this mix.
That's why I tend to use nootropics or brain supplements like Hunter Focus to actually improve my cognitive performance and fight stress and anxiety
Furthermore, both Super Greens Extreme and Diet use it in conjunction with yerba mate and green tea extract. Another two great mental boosters and caffeine sources.
Probiotics
As with other Huel products, Daily Greens contains Bacillus coagulans MTCC 5865 and Bifidobacterium bifidum 100mg. These are important to balance your gut microbiota and help for a healthier gut ecosystem.
Other Interesting Ingredients
Besides, Huel Greens also has what they call "Botanical Blend" (122mg). This is a blend of spices like cinnamon, burdock root, dandelion, and lemongrass among others.
For example, a systematic review of the benefits of cinnamon highlights the fact that it can help with various health aspects like regulating blood pressure, reducing the risk of cancer, and boosting your central neural system, among other things.
All Ingredients
Plant-Based Protein and Superfood Blend - 8934mg
Tapioca starch, Organic Gluten-Free Oats, Pea Fiber, Organic Pea Protein, Flaxseed, Organic Mung Bean Protein, Organic Chia Seeds, Organic Sprouted Quinoa.
Organic Antioxidant Greens Blend - 2594mg
Organic Chlorella, Organic Spirulina, Organic Broccoli, Organic Carrot, Organic Spinach, Organic Kale, Organic Nettle Aerial Part, Organic Green Tea Leaf Extract, Organic Sweet Fennel Fruit, ORganic Artichoke leaf, Organic Basil Leaf, Organic Black Garlic, Organic Green Coffee Bean Extract, Organic Mate Leaf Extract, Organic Calciferous Marine Algae (Aquamin F)
Organic Superfruit Blend - 508mg
Organic Tomato, Organic Coconut Nectar, Organic Apple, Organic Lemon Peel, Organic Acerola Fruit Extract, Organic Red Grape Vine Leaf, Organic Small Plantain Leaf, Organic Bilberry, Organic Strawberry, Organic Raspberry, Organic Blueberry, Organic Tart Cherry, Organic Elderberry, Organic Cranberry
Organic Adaptogen and Mushroom Complex - 173mg
Organic Ashwagandha Root, Organic Rhodiola Root Extract, Organic Siberian Ginseng Root, Organic Lemon Balm Leaf, Organic Marshmallow Root, Organic Maca Tuber, Organic White Ginseng Root, Organic Red Ginseng Root, Organic Ginger Root, Organic Maitake Mushroom, Organic Shitake Mushroom, Organic Reishi Mushroom, Organic Cordyceps Militaris Mushroom
Organic Botanical Blend - 122mg
Organic Cinnamon Bark, Organic Burdock root, Organic Dandelion Root, Organic Echinacea Aerial Part, Organic Hawthorn Flowering Top, Organic HIbiscus Flower Extract, Organic Lemongrass Leaf
Probiotics - 3mg
Bacillus Coagulans MTCC5856, Bifidobacterum Bifidum 100B
Huel Daily Green Benefits
Ultimately, one of the most interesting points of a product like this is what are the benefits of taking Huel Greens? And does Huel Greens work?
Looking at the ingredient list, there's nothing harmful or bogus. In fact, they are all wholefood ingredients: plants, fruits, spices, and mushrooms.
Many of these have been used in traditional Western and Eastern medicine for centuries, such as, Rhodiola rosea, Reishi mushroom, maca root, Siberian ginseng etc.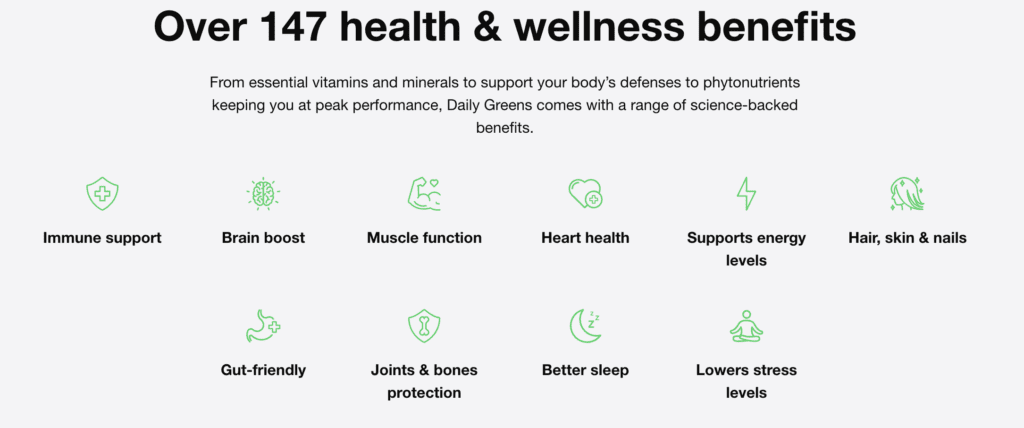 Which Are the Benefits of Drinking Huel Green Powder?
In the image above you will see some of the benefits that Huel claims taking their greens powder will have.
Furthermore, as showcased in the ingredients section and above, all herbs and mushrooms in Huel's greens drink have proven health benefits.
However, that does not mean that drinking Huel Green will guarantee all of them, as many of the ingredients are underdosed (particularly the adaptogens).
So what are the real benefits of taking a greens powder then?
Boost your fruit and vegetable intake. Americans are deficient in the intake of both, even though these are extremely rich in nutrients otherwise we can have through our diet (particularly phytonutrients like carotenoids, flavonoids, antioxidants…).
Increase your micronutrient and phytonutrient intake from whole food ingredients. These are not only more easily absorbed by your body, but are also lacking in American diets. You will get 100% of vitamin A, vitamin D, vitamin B12 (to mention a few).
Improve your diet and your health. Consequently, consuming these will boost your diet and you will notice improvements in your health, too. You might feel more energized, in a better mood, have better digestion, improved sleep…
Reduced risk of chronic diseases and improvement in long-term health of cardiovascular, motory, neural, immune and other critical body systems.
In short, you will see short-term and long-term health benefits when taking green powders. These benefits are due to micronutrients and phytonutrients, which are key in many body processes.
What Benefits You Might Not Experience?
However, some of the claims made by Huel are a little bit exaggerated.
For example, the adaptogens found in Huel Greens are in extremely low dosages. See the table below:
| | Min Effective Dose | Function |
| --- | --- | --- |
| Ashwagandha | 600mg (at least 4x more) | Reduce stress and anxiety |
| Rhodiola Rosea | 288mg (at least 1.5x more) | Anti-stress, anti-fatigue |
| Siberian Ginseng | 1g (at least 5.5x more) | Boost physical and mental performance |
| Maca Tuber | 1g (at least 5.5x more) | Improve libido and mood |
| Reishi Mushroom | 1.4g (at least 10x more) | Antioxidant, Immune system regulation |
Some of the ingredients found in the Adaptogen blend (173mg per serving).
Therefore, as you can observe, the adaptogens will have very little of the desired effect.
Instead, you should opt for a brain supplement or nootropic like Mind Lab Pro, Alpha Brain or Hunter Focus if your aim is to boost your cognitive performance.
Does Huel Daily Greens Work?
During this Huel Daily Greens review, we have proven that they use ingredients that are scientifically proven to work. However, it is also true that dosages of a few ingredients are too low to be effective.
In summary, Huel Greens drink will be almost as effective as the best greens powders in providing you a boost to your vegetable and fruit intake. That said, we think that SuperGreen Tonik is a slightly better product and a more effective blend.
For more specific benefits like joint health support, increased mood and cognitive performance, or help sleeping, there are better supplements out there. These are more specialized supplements that have more active ingredients and will be more efficient at achieving your goals.
| Benefit | Effectiveness | Better Alternative |
| --- | --- | --- |
| Immune Support | Yes | |
| Brain Boost | Low | Hunter Focus |
| Muscle Function | Yes | |
| Heart Health | Yes | |
| Supports Energy Levels | Yes | |
| Hair, Skin, Nails | Yes | |
| Gut Friendly | Yes | |
| Joint & Bone Protection | Low | Best Joint Supplements |
| Better Sleep | Low | SleepAgain |
| Lower Stress levels | Low | |
Huel Greens Side Effects
Are there any side effects to taking Huel Greens?
Huel Daily Greens is mostly safe as it does not contain any drugs or chemical compounds that could harm you.
However, there could be some side effects:
Nausea
Vomiting
Itching
Diarrhea
That said, Huel is gluten-free, soy-free, and save for those who have Diabetes and inflammatory bowel disease.
For people with phenylketonuria, children under 4, and women in pregnancy or lactation Huel Greens is not suitable.
As usual, if you have any doubts or are taking any prescription drugs, we recommend asking your doctor before consuming Huel Daily greens.
Huel Greens Taste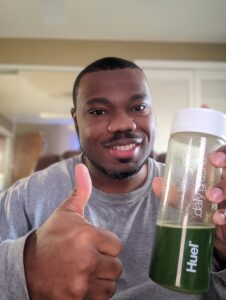 Here is Huel's answer to the FAQ of "what does Huel Daily Greens taste like?"
Huel Daily Greens tastes of crisp apple and pineapple. There's a subtle freshness from lime and mint that you'll catch toward the end, making for a lovely and refreshing fruity greens drink with a taste that you'll look forward to.

Huel FAQ
And honestly, that's not too far off. It really did have a freshness to it that I was not expecting. There were indeed hints of mint and citrus. It didn't have that "mowed lawn" smell. It was easy to prepare and provided a mostly grit free drink using the included bottle.
Now, while I think crisp apple and pineapple may be a bit of a stretch, it does have a very neutral flavor. It's more like a a very watered-down juice beverage. You wouldn't suspect that you're drinking all those good veggies.
Overall, it was very refreshing, and a drink I could have on a daily basis.
Price & Shipping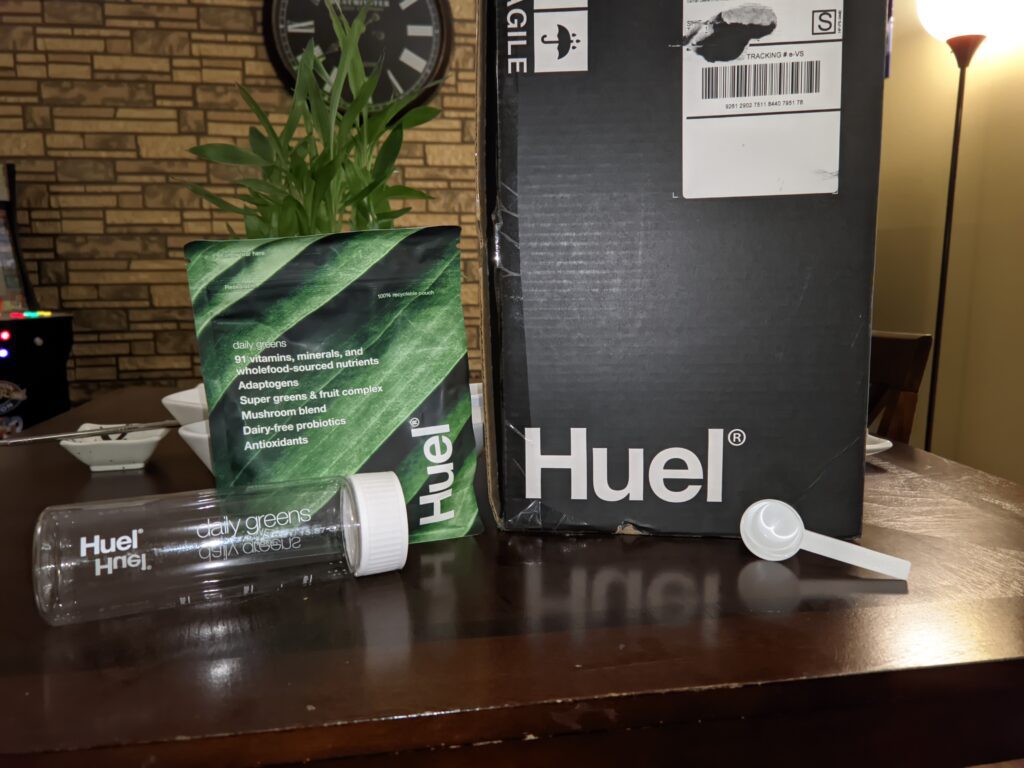 Without a doubt, price is one of the most important factors when choosing the right greens powders.
Many greens are overpriced, such as AG-1, and it's hard to find one that will provide good value for money, like Amazing Grass or SuperGreen Tonik.
Huel offers a subscription method with a 10% discount on every order.
1 Bag (30 servings) –> $50 in total, or $1.67 per serving
1 Bag with subscription –> $45 in total, or $1.5 per serving
In the US, Huel offers free shipping for orders above $59. I would recommend buying one of their meal replacement powders, like Huel Black.
Is Huel Greens Worth It?
Therefore, how does Huel Greens price compared to other greens powder and do I think it's worth it?
| | Most Expensive ($) | Cheapest ($) |
| --- | --- | --- |
| AG-1 | $3.3 ($99) | $2.48 ($149) |
| SuperGreen Tonik | $2.85 ($87) | $2.09 ($377) |
| Amazing Grass | $1.00 ($29) | $0.74 ($74.99) |
In brackets is the total price.
Regarding the price, Huel Greens falls right in the middle between the premium (SuperGreen Tonik and AG-1) and the cheap green powders (Amazing Grass). For what Huel offers, it's definitely a good price. It's also worth mentioning that you don't have to spend as much as with other green drinks to get the best price.
However, once you've decided to spend this money on a greens supplement, we think it's worth upgrading to SuperGreen Tonik. It has a better-tasting drink, doesn't hide ingredients behind proprietary blends, and has higher dosages of active ingredients with no fillers (thus more effective).
Huel Greens Reviews From Real Users
Unfortunately, at the time of writing this, there are no customer Huel Daily Greens reviews online.
Furthermore, there are no Amazon Huel Greens reviews, as this product is not sold on Amazon.
Huel Greens Alternatives
From the get-go, Huel Daily Greens is one of the best greens powders in the market.
It's better than similarly priced green powders like Primal Greens.
That said, I do think that there are other green supplements that are better or will fit your budget better.
#1 Huel Daily Greens Alternative – SuperGreen Tonik
We've hinted during this Huel Greens review, that SuperGreen Tonik is the #1 greens supplement in our opinion. Other experts like Dr. Watson from the reputable site TRT agree with us.
What makes SuperGreen Tonik better than Huel? Here are 5 reasons:
Better taste.
Transparent labeling.
Higher doses of active ingredients – more effective
No fillers
Better nootropic blend
That said, Huel Greens contains more micronutrients and it's slightly cheaper, in which case it might be more interesting for some.
One thing that we often forget is that these supplements are the most effective for those who have a bad diet.
However, you cannot outrun a bad diet, so I always recommend fixing your diet first. For that, LYFEfuel Daily Essentials is your best choice.
The best meal replacement shake made solely of real food, ultra rich in micronutrients, low in calories, high in protein and fiber. It's basically a greens powder plus protein, healthy fats (like omega-3), and carbs.
So you can save money by not buying a greens powder while significantly improving your diet.
AG-1 vs Huel Daily Greens
AG-1 by Athletic Greens is the most popular greens supplement in the market. It's also one of the best and most comprehensive with over 75 superfoods in their greens powder.
Furthermore, AG-1 is a market-tested supplement with 4.5-star rating from over 20,000 user reviews. In our review, we agreed that this was an excellent product, even though it's slightly overpriced.
In short, AG-1 is a greens blend sourced from 75 premium whole food ingredients, vitamins and minerals to support your body's nutritional needs. It provides you with 50calories per serving, 2g of protein, high amounts of micronutrients, digestive enzymes, adaptogens, pre- and pro-biotics, as well as an alkaline superfood complex.
Huel Greens vs AG-1 Athletic Greens
Now, let's go into the nitty gritty. How does Huel Daily Greens compare to AG-1?
If you look at the table below you can see there are many similarities, but also a few key differences when comparing Huel vs Athletic Greens:
| | Huel Greens | AG-1 |
| --- | --- | --- |
| Price ($)/serving | $1.64 | $2.48 |
| Minimum order | $50 (30 servings) | $99 (30 servings) |
| Kcal/serving | 50 | 50 |
| Vegan | Y | Y |
| Organic | Y | Mostly |
| # of Greens | 60 | 56 |
| Has all Micronutrients | Y | N |
| Adaptogens | Y | Y |
| Probiotics | Y | Y |
| Digestive Enzymes | N | Y |
| Unwanted Ingredients | None | None |
As you can see there are two main differences between AG-1 and Huel:
The price: Huel Daily Greens is significantly less expensive, particularly in smaller orders (half price)
Micronutrient content: Huel Greens contains more micronutrients than AG-1. AG-1 does not have vitamin D, iron, molybdenum, iodine, or choline and has a low dose of vitamin K. These are important for bone health, immunity, maintaining energy levels (iron), or helping you metabolize nutrients.
On the plus, AG-1 has digestive enzymes and more probiotics (better for your gut) than Huel Greens. It also contains coenzyme Q-10, which is not present in Huel's green drink.
On the negative side, neither of them show the exact quantities of each ingredient, hiding key information behind proprietary blends. This, together with the excessive amount of superfoods, makes clear that some of the ingredients are underdosed (ashwagandha, omega-3s, reishi mushroom etc).
Neither has an effective dosage of adaptogens, and I would recommend using nootropics for that purpose instead.
What's Better: Huel Daily Greens vs AG-1?
For me, Huel Daily Greens is the best bang for the buck. It offers all AG-1 offers for half the price. Even if there are some ingredients in AG-1 that Huel Greens does not have, they do not make a difference in terms of health benefits.
That said, I personally consume Supergreen Tonik, because of their transparency and using more meaningful quantities of ingredients. Less is often more.
FAQ
Who needs a greens powder?
Greens powders are best for those who consume a diet low in vegetables and fruit, and high in processed food.


Is Huel Greens for me?
If you have a diet low in fruits and vegetables, generally lack diversity of greens, and consume a lot of processed food, Huel Greens can be very beneficial for you.


Is Huel Greens vegan?
Yes, Huel Daily Greens is 100% plant-based.

Is Huel Greens organic?
Yes, Huel Greens only uses organic vegetables, fruits and mushrooms.


What does Huel Greens taste like?
Huel Greens is a pineapple and apple-flavored drink, but you will also notice the "green" taste of other herbs.


When should I take Huel Greens? How often should I consume Huel Daily Greens?
It's best to consume 1 serving a day to ensure long-term benefits.


When will I feel the benefits of taking Huel Greens?
You should notice an improvement in your energy levels within the first days, but for long-term benefits (improved joint health, for instance), you should wait at least 2 weeks.


Pros/Cons Huel Daily Greens Review
Pros
All organic
60 plants and vegetables
Extremely rich in vitamins and minerals
Affordable
Reputable brand
Cons
Exact quantities hidden under proprietary blends
Adaptogens are not found in effective dosages
No digestive enzymes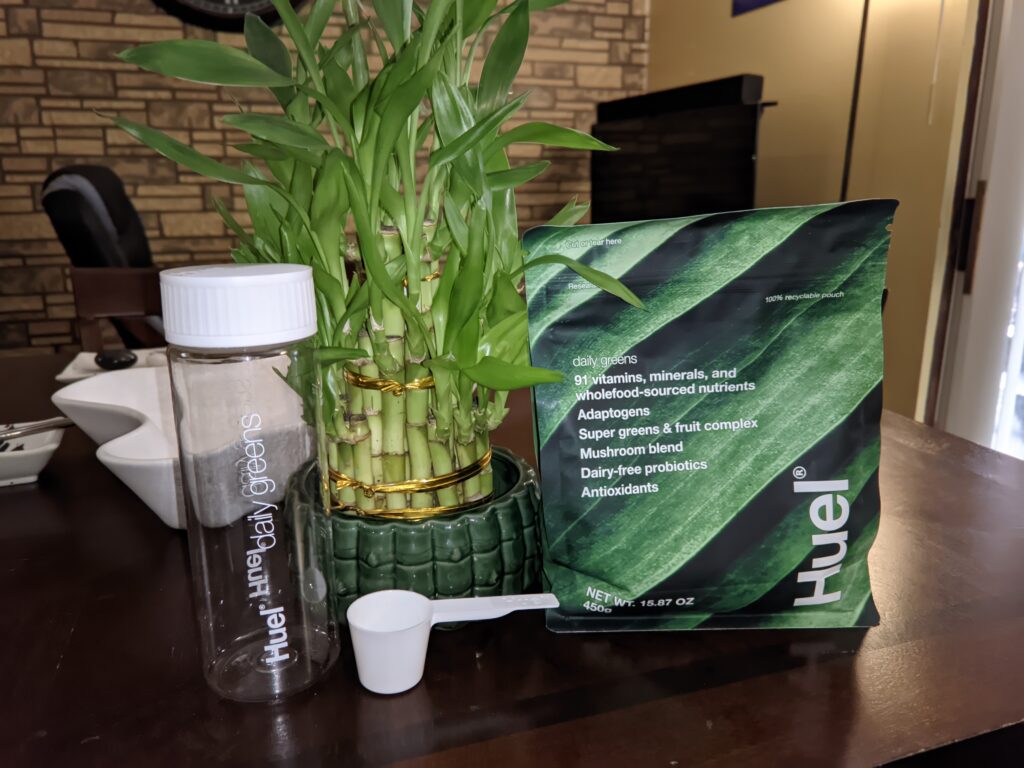 Verdict – Huel Daily Greens Review, A Good First Product
All in all, the takeaway of this Huel Greens review should be that this is a good product, reasonably priced, that will be very useful for those who want to increase their greens intake.
In particular, if you are consuming Huel meal replacement shakes, this can be a great addition to complete your diet. You will get phytonutrients from greens that you won't otherwise get from Huel RTD, Huel Black, or Huel H&S.
Consequently, you will be bulletproofing your future and ensuring your body gets as many nutrients as it can.
Similarly, if you struggle to eat your 5-a-day servings of fruits and vegetables, Huel Greens will be a good option, even if we believe that there are better greens supplements out there.
On the positive, Huel Greens is reasonably priced, you don't need to make a huge order to get the best discounts, and they have a very comprehensive blend of greens.
On the negatives, I don't appreciate hiding the exact quantities under proprietary blends, and some ingredients are clearly underdosed. You will also have to buy another Huel product, as the minimum order is just below the free shipping threshold.
Personally, I will keep consuming SuperGreen Tonik, as I believe they offer a more comprehensive and effective blend of greens, but Huel Greens will be a good option for many.
Huel Daily Greens
From $1.5/serving
Pros
Affordable
61 organic vegetables, fruits and mushrooms
Good greens blend
Best to improve your nutrient intake
High in micronutrients
Cons
Ingredients behind proprietary blends
Low dosages of adaptogens
No digestive enzymes