Omega XL Reviews | Does this Omega-3 Work? Worth the Price?
Omega-3 fatty acids are quintessential for a healthy mind, joints, and aging in general. There's even a host of evidence to show that they can reduce joint pain and improve preexisting symptoms if we get enough of them. This is why using omega-3 supplements can be highly beneficial. In this Omega XL review, we will look at one of the most popular.
In fact, there are over 15,000 positive omega XL reviews on their site, so that should seal the deal, shouldn't it?
Omega XL make a lot of claims about why their supplement is special and how it justifies its high price point. Unfortunately, it simply isn't in fact as Omega-3 supplements go, it's actually quite poor.
There are two fundamental problems with Omega XL. The first is that Omega XL only provides you with around 300mg of "usable" Omega 3, you need closer to 800mg. Usable omega 3's are DHA and EPA, the body has to convert other types into these and can lose up to 90%. This makes it worse than the average fish oil supplement.
And on top of that, when we take a look at what you can get for the same price point as Omega XL, it's a laughable comparison.
If we take a look at FlexAgain, which is about the same price point, you get more usable omega 3, curcumin, vit d, ginger, resveratrol, bromelain, Boswellia and a load more ingredients in the doses that were shown in clinical trials to improve joint pain and arthritis symptoms.
Plus, they don't hide behind a proprietary blend because the doses are actually correct.
I can't recommend Omega XL, instead if you want a premium solution get FlexAgain, and if you're just looking for an omega supplement get something that has a full 800mg of DHA/EPA Omega 3s and save yourself some money at the same time, as there's 100 better options.
Here are 5 key takeaways from this Omega XL review, if you are short on time:
Omega XL provides you with a max 300mg – we recommend 800mg +
Omega-3 fatty acids are essential for eye, brain, and joint health
DHA and EPA quantities are hidden behind proprietary blends
The $/omega-3 ratio is awful. Omega XL is really expensive
Omega XL is not a good joint supplement nor a good enough omega-3 supplement.
We recommend Flexagain instead for pain relief and joint health support. Use the exclusive code OMEGAFLEX for $15 OFF!
Best for Joint Pain Relief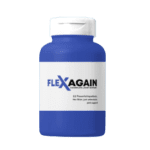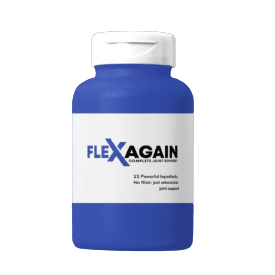 Best Omega-3 Supplement
---
Introduction to Omega 3 and Omega XL
Dietary supplements are a highly beneficial source of healthy nutrition that is extremely advantageous for their quintessential effectiveness of restoring and improving the overall health of an individual as well as their nutrient level in the body.
Likewise, healthy nutritions like long-chain fatty acids and omega polyunsaturated fatty acids help improve neuromuscular activities, improve the overall immune system, regulate blood levels, enhance cognitive abilities, and offer relief from joint pains.
One such sophisticated health supplement is Omega XL, which is creating quite an uproar among people who are looking for the very things that have been mentioned above.  
Seeing the benefits of these particular ingredients and the increasing concern about maintaining a healthy lifestyle, the demand for these products is increasing at an unprecedented pace. That is why this article is going to describe everything you need to know about Omega XL since it is an honest Omega XL review that will tell you everything there is to know about these supplements.
So, if you are interested in learning about the benefits as well as side effects of omega XL then keep reading this article to the end. 
Omega XL Review at a Glance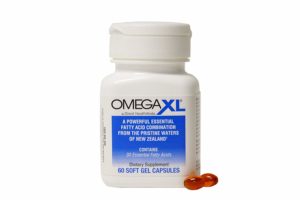 | | |
| --- | --- |
| From | US |
| Ships | World |
| Price/serving | $1.33 |
| User Reviews | Very Positive |
| LF Recommended | No |
Pros
Can help you increase omega-3 intake
15k positive user reviews
Not from fish
Cons
Low doses of DHA and EPA
66% of the pills is olive oil (O-6)
Expensive
Omega XL Ingredients
When you talk about the Omega XL ingredients in the simplest manner, the most common ingredients are omega 3 fatty acids and vitamin E. The exact ingredients list is shown below
Tocopherol
Extra virgin olive oil
Proprietary oil extract from the New Zealand green-lipped mussel
Unfortunately, all the ingredients are hidden under a proprietary blend and the exact quantities of each ingredient per dose are not clear. This is from the 300mg you could be getting 95% vitamin E and 5% omega-3 or vice versa.
That's why I tend to dislike buying proprietary blends, since it's easier to hide the quantity of each ingredient. This often leads to cheaper ingredients being used as fillers and not getting the desired results.
However, according to other sites, 8 capsules of pure PCSO-524 is the equivalent of 800 mg of Olive Oil, 400 mg of Green Lipped Mussel and 1.8 mg of Vitamin E. This is, it's primarily olive oil, instead of the desired omega-3.
Green-Lipped Mussel Extract (PCSO-524)
Usually, omega-3 fatty acids are found in fish like salmon and tuna. Thus, most manufacturers create omega-3 fatty acids that come from animal sources.
As such, finding an algae-based omega-3 supplement like Omega XL is not that common.
Algae can be rich in omega-3 fatty acids and offer a vegan-friendly alternative. However, in this case, there is no breakdown of the quantities of DHA and EPA that Omega XL has.
Info: EPA (eicosapentaenoic acid) and DHA (docosahexaenoic acid) are polyunsaturated omega-3 fatty acids that become part of the cell's membrane. DHA, for instance, is particularly rich in the brain, sperm, and retina.
Despite that there have been some studies in PCSO-524, there are a few limitations with them:
No placebo to use as control group (impossible to compare to those who didn't take omega XL)
High PCSO-524 dosages, 400mg – much higher than a single Omega XL dose
Funded by the manufacturer of PCSO-524 – clear interest to show positive results
Does Omega XL Work?
With that in mind, we come to ask ourselves the obvious question:
"Does omega xl really work?"
And if it does, what are the benefits of Omega XL supplementation?
It is a question that many people ask before opting for this product. Being offering honest reviews on omegaxl, the answer is not definite, as some consumers claim it to be effective while some claim that the effects are not that profound.
Looking at it from a more scientific approach, there is some hope. You will get DHA and EPA, which are the omega-3 fatty acids your body needs.
However, there are no extra benefits to taking standard fish based omega-3 supplements.
Omega XL Health Benefits
There are various health benefits of taking Omegaxl, the most common and profound benefits are listed below. 
It promotes joint health
Improve overall cholesterol level and aids in losing weight
Good for heart
Improve the immune system
It's worth mentioning, however, that these are standard benefits of consuming omega-3 supplements and not exclusive to Omega XL. That's why I recommend going for other Omega-3 pills.
Omega XL Side Effects
There are not any major side effects of Omega XL, however, there is various discontent from users like nausea, burping, and gastric problems. 
On the plus side, you won't have to suffer the fishy aftertaste fish-based omega-3 supplements give you.
One thing to consider is that the PCSO-524 comes from Green Lipped Mussel, so if you are allergic to shellfish, you might want to be careful.
Omega XL Price
So how much does Omega XL cost?
We've discussed the science and whether omega xl supplements work, but are they worth it?
Sadly, the most disturbing thing about Omega XL is its price. Which is quite high for Omega Oil Supplements.
The price you have to pay to get this product is $40, in this price you will get 4 highly effective over-the-counter omega oil supplements. 
Real User Omega XL Reviews
So far, we've been quite negative in this Omega XL review.
According to our analysis and experience, Omega XL is just worse than the competition, as it is more expensive, but offers less omega-3 fatty acids.
But what do consumer omega XL reviews say?
Amazon Omega XL reviews show a 4.2-star rating from 600 users. That's quite positive, but lower than Nordic Naturals and Megared 4-in-1, the closest competitors.
Most negative OmegaXL reviews remark that they didn't feel any joint pain relief or that the effect was as long lasting as they wished for.
This was easy to swallow… and I remembered to take it every day for now two weeks… I don't think it has done anything for me. Maybe the formula has changed… but I won't be buying it again… it was costly and I thought if it helps.. oh well. but alas no
Product made no difference in the condition of the pain in my knees, calves, or ankles.

Scott
That said, positive Omega XL reviews mentioned that the pills are easy to swallow. This is mainly because the portion size is smaller than other omega-3 supplements, but also the quantity of omega-3 that you are getting.
Omega XL Alternatives
Ok, so after reading this Omega XL review, or others, you've decided that Omega XL is not the right product for you.
You might look on Amazon for affordable omega-3 supplements, but not all of them will be up to the quality that your body requires.
That's OK, we will list the best Omega XL alternatives here, no matter what your goal is.
If you are only looking to bump your omega-3 intake, because you know you don't take enough through your diet, then Performance Lab Omega-3 is the answer for you.
Here are 5 reasons why Performance Lab Omega 3 is the perfect Omega XL alternative:
Vegan-friendly –> from algae grown in the US, without contact with shellfish
1,100mg of omega-3 fatty acids –> over 3x what Omega XL offers
Optimal 2:1 DHA to EPA ratio, better for brain health
No mercury, 3rd party lab tested, non-GMO, gluten-free
Fast shipping and 100% money-back guarantee
All in all, it's a much better omega-3 supplement.
#1 Brain Supplement as Omega XL Alternative – Hunter Focus
Due to the relevance of DHA in essential brain functions, dopamine pathway, and neurotransmitter production, omega-3s are essential for brain development and functioning.
As such, some omega-3 supplements claim that it can help you with your cognitive performance.
The truth is that while it can marginally do so, many other nootropics are more effective (like caffeine, rhodiola rosea, l-theanine…). As such, there are other brain supplements that give you a more comprehensive blend of ingredients that tackle memory, focus, brain health, stress and anxiety relief.
Our favorite? Hunter Focus.
#1 Joint Supplement for Pain Relief – Flexagain
Perhaps, what most people are looking as an Omega XL alternative is a proper joint supplement.
We discussed the role of omega-3 in joint support, but the truth is that the best joint supplements have more than just omega-3.
Consuming omega 3 is one aspect of taking care of your joints and while Omega XL claims that reduces inflammation and pain, supplements like Flexagain are much more effective at doing so.
Why? Let's check out Flexagain vs Omega XL.
1,100mg of omega-3 per serving –> 3x Omega XL
Includes resveratrol, chondroitin, vitamin D… and many other ingredients for an all-around approach
More efficient at relieving joint pain
Better for cartilage health
More bang for the buck
Use our unique code OMEGAFLEX for $15 off on your first purchase (cheaper than omegaXL).
---
Omega XL Reviews FAQ
What is Omega XL? 
Omega XL is a health supplement that is known for offering Sophisticated benefits of improved joint health, boosting cognitive abilities, maintaining cholesterol levels, enhancing cardiovascular health, and so on. It is an Omega oil Supplement that consists of omega-3 fatty acids and 30 blends of essential vitamins.


Does Omega XL work?
Omega XL works as a omega-3 supplement, but because they don't disclose the amounts of EPA and DHA per serving, it is not clear how effective it is.


Should I take Omega XL? 
If you are concerned about its unbelievably high price, it is recommended that you should opt for other Omega oil Supplements from omega 3 XL. Or if you are not concerned about its price then you can give it a go!


Where can I buy Omega XL? 
If you want to buy omega XL online then you can find it on Amazon, or if you want to purchase it in offline mode then you can easily find it in Omega XL Walmart. 


Is Omegaxl FDA Approved? 
No, it is not. According to reports published by various media outlets, the FDA has warned Omega XL sellers for their ads, where they claimed it to be a drug to cure joint pain, boost metabolism, improve cognitive abilities, etc. Thus, the answer to the question, "is omegaxl FDA approved" is definitely a no!


Who should not take Omega XL?
If you are allergic to fish oil then you shouldn't take Omega XL. However, you can also consult with your physician and they will offer you another alternative to Dietary supplements. 

---
Verdict – Omega XL Reviews and Alternatives
In a nutshell, Omega XL is a subpar omega-3 supplement.
While it looks positive on paper (great reviews, and a non-fish omega-3 source), the truth is more negative.
The actual omega-3 content (DHA and EPA) is quite low, and most Omega XL is olive oil (omega-6/9). Thus, even though it can be a good alternative to fish-based omega-3 pills, it won't be as effective.
In particular when there are much better vegan-friendly omega-3 alternatives out there for the same price or cheaper.
For instance, Performance Lab Omega-3 is our favorite Omega XL alternative.
Performance Lab omega-3 is fully algae-based, and thus 100% vegan-friendly. It is currently the best omega-3 supplement on the market.
Among other benefits, you might notice:
Stimulates muscle growth
Might help with joints and bones
Helps improve your cardiovascular health
Boost your cognitive performance
Omega XL
From $1.33/serving
Pros
Non-fish based omega-3 source
15k positive user reviews
Can help you increase omega-3 intake
Cons
Low omega-3 content
66% is olive oil (not omega-3)
Not the cheapest
Not effective for joint pain relief
Much more expensive than competition