Primal Greens vs Athletic Greens | Warning! Read Before Buying!
‍Choosing Primal Greens vs Athletic Greens (or AG1 Drink) can be a tough task. On one hand, you have the premium, ultra-healthy greens powder on AG1 On the other hand, you have the budget greens powder that promises to be as good as AG-1.
So what's the truth?
Is AG1 that much better than Primal Greens that you should pay double per serving? Or is Primal Greens actually a good Athletic Greens alternative that will provide you with the same benefits?
It's sometimes hard to identify what the best greens powder is, since they hide the ingredients behind proprietary blends, and all claim similar benefits.
Sadly, both brands use proprietary ingredients that hide the exact amounts of each ingredient. In both, we found that many greens were underdosed and were not as effective as advertised. If you are choosing Athletic Greens vs Primal Greens, save some money and go for Primal Greens. Nevertheless, if you are looking to get a green powder that works, go for Supergreen Tonik, instead – the only one we trust.
Table of Contents
Primal Greens vs Athletic Greens Overview
| | Athletic Greens | Primal Greens |
| --- | --- | --- |
| Price/serving | $3.00 | $1.67 |
| Kcal/serving | 50 | 34 |
| Sugars (g) | 0.0 | 0.7 |
| Protein (g) | 2.0 | 1.4 |
| Fibre (g) | 2.0 | 2.4 |
| Vegan | Y | Y |
| Organic | Partially | No |
| # of Greens | 70 | 30 |
| Adaptogens | Y | Y |
| Probiotics | Y | Y |
| Digestive Enzymes | Y | Y |
| Sweetener | None | None |
| Unwanted Ingredients | None | None |
Primal Greens Introduction
Primal Greens, produced by Primal Harvest, is a powdered super greens blend that aims to support energy levels, immune health, and digestion. It contains a variety of fruits, vegetables, superfoods, digestive enzymes, and probiotics. Additionally, Primal Greens incorporates an adaptogenic mushroom blend that may promote hormonal balance.
Primal Harvest, founded in 2018, is a company that focuses on providing supplements as an alternative to pharmaceuticals. Their products, including Primal Greens, are aimed at health-conscious individuals seeking natural solutions to support their well-being.
AG1 Athletic Greens Intro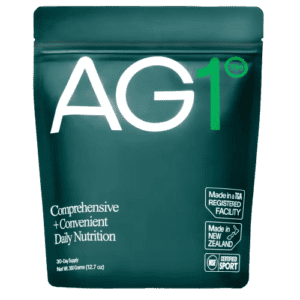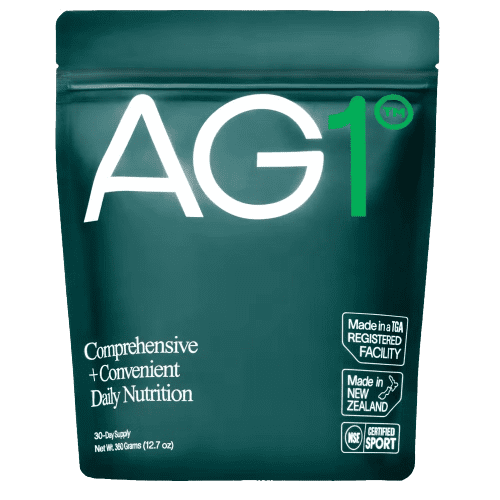 Athletic Greens, also known as AG1 Drink, has been a popular choice in the greens powder market for over a decade. This supplement boasts an extensive list of 75 ingredients, including a wide range of vegetables, fruits, adaptogens, herbs, spices, probiotics, and prebiotics.
It is NSF-certified for sports, ensuring that it is free from any banned substances. Athletic Greens is manufactured in the US and undergoes third-party testing to ensure quality and safety.
Ingredients: AG1 vs Primal Greens
In the overall scheme of things both are pretty similar. None of them is 100% organic, but they are both made in cGMP US facilities and they are 3rd party lab tested.
That said the serving size in Primal Greens is smaller, so you will be getting less of each ingredient.
Ingredients of Athletic Greens
Alkaline, nutrient-dense superfood complex: Athletic Greens includes a blend of nutrient-dense superfoods like spirulina, chlorella, and wheatgrass to provide a concentrated source of vitamins and minerals.
Nutrient-dense extracts, herbs, and antioxidants: This blend incorporates ingredients like Rhodiola, milk thistle, and green tea, offering additional antioxidants and potential health benefits.
Digestive enzyme and super mushroom complex: Athletic Greens includes enzymes and mushrooms that aid digestion and support overall wellness.
Dairy-free probiotics: This greens powder contains probiotics like L. acidophilus and B. bifidum, which promote a healthy gut microbiome.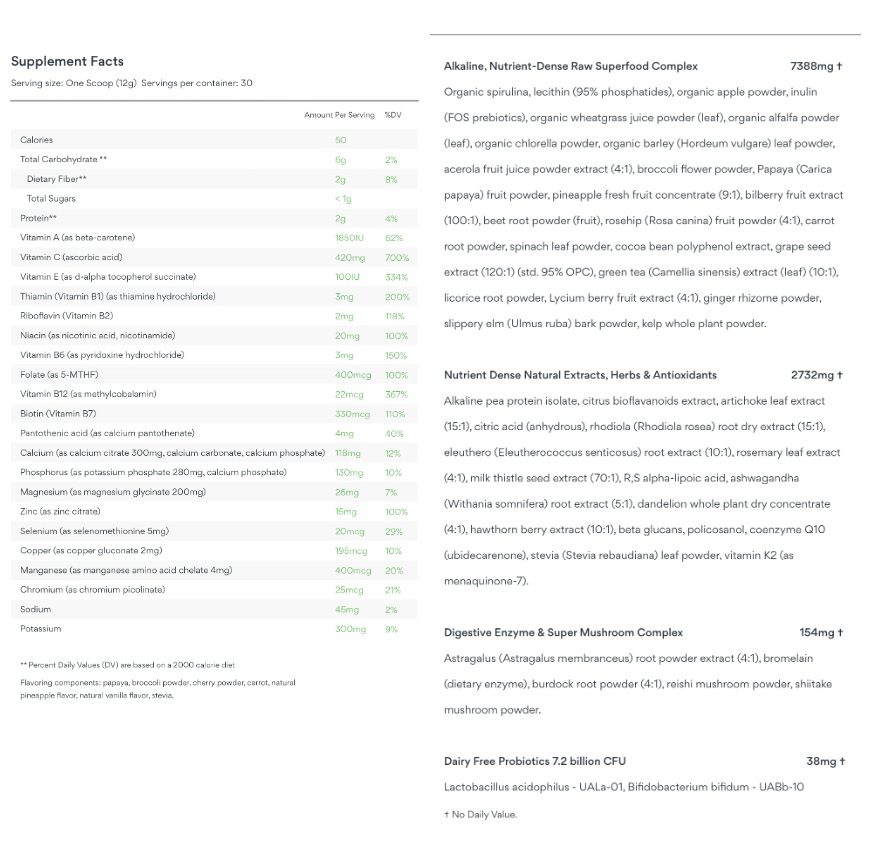 Ingredients of Primal Greens
Superfood, Antioxidant and Mushroom blend (4.9g): Includes alfalfa, wheat grass, spinach, spirulina, etc.
Digestive enzymes and probiotics (2.2g): Primal Greens contains a 3.5 billion CFU probiotic blend and digestive enzymes that support optimal digestion and nutrient absorption.
Energy-boosting and immune-supportive compounds (674mg): The blend of ingredients in Primal Greens is specifically chosen to provide an energy boost and support the immune system, making it an excellent choice for those looking to enhance their overall health and well-being.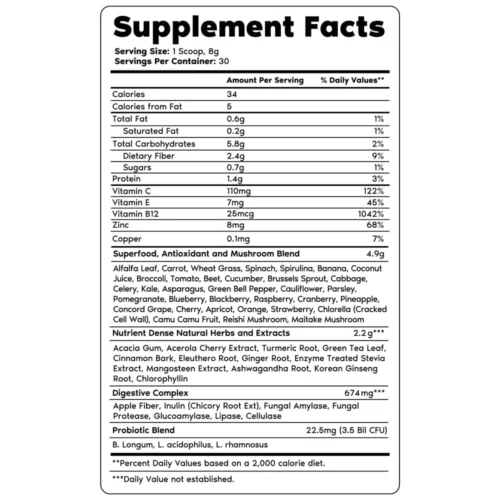 Health Benefits: Primal Greens vs AG1 Athletic Greens
Key-takeaway: Most of the ingredients in both products are underdosed, thus the claim health benefits with be half-effective at best. It's better to look for a product with disclosed ingredient amounts, so you can be sure you are getting effective doses.
| Claimed Benefits | AG1 | Primal Greens |
| --- | --- | --- |
| Increased Energy | Mild effect | Mild effect |
| Enhance Digestion | Strong | Strong |
| Immune Support | Mild | Mild |
| Improved Gut Health | Strong | Strong |
| Reduce Inflammation | Strong | Mild |
| Improved Sleep | Negligible | Negligible |
| Hormonal balance | Negligible | Negligible |
| | | |
Above, you can see an overview of the health benefits both Primal Greens and Athletic Greens claim due to their nutrient-rich formulations. Greens powders, in general, provide essential vitamins and minerals that support overall wellness.
Taken that into consideration, it's worth noting that both brands have proprietary blends that hide the ingredients. When we did our AG-1 and Primal Greens reviews, we pointed out that many ingredients are not in effective dosages, so the claimed benefits are massively overstated.
For instance, for spirulina:
For cholesterol, doses in the range of 1-8 g per day may be impactful
For muscle performance, doses of 2-7.5 g per day have been used
For blood glucose control, very mild effects have been seen with 2 g per day
Blood pressure may be affected at doses of 3.5-4.5 g per day
Effects for fatty liver have been seen at doses of 4.5 g per day
In Primal Greens, it's very unlikely that you are getting more than 1g!
For Athletic Greens, in theory, you are getting mood boosters and cognitive enhancers. However, all the adaptogens are largely underdosed:
| | AG1 Dose | Recommended Dose |
| --- | --- | --- |
| Reishi Mushroom | <154mg | 1500 to 5000mg |
| Shiitake Mushroom | <154mg | 3800mg |
| Rhodiola rosea* | <700mg | 680mg |
| Ashwaghanda | <700mg | 600-1000mg |
| Milk Thistle | <700mg | 420mg |
Taste Review: Primal Greens vs Athletic Greens
The taste of a greens powder supplement can significantly impact the overall experience for consumers. While taste preferences can vary, it is valuable to consider the general consensus regarding the flavors of Primal Greens and Athletic Greens.
Primal Greens Taste: Primal Greens is generally well-tolerated by most consumers, with many praising its taste. Some individuals describe it as having a pleasant green juice or matcha-like flavor with a hint of sweetness. The smooth texture of the supplement makes it easy to dissolve in liquid.
Athletic Greens Taste: Athletic Greens is known for its good taste, with many users reporting that it is enjoyable to consume. Some people describe it as having a pleasant green juice flavor with a hint of vanilla. The supplement mixes well and has a smooth texture, making it easy to incorporate into daily routines.
All in all, neither of them is the tastiest greens powder, nor their offer more than one flavor, but they are palatable.
Price: Primal Greens vs Athletic Greens
When considering a greens powder supplement, factors such as pricing, availability, and refund policies are essential to evaluate. Let's compare these aspects for both Primal Greens and Athletic Greens.
Primal Greens Pricing: Primal Greens is available for purchase directly from the Primal Harvest website and Amazon. The supplement is priced at $49.95 for a 30-count container, which equates to approximately $1.66 per serving.
Subscribe and save 20% + free shipping: Primal Harvest offers a subscription option that allows you to save money and receive regular shipments of Primal Greens.
Athletic Greens Pricing: Athletic Greens can be purchased through the official Athletic Greens website. The supplement is priced at $97 for a 30-day supply, which equals approximately $3.23 per serving.
Athletic Greens also has bulk and subscription discounts that can lower the price by 20%.
Both Primal Greens and Athletic Greens are available for purchase online, offering convenient accessibility to customers.
If you are looking for a more affordable option, you have Enso Superfood Greens.
Customer Reviews: Primal Greens vs Athletic Greens
As mentioned in the individual reviews, both have quite positive reviews.
Primal Greens has a rating of 4.3 stars on Amazon, whereas AG-1 is 4.4 out of five.
When looking at Primal Greens vs Athletic Greens Reddit, the users on the social platform were divided.
Most of them agreed that when comparing Athletic Greens vs Primal Greens on Reddit, the price difference was hard to justify. That said, Redditors are notoriously cheap.
Pros & Cons
Athletic Greens AG1 Pros
Bigger serving size (more effective)
75+ ingredients
Backed by notable health experts
90-day money-back guarantee
Primal Greens Pros
More affordable
Can help you with digestion
90-day money-back guarantee
Tastes good
Athletic Greens AG1 Cons
Proprietary blend
Underdosed ingredients
Expensive
Only 1 flavor
Primal Greens Cons
Proprietary blend
Smaller servings
Only 1 flavor
Underdosed Ingredients
Conclusion: Primal Greens vs Athletic Greens
Taking everything into consideration, it's hard for me to recommend either of the options.
They are still OK ways to increase your greens and vegetables, thus your nutrient intake. They are rich in polyphenols, antioxidants, vitamins and minerals. So taking them will definitely benefit you, particularly if you don't consume enough plants in your diet.
In this case, AG-1 will be a better option for those who don't care about the money, simply because the bigger servings make it more effective. Primal Greens on the other hand will do just fine for those who are on a budget.
However, for me there are clear negatives. The proprietary formula is a big no, as it hides underdosed ingredients. Having more flavors would also be a great option (something like Bloom).
If you are looking for the best and transparency, I recommend Supergreen Tonik, the greens that I use.
For a more affordable alternative, Enso Supergreens will do just fine, as it has the most important greens and very few fillers.