Advertise with Latestfuels
Get the best out of your money by advertising at Latestfuels. Do it so, by exposing your brand and products to a highly specific audience.
Latestfuels has grown to be one of the reference points to get top quality information regarding meal replacements. Writing expert reviews on all kind of complete food products (bars, RTDs, powders, keto shakes…), we have acquired in-depth knowledge of the market and continuously deliver it to the readers. Consequently, we have now close to 10,000 visitors a month that are highly interested in meal replacements.
Thus, the advertising space that we offer is of premium quality, when compared to other advertisement platforms. As such, you can expect higher conversion rates and improved performance in your ads.
Stay ahead of the competition and place your order today! Ad spaces are limited.
---
Relevant Statistics
32,576 page views a month; of which 18,889 are unique.
43% bounce rate and 49% exit rate.
45% from UK, 36% from the USA.
Highly relevant audience focused on meal replacements.
Specific data can be requested if required. Please contact [email protected]
Features:
CPM and flat rate models to choose from.
Availability to geotarget your ads to your region of interest. Choose to show your ads in Europe or in North America.
3 different Ad Spaces: header, side banner and within articles.
Put the links in the banners.
Get detailed reports of your ads performance.
Fast and premium attention.
---
Ad Spaces & Pricing
The pricing model varies according the space chosen. Premium space (top header) is rented in a monthly basis; whereas non-premium ad spaces are served per impressions.
a) Top Header
This is the most premium banner served in every single page. It goes above everything else (Navigation, logo). The size in desktop is 960px wide and 150px tall; whereas in mobile it is converted to 300x250px.
Regarding the prices, it is sold per month.
EU/Non-US: €250/ 30 days. Take into account that another brand could get the US banner in this case.
US+CAN: €250/ 30 days. Same as above.
Worldwide: €425/30 days.
In order to purchase this space, please contact: [email protected]
b) Side Banner
The side banner is sticky and it is always visible on the right side in desktop. In mobile it goes down, and it is displayed after the content. Size is 300x250px. There are two spaces here.
Pricing model is CPM. Each 1000 impression is €8. It can be ordered geographically (EU/Global and US/CAN).
1,000 impressions = €8.
5,000 impressions = €40.
10,000 impressions = €75.
The side banner can also be bought by calendar month at a flat rate of €100 per region and €180 for US and EU combined.
c) Within Posts (Articles) and Pages
These will go inside the article in boxes dedicated to ads. Each will be 300x250px maximum and will appear once every 5,000 words max.
The pricing is the same as above.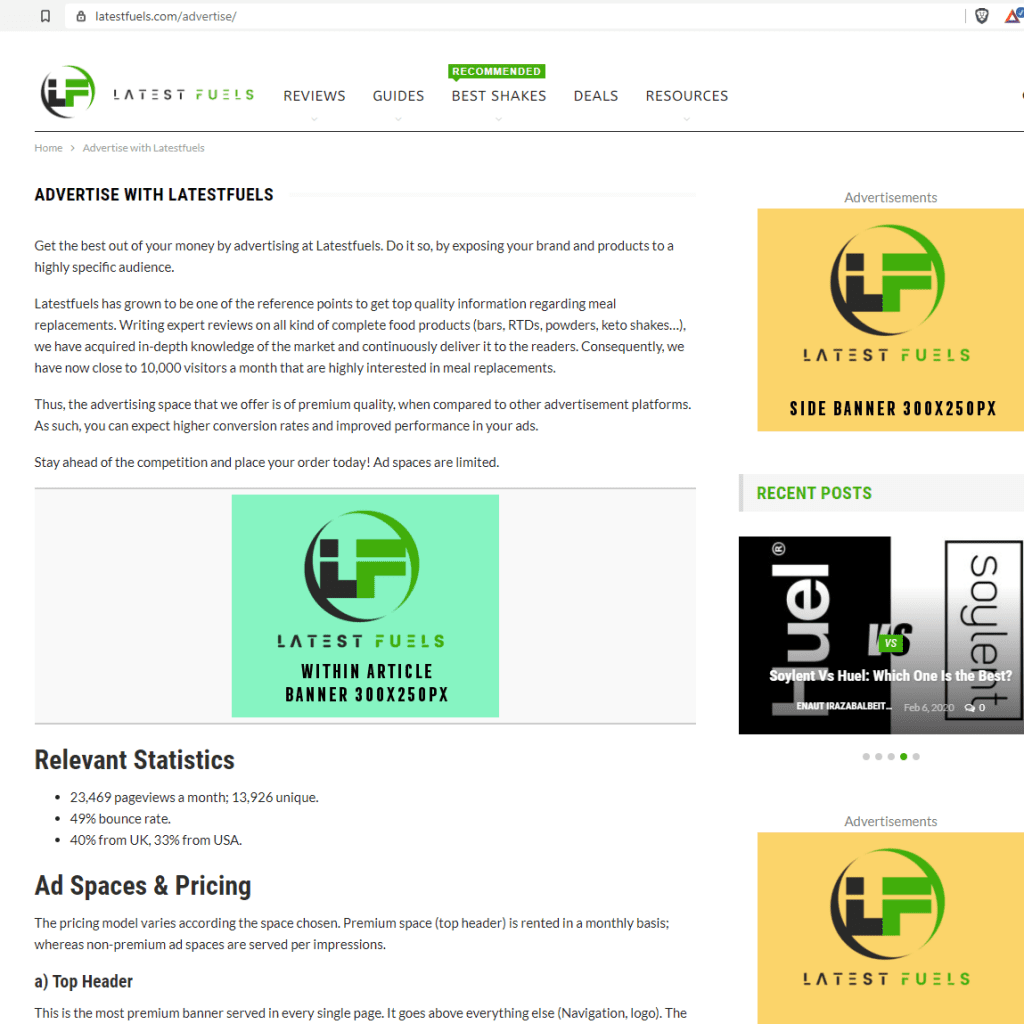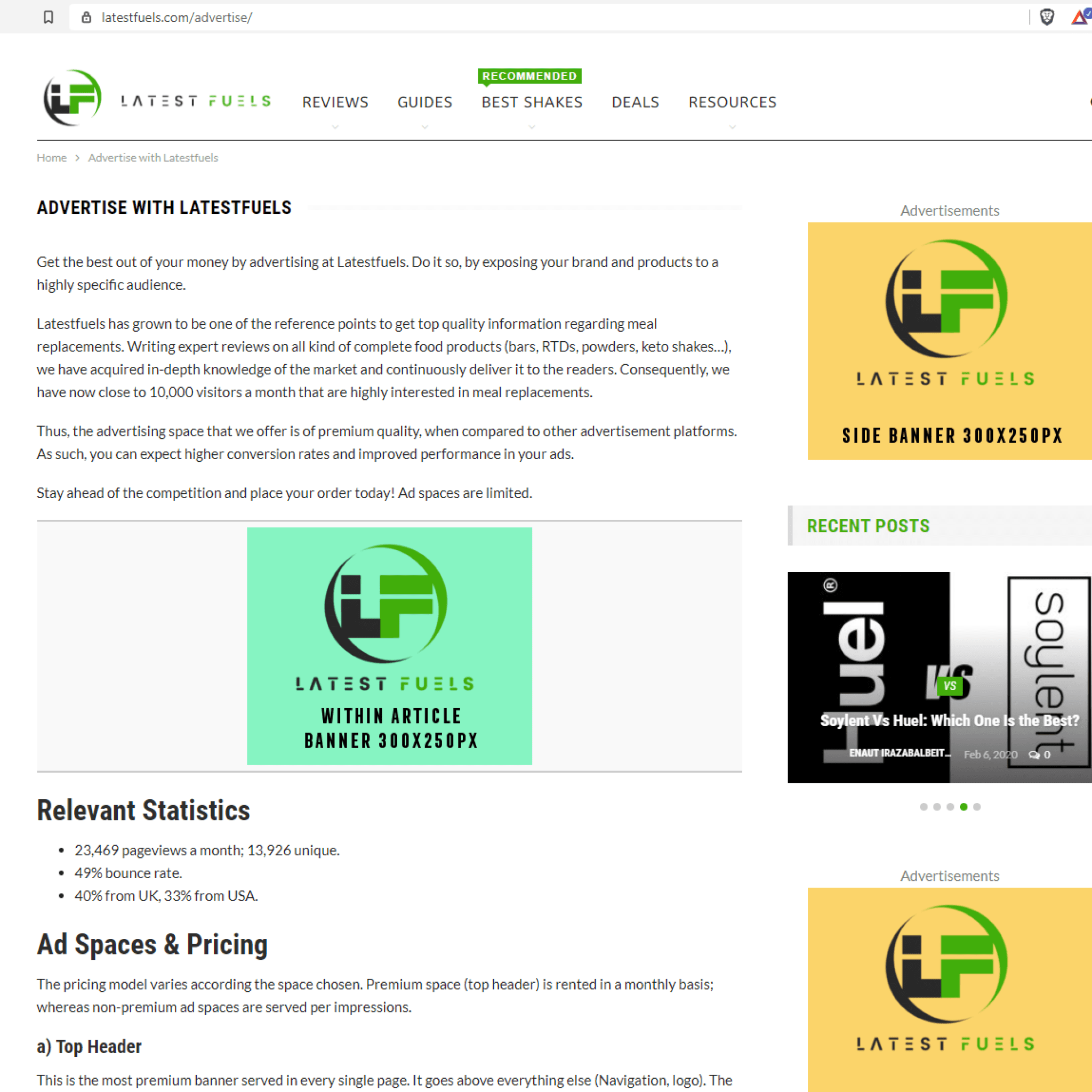 d) After Content
Pricing is the same as above. This ad will be located before the comments section.
More
All request will have to be accepted by Latestfuels, previous to being displayed. Offers and promos will be accepted within the ads, as well as, links to the respective advertiser and call to action buttons.
Payments are accepted via Paypal and SEPA transfer (Europe).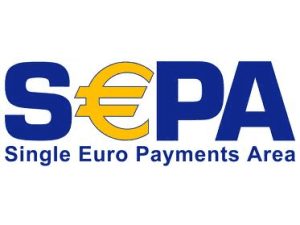 All inquiries to: [email protected] We will be happy to help you out.
---
Please allow us 24h to get back to you. Fill the form or alternatively drop us an email at [email protected]