Focus Factor Review: Is It Worth It?
Welcome to this Focus Factor review, an in-depth look at this nootropic designed to improve cognitive functions and mental performance.
In today's fast-paced world, people often find that their schedules are overloaded. With long to-do lists, it could become difficult to focus. That's where brain supplements like Fous Factor come in. 
Focus Factor's products contain brain-enhancing ingredients that presumably improve mental focus, concentration, and even memory. 
If you struggle with procrastination or concentrating on a task for prolonged periods, you might have thought about trying Focus Factor's products. 
In this review, we'll give you all the details about Focus Factor so you can decide if it's worth it.
Short in time? Here are the most important points of this Focus Factor review:
Brain supplement to help you with clarity, focus, and mental performance
Focus Factor has the right ingredients, but at low doses
The clinical trial backing its efficiency was funded by them, therefore is biased
Positive user reviews
When tested, it was less efficient than the best nootropics – not as good for focus and memory
Ultimately, we recommend going for Hunter Focus, our #1 nootropic supplement, because it has the right ingredients and EFFECTIVE doses, unlike Focus Factor. It's the best at increasing productivity, focus, memory, and protecting your brain health.
Quick Links
Focus Factor Review at a Glance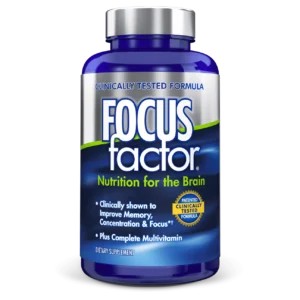 | | |
| --- | --- |
| From | US |
| Ships | US, UK |
| Price/serving | $1.70 |
| Serving size | 4 pills |
| User Reviews | Positive |
| Nootropics | 17 |
| LF Recommended | No |
Focus Factor Pros 
For the most part, Focus Factor has received positive feedback from customers. The brand has been in the market for over 20 years and has patented and clinically tested formulas. 
Here are some of Focus Factor's benefits:
Supports memory, concentration, and focus
Safe to use
Cost-effective
There are available bundles that could help you save money 
The brand has been in the industry for long
The products include multivitamins 
Focus Factor Cons
Here are the main drawbacks of Focus Factor supplements
Proprietary blend hiding ingredient quantities
Low doses of key nootropics
Not as effective for short term focus or long term brain health
We would not recommend Focus Factor Kids
Clinical trials are heavily biased and should not be taken as proof
Focus Factor's Ingredients
The ingredients in Focus Factor will differ according to the product, but the main ingredients are generally similar. 
Generally speaking, Focus Factor is a vitamin and mineral blend packed with a nootropic blend that's hidden behind a proprietary blend.
As usual, this is a red flag for us. Proprietary blends hide the exact quantities, and you often get less of the nootropics that are actually effective. We always recommend buying from brands that have transparent labels like Hunter Focus, Mind Lab Pro, or Qualia Mind.
Only that way you know that you are getting the effective dose!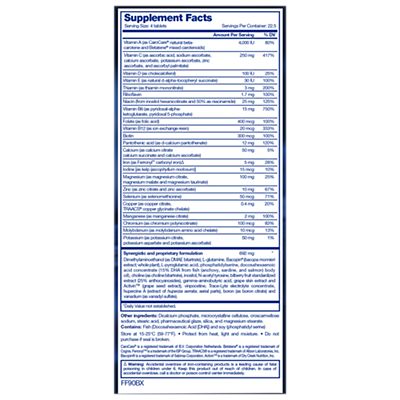 Here's a list of vitamins & minerals and amounts in Focus Factor's original supplement as listed on the bottle:
| | |
| --- | --- |
| Ingredient | Amount per serving (4 tablets) |
| Vitamin A | 1,200 mcg |
| Vitamin C | 250 mg |
| Vitamin D | 2.5 mcg |
| Vitamin E | 20.1 mg |
| Thiamin | 3 mg |
| Riboflavin | 1.7 mg  |
| Niacin | 25 mg |
| Vitamin B6 | 15 mg |
| Folate | 665 mcg DFE |
| Vitamin B12 | 20 mcg |
| Biotin  | 300 mcg |
| Pantothenic acid | 12 mg |
| Choline | 30 mg |
| Calcium | 50 mg |
| Iron | 5 mg |
| Iodine  | 15 mcg |
| Magnesium | 100 mg |
| Zinc | 10 mg |
| Selenium | 50 mcg |
| Copper | 0.4 mg |
| Manganese | 2 mg |
| Chromium | 100 mcg |
| Molybdenum | 10 mcg |
| Potassium | 50 mg  |
Focus Factor Proprietary Blend – 640mg
Here are all the ingredients found in the proprietary blend:
Dimethylaminoethanol (as DMAE bitartrate), L-glutamine, Bacopin® (​Bacopa monnieri​ extract; whole plant), L-pyroglutamic acid, phosphatidylserine, docosahexaenoic acid concentrate (15% DHA from fish (anchovy, sardine, and salmon) body oil), inositol, N-acetyl tyrosine, bilberry fruit standardized extract (25% anthocyanosides), gamma-aminobutyric acid, grape skin and grape seed extract, vinpocetine†, Trace-Lyte electrolyte concentrate, huperzine A (extract of ​Hupezia serrata​; aerial parts), boron (as boron citrate) and vanadium (as vanadyl sulfate).
Without a doubt, there are many powerful nootropics in this blend including DMAE, glutamine bacopa, phosphatidylserine, DHA (omega-3)… However, we can already see that some of these are not going to be effective doses.
For instance, the recommended dose for DMAE birtrate is 150 to 300mg, phosphatidylserine is 300mg, glutamine 45mg, bacopa monnieri is 300mg… We are already exciting the amount that it could be in Focus Factor!
So this is clearly the case of trying to pack too much within one capsule. All ingredients are proven and science-backed, but there's simply not enough of them to be effective.
Does Focus Factor Work?
Focus Factor goes above and beyond to ensure the customer that they are efficient at increasing your cognitive performance and metal capacities.
One of their main pillars is the study that was conducted on their products.
Clinical Trials Were Biased
In 2011, Focus Factor created a double-blinded, placebo-controlled study. The study was held by the Cognitive Research Corporation. It included 96 participants, where 47 took the placebo and 49 took Focus Factor. 
The study results showed that Focus Factor did enhance concentration, memory, and focus among the participants. There were also minor side effects recorded.
Also, the study was funded by Focus Factor, which clearly creates a conflict of interest. No 3rd party with 0 bias has checked the findings in the original study. As such, all results are not scientifically very relevant. 
Ingredients Analysis – Too Much and Not Enough
Looking at the ingredients found in Focus Factor, there's no denying that they can be helpful in boosting focus, and improving memory and learning.
For instance, a study found that 300mg of bacopa monnieri was able to improve attention, cognitive processing and memory.
Similarly, 300mg of phosphatidylserine may prevent cognitive deterioration and even help improve attention span.
This said, we've only mentioned 2 out of the 16 nootropics found in Focus Factor and we have already taken 94% of the allocated mass (600mg out of 640mg).
Because of the proprietary blend, it's impossible to know how much of each ingredient is in Focus Factor, but clearly, there's too little of most of them.
Does Focus Factor Work, then?
Taking all the above into consideration, we are quite skeptical about Focus Factor.
When tested, it was better than a placebo, but not as effective as the best natural nootropics at boosting focus, memory and attention.
For instance, a brain supplement like Hunter Focus "only" has 11 proven ingredients, but all of them are found in effective doses.
Focus Factor Benefits Reviewed
As you can see by now, Focus Factor has many benefits. We still have to be critical and ask how real those benefits are.
Memory & Focus
The main advantage of Focus Factor is that it improves memory and focus. Most people who tried it confirmed that they could actually see a difference. 
If you really wish to see improvement in your focus levels, we suggest you try Focus Factor's nootropics or energy drinks, as they contain around 200 mg of caffeine, which is a sufficient dosage for making a change.
However, Focus Factor's original product doesn't contain any caffeine. While that's a good option for people who are intolerant to caffeine, it might not have a significant impact on attention. 
A good alternative is Hunter Focus, which contains around 100 mg of caffeine—low enough not to give you caffeine's side effects and high enough to make a difference.
Energy Levels
Furthermore, this product includes vitamins B6 and B12, in addition to vitamins B2 and B7 in the forms of riboflavin and biotin. Studies have shown that B vitamins help in improving brain functions and energy levels. 
Aside from the caffeine and vitamins. Focus Factor contains omega-3 oils, which are proven to improve brain function and memory. It also contains 15% DHA (Docosahexaenoic acid) from salmon, sardine, and anchovy. 
However, comparing Focus Factor and Hunter Focus' ingredients, you'd find that the latter includes more ingredients for promoting good memory, including some rare ones like lion's mane mushroom and ashwagandha root.
Focus Factor's Price
Focus Factor products are mostly inexpensive. Prices will vary according to the product type, and they range from around $24 to $45. 
You could also purchase bundles, which are more costly but save money in the long run. Bundles range from $60 to $100, and sometimes Focus Factor's website offers discounts. 
You can buy their products from their website, Amazon, pharmacies, or hypermarkets. 
Focus Factor is also available in the UK, but there are better nootropics in the UK than Focus Factor.
Other Focus Factor Products
Focus Factor is a popular supplement brand in the US that offers a wide range of products to choose from. They even have chewable tablets for children!
The products are split into five categories, each containing its line of products. These categories are Focus Factor, Focus+Energy, Nootropics, Kids, and Gummies.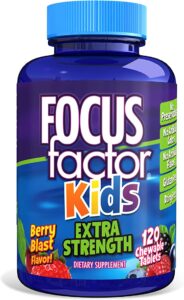 One thing that we would never recommend is buying nootropics for kids. The brain at the early stages is still developing and it's an incredibly delicate organ. Any chemical changes can be hugely damaging. Even if this product is approved by the FDA, consult with your doctor before using it, please.
Focus Factor Side Effects
ocus Factor has reported mild side effects with rare occurrences. These side effects include
Nausea
Diarrhea
Bloating
Headache
Chest discomfort
Muscle aches
Constipation
Lightheadedness
Some people also reported that they thought the pills were too big and found them difficult to swallow.
Focus Factor User Reviews
Most of the customer reviews on Focus Factor have been highly positive. Various customers have reviewed the product and recorded their satisfaction with it. 
I have been taking Focus Factor for years. It helps me think quicker and more clearly. I helps me stay focused as well.

Larry S, 5-star review
Many people said they were able to see results and an actual improvement in their ability to focus and remember things.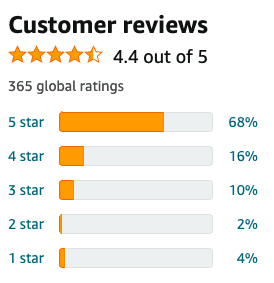 When looking at Amazon Focus Factor reviews, the original has 4.4 out of 5 stars and 365 reviews. Some of the negative reviews state that Focus Factor has a fish taste, which could be due to DHA from fish.
This product works! I have very huge memory loss (it goes blank 🫣) when I am asked questions. My former boss advised me take them….it took about a month for me to feel a difference. It makes your thoughts more clear and helps you put things in order when you're talking. I'm not jumping around subjects when I speak.

LaVonda, Amazon review, 5-stars
Focus Factor FAQs
How often should you take Focus Factor?
The website states that adults should take four tablets of the supplement a day (with meals).
They also say that you could take more, according to your weight, activity levels, and inadequate diet. 
The highest recommended dose is eight tablets per day. Consult your doctor about the dosage if you want to be extra sure. 


How long does Focus Factor take to show results?
The time taken for Focus Factor to work will vary among individuals. The average time for a person to start feeling an improvement in attention and memory is around six weeks, give or take. 


Does Focus Factor ship internationally?
The website mentions that Focus Factor offers worldwide delivery. However, this excludes UAE, Iran, Cuba, Myanmar, North Korea, Syria, and Sudan. Depending on the country, it takes 1-4 weeks for an international package to arrive. International shipping fees are $14.95.


Who should not take Focus Factor?
Pregnant or breastfeeding women should consult their doctor before taking Focus Factor. The products are for adults ages 18 and over, so children shouldn't take them.
On the other hand, there are products specifically for children in their "Kids" line that are safe for them. 
Anyone who experiences side effects should stop taking Focus Factor immediately and consult their doctor. 


Verdict – Focus Factor Review, Promising but Falls Short
Coming into the conclusion of this Focus Factor brain supplement review, there are two main topics we want to highlight:
Focus Factor has great user reviews, and many that claim it has helped them with memory, clarity and focus. In our expert testing, it wasn't as efficient as other nootropic products.
However, looking at the ingredients, Focus Factor has many of the right nootropics but in small quantities.
As such, if you are planning on trying Focus Factor's supplements, we cannot recommend them wholeheartedly. Make sure to consult your doctor first to make sure all the ingredients are safe for you. 
However, you may as well consider Hunter Focus. Its list of ingredients is more comprehensive, the nootropics are only in effective doses, and it's the most efficient brain supplement for focus and clarity that we have tested in Latestfuels.
Focus Factor
From $0.7/serving
Pros
Affordable
Positive user reviews
Might help with focus and attention
Has multivitamins
Cons
Exact ingredient quantities unknwon
Low doses of effective nootropics
Less effective than competition when tested
Clinical trials are biased