Kiala Greens Review | A Great Bargain or a Waste of Money?
Maintaining a healthy diet that fulfills all our nutritional requirements can be challenging, especially as we age. That's where supplements like Kiala Super Greens come in. These nutrient-packed powders aim to provide the benefits of organic greens in a convenient and easily consumable form. In this Kiala Grens review, we will examine the pros, cons, and subtleties of Kiala Super Greens to determine if it lives up to its claims.
This is not the first greens superfood powder that we have tried here at Latestfuels. We have tested multiple top-tier brands like AG-1, HumanTonik, Vibrant, and many more.
In fact, there are hundreds of greens powders out there (just check Amazon!), so what makes Kiala Greens different?
The primary goal of any Kiala is to improve gut health, support the immune system, and increase energy levels. Some of the benefits associated with greens supplements include reduced bloating, improved digestion, boosted energy, aid in recovery, promotion of clear skin, and immune support.
While these lofty claims might raise your hopes, upon doing the full testing and comparing to the best green powders, Kiala falls short. One of the main issues is the usage of a proprietary blend that hides the quantities of each green.
Why? What is Kiala hiding? Are Kiala greens worth it?
Key Takeaways
Kiala Greens is designed to reduce bloating, boost your immune system and energy levels, improve your skin.
It has 32 greens a hidden under proprietary blend
Most greens are underdosed and you won't benefit as much
Taste is OK, but doesn't mix well
While the price is affordable, due to lack of effectiveness it might not be a good use of your money
Find out what our #1 greens powder is to actually boost your vegetable intake.
---
Kiala Greens Review at a Glance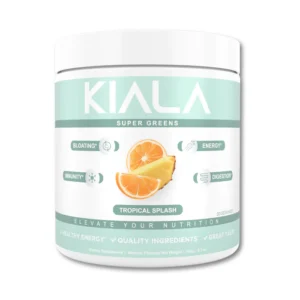 Flavours: Lemon Drop, Tropical Splash, and Mixed Berries
Pros
Taste is OK
Affordable
Contains effective ingredients
Cons
Proprietary blend hiding the quantities of each ingredient
Key ingredients are underdosed
Not as effective as competitors
Doesn't mix well
---
Kiala's Super Greens Ingredients List
Kiala Super Greens is packed with a variety of leafy greens, vegetables, herbs, fruits, and probiotics. The organic greens blend includes ingredients like kale, broccoli, garlic, and more.
However, as mentioned earlier the exact quantities of each ingredient are hidden under a proprietary blend. This is a big red flag, as often many greens are underdosed in proprietary blends, such as in Primal Greens.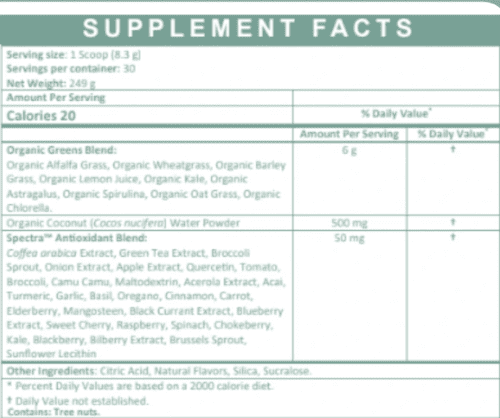 In case the image doesn't load here are the ingredients in Kiala:
Organic Greens Blend, 6g
Organic Coconut Water, 500mg
Spectra Antioxidant Blend, 50mg
Citric Acid, Natural Flavors, Silica, Sucralose
Organic Greens Blend – 6g
This is the greens part of the blend which contains popular ingredients like kale, alfalfa, spirulina, oat grass, barley grass, lemon juice and chlorella.
All of the ingredients are organic.
Kale
Kale is a popular superfood known for its high vitamin and mineral content. It is rich in vitamins A, C, and K, which support a strong immune system and bone health. Kale also contains folate for brain development and omega-3 fatty acids for heart health. Additionally, it provides essential minerals like zinc, calcium, and potassium, which contribute to immune system support and blood pressure regulation.
However, the amount of kale found in Kiala greens is really low. For instance, studies have shown that vitamin K can improve your bone health. However, 1 cup of Kale (20g) "only" contains 18% of the daily recommended for vitamin K.
Alfalfa Greens
One of the upsides of Alfalfa is that it's rich in the antioxidant pinitol. According to current understanding, it can help your liver, kidneys and gut, while fighting free radicals to reduce inflammation.
Pinitol might also have a key role on the fight against diabetes.
Sadly, the amount of Alfalfa require to reach the maximum benefits exceeds what you could find in Kiala greens.
Wheat Grass
Wheat grass is a nutrient-dense green that has been used medicinally for centuries. It is an excellent source of chlorophyll, which helps to detoxify the body and supports healthy blood flow.
Studies have shown that chlorophyll could have anti-cancer properties.
Wheat grass is also rich in vitamins A, C, and E, as well as minerals like magnesium and zinc. These vitamins and minerals are essential for healthy cell function, immune system support, and overall energy levels. Additionally, wheat grass contains important enzymes that help break down food for better digestion.
Barley Grass
Research has shown that barley grass is one of the best functional foods to eliminate toxins for your body and provide with essential nutrition.
It can reduce the risk of chronic diseases thanks to GABA, flavonoids, saponin, lutonarin and other phytonutrients.
Barley grass can help you sleep better, regulates blood pressure and has anti-inflammatory properties.
Lemon Juice
Lemons are known for their high vitamin C content. Famously, they were use to prevent scurvy in boats during the medieval ages.
Besides preventing scurvy, vitamin C is also important for skin and colon health, as well as improving your immune system.
That said, it is unlikely that you will get more than 3% of your daily recommended intake for vitamin C in Kiala greens.
Astragalus

Astragalus is a popular herbal remedy used in traditional Chinese medicine. It has been used for centuries to promote overall health and wellness. Astragalus is rich in antioxidants, which help protect cells from damage.
Additionally, it contains compounds called saponins that may help to boost the immune system and reduce inflammation.
Studies have also shown that astragalus can help increase energy levels and mental clarity. It can also support healthy skin by providing essential vitamins and minerals like vitamin C, zinc, and selenium. Astragalus may even help reduce stress levels by promoting relaxation.
Spirulina
This algae is one of the most common ingredients found in green powders. It is incredibly rich in antioxidants, fatty-acids, and key minerals.
There are multiple benefits to taking spirulina including boosted immune function, reduction of oxidative damage, reduced inflammation, helps you fight bacteria and might even help with weight loss.
According to Examine, the ideal dosage of spirulina might vary depending on your goal:
Cholesterol: 1-8 g
Muscle performance: 2-7.5 g
Blood glucose control, (very mild effects): 2g
Blood pressure: 3.5-4.5g
Effects for fatty liver: 4.5g
Taking the above into account, it's unlikely that Kiala would provide you with enough for most purposes.
Oat Grass
Oat Grass is one of the most out-of-the-box ingredients in Kiala's superfood blend. There is not as much research and supportive evidence for the benefits of taking oat grass.
Nevertheless, oat grass is incredibly rich in antioxidants, like tricin, and it's usually a good source of fiber.
In some animal studies, tricin has shown some health benefits such as reduced levels of intestinal and colon cancer.
Thus, the inclusion of oat grass is unnecessary, and they could have increased the amounts of other more researched greens instead.
Others
Within the superfood blend, you will also find chlorella. This is another super popular algae rich in antioxidants, minerals, vitamins and phytonutrients.
Among other benefits, studies have proven that chlorella can help you with cholesterol, reduce CVD, and even support your immune system.
Coconut Water Powder, 500mg
This is another odd inclusion. Coconut water powder is rich in electrolytes (potassium, magnesium and sodium).
Electrolyte balancing is key for proper hydration and water retention in your muscles, and can help you prevent cramps, and migraines, and improve your athletic performance.
Spectra Antioxidant Blend, 50mg
This is a patented antioxidant mix patented which contains the following ingredients: coffee arabica extract, green tea extract, broccoli sprout, onion extract, apple extract, quercetin, tomato, broccoli, camu camu, maltodextrin, acerola extract, acai, turmeric, garlic, basil, oregano, cinnamon, carrot, elderberry, mangosteen, black currant extract, blueberry extract, sweet cherry, raspberry, spinach, chokeberry, kale, blackberry, bilberry extract, Brussels sprout, and sunflower lecithin.
You'll recognize many of these ingredients, such as coffee extract and green tea extract. Both which have multiple proven health benefits. However, the caffeine content is not stated in the label.
Either way, the whole blend only contains 50mg, and 60mg of caffeine are not going to be enough for most people.
Thus, the whole blend is a cheap and ineffective way to add ingredients without adding any real value to the mix.
Kiala Super Greens: Top Health Benefits
Kiala Super Greens claims to offer a range of health benefits through its nutrient-packed ingredients. Most noticeably:
Imprved digestion and gut health
Boost to your immune system
Reduce bloating
Increased energy levels
Improved recovery
Clear Skin
As showcased in the ingredients section, Kiala Greens does not have high enough dosages to support most of those claims.
Digestion and Gut Health
Leafy greens like spinach and kale are excellent sources of fiber and essential nutrients like folate, vitamin C, vitamin K, and vitamin A. Research suggests that consuming fiber and leafy greens can promote the growth of healthy gut bacteria and improve digestion.
That said, there is not enough fiber in Kiala, and the amount of vitamin C, K and A are not disclosed.
Immune System Support
There are some ingredients like chlorella, spirullina and kale that could help your immune system via fighting free radicals, reducing inflammation or supporting your immune system directly.
However, most of these ingredients are not in high enough doses.
Increased Energy Levels
This is one of the most ambiguous claims from Kiala Greens.
If you are on a diet that is extremely deficient in nutrients, most noticeably vegetables, you might see some benefits to your mood and energy levels from having increased amounts of micronutrients.
Nevertheless, you will be better served by a meal replacement shake that can provide you with all the nutrients your body needs, or a more comprehensive greens powder.
Furthermore, the amounts of caffeine and other nootropics won't be enough to boost your energy throughout the day.
Does Kiala Super Greens Have Side Effects?
As with any dietary supplement, individual experiences may vary, and certain factors, such as allergies or interactions with medication, should be considered. It is important to consult with a healthcare professional before starting any new supplement regimen. While Kiala Super Greens generally receives positive customer reviews, it is important to note that results may vary from person to person.
Kiala Greens Taste Reviewed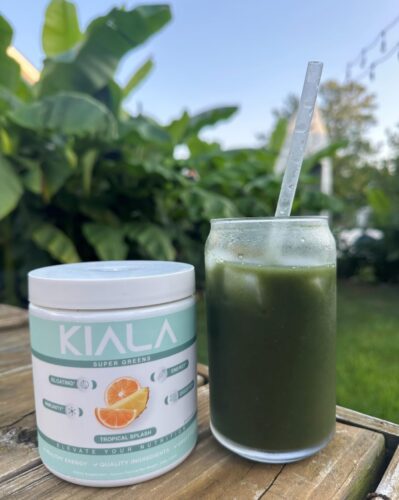 Taste is usually one of the most important aspects of any supplement. However, green supplements are notorious for tasting like crap (I'm looking at you Organifi).
So, how do Kiala greens taste like?
When we tested it with water, it was disappointing. The taste is alright, although not as good as competitors like Huel Greens or SuperGreen Tonik. From the three flavors available, Tropical Splash was the best, followed by Berry, and lastly Lemon Drop.
However, Kiala Greens did not mix, no matter how hard we tried. While this is also a fairly common issue with other greens, we have seen nothing like Kiala Greens.
Some customer reviews also say that they experienced similar problems:
I do like the tropical flavor, but the powder is very gritty no matter how much you mix it. 

Erika, Amazon review
Customer Kiala Greens Reviews
So, what are user Kiala Greens reviews? What do other users think about these greens powder.
Amazon Kiala Greens reviews are surprisingly positive. It has 4.7 stars out of 5 in 1.5k reviews. Most Amazon users praised the taste and the effectiveness against bloating.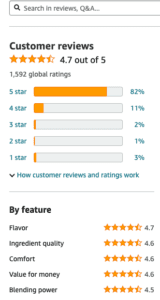 Nonetheless, it is worth considering that Amazon reviews are too often manipulated and positively biased. When we used Review Meta to assess the quality of the Kiala Greens Amazon reviews, we found that up to 84% of the reviews were suspicious.

Similarly, Kiala reviews on Reddit were negative, some even pointing them to be a "scam".
Kiala Greens Expert Review
Kiala Price & Shipping
Regarding the price of Kiala nutrition greens powder for women, it's among the cheapest you can find.
On their site:
1-tub (30 servings) with no subscription will cost you $50, or $1.66/serving
1-tub with subscription will cost you $34.97, or $1.17/serving (30% discount)
On Amazon, you'll be able to buy the tubs at $50 or if you are lucky with a 20% discount.
Is Kiala Greens Worth It?
Certainly, if you can get it with subscription, $1.17 per serving, Kiala is a very affordable greens powder.
Even more so if you compare to industry leaders like AG-1 or Humantonik, which can cost upwards of $2 per serving.
That said, this is often paired with quality. In Humantonik, it might seem like you are paying more, but in fact, you get more effective ingredients, and higher doses than what you do in Kiala.
Thus, if you can afford the higher price tag, SuperGreen Tonik is a better alternative. And ultimately, whether Kiala is worth it will depend on the benefits you get out of it, but for us it might be a waste of money.
Verdict – Kiala Greens Review
On paper, Kiala Super Greens for women's digestion and gut health is a very promising supplement.
It promises to help you with gut health, immune system, energy levels, skin health, etc. Plus, at first glance it has the right ingredients, positive customer reviews, and a very affordable price tag.
Unfortunately, that's where the positive ends. After doing a thorough Kiala Super Greens review, we found a few red flags:
Use of proprietary formula
Underdosed ingredients
Doesn't mix well
Not as effective as promised
In the end, with Kiala you will most likely end up wasting your money. It's better to pay a little bit extra for the best green powders like SuperGreen Tonik, and actually get higher doses of each greens on the mix.