Are 310 Meal Replacement Shakes Worth the Price? (Review)
This is the 310 meal replacement review, where we will find out if 310 shakes are as great as they seem.
Today, I change my story.

310 Nutrition
Made in the US by 310 Nutrition, they are vegan shakes with organic ingredients, and no gluten or soy.
With only 110kcal and 15g of premium protein, they are designed for weight loss and are seemingly a good Shakeology alternative.
In fact, 310 shake's webpage has tons of written and recorded testimonials, as well as a claim of over four million shakes sold, which would seem to suggest that 310 shakes are widely popular.
Therefore, are 310 shakes worth buying? Find out in this 310 shakes review!
Spoiler: Well, the short answer is NO. They are simply too expensive for what they offer, and in my opinion, there are much better natural shakes out there that accomplish what 310 tries to do. Examples of these include Ka'chava (one of our favorites) or Lyfefuel Daily Essentials (great for weight loss).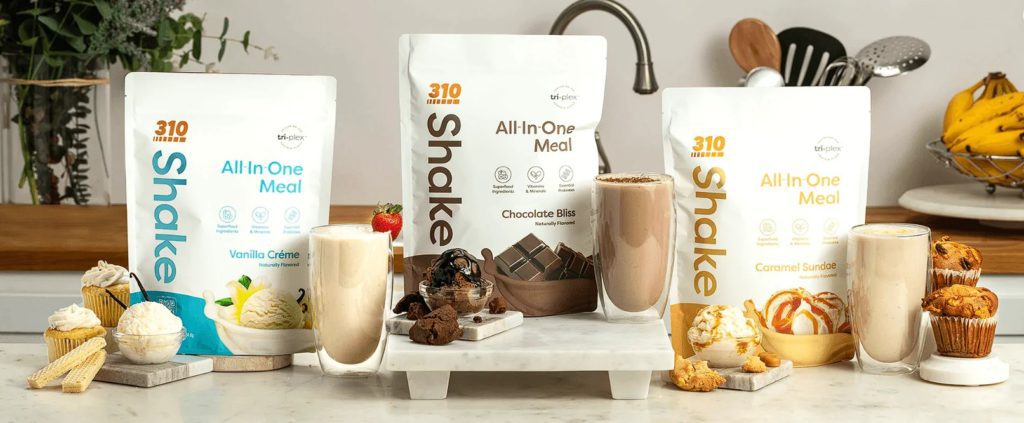 ---
310 Review at a Glance
Flavours: Vanilla Creme, Chocolate Bliss, Caramel Sundae, Peppermint Swirl, Pumpkin Spice, Horchata and many more.
---
Opinion
Taking everything I mentioned during this 310 meal replacement review into consideration; I must say that I'm a little disappointed.
Even though, this is a good shake and contains high-quality nutrients; it falls short when compared to close competitors.
Additionally, it is also more expensive than other gluten-free shakes, which makes 310 shakes hard to recommend.
That said, 310 drinks are quite delicious and can be useful for weight loss.
What I like
1. Organic, vegan, gluten-free and soy free. 310 Nutrition uses high-quality ingredients in their shakes. Drinkable by almost anybody.
2. Added superfoods for extra nutrients. A balanced diet requires nutrients from multiple sources. Organic beets, broccoli, ginger, spinach… are incredibly nutrient-dense.
3. 310 is a great diet shake. Each serving is only 110kcal and comes packed with protein and fibre. It will help you feel full for longer than other shakes.
4. Sweet tasting. 310 shakes are quite sweet and thin, quite easy to drink. Plus, if you don't like sweet drinks you can opt for the unflavoured option
5. Single serving and bulk bags. Choose which one fits you best; a single serving sachet to consume it anywhere, or a bigger bag to reduce waste.
What I dislike
1. It's just too expensive. Sadly, despite their premium ingredients, I think that when compared to similar products, 310 shake is too pricey.
2. Lacks essential nutrients. In fact, 310 shakes lack micronutrients and essential fatty acids; both of which are necessary for a complete meal replacement.
3. Not fit to replace meals with. For most adults, 310 shakes will not be an efficient meal replacement. This is due to their low caloric content and lack of nutrients.
4. You can only buy it in the US. Unfortunately, this product is not available in Europe.
Improvements
1. Add more vitamins and minerals. For a premium shake, I would've like to see more greens added that will provide vitamins (D, K, E etc), minerals (zinc) that your body needs.
Taste Test
Generally speaking, 310 shakes are quite pleasant and easy to drink.
They are quite sweet and they mix without any issues. This makes them easy to drink and like. Lastly, I would recommend going unflavoured if you are not a fan of sweet shakes.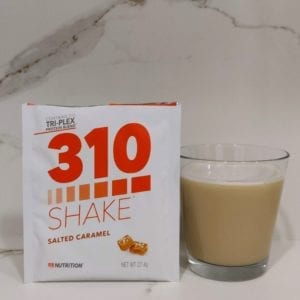 | | |
| --- | --- |
| Best flavour | Salted Caramel. |
| Taste | Strong green smoothie taste to all flavors, but not awful. |
| Texture | Gritty, solid pieces, not the easiest to drink. Better with milk. |
| Easy to Mix | They mix perfectly even in a shaker. No need for blenders. |
| Satiety | They do well considering the low calorie output. 1-2h. |
| Easy to Clean | No |
| Afterthoughts | Rather a disappointment. |
Pro-tip: Add milk (or your plant-based alternative) to improve the texture. This shake also works well with frozen fruits. For keto, add heavy cream.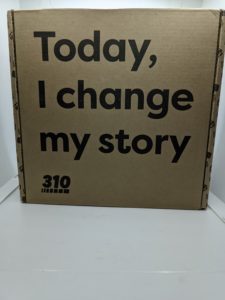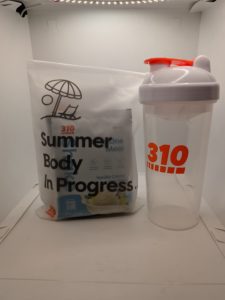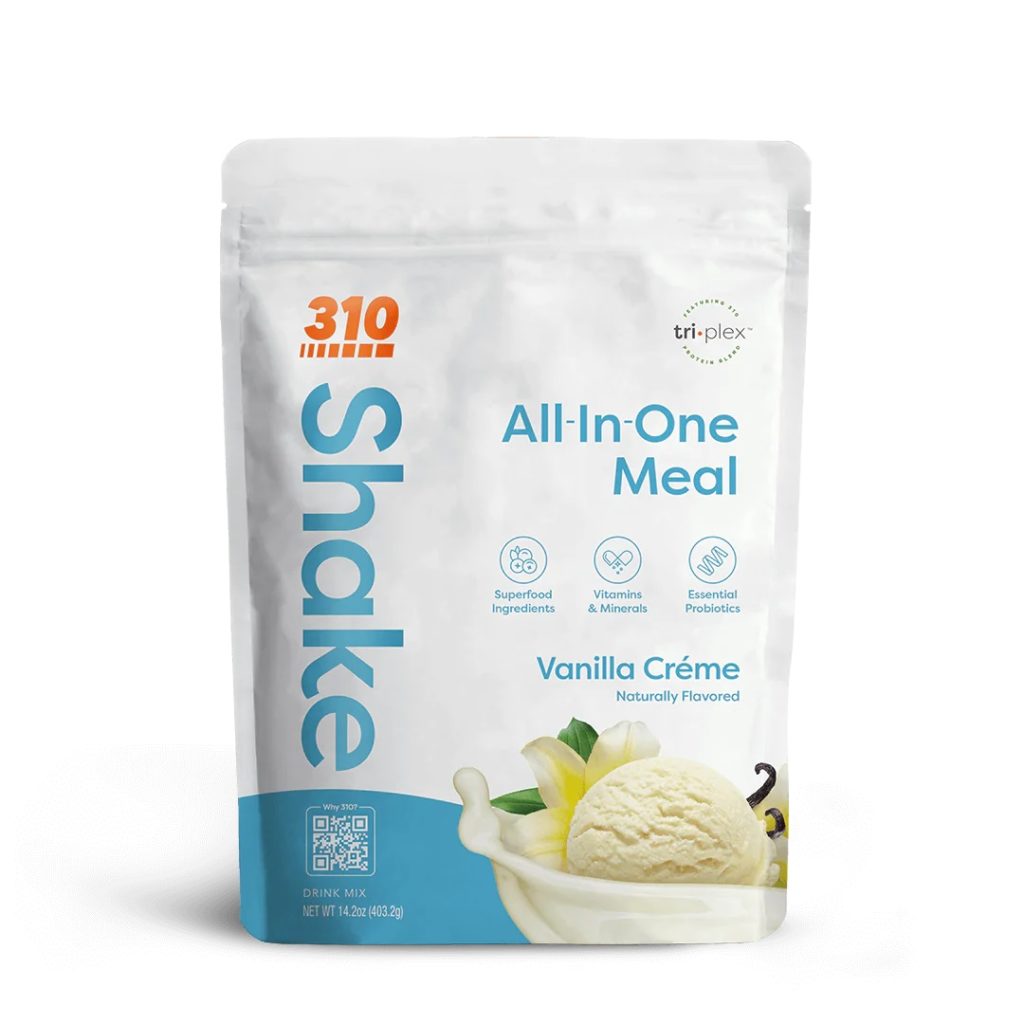 310 Vanilla Shake Taste Review
Great smell, but somewhat strong underlying veggie taste. Not undrinkable, but one you have to get used to first.
With water, it was ok. But was definitely better when blended with milk.
310 Chocolate Shake Taste Review
Like vanilla, has a strong green taste that takes some getting used to. Its drinkable, and chocolate taste isnt super strong.
With milk and a banana, this comes to life. Much better and I'd argue the only way to really enjoy this.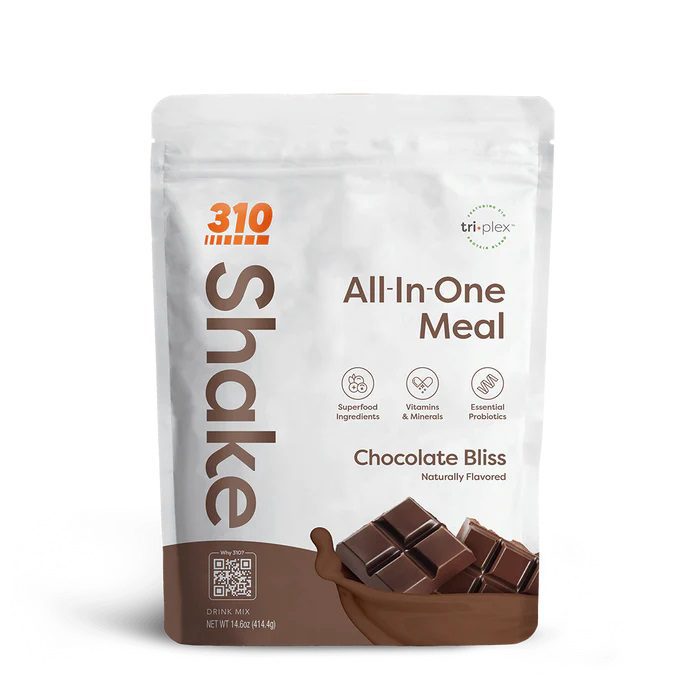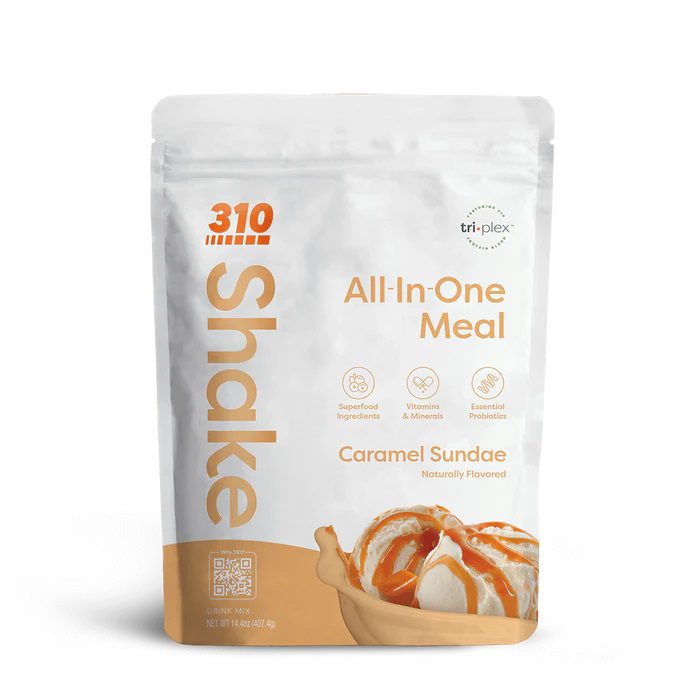 Salted Caramel 310 Shake Review
The best tasting of the bunch when only mixed with water. Surprisingly, it didn't gain much in blending with milk.
Summary – How Do 310 Shakes Taste?
All of them were very gritty and had unmixed pieces floating around. Even when blended, the texture still wasn't all that great.
Taste-wise, when mixed with just water to keep the cals in check, they were only ok at best. Mixing with milk helped the consistency somewhat, and adding fruit brought the taste to life.
A word about the shaker bottle.
It is cheap plastic, the mixing insert is horrible, and has slightly different dimensions so it can't be interchanged with other shaker parts. If you got it free, then I guess it would be fine for water. Under no circumstances is it worth the $10 they are charging at the site.
Nutritional Breakdown
Regarding at 310 Shakes nutrition, there are three points that I want to remark:
310 Shakes are very low on calories, and most adults will require higher caloric content. Thus, they are most suited to help you lose weight, or as a nutritious snack.
As showcased below, all 310 nutrition meals are vegan, organic and soy-free shakes.
Besides, 310 Nutrition shakes are not complete; aka, they miss some essential vitamins and minerals.

310 Shake Nutrition Overview
| | |
| --- | --- |
| | 310 Shake |
| Macros (C/F/P) | 29/55/16 |
| Vegan | Yes |
| Keto | Yes* |
| Features | LF, GF, DF |
| Non-GMO | Yes |
| Organic | Yes |
| Includes Probiotics | No |
| Artificial Sweeteners | No |
| Synthetic Additives | No |
| Contains All Micronutrients | No |
| Controversial Ingredients | None |
LF= lactose free, GF= gluten free, DF = dairy free
Carbohydrates
Total Carbs: 7g, 3% of DV.
Sugars: 0g.
Fiber: 5g, 18% of DV.
Overall, 310 shakes are really low in carbohydrates. Despite having 7g per serving, 5g are due to fibre (FiberSMART organic tapioca fiber).
Once again, this makes 310 shakes ideal for weight loss. On one side, the caloric input is kept low; and on the other side, fiber can help you with satiety.
For my own complete nutritional shakes, I rather see more carbohydrates from complex sources like oats, quinoa, amaranth etc. Therefore, adding some can be a good way to supplement your shake.
Protein
Total Protein: 15g, 20% of DV.
Like many other weight loss meal replacement shakes, 310 drinks are primarily composed of protein. In this case, 55% of the total energy comes from protein.
310 Nutrition uses their custom Tri-Plex Protein blend composed of: organic pea, brown rice and pumpkin protein. While it might sound fancy, rice and pea protein are often paired together in vegan shakes to provide you with a more complete amino acid profile. In fact, pumpkin protein is novelty addition. This, however, helps balance the amino acid profile, as well as, improving the taste.
Fats
Total Fats: 2g, 2% of DV.
Saturated Fats: 1g, 7% of DV.
Omega-3: ?.
As it's the case with many low-calorie high protein shakes, 310 Nutrition shakes are very low in fats.
Consequently, it falls short in essential fatty acids, like omega-3 fatty acids. Even during weight loss, these are necessary to keep healthy body functions.
Thus, I would recommend supplementing your diet with food rich in omega-3s or supplements.
Micronutrients and Phytonutrients
Unfortunately, 310 shakes fail to deliver all the necessary vitamins and minerals. For instance, 310 drinks are deficient in Vitamin D, A, B, C and minerals like zinc, calcium, or manganese.
On the other hand, they are rich in phytonutrients thanks to the green powders added to the mix: organic chlorella, spinach, alfalfa, beer root powder etc.
Sweeteners
As far as the sweeteners are concerned, 310 shakes contain monk fruit extract and stevia; thus they contain no artificial sweetener.
Allergens
Coconut is present, but otherwise they are free of any major allergen.
About 310 Nutrition
310 Nutrition is a US based company specialized in weight loss shakes founded by Tim Sharif in 2012.
In addition to this, according to their mission their strive to improve the lives of their customers by providing clean solutions.
Despite the fact that their 310 meal replacement shakes are their main focus and best-sellers, they also provide other nutritional products. These include BHB exogenous ketones, vitamin C powders and Keto strips.
Pricing & Shipping
So, let's discuss the cost of 310 Nutrition; are the 310 shakes too expensive?
310 Shakes come in 28 serving bags. Each bag costs $68.
Each serving contains 110kcal. One serving will cost you $2.43.
On Amazon you will be able to get single serving packs and 14 meal bags, as well as 24 meals.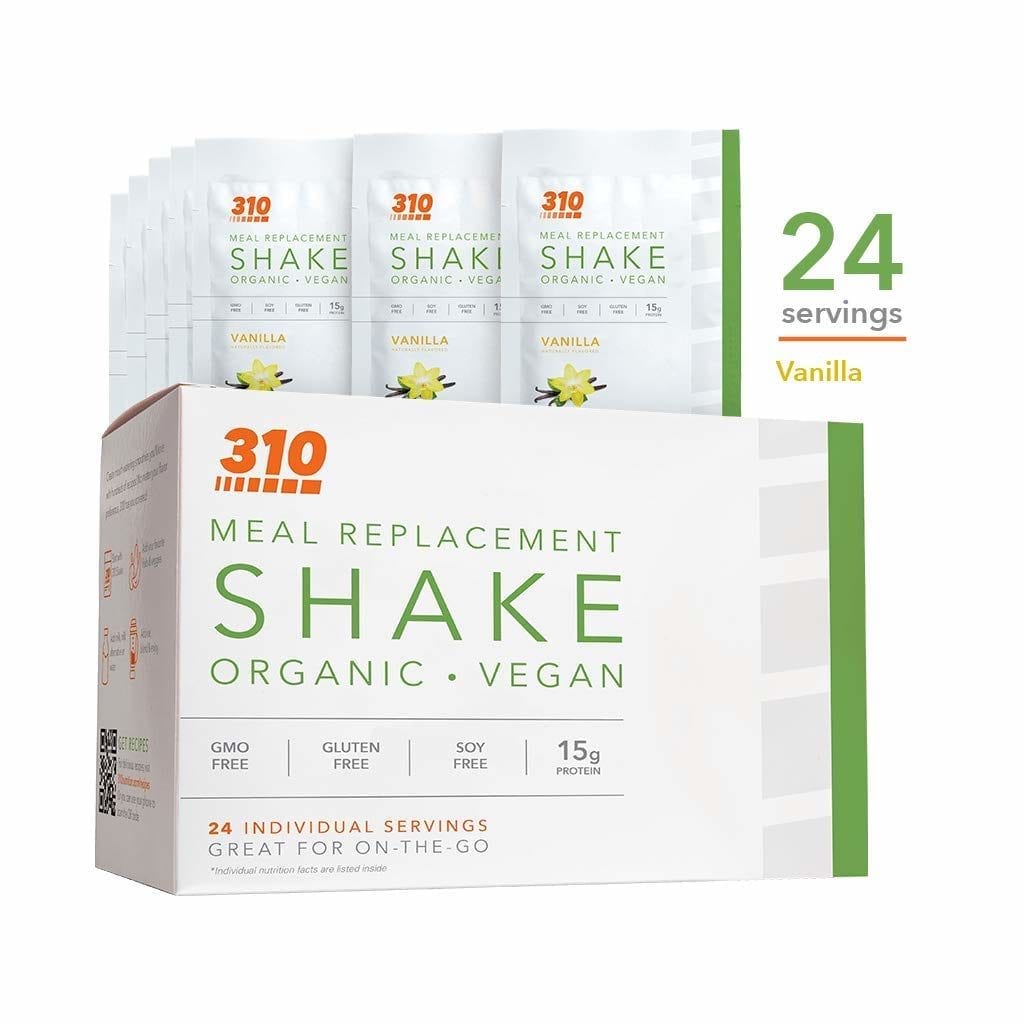 Here is a table displaying the price of 310 meal replacement shakes:
Product
Total Price
(Non-sub/sub)
Serving Price
(Non-sub/sub)
All-in-One Meal – 14pk
$50/$37.49
$3.57/$2.68
All-in-One Meal – 28pk
$80/$60
$2.86/$2.14
All-in-One Meal – 24pk
(Variety Box)
$80/$60
$3.33/$2.50
Undoubtedly, these are not the cheapest meal replacement shakes in the market. However, they compare fairly well with other organic and healthy meal shakes.
| | | | | |
| --- | --- | --- | --- | --- |
| Price per 400kcal | Orgain | Lyfefuel Daily | Garden of Life | 310 Shakes |
| Expensive ($) | 4.89 | 5.25 | 4.99 | 8.84 |
| Cheap ($) | 3.91 | 4.48 | 4.25 | 6.62 |
Orgain and Garden of Life's Raw & Organic also have lower calorie servings (230kcal and 130kcal respectively).
Are 310 shakes worth the money? You will have to answer that yourself, but I believe that there are better options out there that offer a similar product at a lesser cost.
That said, you can use the free shipping on Amazon to save some money in that regard.
More 310 Nutrition Products
Besides the meal replacement shakes, 310 Nutrition offers a variety of other products, including Keto accessories (keto strips, exogenous ketones), probiotics, digestive enzymes, MCT oil, teas and more.
310 Keto
As I explain in my best keto shakes piece, I'm not a big fan of most keto accessories; particularly, BHB exogenous ketones. There's simply not enough evidence that this are necessary at all.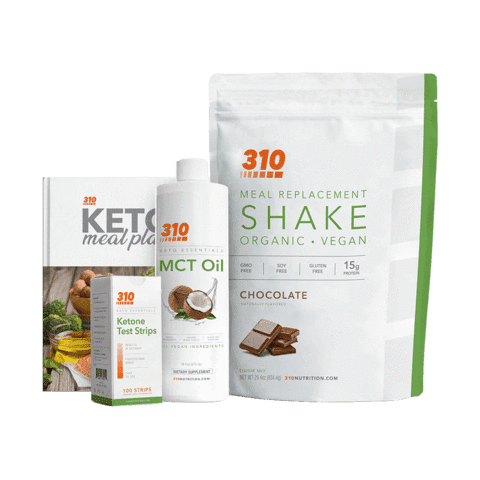 Personally, I would choose a shake like HLTH or Sated which provide you a better keto meal replacement shake. More complete, more affordable, and they even include probiotics and digestive enzymes, so you don't need to buy them on the side.
310 Supplements
On top of the keto accessories, they also offer more generic supplements like green powders, multivitamins, apple cider vinegar, probiotics, and more.
While it is true that some of these are OK products, I tend to use different brands with more specific knowledge.
310 vs. LyfeFuel & Skakeology
Head-to-head time. Decided to run the comparison against two recently sampled products, Shakeology and LyfeFuel.
As a spoiler, I believe that LYFEfuel Daily Essential is vastly superior to both of them, and I would recommend it, together with Ka'chava as the perfect 310 shake alternative.
They all offer lower-calorie products, and options that include 24 servings.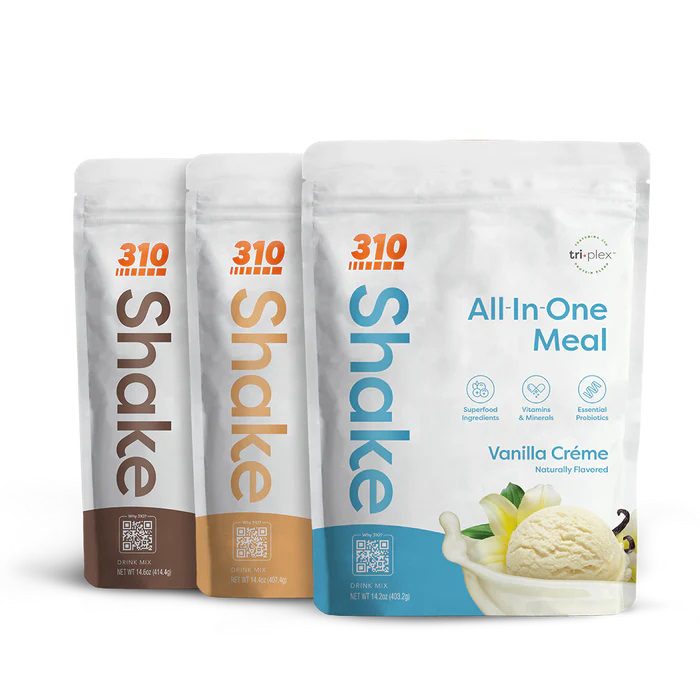 Head to Head
Category
310 All-in-One
Shakeology (Plant)
LyfeFuel (Daily Essentials)
serving price
$3.33
(USD)
$5.41
(USD)
$2.92
(USD)
kcal/serving
110
160
110
servings per
24
24
24
Packaging
Single Serve Packs
Single Serve Packs
Bag
Flavors
6
5
2
Protein (g)
15
16
18
Sugar (g)
0
7
3
Fiber (g)
5
6
1
Fats (g)
3
3
2
Carbs (g)
6
15
6
Vegan
Y
Y
Y
Certified
Organic
N
N
N
Micronutrient
26
6
28
Artificial Sweeteners
N
N
N
Synthetic Additives
Y
Y
N
GMO?
N
N
N
Protein Source
Pea, Rice, Pumpkin
Pea
Pea/Rice
Availability
US, CAN
Worldwide
US
Other Products
Supplements, Teas, Mixes
Bars
Supplements, Bars
As you can see above, there are many similarities, however some of the differences are striking.
LYFEfuel vs 310 Shakes – LYFEfuel Is the Clear Winner
LyfeFuel was rated favorably by us and is strong competitor.
They offer the most protein and the least expensive servings. What they lack compared to the others, is the flexibility of single-serve packs and having only a couple flavors.
That said, they have a nutritionally vastly superior product. They offer more nutrients, higher quantities of key vitamins and minerals and more protein.
They are also much tastier than 310 drinks and cheaper.
No reason to buy 310 shakes, when you can buy LYFEfuel Daily Essentials.
Shakeology vs 310 Nutrition
Shakeology offers a few more calories, which should in theory help with satiety, but with its lack of nutrients, high cost, and scam-like subscription model…all it has going for it really is its single-serve packs.
Plus, 310 can compete on price with its above-average subscription discount, should you choose to commit to that. Therefore, I would recommend neither, but 310 shakes are better than Shakeology's.
310 Nutrition vs Herbalife
Just stay away from Herbalife shakes, they are not worth the hassle.
Jokes or generalized statements aside, Herbalife shakes offer terrible customer service, awful selling practices and offer pretty subpar products.
Their meal replacement shakes are much higher in sugar, have more processed ingredients and lower nutritional output than 310 shakes.
That said, Herbalife shakes taste better.
All in all, I would skip them both and opt for a 310 or Herbalife alternative.
310 Meal Replacement Shakes Alternatives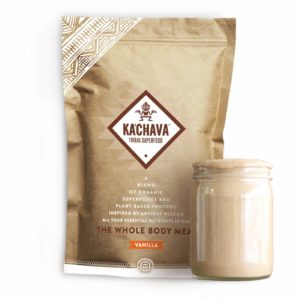 If you are looking for premium meal replacement shakes to boost your health, Ka'chava is your pick. A complete meal with 70+ superfood blend, it is the ultimate shake when it comes to nutrition. Luckily, it tastes great, too. Without the weird smoothie-like background 310 shakes have. Ka'chava shakes not cheap, but they are worth it.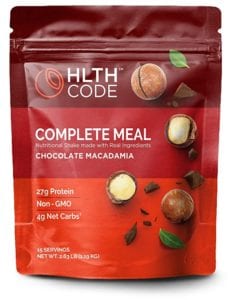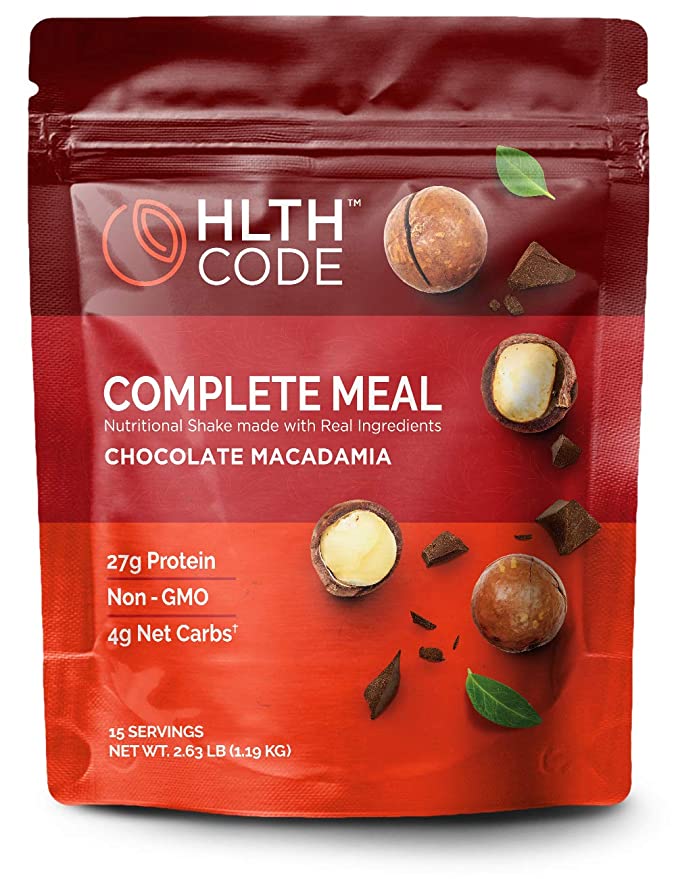 If you are looking for weight loss and aiming to do so with a keto diet; then HLTH's complete meal will be a lifesaver for you. While it does have more calories per serving (which you can adjust); it's also lower in net carbs than 310 – thus better for keto. Plus, it includes 50% of your DV for vitamins and minerals, probiotics and digestive enzymes; as well as, apple cider vinegar. It's a more nutritious, and honestly better-tasting shake than 310.
310 FAQ
Are 310 meal replacement shakes organic?
Yes, 310 Nutrition has made a strong bet for organic ingredients in their shakes.


Are 310 Shakes Vegan and Keto-friendly?
Yes, the shakes are fully plant-based and keto-friendly, with only 2g of net carbs. That said, due to the low-fat content, you should supplement it with your own source.


Can I use 310 shakes to lose weight?
Yes. In fact, each serving only has 110kcal and it's high in both protein and fiber. These two nutrients can help you feel more full after your drink. 310 Nutrition also provides weight loss plans.


Are 310 Nutrition drinks complete?
No, 310 shakes will not provide you with all the micronutrients that you body needs, as well as, other essential nutrients.


What is the adaptogen blend in each shake?
Unlike past formulas, we added a highly beneficial adaptogen blend to this new shake mix – including powerful "functional" mushrooms like Chaga, cordyceps, lions mane, and reishi, along with the herb, Ashwagandha and plant, maca root.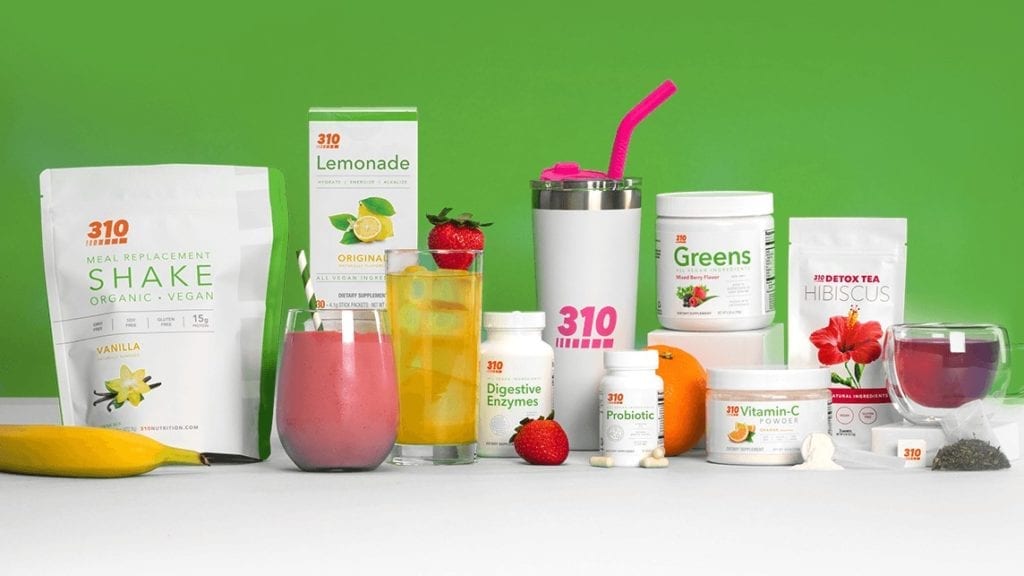 ---
Verdict – 310 Meal Replacement Review
Summing up this 310 Meal Replacement shakes review, I must admit that I find 310 shakes slightly too expensive for what they offer.
Plus, they are weaker than the competition in two key areas: taste and nutrition.
Consequently, I would look to buy other meal replacement shakes(e.g. Lyfefuel, Ka'chava).
In spite of solid nutrition that focuses on organic, clean ingredients; it lacks some key nutrients (omega-3s, vitamin-D, calcium, zinc etc.). Thus, it's not a complete meal replacement, and actually misses on too many key nutrients for my liking.
Furthermore, 310 shakes are not tasty. They really must prioritize the chalky texture and rock pieces issue to get that fixed. Even when blended, it was present, albeit less so.
Nonetheless, as highlighted during this 310 meal replacement review, they can be a great tool to lose weight due to their low calorie content and high amounts of fiber and protein.
Bottom Line: there are too many competitors that do what 310 Nutrition does but much better. Skip.
310 Meal Replacement
From $3.57/serving
Pros
Gluten-free, vegan and keto friendly
Multiple flavours to choose from
0g of sugars, 5g of fibre and 15g of protein per serving
Single serving bags
Good shake for weight loss
Cons
The price is just way too high
Lacks micronutrients and omega-3
Not very balanced, too rich in protein
There are better alternatives in the market