Kachava Reviews | Are These Super Healthy Meal Shakes Worth $8 a Meal?
We're back at it Latest Fuelers! This time with the Kachava reviews!
Ka'Chava is a meal replacement that claims to be one of the cleanest, most natural products available. This one of a kind, on the go meal seeks to sustain your energy, control hunger, promote lean muscle, assist with digestive health, and mental focus. It contains no preservatives, artificial sweeteners, dairy or soy.
However, it does contain 25g of protein, 9g of fiber, and 20% or more of 26 essential vitamins and minerals, most of which are naturally occurring within a 240 kcal envelope. Ka'chava is made of 70+ superfoods, and confidently claims to not replace a meal, but to provide convenient access to a complete, nutritious meal.
They've crammed a lot into this product. Let's see if it's any good in this Ka'chava review!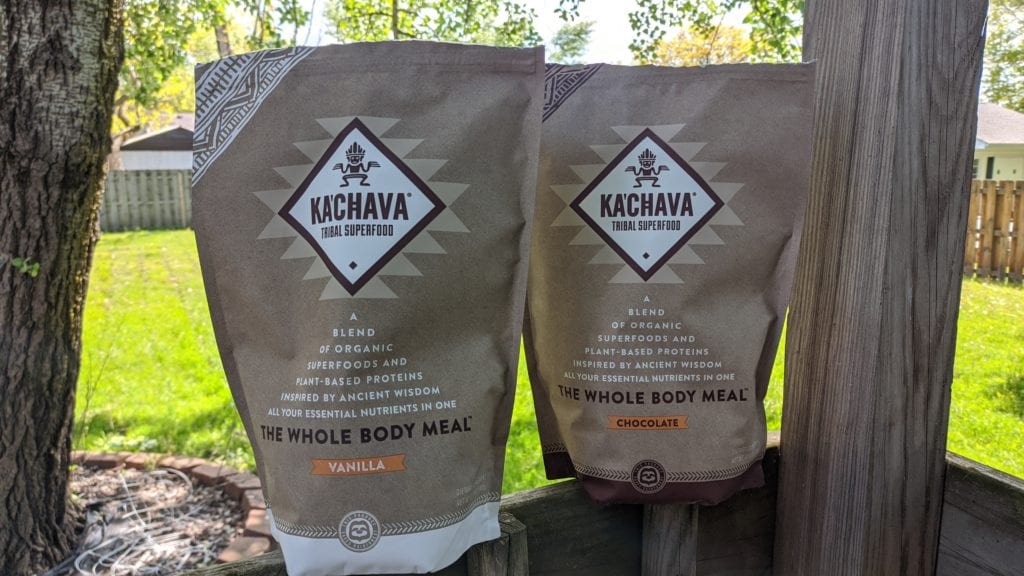 ---
Ka'chava Review at a Glance
Flavours: Chocolate, and Vanilla.
---
Opinion
All Ka chava reviews will highlight the same: awesome product, but incredibly expensive.
Whether that price is worth paying is the big debate.
Having tried hundreds of meal replacements, I must say that Kachava scores really highly in most areas (nutrition, taste, texture). In fact, I was blown away by the chocolate shake, and it has become one of my favourites.
Nutritionally, I love the high protein shake with all the superfoods added, and makes so that I don't need to supplement my shakes. It's a nice insurance and perhaps one of the most nutritionally complete meals you could have.
However, when there are meal replacements that are 95% as good for less than half the price, I can't say that Ka'chava is the answer for everyone.
---
---
What I like
1. Number of high quality ingredients. Mostly organic, and real food ingredients with no artificial additives (except some vitamins and minerals)
2. Contains actual food, no processed ingredients. You will get most nutrients and phytonutrients from food.
3. Loved by the community. Over 16,000 reviews, overall 4.8 out of 5.
4. Surprisingly awesome taste. With all the ingredients, I didn't know what to expect taste wise; but I can happily say it's delicious.
5. High in protein.
6. 70+ superfoods, digestive enzymes and probiotics. No need for greens supplements, or any multivitamins. All you need in one shake.
What I dislike
1. Only available in the US.
2. Only 2 flavours. Certainly, it feels like their meal replacement product is an afterthought, and I would've loved to try more flavours.
3. Without a blender, it doesn't mix that well. Furthermore, while the protein has the more affordable protein powder without artificial sweetener option, the meal replacement is only available as an RTD.
4. It's just outlandishly expensive. I usually like my RTDs to have a thicker texture, more consistency to help me satisfy for longer.
5. Free shaker only available with subscription.
Improvements
1.More flavours, please.
2. Bulk discounts?
Nutritional Breakdown
One of the main reasons to buy Ka'chava is what they offer nutritionally:
Real food based shakes without artificial sweeteners.
A plant-based, soy free and gluten free shake; drinkable for almost anybody
70+ plant based superfoods, which provide you with all essential nutrients and phytonutrients.
As such, it's designed to be the ultimate nourishment for your body. But really, how good are Ka'chava shakes nutritionally?
Ka'chava Shakes Nutrition Overview
| | |
| --- | --- |
| | Ka'chava Shakes |
| Kcal/meal | 240 |
| Macros (C/P/F) | 33/41/26 |
| Vegan | Yes |
| Keto | No |
| Features | GF, SF, EF |
| Non-GMO | Yes |
| Organic | Mostly |
| Includes Probiotics | Yes |
| Artificial Sweeteners | No |
| Synthetic Additives | Yes |
| Contains All Micronutrients | Yes |
| Controversial Ingredients | None |
Based on Chocolate.
Plant-Based Protein Blend (29g): Yellow Pea Protein, Organic Whole Grain Brown Rice Protein, Organic Sacha Ichi (Plukenetia bolubilis linneo, seed), Organic Amaranth (Amaranthus caudatus, seed), Organic Quinoa (Chenopodium quinoa, seed).
Omega EFA/Fiber Blend (11g): Organic Pure Whole Grain Oat, Organic Acacia Gum, Chia (Salvia hispanica, seed), Flax (Linum usitatissium, seed).
Antioxidant/Super-Fruit Blend (5.1g): Organic Coconut Flower Nectar (Cocos nucifera, flower bud), Acai Berry (Euterpe oleracea, fruit), Organic Maqui Berry (Aristotelia chilensis, fruit), Camu-Camu Berry (Myriciaria dubia, fruit), 100% Organic Strawberry, 100% Organic Tart Cherry, 100% Organic Blackberry, Organic Blueberry, 100% Organic Raspberry.
Adaptogen Blend (1g): Organic Maca Root (Lepidium meyenii walp, root), 100% Organic Shiitake Mushroom Mycelia, 100% Organic Maitake Mushroom Mycelia, 100% Organic Reishi Mushroom Mycelia, 100% Organic Cordyceps Mushroom Mycelia, 100% Organic Ginger Root.
Super-Greens/ Vegetable Blend (500mg): 100% Organic Beet, 100% Organic Carrot, 100% Organic Spinach, 100% Organic Broccoli, 100% Organic Tomato, 100% Organic Kale, 100% Organic Cabbage, 100% Organic Parsley Leaf,  100% Organic Green Pepper, 100% Organic Cucumber, 100% Organic Green Onion, 100% Organic Cauliflower, and 100% Organic Asparagus, Chlorella.
Probiotic/Prebiotic Blend (50mg): Inulin, Lactobacillus rhamnosus, Lactobacillus acidophilus.
Digestive Enzyme Blend (50mg): Amylase, Protease, Cellulase, Lactase, Lipase.
Carbohydrates
Based on 240kcal serving:
Total Carbs: 24g, 9% of DV.
Sugars: 6g.
Of which added: 5g, 10% of DV.
Fibre: 9g, 32% of DV.
Kachava shakes are generally low in carbohydrates with only 33% of the energy coming from them (as opposed to the recommended 45-65%).
Most of the carbs are from the organic pure whole grain oat, which is also a rich source of fiber; and organic coconut flower nectar. The latter is a rather unusual choice, and it's the reason why the shakes have 5g of added sugars.
That said, Kachava's glycemic index is low, and could be considered a diabetic friendly shake.
Protein
Per 240kcal serving:
Total Protein: 25g, 50% of DV.
Source: Yellow Pea Protein, Organic Whole Grain Brown Rice Protein, Organic Sacha Ichi, Organic Amaranth, Organic Quinoa.
Without a doubt, Ka'chava has one of the weirdest arrangements of protein sources. Despite that, it provides you with 25g of quality protein, all from plant-sources.
For instance, quinoa is not a common source of protein but it's an excellent one. It contains all essential amino acids, plus other minerals and nutrients. Besides, both pea protein and brown rice protein are complementary vegan protein sources.
Fats
Per 240kcal serving:
Total Fats: 7g, 9% of DV.
Saturated Fats: 4.5g, 23% of DV.
Omega-3s (ALA): ?g.
Omega-6s: ?g.
Regarding the fat content, Ka'chava is generally pretty low. However, it contains surprising amounts of saturated fats, above the dietary recommendations. These come from the coconut milk.
On the plus side, Ka'chava does include essential omega-3 fatty acids, although the exact amount is not disclosed. These are very important in particular for brain support.
Overall, a healthy split, although I would've liked to see more PUFA and MUFA instead of so many saturated fats.
Micronutrients
Ka chava meal replacements are incredibly rich in micronutrients. However, the vitamins and minerals are synthetic in origin.
That said, each 240kcal shake should provide you with at least 30% of most essential micronutrients.
Phytonutrients
Here is where these shakes shine. The fact that they have so many ingredients; mostly plants and fruits, means that Ka'chava drinks are very rich in phytonutrients. This is chemical compounds like antioxidants that can have positive roles in your health.
Besides, they also include adaptogens (maca root, shiitake, reishi) with proven beneficial effects on fertility, boost the immune system, help you with fatigue…
Lastly, Ka'chava includes digestive enzymes that help you break down common nutrients; plus, probiotics that boost your gut flora.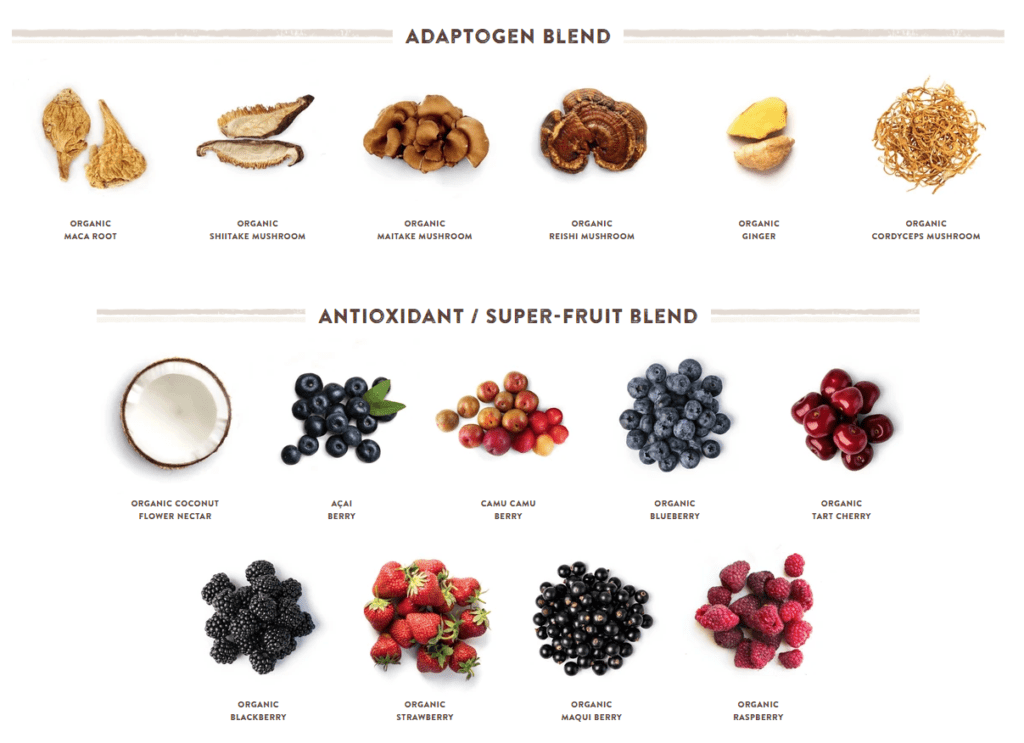 Allergens
Ka'chava contains tree nuts.
Tasting Test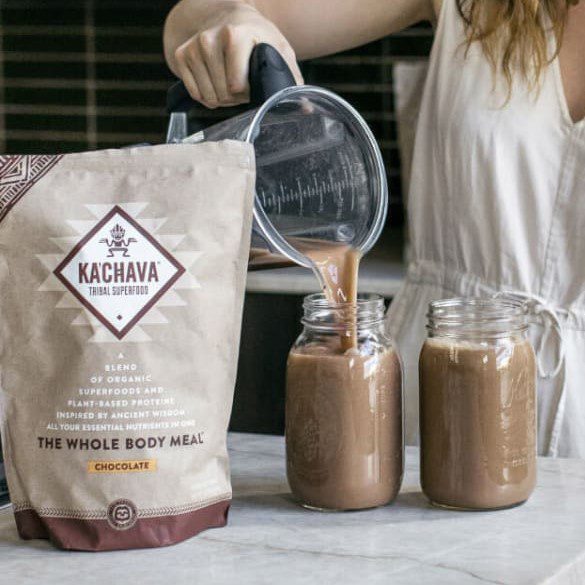 | | |
| --- | --- |
| Best flavour | Chocolate. |
| Taste | Excellent. Surprisingly good, with an oatmeal base but strong natural flavours on top. The chocolate shake is just mindblowing. |
| Texture | Unfortunately, it does not have the best texture with some lumps. |
| Easy to Mix | It mixes OK, but not great. You will get some small clusters on the shake, and blender is highly recommended. |
| Satiety | OK, one shake kept me full for 2h. |
| Easy to Clean | The clusters do stick to the shaker, which can cause some issues when cleaning. |
| Afterthoughts | The chocolate shake was one of the best I tried. On top of that, it felt clean and not overly artificially flavoured – like other meal replacements do. If it were only for the taste, I would keep buying Ka'chava. |
Ka'chava Vanilla Taste Review
As always, kicking it off will be vanilla. First impression, it doesn't smell as "earthy" as I expected, but smells like plain oatmeal. I don't smell vanilla at all, it smells similar to the other company's original flavor.
I decided to use the blender method first.
Combining 350ml of distilled water, a scoop of ice, and two "heaping" scoop fulls of Ka'chava. The result was a mostly smooth and oaty shake, that was really thick. Initial sip……COLD! It's pretty good though. Strong oat base, slight vanilla undertone and palatable consistency. Texture wise, it was mostly smooth but did have small, infrequent bits in it plus the crushed ice, but nothing major. Very easy to drink, and my hunger was gone.
Ka'chava Chocolate Taste Review
Chocolate time! The powder actually smells alot like vanilla, with a very faint cocoa smell mixed in. Using the same method as before with the blender, I was greeted with a rich, deep chocolate color, and it also brought out the fragrance.
First sip, and WOW! This has to be one of the best chocolate flavors I've had in a meal replacement. It has an almost brownie batter like taste to it, and the consistency matches that of vanilla. Vanilla was good, but this one is excellent!
Blender Is a Must
The next day, I opted for the shaker method on both, and boy was there a difference. To be fair, with any product, blending is always better, but this one didn't mix all that well. First, not being as cold does take something away from how it feels going down. I think the crushed ice does a lot in terms of balancing the consistency. The mix got stuck in the crevices of the shaker bottle despite me shaking vigorously at multiple angles, and in multiple directions.
Besides, I was hungry sooner with the shaker. Blending with ice had me full for just over 2hrs, with the shaker maybe 90 minutes. I believe this is due to the ice adding more overall volume.
More about Kachava

Learn about Ka'chava, Review
Simon Malone was the quintessential American living a fast-paced lifestyle, overly dependent on quick snacks and takeout. Before long, he realized that the meals that were supposed to help him feel better, function better and improve his productivity, were actually doing the opposite.They were making him sluggish and were possibly adding to the stress that he was already reeling from.
So, he set out on a journey to rediscover himself which took him to some of the most pristine forests across the globe. For almost a month, he ate just plant based foods used by indigenous peoples, which served as the inspiration for Ka'chava.
He wanted a quick whole body meal that provides all the essential nutrients that one needs on a daily basis to live well and look great; while curving your hunger cravings. He had set out on a "nutritional adventure" to find the most exotic, nutrient-rich superfoods used and revered by tribal cultures for centuries.
After years of obsessive refinement, Ka'Chava was born in 2014.
Pricing
Ka'chava can be purchased individually, or as a part of a subscription. The subscription discount is $10 off per bag, and can be set for delivery intervals of 15, 30, 45 or 60 days.
You can pause, delay or change frequency, as well as switch flavors or quantities with a subscription. Only subscribers are allowed to purchase a shaker bottle.
See the breakdown below for itemized pricing:
1 bag (15 meals) –> $4.66/meal, $70 in total.
1 bag (15 meals) with subscription –> $3.99, $60 in total.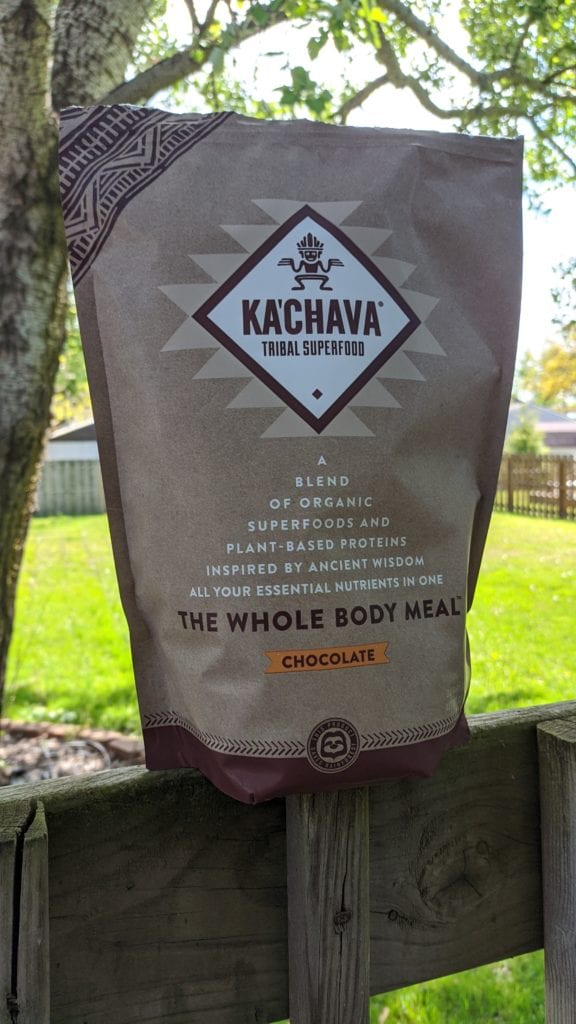 Is Kachava Worth it?
There's no denying that this is an expensive shake. While it is cheaper than Shakeology, it loses versus other natural meal replacement shakes.
| | | | | |
| --- | --- | --- | --- | --- |
| Price per 400kcal | Orgain | Ample | 310 Shakes | Kachava |
| Expensive ($) | 4.89 | 5.25 | 8.84 | 7.77 |
| Cheap ($) | 3.91 | 4.48 | 6.62 | 6.65 |
The recommended servings might be smaller than 400kcal
Therefore, clearly Kachava does not compare well in price, and it's an expensive form of nutrition (~$33.25/day).
However, for those who want natural, high quality nutrition that's high in protein, it offers something unique. Ka'chava is arguably the most nutrient rich shake you will find and one of the best shakes in this regard.
Shipping
Right now Ka'chava is only available exclusively online from their site.
Furthermore, Ka'chava is only available in the US. This includes Guam, American Samoa, Virgin Islands, Puerto Rico, Marshall Islands, Northern Mariana Islands, Federated States of Micronesia, and Palau.
Free shipping is available for orders of 2 bags or more, but carriers will be chosen by the fulfillment partners.
---
---
Kachava vs
Previously in this Ka chava review, I've compared the price of this meal replacement with others that offer a similar product. In fact, there are a few companies that offer mostly organic, real food based, meal replacement shakes: Orgain, Garden of Life, Ample, Ambronite etc.
There are, besides them, more affordable options, like Huel or Soylent. Most of them will provide you with all the essential nutrition.
Overview
| | | | | |
| --- | --- | --- | --- | --- |
| | Huel | Orgain | Ample | Kachava |
| price ($)/400kcal | 3.00 | 4.89 | 5.25 | 7.77 |
| kcal/serving | 400 | 230 | 400 | 240 |
| Macros (C/P/F) | 40/30/30 | 46/34/20 | 23/20/58 | 33/41/26 |
| Protein (g) | 30 | 20 | 20 | 25 |
| Sugar (g) | 1 | 1 | 4 | 6 |
| Fiber (g) | 7 | 7 | 11 | 9 |
| Fats (g) | 13 | 5 | 26 | 7 |
| Vegan | Y | Y | Y* | Y |
| Organic | N | Y | N | N |
| Artificial Sweeteners | Y | N | N | N |
| Synthetic Additives | Y | N | Y | Y |
| GMO | N | N | N | N |
Prices shown are most expensive option. Many of these include way to lower it.
All three except Huel are focused on more premium and natural experience. On the opposite hand, while Huel offers a fantastic nutrition/value offering, it does so with more artificial ingredients than the rest.
Kachava Shakes vs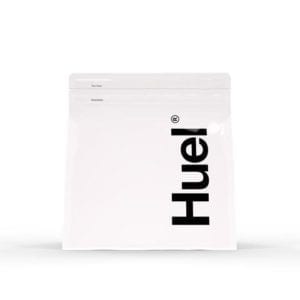 Kachava vs Huel is like comparing pears to apples. Despite both being nutritionally complete meals, they target different demographics. Huel is much more affordable than Kachava, and offers more products (bars, RTDs). However, Kachava has more extra nutrients (phytonutrients), which can provide you with a boost to your health Huel can't. Plus, despite Huel having more flavours, Kachava tastes better. That said, Huel will be the better option for most people.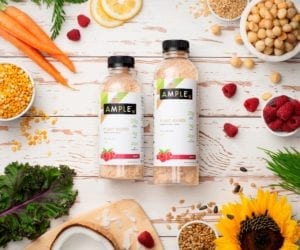 Ample is a US company that makes premium natural meal shakes. They have a vegan, original and a keto formula. Thus, they offer more variety nutritionally. Equally, they have more flavours and beat Kachava narrowly taste-wise. However, Ample does not include all vitamins and minerals, neither does offer as many greens as Ka'chava does.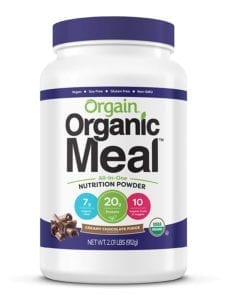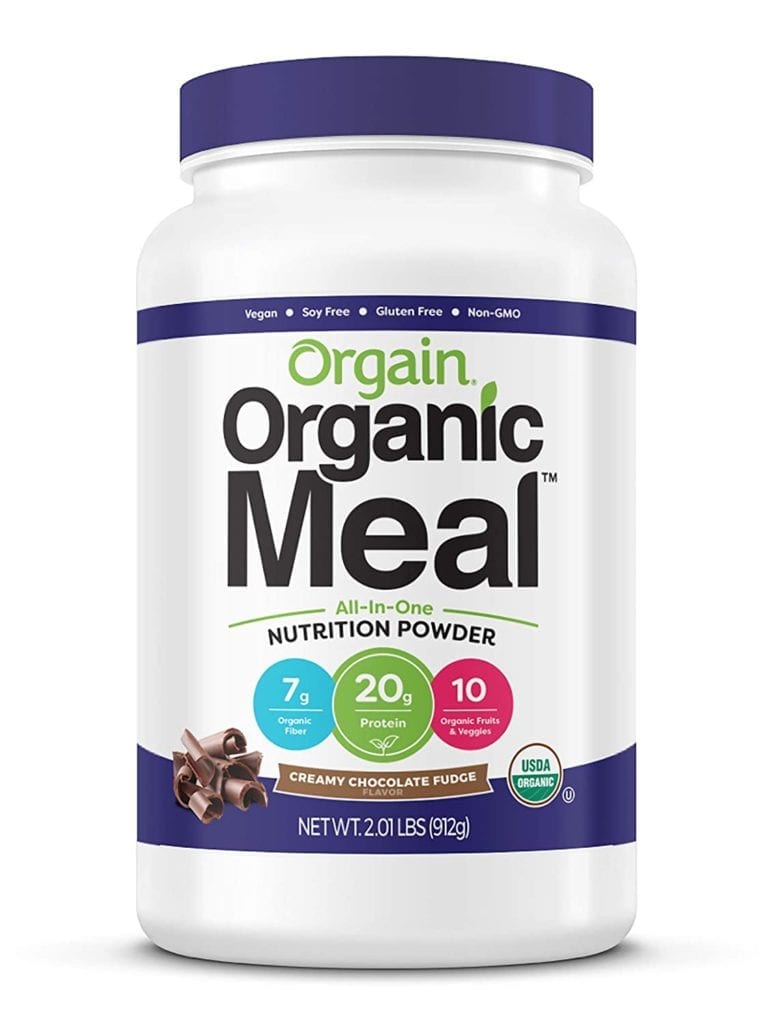 Lastly, the organic meal replacement specialist. Orgain offers powder and ready to drink nutritional drinks that are 100% organic. Therefore, a small distinction with Ka'chava. They also offer pure protein shakes, and protein's with greens.
For a low carb or keto shake I would recommend looking at HLTH Complete Meal. It has a similar nutritional identity to Kachava with high quality ingredients, tons of nutrients and added probiotics. However, it contains just 4g of net carbs.
Kachava FAQ
Is Ka'Chava Third-Party Tested?
Yes. Ka'Chava states that it tests every batch of their finished products as part of their Certificate of Analysis. In addition, they also have independent labs test and verify from time to time for added assurance.


Does Ka'Chava Contain Caffeine?
Cocoa powder has very low levels of naturally occurring caffeine, so Chocolate Ka'Chava contains trace levels.


Is Ka'Chava Acidic Or Alkaline?
Ka'Chava contains a variety of ingredients that are considered alkaline (many of the veggies and greens) and a variety of ingredients considered acidic (some of the fruits and grains). But the overall product is not considered acidic when combined with water.


Is Kachava gluten free?
Yes, Kachava shakes are gluten free.


Are Kachava products organic certified?
No. However, many of the ingredients used are organic.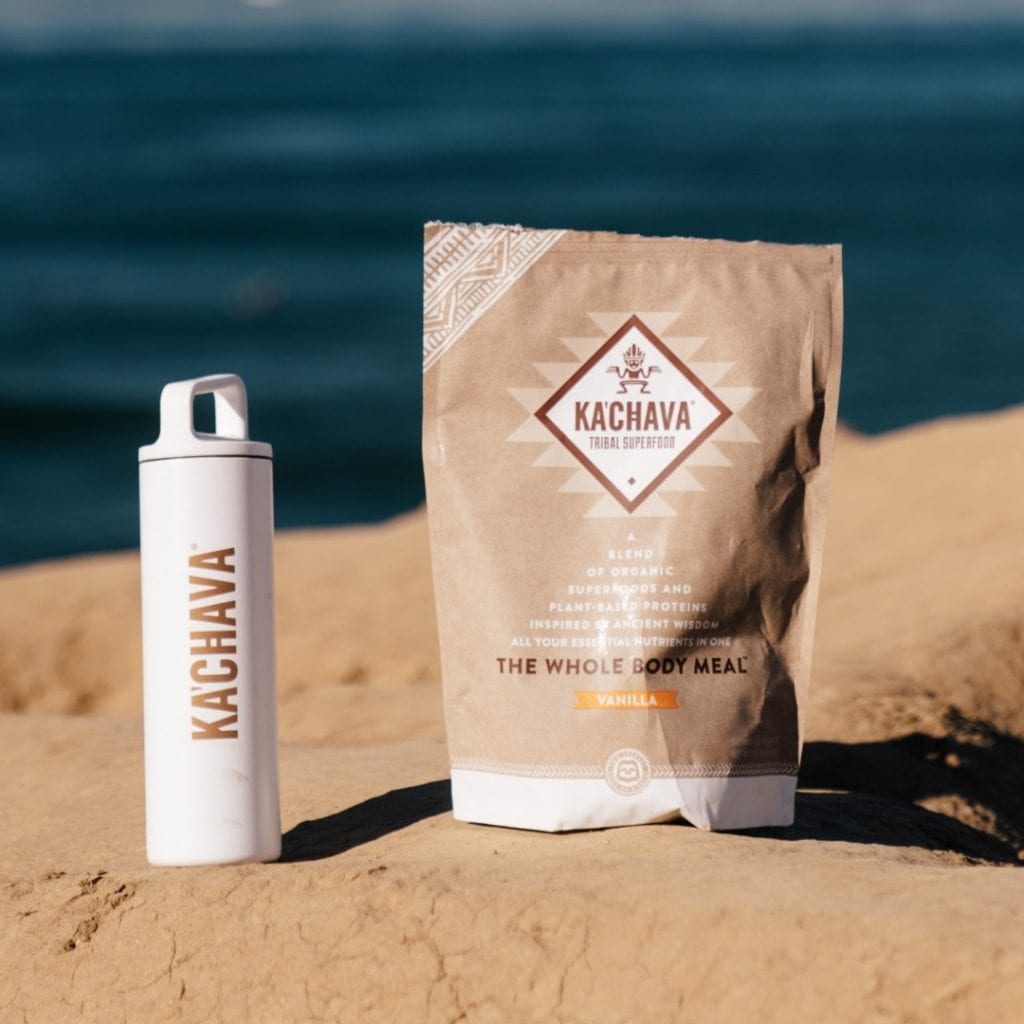 Verdict – Kachava Review
After finishing this Ka chava review, one thing is clear to me: I really enjoyed it. Apparently I'm not alone, seeing it has so many positive reviews.
Kachava checked all of my major boxes: great nutrition, awesome taste, OK texture, and satiety. Therefore, it will likely be my daily driver, while I'm still working from home.
That brings me to my first issue with the product. There is too much a difference between prep methods. The crushed ice in it is a MUST HAVE, in my opinion! Using a blender, I'd gladly enjoy both flavors everyday, more than once. Returning to the office, and having to rely on the shaker method, I'm not so sure I'd want to do that, as there are other products that shake up better and are available to me.
Next issue is pricing. At nearly $5 per 240 kcal serving is a bit much. I'd like to see that reduced to under $4. Also, offer the shaker for non-subscription orders. Maybe pay full price for the bottle for one bag orders, discounted price for two bag orders, and include it free for three or more bag orders. But at least make them available to everyone.
If we're honest, still many people are hesitant to use a meal replacement product. One reason I hear often is that they are worried about how processed they are, or have concerns about synthetics, GMOs, etc. For them, a product like Ka'chava can be the solution.
Kachava Review
From $3.99/240kcal
Pros
Incredibly nutritious - one of the best meal replacement shakes for nutrition
70+ superfoods; with digestive enzymes and probiotics
Fantastic tasting shakes
High protein formula
Vegan, gluten free, soy free
Cons
Super expensive
Small recommended serving for a proper meal
Only 2 flavours on sale
Does not mix well with shaker, use blender