Kachava Bar Review | Is This the Ultimate Meal Replacement Bar?
Welcome to this Ka'chava bar review, where we are going to have an in-depth look to one of the healthiest meal bars in the market.
Finding a healthy meal to eat on-the-go is not as easy as it should be. Most pick-go options are filled with artificial sweeteners, processed ingredients, sugars, and unhealthy oils. Ka'chava is a brand that's trying to change that by offering whole-food based meals that are easy to consume on-the-go and that give a boost to your health.
Their star product is their incredibly healthy superfood-packed meal replacement shake, but recently they've added a new product to the stack, the Ka'chava bar. In fact, the Ka chava's meal replacement bar is meant to offer a healthy snack alternative to those overly processed protein bars and bridge the gap between your meals without sacrificing on taste.
Regarding the taste, the flavors are Chocolate, and Peanut Butter. Like their shakes, they contain simple, whole ingredients with no preservatives, artificial sweeteners, dairy, or soy.
Each bar contains at least 11g of protein, 11g of fiber, 6g or fewer net carbs within a 200 or so kcal envelope.
A lot to like here…. let's see if all these new treats are any good and if they are among the best meal replacement bars you can buy!
Key takeaways from this Ka'chava bar review:
Ka'chava bars are vegan, gluten free, soy free, without sugary bindings or sugar alcohols and low in sugars
At the current state, I don't think Ka'chava bars are worth it
Taste is the weak point. Chalky, with a weird aftertaste
Have almonds and other allergens
That said, they are among the healthiest snack bars
Too expensive
Instead, I recommend checking Lyfefuel bars instead, as they are more complete nutritionally
Kachava Bar Review at a Glance
Flavors: Chocolate, and Peanut Butter.
Opinion
When looking at Ka'chava reviews, most have a common thread, their meal replacement products are super healthy, but the cost is exorbitant. This is also the case for their meal replacement bar, and at $3.3 per serving, it's among the most expensive bars you can buy.
However, for some people this will be a trade they are willing to make. At the end of the day, if they are truly healthy, there's no price to your wellness, is there? And what it will matter is how they taste, and how they make you feel.
Unfortunately, these is an area in which Ka'chava bars fail in my opinion. They had an awesome opportunity to make meal replacement bars that taste natural, not synthetic, and delicious. However, as I found out during the taste test, Ka'chava bars are a chalky texture and our testers didn't want to finish them.
You might be interested in…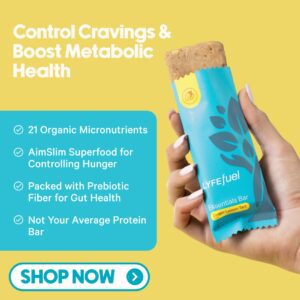 What I like
1. 100% plant-based, without gluten or soy.
2. No processed ingredients or sugar alcohols or syrups or binders, just real food.
3. Keto-friendly with only 6g of net carbs.
4. Familiar for those who are consuming Ka'chava shakes.
5. Free US shipping. The two new additions don't disappoint. Excellent.
6. One of the healthiest bars you can buy.
What I dislike
1. The bars don't taste great and have a chalky texture. We couldn't finish the Chocolate bar.
2. They are expensive. At $3.3 per 200kcal, this is not going to be a cheap way to get your nutrients.
3. There's no easy way to try out both flavors. You will have to buy a box of each (12 bars – $40) to try them out.
4. There are better options out there.
5. The new bars are not on the product page and can be hard to find.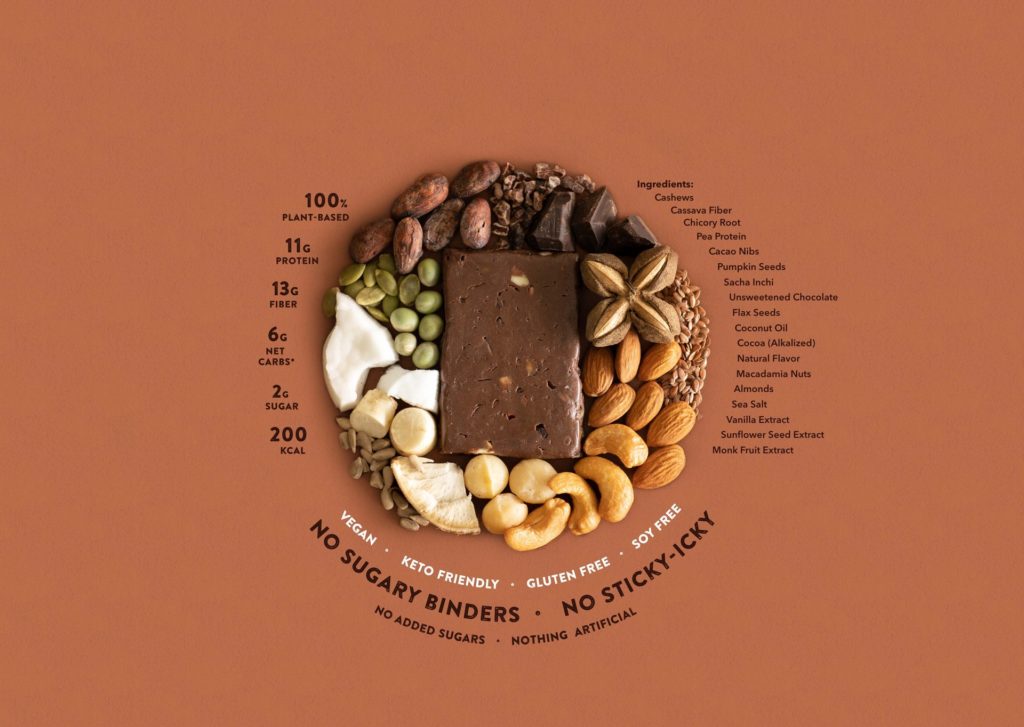 Nutritional Breakdown
Ka'chava's products are always fully plant-based, using whole food products, no artificial additives or sweeteners, gluten-free, and soy free. The bars are no exception.
Even though they are not fully organic, they include real food ingredients only and have no sugary binders, syrups, sugar alcohols or similar. This makes them some of the most natural meal bars in the market.
Ka'chava Bar Nutrition Overview
| | |
| --- | --- |
| | Ka'chava Shakes |
| Kcal/meal | 200 |
| Macros (C/P/F) | 19/22/59 |
| Vegan | Yes |
| Keto | Yes |
| Features | GF, SF, EF |
| Non-GMO | Yes |
| Organic | No |
| Includes Probiotics | No |
| Artificial Sweeteners | No |
| Synthetic Additives | Yes |
| Contains All Micronutrients | No |
| Controversial Ingredients | None |
Based on Chocolate.

Ingredients
Cashews, Cassava Fiber, Chicory Root, Pea Protein, Cacao Nibs, Pumpkin Seeds, Sacha Inchi, Unsweetened Chocolate, Flax Seeds, Coconut Oil, Cocoa (Alkalized), Natural Flavor, Macadamia Nuts, Almonds, Sea Salt, Vanilla Extract, Sunflower Seed Extract, Monk Fruit Extract.
Fats
Per 200kcal serving:
Total Fats: 13g, 17% of DV.
Saturated Fats: 5g, 25% of DV.
Omega-3s (ALA): ?g.
Omega-6s: ?g.
The fats are the main source of energy in Ka'chava bars, as they are rich in nuts (cashews, almonds, macadamia etc).
They also include some flaxseed which is often used as a source of omega-3 fatty acids in vegan diets, but it's unlikely that you will get enough. This is because flax seeds are rich in ALA which needs to be converted into EPA and DHA, but the body is terrible at doing this. For omega-3, you will have to use an algae based supplement to support your brain function.
Another side effect is the high saturated fat content due to the cocoa nibs and the nuts.
Carbohydrates
Based on 200kcal serving:
Total Carbs: 19g, 7% of DV.
Sugars: 2g.
Of which added: 0g, 0% of DV.
Fibre: 13g, 46% of DV.
One highlight of the Ka'chava bars is that they only have 6g of net carbs, and can be considered a keto-friendly meal replacement bar.
Furthermore, unlike many other protein bars and snack bars, they don't contain any sugars or sugar alcohols (as substitute). This offers a cleaner, healthier bar.
They are, however, extremely high in fiber, which could cause some bloating and discomfort initially if you are not used to eating much. That said, fiber is extremely good for your gut microbiome and can positively affect your gut health.
Protein
Per 200kcal serving:
Total Protein: 11g, 50% of DV.
Source: Pea protein.
All protein sources in Ka'chava bars are plant based. Even though the main source is pea protein, nuts and seeds are also quite rich in protein, such as pumpkin seeds.
That said, if you are looking for a protein bar Ka'chava won't be your best option, as it is not as high in protein per calorie as pure protein bars (about 15-20g per 200kcal) and it doesn't contain any complete protein sources.
Micronutrients
This is sadly where Ka'chava bars fail to be a true complete food or a great meal replacement bar. The best bars provide you with vitamins and minerals.
Most of the time this is accomplished by adding a synthetic vitamin and mineral mix, but because Ka'chava doesn't want to add any synthetic ingredients, it doesn't contain significant amounts of all micronutrients.
This is where a bar like Lyfefuel Daily Essentials shines, since it still has all the real food ingredients, but it also offers you with at least 25% of every vitamin and mineral.
Tasting Test
Big thanks to my good friend Selina and my daughter Journey, who tried these in my place due to my tree nut allergies. Visually, the bars are dense, but chewy…not hard as a brick like some others. They also are not super greasy which is a plus.
You can see all the nuts very clearly, from the shaved almonds to the distinctively green pistachios.
Note: Usually at Latestfuels, we test all our products in house. But because I'm allergic to nuts, these bars were taste-tested by close friends with some experience in the field.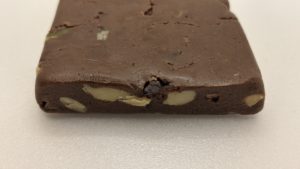 Ka'chava Chocolate Bar Taste Review
Selina did not like this one at all and the face she made said it all. She said it had a chalky texture and an aftertaste that lingered. She had no interest in finishing it. The journey wasn't crazy about it either, but did say the nuts were tasty, the chocolate part was not. Ka'Chava may need to go back to the lab with this one.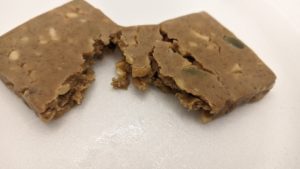 Ka'chava Peanut Butter Bar Taste Review
The texture of this one was a bit different, as it looked like it had more moisture in it and was softer. This one fared better, as Selina said it wasn't bad.
Also, it would be suitable for an occasional quick breakfast. Peanut butter is the dominant flavor. Journey echoed that sentiment. High praise since they are both picky as hell. 
Out of both, Peanut Butter is the way to go without a doubt.
More about Kachava
Ka'chava is a company founded in 2014 to provide people with healthy alternatives to eat on the go. As stated in the Ka'chava meal replacement reviews, they aim offer nutrient rich food using real superfoods and there's no cost cutting in the process.
Pricing
The Ka'chava meal replacement bars can only be purchased via their website in the US. They are not available on Amazon or any 3rd party retailers, like other competitors such as Cliff or Aloha bars.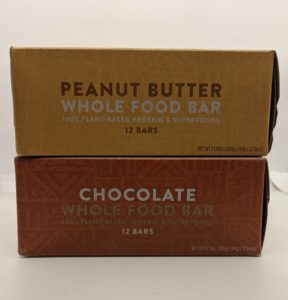 In fact, they are hard to find even in their own website and I had to use google search to get the right address. I would like to see them featured more prominently.
As far as the price is concerned:
1 box (12bars) –> $3.33/meal, $39.95 in total.
1 box with subscription –> $2.91/meal, $34.95 per box.
There are no bulk discounts available yet, nor there is a starter pack to try them out.
Are Ka'chava Bars Worth It?
Unfortunately, it's hard to justify the price. Without a doubt, if you are looking for a meal bar that only has real food ingredients, no sugary bindings, no artificial sweeteners and no other synthetic additives, then Ka'chava bars are just about your only option.
In my opinion, when you compare Ka'chava Bars to Lyfefuel bars, though; Lyfefuel Bars are a good option. They are cheaper, and having a whole food vitamin a mineral blend that provides you with 25% of your daily values means that they are more complete as a bar. You get the same natural goodness, but with more nutrients.
On the other hand, when you compare Ka'chava bars to cheaper meal replacement bars like Jimmyjoy's Plenny Bars, the latter cost half and give you double.
---
Verdict – Kachava Bar Review
Coming into the end of this Ka'chava bar review, I have mixed feelings. There's no denying that this is a premium product when it comes to nutrition.
There is no other meal bar in the market, with the exception of Lyfefuel's, that is as natural. Ka'chava's vegan bars are made with whole food ingredients and contain no sugar bindings or artificial ingredients, which is extremely rare.
Thus, they come at a premium price of $3.3 per bar, where most of the competition can cost you around $1.5. However, if you are willing to commit to your health, Ka'chava bars are going to be a good healthy snack.
That said, I think that Lyfefuels' Essential Bars offer a more complete package. They are as healthy, but contain all essential vitamins and minerals for a similar price.