Clif Bar Review | A Healthy Meal or Sugary Snack?
When it comes to complete food, one format that is often overlooked is bars. Despite how handy and convenient they can be, there aren't many meal replacement bars. Today, in this Clif Bar review, we will have a look to the popular US brand and try to understand what they do right.
In short, Clif Bars non-GMO, oat/soy-based bars that contain mostly organic ingredients. Each bar contains around 10g or so of protein, and 250 calories.
These bars are readily available in many retail stores, as well as from their online site, and offer a wide variety of flavors.
But how healthy are the Clif Bars really? Are they better than the regular protein bars? Can you use them to regularly replace meals? And how do they compare to the best meal replacement bars?
Well, in order to answer these questions, we have tested the Clif bars and break them down for you.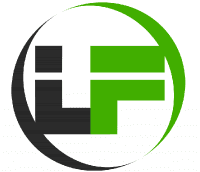 Only want the need to know? Here are LatestFuels quick takeaways:
Clif Bar & Co is a 30yr old company in the US
The Clif Bar is a mostly organic, vegan energy bar
They offer several tasty flavors, and can be bought local
A bit high on the sugar, no artificial sweeteners or flavors
Common allergen is soy, but some have peanuts or tree nuts
Subscription discount is 10%, and only ships in the US
Clif Bar Review At a Glance
Flavours: Chocolate Chip, Crunchy Peanut Butter, Chocolate Brownie, Cool Mint Chocolate, White Chocolate Macadamia Nut, Blueberry Almond Crisp, Almond Butter, Oatmeal Raisin Walnut, Coconut Chocolate Chip, Chocolate Chip Peanut Crunch.
---
Opinion
Many of the products we look at are startups or have only been around for a handful of years. The Clif Bars, however, I remember from when I was in high school in the 90s… yeah, I'm old.
That tells me that they come from a time when what was considered healthy was a bit different than what we have today. Newer does not necessarily equate to better though, so we'll see what these have to offer.
Despite seeing them around for so long, this will be my first go-round with them. Safe to say that they clearly have been doing something right to have been on shelves for over 30 years!
Enjoying The View
1. Increased energy. The sugar boost and carbs provided a real pickup.
2. Organic Ingredients. While not certified, 70% of the ingredients are organic
3. Very filling. One bar will get you right back on track.
4. Sold locally. Should be easy to find, and often on sale
5. Lots of flavors. If you don't have to worry about allergies, try them all
Over The Edge
1. Too much sugar. Of course they taste great, it's basically Snickers
2. Can be sticky. Better to chill it a bit so it wont get messy or stick
3. Non-customizable variety packs. Less desirable if I can't pick which ones I want
Nutritional Breakdown
With the many flavors offered, each with slightly different ingredients, I've chosen to base all measurements and analysis on the most popular, and most allergen-free flavor of Chocolate Chip.
All Clif bars are vegan and contain no artificial sweeteners.
Clif Bar Nutrition Overview
| | |
| --- | --- |
| Kcal/meal | 250-260 |
| Macros (C/P/F) | 43/10/8 |
| Vegan | Yes |
| Keto | No |
| Features | 70% Organic Ingredients |
| Non-GMO | Yes |
| Organic | No |
| Includes Probiotics | No |
| Artificial Sweeteners | No |
| Synthetic Additives | No |
| Contains All Micronutrients | No |
| Controversial Ingredients | Soy, *Peanuts, *Tree Nuts |
Carbohydrates
Based on 250kcal serving:
Total Carbs: 43g, 16% of DV.
Net Carbs: 38g, (Total Carbs – Dietary Fiber – Non-digestible Carbs)
Sugars: 17g.
Fiber: 5g, 19% of DV.
There are many different sugars sources present. Each bar is somewhat different, but each will contain organic cane syrup, tapioca syrup and brown rice syrup.
So, each bar's sugar content will be 32% of your daily value for your sugar intake.
Protein
Per 250kcal serving:
Total Protein: 10g, 19% of DV
Source: Rolled Oats, Soy Protein Isolate
While rolled oats make up the carb base, they are also a great source of protein, with a single cup having up to 9g. Also, the crispy crunchies that give Clif bars texture, are made up soy protein isolate.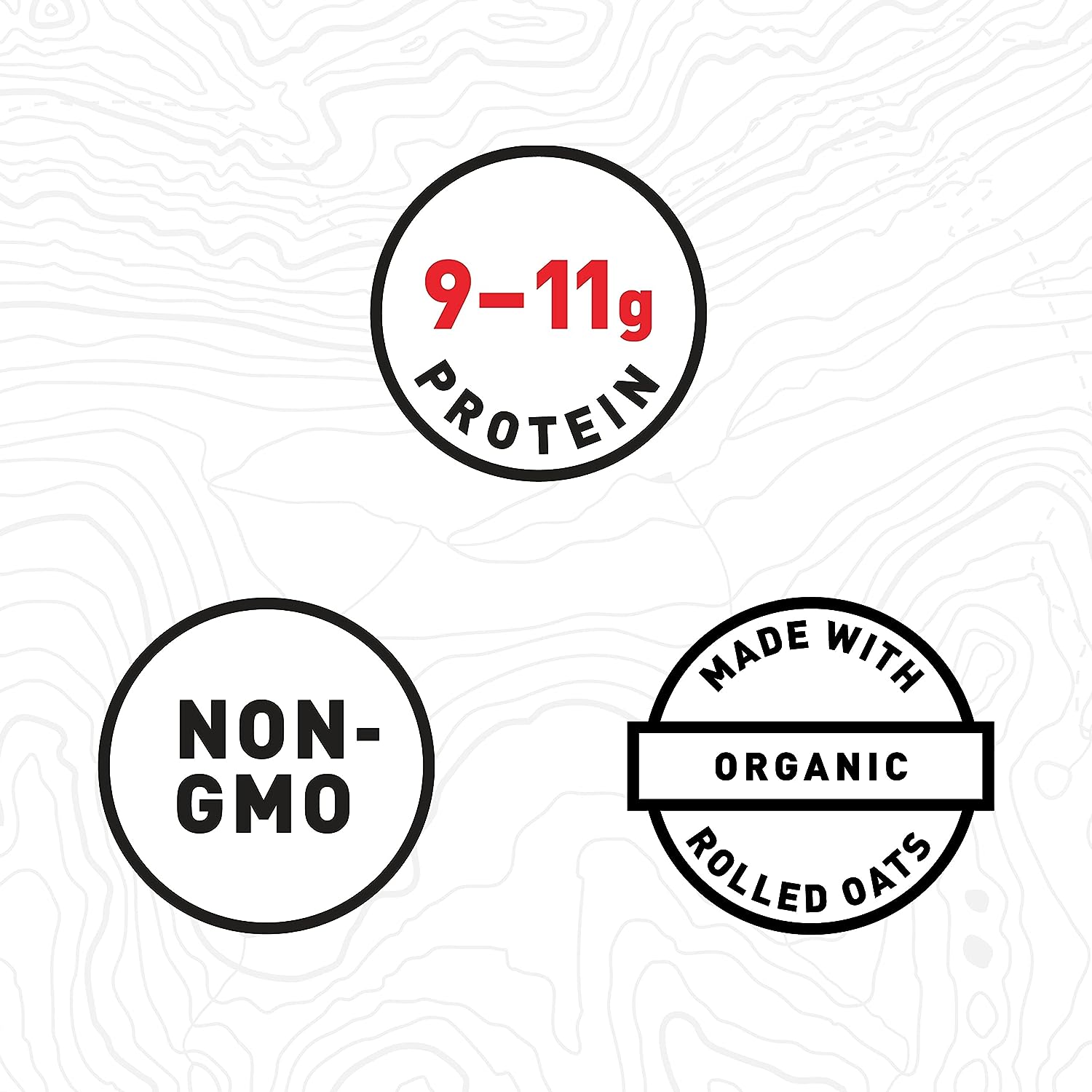 Fats
Per 250kcal serving:
Total Fats: 6g, 8% of DV.
Saturated Fats: 2g, 9% of DV.
Sunflower oil and soybean oil make up the fat content. Not our favorite fat sources, but remember…Clif bars are for energy, not necessarily being the healthiest.
Micronutrients
Clif Bars contains just a handful of nutrients, and in relatively small quantities. You'll definitely have to supplement elsewhere.
If you are looking for multivitamins, you could try the newest Huel A-Z Daily Vitamins.
Allergens
Soy is the biggest cause of concern here, as soy is in every flavor or bar. Soy protein isolate, soybean oil and soy flour are all listed on the panel.
Specific flavors contain peanuts, tree nuts, or sesame. Be sure to thoroughly check the labels.
Taste Test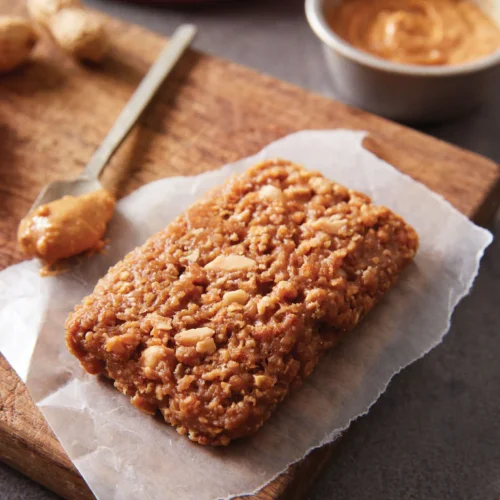 Best flavour
Crunchy Peanut Butter
Taste
Crunchy PB was top notch. The others were just ok
Texture
Chewy with some body to it.
Satiety
Around two hours.
Easy to Clean
N/A
After
Thoughts
A decent showing overall
So, while there are like a dozen or so flavors, most are off-limit to the allergy king here, but there are a few that I can try without an ER visit. Let's get into it!
Crunchy Peanut Butter
This bar had a kind of salty smell, a lot like dry roasted peanuts. The consistency is thick and somewhat sticky, so if you need to put it down, be sure it's not on paper, or you may be eating that along with the bar. Anyway, the first bite was very good, better than I expected. It had lots of peanuts, and a sweet/savory taste.
One issue…While I didn't find it too sweet, some might. It contains 17g of sugar, with 15g added. For reference, the peanut/caramel based candy bar Payday, contains 22g with 20g added.
Peanut Butter Banana with Dark Chocolate
Didn't like this one as much as Crunchy PB. It has alot going on with PB, chocolate & banana all together. Each of those are good combos as a duo, but as a trio, it just didn't work for me.
Sometimes less is more Clif.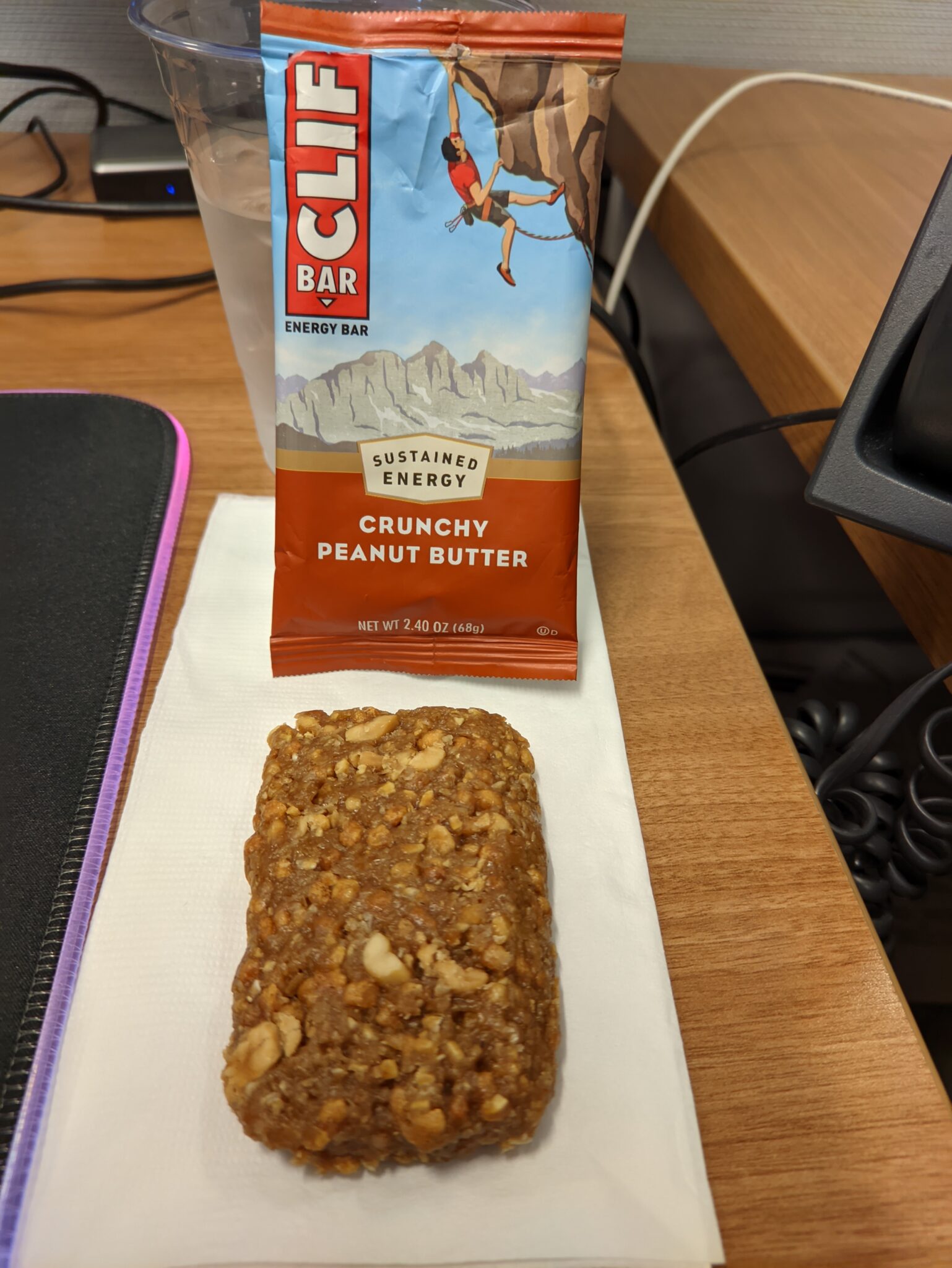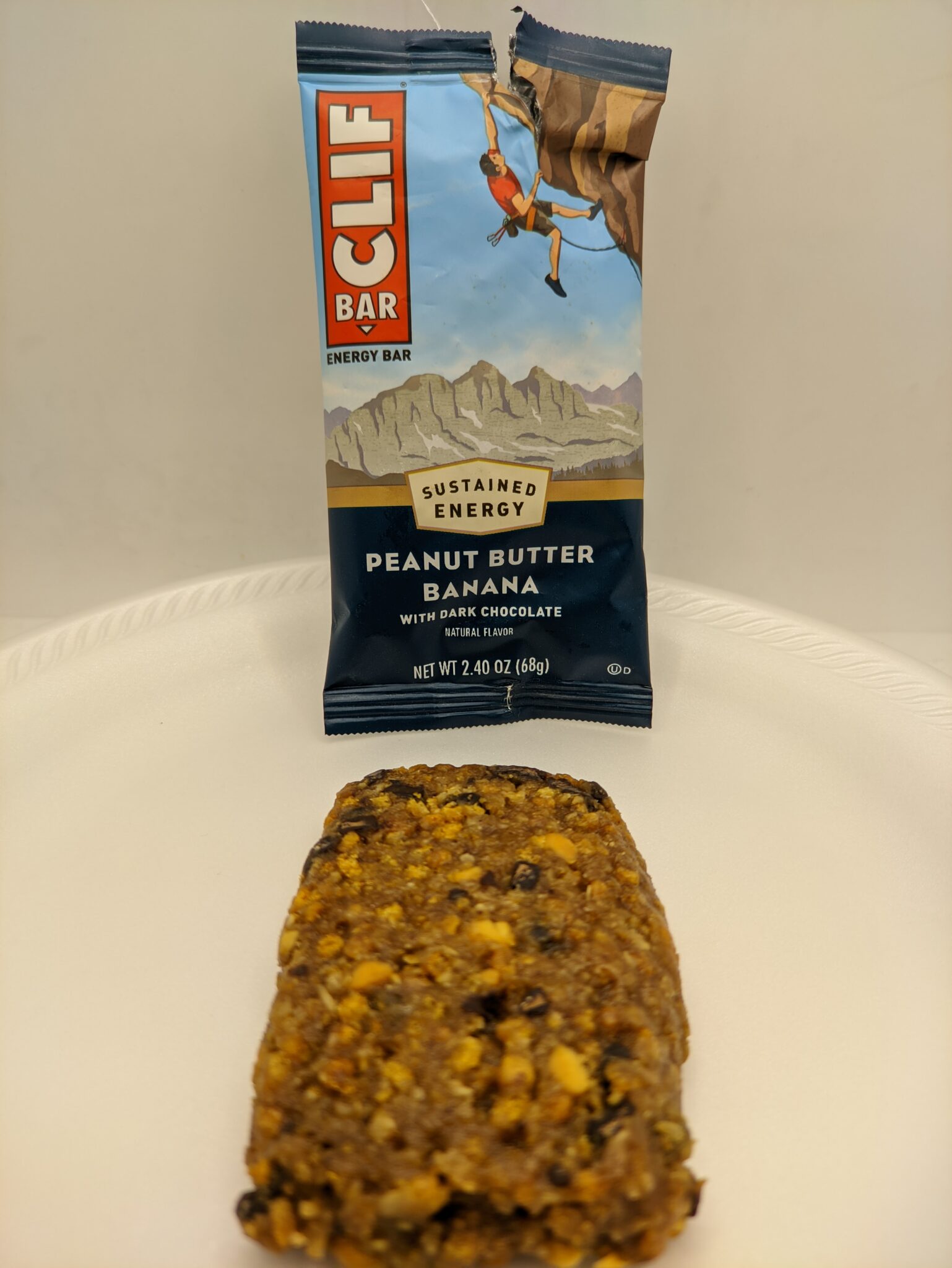 Chocolate Brownie
It certainly doesn't look that great, but here goes nothing. Put in the fridge, which made it a fair bit harder to chew. Gotta find the happy medium for that.
Anyway, its cocoa like chocolate, and I think it has chocolate chips. I've had worse but have certainly had better. I mean, its edible, and isn't gross. Just knowing there are far better tasting options, means I'll likely not have this one again.
Cool Chocolate Mint
Ooooh frosting stripes!
For starters, it looks more appetizing than the brownie one. It has a lighter taste, and the right amount of mint flavor. I'd say this one was my second favorite overall.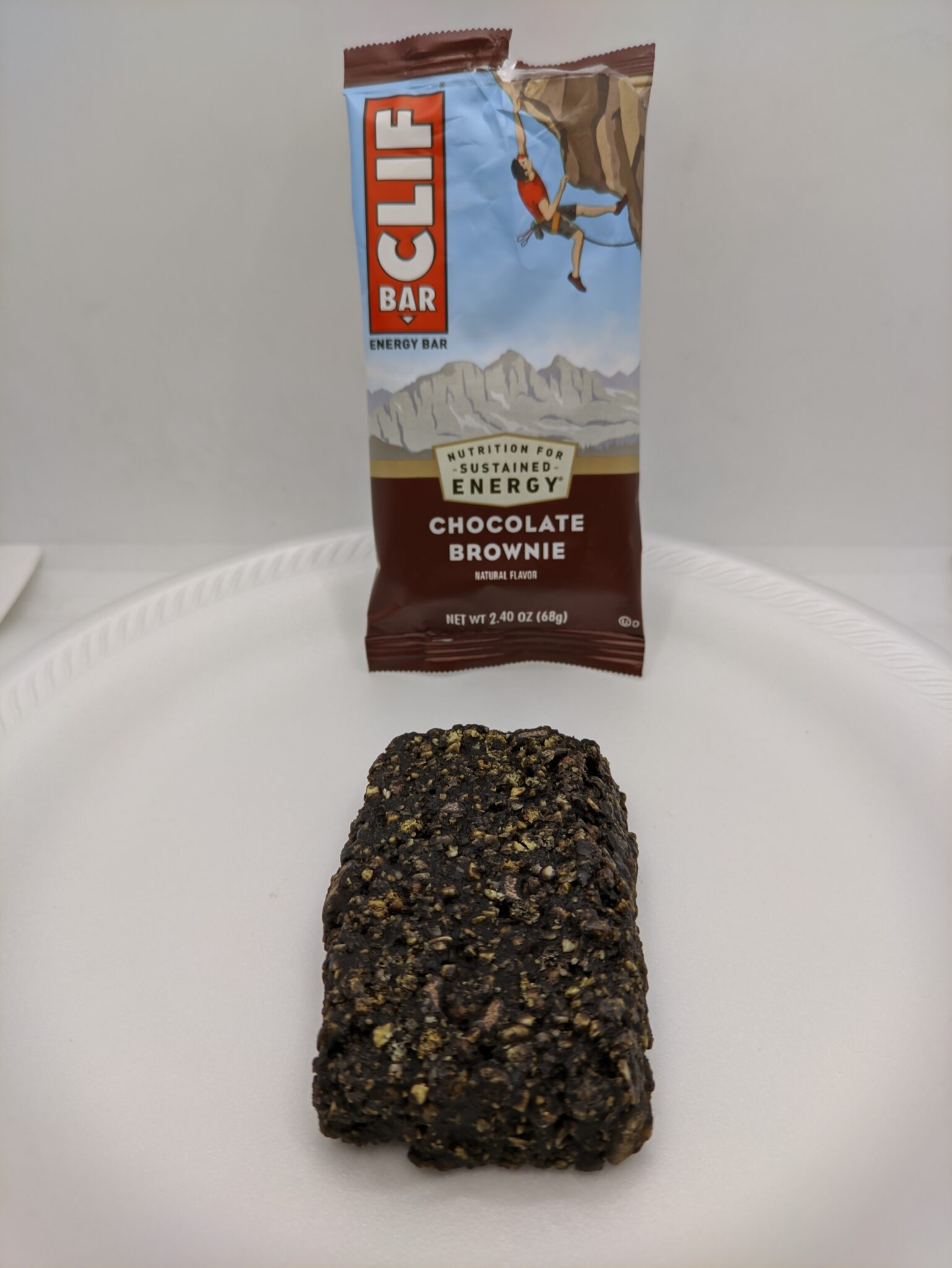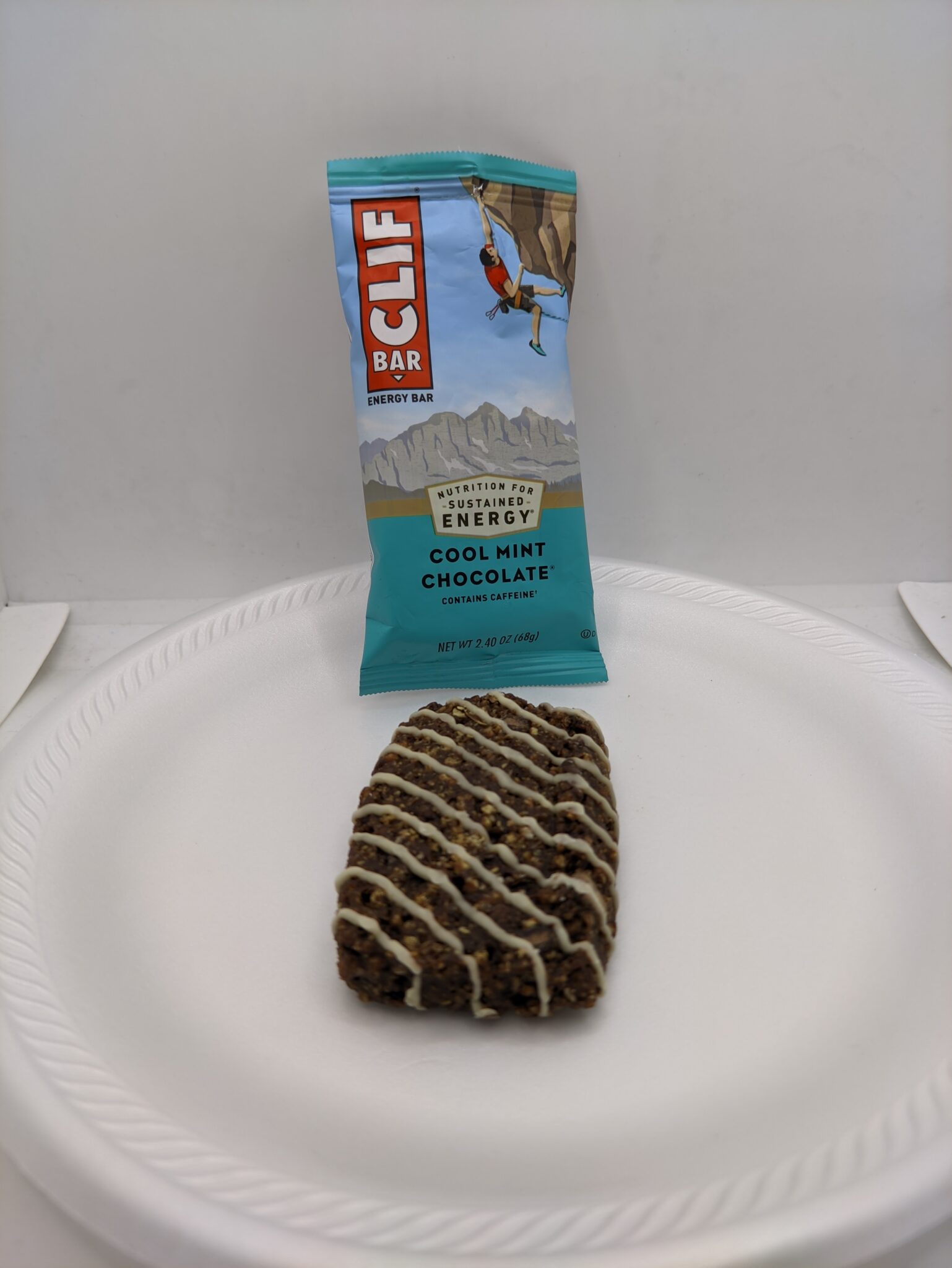 Summary
The bars were pretty decent overall.
They are dense like all bars in this category, but I appreciated the crispy bits in them that give them a varying texture. As far as taste goes, Crunchy PB was surely the best one, and the others ranged from B to C-.
It surely provided me some energy and kept me full until around lunchtime.
Backstory of Clif Bar

Founded by Gary Erikson, Clif Bar & Company was born on a bike and built with athletes in mind. Today the company continues to make organic, plant-based energy food that begins with a recipe and the latest nutrition science—and not just for performance. Clif Bar is guided by five aspirations: Sustaining our People, Community, Planet, Brands, and Business.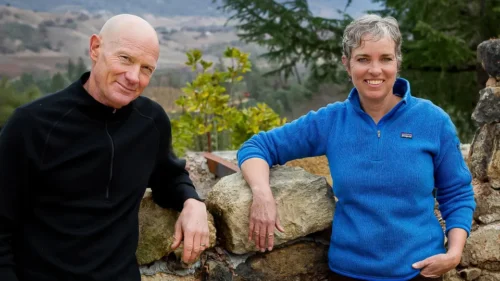 Clif Bar & Company was sold to snack giant Mondelez International, Inc. in 2022.
Pricing & Shipping
Clif Bars can be ordered from their webpage, from Amazon, or from many local grocers and retailers.
Subscription discounts of 10% are offered when you subscribe, with delivery intervals of every 15, 30, 45, 60 or 90 days.
Quantity
Total Price
(Non-Sub/Sub $)
Serving Price
(Non-Sub/Sub $)
Single Bar
$1.99
–
12 Bars
$18.43/$16.59
$1.54/$1.38
36 Bars (Variety)
$55.30/$49.77
$1.54/$1.38
48 Bars (Variety)
$73.74/$66.37
$1.54/$1.38
192 Bars
$280.20/$252.18
$1.46/$1.31
Priced in USD
Shipping
Shipping is $7 for orders under $40, and any orders above $40 ship free. Clif Bars are only available in the US.
Real User Clif Reviews
Clif Bars have been around for a while, and as expected has many reviews, to the tune of over 20,000.
Overall, Amazon Clilf Reviews were very positive. Nine out of ten reviewers gave Clif Bars a 4-star review or better, while three out of four opted for a 5-star review. High praise for the product indeed.
Very few had anything negative to say, but the ones that did cited quality control issues such as incorrect bar count, receiving expired products, or product quality issues such as being stale or dry.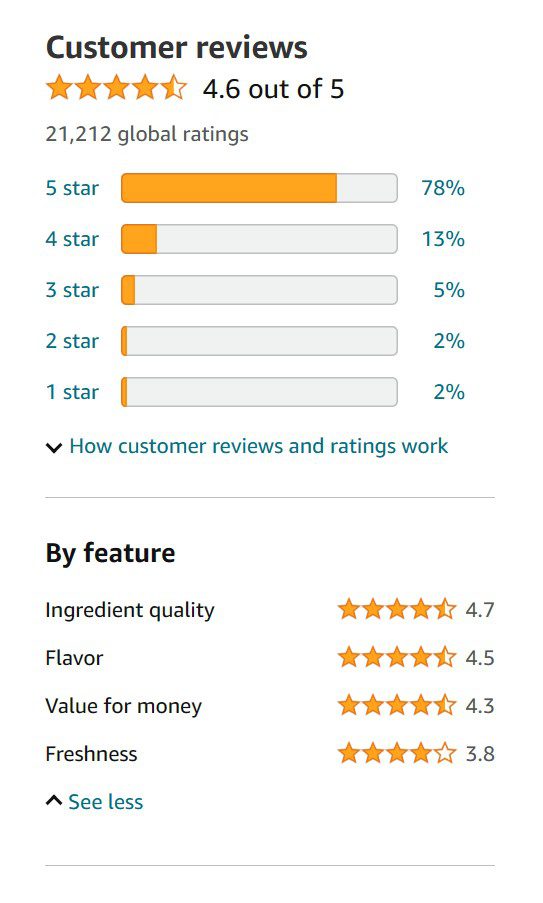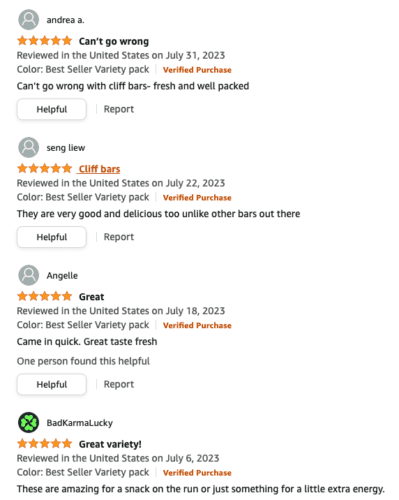 Looking at the various Reddit Clif bar reviews, most threads agreed that they are OK for energy but terrible as a meal replacement bar, due to their high sugar content.
Clif Bars are terrible as meal replacement. They are far too carb/sugar heavy for that purpose. They are best used only during long duration adventures. Good for cycling big miles (say, longer than two hours), long hikes, that sort of thing: Think endurance sports.
Clif vs. Perfect Bar, LYFE & Ka'Chava
The competition for the best meal replacement bar is stiff, but it's always important to see how a product measures up against its competitors.
Perfect Bar, a personal favorite of mine now, is a good comparison. Also, the only other product you can easily grab from a local store.
The Ka'Chava name speaks for itself. Let's see how their bars line up against Clif.
Newer, but rated well is LyfeFuel's Essential Bar is also in the ring to see if it can hold its own.
Head to Head
Category
Clif Bar
Perfect Bar
Ka'chava
LyfeFuel
serving price
$2
(USD)
$3
(USD)
$3.33
(USD)
$4
(USD)
kcal/serving
260
330
200
210
servings per
8
8
10
10
Flavors
10
11
2
2
Protein (g)
10-11
12-17
13
12
Sugar (g)
15-17
15-19
2
6
Fiber (g)
5
4
13
14
Fats (g)
8
22
13
13
Carbs (g)
40
27
19
23
Vegan
N
N
Y
Y
Certified
Organic
N
Y
N
N
Micronutrient
6
13
4
21
Artificial Sweeteners
N
N
N
N
Synthetic Additives
N
N
N
N
GMO?
N
N
N
N
Protein Source
Oats, Brown Rice, Soy, Nuts
Nut Butter, Milk
Egg, Rice
Nuts
Nuts
Availability
US
US & CAN
US
US
Other Products
LUNA, Clif Kids
PB Cups
MR
Powder
Recovery & Essentials Shake
Clif vs Perfect Bar
These two have the most in common. Both use some healthy ingredients but doesn't necessarily equal a healthy bar. Easily accessible, and similarly priced, each has many flavor options, and both taste pretty damn good if you find the right flavors.
However, Perfect Bar does have some advantages offering more protein, more nutrients and sporting organic certification. Conversely, Clif Bars do not require refrigeration, which is much more convenient.
Clif vs Ka'chava
Ka'chava is a completely different animal compared to Clif.
The fiber count, lower carbs and fraction of the sugar puts both products in very different nutritional spaces.
Ka'chava is healthier than a Clif bar and better suited to be a regular meal replacement bar.
Clif vs LyfeFuel
Thus, LYFEfuel's Essential Bars are far better when it comes to nutrition in every category. Very much like Ka'Chava's bar. The differences are glaring.
Lyfefuel's bars are also soy-free and packed with tons more nutrients, which make them better for daily use.
The taste of the bars is also significantly better, even though Clif bars offer more variety.
Clif Bar FAQ
What is a Clif Bar?
CLIF BAR is a great-tasting energy bar made with a nutritious blend of wholesome ingredients like rolled oats for sustained energy. CLIF BAR is the original energy bar made with a nutritious blend of 70% organic ingredients and each recipe is thoughtfully crafted and inspired by athletes and foodies in the Clif kitchen.


Are Clif Bars gluten free?
No, CLIF BAR Energy Bars are not gluten free.


Where are Clif Bars made?
Our food is made in the USA and select products are made in Canada.

What is the shelf life of Clif Bars?
For best quality, our food should be consumed by the BEST BY date printed on each wrapper. For example: BEST BY 19DEC20 = December 19, 2020.


How do I return my order?
We want our customers to be happy with our products. If you are not satisfied with your purchase, please contact Clif Bar Consumer Care by phone at 1 (800) CLIFBAR (1-800-254-3227) or on our website at www.clifbar.com/contact-us within 30 days of your receipt of the product. Due to the nature of our products, we handle returns on a case-by-case basis, and are committed to making it right. Please have your order number available when you contact us to help expedite your request.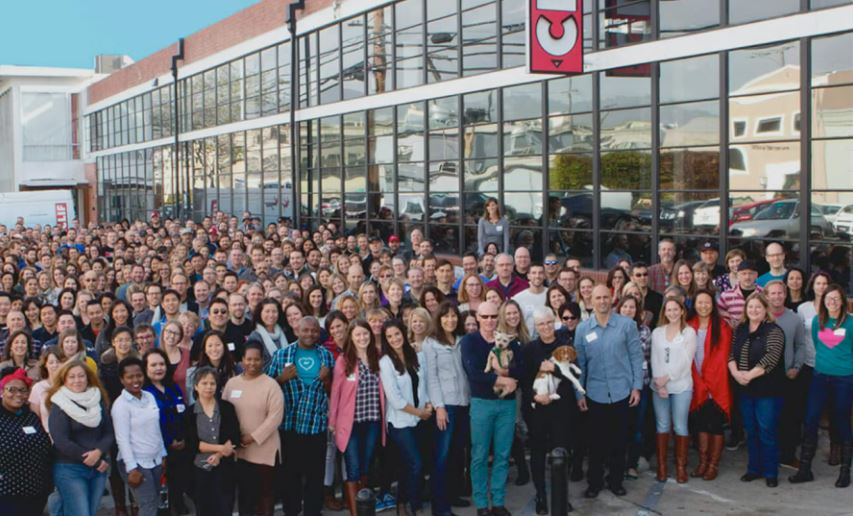 ---
Verdict – Clif Bars, A decent grab-n-go bar
All in all, this was a decent Clif Bar review. The key is recognizing what Clif bars are.
What are they? Basically, healthier versions of some of your favorite impulse buys in the checkout line. More protein, more fiber, better ingredients and all while being nearly as sweet. They provide a nice boost of energy as advertised and did a decent job of fighting hunger. I was dragging into work that morning, but was power walking around downtown come lunchtime. Well played, Clif!
That said, it's worth noting that they are too high in sugars for regular use, and that they are better suited as a snack to power your workouts.
I really enjoyed the Crunchy PB and will look to get more soon! The other flavors were alright but didn't really hit right for me.
The taste was definitely one of the low points, and the average bar was below my expectations.
We showed that the bars from LyfeFuel and Ka'Chava are better for you overall, and if you are looking for something to fit a regimented healthy lifestyle, those would be the ones to go to. And while being very comparable to Perfect Bars, if you have a peanut allergy, Perfect Bars are a no go, whereas Clif Bars will still have options for you. So, if you'd want a treat after a long day, and something you won't feel completely guilty about, I think Clif can fit that bill.
Bottom Line – Clif Bars are a nice option for a boost, or a quick bite.