Perfect Bar Review 2023 | Superb Tasting Organic Bars but with 1 Flaw
So today we're looking at Perfect Bar review, a bar that has flown under the radar but we've heard great things about.
Perfect Bar is an organic, nut butter-based bar, packed with over 20 superfoods, including kale, spinach and papaya. Each bar contains between 12g & 17g of protein, 310 to 350 calories, and 13 all-natural vitamins and minerals.
Of course, there is a bit of a catch….these bars MUST be refrigerated due to some of the other ingredients in them. We'll break down those ingredients, as well as the pros and cons in this Perfect Bar review.
No time to read the Perfect Bar review now? Here are 5 key takeaways:
These bars are delicious – a great surprise
Tons of flavors to choose from, and all of them are good or fantastic
Fully organic, with 17g of protein, few minerals and vitamins – a healthy meal to eat on the go
However, they are not vegan-friendly and are quite high in sugars – check our favorite vegan-friendly bar
I will personally enjoy them and keep buying, but if you have any allergies (egg, milk, peanut) you might have to look elsewhere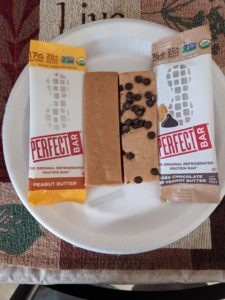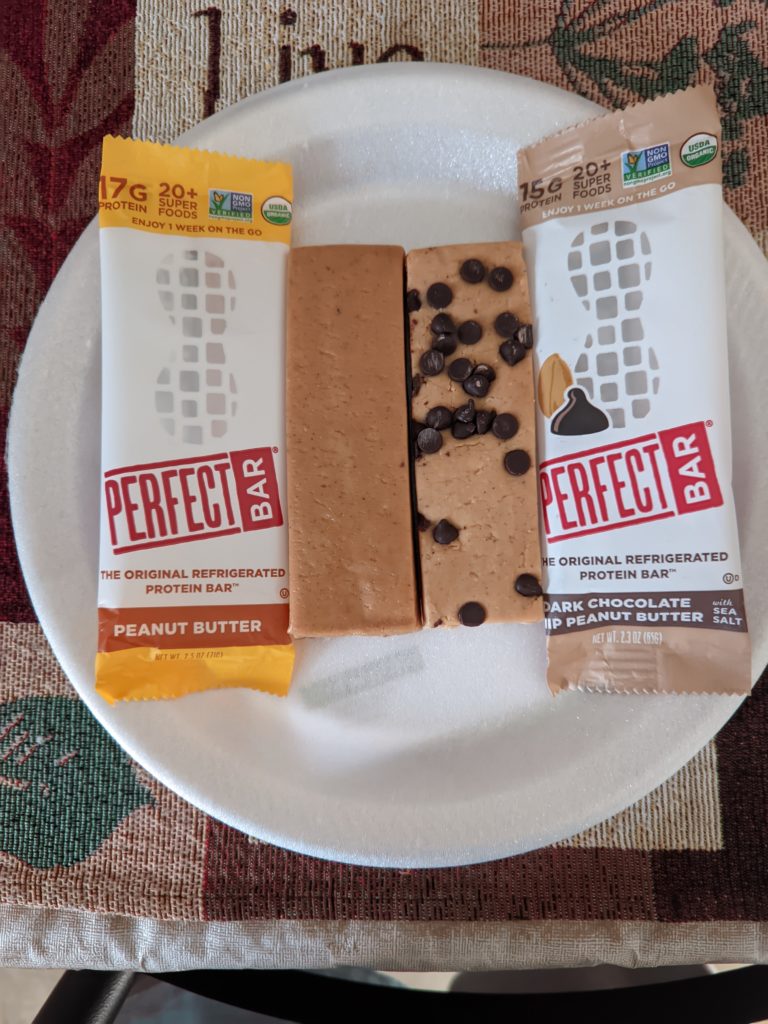 ---
Perfect Bar Review at a Glance
Flavours: Peanut Butter, Dark Chocolate Chip PB, Chocolate Mint, Chocolate Hazelnut, Coconut PB, Almond Butter, Salted Caramel, Dark Chocolate Almond.
---
Opinion
"Johnny, you heard of the Perfect Bars?" That's how this all started.
Now, there are not many bars I can have. Even fewer that I actually enjoy, thanks to my super weird allergies that allow me to have peanuts, but not others. Not to mention protein bars can be kind of a chore to eat.
I found them super interesting mainly because they need to be refrigerated, which even before looking at the ingredients, I knew had to contain milk, or eggs. Turns out… it has both. Therefore, not a vegan-friendly bar, but that's OK.
Also, the inclusion of so many superfoods (a word I feel is grossly overused) is noteworthy.
Positive Thoughts
1. Cheaper than many other bars. A very fair price point. Cheaper without being "cheap"
2. Great ingredients. Clean and organic, with no junk you have to google.
3. Super tasty. More in the taste test, but these were amazing!
4. Very filling. One bar will get you right back on track.
5. Easy to buy. Sold at so many places locally.
6. Lots of flavors. Many flavors, with lots of variety
Needs work
1. Need for refrigeration. More on this later
2. Must eat quickly. It softens rapidly
3. Could use less sugar. Maybe have bar with PB powder to lower sugar.
4. Uses shared equipment. Which is sure to understandably scare some off.
5. Allergen heavy. Peanuts, tree nuts & animal products. May have a narrow scope.
Nutritional Breakdown
The Perfect Bars come with more protein and more healthy fats than many other bars. You also get a nice amount of micronutrients with all the vegetables.
Besides, Perfect Bars gluten free, Non-GMO, USDA Organic, and Ashley Koff Approved (AKA).
Perfect Bar Nutrition Overview
| | |
| --- | --- |
| Kcal/meal | 340 |
| Macros (C/P/F) | 30/20/50 |
| Vegan | No |
| Keto | No |
| Features | Gluten Free, Soy Free |
| Non-GMO | Yes |
| Organic | Yes |
| Includes Probiotics | No |
| Artificial Sweeteners | No |
| Synthetic Additives | No |
| Contains All Micronutrients | No |
| Controversial Ingredients | Peanuts, Tree Nuts, Eggs, Milk |
Carbohydrates
Based on 340kcal serving:
Total Carbs: 27g, 10% of DV.
Net Carbs: 24g, (Total Carbs – Dietary Fiber – Non-digestible Carbs)
Sugars: 19g.
Fiber: 3g, 11% of DV.
Between the peanut butter and the honey, you can see why these are a fair bit sweeter than some others.
In fact, it contains 40% of your daily sugar intake, and while it's primarily from honey, there's no denying is a little high. However, if you prefer naturally sweetened meals to artificially sweetened ones, it will be welcomed.
On another note, I thought the fiber would be higher considering it contains powdered versions of so many organic fruits and vegetables.
Protein
Per 340kcal serving:
Total Protein: 17g
Source: Nut Butter, Dry Milk, Egg Powder & Rice Protein
As far as protein content goes, it's largely in line with other bars on the market.
Perfect Bar has taken the approach of combining animal and plant proteins to create a complete protein profile. This is an interesting choice since it alienates those consuming a plant-based diet, but it also adds quality protein, highly digestible and easily absorbed (eggs).
This is also one of the reasons why refrigeration is recommended.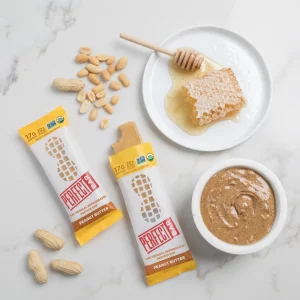 Fats
Per 340kcal serving:
Total Fats: 19g, 24% of DV.
Saturated Fats: 3g, 15% of DV.
Omega-3s, 1.3g.
It's to be expected that a nut butter-based product would have an above-average fat content, but don't let that scare you off.
Peanut butter, flax seed oil, olive oil, sunflower oil, sunflower oil and pumpkin seed oil make up the fat content.
All that said, the saturated fat content isn't bad, and considering the sources, you could certainly do much worse.
Plus, unlike many other crappy snack bars, Perfect Bars have 1.3g of omega-3 fatty acids (ALA). An excellent addition, since this essential fatty acid is often missing in our diets.
Micronutrients
The Perfect Bar comes packed with 13 micronutrients, most of which are 10% or greater per serving.
Allergens
This is Perfect Bar's Achilles' heel. Containing milk, eggs & peanut butter it's bound to turn off one group or another, be it the allergic group or the vegan group.
Keep in mind the ingredients in these, as I imagine they'll be a hard no for some.
Taste Test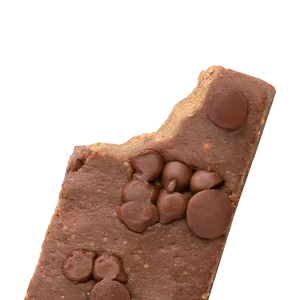 Best flavour
Chocolate Mint
Taste
Super delicious
Texture
Great balance between crunchiness and softness. A little bit on the chewy end
Satiety
At least two hours.
Easy to Clean
N/A
After
Thoughts
I'm a fan!
I'll try four of the many flavors today.
I am extremely excited because I love peanut butter, but cautious because I'll be disappointed if kelp is the first thing I taste. Let's find out.
Peanut Butter – Great
The first impression is that the bar is solid, but not a brick (looking at you… Huel protein bar). Smells mostly like peanut butter, but it also has hints of grandma's spice cabinet.
After the first bite tastes mostly like peanut butter, but with seasoning. As I chew, the seasoning tastes disappears, and it's mostly peanut butter and honey.
I knew I'd surely have more of these.
Dark Chocolate Chip Peanut Butter – Excellent
This one adds to the peanut butter by adding some great-tasting chocolate chips. That extra addition really takes this bar up a notch.
Chocolate Mint – Surprising Winner
This one is super rich. Like a fudgy brownie.
I'm not sure how the chocolate, mint and underlying peanut butter taste all work well together….but it does!
This was a genuine surprise.
Coconut Peanut Butter – Good, but I Wouldn't Buy It
This one was my least favorite.
It certainly wasn't bad, just not much of an improvement over the regular PB flavor. I will say that the pieces of coconut and that added flavor, did overpower the underlying taste of the greens, but I'd only get this if it was only sale for like a $1 a bar.
Summary
All in all, these were pretty damn good.
In fact, none of them were bad, and to think there are a half dozen other flavors offered. Chocolate Mint was my absolute favorite, with chocolate chip peanut butter a very close second. The regular PB would be third, with coconut being fourth.
Besides, I had no real texture issues, but remember to eat quickly as they will begin to soften relatively quickly. If you notice in the chocolate mint pic below, it has a bit of shimmer to it. That was around 15min after taking it out of the fridge.
On a positive note, hunger is knocked out of the park for at least two hours or more with one single bar.
The Story of Perfect Bar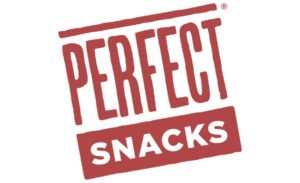 Perfect Snacks Review – Company Behind Perfect Bar
Founded in 2005, Perfect Snacks was developed out of a love for optimal health, fitness, and nutrition.
The late Bud Keith, a holistic nutritionist, and fitness industry pioneer, created the original Perfect Bar recipe as a healthy, on-the-go snack for his king-sized family.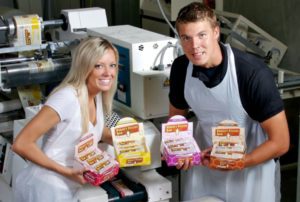 Today, the 13 Keith brothers and sisters carry on the nutrition principles instilled in them as kids and produce a successful line of refrigerated, whole-food snacks that are high in protein, gluten-free, non-GMO and low GI.
Perfect Snacks was acquired by Mondelez International, Inc. in 2019.
Perfect Snacks Products Review
However, Perfect Bars are not the only products this company offers.
Indeed, they have a very successful repertoire of organic snacks, as you can see below: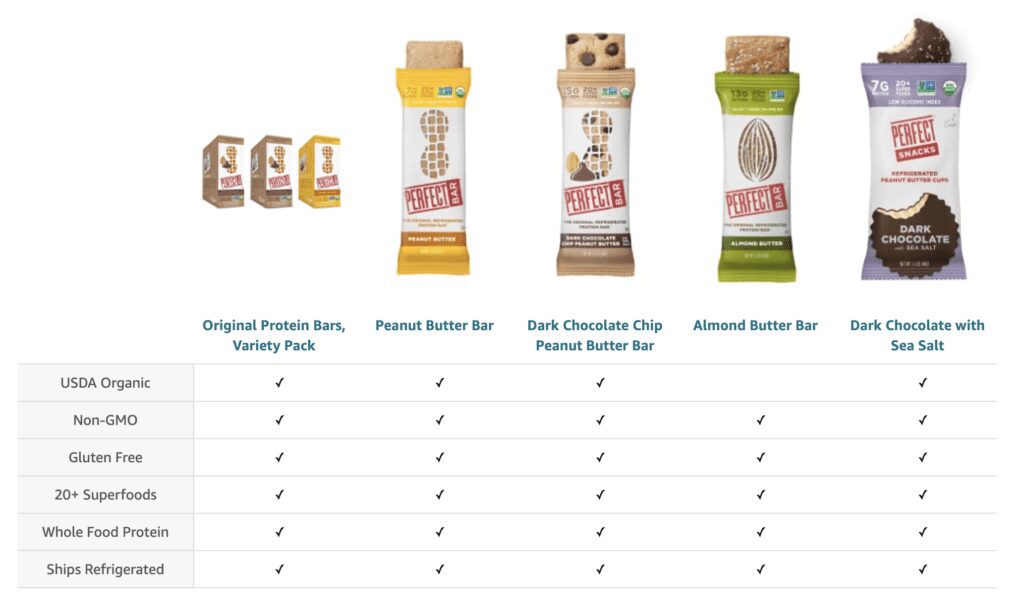 Unfortunately, I could not try all the products for this Perfect Bar review, but I have faith that the rest are as good as the ones I've tried.
Pricing & Shipping
Perfect Bars are offered as a box of eight bars.
Pricing
Perfect Bars can be ordered from their webpage, or from Amazon, which as of this writing, is a bit cheaper than from its homepage.
Most flavors are $24, but there are a couple that are $29. Subscription discounts of 10% are offered when you subscribe, with delivery intervals of every 2 weeks, to every 8 weeks.
Quantity
Total Price
(Non-sub/Sub)
Serving Price
(Non-sub/Sub)
$24 Box
(8 servs)
$24/$21.60
$3/$2.70
$29 Box
(8 servs)
$29$26.10
$3.63/$3.26
Priced in USD
Locally, Perfect Bars can be found at Whole Foods, Target, Costco, Sam's Club, Starbucks, Trader Joe's, Kroger, Safeway/Albertson's and many more. The stores sell them either individually or, as a box of four.
Shipping
Shipping is free throughout the United States, and FedEX or UPS will ultimately deliver your Perfect Bars.
Real Users Perfect Snacks Reviews
Besides our own assessment of the Perfect Bar review, we like to have a look at what other users think.
As far as the customers reviews on Perfect Snacks website, it is excellent. They have 4.6 stars out of 4.5k user reviews.
THE Perfect Bar

I've been eating bars of some sort for over 20 years. I found Perfect Snacks 6 ago when I was searching for a bar without all the added soy proteins or extras. Not only is it full of only natural ingredients, each flavor tastes amazing (chocolate chip is my fave). It is truly the perfect bar for me and I usually eat more than one a day.😬 I'm supeRead more about review stating THE Perfect Bar

r active and always have one with me – to the point where I travel with full boxes in case I can't find them wherever I go!

Christie B.
That said, on-website reviews can often be tampered. But in this case, there are tons of positive Perfect Bars reviews on Amazon as well. They have 4.8 star rating from 2,100 reviews.
Obsessed with these. So tasty and I eat them for breakfast. I'm a bar snob, so very very few bars impress me but this one does.

Elizabeth, verified purchase on Amazon
So I am happy to report that in this case, we agree with the user Perfect Bar reviews.
Perfect Bar vs. Nuttri, LYFE & Ka'Chava
So how does Perfect Bar fare, when up against other healthy bars in this category?
A newcomer, with in my opinion the best-tasting shake to date, Nuttri also has a line of complete bars, that we will look at against Perfect Bar.
Next up is Ka'Chava. While not looking at their awesome shakes, they launched a couple of dense, whole-food bars that will provide a good comparison.
Fresh to the bar game is LyfeFuel. They just debuted their Essentials Bar, which includes an interesting flavor…Lemon Ginger.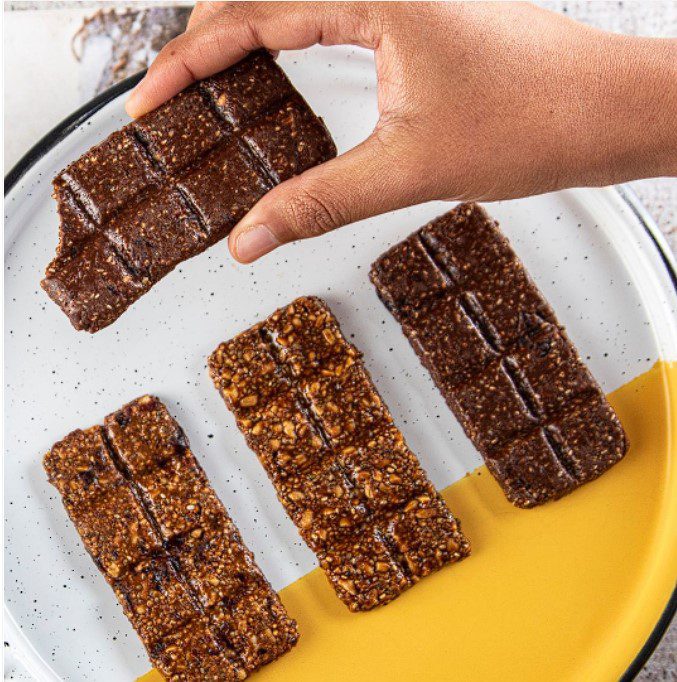 Head to Head
Category
Perfect Bar
Nuttri
Ka'chava
LyfeFuel
serving price
$3
(USD)
$1.40
(USD)
$3.33
(USD)
$4
(USD)
kcal/serving
330
140
200
210
servings per
8
12
10
10
Flavors
11
4
2
2
Protein (g)
12-17
6
13
12
Sugar (g)
15-19
13
2
6
Fiber (g)
4
4
13
14
Fats (g)
22
5
13
13
Carbs (g)
27
15-20
19
23
Vegan
N
Y
Y
Y
Certified
Organic
Y
N
N
N
Micronutrient
13
21
4
21
Artificial Sweeteners
N
N
N
N
Synthetic Additives
N
Y
N
N
GMO?
N
N
N
N
Protein Source
Nut Butter, Milk
Egg, Rice
Nuts, Oats
Nuts
Nuts
Availability
US & CAN
Worldwide
US
US
Other Products
PB Cups
MR Powder
MR
Powder
Recovery & Essentials Shake
Perfect Bar vs Nuttri
Nuttri falls more in the snack category, being outweighed by Perfect Bar by nearly 100 calories.
Probably better to compare the snack-size Perfect Bars to these.
Perfect Bars vs Ka'chava
Ka'chava seems to be more of fiber bar when compared to Perfect Bar.
That's the main stats that really stands out is the amount of fiber and having much less sugar. They're in the ballpark when looking at the protein and is price competitive.
I can see someone who prefers plant-based bars, or has a peanut allergy choosing Ka'chava.
Perfect Bar vs LyfeFuel
LYFEFuel Essentials Bars were favorably reviewed by all who tried them, so I'd assume it's a dead heat when it comes to taste. They were also said to be filling like Perfect Bars are, likely due to the high fiber.
You don't get all the same micros in Perfect Bars as you do in Essentials Bars, but they are also much cheaper and more available than Essential Bars.
Thus, LYFEfuel's Essential Bars are better when it comes to nutrition, paired when it comes to taste, but a little bit more expensive. Worth it if you can afford them, in my opinion
Perfect Bar FAQ
Why do Perfect Bars need to be refrigerated?
Since we don't use chemical preservatives or overly processed ingredients, refrigeration is required to maintain the optimal freshness, consistency, shape and flavor of our products. They can stay fresh for 1 week outside of the fridge. After a week, they may start to dry out as the oils from the nut butter will separate.  


How long do Perfect Bars last outside of the fridge?
Please see "Product Specific Questions" to determine how long your Perfect Snack can be left out of the fridge. However, please note, all Perfect Snacks products are still safe to consume, even if they become warm. Refrigeration is only required to maintain the perfect taste, texture, and shape.


How do you ship, and what materials are used?
We cold ship our products using icepacks and insulated packaging to ensure Perfect Snacks stay cool during the majority of the time in transit. Keep in mind, if you're ordering during the summer months and your products arrive warm, they are still completely safe to consume; just place them back into the fridge to let them return back to their normal consistency!

Do you ship outside the US?
We only ship to locations here in the U.S., but rest assured, we're working on greater plans for the future to eventually have the ability to ship internationally. Other than that, we are sold at various retail stores in Canada.

What payment options are accepted?
We accept all major credit cards (Visa, Mastercard, American Express, Discover) as well as payment options through PayPal, Google Pay and Shopify Pay.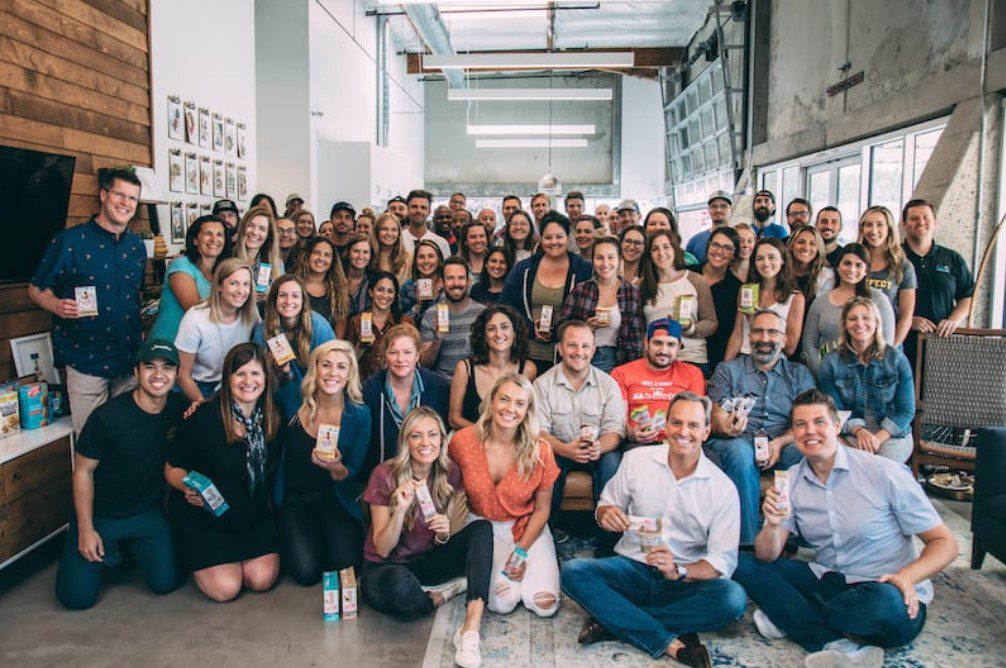 ---
Verdict – Perfect Bar Review, Great Taste, Good Nutrition
Let's be honest here…I'm just excited that I was able to try out a bar for a change!
But in all seriousness, I really enjoyed Perfect Bar. I feel they nailed the taste, the texture and the price. I loved that I had a nice variety of flavors to try, and that they really filled me up.
They have the recipe to become one of the best meal replacement bars in the US.
However, it's not lost on me that these will not be for everyone. As mentioned, there are many with peanut allergies that will be left out, just like I am with tree nuts. Also, with the inclusion of eggs and milk is non-starter for our plant-based friends.
In fact, if you are looking for a vegan meal replacement bar, you are better off with LYFEfuel's Essential Bars.
The refrigeration aspect I'm sure will also not be for everyone. Having had one that sat out for a very short time, I can confirm that it really does begin to change at room temperature.
If these drawbacks are major to you, we have reviews of other products that may be better suited for you. But if you're able to color inside the lines with these, I believe you will not be disappointed.
Bottom Line – Perfect Bar may not be perfect for everyone, but it was definitely perfect for me.
Perfect Bar
From $3/serving
Pros
Tons of flavors to choose from
On average bars are delicious - highly recommended
Organic certified
Good quality ingredients, 17g of protein
Well priced
Cons
Not vegan-friendly
High in sugars
Allergens: milk, egg, peanuts
Needs to be kept refrigerated