9 of the Best Soy Free Meal Replacement & Protein Powders (2022)
Finding soy-free meal replacements and protein powders might seem hard at first. However, there are plenty of options in the market if you know where to look for. Selecting the best shakes without soy is then your next step. In this list, I've compiled the best soy free meal replacements that are available to you right now.
I have divided this list in two sections. In the first part, I will recommend you meal replacement shakes without soy. These are drinks that will provide you with all the nutrients you need. In the second part, I will list the best soy free protein powders. Unlike the previous, these shakes are primarily a boost to your protein intake. But more on that later.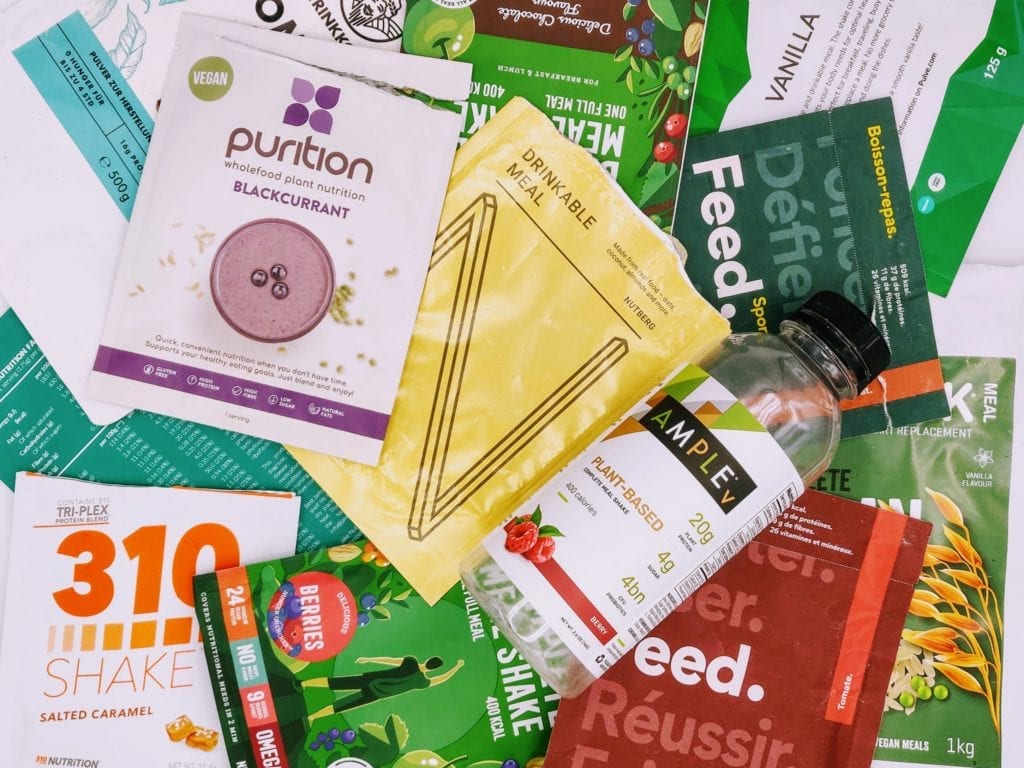 ---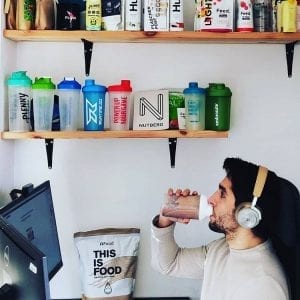 Meet the Expert
Hi! My name is Enaut and I'm the owner of Latestfuels. This is the home of meal replacements and nutritional supplements. You will find the latest info and reviews on the site.
I am an avid consumer of meal replacements, and I believe they've greatly boosted my nutrition. Therefore, I am here to share what I've learnt over the last few years!
Let's find the right soy free shake for you!
---
Best Soy Free Meal Replacement Shakes and Protein Powders at a Glance
Product Name

Price

Reason

Buy Now

Complete Plant Protein

$0.72

Best Vegan Protein

Ample V

$4.50

Editor's Choice

Complete 360

$1.20

Best Tasting

Bulk Vegan

£0.7

Best UK
1. Ample V
Editor's Choice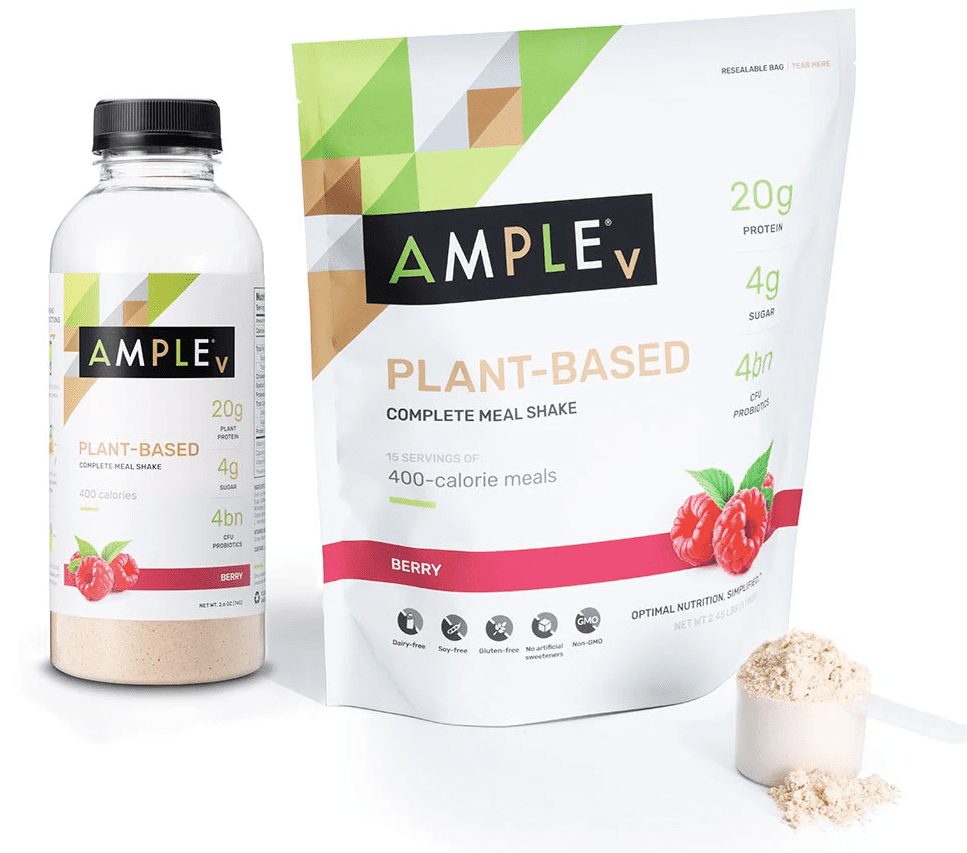 Pros
Delicious, sweet and smooth shakes
3 formulas to choose from: Plant based, wehy based and keto
No artificial sweeteners, artificial flavours, soy, or gluten
Contains probiotics and prebiotics
Cons
Not the highest amount of protein
Does not include all micronutrients
Let's start with Ample. This US based company strongly beliefs in high quality ingredients and real food shakes. They carefully choose what it goes into the shakes aiming to boost your nutrition and gut health. As such, Ample shakes have no soy, no gluten, no dairy and no GMO ingredients.
In general Ample meal shakes are low in carbs, low in sugars and high in fats. Ideal for those who are looking to lose weight by avoiding sugars and processed carbs.
Furthermore, they include essential nutrients like omega-3, fiber, fats and proteins; as well as some vitamins and minerals. These soy free shakes also provide you with probiotics (4 billion CFU) and prebiotics.
You will find Ample offers you 4 products: Original (whey-based); Plant-based; Recover (extra protein); and Keto (contains whey).
If you are looking for a vegan shake, then you need to choose the delicious Ample V (plant-based). In fact, the shakes are incredibly smooth and mix superbly, even without a blender.
Nutrition
| | | |
| --- | --- | --- |
| per serving | Ample V | DV (%) |
| Energy (C/P/F) | 23/20/58 | – |
| Energy (kCal) | 400 | 20 |
| Fats (g) | 26.0 | 39.0 |
| Saturated (g) | 13.0 | 63.0 |
| Carbs (g) | 23.0 | 8.0 |
| Sugars (g) | 4 | |
| Fiber (g) | 11.0 | 44.0 |
| Protein (g) | 20.0 | 40.0 |
| Sodium (mg) | 380 | 15.0 |
---
2. Complete 360 Meal
Best Taste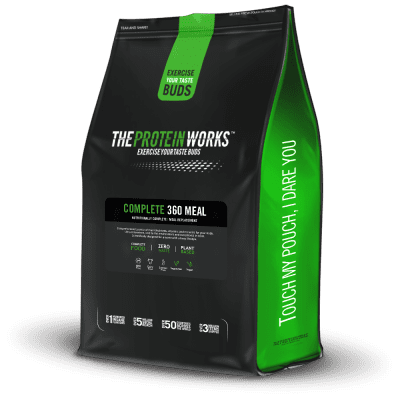 Pros
Available worldwide
Fully plant-based, low GI, and well round-up nutrition
Great tasting shakes
Very affordable
30g of custom blend protein per 400kcal
Complete 360 meal is a more affordable soy-free meal replacement shake. Not only that, but a well rounded healthy shake that provides you with excellent nutrition. In fact, it's one of my go-to shakes in a daily basis.
The reason for this is the high protein content, 30g of protein from a pea+rice+hemp protein blend for optimal amino acid delivery. Plus, it also offers tons of fibre; and it's very low sugar. This makes for a very healthy combo.
Besides, you will also get omega-3 fatty acids, all the vitamins and minerals, plus some probiotics to help you with digestions.
Nonetheless, one of the aspects I like the most about Complete 360 meal is the taste. Double Milk Chocolate is among the best tasting shakes that I've tried (and I've tried over 200). Vanilla and Strawberry are also good.
Prices might seem high at first, but you can always use the discounts that they offer and get the best deal for yourself!
Nutrition
| | | |
| --- | --- | --- |
| per serving | Complete360 | RI (%) |
| Energy (C/P/F) | 46/30/24 | – |
| Energy (kCal) | 400 | 20 |
| Fats (g) | 11.0 | 19 |
| Saturated (g) | 1.3 | 6.5 |
| Carbs (g) | 45.0 | 17 |
| Sugars (g) | 1 | 1 |
| Fiber (g) | 10.0 | 35 |
| Protein (g) | 30.0 | 60 |
| Salt (g) | 0.3 | 5 |
---
3. Ambronite CMS
Best Vegan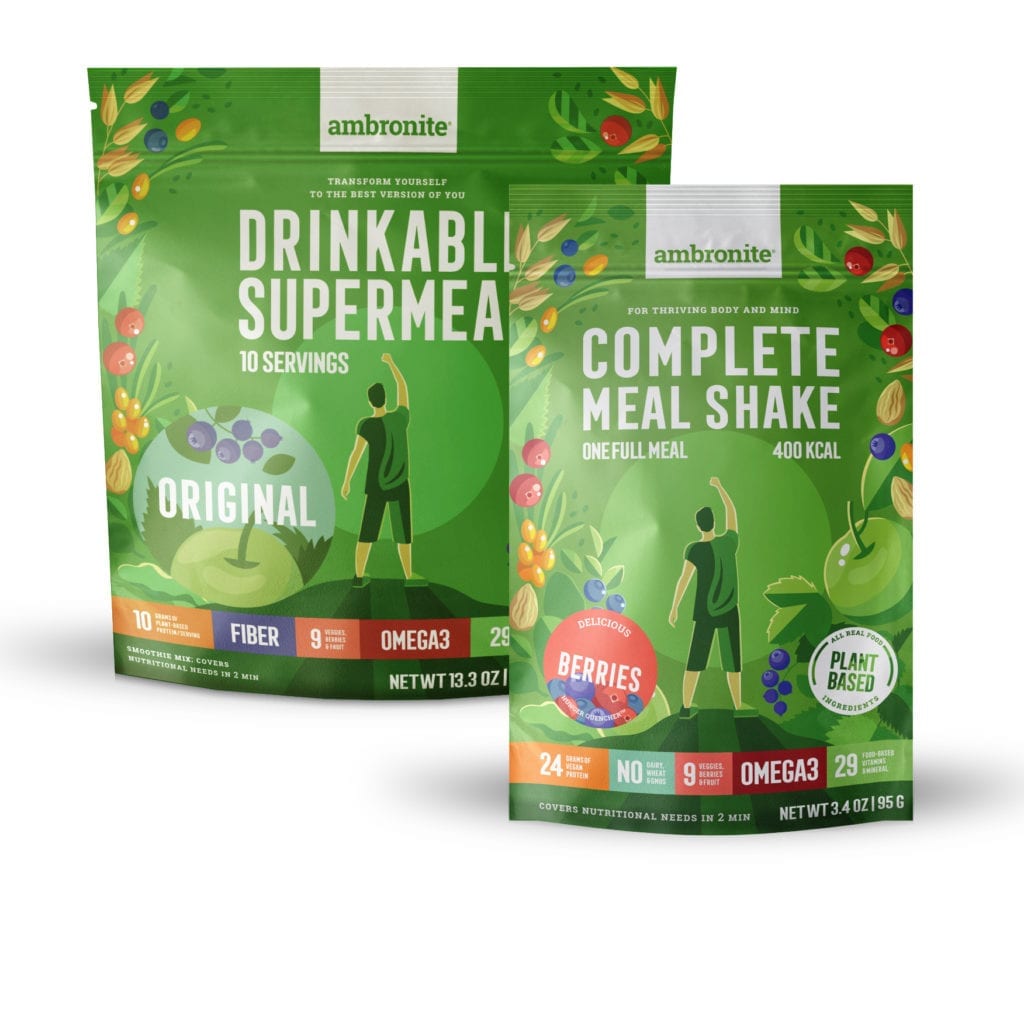 Pros
No dairy, fully plant based, non-GMO, gluten free
Real food ingredients and no artificial additives
Now also available as Keto powder
Nice and refreshing smoothie like taste (fruity)
Cons
Starting price is high, better buy in bulk
You need $150 for free shipping
Ambronite is very similar to Ample; a meal replacement shake, fully plant based and without soy. Unlike Ample though, it provides you with all the nutrients your body needs in a daily basis, including vitamins and minerals. So for many, this might be nutritionally superior.
Talking about nutrition, Ambronite Complete Meal Shake includes many superfoods like bilberry, nettle leaf, spirulina, chlorella… that provide you with nutrients and phytonutrients (antioxidants). You will also get 24g of protein per serving from oat protein.
All these make Ambronite the perfect soy-free shake to replace your meals with. They offer very healthy and smoothie-like shakes that I find very refreshing.
One drawback, however, it's the price. It starts at $6.5, but you can lower it buying in bulk and using the code LATESTFUELS (25% off).
Nutrition
| | | |
| --- | --- | --- |
| per serving | CMS | RI (%) |
| Energy (C/P/F) | 41/24/35 | – |
| Energy (kCal) | 400 | 20 |
| Fats (g) | 15.0 | 22 |
| Saturated (g) | 2.0 | 10 |
| Carbs (g) | 40.0 | 16 |
| Sugars (g) | 12 | 24 |
| Fiber (g) | 8.0 | 40.0 |
| Protein (g) | 24.0 | 48 |
| Salt (g) | | |
---
4. Orgain All-in-One
Best Soy Free RTD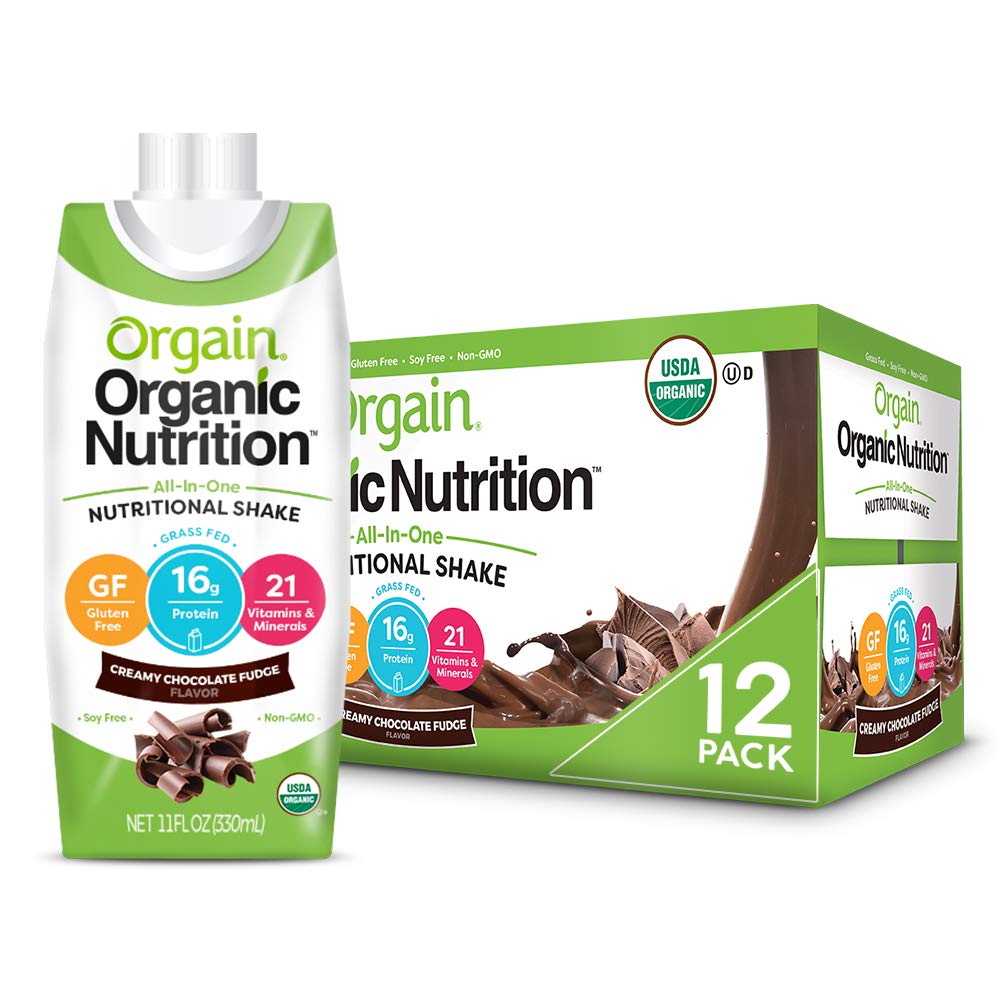 Pros
Handy format to drink anywhere
USDA organic, gluten free and dairy-free*
Available in whey version and plant-based
Smooth and easy to drink
Cons
High in sugars and low in fiber
Only available in the US
Orgain is another US based brand that does soy free nutritional shakes. They have a wide array of high quality products, but I've chosen their ready-to-drink formula due to its smoothness and unique format (compared to the rest).
Besides the unique format, it is worth mentioning that all Orgain shakes are organic and soy free. The All-in-One RTD is available in both vegan and whey based formulas. The plant based replaces soy with organic pea protein and organic chia seeds (16g per 220kcal!).
Another distinguishing feature of Orgain's RTDs is the smoothness and taste of the shakes. You will love the delicious Creamy Chocolate Fudge and the Iced Cafe Mocha flavours!
Nutrition
| | | |
| --- | --- | --- |
| per serving | Orgain All in One | DV (%) |
| Energy (C/P/F) | 47/21/32 | – |
| Energy (kCal) | 250 | 13 |
| Fats (g) | 7.0 | 9 |
| Saturated (g) | 1.0 | 5 |
| Cholesterol (mg) | 20 | 7 |
| Carbs (g) | 32.0 | 12 |
| Sugars (g) | 11.0 | 22 |
| Fiber (g) | 2.0 | 7 |
| Protein (g) | 16.0 | 32.0 |
| Sodium (mg) | 260.0 | 11 |
---
Best Soy Free Protein Powders
1. Four Sigmatic
Editor's Choice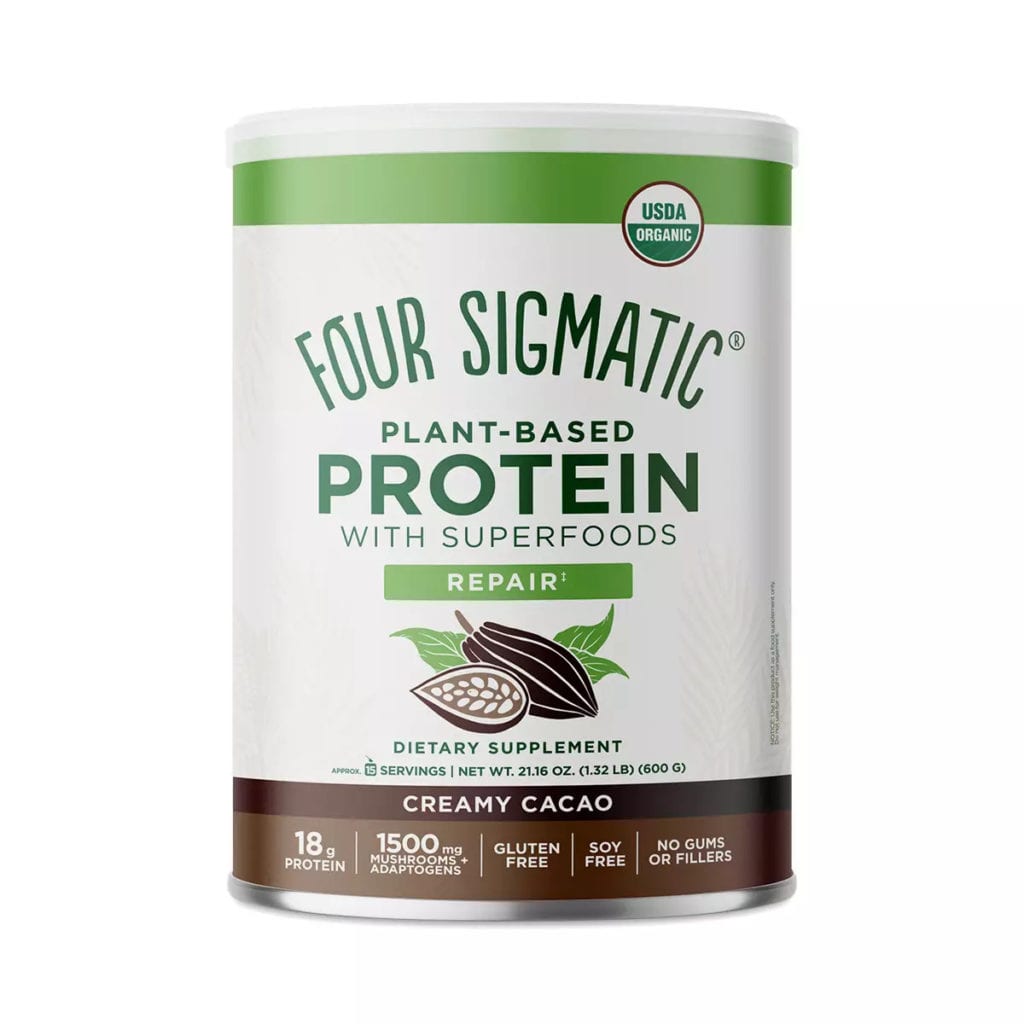 Pros
18g of quality protein blend: hemp, pea, chia, pumpkin
Vegan, organic and without artificial sweeteners
Mouthwatering taste, top 2
Extra greens and adaptogens to boost focus and reduce stress
Four Sigmatic's plant based protein is a little bit more than just protein. It will, of course, offer you with 18g of complete protein without soy; but it will also provide you with more nutrients and no crap ingredients.
They use a unique blend of organic pea, chia, pumpkin and hemp protein to make sure you get all the amino acids you need. But this blend, also helps making the shake taste better, and does not need to hide the strong pea protein flavour (not great) like others do.
This, paired with the delicious creamy dark chocolate taste makes the shakes irresistible in my opinion.
Thus, for me Four Sigmatic protein is one of the best soy free protein powders you can get. Particularly in the US, with free fast shipping.
Nutrition
| | | |
| --- | --- | --- |
| per serving | Four Sigmatic | DV (%) |
| Energy (C/P/F) | 38/56/6 | – |
| Energy (kCal) | 150 | 8 |
| Fats (g) | 6.0 | 8 |
| Saturated (g) | 4.0 | 20 |
| Cholesterol (mg) | 0.0 | 0 |
| Carbs (g) | 13.0 | 5 |
| Sugars (g) | 3.0 | |
| of which added (g) | 2.0 | 4 |
| Fiber (g) | – | – |
| Protein (g) | 20.0 | 40 |
| Sodium (mg) | 200.0 | 4 |
---
2. Orgain Protein & Superfoods
Best Organic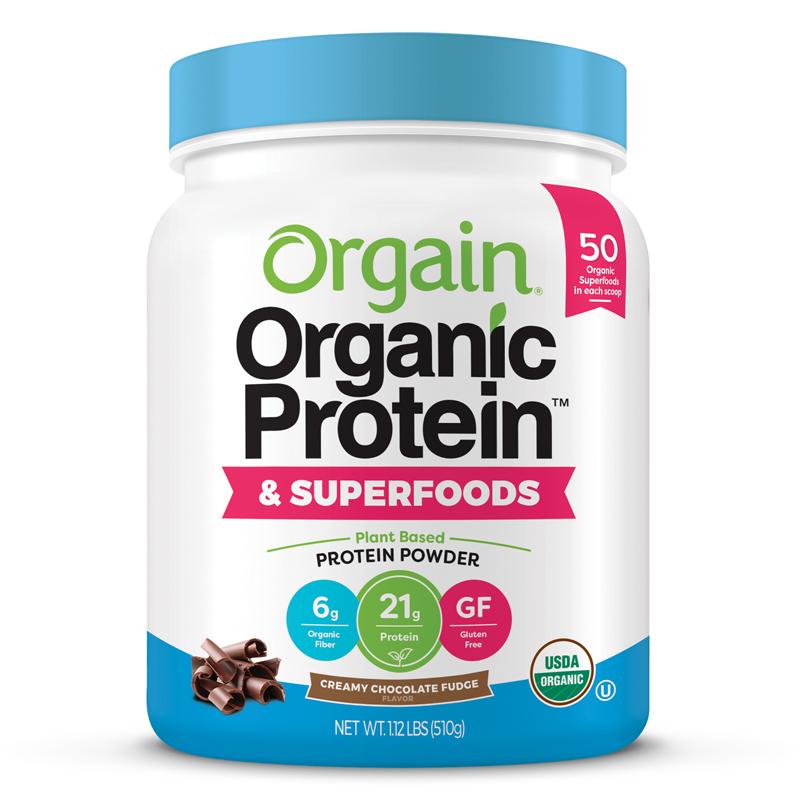 Pros
Organic soy free protein powder
Includes green superfoods
0g of added sugars, 6g of fiber
Organic pea, brown rice and chia seed protein blend
Cons
High in fats
Lower protein % than others
Another great soy free shake by Orgain; this time focusing on providing you with high quality plant-based protein. Instead of soy, Orgain uses a blend of organic pea, brown rice and chia seed protein to which they add their custom 50 superfood blend.
Why would I need superfoods on my no soy protein powder? These provide you with extra nutrients (mostly vitamins and minerals) and phytonutrients that will boost the absorption and efficiency.
As such, each serving will provide you with 21g of protein, 6g of fiber and 0 added sugars.
Nutrition
| | | |
| --- | --- | --- |
| per serving | Protein & Superfoods | DV (%) |
| Energy (C/P/F) | 25/49/26 | – |
| Energy (kCal) | 170 | 8 |
| Fats (g) | 5.0 | 6 |
| Saturated (g) | 1.0 | 5 |
| Cholesterol (mg) | 0.0 | 0 |
| Carbs (g) | 20.0 | 7 |
| Sugars (g) | 1.0 | |
| of which added (g) | 0.0 | 0 |
| Fiber (g) | 6.0 | 21 |
| Protein (g) | 21.0 | 26 |
| Sodium (mg) | 190 | 8 |
---
4. Bulk Powders Vegan
Best UK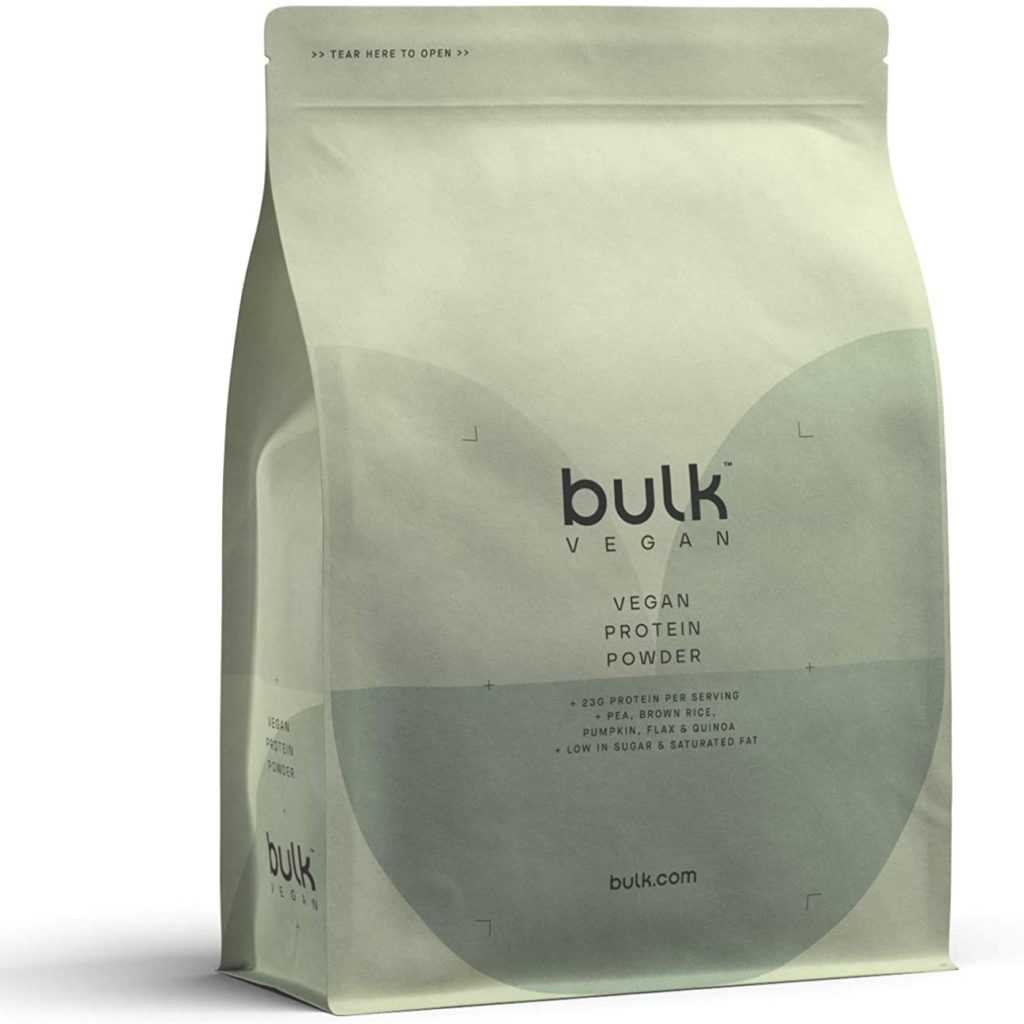 Pros
High quality protein blend for optimal protein absorption
High protein %, not many fillers
Includes digestive enzymes
10 different flavours to choose from; including unflavoured
Bulk Powder's vegan protein shake is the best soy free protein powder in the UK. The British brand offers a highly concentrated plant-based protein blend with 23g of protein per 130kcal (very low carb content!).
They key ingredients of one of the purest vegan protein powders without soy are: pea protein isolate, brown rice protein, pumpkin seed protein, flaxseed powder and quinoa flour. This ensures that you get a complete amino acid profile, unlike most single vegan sources (pea, rice etc).
Furthermore, this protein powder is also gluten free, lactose free and contains digestive enzymes to help you with the digestion. All this, topped up with an excellent taste backed up by more than 780 positive reviews. It's not only me who likes them.
Nutrition
| | | |
| --- | --- | --- |
| per serving | Bulk Vegan Protein | RI (%) |
| Energy (C/P/F) | 14/71/15 | – |
| Energy (kCal) | 130 | 7 |
| Fats (g) | 2.1 | 3 |
| Saturated (g) | 0.5 | 3 |
| Cholesterol (mg) | 0.0 | 0 |
| Carbs (g) | 3.6 | 1 |
| Sugars (g) | 0.5 | |
| of which added (g) | 0.0 | 0 |
| Fiber (g) | 0.0 | 0 |
| Protein (g) | 22.9 | 46 |
| Salt (g) | 0.5 | 8 |
---
4. Vegan Weight Gainer
High Calorie
Pros
Ideal for those looking to put on weight
Orgaic pea + rice protein blend
Gluten-free, soy-free and GMO-free
Cons
Only suited for those looking for high calorie meal
It's mostly carbohydrates
Naked Nutrition's Vegan Weight Gainer is a bit of an odd one on this list; since it's a high calorie protein shake without soy. In fact, strictly speaking, is not purely protein but also loaded with carbs to help you put on muscle more easily.
Nevertheless, each 1,230kcal serving contains 50g of soy-free protein (rice and pea protein blend)! The powder is gluten-free and GMO free and contains high quality organic ingredients.
This would be my choice if I were looking to put some weight on, but didn't want to take the usual weight gainers or protein powders that contain soy.
Nutrition
| | | |
| --- | --- | --- |
| per serving | Vegan Weight Gainer | DV (%) |
| Energy (C/P/F) | 81/16/3 | – |
| Energy (kCal) | 1230 | 62 |
| Fats (g) | 4.0 | 6 |
| Saturated (g) | 0.5 | 3 |
| Cholesterol (mg) | 0.0 | 0 |
| Carbs (g) | 248.0 | 83 |
| Sugars (g) | 24.0 | |
| of which added (g) | 0.0 | 0 |
| Fiber (g) | 4.0 | 16 |
| Protein (g) | 50.0 | 80 |
| Sodium (mg) | 290.0 | 12 |
---
Let's Talk Soy
Soy is a widely used ingredient in the food industry. It is present in more foods that you might expect including: oils, tomato soup (as emulsifier), protein powders and nutritional supplements, sauces (soy flour)… Despite being used widely, there has always been a shadow of concern on the negative effects of soy.
Among those negative effects are fear that might cause breast cancer, thyroid problems and dementia. This fear is partially due to soy being high in isoflavones. These are plant estrogens similar to what humans produce but much weaker. However, the effects of these might vary depending the ethnicity, hormone levels or type of soy being used (thus different results in scientific studies).
Is It Safe to Consume Soy?
In spite what I mention earlier, the short answer is yes. Most studies indicate that it has neutral or positive effects on health; and it is very nutrient dense (vitamin B, fiber, complete protein etc.).
However, it is advisory to consume minimally processed soy in order to avoid problematic antinutrients.
Soy Protein Isolate and Common Concerns
Even after all major health organizations (ESFA, FDA, WHO) consider soy and soy protein isolate safe to consume for the majority of population; there are a few concerns:
GMO origin. Most of the soy produced in the United States is genetically modified. There is much controversy around genetically modified food and possible negative effects; even though, current understanding says they are safe to consume
Soy protein might contain anti-nutrients. In fact, most vegetables are likely to contain anti-nutrients. In the case of soy, it contains phytates, which reduce the absorption of zinc and iron.
Residue chemical. Extracting the protein from they soy beans is a process carried through acid washing. This chemical process can leave some residues behind like hexane. Nonetheless, it is unlikely that these metals are going to be in toxic levels.
Upset stomach. To many folks soy may cause digestive issues; or in the worse cases you may get an allergic reaction to it.
The Best Soy Protein Isolate Alternatives
Because the reasons mentioned above, or other of your own, you might have pivoted into looking for soy free protein shakes. If you don't mind consuming dairy; then the best alternative is simple: whey protein concentrate or whey protein isolate. In this case, I would recommend you looking at Impact Whey (soy free whey protein), as previously mentioned.
When buying dairy based protein powders, make sure to check the ingredients since they might contain soy lecithin (small amounts).
However, it is very likely that you are looking for plant-based alternatives. Here, things get complicated.
Soy Protein Isolate vs Other Vegan Isolates
There are many non soy protein powder isolates: pea, hemp, rice, peanut butter… just to name a few. However, ALL of them have one issue soy protein isolate doesn't: they are not complete protein sources.
What do I mean with "complete"? Dietary protein is composed by 20 amino-acids (building blocks); only nine of which are essential. However, no all protein sources contain all nine in adequate fashion. This means that you will need to consume more plant protein a day or combine different isolates to get the best results.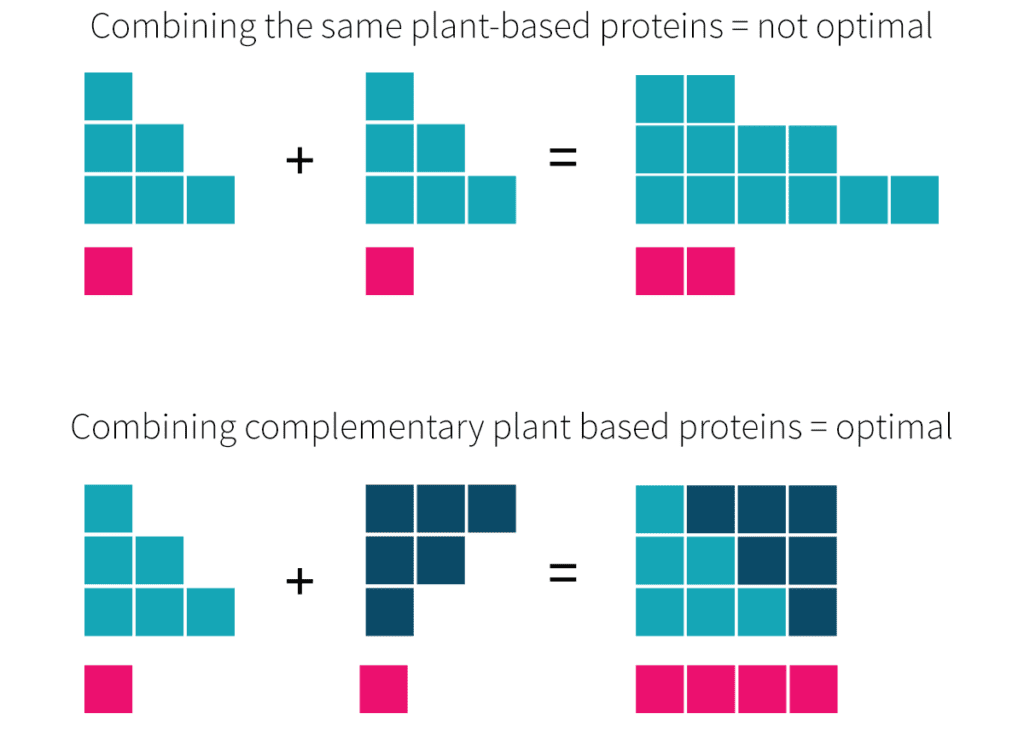 We can also observe this in the table below; and why pea and brown rice are considered complementary:
| | Complete Protein (min%) | Pea Protein | Brown Rice |
| --- | --- | --- | --- |
| Histidine | 1.5 | 2.5 | 2.4 |
| Isoleucine | 3 | 4.8 | 4.5 |
| Leucine | 5.9 | 8.5 | 8.3 |
| Lysine | 4.5 | 7.5 | 3.1 |
| Methionine+ Cysteine | 2.5 | 1.9 | 5.1 |
| Phenylalanine+ Tyrosine | 3 | 5.5 | 11.2 |
| Threonine | 2.3 | 3.7 | 3.8 |
| Tryptophan | 0.7 | 1.0 | 1.5 |
| Valine | 3.9 | 3.2 | 5.9 |
Essential amino acids shown as % of total protein. Complete protein set using WHO standards.
That is why in my best protein powders without soy I tend to prioritize plant protein blends.
Things to Look Out For When Choosing Protein Powders without Soy
So, let's end this mini-overview on soy protein isolate and the soy free alternatives by highlighting few factors that you need to watch out:
Hidden soy. Even in whey protein meal shakes might contain soy. How? Many brands include soy lecithin in small amounts to improve the texture of the shake.
Protein quantity per serving. Many soy isolates are going to be 90% pure of upwards. This means that most of your calories will come from protein. However, many vegan soy free protein powders might contain unwanted fillers (carbs, fats etc).
Source of protein. I strongly recommend you opt for a blend of plant-based, likely with pea protein as one of the ingredients. Avoid protein blends that contains solely nuts or seeds. Mix grains, seeds and beans to make the most out of your protein powder.
Taste. One thing that goes often unmentioned is that each protein source has its own flavour. This affects the taste of the shake. For example, pea protein can be quite unpleasant. Whey, on the other hand, has a very milky taste.
Soy Free Protein Powders vs Soy Free Meal Replacement Shakes
Many of you might use your protein powder to replace one of your meals with. However, there are healthier options than doing that: meet meal replacement shakes. These are also considered complete food, and they aim to provide you with all the essential nutrients per meal.
Therefore, whenever you don't have time for a proper meal, you can use a soy free meal shake to ensure that you are getting all the nutrients you need. Including fats, complex carbohydrates, protein and micronutrients (vitamins & minerals).
For instance, I used to struggle to get my protein in the morning so I used to eat oatmeal and a protein shake (with a banana or another condiment). However, doing this was tedious and sometimes I didn't have enough time. That's when I switched to meal replacement shakes. One shake provided me with the same nutrients my old meal did, but with half the hassle.
My Breakfast Example
Let me show you:
Oatmeal + 25g of Whey Protein
Calories: 400kcal, 20% of DV.
Protein: 35g, 70% of DV.
Carbs: 49g, 18% of DV.
of which sugars: 13g, 26% of DV.
Fats: 7g, 9% of DV.
saturated: 2g, 10% of DV.
omega-3: 0g.
Fiber: 6g, 21% of DV.
Salt: 0.5g, 11% of DV.
Micronutrients: less than 20% on most micronutrients.
Exact composition: 60g of oatmeal, with 250ml of skimmed milk and 25g of whey protein concentrate.
Soy Free Meal Replacement
Calories: 400kcal, 20% of DV.
Protein: 30g, 60% of DV.
Carbs: 46g, 17% of DV.
of which sugars: 1g, 2% of DV.
Fats: 13g, 17% of DV.
saturated: 2.5g, 13% of DV.
omega-3: 3.5g.
Fiber: 7g, 25% of DV.
Salt: 0.7g, 12% of DV.
Micronutrients: at least 20% of DV for all vitamins and minerals.
So, as you can observe, nutritionally they are very similar; with the added positive that meal replacement shakes also provide you with vitamins and minerals.
Other Positives:
Besides the above mention, there are other reasons to like meal replacements:
Easily adaptable to your diet. Soy free, gluten free, organic, paleo or keto. No matter what your dietary needs are, there's a shake that will fit your needs.
Choose your macros. With meal replacement shakes is easy to tailor the macros to your needs.
Never get bored. There are tons of flavours and textures out there, that will allow you to diversify easily.
Control what you eat on the go. Don't be limited by where you are. Get the meal you need at the office, while travelling or at home.
Save money and time.
Therefore, if you didn't know about meal replacements I hope that I've made a good case to switch to them. If you were aware, then you'll probably already know all this!
Conclusion: The Best Soy Free Meal Replacement Shake and Protein Powder are
… Ample V and Ambronite Complete Plant Protein. Both are incredibly high quality soy free shakes that will help you boost your protein intake or replace your meals.
There are, nonetheless, more alternatives that might suit you better depending your requirements. Thus, I have tried to cover different areas with my best soy free powder picks.
Choose wisely and enjoy the benefits of a clean diet!
Sources
1.US Dietary Guidelines 2015-20.
2. FDA Daily Values.
3. Protein and Amono Acid Requirements in Human Nutrition by WHO.
4. Ultimate Meal Replacement List.
5. Latestfuel's Best Meal Replacement Shakes.
7. Amino Acid Composition of an Organic Brown Rice Protein Concentrate and Isolate Compared to Soy and Whey Concentrates and Isolates.