Orgain Meal Replacement Review; The Best Healthy Shakes?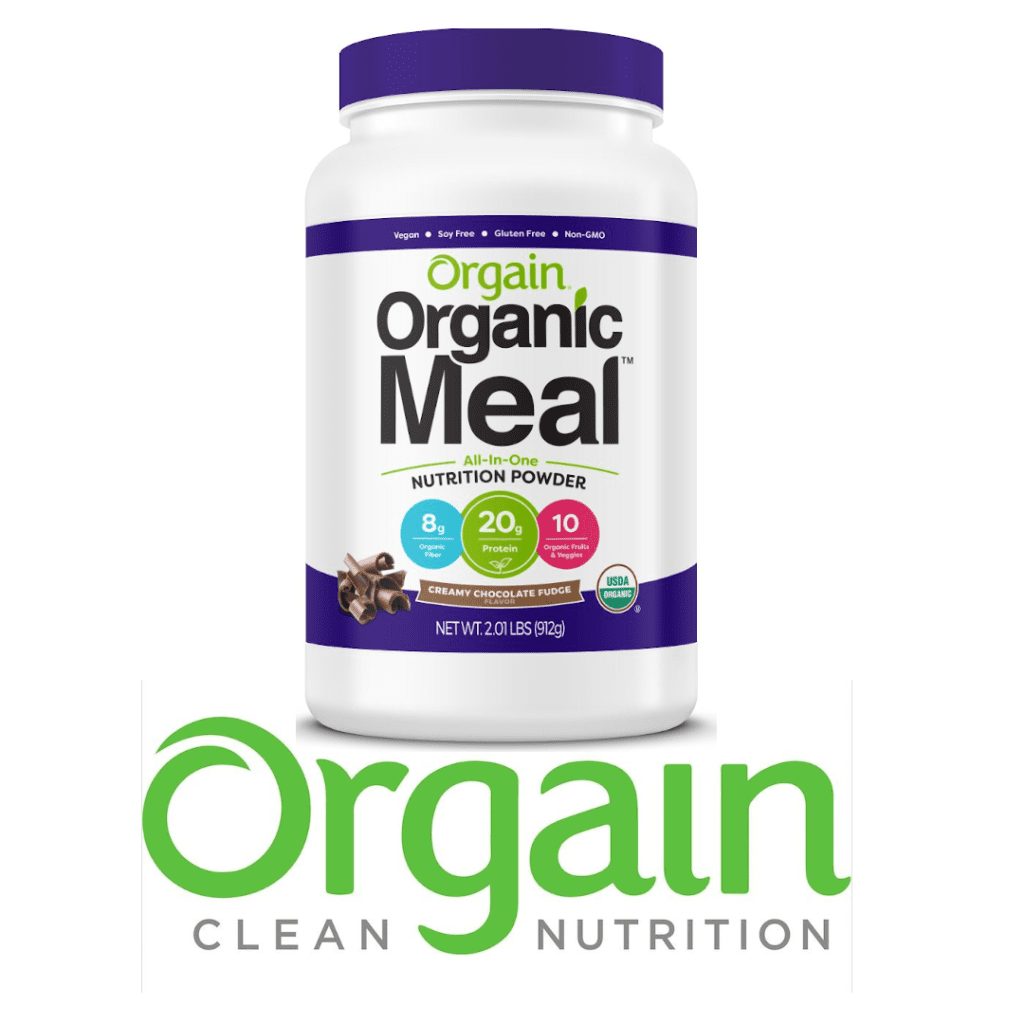 Welcome to this Orgain meal replacement review! In this review, I will have a good look at Orgain; a US based company focused on organic meal replacements, protein powders and other nutritional products.
All their meals and drinks are vegan, soy-free, without artificial flavours or preservatives and made with high quality ingredients. In this Orgain meal replacement review, I will have a look to their shakes and analyze if they are as clean and as delicious as they claim to be. How good are Orgain's organic meal replacement shakes?
Orgain Review at a Glance
Flavours: Creamy Chocolate Fudge, and Vanilla Bean.
Ingredients: Orgain Organic Protein Blend (Organic Pea Protein, Brown Rice Protein, Chia Seed); Organic Creamer Base (Acacia, High Oleic Sunflower Oil, Rice Dextrin, Sunflower Lecithin, Rosemary Extract, Natural Flavours, Erythritol); Organic 50 Superfoods Blend [Millet, Amaranth, Buckwheat, Quinoa, Chia, Kale Powder, Apple Pulp, Cinnamon, Organic Sprouts Blend (Quinoa, Amaranth, Millet, Buckwheat, Garbanzo, Lentil, Adzuki, Flax, Sunflower, Pumpkin, Chia, Sesame), Organic Super Veggies, Super Berries, Super Grasses & Super Foods Blend (Acai, Cranberry, Wheat Grass, Barley Grass, Oat Grass, Banana, Mango, Beet, Carrot, Spinach, Broccoli, Tomato, Kale, Cabbage, Parsley Leaf, Brussels Sprouts, Green Bell Pepper, Cucumber, Celery, Garlic, Ginger Root, Green Onion, Cauliflower, Asparagus, Pineapple, Turmeric, Strawberry, Tart Cherry, Blackberry, Blueberry, Raspberry)]; Other [Organic Alkalized Cocoa, Natural Flavour, Sea Salt, Acacia, Guar Gum, Stevia, Xantham Gum, Organic Food Based Vitamin C (Amla Fruit Extract), Organic Food Based Vitamin B (Guava, Holy Basil, Lemon Extract)].
Opinion
Summarizing this Orgain meal replacement review, I must say that it's a good meal replacement with few shortcomings.
It's made of clean, real food based ingredients that ensure you are getting nutrients from food. While this and the added vegetables make Orgain a very nutrient rich shake; it falls short in some key vitamins and minerals.
Besides the meal replacement, Orgain has great organic protein powders, and greens supplements that are worth a look. Albeit, you will have to spend a little extra for them. In fact, I believe that Orgain's organic protein shakes are some of the best products they offer.
All in all, Orgain shakes are good for those looking to eat clean and without artificial ingredients. Nonetheless, they don't reach the nutritional balance I would've hoped for.
What I like
1. Good quality real food based ingredients. Orgain's drinks are USDA organic certificate, pass strict inspections and only provide you with nutrients from real food. You don't have to worry about synthetic additives in your food.
2. Amount of ingredients. Nutrients from various sources are important in a healthy and varied diet. That's what Meal Powder gives you, nutrients from dozens of veggies, sprouts and beans.
3. Also available in RTD format. Even though, they are not 100% the same, they also offer a All-in-One organic nutritional shake in ready-to-drink format. The same goodness of the powder, just in a more convenient form.
4. Good for weight loss. 230kcal might be a small meal for the average person, but it's ideal for those looking to shave some extra pounds.
5. 20% subscription discount. At least in your first subscription discount, and then 10% after that.
What I dislike
1. Lacks some key micronutrients. Unfortunately, this is my biggest issue with Orgain Organic Meal. Usually, I look for complete shakes that provide me with all the micronutrients and essential nutrients. Organic Meal falls short in some of them.
2. Might not provide enough omega-3s. One of the nutrients that falls short on are omega-3 fatty acids. Considering that the Western diet is often lacking them, I would've hoped to see them in bigger quantities in these shakes.
3. Small serving size. Although, it will fit for those looking to lose weight or a post-workout snack; most adults should look for a bigger shake when replacing actual meals.
4. Only available in the US. Sadly, this product is not available in Europe.
Improvements
1. Complete nutrition. As mentioned earlier, I would like to see all the vitamins and minerals present in each shake; even though accomplishing this using only real food is not easy.
2. International delivery. Some competitors are already available in Europe. I hope this will be the case for Orgain shakes, too.
Nutritional Breakdown
% of Energy from Each Macronutrient
Carbs 46%
Prot 34%
Fats 20%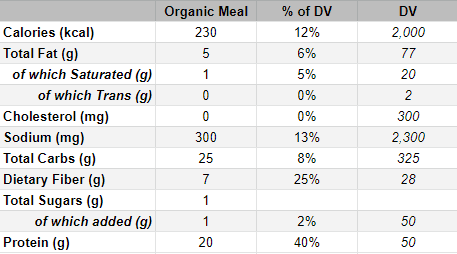 Looking at Orgain's organic All In One nutrition review, there are two major things to highlight:
Orgain Organic Meal Powder is not a nutritionally complete meal replacement. It lacks some essential vitamins and minerals, such as, Vitamin D, Vitamin K or Manganese. Nevertheless, it is a nutrient rich drink with plenty of micronutrients.
All of Orgains meals and protein powders are made with real food, without any artificial ingredients; and most of them are USDA certified organic, gluten free, soy free and non-GMO.
Consequently, they are generally very healthy and clean meals. In this nutrition section, I will mainly focus on Organic Meal Powder, and I won't review Orgain organic protein powders.
Carbohydrates
As far as carbohydrates is concerned, Organic Meal Powder falls within the lower end of the recommended per serving. Most carbohydrates come from organic rice dextrin. While this is not the best source of complex carbs; it is complimented by other excellent sources like quinoa sprout, amaranth sprout, millet and other semi-seeds. These are rich not only in complex carbohydrates, but also in other nutrients.
Furthermore, it is great to see that Orgain's Organic Meal is very rich in fibre with 7g per serving.
On the flip side, the All in One nutritional shake also contains 5g of erythritol. This is a sugar alcohol that has 0 calories but has 70% of sugar's sweetness.
Protein
Each 230kcal will give you 20g of protein from plant-based sources. In fact, it's a combination of organic pea protein, rice protein and chia seeds. Rice and pea protein are often paired together to achieve a more balanced amino acid profile.
Overall, you will get good bio-available protein from Orgain Meal Powder. However, if you want more protein, you can always add a scoop of Orgain's protein shakes.
Fats
Aside from carbs and protein, it's important to get all the essential fatty acids. Furthermore, a good balance of polyunsaturated fatty acids and monounsaturated fatty acids is also key for healthy lifestyle.
Remarkably, Orgain's meal replacement shake is low in saturated fats and high in MUFAs (thanks to high oleic sunflower oil). It also has some flax sprout, which could be a source of omega-3. Nonetheless, I don't think it will provide you with enough.
Sweeteners
The only sweetener found in Organic Meal Powder is stevia, besides erythritol.
Allergens
This Orgain organic shake is gluten-free, soy-free, dairy free and free of any major allergens.
Orgain Shakes Tasting Test
Unfortunately, we weren't able to test all products Orgain offers, but we managed to get ourselves a good array of protein powders and bars to review.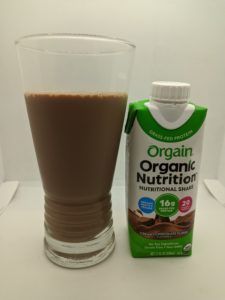 | | |
| --- | --- |
| Best flavour | Chocolate Organic RTD |
| Taste | Pretty good, particularly for the RTDs. There's a little bit of sweetness, and some flavours are just not strong enough, but it also feels clean and healthy. |
| Texture | Quite smooth for the protein powders. The meal replacements could be different, though. |
| Easy to Mix | Mixes perfectly. |
| Satiety | OK, can keep you full for 2h or more. |
| Easy to Clean | It doesn't get stuck to the walls of the shaker and a good rinse with water can be enough. |
| Afterthoughts | The RTD was much more pleasant, but most flavours are quite subtle. On the plus side, there's no nasty aftertaste or weirdness to the drinks, and they feel natural and food-like. The RTDs were far better in our opinion than the powders, and we would recommend buying the All In One RTD. |
Vanilla Protein Powder
This is by far the best smelling vanilla I've encountered. It smells like freshly baked cake, I'm sure my eyes lit up. After mixing the smell was completely gone, and just smells like any other original flavor. 
Texture was good, with medium consistency. It was mostly smooth, but did have finely milled bits in it. No clumps or unmixed spots with standard shaker with whisk.
Taste wise, it was a huge let down. After smelling so good in the packet, it was largely bland, with an aftertaste. The sugar alcohol gave it an odd sweetness, almost like too much was used for this serving size. Blending it with fruit/greens might be better, but as a standalone mix, I didn't like it.
Chocolate Protein Powder
Smells like cheap chocolate, my expectations are low after vanilla wasn't good. Chocolate is slightly better, with no aftertaste. The odd sweetness is more muted too. I like it better than vanilla, but only a little.
Vanilla Clean Protein RTD
This one was decent, very strong milk base. It tastes basically like a sweeter glass of milk, though there are slight medicine-like undertones. It was very mild, and wasn't a big deal overall. I appreciate the monk fruit and agave as sweeteners over the sugar alcohol, which gave it a much better flavor profile in my opinion.
Chocolate Organic Nutrition RTD
I really enjoyed this one. Tastes just like any store bought chocolate milk. It didn't have the slight medicine taste like the Vanilla Clean Protein. By far my favorite of everything Orgain provided.
Orgain Protein Snack Bar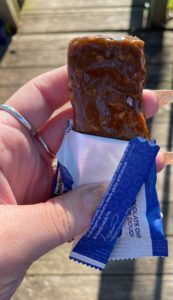 The texture is a lot like taffy, mixed with a granola bar. It is soft and easy to chew and I do taste the chocolate chips and cookie-like flavor. It's unmistakably a protein bar with its pronounced nutty flavor. It's not bad, I like it.
More about Orgain
This US based company was founded by Dr Andrew Abraham, after he battled and survived cancer. It was during its treatment that this integrative medicine specialist started seeking for a nutritional shake made with real food based ingredients. Shakes that would be natural, clean and powerful without the need of any unwanted extras.
Mission
As such, all Orgain drinks follow the "Orgain way":
Clean Nutrition. Almost all products certified organic by the USDA, with no soy, without artificial sweeteners and no GMO ingredients.
Delicious Taste.
High Quality Ingredients. Only ingredients that met the highest standards are used in Orgain shakes.
Besides these, Orgain is also committed to giving back to the community through philanthropic initiatives.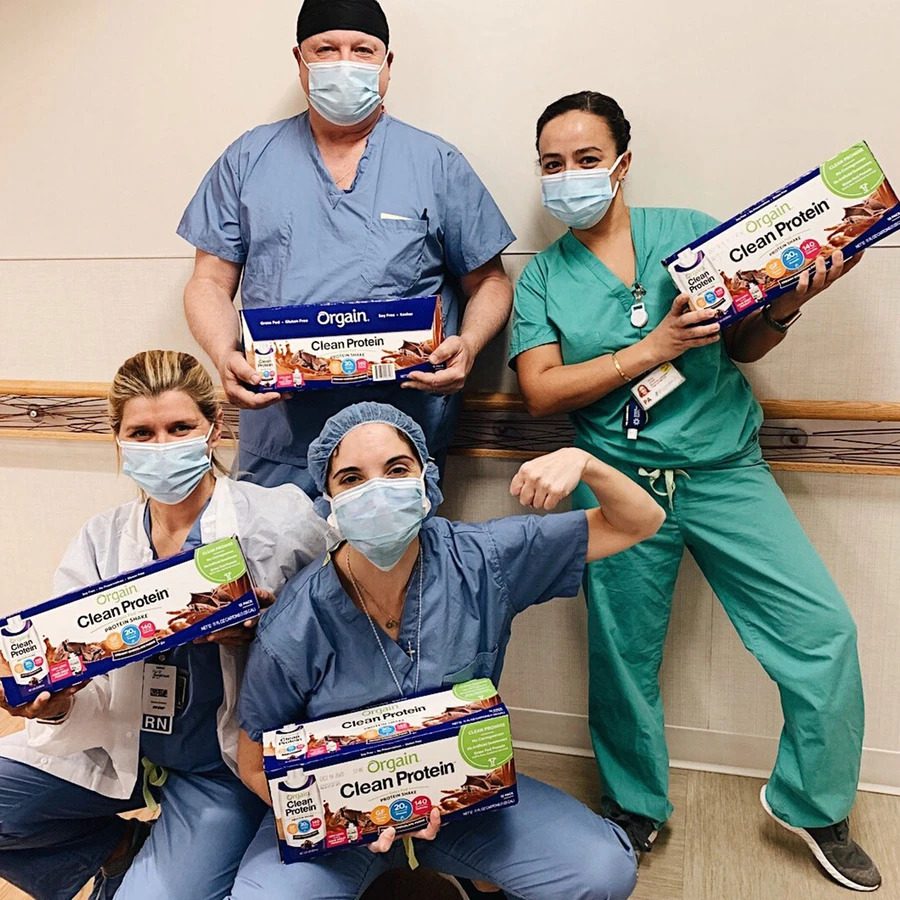 Pricing & Shipping
For many, one of the main issues with the best organic meal replacement shakes is their high price tag. In this aspect, Orgain meal replacements are no different. Hence, they cost more than your average shake; even though when compared to similar shakes it fares well.
The All in One Orgain nutrition powder comes in 2.01lb tubs and costs $44.99 for 16 servings (230kcal per serving). You can further reduce this by 20% when you subscribe. Therefore, each serving will cost you $2.81 without a discount and $2.25 with.
Anyhow, let's compare it to other natural meal replacements (also not show here, but Orgain would be a much cheaper Shakeology alternative):
| | | | | |
| --- | --- | --- | --- | --- |
| Price per 400kcal | Orgain | Ample V | Garden of Life | Ambronite |
| Expensive ($) | 4.89 | 5.25 | 4.99 | 6.5 |
| Cheap ($) | 3.91 | 4.48 | 4.25 | 3.5 |
Orgain and Garden of Life have smaller recommended servings (230kcal and 130kcal). Thus, the price per serving is cheaper than what's displayed above.
On the opposite hand, the cheapest meal replacements will start at $1/400kcal.
As far as shipping goes, they only ship to the US at the time this Orgain review was written.
That said, you will get free shipping in orders over $50.
Other Orgain Meals Review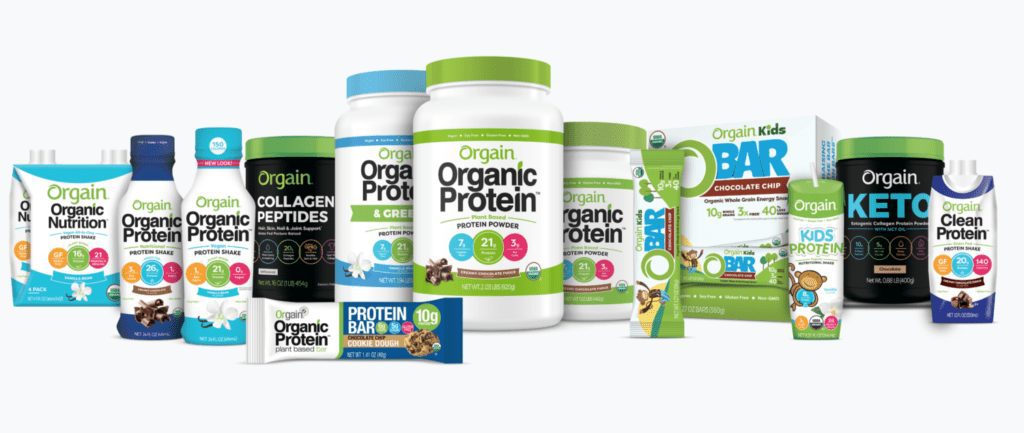 Like mentioned beforehand, Orgain is does not only do nutritional drinks. They are a manufacturer of quality nutritional meals and supplements made with organic ingredients.
Consequently, as part of this Orgain meal replacement review, I want to have a look to other products they produce that you might be interested in.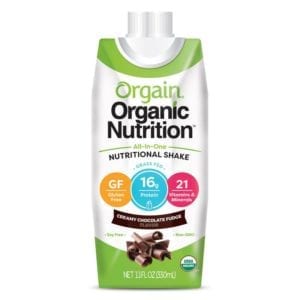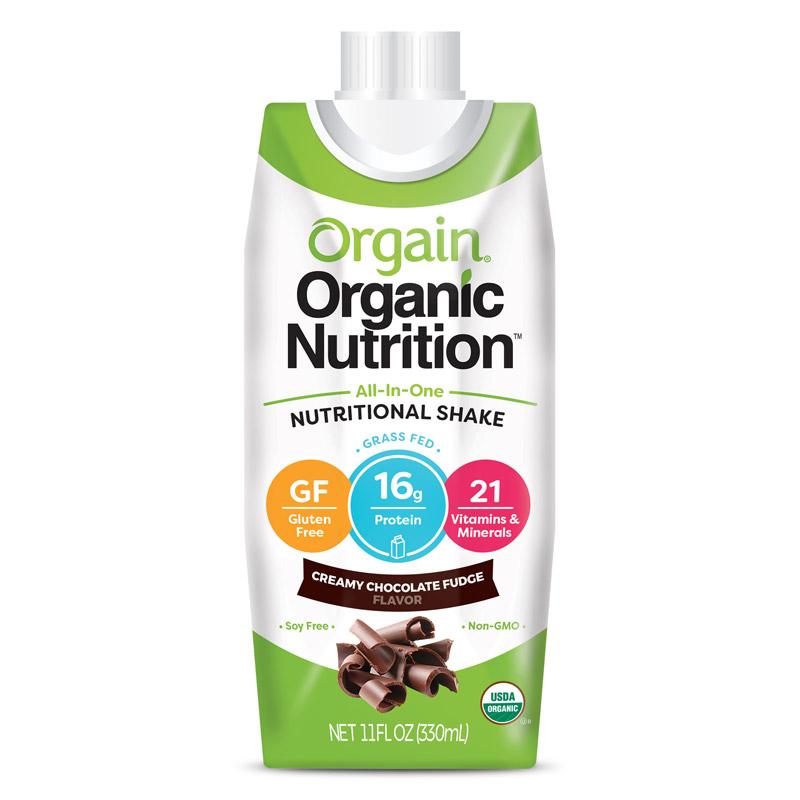 Orgain Nutritional Shake
Meal replacement.
Ready-to-drink.
250kcal, 16g of protein, 11g of sugar.
Macros: 50C/25P/25F
Vegan*, organic, gluten-free, includes some vitamins & minerals.
4 flavours available: Vanilla Bean, Creamy Chocolate Fudge, Iced Cafe Mocha, and Strawberries & Cream.
Smoother than the powders and tastier. However, these are nutritionally inferior, due to higher sugar quantities..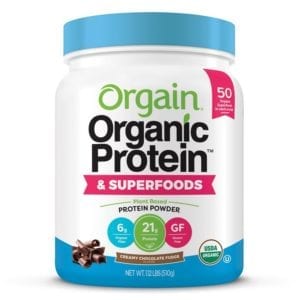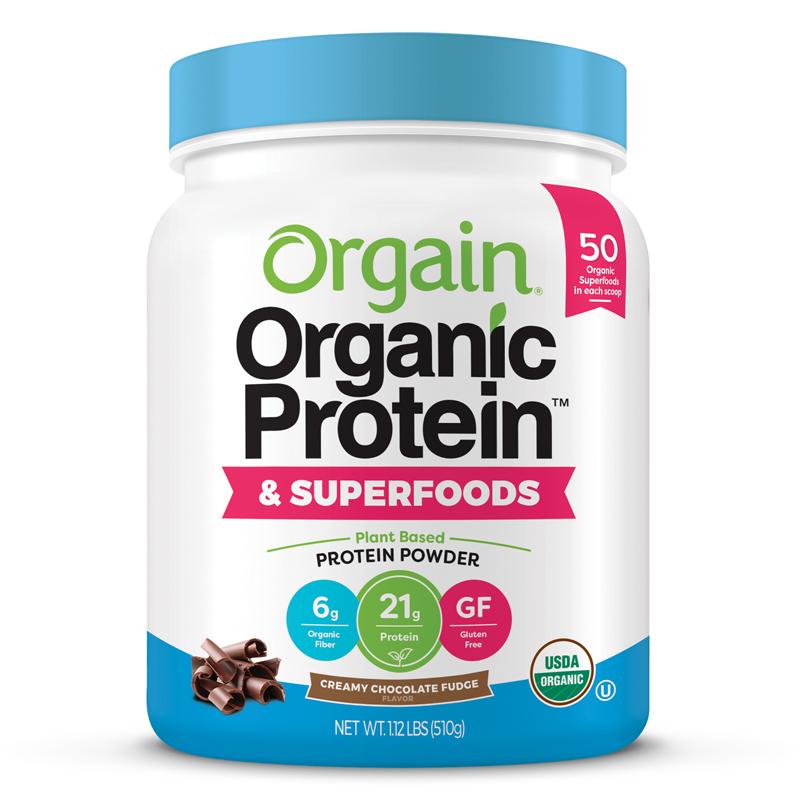 Organic Protein & Superfoods
Protein powder.
Powder.
170kcal, 20g of protein, 0g of sugar.
Macros: 27C/47P/26F
Vegan, organic, soy-free, gluten-free, and includes 50 superfoods.
2 flavours: Creamy Chocolate Fudge, and Vanilla Bean.
Best for post-workout or protein intake boost. It has added green powders to boost your nutrient intake. A protein powder that will give you more than just protein.
Orgain All In One Review
Regarding the first option, this is the Orgain meal replacement but in RTD form instead of powder. It will still provide you with most of the benefits highlighted in this Orgain meal replacement shake review; but in a more convenient format.
The Orgain Nutritional shake RTD is smoother and tastier than the powder; but the trade off is that it has worse nutritional values. Still, it is the perfect clean and nutritious drink for those occasions that you are in a rush. I wouldn't say it's the best RTD meal replacement, but certainly one of the only organic options.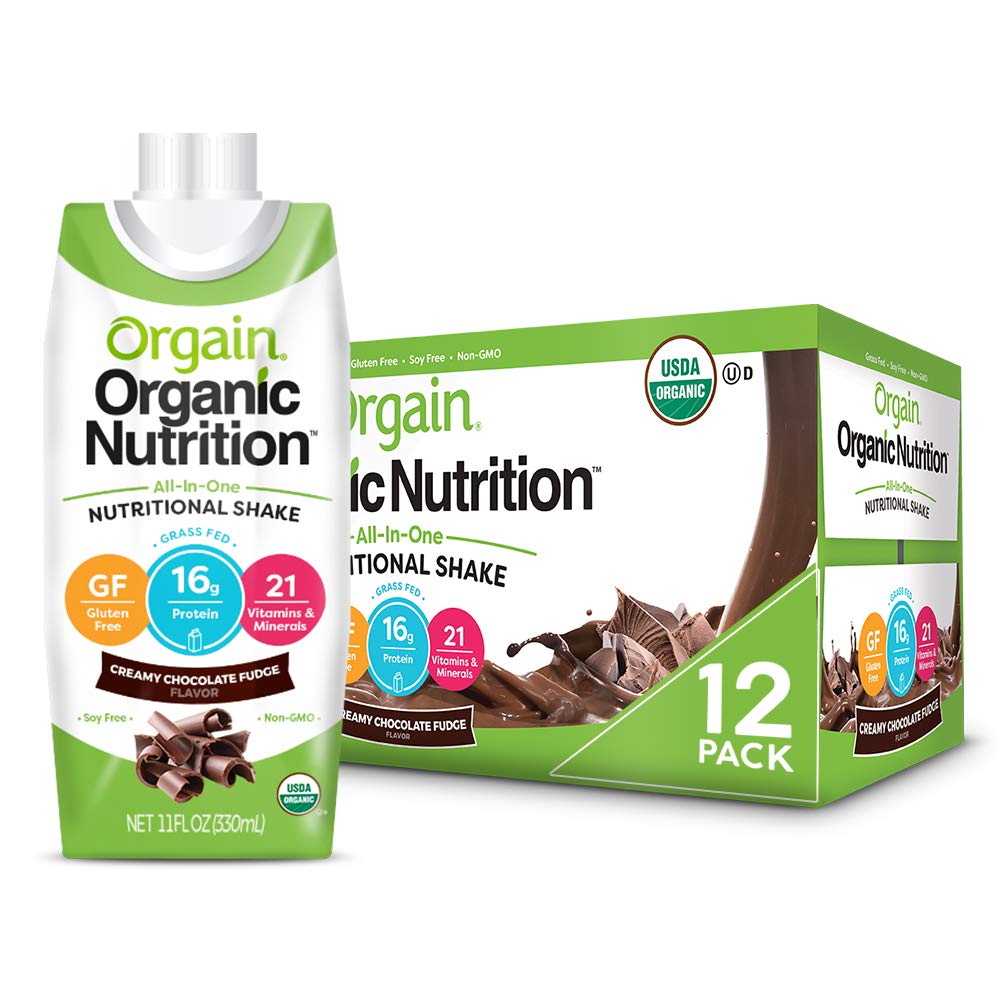 Orgain Organic Protein Review
As for the second, Protein and Superfoods, this is one of the best greens powders with protein you can get. It is the perfect blend of quality plant-based protein (organic chia, pea, and rice) together with 50 green superfoods. These will provide you essential (food based vitamins & minerals) and non-essential nutrients (antioxidants, anti-inflammatory agents etc) that will boost your metabolism.
All of this within 170kcal, and providing you with 20g of protein and no sugars. Healthy, clean and tasty.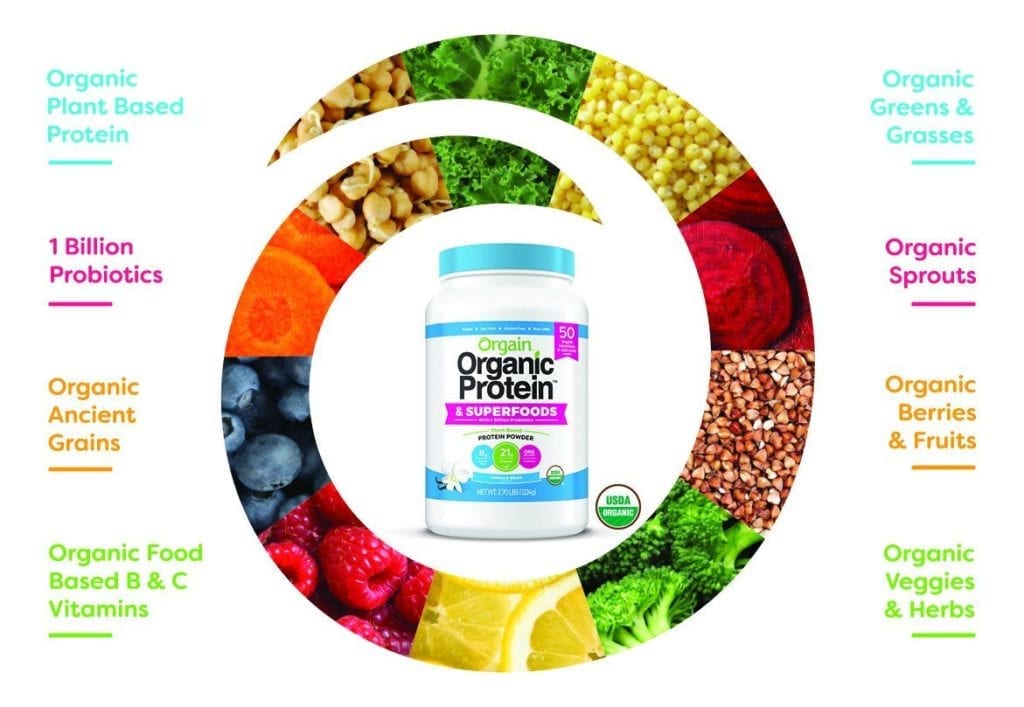 Orgain Shakes vs
Taking into consideration the nutritional philosophy behind Orgain's meal replacements (natural, healthy and clean); the most clear contenders are Raw Organic Meal (Garden of Life), Ample V, Ambronite CMS and Ka'chava. All of these are some of the healthiest meal replacement shakes you can buy.
Overview
| | | | | |
| --- | --- | --- | --- | --- |
| | Orgain | Raw & Organic | Ample V | Ambronite |
| kcal/serving | 230 | 130 | 400 | 400 |
| Macros (C/P/F) | 46/34/20 | 24/62/14 | 23/20/58 | 41/24/35 |
| Protein (g) | 20 | 20 | 20 | 24 |
| Sugar (g) | 1 | 1 | 4 | 12 |
| Fiber (g) | 7 | 2 | 11 | 8 |
| Fats (g) | 5 | 2 | 26 | 15 |
| Vegan | Y | Y | Y | Y |
| Organic | Y | Y | N | N |
| Real Food based | Y | Y | Y | Y |
| Artificial Sweeteners | N | N | N | N |
| Synthetic Additives | N | N | N | N |
| GMO | N | N | N | N |
Out of all these options, only Ambronite Complete Meal Shake is actually nutritionally complete. The others contain some or most of the essential vitamins and minerals, but not all. That said, they are all rich in phytonutrients due to the fact that they are rich in vegetables and fruits.
Orgain Meal Replacement Shakes vs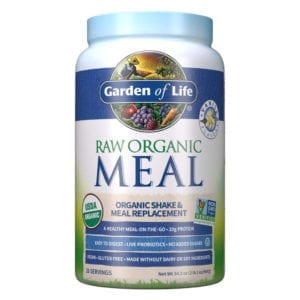 Raw & Organic Meal
Garden of Life's Raw & Organic is a low calorie high protein shake, also made with organic and natural ingredients. Just like Orgain shakes does not have all micronutrients, but it is nonetheless rich on most. Plus, it has probiotics and digestive enzymes. As such it's a great diet shake. Nonetheless, I would say that Orgain meal replacement is better balanced, and slightly better than Raw Organic Meal.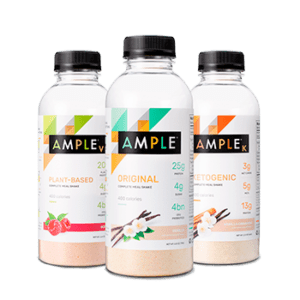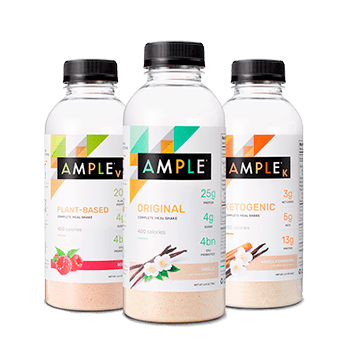 This is a premium low carb shake and the ideal alternative to Orgain drinks if you are looking to cut down on carbs. Besides the plant-based formula, they also have a keto shake and a whey based one. All filled with premium fats, probiotics, and quality ingredients.
The main reason why I prefer Ample is the incredible taste and smoothness of their shakes. Worth paying extra for.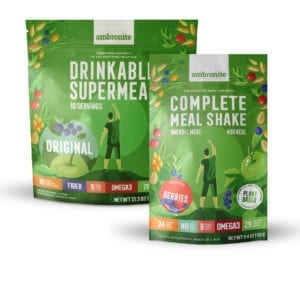 Complete Meal Shake is my favourite option out of all four. Mainly, I enjoy the more balanced macros and the fact that it's the only one that provides you with all the essential vitamins and minerals.
Even then, these shakes have a very green taste that might not be of everyone's liking.
---
Cheaper Meal Replacement Options that I Like
So perhaps you are taken aback by the prices of these product. Don't worry, there's plenty of meal shakes out there that might fit your budget better. I would recommend starting with this 2 alternatives:
Complete 360 Meal. The perfect blend of quality nutrition, excellent taste and great price. Nonetheless, this will not be an organic shake and it has synthetic vitamin and minerals. On the plus side, it does not contain any GMO ingredients, it's fully plant based, it has 30g of protein per 400kcal and it's nutritionally complete.
Plenny Shake. Alternatively, you can try Plenny Shake, one of the best known vegan shakes in the market. It couples solid nutrition with good taste. In addition, each meal will cost you $1.45 (400kcal) which is a bargain for complete nutrition.
Orgain FAQ
Are Orgain meal replacement shakes organic?
Yes, like most products Orgain shakes are made with real food, organic ingredients when possible. Their meal replacement shake is USDA organic certified.


Is Orgain Organic Meal powder vegan?
Yes, it's certified vegan.


Can I use Orgain shakes to lose weight?
Yes. They can be a great addition to your diet while you are losing weight due to its nutrient rich nature. Plus, each shake only has 230kcal.


How does Orgain Meal powder taste?
According to most reviews, it mixes very well and the taste is great, too. It has a sweet profile with some "greens" undertone.


Is Orgain healthy?
Yes, by most nutritional standards Orgain's meal powders and ready to drink nutritional shakes are healthy. They contain real food based ingredients, no-GMO, plenty of vegetables and fruits. These translates into low sugar meals, with plenty of quality nutrients, including vitamins, minerals and phytonutrients. Mostly, Orgain products are healthy nutritional boosters for a balanced diet.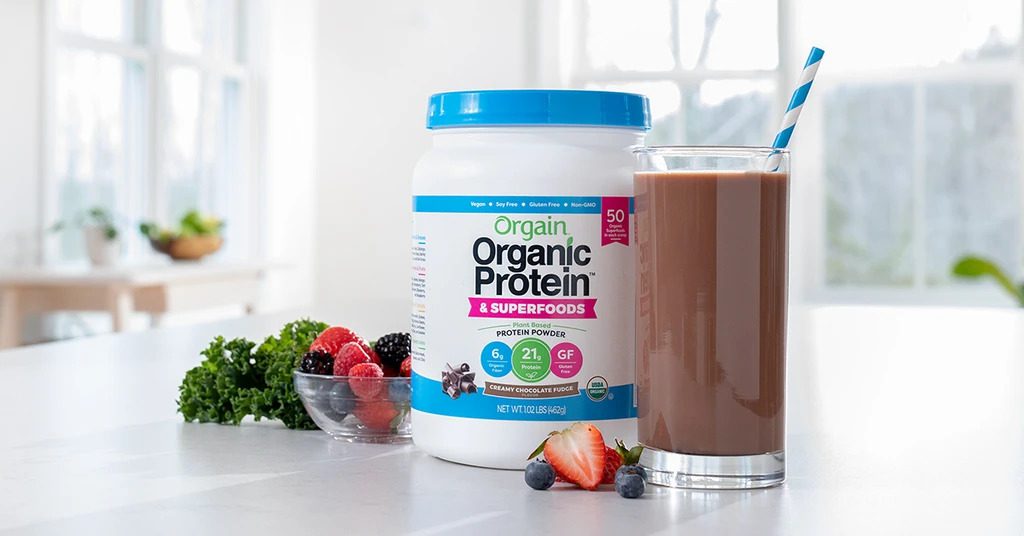 ---
Verdict – Orgain Meal Replacement Review
Taking everything to consideration, I must admit that Orgain's organic meal replacements are pretty good. They offer what they promise: clean, organic and healthy nutrition from real food based ingredients.
Consequently, Organic Meal shakes will be the ideal post-workout drink or light meal for those looking to clean up their diet. Particularly, since each Orgain shake offers 20g of plant-based protein, 230kcal, 0g of added sugars, and no nasty surprises. Furthermore, you will be able to boost your diet with other products, like the superb Orgain Protein powders or the green superfoods.
In fact, this is a brand for those who are willing to spend some extra cash to ensure they get healthy nutrients from real food, and avoid synthetic additives, pesticides and other unwanted ingredients.
Personally, as stated throughout this Orgain meal replacement review, I would've loved to see all the essential nutrients in their shakes. Therefore, Orgain shakes are not the ideal products for me, but I would definitely consider buying their Proteins & Greens powder.
Orgain Meals
From $4.89/400kcal
Pros
Clean, natural, organic real food based ingredients. Plus, it includes 20+ veggies, sprouts and beans for a super nutrient rich shake.
No-soy, gluten-free, dairy free, organic and no-GMO.
230kcal but very nutrient rich, ideal for weight loss.
Also available in RTD format
Orgain also has other great organic protein powders, green superfood shakes etc
Cons
Not nutritionally complete. It lacks some vitamins and minerals
It doesn't provide with enough omega-3 fatty acids
Only 2 flavours available
Vanilla flavours are pretty forgettable