Carnation Breakfast Essentials Review | You Should Look for Better Options
Summer is winding down, but we're still bringing the heat at LatestFuels! This time we have something a bit different. We have Carnation Breakfast Essentials review in the lab today.
This is an over the counter, and easy to find nutritional supplement. Take note, that based on volume and content, this is NOT a meal replacement. That said, you can expect 10g of protein, 41g of carbohydrates and 4g of total fat, within a 240kcal envelope. Each bottle is 237ml, or 8oz, and also contains between 10% and 100% of 21 vitamins and minerals.
With the specs out of the way, is it a good breakfast meal replacement? Is it essential? Today, we find that out, and much more!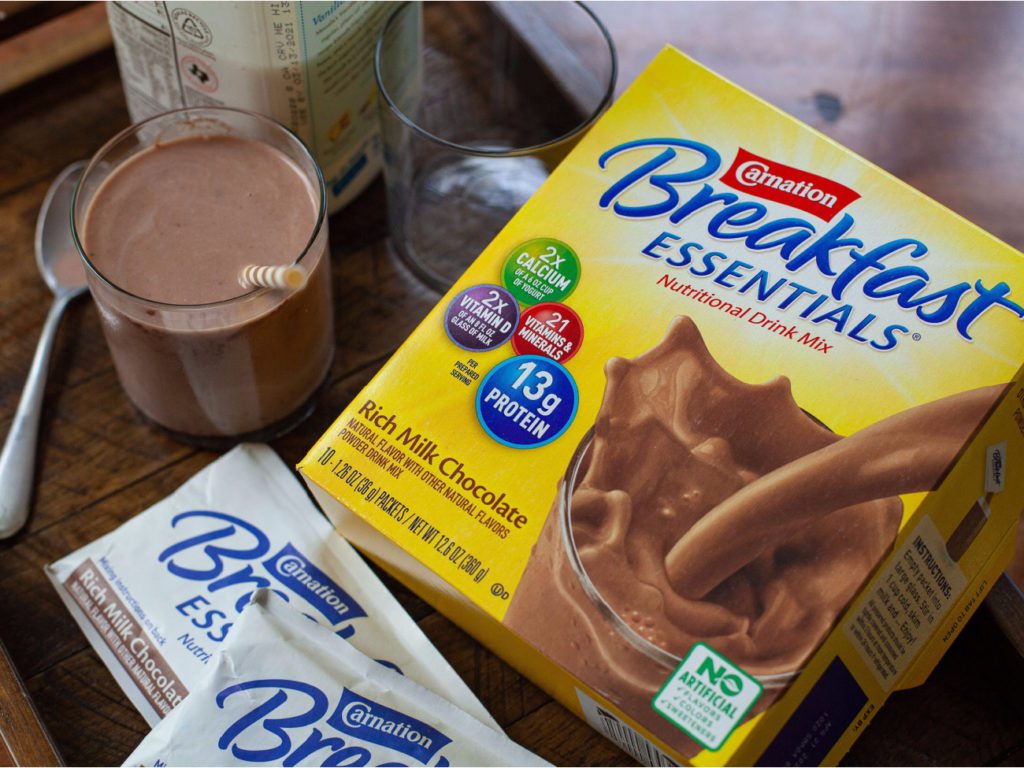 ---
At a Glance
Flavours: Vanilla, Chocolate, Mixed Berry, Strawberry, Cookies 'n' Cream, Frosted Flakes, Golden Grahams, Cinnabon, Fruit Loops.
---
Opinion
We cover many products here, most of which you must order online and wait to have shipped to your door. Well, there are places where that takes quite some time. In the rural US, for instance. Also, we all know money is tight for everyone in these trying times.
So what if you want products you can just grab locally for cheap, and start with those? We'll highlight one such product with this review.
There are five general flavors, vanilla, chocolate, mixed berry, strawberry and cookies 'n' cream. They often have some special, limited edition flavors which are collaboration with cereal makers to bring crossover flavors. In the lab today, we have the regular chocolate, vanilla flavors, plus to special flavors of Frosted Flakes, and Cinnabon.
I remember these quite well. During my daughter's toddler years, she was really small, and to get her to put on weight they recommended pancakes, and Carnation Breakfast Essentials….yeah, that's American healthcare for you. But anyway, she really liked them, and it did help fill gaps in her intake. Primarily, that's whom this product is geared towards…..picky children.
Honestly, I don't expect much outside it being relatively tasty. Sugar is high, fiber is literally zero, and it's only 240kcal, so it's more like a snack to avoid the vending machine, or to have something in the morning if you're prone to skip breakfast.
What I like
1. Affordable. You can find them as cheap as around $6 for a 6pk.
2. Lots of flavors. Five base flavors with several special editions.
3. Powder & RTD. Choose what's best for you.
4. Tastes great! All are very good. Flavors are spot on!
5. No artificial flavors or sweeteners.
6. Easily found locally. Sold at most grocery, department or drug stores.
What I dislike
1. Reduce sugar & add fiber.
2. Better balance with nutrient profile. Micro nutrient amounts can range from 10% to 50%, and some essential nutrients are missing (fiber).
3. Discontinue use of carrageenan. Some studies show it can be inflammatory.
4. Offer larger sizes. At least offer something around 300ml (12oz).
5. Not as cheap as the cheapest meal replacements.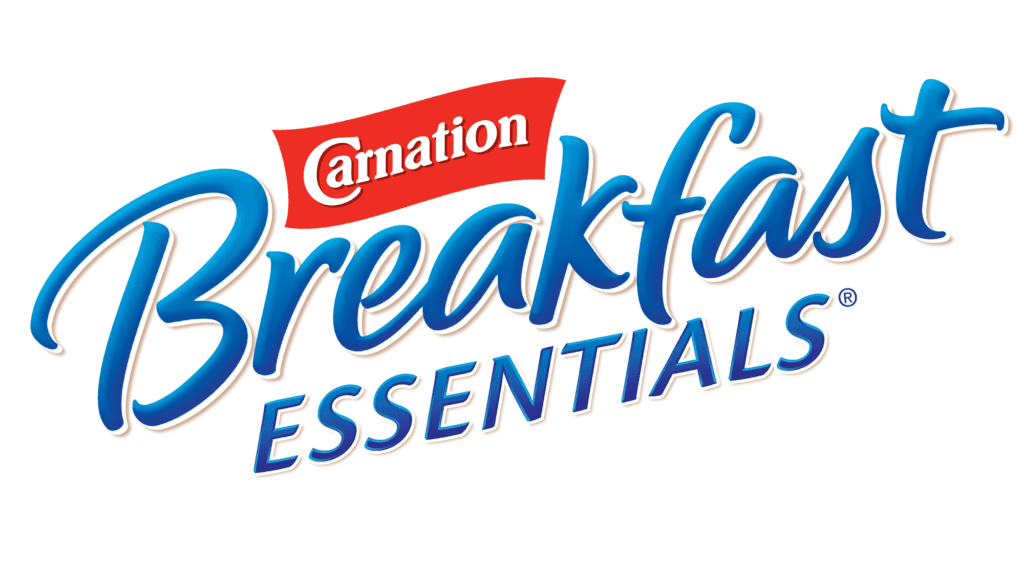 Nutritional Breakdown
Admittedly, this is not one of our standout reviews. This is certainly not the healthiest meal replacement you can buy. In fact, Carnation Breakfast drinks are not intended to be complete, as mentioned earlier. Thus, I recommend checking other alternatives if you are looking out for nutrition.
On the positives, as you'll see below, the ingredient panel is pretty simple, just not made up of the best items.
Carnation Breakfast Essentials Nutrition Overview
| | |
| --- | --- |
| | Carnation Breakfast Essentials |
| Kcal/meal | 240 |
| Serving Size (mL) | 237 (8oz) |
| Macros (C/P/F) | 69/16/15 |
| Vegan | No |
| Keto | No |
| Features | Nut Free, Gluten Free, Vegetarian |
| Non-GMO | No |
| Organic | No |
| Includes Probiotics | No |
| Artificial Sweeteners | No |
| Synthetic Additives | Yes |
| Contains All Micronutrients | Yes |
| Controversial Ingredients | Carrageenan |
*All flavors have an identical profile
Protein
Per 240kcal serving:
Total Protein: 10g, 20% of DV.
Source: Milk protein concentrate & Soy protein concentrate
Milk & soy combine in this product to provide its 10g of protein. It's not very protein rich, but the focus seem to be more on taste. For higher protein meals look at C360 or Huel.
Fats
Per 240kcal serving:
Total Fats: 4g, 5% of DV.
Saturated Fats: 1g, 55% of DV.
Omega-3s (ALA): None.
The fat content is very low in CIB. It consists of a combination of milk, and canola oil. The last might include some omega-3, but it doesn't look that it will provide enough.
All in all, the fat sources seem a little lacking, with little quality fatty acids.
Carbs
Per 400kcal serving:
Total Carbs: 41g, 15% of DV.
Sugars: 15g.
Of which added: 15g, 30% of DV.
Fiber: 0g
Here is where things really go downhill.
Regarding the sugar content, it's high, no other way to state that. Glucose syrup is the second item on the ingredients panel, while sugar is the fourth. This means that the GI of the drink is going to be very high.
Also a major strike, and there is no fiber to speak of. Fiber is really important for your health. Not only decreases risk of stroke, diabetes 2 and other major diseases, but it's also beneficial for your gut flora.
Micronutrients
There are 21 micronutrients in Carnation Breakfast Essentials. They range from 10% to 50% of your RDI. When comparing to the best meal replacements, you'll notice that some offer up to 26 vitamins and minerals.
Allergens
You'll definitely need to avoid these drinks if you have allergies. These contain diary, soy and carrageenan.
Tasting Test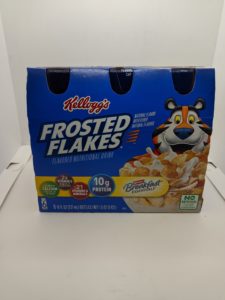 | | |
| --- | --- |
| Best flavour | Frosted Flakes |
| Taste | All were very good. Surprisingly, since I'm not usually a fan of sweet shakes. |
| Texture | Medium. Not thick, not thin….smooth |
| Easy to Mix | N/A |
| Satiety | Its ok if you drink two, which I don't recommend. Meant to just be something quick, and doesn't fill you up as much as an standard meal replacement |
| Easy to Clean | N/A |
| Afterthoughts | No hard complaints. |
Early Predictions
I predict this will be where this product shines. Being that it's kid focused, the only way kids will drink it is if it tastes amazing. 
It's worth noting that I had to drink them in pairs because they are so small.
Vanilla
Smells much like typical vanilla, nothing that excites or discourages me. It's very sweet….but not too sweet, in my opinion. Right at my limit, one gram more and I would've hated it. It's good though, much like melted vanilla ice cream, or a milkshake.
Consistency was good too, not too thick, not too thin. No complaints.
Chocolate
Much like homemade chocolate milk. Like when you put your 4 year old in charge of making it and it's noticeably sweeter than it should be.
It's also good, much like vanilla, but just chocolate flavored. Another winner.
Cinnabon
This one seems less sweet than the others. I can taste the cinnamon undertones, which are reminiscent of a Cinnabon. I'm not sure if I like it more, or like it less because it tastes less sweet.
Frosted Flakes
The smell of this one is really accurate. Taste wise, it is spot on! I loved Frosted Flakes growing up, and this really takes me back.
This one is my favorite of all the ones I tried.
Summary
To summarize, these were really strong taste wise, as expected. Drinking them in pairs kept me full for about 2 hours, though I wouldn't recommend consuming that way.
Just know that each serving is 30% of your sugar intake for the day. Something to keep in mind if you plan on adding this to your diet if you have existing conditions.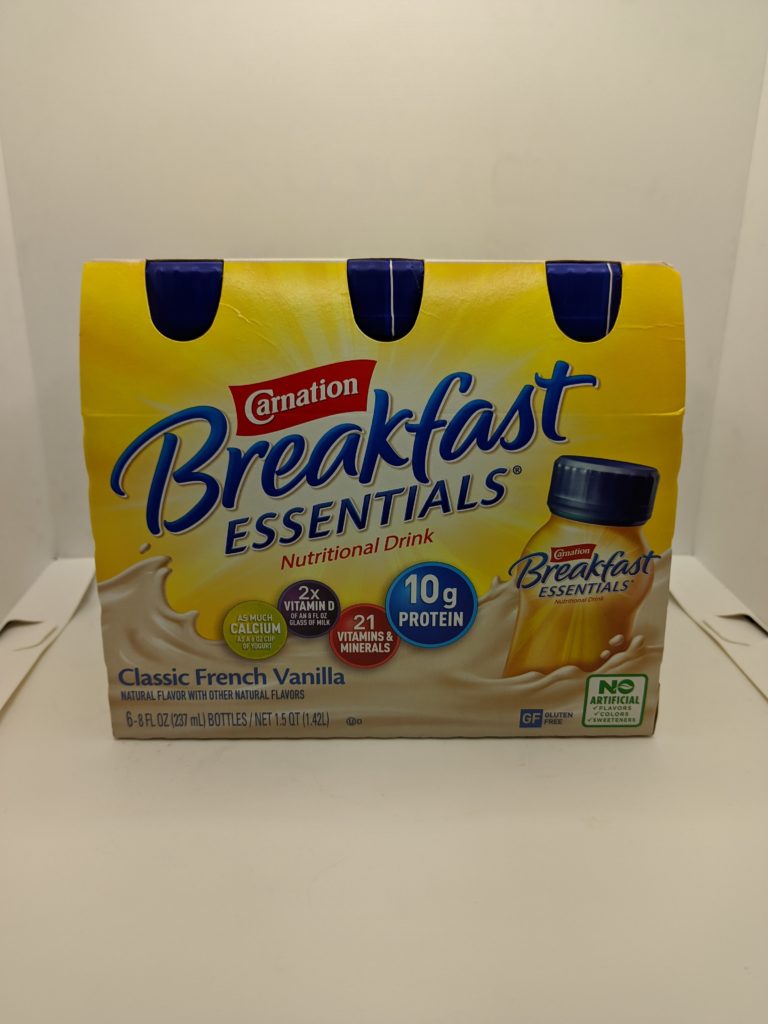 About the Company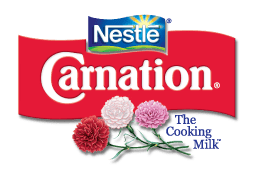 A Long History
Carnation was started in 1899 in Carnation, WA by Eldridge Amos Stuart. They were a company solely focused on producing evaporated milk. By removing 60% of the water, the milk becomes very thick and shelf stable if canned. Adding water makes it roughly equivalent with fresh milk. This was wildly popular in the early 20th century, before refrigeration was widely adopted.
As refrigeration became commonplace mid-century, demand decreased, the company diversified. The brand has since been used for other related products including milk-flavoring mixes, flavored beverages, flavor syrups, hot cocoa mixes, instant breakfasts, corn flakes, ice cream novelties, and dog food.
Nestle acquired The Carnation Company in 1985.
Pricing & Shipping
While you certainly can have Carnation Breakfast Essentials shipped to you from Amazon, or their primary page at Nestlenutritionstore.com, our focus of this review was how easily you can get this product no matter where you are in the US.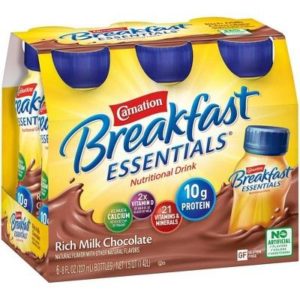 The one advantage about ordering online is that the 24pk is available. Locally, only 6 or 12 packs are available.
Below we have the pricing if ordered directly from Nestle. They are sold in packs of 6 bottles, and 24 bottles. You can subscribe and have them delivered every 7, 14, 30, 60 or 90 days. Subscribing will also net you a 10% discount.
Free shipping is available for orders about $49.95 (before tax) via UPS Ground. Shipping is a flat $7.95 for orders below $49.95. Orders shipped to Alaska or Hawaii will be charged $29.95.
International shipping is not offered.
| | | |
| --- | --- | --- |
| Quantity | Total Price (Non-Sub/Sub) | Serving Price (Non-sub/sub) |
| 6 Pack |  $9.95/$8.96 | $1.66/$1.49 |
| 24 Pack |  $34.95/$31.46 |  $1.46/$1.31 |
Pricing in USD
Here are examples of pricing from major retailers. One of which should be local to most in the US. Prices are approximate, and will fluctuate over time. Also prices can vary based on region.
Be sure to check your local grocery store too. Odds are they carry some version of this product.
| | | |
| --- | --- | --- |
| Retailer | 6 Pack | 12 Pack |
| Walmart | $6.14 | $11.95 |
| Target | $8.49 | N/A |
| CVS | $5.99 | N/A |
| Walgreens | $6.99 | N/A |
Pricing in USD
Carnation Breakfast Essentials FAQ
Is Carnation Breakfast Essentials suitable for diabetics?
No. The high sugar content will surely cause unwanted blood sugar spikes.


Is international shipping offered?
No. USA only.


Will this help me lose weight?
Unlikely, but within the right diet, and as an occasional treat, it shouldn't set you back.


Can these be used as meal replacements?
No. Only as nutritional supplements.


What payment methods are accepted?
All major credit cards.


How many Breakfast Essentials Can I Drink a day?
I would recommend not drinking more than 2 a day. If you are looking to consume Breakfast Essentials on a daily basis, it would be best to move to healthier alternatives.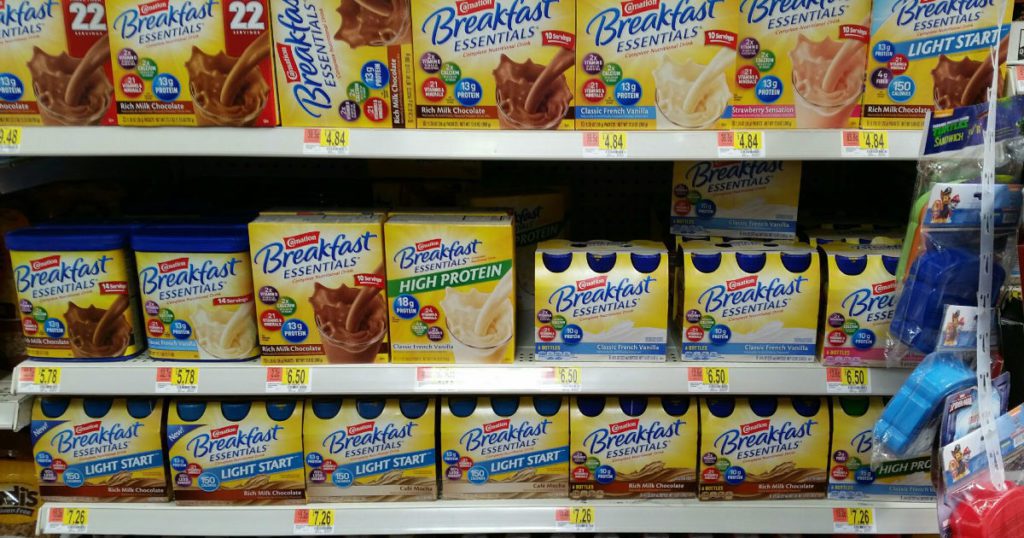 Verdict – Carnation Breakfast Essential Review
This was definitely a change of pace from our normal day to day reviews. From its availability, to its target audience, and certainly its nutritional profile, Carnation Breakfast Essentials surely belongs in its own category.
I do have concerns, mostly regarding the high sugar and complete lack of fiber. NONE! And fiber is such an important component of your diet, one that kids and adults alike, often fall short with. I really think that should be addressed here.
Furthermore, I also take issue with the sugar content, something we in the US have a serious problem with. It's close to being liquid candy.
That said, I do think it has a place. First, it's super cheap and easy to find, which can be a lifesaver in these trying times. Secondly, I guess if you are a breakfast skipper, this may be better than nothing. Lastly, it's super easy to drink, very tasty, no consistency issues, and small so even those with small appetites should be able to get it down.
Fun fact – I was using these as a dessert after dinner, figured it's better than ice cream, cookies or cake.
If other options are too expensive, or you just don't want to pay/wait for shipping, maybe give these a try.
Like I've said before, you can let a product like this put you on a better path, just don't let this become your destination. Carnation Breakfast is a good initiation tool, but I would look to move into healthier meal replacements in the future.
Carnation Breakfast
From $1.66
Pros
Shakes are surprisingly yummy
Both RTD and powder available
Easy to find in shops
Great for kids
Cons
Nutritionally lacking
High in sugars and low in fiber
Price is not great when comparing to other meal replacements
No vegan option