JuJu Energy Review | An Excellent Gaming Drink at a Reasonable Price
The Gaming Drink market is booming right now. We all know about G-Fuel, but we often don't realise that there might be better alternatives out there. So today, in this JuJu Energy drink review, I will have a look to this promising gaming drink and let you know if it's worth the money.
On paper, it looks super promising. For once it has tons of positive reviews from users (not always the case). Besides, a formula with 0g of sugar, 180mg of caffeine (enough for a sweet kick), and 6 flavours to choose from.
So, without further ado, let's check if JuJu gaming drinks can help you power through your gaming session.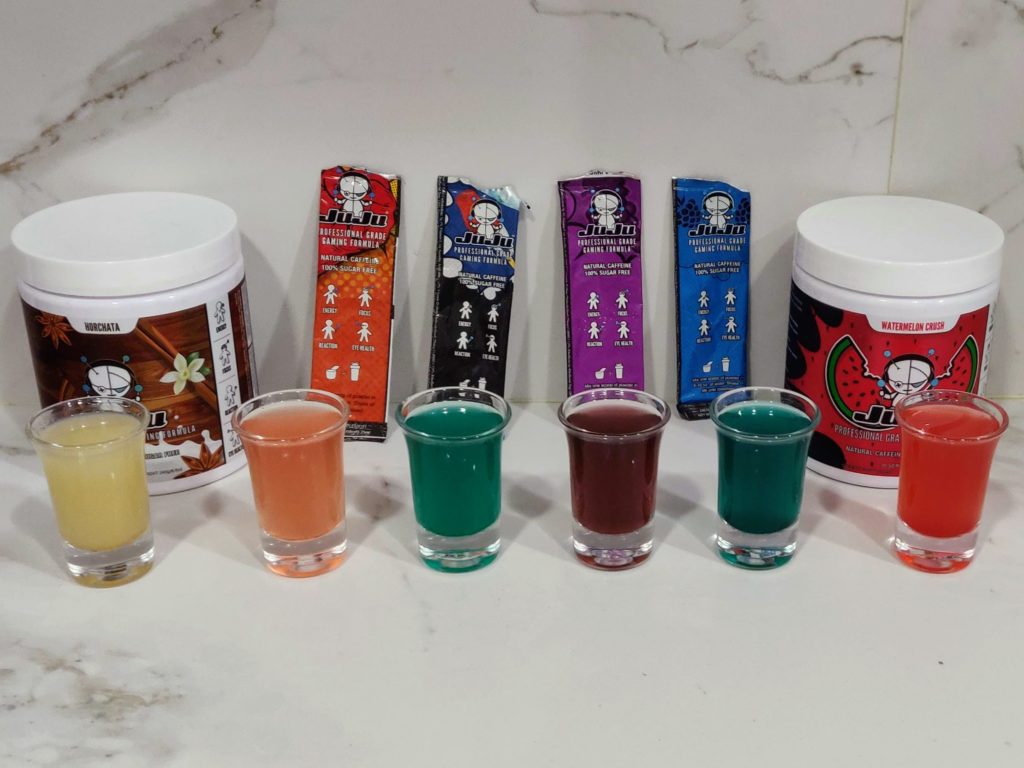 ---
JuJu Energy Review at a Glance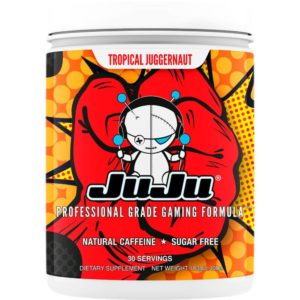 Flavours: Tropical Juggernaut, Blue Raspberry, Bomber Pop, Watermelon Crush, Horchata, Grapesicle, Pina Colada and Cherry Bomb.
---
Analyzing the Formula
Like most gaming drinks, JuJu Energy offers a high caffeine, 0g of sugar formula that's low in calories.
Besides, the caffeine and low sugar content, they also add vitamins (which can enhance brain function and focus); as well as, a bunch of proven active ingredients (Taurine, alpha GPC, Cordyceps, Theanine…).
While there is no miraculous ingredient or any extravagant addition; I like the fact that Juju Energy is transparent. Many competitors hide the exact amounts of each ingredients behind "proprietary blends".
Vitamin C (ascorbic acid), Vitamin D (Cholecalciferol), Riboflavin, Niacin (niacinamide), Vitamin B6 (methylcobalamin dicalcium phosphate), Calcium (calcium silicate), Chloride, Sodium, L-Taurine, Natural Caffeine (Green Coffee Bean), Caffeine, Alpha GPC, Cordyceps Mycelium Powder Extract, Bacopa Monniera Whole Aerial Extract, L-Theanine, Marigold Flower Extract (Lutemax2020), Blueberry Extract Powder, Hymalayan Pink Salt.
Maltodextrin, Citric Acid, Natural & Artificial Flavours, Calcium Silicate, Sucralose, Silicon Dioxide.
Is JuJu Energy Effective?
Therefore, let's look at the ingredients and breakdown if they are in significant enough quantities to make a difference.
Caffeine: 180mg. This is above average in the industry and enough to take you flying to the moon if you are not used to caffeine. 150mg to 600mg have been proven to boost cognitive and physical performance. However, 400mg is also given as precautionary safe soft limit for adults.
Taurine: 500mg. According to research, dosages ranging from 500mg to 2,000mg have been proven effective to increase blood flow, and there's some evidence liking it to reduce fatigue, and increase in cognitive functions. So, even if it's in the lower end, JuJu drinks will provide you enough.
L-Theanine: 50mg. When paired with caffeine, it's has positive effects in mental focus and helps you relax (reduce caffeine jitters). However, many people like to use a 1:2 caffeine to l-theanine ratio and JuJu offers 3.6:1. Thus, I would've liked to seen more L-theanine on the mix.
Alpha GPC: 150mg. Together with caffeine, alpha GPC can improve mental performance by boosting acetylcholine neurotransmitter release (brain messengers). Standard dosages range from 300 to 600mg (or even larger), thus I think it falls a little short.
Cordyceps: 100mg. This mushroom has been used in Chinese medicine for a long time. It has links to increased athletic performance, anti-tumor effects or even anti-aging properties. Nonetheless, there's no clear link to increased focus or mental performance. Plus, dosages (while not determined yet) range from 1,000mg to 3,000mg.
Bacopa Monniera: 50mg. Current research has found great success using bacopa to increase neurotransmitter modulation and cognitive enhancement. That said the standard recommended dose is about 300mg.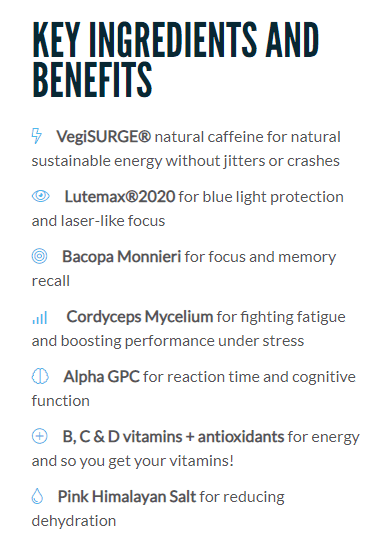 Besides this, you can also find marigold flower extract, blueberry (antioxidants), Hymalayan pink salt and black pepper. However, just like some of the ingredients mentioned above, they are not present in meaningful concentrations.
The vitamin B complex is a great addition, too.
TL;DR – JuJu provides good amounts of the key ingredients (caffeine, taurine, B-vitamins) that will certainly provide you a boost. However, it falls a little short in L-theanine and alpha-GPC, which could help improve the formula.
---
Taste Test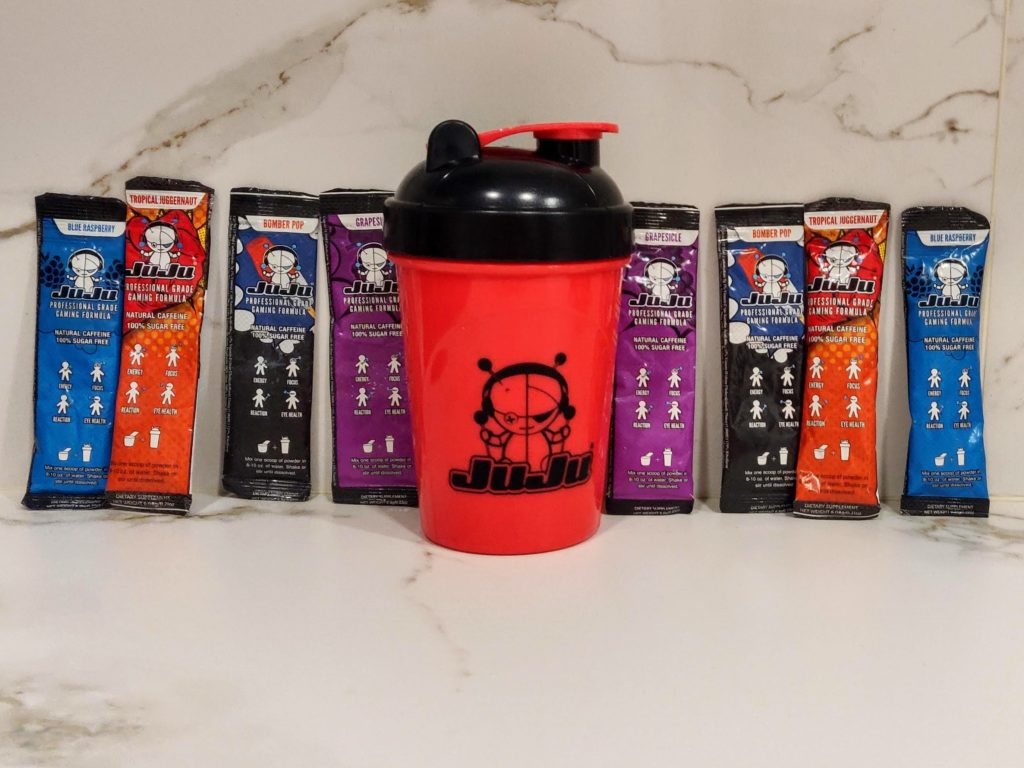 As you can see in the image above, JuJu Energy offers a great starter pack to try out most flavours (no Horchata or Watermelon Crush). For $16, it's probably the best way to start.
Either way, how do JuJu gaming drinks taste? Are they better than their competitors? And what's the best flavour?
| | |
| --- | --- |
| Best Flavour | Tropical Juggernaut |
| Taste | Most of them are great, nice sweetness levels, with clear difference in between flavours. |
| Texture/Mixability | Unlike in other gaming drinks, there's 0 mixability issues. No chalkiness, which is wonderful. |
| Boost | Definitely provides a noticeable improvement in performance and focus. I had no issues with the high caffeine content. No jitters or other side effects. |
Ranking JuJu Energy Flavours
So how would I rank them?
Tropical Juggernaut: 9.5/10. It's got a nice mix of tropical fruits, sweetness with a punch of sourness that makes the drink special.
Blue Raspberry: 9.0/10. Great flavour, but pretty similar to what other competitors offer.
Horchata: 8/10. This will be the most divisive flavour. It's not fruity like the others, but instead milky with vanilla. Odd, but good.
Watermelon Crush: 7.5/10. If you like watermelon, you'll find this incredibly refreshing and enjoyable.
Grapesicle: 7/10. Average, nothing special.
Bomber Pop: 6.5/10. I thought this was very similar to Blue Raspberry, and not distinctive enough.
Cherry Bomb: 6.5/10. I'm not a big fan of cherry. Only for cherry lovers.
Many of these I didn't like as much as the Tropical Juggernaut because I'm not a big fruit guy. If you are a fun of cherries, grapes or watermelon, you'll probably enjoy more than me.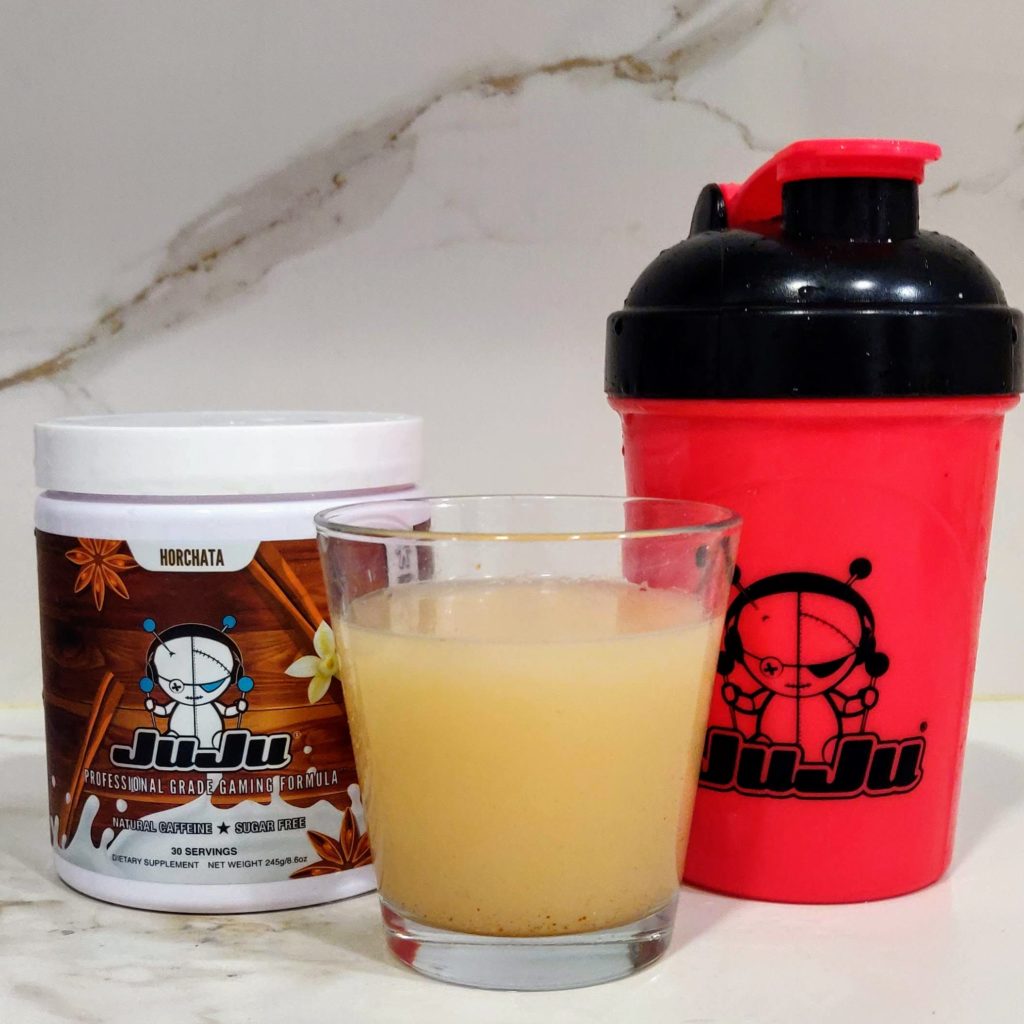 ---
More about JuJu Energy Gaming Drinks
JuJu Energy is a exciting new company that it's continuously growing. Founded by Matt, it's been able to captivate a dedicated community of gamers.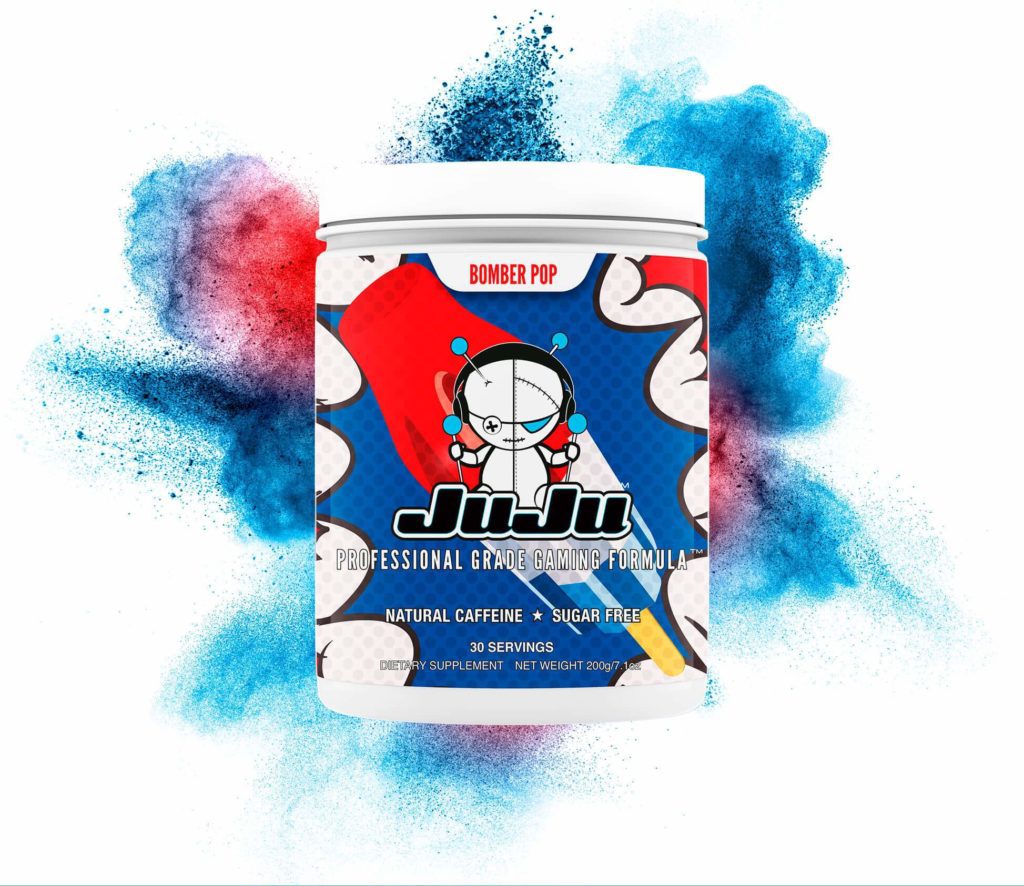 Pricing
There's no doubt that one of the most important aspects of any purchase is the price. In this case, the good news is that JuJu gaming drinks are not overly expensive. Despite that, they are not the cheapest gaming drinks in the market, either.
You will find JuJu in 3 different formats:
Single Servings: $1.5/serving (4-pack) –> $5.99.
Tubs (30 servings): $1.2/serving –> $35.99 per tub.
Starter Pack (tub plus shaker): $1.33/serving –> $39.99 for the starter pack.
The standard buying format will be the tub. The good news is that for regular users JuJu offers a subscription discount of 10%, making each serving $1.08.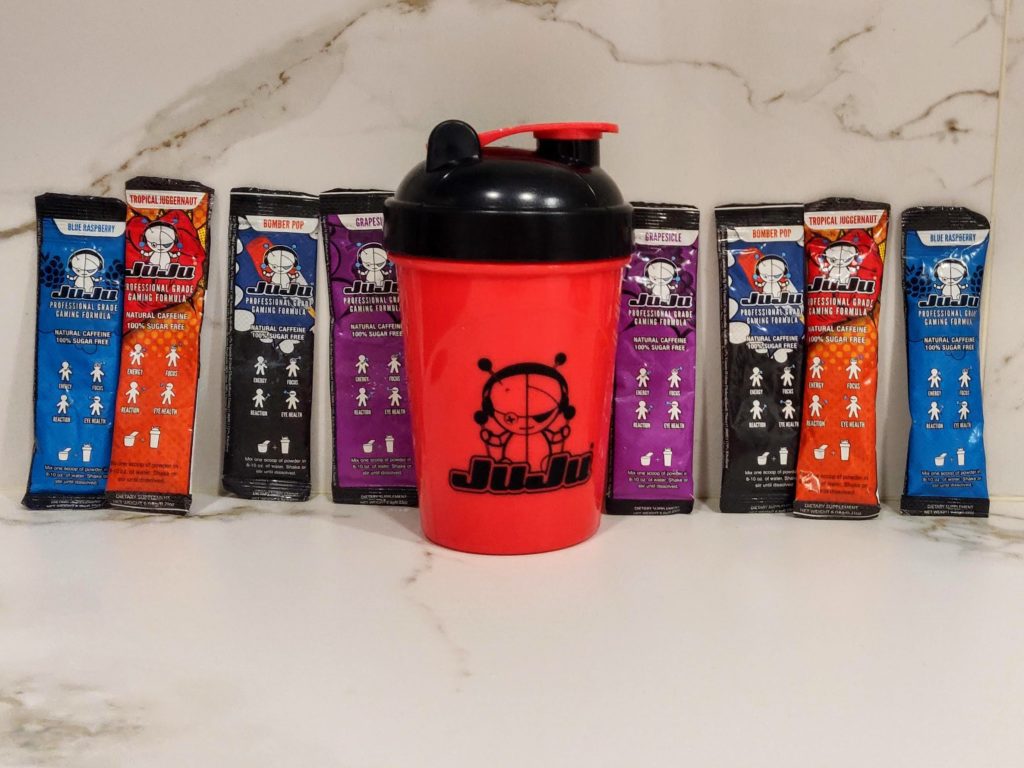 Shipping
The product is manufactured in the US. However, JuJu Energy gaming drinks are available worldwide.
For instance, you will get free shipping in the US for orders above $50.
On the other hand, orders above $100 will qualify you for free shipping in the rest of the world.
However, it is worth noting that if you buy from Europe, you might have to pay custom fees. As an example, I had to pay $30 in my order.
---
Pros and Cons
Pros
0g of added sugars, 15kcal
High caffeine content, including some natural caffeine
Mixes great and the flavours are really nice
Tropical Juggernaut is delicious
Great starter packs
Reasonably priced
Transparent with the ingredients
Worldwide shipping – free in the US above $50
Cons
Some ingredients fall short
There are cheaper alternatives
Bomber Pop and Blue Raspberry are too similar
Might have to pay custom fees in Europe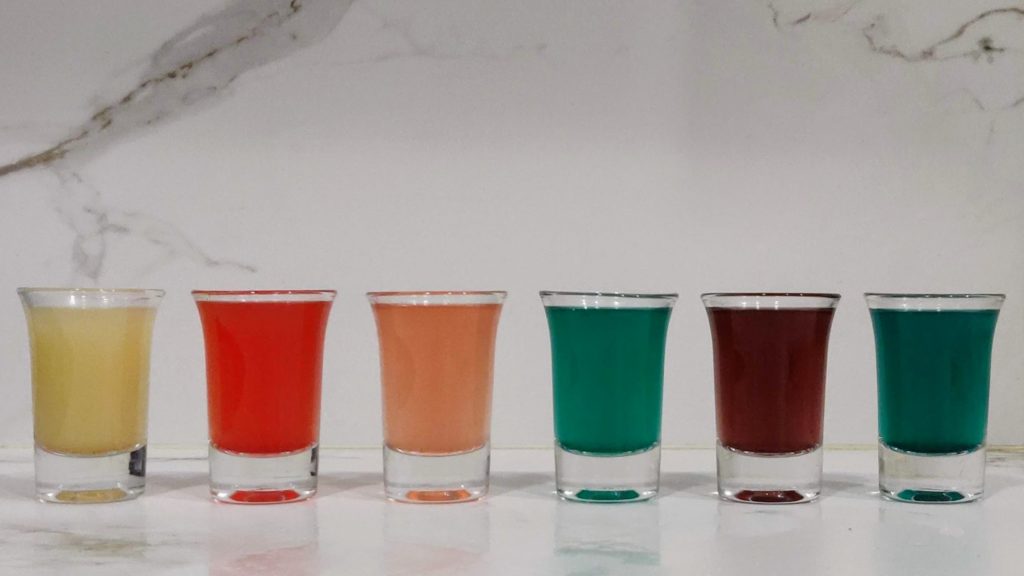 ---
Verdict – JuJu Energy Drink Review
So coming into the conclusion of this JuJu Energy review, I must admit that I have thoroughly enjoyed them.
Not only most of the flavours taste much better than the average gaming drink, but the boost given is also quite something. I tried them in many different situations (gaming, before workouts, during work) and every time JuJu gave me the edge I was looking for.
Besides, the powder mixes extremely well, and there's not any weird chemical taste to the drinks. Above all flavours, I enjoyed Tropical Juggernaut the most. The balance between sweetness and sourness was perfect.
Therefore, JuJu Energy gaming drinks offer you an excellent balance of wonderful taste and a noticeable boost at a reasonable price.
JuJu Energy
From $1.2/serving
Pros
180mg of caffeine (including 45mg of natural)
Great taste and mixes with no issues - 0 chalkiness
Tropical Juggernaut is amazing
Great starter packs
Transparent labelling
Cons
I wish it had more of some ingredients
International orders might have to pay customs
There are cheaper alternatives