Rogue Energy Drink Review | Boost Your Gaming to the Next Level
After gaming for long hours, fatigue starts getting into you and you notice a dip in performance. You have two options: either you stop playing (in the middle of the win streak); or you take one of the best gaming energy drinks and keep stomping the competition.
Jokes aside, in this Rogue Energy review, you will discover one of the best gaming drinks for focus that you can buy. A drink that not only tastes great, but also provides you with a mental boost like no other.
In fact, most gaming drinks are ideal to enhance your memory, reduce reaction skills, increase your focus and ultimately help you play better. It might sound impossible, but it's actually no magic but science.
Gaming drinks, like Rogue gamer drinks, are scientifically designed to boost your cognitive performance. From caffeine, to taurine, vitamin B complexes, they are all ingredients that have been proven to help your brain, reduce stress, and increase focus.
But I'm getting ahead of myself.
In this Rogue review, I'll cover all this, analyze the effectiveness of Rogue drinks and ultimately let you know if this is the gaming energy drink you have been looking for.
TL;DR
Rogue Energy drinks are some of the best-tasting gaming drinks
Very effective at keeping you awake and boosting your performance
Caffeine-free version is cool to have a break
Rogue Cans are OK, but not available everywhere
Very affordable
Personally, I consume Sneak, because I feel it's better at boosting my gaming performance without making me jitter. I like their brand better, too. That said, Rogue is excellent.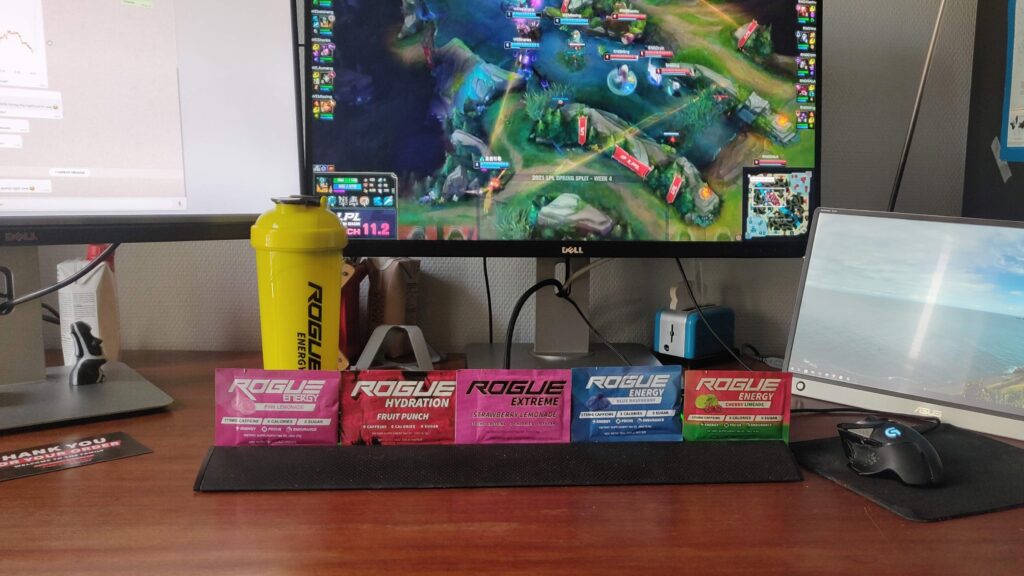 ---
Rogue Energy Review at a Glance
Flavors: Pink Lemonade, Mango Pineapple, Watermelon, Cherry Limeade, Blue Raspberry, Grape Popsicle, Strawberry Kiwi, and Green Apple Extreme.
Pros
Affordable
Incredible taste – Pink Lemonade is king
Available in EU, US, UK
175mg of caffeine per serving
Extreme 300mg caffeine version available
Even non caffeinated to keep you hydrated
Cons
Cans are only available in the UK, and EU
No caffeine-free formula is available
Free-shipping only after $100
---
Rogue Energy Ingredients: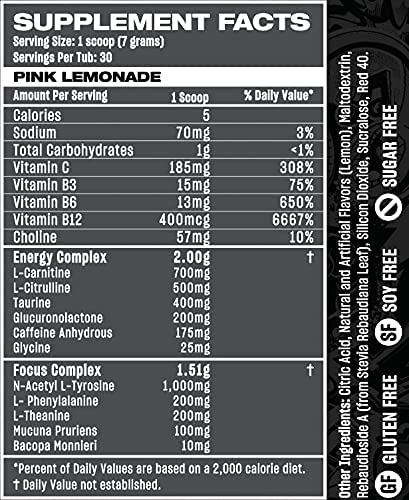 The first thing I like when looking at Rogue Energy Drink ingredients is the transparency. You won't see any proprietary blends hiding the quantities of key ingredients.
That's how you know that you are getting all you have been promised.
Besides that, I like that they add 11 nootropics plus vitamins in order to make this focus and performance drink more effective.
Rogue Energy Complex – Improves Physical Performance
Not surprisingly the key ingredient is caffeine anhydrous (175mg). Rogue adds a little more than most gaming drinks (150mg), however, I don't think that this will make much of a difference.
In fact, caffeine is key to keep your fatigue at bay, increase your focus, and it can even increase your physical performance.
Perhaps a more obscure ingredient is citrulline. However, this is a very common ingredient in non-stim pre-workouts due to its ability to increase nitric oxide production (NO). NO can dilate blood vessels increasing nutrient delivery to your muscles and hence increasing reaction speed, and performance. That said the citrulline dosage in pre-workouts is usually much higher (3g).
Similarly, carnitine is also a common ingredient in pre-workoout supplements. It can boost your cellular energy levels and make you feel more energized.
Rogue Focus Complex – Good Ingredients, Low Doses
L-theanine is often paired with caffeine because it has a synergistic effect. Studies have shown that when combined (1:2 caffeine to L-theanine) they can increase the accuracy and speed in which we perform tasks.
Doses of 300mg of Bacopa Monnieri have been shown to improve your memory. Unfortunately, only 10mg are found in the Rogue Focus Complex.
Under stressful circumstances, levels of catecholamine neurotransmitters can be depleted in our brains. That's were L-Tyrosine comes into play, giving us the ability to replenish them and prevent cognitive decline under stress. This is key for any gamers. Doses of 500mg are recommended at a minimum and thankfully, Rogue has 1,000mg.
Rogue Energy Vitamins & Antioxidants
Usually, I like to see at least 2 different kinds of vitamins in any energy complex.
B-group vitamins. Key for proper brain function, they can boost your mood and energy levels, as well as increase concentration and mental function. Rogue has vit B3, vitB 12 at high enough dosages.
Vitamin C. It's not as important as B-group vitamins for cognitive functions, but vitamin C has key antioxidant roles and can also reduce muscle fatigue. Always good to have some in your mix.
Sweeteners
Rogue Energy drinks are sugar free, but they use stevia and sucralose to sweeten the gaming focus drinks.
---
Rogue Energy Drink Taste Review:
One area that no gaming energy drink can fail is taste. That said, some of the energy drinks in the market are chalky, overly sweet, and artificial.
Luckily, Rogue Energy drinks hit the spot. They blend superbly, but most importantly, their energy drinks are delicious.
I'm often skeptical about claims other people do, but with Rogue Energy drinks it was love at first sip.
In fact, I tried Pink Lemonade first, and it ended up being my favorite.
All in all, you won't be disappointed if you choose Rogue as far as the taste is concerned. In this regard, Rogue is an excellent G-Fuel alternative and one of the best tasting energy drinks on the market.
That said, it is not the only one that tastes great. Other flavors I would recommend are:
Cherry Bomb
Neon Punch
Electric Mango
Raspberry Lemonade
Tropkilla
Sour Apple
In all honesty, starting with a starter pack might be the best way to go, since you can try out 9 flavors for just $24! Alternatively, there's also a 6-serving taster pack.
What About the Canned Versions?
Unfortunately, I have not had the chance to try out all the canned versions. I think that flavor-wise are pretty similar, it's just that there's something magical about drinking from a can fresh out of the fridge.
Anyhow, I would not pay extra for the cans, as the powder mixes superbly.
---
Rogue Gaming Energy Drink Benefits
So what are the real benefits of consuming Rogue Energy drinks for gaming? Is it only placebo, or do they have an actual positive effect on your performance?
As far as gaming is regarded, Rogue drinks will 100% improve your performance. They won't take you out of Silver to Diamond magically, but they will help you with:
Increasing your attention span
Helping you focus on the game better
Boosting your reaction speed and decision making
This is thanks to their scientifically proven active ingredients.
Great to Increase Your Energy
First off, we have caffeine (175mg). Caffeine has been proven once and once again to help you fight fatigue (Penetar et al.), decrease reaction times, increased alertness and memory (Nehlig, 2010), as well as, increase aerobic and anaerobic performance (Guest NS et al.). Despite this last not being important for gaming drinks, it's clear why caffeine is the #1 ingredient in gaming drinks.
Other ingredients that boost your energy levels include, L-Carnitine, L-citruline, taurine and glucuronolactone. I'm sure you recognize some of these. L-carnitine is a natural amino acid that increases your energy levels in mitochondria.
Similarly, L-citruline is a nitric oxide booster which in turn can increase blood flow and boost your energy levels.
Many of these ingredients are found in pre-workouts and are used by athletes to enhance physical exercise. While this is not the aim for most gamers, it will help you to be more awake.
Increased Focus
Most of the ingredients in the focus complex cross the blood-brain barrier and act directly increasing your cognitive performance.
For instance, N-Acetyl-L-Tyrosine is a precursor to dopamine and also influences the production of adrenaline. These neurotransmitters affect your mood, motivation, and mental clarity.
Synergistically, L-phenylalanine is a precursor to dopamine. As such, you can make sure that your body has the pieces that it needs to keep your brain firing at all cylinders. Similarly, choline L-bitartrate acts as precursor in the acetyl-choline pathway.
Avoid the Crash
L-theanine, on the other hand, helps you counteract some of the negative side effects of taking caffeine, like the jitters. It prevents you from feeling overly excited and crashing once the caffeine is gone.
All in all, the focus complex found in Rogue Energy drinks is very effective at providing you a short- and medium-term boost to your cognitive level, as well as, keeping your anxiety and stress at bay.
That said for a long-term increase in cognitive performance, memory, focus and mood, I like to use Hunter Focus, a brain supplement (nootropic) that increases my mental abilities over time.
Rogue Energy Review – The Negatives
However, it's not all positive.
When looking at Rogue Energy Drink ingredients, I found that many were largely underdose or that weren't as useful to increase your gaming performance.
Some examples of this include:
Bacopa Monnieri: Can improve memory at 300mg. Only 10mg are included per drink. This is likely to do nothing for you.
Citrulline: At the very least 3mg of l-citrulline are necessary to boost your exercise performance. Rogue only has 500mg (6 times less).
---
Rogue Energy Drink Side Effects
At the time of writing this Rogue Energy review, there aren't any major side effects to drinking it.
However, it is worth considering that it is a drink high in caffeine and that caffeine can have negative effects if consumed in excess. These negatives are compounded in teenagers and young adults with developing brains.
Remember that the recommended daily dosage of caffeine is 400mg. This would mean that 2 servings of Rogue are the maximum recommended.
---
More About Rogue Energy
Rogue Energy is a North American gaming energy drink company that has been around since the very start.
Their goal is to make the best-tasting gaming drinks without having to sacrifice the boost in performance.
Rogue Products
As of today, there are 4 different gaming drinks that they offer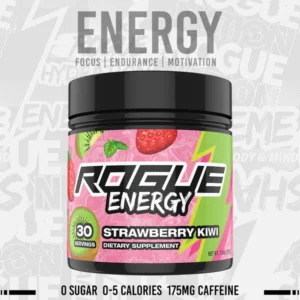 Rogue Energy Powder
Most affordable
Tubs and starter packs
Best for regular use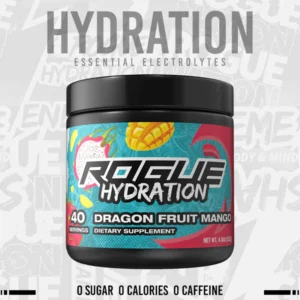 Rogue Hydration
No caffeine
To keep you hydrated
Good for when you are not gaming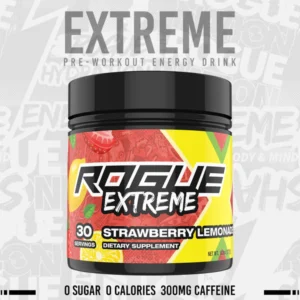 Rogue Extreme
300mg of caffeine
Extreme boost, only for occasional use
Only 1 flavor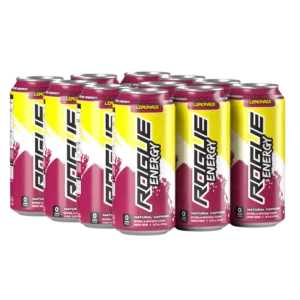 Rogue Cans
New
Carbonated
Extremely refreshing
Pricing
Now, let's get into some of the most important aspects when deciding which gaming drink to buy, the price. Is Rogue Energy worth the price?
Let's see.
1 Tub (30 servings) –> $35.99, $1.20/serving
Cans (12 servings) –> $32.99 in total, or $2.75 per can
Starter Pack (6 servings + shaker) –> $17.99 in total
Sadly, Rogue Energy is not the cheapest energy drink you can buy. Close competitors like Sneak Energy cost as little as $1 per serving, and they are great.
That said, Rogue Energy Starter packs allow you to try out 6 different flavors for less than $20, which is actually a good deal.
Is Rogue Energy Worth It?
Ultimately, is it worth your money?
Well, Rogue Energy drinks are among the best tasting energy drinks I've tested, behind Sneak Energy. They mix incredibly well, and it's a level above cheaper energy drinks.
So in that regard, it's definitely worth your money.
Besides, Rogue's Energy cans are the same price as G-Fuel's. Plus, they currently offer more flavors, so Rogue Energy cans are %100 worth your money and a great G-Fuel alternative.
---
How Does Rogue Energy Compare to Other Energy Drinks?
Rogue Energy vs G-Fuel
TL;DR
G-Fuel has more flavors
But Rogue's energy drinks mix better and taste better
Rogue Cans are better than G-Fuel's
G-Fuel is more affordable
I prefer Rogue's energy formula
G-Fuel is the most recognized gaming energy brand in the industry.
This is largely due to early-bird advantage, and the excellent work they've done in marketing. Every streamer is or has been sponsored by G-Fuel, seemingly.
That said, I think that Rogue Energy powders are better than G-Fuel's. Sure, you get many more flavors with G-Fuel (25+), but it feels like it's quantity over quality.
With Rogue, all their energy drinks taste awesome. Pink Lemonade blew me out of the water, and has become one of my favorites.
Thus, I think that when it comes to taste, Rogue is the clear winner.
However, there's no denying that G-Fuel is cheaper. Their tubs sell at $35.99, but have 40 servings. G-Fuel also has tons of starter packs to try the different flavors.
On the other hand, the cans are priced equally, and as mentioned earlier, Rogue's are better in my opinion.
TL;DR
Rogue offers fewer flavors than Sneak
Rogue is slightly more expensive
Both have great flavors. Rogue Pink Lemonade is GOAT
Sneak does not have a caffeine-free formula, Rogue does
Sneak Energy is slightly better at boosting performance
It's clear from their names that both companies are focused on proving energy to tired gamers.
Jokes aside, these two are some of the best gaming drinks in our opinion.
From having tried dozens of energy drinks, Sneak Energy and Rogue are the best-tasting ones. In my opinion, most of Sneak's energy drinks just taste slightly better, in particular Blue Raspberry. That said, Rogue Energy's Pink Lemonade is the GOAT.
When it comes to their focus and performance formula, despite Sneak being lower in caffeine than Rogue, I found that Sneak is slightly better. I like the addition of L-theanine, which makes me less jittery.
On the other hand, Sneak does not have any caffeine-free hydration formulas, so if that's what you are looking for, then Rogue is your answer.
Lastly, when it comes to branding, Sneak is just cooler.
Both companies deliver worldwide.
---
Rogue Energy Review FAQ
How much caffeine is in Rogue Energy Drink?
Their standard Energy formula has 175mg of caffeine per serving. However, R


Does Rogue Energy have cans?
Yes, Rogue Energy sells gaming energy cans in the US.


Where can I buy Rogue Energy?
The best place to buy Rogue Energy is on their website.

How much Rogue Energy can I drink a day?
I would recommend sticking to 1 serving a day at max, particularly if you are below the age of 18. That said even 2 servings should be safe if you are not consuming caffeine otherwise.

How many calories does Rogue Energy have?
Each serving has only 15kcal.


Where to Buy Sneak Energy Drink?
You can buy Sneak Energy Drink on their website or on Amazon.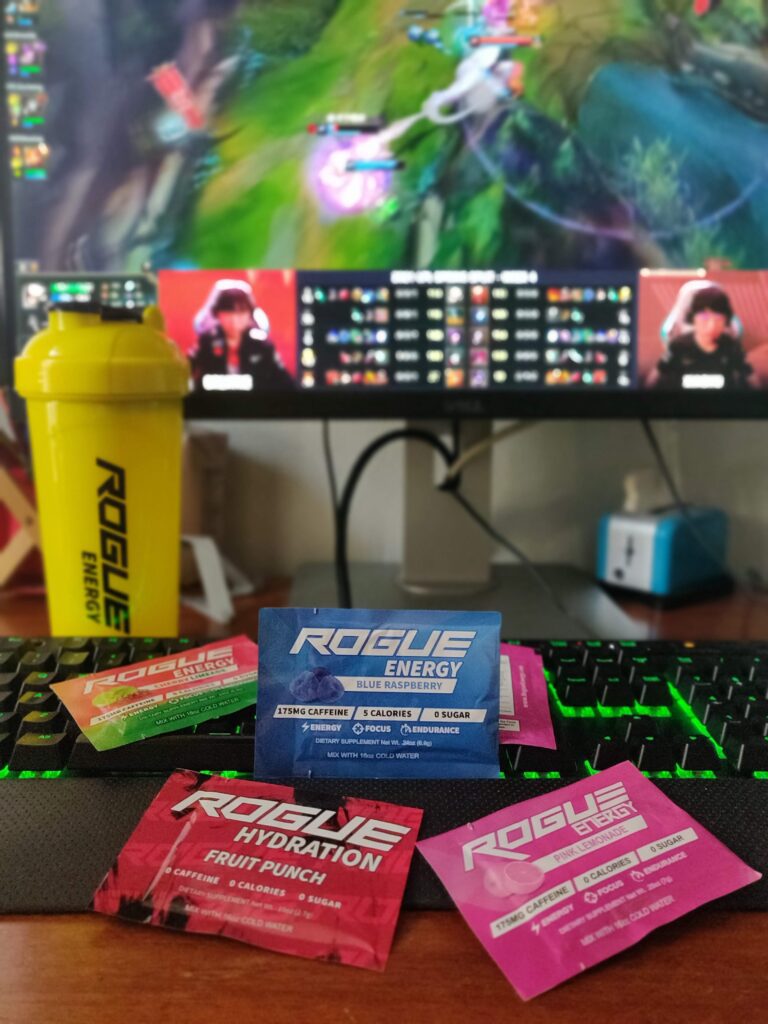 ---
Verdict – Rogue Energy Drink Review
Congratulations on making it to the bottom of this Rogue Energy Drink review.
Before you can see the end credits, let's resume what we've learnt in this Rogue Energy review:
Rogue Energy is one of the best-tasting energy drinks on the market
They have a caffeine-free, and an Extreme (300mg of caffeine) formula, besides their main selling product
They offer cans as well as tubs
Rogue is affordable
It's clear when laying down the facts like this that Rogue Energy drinks are excellent. They taste good, they mix great, they keep you energized for ours and they are affordable.
What else can you ask from a gaming energy drink?
Not much. That's why, even though I personally prefer Sneak, I think Rogue Energy is a fantastic brand to buy from.
Rogue Energy
From $1.16/serving
Pros
Great tasting energy drinks
Caffeine-free formula available too
Boosts your concentration and focus significantly
Great starter packs
Available worldwide
Cons
Slightly pricier than competition
Some ingredients are very underdosed
Cans not available worldwide