Physio Flex Pro Review | Is This Joint Supplement Worth It?
Welcome to this Physio Flex Pro review, an expert analysis of one of the best joint supplements you can buy. Is it as good as they claim to be? Is Physio Flex Pro worth your money? Let's find it out.
Why Use Joint Supplements?
It goes without saying that joints become weaker with aging. The condition can even be worse if you lead a sedentary lifestyle. Even if you're a fitness enthusiast, that doesn't bulletproof your joints against wear and tear.
For that reason, many joint supplements exist to support your joints. Physio Flex Pro is one of those supplements that has been in the limelight for a while.
They claim to help you with:
Nourishing your joints
Relieving pain
Protecting your cartilage
From the key ingredients to their function, this in-depth Physio Flex Pro review will discuss all the information to help you make an informed decision. So stick around!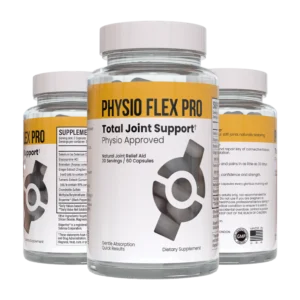 Quick Links
Physio Flex Pro: Overview
Physio Flex Pro is a total-joint supplement that aims to relieve joint pain. It also provides essential nutrients that nourish and lubricate the cartilage and joint fluid.
The supplement claims to provide pain relief in 30 days and comes with a 60-day money-back guarantee.
Pros
Made up of natural ingredients with no additives or fillers
Can alleviate pain and joint swelling
Helps build and strengthen joints
Cons
Contain shellfish products, which allergic people can't consume
Available only online through the company's website
Physio Flex Pro Key Ingredients
Physio Flex Pro contains eight active ingredients that come from natural sources.
Let's take a close look at those ingredients!
Selenium
Selenium is an essential nutrient that's responsible for many vital processes within the body. One such process is maintaining cartilage homeostasis (stability).
The mineral plays its role through biological structures known as selenoproteins. Those proteins are antioxidant enzymes. They help get rid of peroxides, compounds that cause oxidative damage to cells.
Additionally, selenium deficiency leads to various bone and joint health issues, like osteoarthritis and Kashin-Beck disease (KBD). The latter is a condition that affects skeletal development and is common in low-selenium areas.
As you might have guessed, selenium supplements can alleviate KBD symptoms.
With all those benefits, you can see why Physio Flex Pro contains selenium. The joint supplement provides a daily dose of 200 mcg of that mineral in the form of selenium citrate.
Compared to the maximum dosage of selenium per day, which is 400 mcg, this product contains a high amount of the mineral. So, keep track of selenium in other supplements or your diet, as too much of that nutrient can be toxic.
Glucosamine HCl
As the name implies, glucosamine is an amino sugar. It's a natural compound that takes part in many biochemical reactions within the body. Those include synthesizing chemicals that build tendons, ligaments, cartilage, and synovial fluid.
Research suggests that glucosamine supplements help relieve knee pain. Commercially, the amino acid comes in various forms, like glucosamine sulfate and glucosamine hydrochloride. The latter is what Physio Flex Pro uses.
Glucosamine HCl has a purity of 99%, which is higher than the 74% of glucosamine sulfate.
That said, there isn't enough data to prove glucosamine HCl reduces osteoarthritis symptoms. However, one study suggests that a daily dosage of this natural amino sugar improves rheumatoid arthritis symptoms.
Additionally, most glucosamine supplements come from shellfish. For that reason, Physio Flex Pro might not be suitable for people with shellfish allergies.
Chondroitin Sulfate
Similar to glucosamine, chondroitin sulfate is another natural component of cartilage. 
In supplement form, chondroitin sulfate is made of glucosamine sulfate and other amino acids. It can come from natural sources, like sharks and bovine cartilage, as well as synthetic production.
Chondroitin sulfate helps alleviate the symptoms of osteoarthritis by slowing the breakdown of cartilage tissues. Taking chondroitin supplements may also improve joint stiffness, increase mobility, and reduce pain. However, more research is needed to support the former claims.
Psycho Flex Pro provides 100 mg of this supplement, which isn't much compared to the recommended daily dose of 800-1200 mg.
Bromelain
Bromelain is an enzyme extracted from pineapple rhizomes. The enzyme has anti-arthritic and anti-inflammatory activities. So, it might help reduce osteoarthritis and rheumatoid arthritis symptoms.
Physio Flex Pro provides an impressive 300 mg of bromelain per two capsules. That dosage is higher than most supplements on the market, as claimed by the company.
Methylsulfonylmethane (MSM)
Another mineral that supports joint health is methylsulfonylmethane (MSM). MSM is a natural organic compound found in our bodies. 
This chemical compound has anti-inflammatory effects and inhibits cartilage breakdown. As a result, MSM might decrease joint pain, improve mobility, and reduce swelling.
One study suggests that taking 6 g of MSM daily for 12 weeks helps alleviate knee pain in osteoarthritis patients. Plus, it's rich in sulfur, which is important for building healthy bones and joints.
Still, Physio Flex Pro contains 100 mg of this organic compound. With such a small dosage, it's questionable whether the MSM found in this supplement can treat the mentioned conditions.
Natural Extracts
Physio Flex Pro contains natural extracts from three plants: turmeric, ginger, and black peppers.
Here's a detailed explanation of each extract:
Turmeric Extract
In recent years, turmeric has attracted much interest thanks to its health benefits. The golden spice has antioxidant and anti-inflammatory activities, among others!
Curcumin, the compound that gives turmeric its distinctive color, is behind all those health benefits.
A study indicates that taking 500 mg of curcumin three times a day helps treat knee osteoarthritis.
Since turmeric is a component of Physio Flex Pro, the supplement might support overall joint health by reducing swelling and easing knee pain.
Ginger Extract
Gingerols and shogaols are the active compounds found in ginger. As you might expect, those chemicals have anti-inflammatory and antioxidant activity. Consequently, they might help treat arthritis symptoms.
Those active ingredients are also analgesics that help relieve joint pain. Not only that, but ginger also eases chronic back pain and delayed onset muscle soreness. As a result, Physio Flex Pro might help you recover faster after an intense workout.
Black Pepper Extract
Like most ingredients in the supplement, BioPerine, a black pepper extract, can ease inflammation.
However, the primary function of BioPerine is that it helps in nutrient absorption. That's especially true for curcumin. The black pepper compound can increase turmeric absorption by up to 2,000%!
BioPerine also helps in MSM, selenium, and beta-carotenoid uptake—all of which prevent cell damage and support joint health.
Does Physio Flex Pro Work?
There is a reason why we consider Physio Flex Pro our #2 best joint supplement on the market.
That's because it has science-backed ingredients in the right dosages. Thus, when you start taking Physio Flex Pro, you will instantly notice positive progress.
But before we dive any deeper into why Physio Flex Pro works, let's assess the benefits of taking Physio Flex Pro:
Improved cartilage and joint health
Mild pain relief
Recover and increase your joint mobility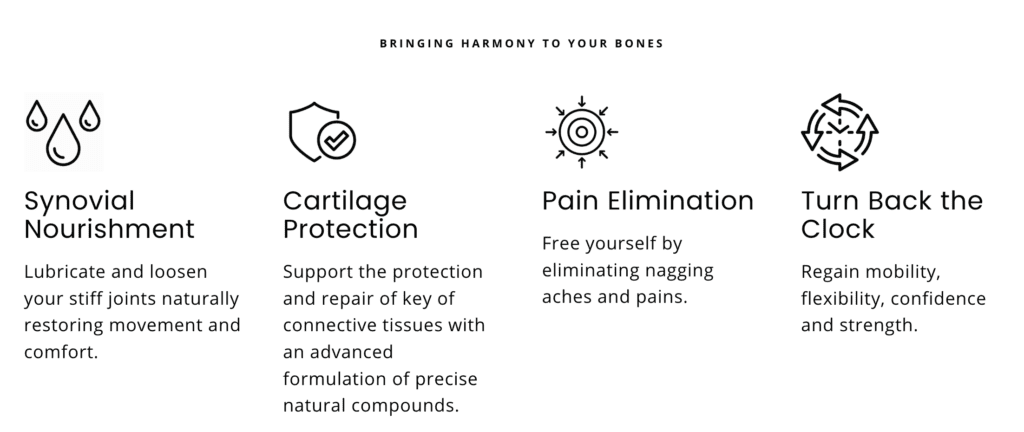 Physio Flex Pro Benefits Reviewed
Looking at the ingredients, you can see that bromelain, turmeric and MSM are found in this joint supplement. Together, they reduce inflammation in joints and promote long-term health.
On the other hand, chondroitin, glucosamine and selenium are prime ingredients of cartilage and have key roles in the repair and maintenance of the tissue.
In conjunction, there is no doubt that Physio Flex Pro is great at keeping your joints healthy and even promoting elasticity and mobility.
Physio Flex Pro, The Missing Ingredient
The one ingredient this joint supplement is missing is omega-3. It's a bit of a shame, since it would boost the anti-inflammatory properties of the blend as well as increase pain relief.
Among other things, omega-3 has been proven effective at relieving pain for rheumatoid arthritis patients.
In fact, if you suffer from joint pain, you might want to look at Flexagain, instead, which is equally effective at promoting joint health, but better at reducing the pain.
Real User Physio Flex Pro Reviews
In our experience, Physio Flex Pro has been very effective. However, joint supplements affect each person differently and their effectiveness often depends on the symptoms of the user (as well as their metabolism and age).
So what do other customers think about Physio Flex Pro?
Unfortunately, Physio Flex Pro is not available on Amazon, so there are no Amazon reviews to show and they don't have reviews on their site either. They do have some very positive testimonials, though: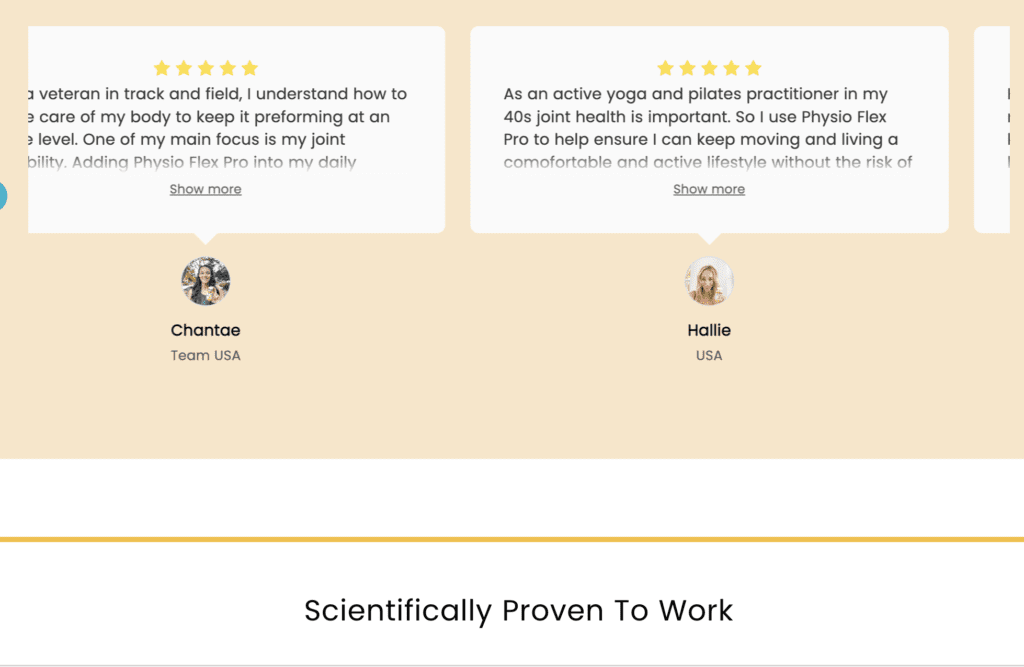 Furthermore, they even have the support of some Team USA Olympic athletes as well as some NFL players:

Physio Flex Pro offers the highest level of joint protection. Playing in the NFL places an extreme demand on joints through both the intensity on my muscles and the direct impacts on all joints 🙂 , and Physio Flex Pro is a supplement that allows total support, faster recovery and can reduce pain and inflammation. It's like a secret weapon.

Chris Olodakun, NFL player
All this said, we would love to have verified reviews from a third party to increase the validity of these Physio Flex Pro joint supplement reviews.
Physio Flex Pro Price
Regarding the cost, Physio Flex Pro is not the cheapest joint supplement, but it's certainly very reasonably priced.
1 tub (30 servings) –> $58 in total or $1.93/serving
3 tubs (90 days) –> $160 in total or $1.77/serving
As you can see you can get a 10% discount when buying in bulk.
Physio Flex Pro Alternatives
So far, we've been very positive about Physio Flex Pro.
We have even highlighted that it's #2 on our best joint supplements list. However, due to the personal nature of joint supplements and the fact that Physio Flex does not have omega-3, among other things, makes us believe that there are better alternatives out there.
#1 Physio Flex Pro Alternative – Flexagain
This will be no surprise if you have read other joint supplement reviews we've written (Relief Factor review, Heal n Soothe…).
However, Flexagain is the best joint supplement out there in our opinion, and the one we've experienced the most positive results.
For once, it contains omega-3, unlike Physio Flex Pro, which we consider essential in any joint supplement. Flexagain has also more active ingredients (11) including resveratrol, MSM, glucosamine, curcumin, bromelain, boswellic acid, vitamin D, vitamin K2 and chondroitin.
When looking at the ingredients you can see that Flexagain contains curcumin instead of turmeric. This is because turmeric is converted into curcumin, but rather poorly. Thus curcumin is more efficient.
Taking all these into consideration, we believe that most people are better off buying Flexagain.
Other Joint Supplements
In Latestfuels, we've reviewed other joint supplements, namely, Relief Factor, Heal n Soothe, Osteo Bi-Flex... Nonetheless, they all have clear flaws and they are mostly worse than Physio Flex Pro.
Perhaps, you could be interested in Arthrozene, which is considerably cheaper than Physio Flex Pro, but we would advise you to spend a little more money to get the results you want.
Diet Is as Important for Joint Health
A factor that is often overlooked when tackling joint health is diet and nutrition. Nutrients and nutrient deficiency (vitamins D, selenium, vitamin K, omega-3…) lead to many issues including cartilage erosion, joint pain, loss in flexibility and the prevalence of chronic diseases.
As such, I like to make sure I get all the essential nutrients I need in my body. For me, the best meal replacements are the way to go. They ensure I get all the nutrients I need with 0 hassle and without any prep.
My favorite is Lyfefuel Daily Essentials, because it has 34 real food ingredients that provide me with 18g of protein and 27 essential vitamins and minerals. It's one of the most nutrient-rich shakes I can buy, and has definitely improved my mood and health.
Physio Flex Pro Review FAQ
How long does it take until I see the benefits of taking Physio Flex Pro?
You should see some minor effects and improvements within a week. However, the manufacturer recommends taking the supplement for at least 25 days before seeing noticeable improvements.


Does Physio Flex Pro have a money-back guarantee?
Yes, there's a 90-day money-back guarantee.


Where is Physio Flex Pro made?
Physio Flex Pro is manufactured in the US.


Where can I buy Physio Flex Pro?
Currently, they are only available through their official website.


Verdict – Physio Flex Review, Close to Perfection
As you can see, Physio Flex Pro is a good product for athletes or those who want to maintain joint health.
The supplement contains eight natural ingredients that support your joints in different ways. Selenium and plant extracts help reduce inflammation and swelling. The other compounds, like MSM, chondroitin, and glucosamine, strengthen cartilage and joint tissues.
However, it's a shame that it lacks omega-3, as it is great for joint health and fighting inflammation. That's why we tend to recommend Flexagain instead.
Combine that with a healthy diet and workout routine, and you can ensure your joints remain in good shape for a long time!
Physio Flex Pro
From $1.77 per serving