Megared Reviews 2023 | Just A Solid Omega-3 Supplement
In this Megared 4-in-1 review, we will look at "the superior omega-3 krill oil".
This is a fancy way to say that Megared 4-in-1 is another omega-3 supplement, like the well-known Omega XL.
However, it is a little ironic the 4-in-1 name, as it is just simply omega-3 fatty acids.
And why should you take an omega-3 supplement? What benefits does taking omega-3 have?
Well, many use it as an anti-inflammatory agent to help them with their joint issues, but it can also be part of a nootropic supplement to increase cognitive function. We will discuss the importance of omega-3 later.
That said, if you are looking for relief to your joint pain and help with joint mobility, Megared 4-in-1 is not the answer. It lacks key ingredients like resveratrol, curcumin, and chondroitin… which have a much higher impact on joint health. Instead, you should look at our best joint supplements.
Now, let's dive into this Megared 4-in-1 review, and see if it's as bad as Omega-3 XL, or if it is worth buying.
Short in time? Here are the 5 main takeaways of this Megared 4-in-1 review:
---
Quick Links
---
What Are the Ingredients of MegaRed 4-in-1?
When looking at the ingredients of any omega-3 supplements there are few things to analyse:
Origin of the omega-3
Type of omega-3: Is it alpha-linoleic acid (ALA), eicosapentaenoic acid (EPA) and docosahexaenoic acid (DHA)?
Make sure that it has at least 250mg combined of EPA and DHA
No fillers
No proprietary ingredients
Ultimately, fish like anchovies, salmon, and tuna are the most common sources of omega 3 fatty acids (like in Nordic Natural).
However, krill and algae-based omega-3 are great alternatives, and occasionally flaxseed can be used too (although flaxseed provides ALA which is poorly converted into DHA and EPA).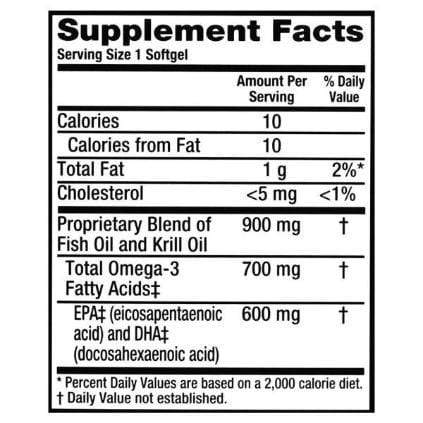 The first red flag is that the fish and krill oil are hidden behind a proprietary blend.
Nonetheless, it is positive to see that Megared 4-in-1 discloses the actual DHA and EPA (combined).
What Are the Benefits of Megared 4-in-one?
Or if we were to rephrase that question:
"What are the benefits of omega-3?"
The answer to the latter is plenty. There are many benefits to taking an omega-3 supplement, even more when most Americans don't consume enough of these fatty acids.
As highlighted in the image below, omega-3 has key anti-inflammatory functions, and can affect cardiovascular health, eye health, brain function, and joints. For instance, studies have shown that DHA might be able to improve mood, and brain function as well as protecting from mental disorders.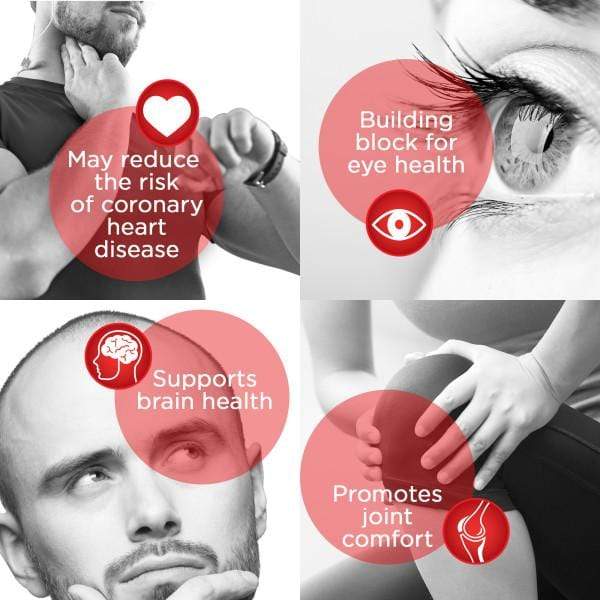 Omega-3 Dosage
The truth is that while the recommended minimum dose is a combined of 250mg of DHA and EPA, the required omega-3 intake can vary on gender, age, status (pregnancy)…
In fact, for joint support, daily omega-3 intakes of up to 1,100mg are recommended by the American Heart Association. That's why some other joint supplements incorporate higher omega-3 dosages than Megared 4-in-1, like Physio Flex Pro.
Does Megared 4-in-1 Work?
Honestly, it will depend on your goal.
Without a doubt, it will be an efficient way to up your omega-3 intake, and you will get good quality omega-3 fatty acids.
Mind & Mood Boost
That said, if you have other specific goals in your mind, like boosting cognitive performance or improving your joint health, you might be better looking at other supplements.For instance, while DHA is incredibly important for brain and eye development, and neural functioning, the addition of other ingredients (vitamin B group, phosphatidylserine, choline, zinc…) is of vital importance to fully tackle cognitive performance. That's what the best brain supplements, like Hunter Focus, do.
That said, given that the current American population is deficient in omega-3, taking an omega-3 supplement can be an effective strategy to support brain and mood health.
Joint Health
Similarly, the anti-inflammatory effect of omega-3 fatty acids is undeniable. They can help you prevent arthritis, and have beneficial effects in RA treatment.
However, on its own is not enough. Resveratrol, curcumin, chondroitin, boron… are among the many other ingredients that truly help you with joint mobility, pain relief, and health.
What Are the Side Effects of Megared 4-in-1?
There should be no real side effect of taking Megared 4-in-1 from the ingredients standpoint.
Unless, you are allergic to any of the ingredients, the quantities of omega-3 in Megared 4-in-1 are safe.
Megared Price
Megared by Schiff can be purchased on Amazon.
When it comes to the price, it's not as overpriced as other supplements like Omega XL.
1 tub (40 servings) –> $24.99 in total, or $0.62/serving
With Amazon, you will have the option to subscribe and save 5 or 15%, which makes them even more affordable.
Is Megared 4-in-1 Worth It?
As an omega-3 supplement is not the most expensive one on the market.
Plus, they deliver good quality omega-3 (from fish) and in good enough quantities (it's not underdosed). As such, I think that Megared 4-in-1 can be worth it as a pure omega-3 supplement.
That said, if your goal is to improve your brain health I would recommend looking at Mind Lab Pro or Hunter Focus instead (a real nootropic or brain supplement).
Similarly, if your goal is to improve your joints, check out our best joint supplements.
Other Megared Products Review
These are not the only omega-3 supplements that you can buy.
As mentioned, they also offer a vegan alternative as well as different strengths: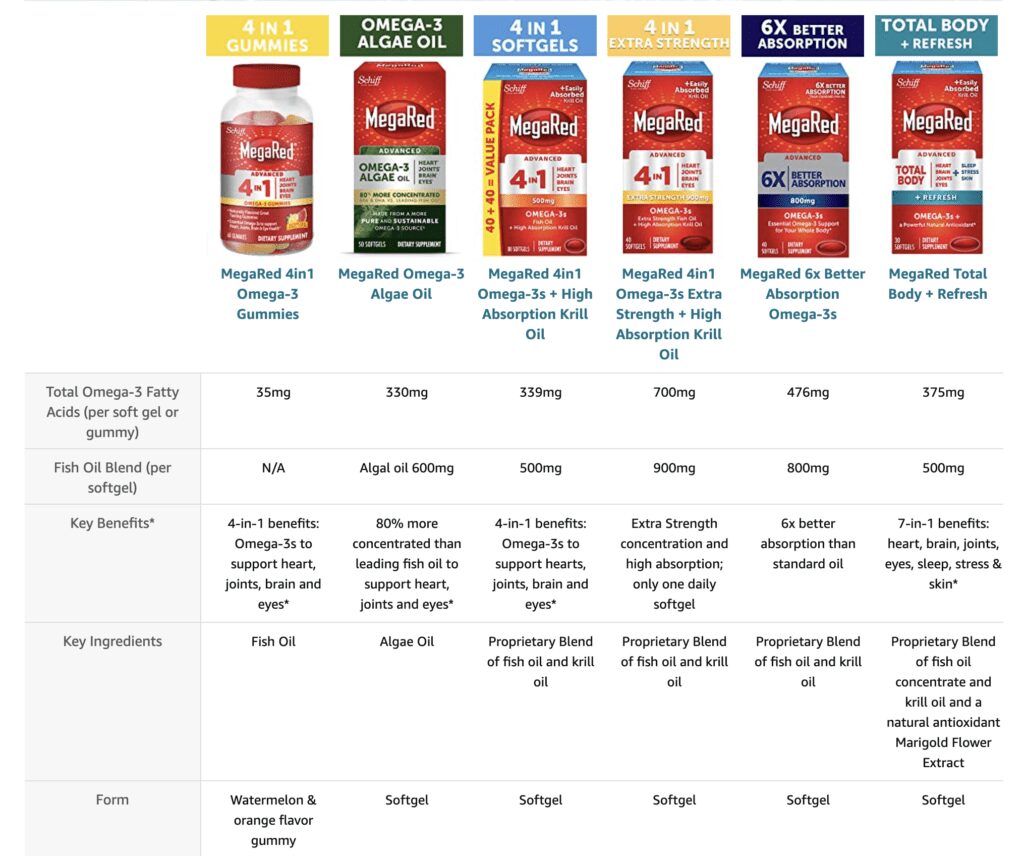 In our opinion, the Megared 4-in-1 softgels are better than the Megared 4-in-1 gummies as they are more easily absorbed. The reset are lower in omega-3 content which even with the supposed increase absorption, we would not recommend.
At the end of the day, the standard Megared 4-in-1 is the best of them all.
Similarly, as you can see with the vegan Megared, there's only 339mg of omega-3 fatty acids, which is just poor. That's why we recommend Performance Lab's Omega-3 instead (1,100mg/serving).
Real User Megared 4-in-1 Reviews
Unsurprisingly, most of the user Megared reviews are extremely positive.
On Amazon, Megared has a 4.7-star rating from 1,600 customer reviews. This is because, like previously mentioned, it is a good omega-3 supplement that is cheaper than the competition.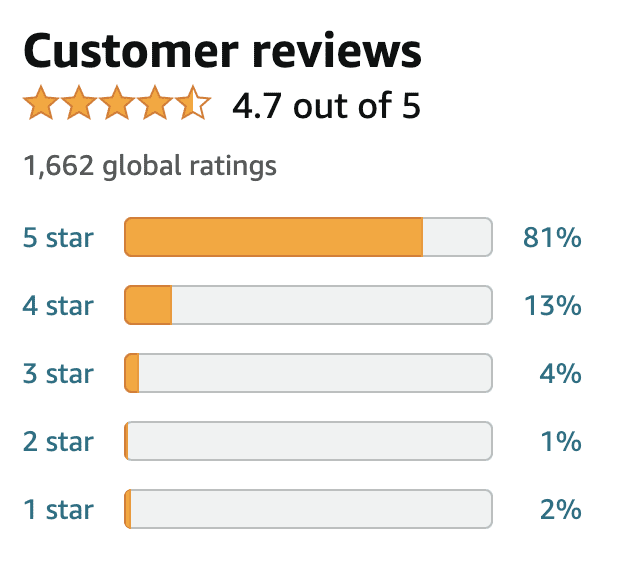 It is good to see that users are not complaining about fishy taste or burps after consumption, as this is a common issue with omega-3 supplements.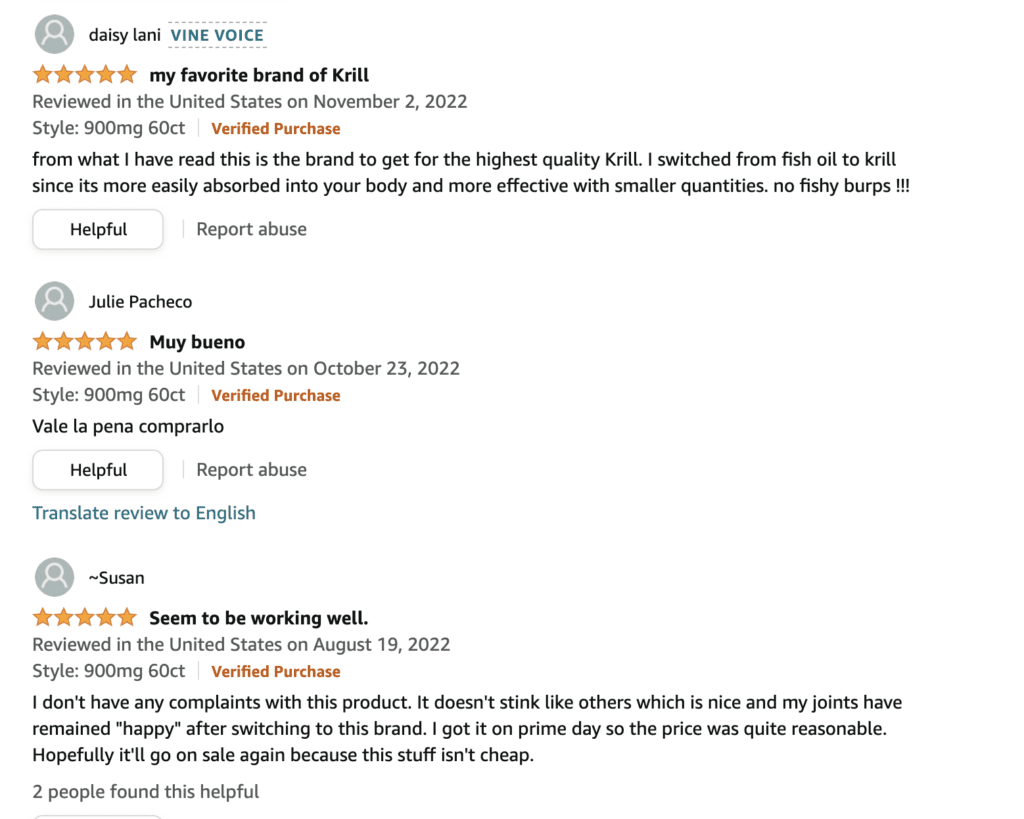 Some negative Megared reviews did think that the pills were too large or hard to swallow, but this has not been our experience. With a little bit of water, they were easy to swallow (considering that omega-3 supplements are larger than your average pill).
Megared 4-in-1 Reviews FAQ
Is Megared 4-in-1 safe?
Yes, Megared 4-in-1 should be safe for the general population. However, be careful if you have any fish or shellfish allergies.


Is Megared 4-in-1 suitable for vegans?
No, they use omega-3 oil from fish and krill. However, they do offer a vegan alternative.


How much Megared 4-in-1 should I take?
1 capsule per day is the recommended dosage for Megared 4-in-1.

Why is the Megared 4-in-1 capsule red?
Krill contains an antioxidant named astaxanthin which provides the red color to the capsule.


Is Megared 4-in-1 gluten-free?
Despite the fact that none of the ingredients in Megared have gluten, it is not gluten-free certified.


What Is the Best Megared 4-in-1 Alternative?
As an omega-3 supplement, Megared is one of the best.
As a joint relief supplement, it's far from being the best and it falls with many subpar products like Biotrust 33x or Kirkland triple action.
#1 Omega-3 Supplement – Performace Lab Omega-3
If you are looking for a vegan omega-3, Megared does offer its own vegan product, but we prefer Performance Lab's Omega-3.
This is a 100% plant-based (including the capsule) omega-3 from algae grown in the US. They have a transparent blend of 1100mg of omega-3 (600mg of DHA and 300mg of EPA) optimized to improve cognitive performance, eye health, and the immune system.
#1 Joint Supplement – Flexagain
Instead, if you are looking to relieve joint pain, we recommend using Flexagain.
This is one of the few joint supplements that actually has effective dosages that help you with joint mobility, pain relief, inflammation reduction, and overall joint health. This includes 1100mg of fish based omega-3, 100mg of resveratrol (proven to help RA prevention), curcumin extract, boron etc.
Once again, if you are more concerned with raising your energy levels, mood, and increasing memory and focus, a brain supplement or nootropic like Hunter Focus is the answer.
It has 13 nootropics, including vitamin B6, vit B12, vit B5, citicoline, Rhodiola, ginseng, and more that act in as neurotransmitter precursors, activate key signaling pathways in your brain, and ultimately reinforce your cognitive functions.
I take the supplement daily and it has definitely increased my productivity.
Omega XL vs Megared 4-in-1
These might be some of the most well known omega-3 supplements, together with Nordic Naturals Omega-3.
But is there any real difference between Megared 4-in-1 and Omega XL? Or is it just the price?
Which one should you buy, Omega XL or Megared?
Well, here are the main differences:
Omega XL costs $1.33/serving vs Megared 4-in-1 $0.62 — Megared is Cheaper
At max you get 300mg of omega-3 in Omega XL vs 600mg in Megared — More Omega-3 in Megared
Both claim to help you with cardiovascular disease prevention, improving heart, eye and brain health and relieving joint pain — None are as efficient as they claim, and you better off buying targetted supplements
Ultimately, Megared is much better than Omega XL.
---
Verdict – Megared 4-in-1 Review, Just a Good Omega-3 Supplement
At the end of the day, we've hammered the same message in this Megared 4-in-1 fish and krill omega-3 review.
This is an affordable, and effective omega-3 supplement. Despite the fact that exact quantities are behind a proprietary blend, you will be getting at least a combined 600mg of EPA and DHA.
At least, this is above the daily recommended by the US government and can provide a huge boost, considering that the American diet is lacking in omega-3.
However, the daily requirements of omega-3 can vary depending on your gender and age. Furthermore, for specific instances, like using omega-3 for joint support or increasing cognitive performance, higher dosages (1,100mg) are recommended.
As such, for that we recommend looking at the best joint supplements or the top nootropics, instead.
Megared 4-in-1
From $0.62/serving
Pros
Above average EPA + DHA
Good omega-3 supplement
Cheaper than omega XL
No real side effects
Cons
Not vegan-friendly
Not the best for joint health or pain relief
Not the most effective as nootropic
Could have more omega-3