Hol Food Review | Best Meal Replacement Shakes In Canada?
So in this Hol Food review, we're taking a fresh look at Canada's finest meal replacement, Hol Food. While the product has not changed substantially, the operation behind the scenes has, which warrants another look.
For context, our previous Hol Food review was titled "Good Meal Shakes But Awful Customer Experience". I think this is pretty self-explanatory. However, I had a chance to speak with the CEO of Hol Food and he explained all the difficulties they went through, and what steps they've taken to improve this. More of that below.
Back on topic, the "Hol" in Hol Food is short for Holism, a philosophical theory that boils down to the idea that the whole is greater than the sum of its parts. In other words, the parts of a whole interact in a synergistic way to create a positive result that is greater than if each part had interacted separately.
Based out of Toronto, Hol Food is the rethinking of food. They ask, what if the food you eat could make you mentally & physically better? How they answer that question is with high protein, fiber, essential fatty acids and vitamins/minerals.
This product is whey-based, deriving its protein from whey protein powder, rice flour and whole milk powder. Per serving, Hol Food contains 35g of protein, 3-5g of fiber, and 20% of 24 vitamins and minerals. This equates to 400 kcal and a macro split of 35:45:20 (P:C:F). 
---
Hol Food at a Glance
Flavours: Mild Vanilla & Rich Chocolate
---
Opinion
If you recall, I actually very much liked Hol Food shakes in my last review.
I thought it was a good tasting, filling shake that was not too expensive and was very flexible. Many online agreed with that, but mentioned poor experiences with fulfillment and cancellations.
I had not directly experienced these issues, as I got my Hol Food via a third party, but I felt that they were prevalent enough to include in last summer's review. These included fulfillment issues, products not arriving for months and ultimately having to stop the US operations.
The company has tried to address some of this publicly, and has made changes and pledged to be better. Time will tell.
This time, I got the Hol experience. But seriously, I was promptly sent an order confirmation, followed by a tracking number. The product even arrived two days earlier than quoted.
So we're getting off on the right foot. Let's dive deeper and find out why Hol Food is one of the last products standing in Canada.
What I like
1. Sizeable tubs. 30 serving tubs are great so that you don't have to worry in a while.
2. Very flexible.  I've changed the liquid and powder amounts, and it's still consistent.
3. High in protein. 35g outclasses many other meal replacements.
4. Rich Chocolate is delicious. Mild Vanilla is pretty good too.
5. Affordable. My sweet spot is between $3-$4/serving, they come out at under $3!
6. Back in the US! With their new logistics, they are once again shipping to the US
7. Webpage has been addressed. Lots of orphaned pages have been removed.
What I dislike
1. Super big tubs. Hard to store. Wish they had bags.
2. Expensive shaker. Over $20!!
3. Still no samples. I think this reduces its appeal to new customers. More on the reasons why below.
4. Vanilla has one less serving for the same price.  Not the end of the world, but why?
5. No flavour variety. Just two flavours available.
Improvements
1. Introduce smaller offerings. Maybe 10 serving tubs/bags.
2. Website redesign, update FAQ. We're told this is in the works! Stay tuned.
3. More flavors needed!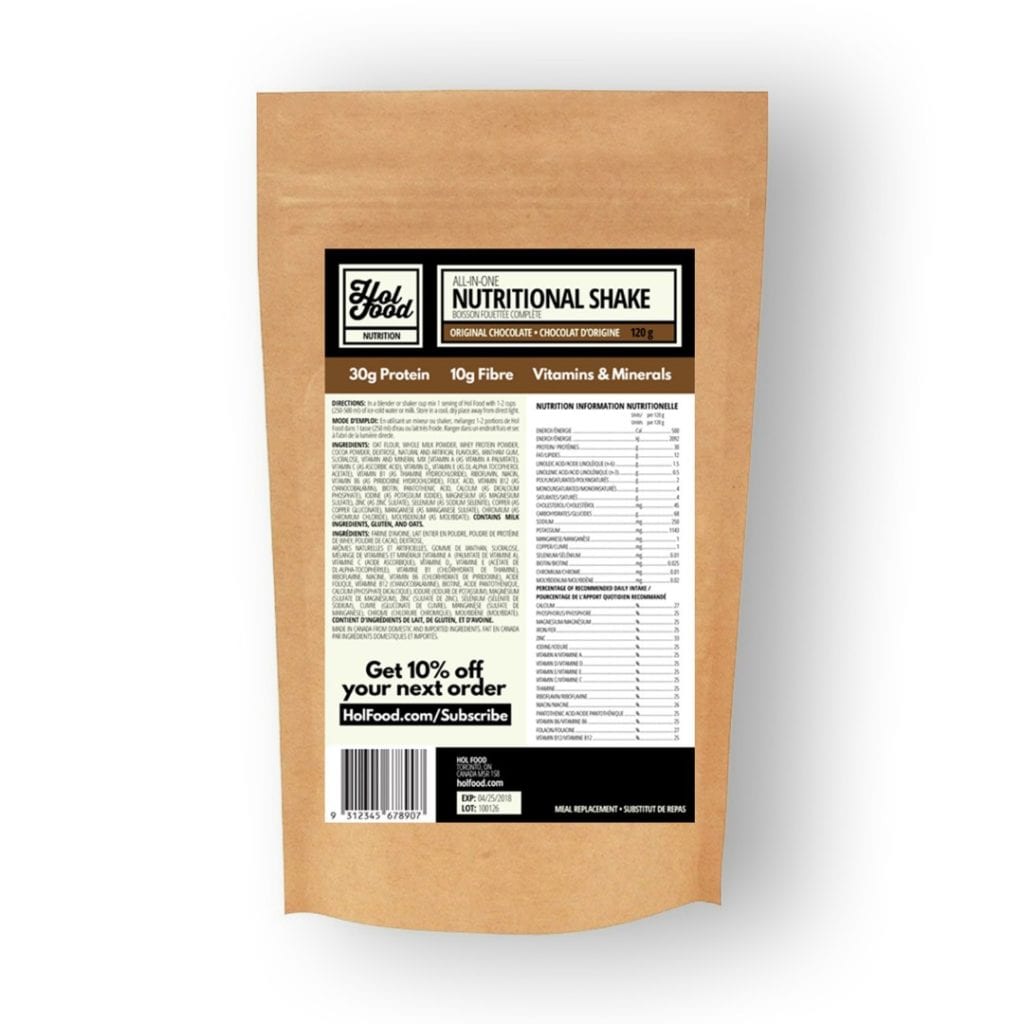 Nutritional Breakdown
Hol Food's standout feature is it has a ton of protein. It also has 24 vitamins and minerals, pretty much every one from A to Zinc. The protein is from whey/rice, and does contain sucralose.
So, if you are looking for meal replacements without artificial sweeteners or a plant-based meal, this is not it.
Hol Food Nutrition Overview
| | |
| --- | --- |
| | Hol Food |
| Kcal/meal | 400 |
| Macros (C/P/F) | 45/36/19 |
| Vegan | No |
| Keto | No |
| Features | Soy Free, Nut Free, Gluten-Free, Vegetarian |
| Non-GMO | ? |
| Organic | No |
| Includes Probiotics | No |
| Artificial Sweeteners | Yes |
| Synthetic Additives | Yes |
| Contains All Micronutrients | Yes |
| Controversial Ingredients | Sucralose |
*Note the differences between Vanilla & Chocolate
Vanilla: Whey Protein Powder, Rice Flour, Whole Milk Powder, Organic Cane Sugar, Vitamin and Mineral Mix : Vitamin A (as Vitamin A Palmitate), Vitamin C (as Ascorbic Acid), Vitamin D3, Vitamin E (as Dl-alpha Tocopherol Acetate), Vitamin BI (as Thiamine Hydrochloride), Riboflavin, Niacin, Vitamin B6 (as Pridoxine Hydrochloride), Folic Acid, Vitamin B12 (as Cyanocoblamin), Biotin, Pantothenic Acid, Calcium (as Dicalcium Phosphate), Iodine (as Potassium Iodide), Magnesium (as Magnesium Sulphate), Zinc (as Zinc Sulphate), Selenium (as Sodium Selenite), Copper (as Copper Gluconate), Manganese (as Manganese Sulphate), Chromium (as Chromium Chloride), Molybdenum (as Molybdate), Natural Flavours.
Chocolate: Whey Protein Powder, Rice Flour, Cocoa Powder, Whole Milk Powder, Organic Cane Sugar, Vitamin and Mineral Mix: Vitamin A (as Vitamin A Palmitate), Vitamin C (as Ascorbic Acid), Vitamin D3, Vitamin E (as Dl-alpha Tocopherol Acetate), Vitamin BI (as Thiamine Hydrochloride), Riboflavin, Niacin, Vitamin B6 (as Pridoxine Hydrochloride), Folic Acid, Vitamin B12 (as Cyanocoblamin), Biotin, Pantothenic Acid, Calcium (as Dicalcium Phosphate), Iodine (as Potassium Iodide), Magnesium (as Magnesium Sulphate), Zinc (as Zinc Sulphate), Selenium (as Sodium Selenite), Copper (as Copper Gluconate), Manganese (as Manganese Sulphate), Chromium (as Chromium Chloride), Molybdenum (as Molybdate), Sucralose, Natural Flavours.
Protein
Per 400kcal serving:
Total Protein: 35g, 70% of DV.
Source: Whey protein concentrate.
Whey protein powder & whole milk powder provide the protein for Hol Food. To calculate how much of this is makes up your daily value, know that adults 19yrs old and up require 0.8g of protein per kg of bodyweight.
As far as the quantity goes, Hol Food shakes are some of the most rich in protein.
Fats
Per 400kcal serving:
Total Fats: 7-9g, 8-12% of DV.
Saturated Fats: 4-5g, 20-25% of DV.
Omega-3s (ALA): 0.02g.
Omega-6s: 1.6g.
As far as fat goes, they vary slightly between the flavors. Vanilla contains fewer overall fats when compared to chocolate.
However, one thing that jumps out is that while the label and site clearly mention Hol Food containing omega-3s, there is no mention as to how much, or the source. In fact, there's no clear ingredient (like canola oil) that's naturally rich in omega-3s.
Besides, it's worth noting that most of the fats seem to come from whole milk powder and rice flour. This is the reason why saturated fats make half of the fats in Hol Food.
Carbs
Per 400kcal serving:
Total Carbs: 44-49g, 34-37% of DV.
Sugars: 9-10g.
Of which added: 2g, 4% of DV.
Fibre: 3-5g, 11-18% of DV.
Hol Food does contain rice flour, which is second on the ingredient panel.
Regarding the sugar content, it's higher than many meal replacements, but not absurdly so. It's mostly lactose, present in milk. The rest comes from organic cane sugar (2g).
On the down side, I would have liked to see more fibre.
Micronutrients
There are 24 micronutrients in Hol Food. All of them are 20% or greater of your RDI.
Allergens
Hol Food derives its protein from whey and rice. There is no mention of it being lactose free, so tread lightly if you have allergies or sensitivities in that area.
Tasting Test
| | |
| --- | --- |
| Best flavour | Rich Chocolate |
| Taste | Both were pretty good. I could easily switch between the two. |
| Texture | Medium. Chocolate is a bit thicker than vanilla if you follow the standard measurements. |
| Easy to Mix | Very easy to mix. No clumping or sticking to the shaker walls |
| Satiety | Excellent! About 3hrs with water. Even higher with milk. |
| Easy to Clean | Overall yes. A bit of packed powder around the mouth of the shaker, but thats it. |
| Afterthoughts | A great product. No hard complaints. |
Make Space
They come in very large 2.8kg tubs, which makes storage a challenge. Plan for it to sit on your counter. Also, when it first arrives, prepare to go scoop fishing. Each time it was buried near the bottom, lucky me.
This time we have both flavors in the house to try!!
Hol Food Rich Chocolate review
Wanted to start with chocolate this time. Last go-round, the review was based on my memory of it, but now it's front and center.
It mixes so well with minimal effort, just following the instructions landed me a perfect shake. No lumps, no odd consistency…just silk in a bottle. First sip…..I had forgotten how good it really is. It's not too sweet, it's a robust chocolate flavor that tastes like a mix of dark chocolate, and milk chocolate.
Possibly a top 3 contender in meal replacement chocolate flavors.
Mild Vanilla
I really like this one too, but I'm petitioning to have it renamed "Mild Original". It smells like vanilla but has really subdued taste, but that's not a bad thing as it's a really solid original. They do mention that this is meant to be used as an original flavor, primed for blending.
I have not tried mixing it with other stuff before, but am open to doing so in the future. They have a handy dandy recipe card that has some interesting ideas on it, and I anticipate that many of those concoctions should be pretty good.
Summary Hol Food Taste Review
Ugh, I want more flavors! There is so much you could do with both of them, especially Mild Vanilla. Maybe they could release some fruit flavors, or a chai/matcha. Experiment with mocha or peanut butter cup with Rich Chocolate.
But at any rate, both are very capable offerings. They have a velvety texture that doesn't require a blender to achieve. Also, they are very filling, being north of two hours, and you can push that if you mix it with milk, instead of water.
After tasting both, I do like both of them, but chocolate takes the crown. Both had well-balanced sweetness and knocked my hunger right out for nearly 3 hours with just a mix of 350ml of water.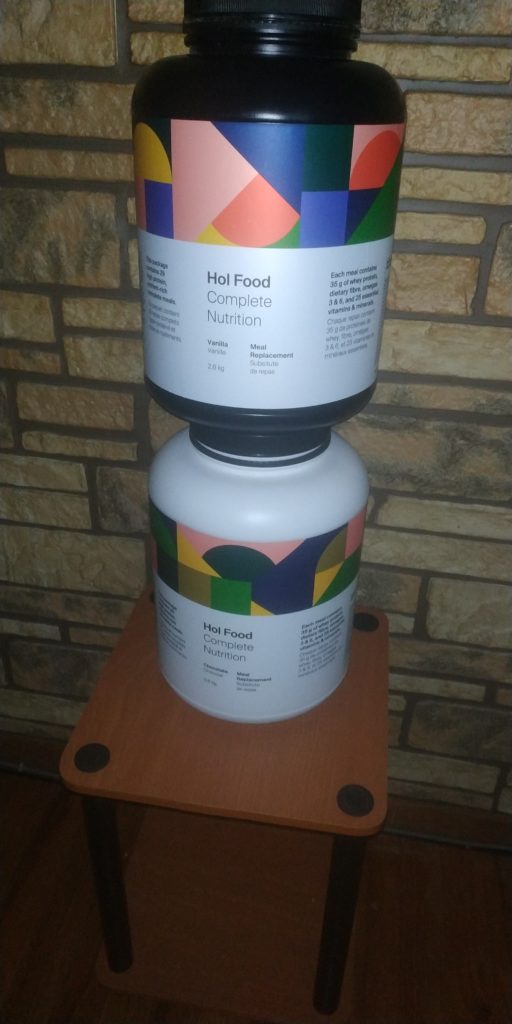 More about Hol Food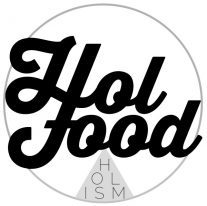 The Hol Story
Hol Food Started as a Passion Project
While working towards his Neuroscience degree at the University of Toronto, James Juras wrote a thesis project. The idea was that if the body could be provided with all the nutrients it needs, it would perform better mentally and physically on a daily basis. So James and co-founder Anastasia Alksnis embarked on an ambitious project.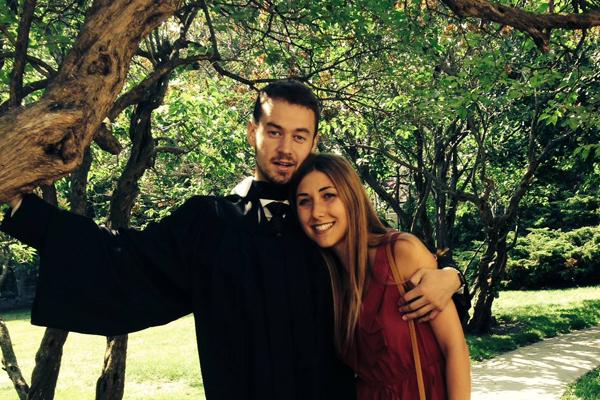 Then, He Put It to the Test
To test the theory, James decided he would live on the very first version of Hol Food for several months. Miraculously, at the end of the test period, he hadn't died; and in fact, he'd never felt better! His mental clarity improved, his energy was increased and more consistent, and he lost over 20 pounds.
Alas, Hol Food was Born.
James had never intended to sell his new concoction, but more and more friends started to ask about his "drink" and whether they could give it a try. So in the summer of 2015, he decided to start selling small batches and the rest, as they say, is history.
Hol Food Pricing & Shipping
Hol Food is sold only in large 2.8kg tubs. Weirdly, Mild Vanilla contains 29 servings, whereas Rich Chocolate contains 30 servings.
Hol Food can only be purchased via their website only. The subscription discount is 10% and can be ordered for delivery every one to eight weeks. Also offered is a starter kit that includes one tub of each + a ProStak Blender Bottle bundled at a 20% discount.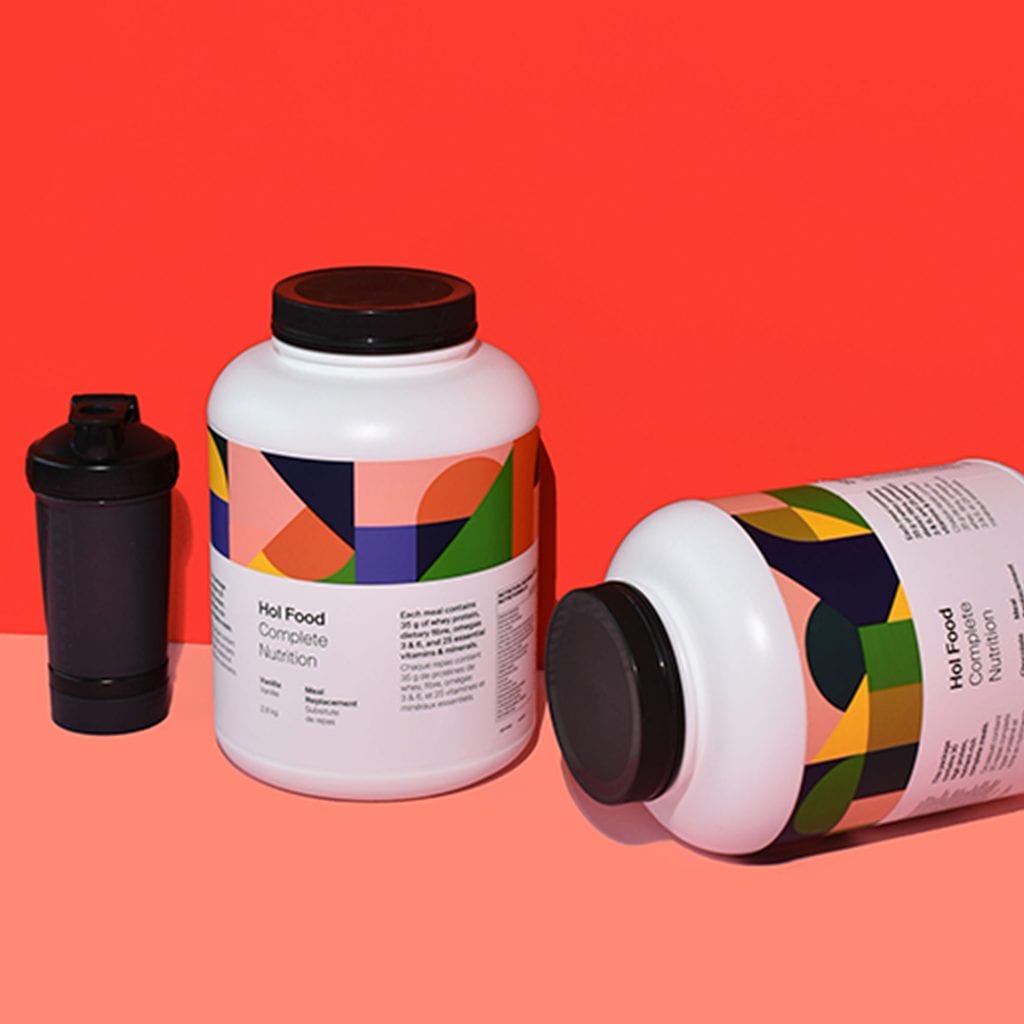 Flavor/Servings
Total Price (Non-Sub/Sub)
Serving Price (Non-sub/Sub)
Mild Vanilla
(29 Servings)
 $99.98/$89.98
$3.45/$3.10
Rich Chocolate
(30 Servings)
 $99.98/$89.98
 $3.33/$2.99
Van/Choc/Shaker Bundle
(59 Servings)
$184.96 (includes 20% discount)
$3.14
Pricing in CAD
Shipping
Hol Food is shipped via Canada Post.
In the US, Hol Food will be delivered via USPS and appears to be $15 flat rate. If you spend $200+ (CAD) then shipping is free to the US.
Interview
We were fortunate to speak with one of the founders of Hol Food, James Juras. He was kind enough to answer several of our questions regarding the industry, Canada specific challenges, past issues, logistics, and Hol Food as a product.
Q) How tough is it being in the industry in Canada? Others have not fared as well.
Canada is a somewhat difficult place to operate a direct-to-consumer business, primarily due to high shipping and material costs. I've been told that this is primarily due to the large size of the country coupled with our relatively small, highly dispersed population. For example, a lot of our customers live over 4000 km away in Vancouver which, to put it in perspective, is almost 10 times the distance between Paris and London. This increases the cost of running the business significantly when compared to e.g., running a comparable company in continental Europe. 

 That being said, we've consistently found that our Canadian customer base is hugely loyal and very willing to support a Canadian brand, and we're immensely grateful to be able to provide Hol Food to Canadians.  
Q) What was it like managing operations in the US? 
Hol Food is now back to being offered in the US thanks to our new fulfillment partner Shopify. Thanks to this integration, it's been very smooth making the transition.  
Q) What's the story behind the boosters and samples? Perhaps a return one day?
The boosters in particular are actually something that was very close to my heart and discontinuing them was definitely not an easy decision. We're a very small team at Hol Food and we discovered that the logistics of maintaining the boosters ended up being very significant, to the point that we were concerned it might take away from our ability to deliver our core product line consistently. As such, we made the decision, at least for the time being, to concentrate on Hol Food Chocolate and Vanilla primarily to do everything that we could to make sure that the ordering experience and product quality batch to batch is absolutely bulletproof.  

As for the samples, the primary issue was shipping costs, which have also only increased over time. Throughout NA, shipping costs are extremely expensive compared to other jurisdictions and are calculated in such a way that as long as a shipment is considered a package, there will be a threshold cost associated with it. This means that even if a package is small, as our samples were, the cost to ship them was only marginally cheaper than shipping a full tub. We tested delivery for a year or so to see if we could make it work with several different shipping companies, but it didn't end up working out.  

This decision occurred pre-COVID but ended up being a good one as logistical management in the pandemic has only gotten harder. That being said, we've managed to maintain a strong level of consistency in our core products in spite of the huge supply challenges and I think maintaining our focus is a key reason for that.  
Q) Issues canceling subscriptions was also something I read about. How are cancellations handled? 
Subscription and order cancellations had been an issue in the past due to some inconsistencies but we've now instituted a policy whereby all order cancellation requests are processed within a maximum of 24 hours Monday – Friday, 9 am – 5 pm EST.  
Q) You mentioned there was a change with your fulfillment service. When was this? Outline the upsides/downsides? 
Yes, in February 2021 we moved to the new Shopify Fulfillment Network which offered numerous advantages on the backend (better receiving policies, improved transparency, etc.), however, what it boils down to for our customers is a vastly improved ordering experience. Customers now have full tracking on all orders and are able to choose local pick up at checkout. Additionally, customer complaints over lost or misplaced packages, incomplete tracking, and/or delayed orders have nearly stopped as the reliability of our shipping carrier is so much better. Finally, Shopify and our shipping carrier are both based in Canada and supporting local companies is important to us and our customers.  

As a result, we now make a bit less on each order as the shipping costs more to the company, but we are more than happy to shoulder that to deliver a better experience to our customers. 
Q) While I've noticed website improvements, are there any plans to give it a "fresh coat of paint"? 
Yes, there are currently plans for a complete website overhaul in the works.
What is the future of Hol Food? Are there any new flavors or formula changes on the horizon?
We have no plans to alter the formula of Hol Food (our core customers would be very upset!), but we're definitely eyeing some new flavours. 
Anything else you want to add or want the public to know?
Just that we are very grateful for their support for all these years! 
Hol Food VS. Soylent
Hol Food was often considered the Soylent alternative for those not keen on soy or wanted something higher in protein. Besides, it has been one of the best Canadian meal replacements for a few years now.
Let's see how it measures up head to head! We'll be comparing Hol Food's Mild Vanilla, to Soylent's Original Powder.
| | | |
| --- | --- | --- |
| | Hol Food | Soylent |
| serving price | $3.45 (CAD) | $2.51 (CAD) |
| serving size | 2 scoops + 350ml | 2 scoops + 350ml |
| Packaging (servings per) | 1 Lg Tub (29) | 7 – 5 meal bags (35) |
| kcal/serving | 400 | 400 |
| Protein (g) | 35 | 20 |
| Sugar (g) | 10 | 15 |
| Fiber (g) | 3 | 6 |
| Fats (g) | 7 | 19 |
| Micronutrients | 24 | 28 |
| Vegan | N | Y |
| Organic | N | N |
| Artificial Sweeteners | Y | Y |
| Synthetic Additives | Y | Y |
| GMO | ? | Y |
| Protein Source | Whey | Soy |
Prices shown are most expensive option.
As you can see, each has its strengths and weaknesses. If you have access to both, it'll really come down to what you value most regarding your diet and wallet.
On the other hand, if you are looking for a soy free meal replacement in the US, I recommend you look at brands like TheProteinWorks, Orgain or Ample.
Hol Food FAQ
Does Hol Food offer any other flavors?
No. The current version of Mild Vanilla is essentially unflavored for those who prefer that option.


Is international shipping offered?
No. Canada only.


Why should I start Hol Food?
It enables you to save time and money, while being very nutritious.


How should I use Hol Food?
Hol Food can be used to replace all meals. Most only replace one or couple of meals a day.

What payment methods are accepted?
All major credit cards, Apple Pay & Paypal.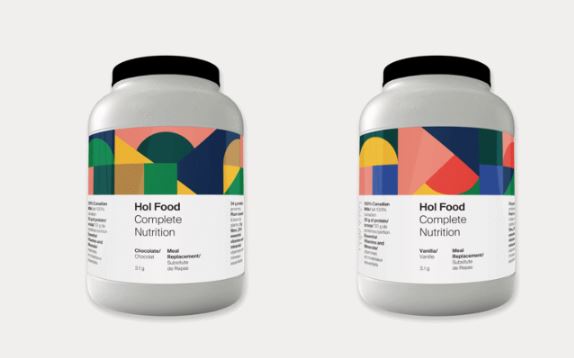 Verdict – Hol Food Review
Before final thoughts on this Hol Food review….a funny story. Last summer, I took a trip to Florida to help my friend who had relocated. I didn't know what the food landscape would look like there and knew I'd have lots of hard work ahead of me, so I took Hol Food. So at the airport, they found the ziplock bag Hol Food was in, and pulled it out in front of everyone. The looks I got when that bag of powder came out at security were unforgettable. You would have thought I was smuggling drugs!
Anyhow, I decided on Hol Food because I knew it was filling, mixed well with water, didn't require a blender and wouldn't cause me any tummy trouble.
In summary, I had other options, but Hol Food was the best one, as it checked all those boxes. Also, I needed something I was fine with having multiple times a day, for nearly a week. 
Like the last review stated, I really find Hol Food to be a good product though I had questions about its operations and fulfillment. Some of the accounts I read were less than flattering and did not inspire confidence.
However, much has changed and you've heard that directly from the founder himself. So with the previously mentioned issues in the company's rearview, you can feel secure in giving Hol Food a try.
You'll be glad you did.
Hol Food
Starting at CAD3.45/400kcal
Pros
Rich Chocolate is a delicious shake
35g of high quality protein per shake
One of the only whey based options in Canada
Soy free, nut free, gluten free
Best Canadian company
Cons
Only 2 flavours to choose from
Omega-3 source is not clear, and low in quantities
No sampler