Legion Pulse Review | The Top Stim Free Pre Workout Is A Bargain
Welcome to this Legion Pulse review, arguably one of the best stim-free pre-workouts in the market. Or so they claim.
However, finding the best pre-workout these days is both super easy and incredibly challenging – and for the same reason!
On the one hand, there is a flood of fantastic pre-workout options to pick and choose from. More than at any other time in the fitness industry's history, even. The products are better, the results are better, and the prices are better.
On the other hand, though, with so many different choices finding the right one can feel like a real uphill battle. How do you zero in on just one pre-workout supplement to take before you workout when you have so many to pick from?
Well, Legion Pulse Stim Free makes this decision a whole lot simpler.
This is the top 100% all-natural pre-workout supplement on the market today. Legion Pulse floods your body with all the fuel and energy it needs to crush your workouts without pumping you full of chemical additives.
To analyze this game-changing new supplement and we've put together this Legion Pulse pre-workout review.
Legion Pulse Review at a Glance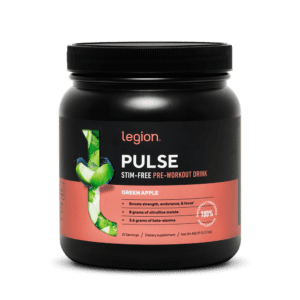 | | |
| --- | --- |
| From | US |
| Ships | World |
| Price/serving | $1.57 |
| User Reviews | Very Positive |
| Caffeine | None* |
| LF Recommended | Yes |
Flavors: Fruit Punch, Apple Cider, Artic Blast, Blood Orange, Blue Raspberry, Blueberry Lemonade (recommended), Cherry Limeade, Frosted Cranberry, Grape, Green Apple, Mojito, Pink Lemonade, Sour Candy, Strawberry Margarita, Tropical Punch, Watermelon, Peach Ring, and Strawberry Kiwi. Not all flavors will be available in Stim-Free Pulse.
Legion Pulse is available in tubs of 20 servings.
Pros
Caffeine free
Science backed
Includes beta-alanine for extra effectiveness
Lab tested
No artificial sweeteners or flavors
Tons of flavors
Cons
Can cause "tingling" sensation
Caffeinated version has too much caffeine
Not as effective for NO production boost
Legion Pulse Ingredients
The underlying formula in the Legion Pulse pre-workout supplement is no secret.
In fact, the people behind this supplement are really upfront and honest about all of the six main ingredients (four in the caffeine-free version) that handle the heavy lifting of the pre-workout results you're looking for.
Transparency is the name of the game with this supplement.
| | Dose/serving | Effective Dose? |
| --- | --- | --- |
| L-citrulline | 8g | Yes |
| Beta-alanine | 3.6g | Yes |
| Betaine Anhydrous | 2.5g | Yes |
| Alpha GPC | 300mg | Yes |
| L-theanine | | |
| | | |
Pump Complex
L-Citrulline is used in this formula to significantly improve your circulation, helping to deliver the rest of the pre-workout payload (as well as protein and fresh, oxygenated blood) to the muscles that you are working out.
Beta-Alanine is going to help you with your energy levels and endurance, but it's really going to help elevate the "pump" you get when you are pushing your body as hard as possible.
Betaine Anhydrous is added into the mix as well. You'll find this in a ton of popular pre-workout supplements, but here in the Legion Pulse formula it's a core backbone ingredient that helps jack up your strength, your energy levels, and really delivers a ton of mental focus.
Focus Complex
Alpha GPC might not be found in a lot of other pre-workout supplements, but those that are on the cutting edge of the fitness supplement world understand just how powerful a core ingredient this really is. You'll be able to elevate your mental and physical performance, better stimulate protein synthesis, and even help you recover from your grueling workouts faster.
Option for Caffeinated
Note: Caffeine is available in the caffeinated Legion Pulse formula (obviously). You'll see huge boost to your strength, your endurance, and your overall athletic capacity with this 350 mg caffeine bomb. However, this is going to be too strong and could cause you some serious side-effects (jitters, insomnia…)
As such, you can skip the caffeinated version of Legion Pulse if you wish. They have a 100% non-caffeinated formula for those that just don't react well to this ingredient.
Personally, I like to stick to the Stim-Free Legion Pulse, as I feel that this is enough to pump my workout.
Sodium and Potassium for Hydration
Besides the above, you'll also see some sodium and potassium as part of the mix. These electrolytes help you with hydration and balancing the loss of salts through sweat.
Zero Artificial Sweetening Ingredients, Artificial Dyes, or Chemical Additives
When you use Legion Pulse you're using a pre-workout supplement that has been specifically designed, developed, and formulated to eliminate artificial sweetening agents, artificial dyes, and chemical additives that are often found cluttering up commercial pre-workout options today.
As a serious athlete or fitness enthusiast the chances are pretty good you are careful about the stuff you put into your body. You're likely eating clean, you're counting your calories and your macros, and you're making sure that you're getting plenty of hydration.
The last thing you want to do is pump your body full of all kinds of chemical concoctions found in most commercial pre-workout supplements, wrecking your progress and wreaking havoc on your health.
With Legion Pulse, though, that's never going to be a problem.
Does Legion Pulse Work?
Both the caffeinated and Legion Pulse Stim-free pre-workout are ultra-effective at their job. This is due to many factors, including:
Effective dosages
Science-backed ingredients only
Synergistic effects
Great formula
In more practical terms, how will Legion Pulse help you?
Less fatigue. Beta-alanine not only can decrease the feeling of fatigue during the workout, but also reduces exercise-induced fatigue and increases anaerobic capacity. This means that you will feel less tired during and after the workout, helping you push through that extra set.
More energy. Less fatigue means more energy, but not only that. You will feel more energized during your workout thanks to the synergistic effect of beta-alanine and alpha-GPC. Plus, L-citrulline will increase blood flow to your muscles making sure they are pumped.
Increased focus. Alpha-GPC acts as a precursor to the acetyl-choline neurotransmitters, making sure that your brain is firing at all cylinders.
Extra endurance. Betaine is shown to boost muscle endurance. Together with beta-alanine's ability to reduce the feeling of fatigue during workout, you will feel like you can go forever.
Boost your motivation. After taking Legion Pulse you will feel more powerful, more energized and less tired, as well as, increase performance. If that doesn't boost your motivation, what does?
All these effects will be increased in the caffeinated version, as caffeine has key roles in fatigue reduction, boosting physical exercise, and helping you focus.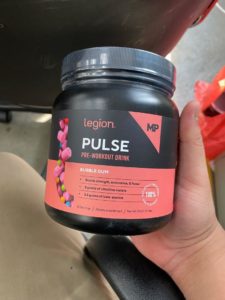 User Legion Pulse Reviews
Both throughout the website and on Amazon, there are tons of positive Legion Pulse reviews from users. On their site, they have a 4.6/5 star rating from 3280 Legion Pulse pre-workout reviews. 
Obviously, these user reviews are often not to be fully trusted, but other experts agree that this is a great supplement.
Finally able to get a full dose (2 scoops) for intense workouts. Wasn't able to take that much caffeine from the regular version. Now I mix a scoop of regular pulse & stim free pulse for the full effects.

Jason B

As you can observe, many users preferred the stim-free Legion Pulse, as opposed to the regular one. It is true that for us Legion Pulse pre-workout might have too much caffeine, and we would recommend using the stim-free version.

As far as the negative Legion Pulse reviews go, there are some complaints by users about a "tingling" feeling. This is due to beta-alanine, and it's a common side effect (not hazardous, just annoying). If this is not something you like, I would recommend a stim-free pre-workout without beta-alanine, like Transparent Lab's.

Who Is Legion Pulse For?
Anyone that works out will be able to see some pretty significant benefits from using Legion Pulse pre-workout.
Serious athletes are going to feel almost superhuman, especially if they have been using more traditional and chemically loaded pre-workout supplements in the past.
"Weekend Warriors" just looking to burn little fat or build a little muscle will appreciate just how much of a boost Legion Pulse will give them, too. You'll be able to fast-track your health and wellness journey with the help of this pre-workout.
Lastly, anyone that has particular sensitivities to artificial flavorings, dyes and coloring ingredients, and other chemical agents are going to love Legion Pulse for its all-natural and transparent ingredient approach.
Legion Pulse Side Effects
If you are planning to take the caffeinated Legion Pulse I would advise caution. For once, it has an extremely high caffeine content, 350mg. This is almost the daily recommended dose (400mg).
High doses of caffeine can negatively impact your sleep, anxiety, and even cardiovascular rhythm. Other side effects could include nausea or uneasiness.
On the other hand, the Legion Pulse stim-free pre-workout contains beta-alanine. As discussed previously, this ingredient can make you feel tingly. It's not of any danger to your health, but it can be discomforting. Something like Transparent Labs Stim Free can be a good alternative, if this is the case.
More About Legion Pulse
The Legion Pulse pre-workouts are manufactured by Legion Athletics, one of the leading supplement brands in the US. They are characterized by high standards, clean supplements (no artificial ingredients) and, rigorously testing their products.
In turn, Legion Athletics was founded by Mike, a certified personal trainer that has published multiple successful books like "Bigger Leaner Stronger" or "Muscle for Life".
Legion Athletics is a big believer in science-based formulas:
Scientific review board. Their excellent blogs about nutrition and fitness are reviewed by MDs and PhDs.
Funding scientific research. They put their money where their mouth is by funding scientific research about nutrition and exercise.
Legion Pulse Price
Ultimately, when it comes to choosing the ideal pre-workout the price is a very important factor. Many brands overcharge for rather average formulas.
As far as Legion Pulse pre-workout goes, this is the pricing:
20 servings/tub –> $1.57/serving, $31.49 in total.
You will get a 30% discount on your first order, and then you can get 10% if you subscribe.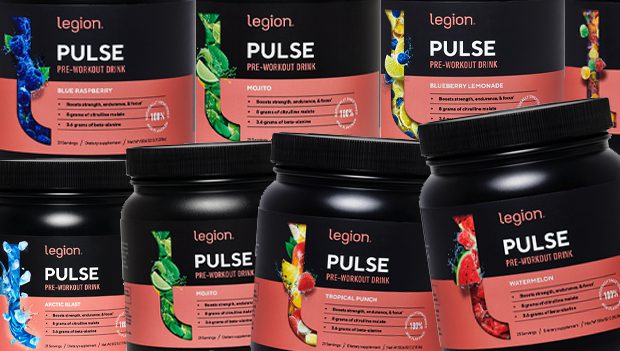 Legion Pulse Pre-Workout 101
The people behind Legion Pulse found themselves really sick and tired of preworkout supercharger stuffed to the gills with chemical concoctions, overloaded formulas made almost entirely in laboratories with little to no natural ingredients whatsoever.
Setting out to create an effective, potent, and reliable pre-workout supplement that would deliver the same payload of results – we are talking about huge boost to your energy, better blood flow, increased mental focus, and significantly improved endurance – without any negative side effects, they cracked the code with Legion Pulse.
Available in two different core formulas (one that's caffeinated, one that isn't), this pre-workout supplement is open, upfront, and totally transparent about what goes into the pre-workout supplement and why.
If you're looking to trust your health and wellness with a preworkout supplement that really works – one that's going to help you pull off all your workout goals – without having to sacrifice your short or long-term health, this is something you'll want to check out for sure.
Other Legion Athletics Products
Besides Legion Pulse, they manufacture tons of great products from protein powders, BCAA supplements, creatine, and fat burners.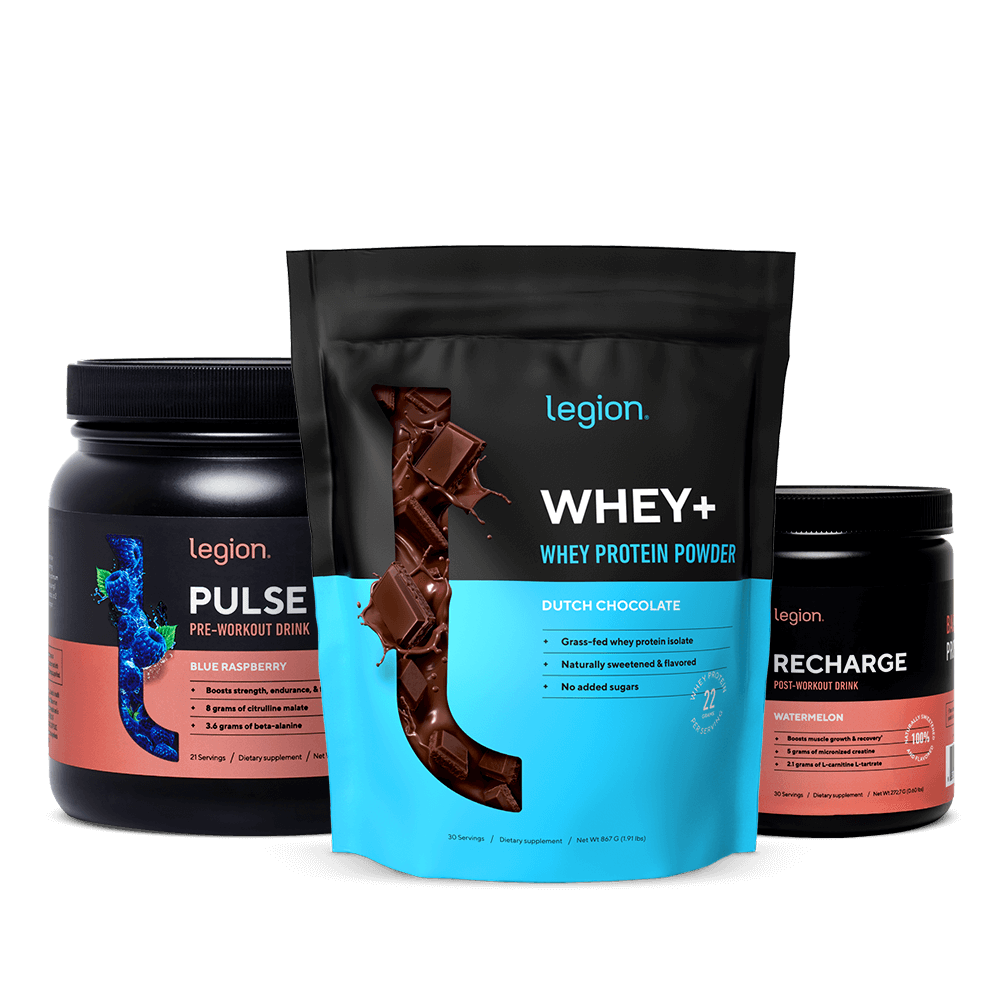 Sadly, they don't do any meal replacements, but I believe they could do some of the best meal replacement shakes to complement your diet.
What's most interesting is their "stack" idea. You can buy multiple complementary supplements (e.g. pre-workout, protein powder and post-workout) and enjoy great discounts.

While it is true that this will help you save money, make sure you don't buy more than what you need!
Legion Pulse FAQ
How should I consume Legion Pulse?
Legion Pulse is best taken 30 minutes before exercise mixed with water.

 
Is Legion Pulse Stim Free suitable for women?
Yes, Pulse can work for both men and women.


Can I take more than 1 serving of Pulse pre-workout a day?
In theory, the stim-free Pulse can be taken more than once a day, but I would strongly advise against it. The caffeinated version should be taken no more than once.


Is Legion Pulse gluten-free, vegetarian or vegan?
Legion Pulse is both gluten-free and vegetarian, but sadly it's not suitable for vegans.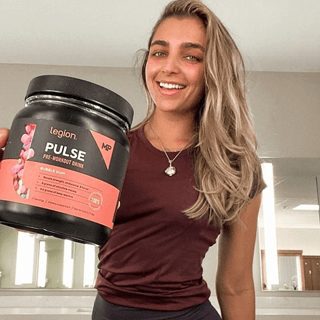 Verdict – Legion Pulse Review and Alternatives
At the end of the day, there are a ton of different pre-workout options to pick and choose from right now. Many stim-free pre-workotus target nitric oxide production to keep your body firing while working out.
Legion Pulse, though, separates itself – significantly – from the rest of the pack with its all-natural ingredients formula, its commitment to transparency, and its fantastic value for the money.
This is an excellent pre-workout supplement that can help you get the fitness results you're looking for much faster than you would have been able to alone, and it's not going to mess with your biochemistry along the way.
Check out Legion Pulse today!
Legion Pulse
From $1.57/serving
Pros
Top quality, clean and science backed
Tons of flavors - most of them delicious
Option for Caffeinated and caffeine-free
Great price
Very effective
Cons
Caffeinated version is too high in caffeine
Might cause "tingles" from Beta Alanine
Not as effective for NO boost