The Best Keto Meal Replacement Shakes & Protein Powders in 2021
Latestfuel's Top 3 Keto Meal Replacement Shakes
---
You might be interested in
---
Top Keto Meal Shakes vs the Best Low Carb Shakes
In this article you will find two sets of recommended meal replacement shakes: ketogenic meal replacements and low carb shakes.
"What is the difference between them?" you might think.
In short, the amount of net carbohydrates that the shake will have will dictate if it is a keto shake or a low-carb shake:
On one side, ketogenic shakes will have extremely low carbohydrate content, which will push your body into a ketosis state (where your body uses fat to fuel).
Low carb shakes, on the other hand, will still have low carbohydrate content when compared to the government recommendations; but will not be enough to push you into ketosis.
---
Best Keto Meal Shakes
For anybody that's looking for a keto shake that's slightly richer in protein, Complete Meal by HLTH will be godsent.
This creamy and delicious keto shake, includes 27g of protein from whey, egg whites and collagen. A mix that will provide you with a complete amino acid profile.
Besides, you will only get 4g of net carbs, no added sugars or sugar alcohols that could break your ketosis. Instead, the shakes are sweetened with natural sweeteners (monk fruit and stevia).
Plus, you will get healthy fats from coconut oil, olive oil, MCT powder, flaxseed… This will ensure you get your energy (MCTs) and your essential fats (omega-3s).
All of this in a yummy thin shake that's available in two flavours: Chocolate Macadamia (my favourite) and Creamy Vanilla. Both are less oily and sweeter than the counterparts.
Get started from only $4/meal; or subscribe for a 20% discount ($3.3 per meal!). All with free US shipping!
Key Facts
Kcal/serving: 400
Macros (Carb/Protein/Fat): 12/18/70
Net Carbs (g): 4g
Protein (g): 27g
Fat (g): 27g
Allergens: Milk, Coconut
Unwanted ingredients: None
Flavours available: Chocolate Macadamia, Creamy Vanilla
Good For: People looking for a tasty, creamy, high protein keto shake.
---
Sated offers the best ketogenic meal replacement shake in my opinion: very low net carbs (down to 1.3g per 400kcal), affordable pricing and includes everything you need.
This last is important, since many brands cut costs by not including the oils; which makes it more troublesome for the user. With Sated, you will get a custom oil mix with a balanced blend of oils that include 1:1 omega-3/-6 ratio (ideal) and MCTs to boost your energy levels.
Thus, this makes it one of the best keto meal replacement shakes for weight loss; since it won't require you to add anything extra.
You will be able to purchase in bags of 30 meals. These include the keto meal powder with proteins, fibers and micronutrients; plus, the oil.
30 meals will only cost you $90; and you can reduce it by 20% when you subscribe. This means that Sated powder is one of the most affordable keto shakes at $2.40 per meal!
Key Facts
Kcal/serving: 400
Macros (Carb/Protein/Fat): 3/18/79
Net Carbs (g): 1.3g (varies with flavours)
Protein (g): 18g
Fat (g): 35g
Allergens: Milk
Unwanted ingredients: Erythritol
Flavours available: Chocolate, Vanilla, Strawberry, and Peaches & Cream.
Good For: Looking for the most well rounded shake and overall best keto drink.
---
Ample is a premium brand that focuses on quality of ingredients and gut health. For that, they use ingredients that have not been altered much; and add custom probiotic blends.
As a result, Ample K is the most natural ketogenic meal replacement in the market. This is very important since one of the goals of keto is to re-establish a closer relationship with quality food.
Not only the quality of the prime ingredients is great, but the customer experience is excellent, too. Ample K is available in pouches or individual bottles (400kcal and 600kcal) to which simply you need to add water. These are the most convenient and simple keto meals. No adding oil or complex mixing required.
On the downside, Ample K fails to deliver all the micronutrients your body needs and the price is higher than the rest of the competition. A trade of for using real food ingredients, and believing that quality of nutrients is essential.
However, the most remarkable feature of Ample's keto shake is its delicious taste and incredibly smooth texture. It is a pleasure to drink and mixes perfectly, unlike some others.
Key Facts
Kcal/serving: 400 – 600
Macros (Carb/Protein/Fat): 13/13/74
Net Carbs (g): 3g
Protein (g): 25g
Fat (g): 28g
Allergens: Milk, Coconut, Macadamia Nut, and Egg
Unwanted ingredients: None
Flavours available: Chocolate, Vanilla Cinnamon.
Good For: Those who are looking for the least processed/most natural shake.
---
4. Keto Fuel
Keto Fuel is the carb free meal replacement shake by the popular US brand Superbodyfuel. A very affordable option with multiple flavours available; great for beginners and more experience users alike.
The two main strengths of Keto Fuel are the price and the flavour options. You can enjoy a shake from $2.5 (400kcal), but also have a further 20% discount if you subscribe.
As far as the flavours go, there are currently 4 options: Plain (unsweetened), Chocolate, Cinnamon and Vanilla.
On top of that you will be able to get your Keto Fuel from almost anywhere in the world, since you will only have to pay a flat $30 fee for every order above $100.
On the other hand, there is one issue with Keto Fuel: it does not provide you with any oil. Thus, it requires you to add your oil of preference.
Despite the fact that this allows you to play with the flavour and nutritional profile; it will create an extra step for beginners. For those, I would advise following the recommended guidelines when making your keto shake.
Key Facts
Kcal/serving: 450
Macros (Carb/Protein/Fat): 5/20/75
Net Carbs (g): 1g
Protein (g): 24g
Fat (g): 24g
Allergens:
Unwanted ingredients: None
Flavours available: Plain, Chocolate, Vanilla, Strawberry.
Good For: people looking to customize their keto shake.
---
This keto meal replacement powder is one of the better known products in the community. It is a familiar brand with close ties to the community. However, the most remarkable feature is the 21 flavours that they have available!
These include standard options like Chocolate and Vanilla; but also more exotic choices like Cookies & Cream, Strawberry or Salted Caramel. On top of that, they also offer savoury flavours.
All of them, highly praised by the community with 87% (10,000) 5 star votes.
However, it must be noted that you will be required to add your own oil, since KetoChow does not provide with any. Although, there are multiple guides and serving instructions on the site.
Key Facts
Kcal/serving: 533
Macros (Carb/Protein/Fat): 5/20/75
Net Carbs (g): 1.5g
Protein (g): 26g
Fat (g): 44g
Allergens: Milk, and Egg
Unwanted ingredients: None
Flavours available: Apple Pie, Banana, Chocolate, Chocolate Mint, Chocolate Peanut Butter, Chocolate Toffee, Cookies and Cream, Eggnog, Limited Edition, Meringue, Mocha, Natural Strawberry, Orange Cream, Peaches and Cream, Pistachio, Pumpkin Spice Caramel, Raspberry, Rootbeer, S'moores, Salted Caramel, Snickerdoodle, Strawberry, Vanilla, Chicken Soup, Creamy Tomato Basil, Spicy Taco, and Beef Soup.
Good For: those who get bored of a single flavour easily.
---
Best Keto RTD Shakes
Sated's Ready to Drink Keto meal is the easiest, most convenient and the tastiest keto drink. An incredible combo for this smooth and superb tasting shake.
Nutritionally, the RTD will provide you with all you would want.: 75% fats, only 1.3g of net carbs, less than 1g of sugar, and 18g of protein. All with the vitamins and minerals that your body needs.
On the downside, the convenience has an added cost. Each bottle will cost you $6 initially. However, you can easily lower this to $4.0 with bulk and subscription discounts.
All in all, an extremely enjoyable keto meal, that I highly recommend.
Key Facts
Kcal/serving: 400
Macros (Carb/Protein/Fat): 3/18/79
Net Carbs (g): 1.3g
Protein (g): 18g
Fat (g): 34g
Allergens: Milk
Unwanted ingredients: Erythritol
Flavours available: Chocolate, Vanilla.
Good For: those looking for the most convenient and tastiest meal.
---
Best Keto Shake Powders in Europe
What Happens if You Live in the EU?
Ketogenic and low carb diets are most popular in the US. As such, the offer outside North America is currently very limited.
But for a shortlist of my top European keto shakes:
Keto Meal Shake by Ambronite.
Ketogenesis by GenesisFoods.
HLTH Complete Meal by HLTH Code.
As you can see, unfortunately the offer is much more limited in terms of ketogenic options in Europe. Do not worry, though, as I will be updating the list when new options arise.
There are many brands that are currently looking to expand their offering in this direction; therefore, I would expect a much richer keto meal market in the future in Europe.
The new Keto Meal Shake offers a very unique plant based ketogenic meal replacement made from real food ingredients. It comes with no-GMO ingredients, no artificial flavouring and no preservatives; making it one of the healthiest meals in the market. In fact, the shake is enriched with pro-biotics and natural digestive enzymes to make it easier for your gut.
The mix has only 5g of net carbs per 400kcal with added MCTs from coconut and only 1g of sugar per serving. Nutritionally, it has one weakness, which is the fact that is not complete. It does not fully provide you with all the vitamins and minerals that your body needs; just a selected few. The reason for that is Ambronite refusing to add a synthetic mix to their meals.
One thing I really enjoy about this keto meal option is its taste. It is a level above the others with a delicious and rich chocolate flavour. Certainly a very positive surprise that made me look forward to the next shake.
On the contrary, the price is a little too high starting at €5.5 a meal. I strongly recommend buying in bulk and using the LATESTFUEL discount code (25%) to lower the initial price tag.
Key Facts
Kcal/serving: 400
Macros (Carb/Protein/Fat): 12/18/70
Net Carbs (g): 4.0g
Protein (g): 18g
Fat (g): 31g
Allergens: Coconut
Unwanted ingredients: Xylitol
Flavours available: Chocolate
Good For: People looking for a plant based keto mix.
---
2. Ketogenesis
KetoGenesis has one the best keto meal replacement shakes in the UK and Europe. The brand uses a very similar formula to Keto Fuel; in which it provides you a powder that you need to add your own oil to. Because of this, the meals are affordable and you can customize them easily.
The most remarkable features are the sheer amount of flavours available (more than 10) and the fact that you can have a vegan or hypoallergenic version. Literally, anybody can enjoy a Ketogenesis shake.
The starting price for the Standard variant is £2.15/meal or about €2.4. For most orders in Europe you will have to pay extra for shipping. The exact fee will vary depending the country, but it is usually around €5.
Key Facts
Kcal/serving: 400
Macros (Carb/Protein/Fat): 9/21/70
Net Carbs (g): 1.5g
Protein (g): 21g
Fat (g): 30g
Allergens: Soy
Unwanted ingredients: None
Flavours available: Chocolate, Vanilla, Unflavoured, Strawberry, and Banana.
Good For: European ketoers than do not want to import from the US.
---
Best Keto Protein Shakes
However, if you are not looking for the top keto meal shakes, you might be interested in the best keto protein powders.
In case you are unsure, these are the key differences between protein powders and meal replacements:
In short, one is meant to increase your protein intake; thus it's better used after workouts. While the other is designed to replace full meals, thus it contains all the essential nutrients your body needs.
Once I have cleared out this common misconception, let's look what the best keto protein powder is. Here are my top 4 keto protein shakes:
1. My Protein Whey Isolate
If you are looking for the best protein shake for keto diet; you should be looking at whey protein isolates. These offer you almost 0g of carbs, and the gold standard of protein sources: whey.
As such, with Impact Whey Isolate you will get a great tasting protein shake, that will provide you with 23g of top quality protein. Consequently, you will be able to get a balance set of amino acids that are easily absorbable by your body.
All of this, with 0.6g of carbs per serving! Basically, a zero carb protein powder.
In my experience, Natural Vanilla and Chocolate are the best flavours. Many of the others have fancy names, but can be a little too sweet and overwhelming.
These become frothy and milky; so if you have a MCT oil or a creamer you want to add, it will be an excellent addition, too.
Nutrition
Energy (kcal): 93kcal
Protein: 23g
Carbs: 0.6g
Of which sugars: 0.6g
Fat: 0.1g
Salt: 0.13g
Good For: those wanting an affordable whey isolate.
---
2. Diet 90% Whey Isolate
This is another great nutritional company based in the UK; that does awesome protein powders. Their specialty is great nutrition with superb flavour options.
In this case, Diet Whey Isolate 90 is the perfect keto friendly protein powder. Each serving has only 0.5-1.2g of carbs, 23g of protein and 92kcal.
As for the taste, these are frothy and milky shakes; since the background flavour of the whey is hard to mask. However, I find them truly enjoyable, in particular the chocolate based flavours.
On top of that, if you want something with even less carbs, you have the 95% Diet Whey Isolate; although for most, it won't be worth the extra cost.
Nutrition
Energy (kcal): 92kcal
Protein: 23g
Carbs: 0.5g
Of which sugars: 0.6g
Fat: 0.3g
Salt: 0.19g
Good For: those who want great tasting shakes.
---
3. Wondershake – Best Vegan
Wondershake is a protein shake that blew me out of the water. I've been a heavy advocate of whey based protein powders (better taste and amino acid profiles); but Wondershake proved me wrong.
Even though, most keto followers won't really care if it's vegan or not; Wondershake is a perfectly fine keto protein shake, either way. It contains only 1.3g of net carbs per drink, 90kcal and 22g of protein.
In this case, TheProteinWorks uses a 4 plant blend: pea protein isolate, soy protein isolate, hemp protein and brown rice protein. Despite the fact that on its own they all fail nutritionally and taste wise when compared to whey, together they are much better.
Furthermore, Wondershake has a better consistency (slightly thicker) than whey based shakes, and also an improved taste.
If you are willing to expend extra, I highly recommend Cookies N' Cream. Absolutely delightful.
Nutrition
Energy (kcal): 89kcal
Protein: 22g
Carbs: 1.3g
Of which sugars: 0.6g
Fat: 0.7g
Salt: 0.46g
Good For: those who want a great keto protein shake.
---
4. Perfect Keto Collagen
As an alternative to whey protein, you can also enjoy Perfect Keto's Collagen Protein. While whey is better to promote lean mass gain and significantly boost your protein intake; collagen helps you with the digestive system, hair and joints. This is due to the different amino acid profiles.
Thus, you can in theory have Perfect Keto's collagen protein together with some of the abovementioned.
What sets Perfect Keto's product apart from similar alternatives is the lack of gritty texture and enhanced flavour of the shakes. On top of that, they also add with top quality MCTs to provide you with some extra energy.
Good For: those looking to for a collagen protein.
---
Small Introduction to Keto
If you are an experienced ketoer you can skip this section. For those looking to start a ketogenic diet, this will be a brief introduction; however, I would strongly recommend getting more information on the web. I will link some useful resources on the bottom on the page!
How to Start with Keto
Before you start, you need to be fully informed about the ketogenic diet. This is not a diet you can go into blindly, since your body will not be adapted and it will require major metabolic changes that might affect you physically.
The best place to start would be the subreddit r/keto. This is a bank of knowledge, links to useful resources and a huge community with people with tons of experience.
Among the topics you might want to look at (there's a small glossary below explaining some of these terms):
What is keto?
Keto flu.
Nutrition. Macronutrients and micronutrients.
How to calculate your macros. Net carbs.
How to know when you are in ketosis.
This is not the only page where you will get quality information about ketogenic diets, but it is a good place to start.
Things to Consider Before Starting a Keto Diet
Following a low carb diet can be hard, due to the society not being accustomed to it. Thus, you will find difficulties eating socially, finding restaurant options or even sticking to it.
Therefore, I would suggest you think about the following points before starting a keto food plan:
Why are you doing a keto diet? What benefit are you looking for?
What is your goal?
Do you know what you need to do and what to expect?
Consider how often you eat out or with family. How are you going to deal with social events?
Do you have any medical conditions that might prevent you from following a keto diet?
Macronutrient Splits in Ketogenic & Low Carb Diets
Diet name
F:C&P*
Fat kcal %
Carb + protein kcal %
Classic 4:1
4:1
90%
10%
Classic 3:1
3:1
87%
13%
MCT oil diet
1.9:1
50%/21%**
29%
Low glycemic index treatment
1:1
60%
30%
Modified Atkins ciet
0.8:1
65%
35%
Low-carbohydrate diet
N/A
N/A
50-150 g/d carbs
Very-low-carbohydrate ketogenic diet
N/A
N/A
<20-50 g/d carbs
* F:C&P is the ratio of fat to protein and carbohydrate. This is calculated in grams, not kilocalories.
** Percent of calories from medium chain triglycerides / long chain triglycerides (MCT/LCT)
Taken from Nutritional revolution.
Using Keto Meal Replacement Shakes Effectively
After all, you are here to look for keto meal shakes. They can be very effective solving some of the issues mentioned above, like having a keto meal on the go; or even, making meal prepping easier.
Here are 5easy steps that you should follow to use the best keto shakes:
Calculate how many calories you need a day. You can use a tool like MyFitnesspal to calculate and track calories.
Read how many calories your shake of choice has (~400kcal).
Prep your shake following the instructions and have them for breakfast or lunch. Timing really does not matter as long as you know your calories and your macros are right.
Enjoy a dinner with plenty of greens, quality fats and real food.
Make sure you are drinking enough electrolytes.
If you are feeling light-headed, you might be experiencing the keto flu. Increasing electrolyte content should help you fix it. I also recommend looking at greens, to ensure that you are eating enough vegetables.
Lose Weight With the Best Keto Meal Replacements
For many, keto is a very effective way to lose weight. However, being able to follow the keto diet in a day-to-day basis can be a lot trickier.
Tip: If you are eating out; take a bottle of Ample K or your favourite keto shake; and ensure you eat exactly what you need and nothing else.
On top of that, most keto meal drinks are very filling and have tons of nutrients (besides calories and fats). Thus, you can make sure you are not over-eating; while getting the nutrients your body needs.
Besides, the most important part of a weight loss journey are the calories. Ensure that you know how many calories your body needs by using a tracker like MyFitnessPal. Calorie deficit will be your friend!
Types of Keto Meal Replacements
There's more than one keto meal replacement shake, as you might have noticed.
Keto Powder Shake – All in One: this is the best type of keto powder shakes in my opinion, since you only need to add water and they are ready for consumption.
Keto Powder Meals – Add Oil. Unlike previous ones, in this one you are required to add oil or heavy cream (fat source) to your powder. There are two main issues with this approach: firstly, you need to find a good balance of oils; and secondly, you need to measure the oil so you don't add extra calories. However, it can also be cheaper.
Premade Keto Shakes. Similarly to the powders, you only need to add water. However, these are already packaged in a bottle, so you don't need to scoop and measure the powder.
Ready-to-Drink Keto Shakes. They are very rare, but they are the most convenient (and expensive option). You don't have to worry about anything, just open the cap and drink.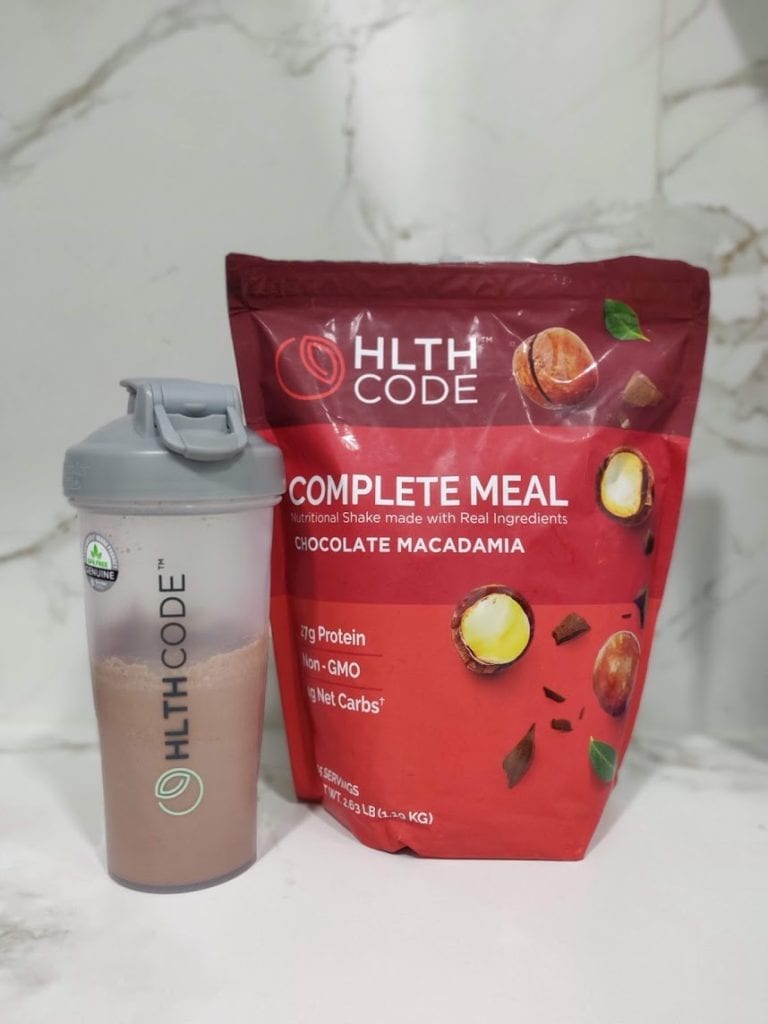 How to Make the Ideal Keto Shake
I will add this section for those shakes that might not provide any fats. In theory, if you are using a keto drink that already has all the macros (e.g. Ample K), you will not need to do this step.
Truthfully, it is not complicated to get a good keto meal replacement shake recipe. All you need is the follwing:
A keto meal replacement powder.
The right fat source: oils, heavy cream, butter…
Water.
Toppings or flavourings: cinnamon, keto protein powder, keto maple syrup, cocoa powder, peanut butter, keto creamer…
Afterwards, all you need to do is to mix them on a blender (or shaker) and boom! There's your easy keto meal recipe!
Finding the Right Oil
In fact, you might find the that the ideal oil might be hard to find. Not only you need to look at the composition of each oil, but you also need to consider how it will affect the taste.
As such, for beginners I would recommend using the oil you have at home. This is likely to be a vegetable oil (sunflower, olive, avocado) which will be high in monounsaturated fatty acids and omega-6 fatty acids. When using these oils, I would recommend you taking omega-3 supplements. Otherwise, make sure to consume omega-3 rich foods elsewhere in your diet.
For more advance users, you might want to create your own oil mix using multiple oil sources. A very common mix in the industry to achieve a good balance of omega-3/6 and monounsaturated fatty acids is sunflower with flaxseed (canola oil). Basically, any of the previous vegetable oils with flaxseed. Nutritionally, fish oil might be slightly better, though, as an omega-3 source.
3 Easy Keto Meal Replacement Recipes
Need some inspiration?
Keto Supplements from Best to Worst
So perhaps you are also tempted to buy some of the other popular keto supplements, like exogenous ketones, MCTs, electrolytes… Sadly, some of these are just a waste of money.
To help you out deciding which supplements are actually useful and which are not; here's a quick guide to keto supplements:
Best Keto Supplements
So when it comes to the best keto supplements; there's just a handful that I consider essential or truly useful.
Electrolytes. When you switch to a ketogenic state, your body starts execrating more sodium. This also impacts other minerals like magnesium and potassium that have key roles in signaling and regulation. Thus, increasing your electrolyte intake (mineral intake) is key; particularly when you start or if you do a lot of exercise. This will help you avoiding the keto flu.
Omega-3. DHA and EPA are omega-3 fatty acids. These, while often lacking in western diets are primordial for proper brain function. Sadly, bacon is not rich in these. Thus, if you are not consuming one of these top keto meal shakes, you might want to supplement it. Check out some options.
Multivitamins. In theory, you don't need extra multivitamins just because you are on a keto diet. However, making sure that you are getting all the essential micronutrients provides you a boost with not much cost. Check my favourite multivitamin.
Green powders. Similarly to multivitamins, you don't have any special requirement; but this will provide a boost to your greens intake. It can have beneficial impact in your immune system and overall health. My top picks for green powders.
Situational Keto Supplements
Above, you can see the what I consider the best nutritional supplements you can take on a keto diet. There are, however, a few more that could occasionally make sense.
Keto strips and breath analyzers. While technically they are not a nutritional supplement, they are always mentioned around the keto diet. Keto strips can help you to measure if you are in ketosis. They can be useful at the start, but once you've been consuming a keto diet for few days you shouldn't need the ratification. Instead, you could buy a breath analyzer, that will give you more accurate data of what your body is burning. Check now.
MCT oil and powders. MCT oils and powders are one of the most popular keto supplements. They are sold as source of energy and as a tool to help you stay in ketosis. The reality is that they are similar to sugar; just extra calories but in fats (as opposed to carb). Only required if you are not eating enough. Check some options.
Keto snacks. Once again, these are very situational. If you find yourself snacking often, then they might be useful. However, most keto snacks are nutritionally quite poor, and have more net carbs than the keto drinks discussed above. Thus, I would stick to keto meal replacements when possible. Instead, you can try to make your own with special keto mixes.
Keto creamers. If you love coffee, you must have already started looking for a way to substitute your milk. For this, keto creamers will be very handy, and will significantly enhance the taste of your coffee.
Worst Keto Supplements
Finally, what are the worst keto supplements you can buy? Outright, I think that the following are most of the time a waste of money.
Exogenous ketones. Often sold as accelerants for you to reach the ketogenic state, the truth is that there's little evidence if they work. In fact, most experts will tell you to stay away. Your body will produce enough ketones on its own.
Keto nootropics. As a matter of fact there's nothing wrong with consuming nootropics while on keto. However, anything branded as "keto" nootropic is most likely an upsell, since most nootropics (with no sugar) will already be keto-friendly.
Keto fat burners or fat burning enhancers. Simply stay away from any fat burners. You are already burning fat during keto; so this won't do anything.
Other Keto Shakes that I Dislike
What about Atkings Keto shakes? Or Slimfast Keto? Could you use either of those and save some money?
No, personally I wouldn't. These popular keto shakes are filled subpar ingredients and with tricks to make it look like they are keto friendly. However, in reality, they are full of hidden carbs and provide you with very little quality nutrition.
For instance, Atkins Keto shakes have only 5g of fats and instead they are filled with protein. This is not a good way to get your energy on a Keto diet. Plus, they lack essential oils (omega-3), have no MCTs or PUFAs and their fat choices are attrocious.
What about Slimfast's Keto shakes then? No bueno. Once again, no sign of omega-3 fatty acids (you need them for proper brain functioning). Furthermore, they lack the necessary vitamins and minerals and only provide you with a handful.
Do yourself a favour, and spend a little more to get some of the best keto drinks listed above!
---
FAQ
Glossary
I think that this article might be full of words that are a little confusing to the user. As such, here is a little glossary with some of the terms around keto diets:
Net Carbs. Net carbs is a term used to calculate the amount of carbohydrates that your body will efficiently use as fuel. Usually, it is calculated by subtracting the fiber from the total carb. Eg. 10g of total carb with 8 grams of fiber. Net carbs in this case would be 2g. Net carbs are important in keto, because you will have to maintain them under 20g or ~5% of your caloric intake.
Sugar alcohols. Sugar alcohols are counted as carbohydrates but do not provide any calories. They are often used as sweeteners or thickeners and do not count towards net carbs in a keto diet. However, you might want to avoid some due to adverse gut effects.
Ketones. Ketone bodies are chemicals produced by your liver from the fat in your body when you do not have enough carbohydrates to provide you energy. Subsequently, ketones can be used by your body to generate energy for the cells. While following a keto diet, your ketone levels will be higher than usual.
Endogenous ketones. Endogenous ketones are ketone bodies that your body naturally produces as a byproduct of being in ketosis.
Exogenous ketones. Exogenous ketones are synthetic ketone bodies that supplement companies will offer in order to enter ketosis faster. This claims are dubious and I would advice against buying any.
MCT. Medium chain triglycerides are a type of saturated fatty acids that your body can use as quick energy, due to the fast absorption rate. In a ketogenic diet, MCTs are used to provide you with some immediate energy, but they are not necessary. They can cause some intestinal discomfort.
Electrolytes. These are minerals that have an electric charge. They are present naturally in food; as such, sodium, potassium and magnesium. Because while you are on ketosis, you will excrete more electrolytes in your urine, you will see electrolyte supplements available. Make sure you drink enough fluid and only supplement if you feel lightheaded.
Keto flu. This is a condition some users might experience, particularly during the adaptation period (first few days). Symptoms include, fatigue, headache and concentration issues. Adding some electrolytes and water to your diet might help.
---
Final Thoughts – Best Keto Meal Replacement Shakes
Finally, it is time to wrap up this best keto meal replacement shakes and protein powder selection.
I hope there was not too much information, and that you found what you were looking for. Do not be afraid to comment if you did not.
Furthermore, I want to remind you that these are some of the meal replacements available and that there are more brands out there. From my experience with keto meal replacement shake reviews, these offer the best package and that is why they have made it to the list.
You can always check our best meal replacement shakes selection, for more options.
---
Sources
1.Reddit.com/r/keto. A great resource for any keto enthusiast.
2. r/keto FAQ. Answers to most of the questions you might have.
3. WHO Nutritional Guidelines.
4. Keto calculator.
5. More in: latestfuels.com/resources. A compilation with different governmental guidelines and references.
6. Ultimate Meal Replacement List. List with all the brands.