Sated Review 2023| Top Quality Shakes that Make Keto Easy
Formerly Ketolent, the evolved Ketogenic shake people have been waiting for
We're back at it with another one! Today is the Sated review, formerly Ketolent, one of our favourite keto meal replacement shakes.
Over the last few years ketogenic diets have been gaining popularity, particularly as a tool for weight loss. However, following a keto meal plan in a daily basis can be cumbersome.
Enter Sated, an easy, convenient and tasty keto meal option. They offer a powder based keto meal replacement, as well as ultra low carb ready to drink shakes.
The RTD, available in vanilla and chocolate, claims to have the perfect blend of fats, proteins and fiber. Each 325ml (11oz) carton contains 18g of protein, 17g of total carbohydrates (1.5 net carbs), 6g of fiber, 0 sugar, and 35g of fat…including omega 3 & omega 6 fatty acids. Also included are at least 20% of 27 essential vitamins and minerals within its 400 kcal per serving envelope.
The meal kits are quite flexible, including the powder, 1L of specially formulated oil, a scoop for each additive, and a shaker bottle, should you order the starter kit. Flavors include vanilla, chocolate, strawberry and peaches & cream. There are also options for a sucralose blend, if you prefer that over the natural erythritol, monk fruit & stevia blend.
Excited about this Sated review? I know I am, so let's get stuck in!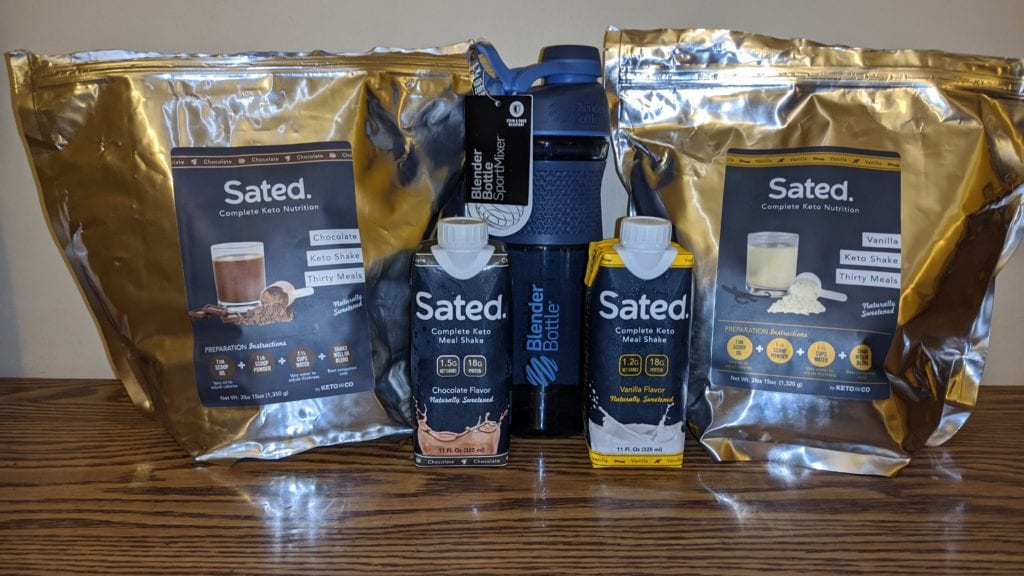 ---
Sated Review at a Glance
RTD Flavours: Chocolate, and Vanilla.
Powder Flavours: Chocolate, Vanilla, Strawberry, and Peaches & Cream.
---
Opinion
Personally, I'm new to the keto scene, as it wasn't the route I took for my weight loss. One of the main reasons for this was that following a keto diet is arduous and tenuous.
Expectations
However, I'm still very excited for those in this space to begin seeing products that are either "pop-cap" ready, or have simple just add water/oil preparation.
I'm glad that they provide the oil, as I never know which I should opt for, though I am worried a bit about the mouth-feel.
I just hope that the RTD blended really well, and the powder mixes with no residual greasy feel or taste. Also looking forward to how it measures up against Soylent, the reigning champion of the RTD space in the US. Both being 400 kcal, I'm curious if Sated's namesake will hold true.
First Impressions
I'll start by saying that the shipping was top notch. The powder's packaging is solid, and appears to be rip resistant. The oil was double packed in a high grade bubble wrap. Good to know they understand that an oil leak is literally the worst thing that can happen, and take measures to prevent that.
To continue, the prep was not much different than any mix and shake meal replacement, outside of having to add oil. Which brings me to my second noteworthy appreciation, the inclusion of a scoop for the oil, so no fiddling with spoons or measuring cups. 
The kit also includes a very nice shaker. Our's was not company branded and is the Blender Bottle SportsMixer. It has a twist top, and flip out carrying hook soft grip rubberized top and gripping area. It's taller, and the mouth of the cup is more narrow, which may make it harder to clean…but I'm nitpicking at this point. This is the best shaker I've ever received from a company.
What I like
1. Sated is the most convenient keto shake. Obviously the RTD requires 0 prep, but even the keto powder is effortless compared to the competition.
2. Meal kit mixes really well. One of the main highlights is that both flavours were very tasty, and did not have an odd texture or oily mouth feel. Also no grit or clumps.
3. Vanilla RTD & Mix tastes nearly identical. Consistency when blending or on the go.
4. Carton usage. Better for the environment and easier to store.
5. Easy to use oil with omega-3 essential fatty acids. Neutral taste/smell. Included oil scoop, no measuring required.
6. Meal kit pricing is reasonable. As low $2.40 (USD) per serving.
7. High quality included shaker. Better than the generic blender bottles.
8. 20% subscription discount. Pretty generous.
9. International shipping. Nice to know that everyone worldwide can enjoy!
What I dislike
1. International shipping is expensive. If I'm honest it's simply not affordable to order Sated outside of North America.
2. Satiety was an issue with meal kits. Found myself hungry relatively soon after drinking them.
3. Only 2 flavours to choose from with RTD.
4. Minimum order is $90 – 30 meals.
Improvements
1. Try to bring RTD price down some. From what I understand, adding fats can be expensive, but $5 per is alot.
2. Do better with helping users understand net carbs. Sated should lean into this more.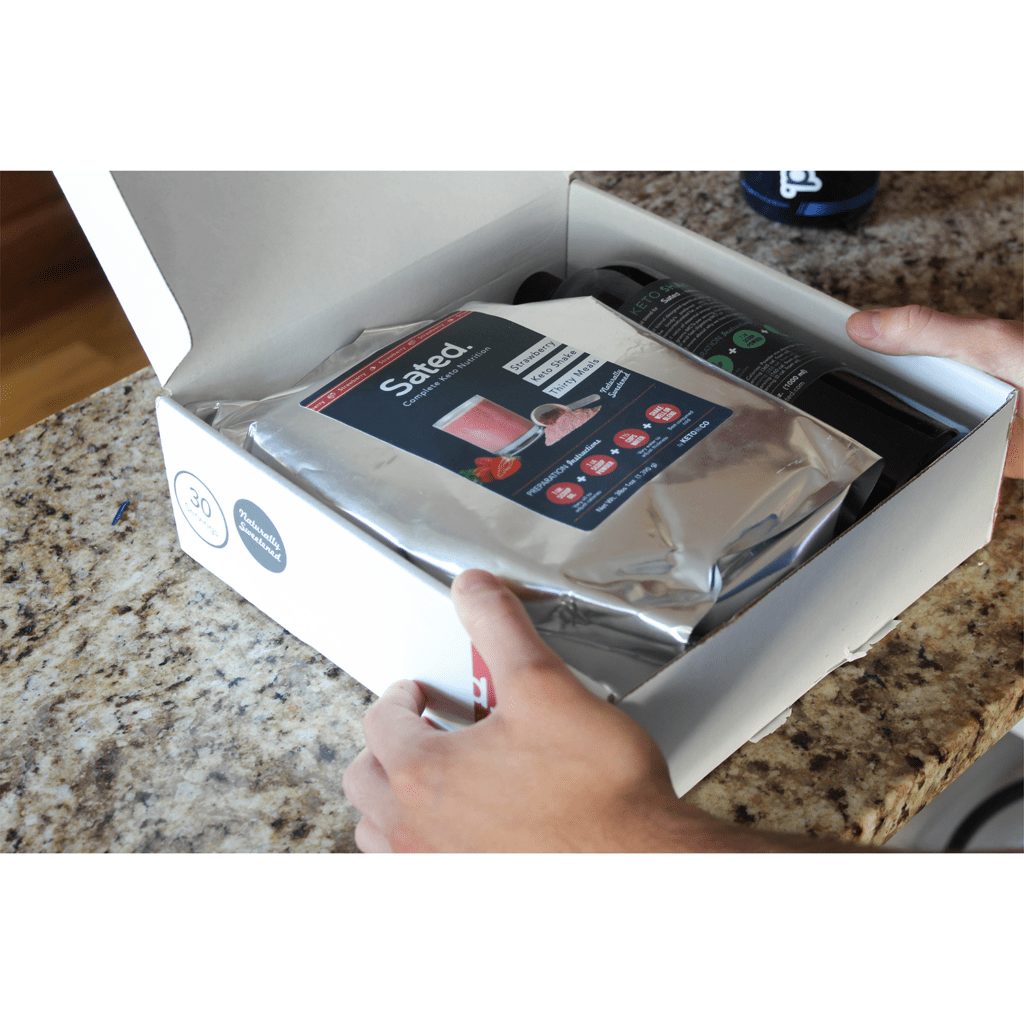 Nutritional Breakdown
Sated is a company focused on ketogenic meal replacements. If you are wondering what keto is, you should read this small intro to keto. In short, it is a diet based in high fat foods and almost no carbs.
Thus, Sated's main nutritional features are the high fat profile and extremely low carbohydrate content, with less than 0.3g carbs per 100cal (take into account that this varies depending the flavour).
Sated Nutrition Overview
| | |
| --- | --- |
| | Sated RTD |
| Kcal/meal | 400 |
| Macros (C/P/F) | 8/17/75 |
| Vegan | No |
| Keto | Yes |
| Features | GF, No Soy, Nut Free |
| Non-GMO | Yes |
| Organic | No |
| Includes Probiotics | No |
| Artificial Sweeteners | No* |
| Synthetic Additives | No |
| Contains All Micronutrients | Yes |
| Controversial Ingredients | Milk |
Based on Vanilla. Powder has the option of naturally sweetened or artificially sweetened (sucralose).
Because both formulas are almost identical, I will treat them as one, only pointing the differences where necessary.
Carbohydrates
Per serving:
Total Carbs: 9g, 4% of DV.
Sugars: 2g.
Of which added: 0g.
Fibre: 5g, 10% of DV.
Sated shakes have one of the lowest carb content of any keto shake. For example, see the net carbs on the powders:
Vanilla: 1.3 grams net carbs
Chocolate: 1.6 grams net carbs
Strawberry: 2.3 grams net carbs
Peaches and Cream: 1.5 grams net carbs
As a truly keto product, this contains very minimal amounts of carbohydrates, 9g per serving, most of which come from fiber. In fact, each serving has 5.6g of fiber from a blend consisting of: Acacia, Psyllium, Soluble Corn Fiber, Cellulose, Guar, and Xanthan.
Protein
Per 400kcal serving:
Total Protein: 18g, 35% of DV.
Source: milk protein isolate.
Interestingly, the protein comes from milk, which makes this product not suitable for vegans. However, it comes with a good mix of fast absorbing whey protein (20%) and slower absorption casein (80%).
However, it's worth noting that Sated shakes are lower in protein than other keto shakes like HLTH or Actualize; providing more fats instead.
Fats
Per 400kcal serving:
Total Fats: 35g, 45% of DV.
Saturated Fats: 10g, 50% of DV.
Omega-3s (ALA): Yes.
MCTs: 5g.
Obviously, one of the most important factors in a keto shake is the fat content. In this regard, I think that Sated offers one of the best mixes in any keto shake:
1:1 ratio of omega-3 to omega-6 — Great
Not overly rich in saturated fats
5g of MCTs
Mix of different oils: flax, olive oil, coconut oil.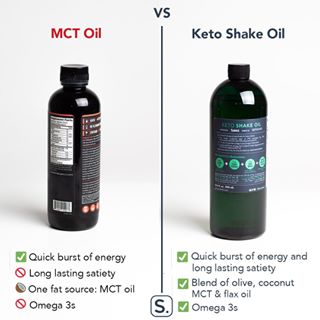 Sated claims that the product is catered to the body's preferred ratio of 27% saturated, 55% monosaturated and 17% polyunsaturated. While I do not think this is accurate; Sated does contain a good ratio of omega-3 and omega-6 fatty acids. This has been proven important to reduce CVD risk.
Besides, rather than the amounts of fat in the product, I believe that the origin and quality of them is important. Sated uses flax oil, rich in omega-3 essential fatty acids; olive oil, traditional component of the Mediterranean diet and moderate consumption has been linked to positive health effects; and coconut oil, richer than other oils in medium chain triglycerides (MCT), which are easier to digest and used as energy source. In fact, Sated provides a blend of pure MCT oil with coconut oil MCTs, the later which are slower to digest, so the body can have a more linear energy production.
Micronutrients
All Sated meals come with 20% of all vitamins and minerals, except calcium (35%). Calcium levels are probably higher due to the use of milk protein isolate. Having more than 100% of the recommended daily intake of calcium will not prove harmful.
Sweeteners
Another point of discussion among keto practitioners is whether artificial sweeteners disrupt the ketogenic process. Particularly, Xylitol (13 GI) and Maltiltol (35) are reg flagged. On the other hand, Erythritol is deemed as safe by most, because it has no effect in blood sugar levels.
| | |
| --- | --- |
| Sweetener | Glycemic Index |
| Sucrose | 65 |
| Erythritol | 0 |
| Xylitol | 13 |
| Mannitol | 0 |
| Sorbitol | 9 |
| Isomalt | 2 |
| Maltiltol | 35 |
As such, Sated has two variants, one with sucralose and one with natural sweeteners (erythritol, monk fruit and stevia custom mix). Which one you choose will be ultimately up to you (both are equally priced).
On the other hand, Sated RTD has no sucralose.
Allergens
Unfortunately for vegans, this product uses milk as source of protein, therefore is not suitable for dairy-free diets. Hopefully, Sated will look to release a vegan alternative in the future.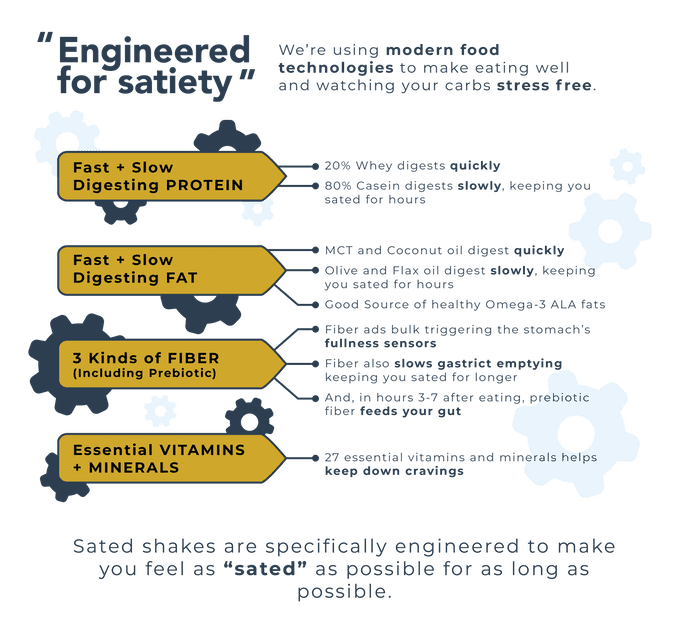 Tasting Test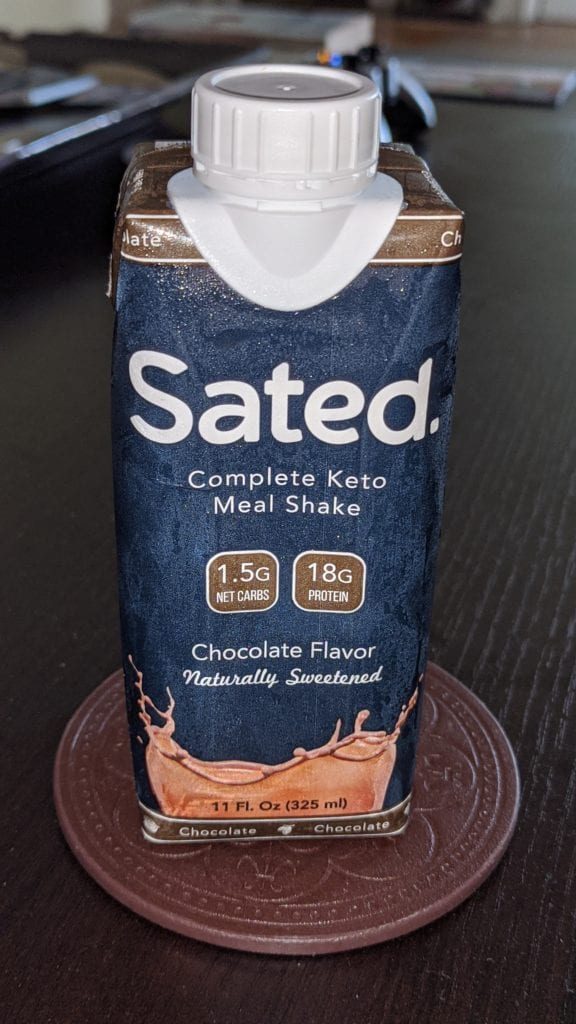 | | |
| --- | --- |
| Best flavour | Chocolate RTD |
| Taste | Chocolate RTD was bold but tasty. Chocolate mix was like hot cocoa. Both Vanilla flavours were edible, but not as good as either chocolate |
| Texture | Smooth and frothy. Not gritty or clumpy. |
| Easy to Mix | Mixes very well. No oily feel |
| Satiety | The RTD did ok at around 2 hours. The mix was not very filling. |
| Easy to Clean | Yes! A vigorous rinse was all it took. |
| Afterthoughts | No digestive issues. |
Since we have two types of products, we're going to segment this somewhat. We'll start with the RTD, then move on to the meal kits.
Ready To Drink Review
I feel like being different this time, we'll try chocolate first. Chocolate has a muted color and almost no scent, nothing that jumps out. First sip…..BAM! It has a very bold, and strong flavor.
Sated Chocolate RTD is Great
Honestly, I was really taken back. It's almost too strong at first, as it tasted like Kahlúa, a chocolate/coffee beverage with rum for those not in the know. First sip or two, I didn't care for it, but as I kept drinking it, I began to really like it. It's bold, rich and has a nice velvety texture. I did not encounter any issues with it being oily, or feeling like something was left on my tongue, so the blending was top notch. Ultimately, I appreciate its bold flavor, as with most vanilla and chocolate flavors, sometimes it's like if you had one, you've had them all. Definitely not the case with this one.
Sated Vanilla RTD Review
Now on to vanilla. Same thing as far as color and scent, nothing discernable. In this case though, the taste was much like the scent, very subtle. I mean, it was fine…a simple vanilla taste, not too sweet, easy to drink. Similarly to chocolate, I had no issues with mouth-feel.
I feel like this one was rather forgettable, though. That may be because chocolate was so good, and in having that first, it set the bar high. I don't hate it, but don't love it either.
Honestly, I'd only order the chocolate. With each, I was full for a solid two hours, not bad for a 325ml drink.
Sated Keto Powder Review
Starting again with chocolate, the powder smelled good, and was a bit lumpy.
The oil has a canola oil look, but not much of a smell. It consists of flax olive, coconut and MCT oils. I began with 295ml (10oz) of water, added the instructed 1 oil scoop, and the 1 powder scoop and shook like crazy, praying it would all combine well.
Sated Chocolate Powder Is Also Delicious
The result is a frothy, hot chocolate smelling shake. It actually looked quite gritty at first glance, but turned out, that wasn't the case at all. It was smooth, very pleasant tasting, like hot chocolate and NO sign of having added oil!! JACKPOT! It's really good, but very different from the RTD chocolate, even though both are really good. My biggest fear behind me, I was easily able to finish, but noticed that I was still a bit hungry unfortunately.
Sated Vanilla Powder Falls Flat
As for vanilla, it had a similar powder consistency as chocolate, and had no real smell. Thinking like the RTD, it will be closer to an original flavor, taste wise. It too was frothy, with middle of the road thickness. Sure enough, it tasted like a slightly sweeter "original". Not bad, nothing memorable honestly.
One positive that isn't often found with other top meal replacements, is that the vanilla mix tastes very close to the vanilla RTD. So if you find yourself fond of this flavor, then you can expect a consistent experience between the two products.
FYI, we had the natural flavored mixes which are shakes without artificial sweeteners. Sated offers versions that contain sucralose as well.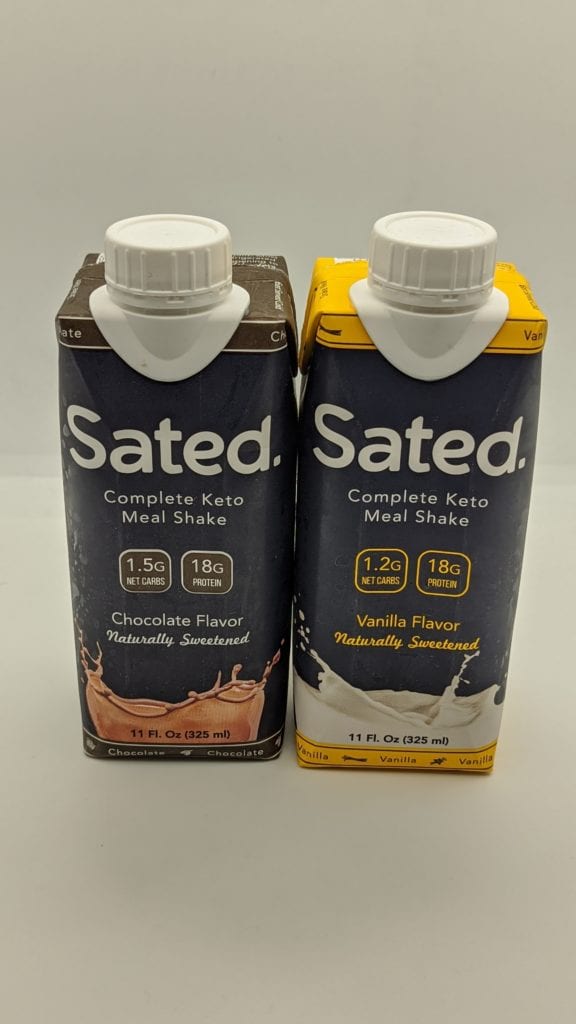 More about Sated

About Sated
Ted Tieken founded Keto and Co. in 2014 after personally experiencing the life-changing effects of the ketogenic diet. He started his career as a management consultant, and in 2008 he started experiencing a chronic pain condition that prevented him from traveling for work. In fact, on some days he couldn't even leave the house.
This chronic pain impacted him for years, until June of 2014, when he started an ultra-low carb keto diet. He freely admits that when he started he was skeptical, but just four days in, his pain dropped by half and he felt that his mind was sharper. He could finally leave the house again. Over the next several months, he also dropped 37lbs without being hungry, and most of the weight has stayed off ever since.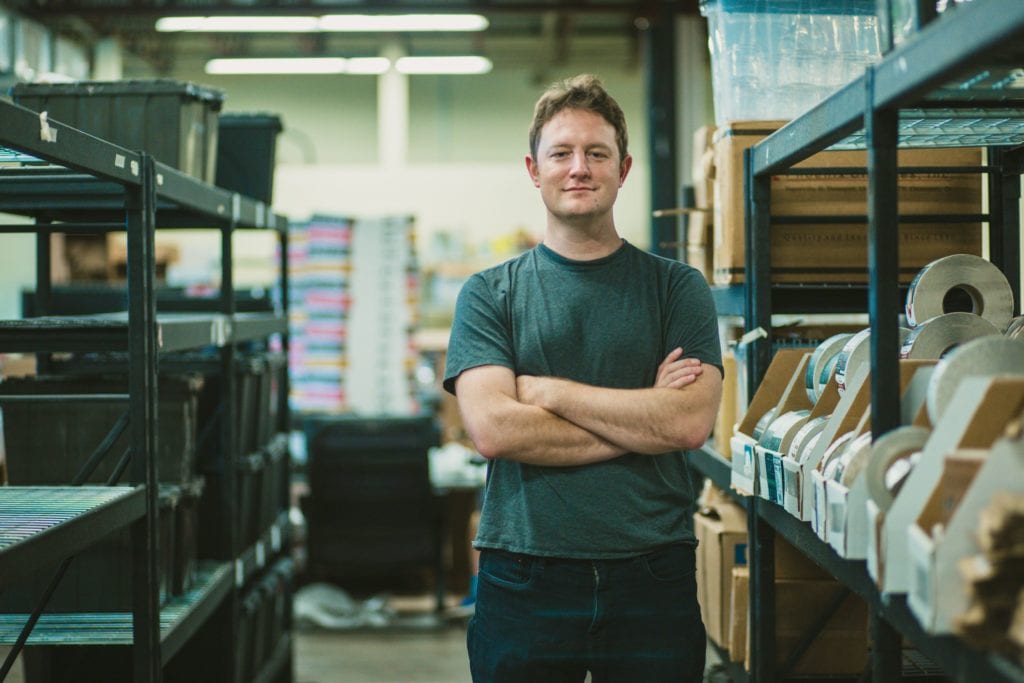 During this time, Ted also witnessed the impact keto was having on other people's lives, primarily for weight loss but also for overall health, diabetes management, epilepsy, and other conditions. But he saw how hard it is to stay within the net carb limit necessary to maintain ketosis, and he sought to develop an easier way, and thus Keto and Co was born. 
Ted wants to make sure the ketogenic diet is as easy, low-sacrifice, and delicious as possible.
Shipping
Sated can currently only be purchased through their website, or Amazon.
Shipping through their site is free for all orders over $50 in the US.
For Canadian neighbors it is a fee of $46. If you are buying from the other side of the Atlantic be ready to pay over $60 (if you are lucky enough to live in a place where they deliver).
Sated also offers international shipping to several countries all over the world. Countries on all continents are included, and can be determined using the shipping calculator on the checkout page. Of course all taxes, duties, and or fees will be the responsibility of the purchaser, but Sated does offer refunds on the product should it be unable to be imported due to regulations. Shipping, and shipping related fees are non-refundable.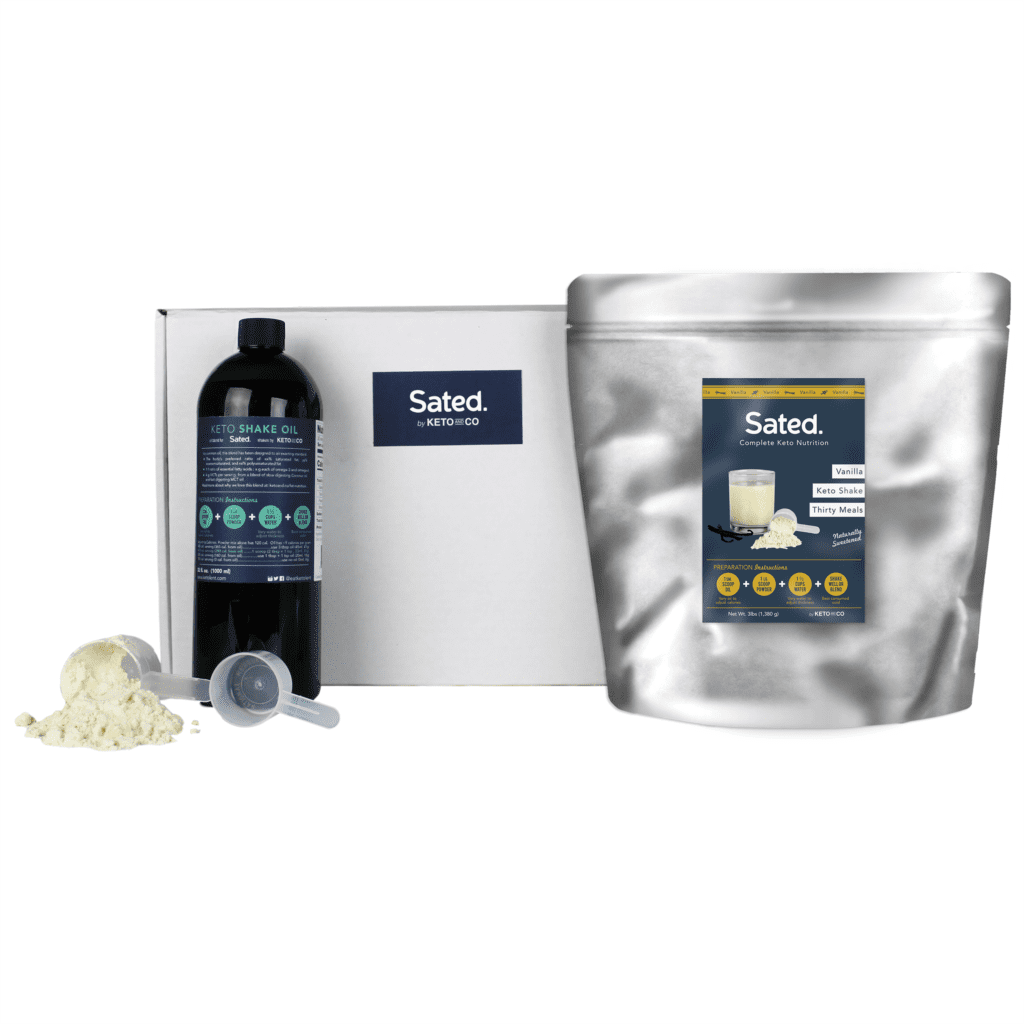 Pricing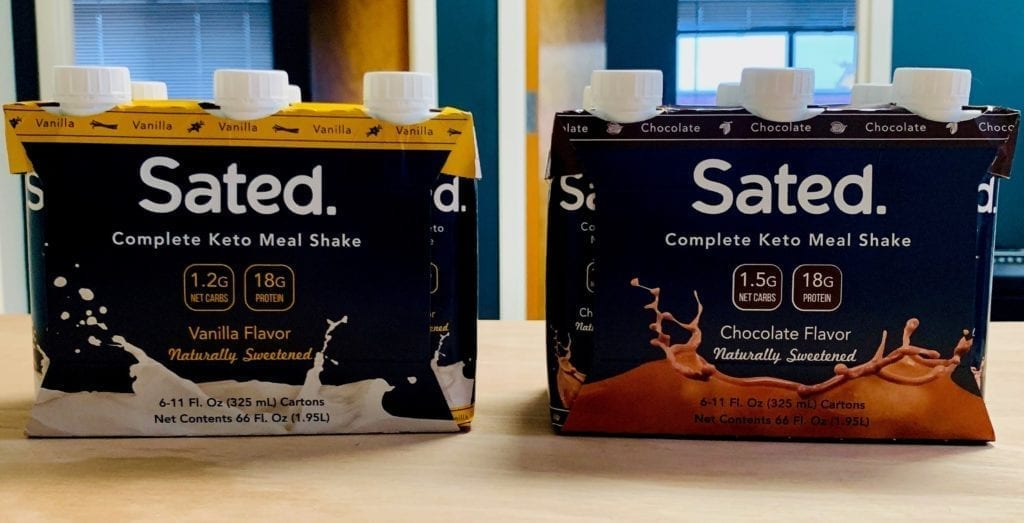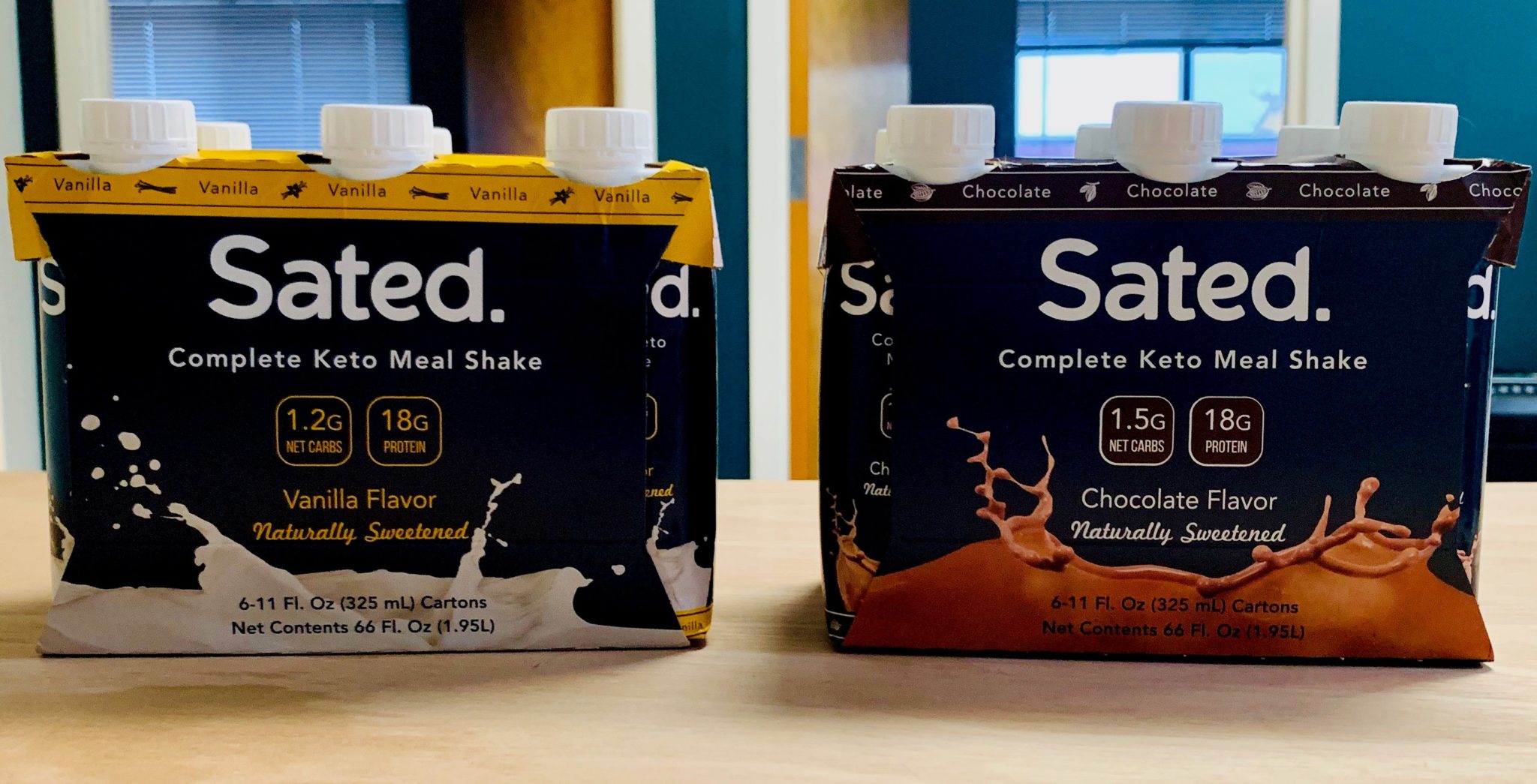 Sated RTD shakes are only sold in cases of 12 cartons, and the meal kits are 30 servings per bag.
Furthermore, you can purchase the powder and the oil separately if you like as well, but you cannot subscribe to the individual items. You can net a 20% discount if you subscribe. Subscription delivery intervals are every 15 days, 30 days or 45 days. See breakdown below.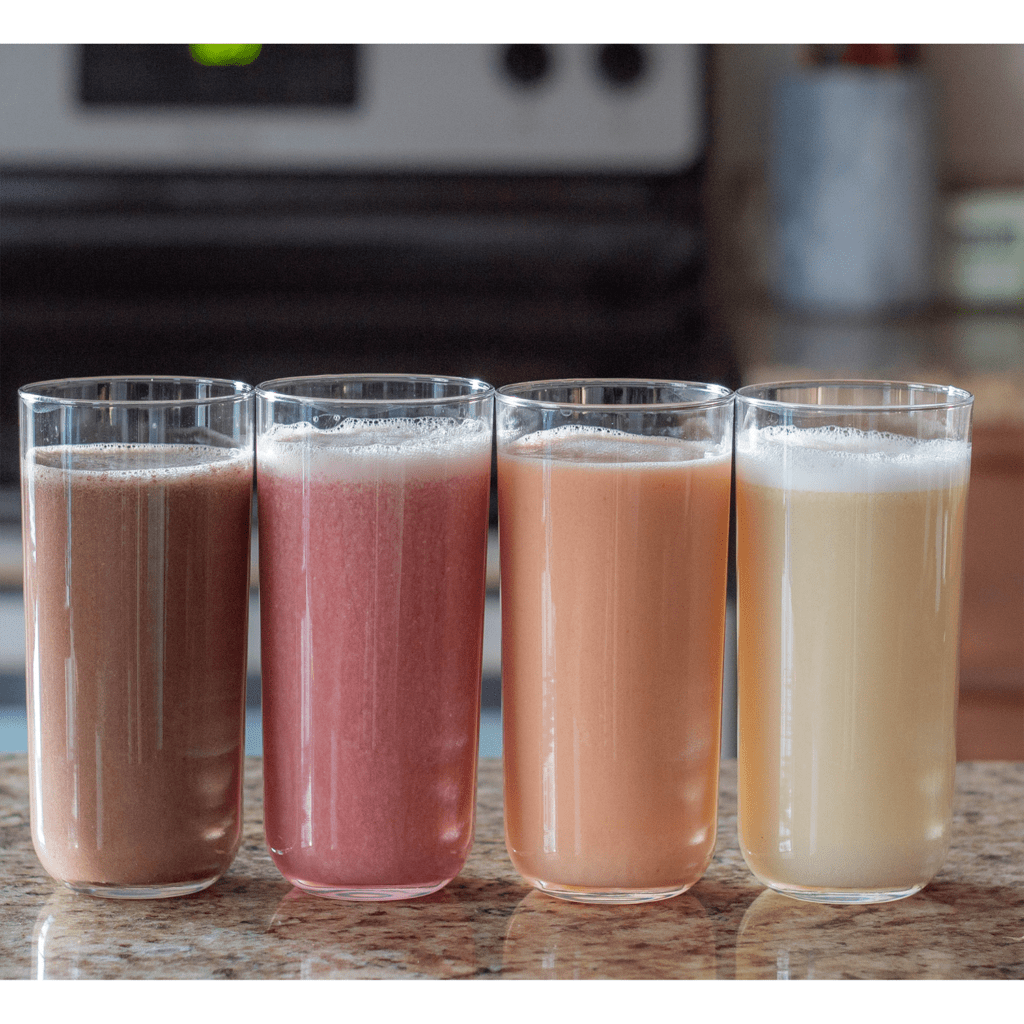 | | | |
| --- | --- | --- |
| Quantity | Total Price (Non-Sub/Sub) | Serving Price (Non-sub/Sub) |
| | | |
| RTD 12pk | $60/$48 | $5/$4 |
| 30 Serving Meal Kit (Powder +Oil) | $90/$72 | $3/$2.40 |
| 30 Serving Meal Kit (Powder only) | $64 | $2.13 |
| 1L Keto Oil | $30 | $1 |
Sated Is One of the Cheapest Keto Shakes
Or at least the powder version is. Whereas for the Sated RTD you need to pay a premium, as showcased below, $2.40/400kcal is rather affordable for a keto shake.
| | | | | |
| --- | --- | --- | --- | --- |
| Price ($)/400kcal | Actualize | HLTH | Sated | Ample K |
| Expensive | 8.00 | 4.00 | 3.00 | 5.27 |
| Cheap | 4.00 | 3.33 | 2.40 | 4.48 |
Some of the best keto shakes.
How to Prepare Sated Keto Shakes
The powder versions of Sated come with two components, the powder and the oil. You put one scoop of powder with 2 tablespoons of oil in your shaker to enjoy your normal 400 kcal Sated. If you need more energy, you put 3 tablespoons (480 kcal); however, if you are not feeling hungry just put one tablespoon of oil (280kcal).
Sated vs
Previously, I've compared Sated's price with some of the most popular keto shakes. But how does Sated truly compared to them? Is it as good as the premium keto shakes with natural ingredients? Or should you spend a little more to get the best of the best?
Overview
| | | | | |
| --- | --- | --- | --- | --- |
| | HLTH | Ample K | Sated | Sated RTD |
| price ($)/400kcal | 4.00 | 5.27 | 3.00 | 6.00 |
| kcal/serving | 400 | 400 | 400 | 400 |
| Macros (C/P/F) | 12/27/61 | 10/13/79 | 5/18/79 | 8/17/75 |
| Protein (g) | 27 | 13 | 18 | 18 |
| Sugar (g) | 2 | 1 | 0 | 0 |
| Fiber (g) | 9 | 5 | 6.7 | 6 |
| Fats (g) | 27 | 35 | 35 | 35 |
| Net Carbs | 4 | 3 | 1 | 2 |
| Vegan | N | N | N | N |
| Organic | N | N | N | N |
| Real Food based | Y | Y | N | N |
| Artificial Sweeteners | N | N | Y* | Y |
| Synthetic Additives | Y | N | Y | Y |
| GMO | N | N | N | N |
Prices shown are most expensive option. Many of these include way to lower it.
Noteworthily, Sated shakes are one of the few keto meal replacement drinks that are actually complete. Other cheaper alternatives require you to add your own oil (Keto Fuel, Ketochow) and might lack omega-3 fatty acids.
Similarly, Ample K, while it's a fantastic shake, lacks some essential vitamins and minerals. Truthfully, only HLTH Complete Meal is a complete meal replacement from the get go. In fact, it provides you with all essential nutrients from powder, without requiring you to add any oil.
Sated Shakes vs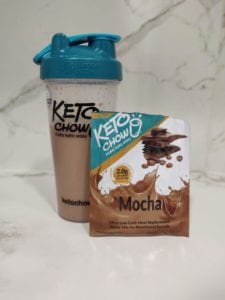 Without a doubt, Keto chow is one of the most popular keto shakes. They provide tons of flavour options, most of which are above average. Plus, they are more flexible than Sated, since they allow you to add your own fat source (oil, heavy cream, butter). Nonetheless, this also means that they are less convenient; and in my opinion, not as good for a beginner.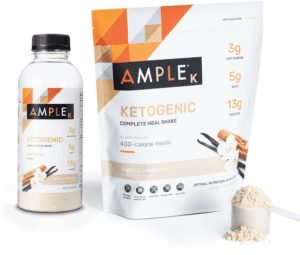 Another one of my favourites is Ample K. Particularly, when it comes to taste. I love the chocolate version, smooth, sweet and clean. In fact, Ample won't have any artificial sweeteners of additives. Instead, they rely on real food ingredients for their shake. You will need to pay extra, but definitely a more natural drink than Sated.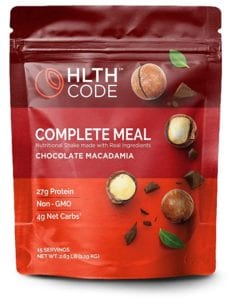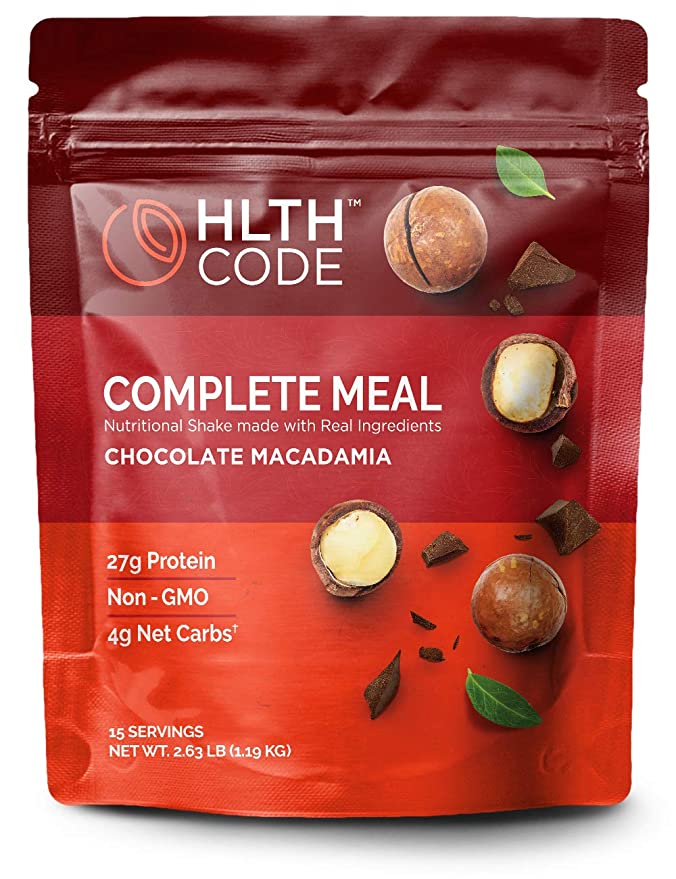 HLTH Code Complete Meal
Last but not least, there's HLTH Complete Meal. This keto friendly shake focuses on providing you a high protein mix (27g vs 18g from Sated). They have a unique formula with 1:1 fat to protein ratio for better absorption of nutrients. Speaking of which, HLTH is very rich in; with over 50% of DV for all vitamins and minerals per shake.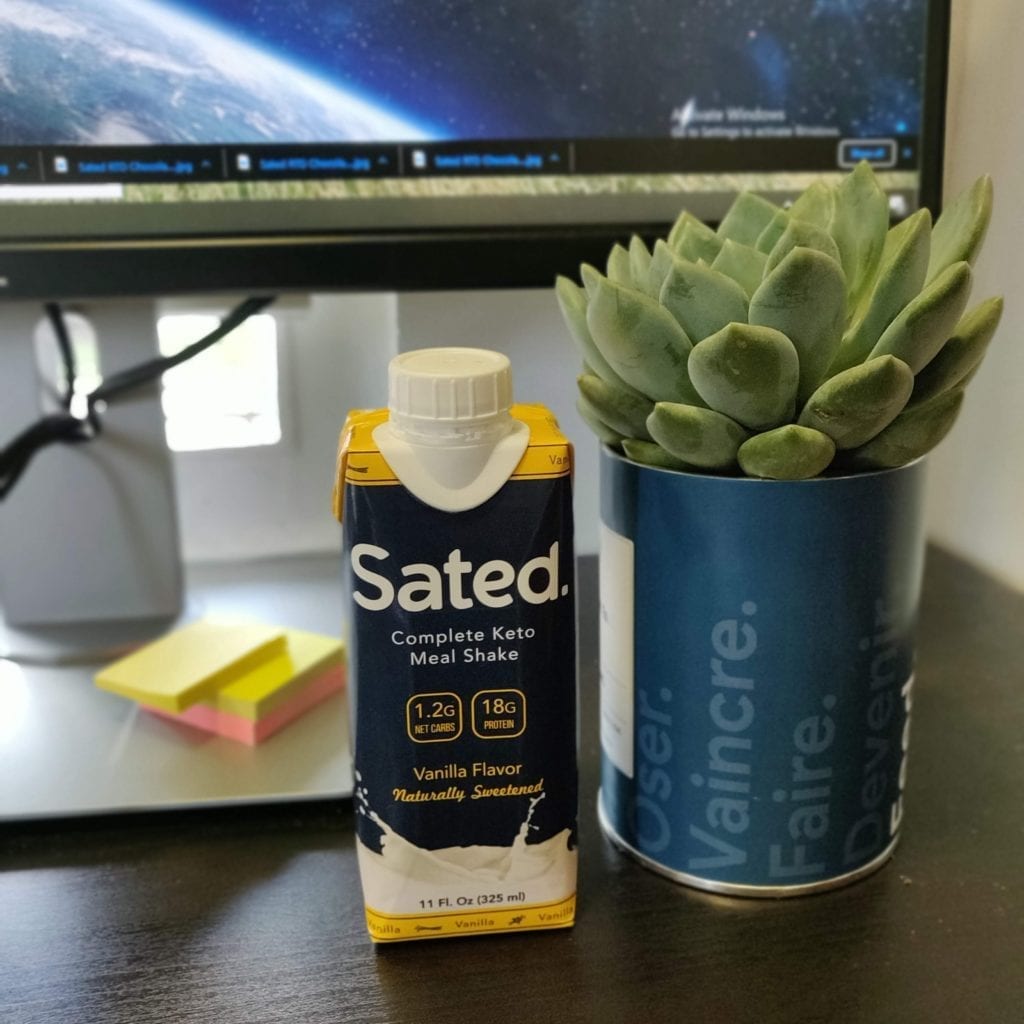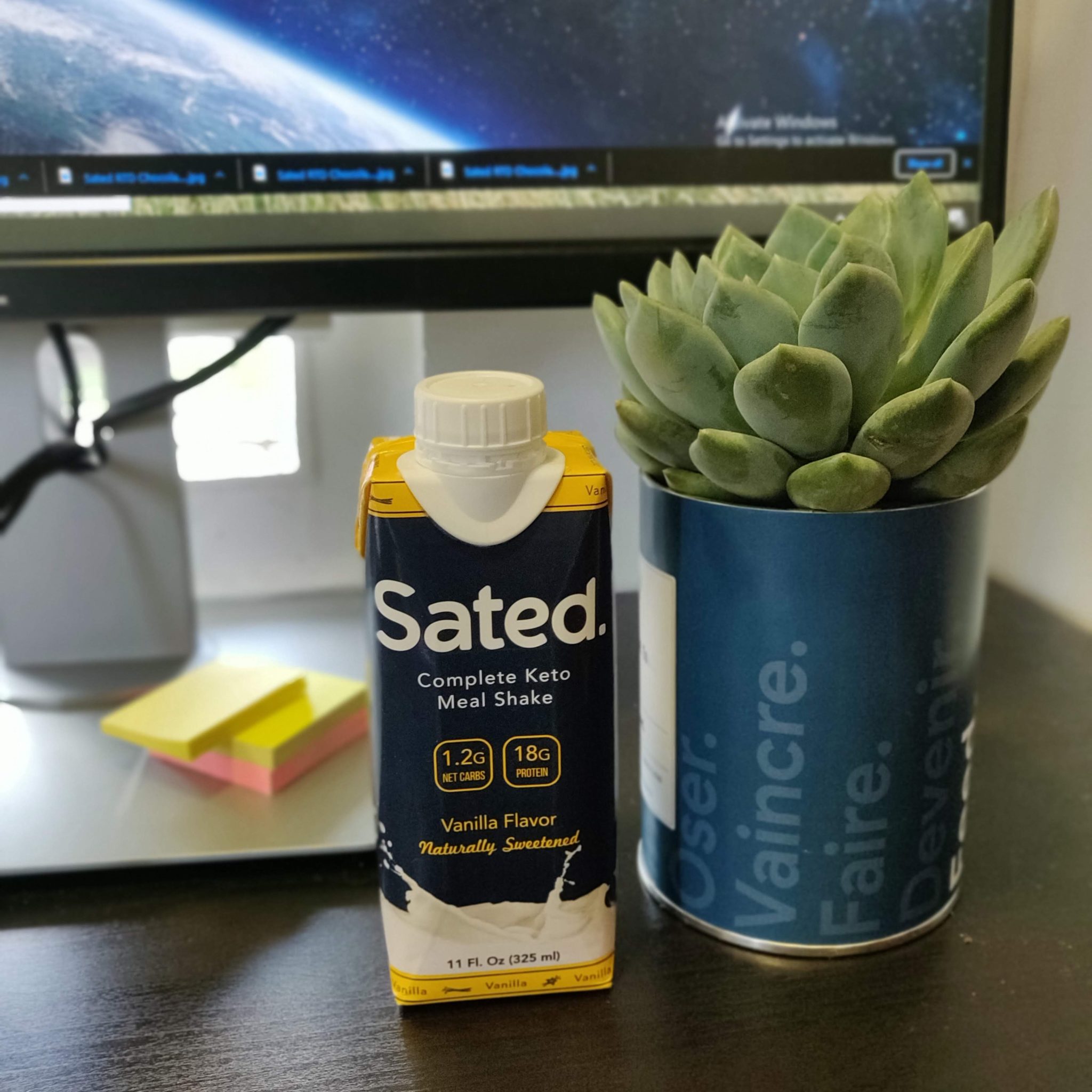 Sated FAQ
What kind of nutrients are in Sated shakes?
Two kinds of protein, fast and slow digesting protein to keep you full. Nearly 6g of fiber from multiple sources, to reduce hunger. A full complement of micronutrients and four kinds of fat: fast, medium, and slow digesting fatty acids. Lastly, virtually no net carbs to regulate blood sugar.


Can I safely use Sated to replace all of my meals?
Sated is dietitian approved and nutritionally complete. You could theoretically replace all meals.


Is Sated diabetic friendly?
Yes! The product is designed specifically for the ultra-low carbohydrate, ketogenic diet with virtually undetectable effect on blood sugar.


Is soluble corn fiber keto friendly?
Yes. Corn fiber is a high fiber ingredient made from corn that only has 2g of net carbs per tablespoon.


Are Sated and Sated RTD vegan?
No, they contain milk protein.

Where is Sated produced?
Sated Ready to Drink and powder are produced in the USA.

What is the shelf-life of Sated meal replacements?
The powder has a shelf life of 24 months, whereas the RTD is best consumed before 12 months.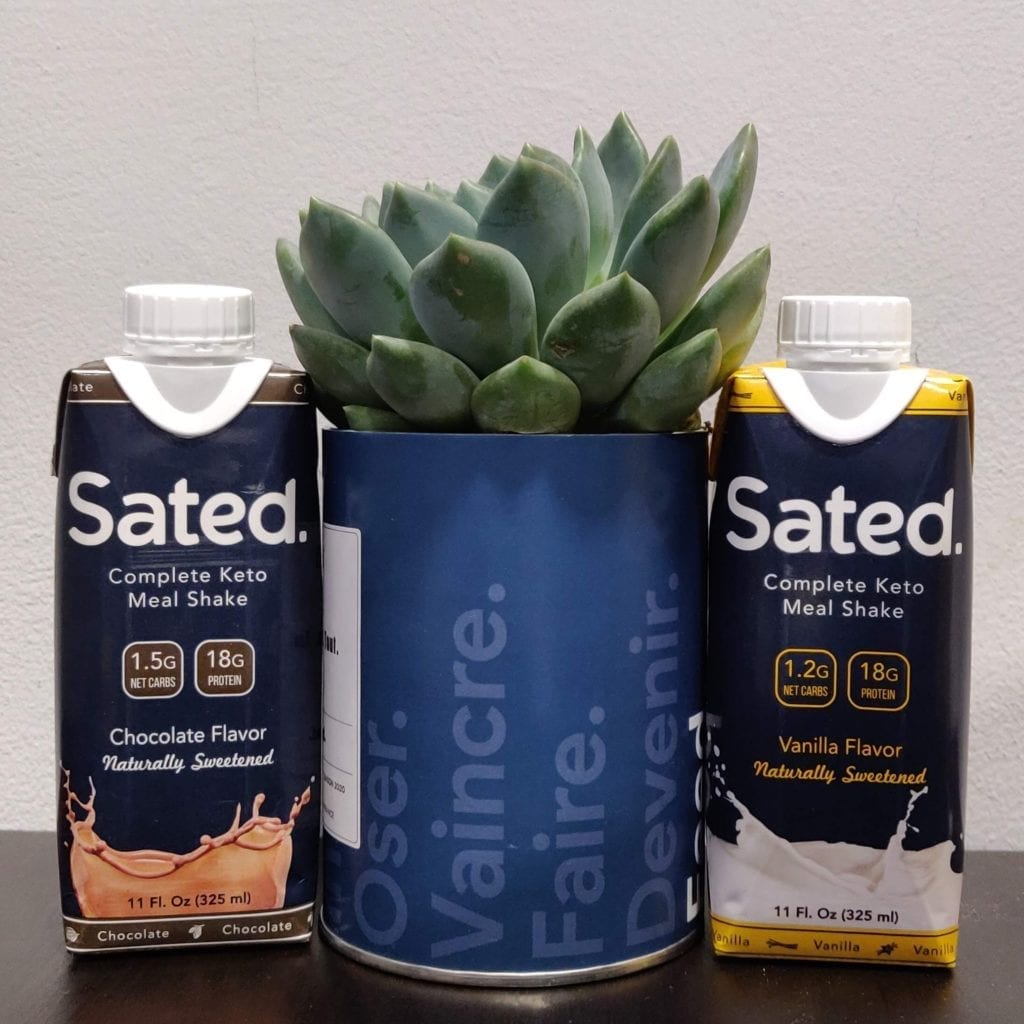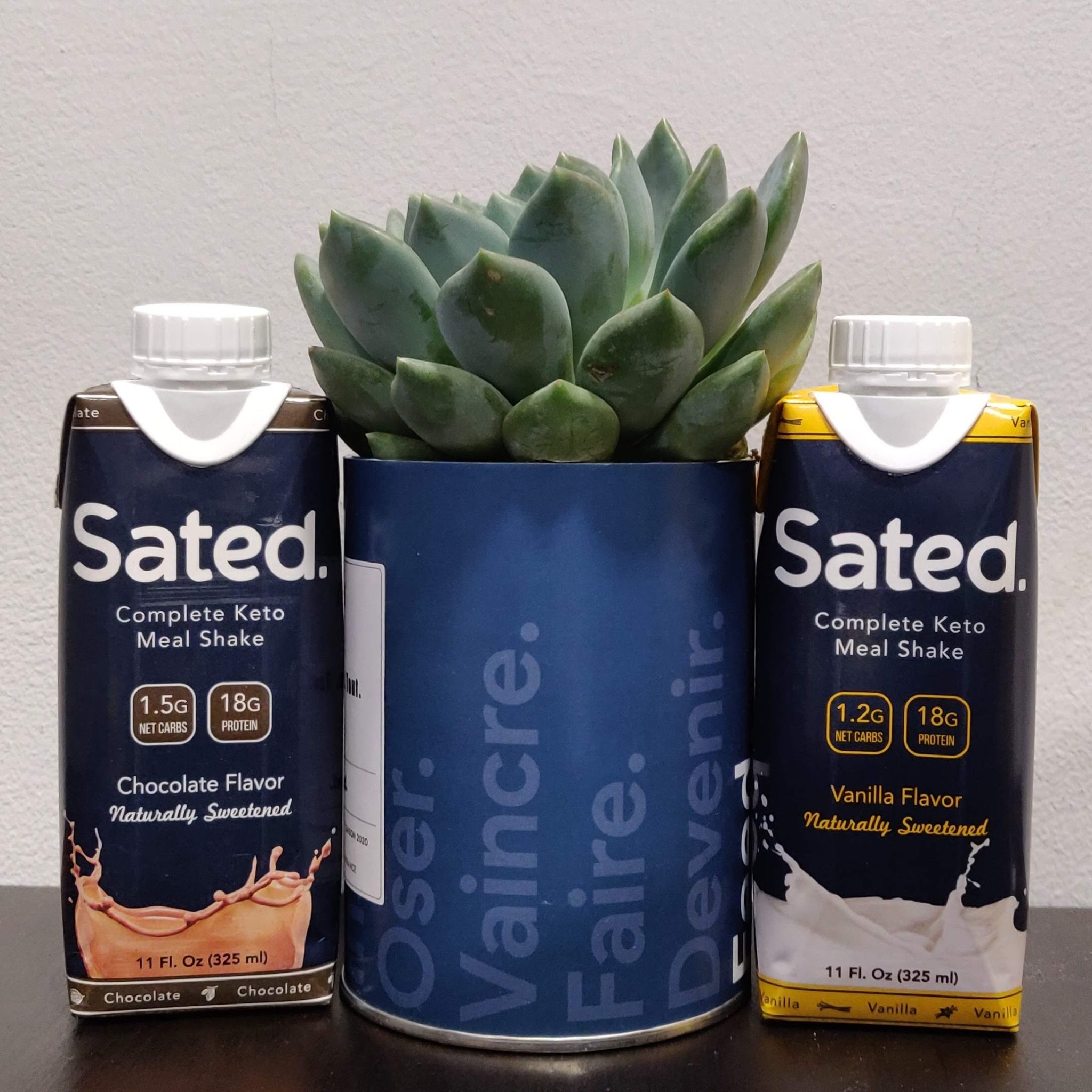 Verdict – Sated Review
So what are my take-aways after this Sated review?
All in all, I think that Sated offers high quality keto meal replacements at a very affordable price.
Admittedly, the RTD is quite expensive, even though it's one of the only keto ready to drink shakes in the market.
On the positives, I love how flexible Sated is with the RTD and powder mixes, and even having the choice between natural versus artificial sweeteners. I feel they provide enough variance so as to not get flavor fatigue. Plus, nutritionally are one of the best keto shakes, including omega-3s and all essential nutrients.
As for the negatives, I would like to see another flavor or two added to the RTD line. Besides, all Sated shakes failed to keep me full for longer than 2h, which came to a surprise.
In conclusion, Sated is a great option for those looking to maintain their keto diet easily, with the added benefit of being flexible and very nutritious. Simply, one of the best keto shakes in the market.
Sated Powder
From $2.6/400kcal
Pros
Best Keto shake in the US
Contains all essential nutrients
1.3g of net carbs, 18g of protein
The only keto RTD in the market
Nice taste - particularly chocolate
Cons
Not very filling
$90 minimum purchase
The RTD is expensive
International shipping is not affordable