Actualize Review; Are These Keto Shakes Actually Good?
In today's review we have Actualize, a keto focused meal replacement product. On their page they mention that keto can be hard to do. Preparing low carb meals can be time consuming and tough to stick to. With Actualize, This becomes easy, just add water, shake and enjoy a complete meal.
Thanks to its 50/50 formula of whey protein & micellar casein, it's able to achieve high protein content, while maintaining palatable taste and texture profile. For those of us not in the know (including myself) micellar caseins are very high value added proteins. Possessing an optimized casein/whey ratio and high calcium levels, they are considered more efficient and functional nutritional proteins.
As such, Actualize shakes are an exciting keto meal replacement, providing you with 10-40% of your daily requirements of 26 vitamins, 15g of protein, only 3g of net carbs, at 200 kcal per serving.
Let's find out all there is about Actualize keto shakes in this review!
---
Actualize Review at a Glance
Flavours: Chocolate, and Vanilla.
---
Opinion
Actualize keto shakes try to offer you a premium and convenient experience. In order to do so they use single serving pouches and high quality ingredients.
Unfortunately, this negatively affects the price, which starts at $4 per 200kcal, quite expensive for what it is. Similarly, 200kcal will not be enough for a meal for most people; and when doing the tasting, I found out that this was the case for me too.
On the plus side, there are great discounts and really good shipping rates to upset the costs. Furthermore, the owner is known for being part of the meal replacements communities and actively listening to feedback.
Thus, I have little doubt that Actualize will keep improving in the future.
What I like
1. Mixes evenly. One of the main highlights is that both flavours were very tasty, even more than expected. Plus, they didn't' have the buttery of oily feel that most keto shakes have.
2. Not sickenly sweet. Some other keto shakes tend to be overly sweet, trying to counteract the natural fattiness; making them hard to drink. Not in this case.
3. Convenient single serving packages. Less hassle and much easier to consume on the go.
4. 15g of protein per 200kcal! One of the (if not the) highest protein keto shakes around.
5. Free shipping to the US. Also delivers to Canada for flat $20, which is very reasonable for meal replacements.
6. No need to add oil or fats. Unlike cheaper alternatives, Actualize keto shakes provide you with all the nutrients you need per pouch, including fats.
7. 25% subscription discount. Great way to reward loyalty.
What I dislike
1. Not the cheapest keto shake. At $4 to $2 per 200kcal serving, this is among the most premium keto shakes you can buy. There are certainly cheaper meal replacements out there.
2. No shaker provided. Unfortunately, they don't provide with a free shaker (or any shaker) with the starting pack or bigger orders.
3. Only 2 flavours to choose from.
4. No worldwide shipping.
5. Bags can be hard to open and can create a mess.
6. No combo packs. Only either vanilla or chocolate. No way have both in one order outside of sampler.
Improvements
1. Provide option to buy a shaker or offer a free shaker. I think it would be very helpful if they offered a free shaker with the sampler; or at least the option to buy it.
2. Bulk packaging for cheaper prices.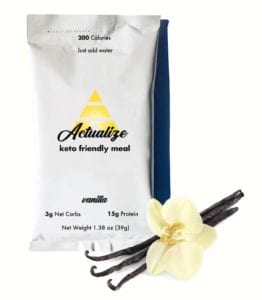 Nutritional Breakdown
Actualize prides itself having no artificial sweeteners. Moreover, it's one of the only keto shakes that provides you with all you need per serving. On the contrary, many direct competitors (like Ketochow or Keto Fuel), require you to add your own fats.
Actualize Nutrition Overview
| | |
| --- | --- |
| | Actualize Shakes |
| Kcal/meal | 200 |
| Macros (C/P/F) | 7/30/63 |
| Vegan | No |
| Keto | Yes |
| Features | GF |
| Non-GMO | Yes |
| Organic | No |
| Includes Probiotics | No |
| Artificial Sweeteners | No |
| Synthetic Additives | Yes |
| Contains All Micronutrients | Yes |
| Controversial Ingredients | None |
Based on Vanilla.
Macronutrients (Heavy Cream, Whey Protein Isolate, Micellar Casein), Fiber (Cellulose, Acacia Gum, Glucomannan, Xanthan Gum), Electrolytes (Potassium Bicarbonate, Dipotassium Phosphate, Sodium Citrate, Magnesium Malate), Flavoring (Vanilla Extract, Monkfruit Extract), Micronutrients (Choline L-Bitartrate, Ascorbic Acid, Ferrous Gluconate, Boron Glycinate, Zinc Glycinate, D-Alpha Tocopherol, Ergocalciferol, Beta Carotene, D-Calcium Pantothenate, Selenium Glycinate, Copper Glycinate, Niacinamide, Manganese Glycinate, D-Biotin, Phytonadione, Retinyl Acetate, Menaquinone-7, Menaquinone-4, Pyridoxal 5-Phosphate, Potassium Iodide, Thiamine Pyrophosphate, Pyridoxine Hydrochloride, Riboflavin 5-Phosphate, Molybdenum Glycinate, Thiamine Hydrochloride, Riboflavin, Chromium Picolinate, Calcium L-5-Methyltetrahydrofolate, Methylcobalamin).
Carbohydrates
Based on 200kcal serving:
Total Carbs: 6g, 2% of DV.
Sugars: 3g.
Of which added: 0g.
Fibre: 3g, 10% of DV.
Actualize shakes have strikingly low carb content, even for a keto shake. With only 6g of carbs, and 3g of net carbs there are very few options with less (sugars come from the whey protein).
As a matter of fact, I wouldn't mind if Actualize drinks had slightly more fibre on them (this won't make increase the net carb content).
On the positive side, it's good to see that there are no sugar alcohols in these shakes, as there are worries that some sugar alcohols might stop ketogenic estate.
Protein
Per 200kcal serving:
Total Protein: 15g, 30% of DV.
Source: heavy cream, whey protein isolate and micellar casein.
Its protein base consists of real heavy cream, whey protein isolate and micellar casein; all of which are derived from animal products. This comes to no surprise, since there are very few vegan shakes that are keto, too.
Nevertheless, this is no issue; and in fact, Actualize has top quality protein sources. For instance, whey protein isolate is the most pure whey form, and provides you with all the essential amino acids.
Besides, micellar casein is a slow absorption protein (unlike whey which is fast) that's also complete. Furthermore, it has multiple benefits like slowing down muscle breakdown, increases blood leucine and it's considered ultra effective for muscle growth.
Fats
Per 200kcal serving:
Total Fats: 14g, 18% of DV.
Saturated Fats: 9g, 44% of DV.
Omega-3s (ALA): ?g.
Omega-6s: ?g.
Interestingly, Actualize uses heavy cream powder, as opposed to oil powder (most common choice), to provide you with fats. This comes with its pros and cons.
On the negative side, heavy cream does not provide any omega-3 fatty acids, which are essential for proper brain functioning. Similarly, the shakes are quite high in saturated fats. Despite some recent studies showcasing that saturated fats might not be that harmful, the current WHO recommendations recommend MUFA and PUFA over SFA.
Futhermore, it's worth noting that there are no MCTs added in Actualize keto shakes.
Micronutrients
Regarding the vitamin and mineral content, Actualize shakes will provide you with at least 10% of the daily values. In fact, for many of the essential micronutrients, you will get even more, like Vitamin D (40%), Vitamin A (40%), Vitamin C (40%) etc.
Sweeteners
The only sweetener found in Actualize shakes is monk fruit extract.
Allergens
Actualize keto drinks contain milk.
Tasting Test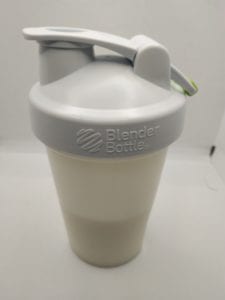 | | |
| --- | --- |
| Best flavour | Vanilla. |
| Taste | Not overly sweet or strong, ideal for someone looking for milder flavours. |
| Texture | Mildly thick and frothy. |
| Easy to Mix | Mixes well. |
| Satiety | One serving did not last me for more than 2h. For a proper meal, I recommend using 2 servings.. |
| Easy to Clean | Yes, but you will have to scrub the walls a little. |
| Afterthoughts | No digestive issues, despite not being used to keto drinks. Very friendly in the stomach. |
If I'm honest, I'm unsure what to expect from Actualize, being this is my first keto meal replacement.
However, the first thing that jumps out to me is that it's only 200 calories, and does not include a hunger suppressant like other low calorie shakes. That said, I'll temper expectations as far as how soon I'll be hungry again. Let's set a soft goal of 90 minutes, I think that's fair. So let's rock and roll!
First impression, I'm a big fan of single serve pouches….less mess, no measuring and easier to transport. Which brings me to my first gripe…..the pouches are perforated, but I was unable to easily open them. Really!? The vanilla just refused to tear, and the chocolate one tore, but not enough to open it. User error? Possibly, but I still think it could be implemented better.
Actualize Vanilla Is Enjoyable
Now let's talk about the overall experience, vanilla first.
The vanilla flavor didn't have much of a vanilla scent to it, before it was mixed nor after. It mixes well and has a very smooth and even texture. It was right in the middle in terms of thickness, not watery, not cake batter and kind of "frothy".
Perfect! It has only a mild sweetness (thanks to no added sugar) and was very easy to drink. I enjoyed this.
I Wish Chocolate Was Sweeter
Eyes on chocolate now. The chocolate was more fragrant than vanilla, it was very obviously chocolate.
However, the scent was pretty mild. This sparked minor disappointment as I thought it may be really bland. Not looking for Godiva, just something to stimulate the senses, but let's continue. Like vanilla, it mixed well and produced an identical texture.
First sip had me wishing it had just a tiny bit of added sugar, as I prefer sweeter chocolate flavors, but I quickly got over that and enjoyed this one as well.
I liked vanilla a bit better, but could drink either regularly without issue. Also, no digestive issues with Actualize. I drank both during the afternoon, and was fine throughout the day.
200kcal Is Not Enough for a Meal
Remember our 90 minute goal? Well, we fell short, as my mind began to drift to "what's in the fridge" just after an hour. But to its credit, it does state that one serving (one pouch) is considered a snack, whereas two pouches is considered a meal. I would have liked to test this but the sample only included one of each. Definitely something to keep in mind when using the product, as you'll have purchase, and plan accordingly.
More about Actualize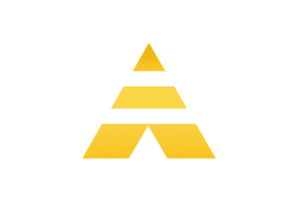 Learn about Actualize, Review
Actualize began in 2017 with Dr. Cameron Sepah, a clinical psychologist at Omada Health working to help diabetic and prediabetic patients lose weight and improve their health.
His focus was the behavioral side of obesity. He was able to help over 300,000 people lose 3 million pounds through an app he designed and health coaches he trained, but he kept seeing people struggle. Many were not satisfied with the options available to them. Common issues were that the food was too hard to prepare day after day, or not very tasty, or just too expensive.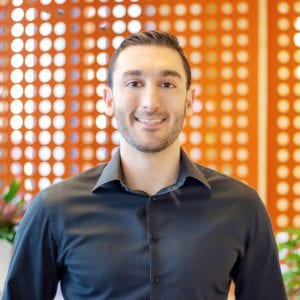 Dr. Sepah realized that the biggest opportunity to make an impact was in creating a new kind of food that he could recommend to his patients. Inspired by the rise of nutritionally complete meals in the Bay Area startup scene, as well as his own experience with the ketogenic diet, he created Actualize, a premium ketogenic meal replacement that aimed to be more nutritious, delicious and convenient than anything that came before.
New Owner, Same Goal
In mid 2018, the Actualize brand was acquired by Alex Cho Snyder, the creator of the popular US based meal replacement Super Body Fuel. And while the owner of the brand has changed, the mission of the product has not:
We want to help you become your best self, live the life you want to live, and make a positive difference in the world. We want to help you, Actualize.
Shipping
Pricing is solely calculated in USD, and is only available in the United States and Canada.
All prices include free shipping within the US, but has a flat rate $20 shipping cost to Canada. That said, keep in mind that shipping costs are included in the product pricing.
As far as Canadian shipping, there are higher costs associated with sending individual packages across the border.
Pricing
Currently you can only buy Actualize in single servings, even though there are some plans to add tubs (multiple servings) in the future.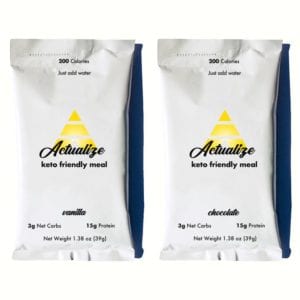 Actualize Sampler – $20 (Includes one vanilla & one chocolate) –> $5/300kcal serving
Actualize Pack – $40 (Includes 10 servings of vanilla or chocolate) –> $4/200kcal serving.
Nevertheless, Actualize does offer subscription program to lower the prices:
10 packs for $30 –> $3/200kcal meal.
60 packs for $120 –> $2/200kcal meal.
Trying to Bring the Price Down
On a positive note, the owner of Actualize is aware of the issue with cost. He mentions this in a blog post, and has been transparent as to why it's priced how it is, which boils down to offering free shipping, single serve packs & added fats.
Furthermore, he also mentions he is working on ways to bring costs down including promo codes, and taking feedback about possible bulk tub purchases.
Many customers have complaint about the price, but how does it compared to some other keto shakes?
| | | | | |
| --- | --- | --- | --- | --- |
| Price ($)/400kcal | Actualize | HLTH | Sated | Ample K |
| Expensive | 8.00 | 4.00 | 3.00 | 5.27 |
| Cheap | 4.00 | 3.33 | 2.40 | 4.48 |
Actualize vs
In the previoius section of this Actualize review, I briefly compared the pricing of these shakes with some of the other top keto shakes in the market. The truth is, that the keto market in the US is very competitive.
Overview
| | | | | |
| --- | --- | --- | --- | --- |
| | HLTH | Ample K | Sated | Actualize |
| price ($)/400kcal | 4.00 | 5.27 | 3.00 | 8.00 |
| kcal/serving | 400 | 400 | 400 | 200 |
| Macros (C/P/F) | 12/27/61 | 10/13/79 | 5/18/79 | 7/30/63 |
| Protein (g) | 27 | 13 | 18 | 15 |
| Sugar (g) | 2 | 1 | 0 | 3 |
| Fiber (g) | 9 | 5 | 6.7 | 6 |
| Fats (g) | 27 | 35 | 35 | 14 |
| Net Carbs | 4 | 3 | 1 | 3 |
| Vegan | N | N | N | N |
| Organic | N | N | N | N |
| Real Food based | Y | Y | N | N |
| Artificial Sweeteners | N | N | Y* | N |
| Synthetic Additives | Y | N | Y | Y |
| GMO | N | N | N | N |
Prices shown are most expensive option. Many of these include way to lower it.
All 4 of the above are great keto shakes that offer very different alternatives. HLTH, Sated and Actualize are all complete shakes; whereas Ample lacks some key vitamins and minerals. However, Ample is a based on real food and it's a more natural shake.
Actualize Shakes vs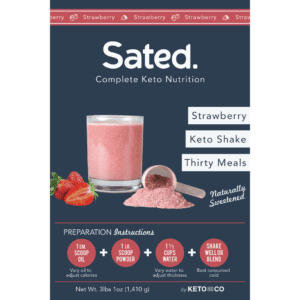 Sated Naturally Sweetened
This is one of my favourite keto shakes. Not only they offer a complete shake, but it's also very affordable. Furthermore, unlike Actualize, they offer multiple delicious flavours.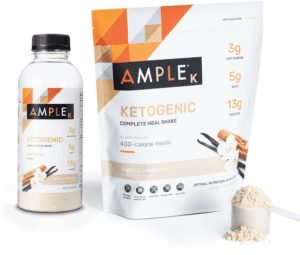 For those looking for a more natural option, Ample will be the ideal choice. However, you will have to sacrifice some vitamins and minerals. Plus, Ample K is only available in Chocolate, although it's bloody good.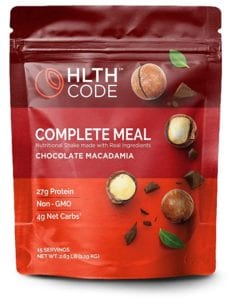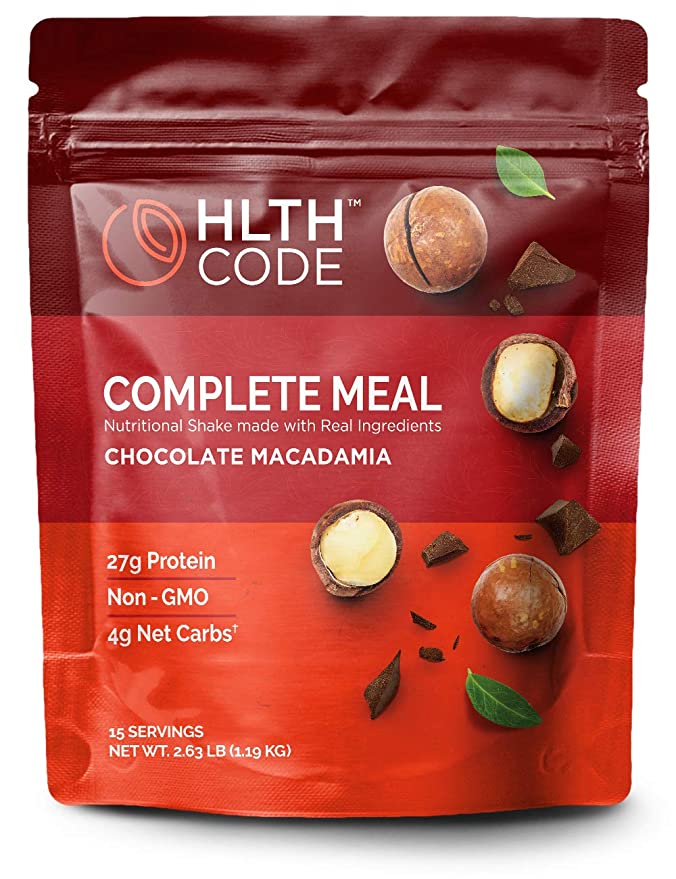 HLTH Code Complete Meal
Finally, we have HLTH Code's keto friendly shakes. These are also great tasting drinks that offer you nutrition beyond the essential. Packed with digestive enzymes and probiotics, they boost your gut and health.
Actualize FAQ
What is Actualize?
Originally designed to help diabetic patients improve their health, Actualize is a delicious low-carb instant meal that can be prepared in seconds.


Is Actualize vegan?
No, it contains proteins that come from animal based products.


What is keto?
Keto is a fat-burning diet, for faster weight-loss, fewer cravings, better mood and focus. How to do it? Just don't eat carbs! Without sugar and starch to burn, your body will switch over to burning fat for fuel, making little molecules called ketones that your brain actually prefers over glucose.


Can I use Actualize even if I don't do keto?
Yes. You don't have to go keto to enjoy Actualize! Use it to cut carbs or calories, or to fuel up post-workout with protein and electrolytes. If you want to live on Actualize completely, you can! It's a complete meal – with prebiotic fiber to support gut health, a full suite of electrolytes, and all the vitamins and minerals you need in their most bioavailable forms. Give your body the nutrition you deserve.


Where is Actualize manufactured?
It's made in the USA.


Verdict – Actualize Review
So wrapping this all up, what do I think of Actualize?
In short, I like it for the most part. It's convenient, easy to prepare, pleasant tasting and easy going down.
Definitely something I could make my daily driver, but it's not without its flaws though. First, Alex will have to find a way to bring the costs down a bit. On top of that, I would like to see more flavours and perhaps an option to buy a shaker, too.
Either way, Actualize is a good keto meal replacement. Plus, speaking from personal experience, I find Alex (the owner) to be very engaging with the community. He is always open to questions and/or feedback.
So, with him captaining the ship of this product, I anticipate bright days ahead for Actualize.
Actualize Shakes
$2/200kcal
Pros
Mixes well and tastes good
200kcal single serving packs are very convenient
Free US shipping, and $20 flat rate to Canada
No need to add oils
25% subscription discount
Cons
Base price is expensive
No free shaker provided
Just 2 flavours
Bags can be hard to open