Sated RTD Review | The Most Convenient Keto Meal in the World
Great taste, combined with good ingredients make Sated RTD one of the best keto shakes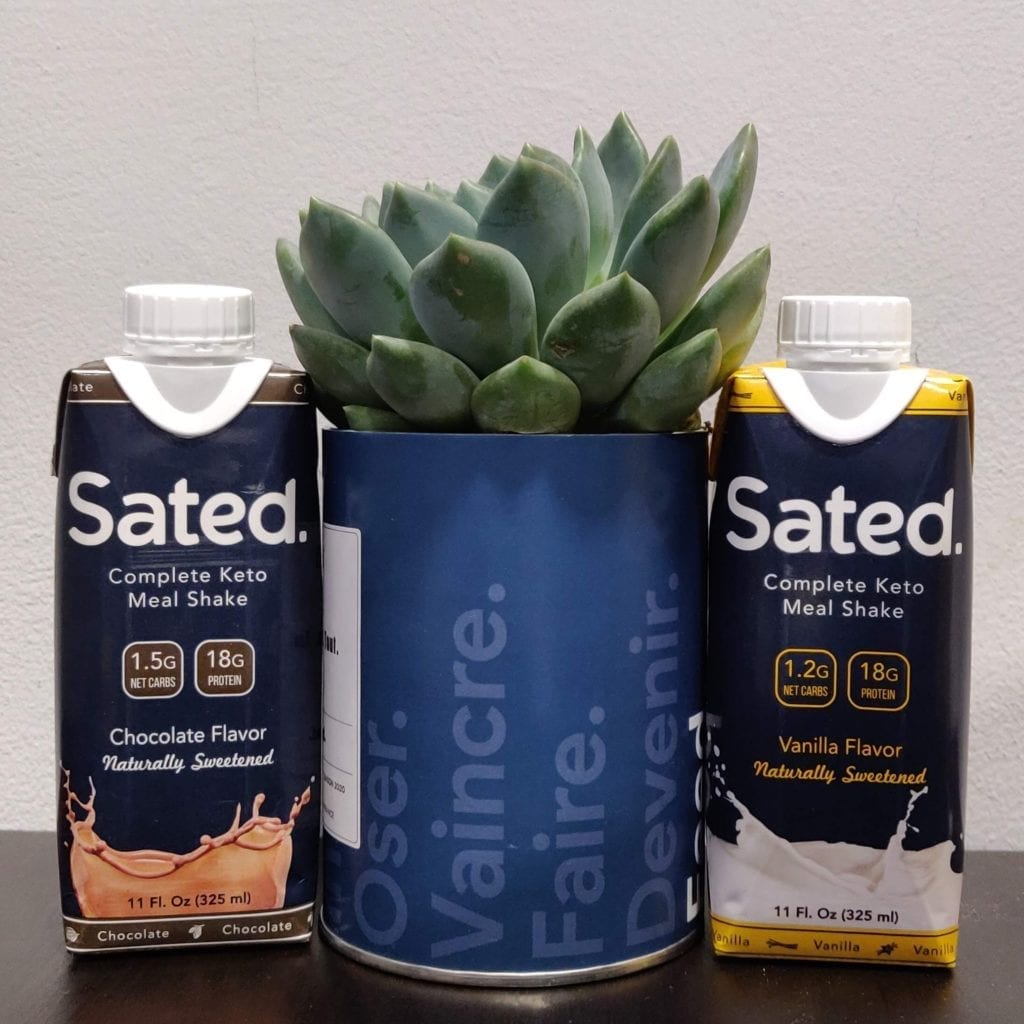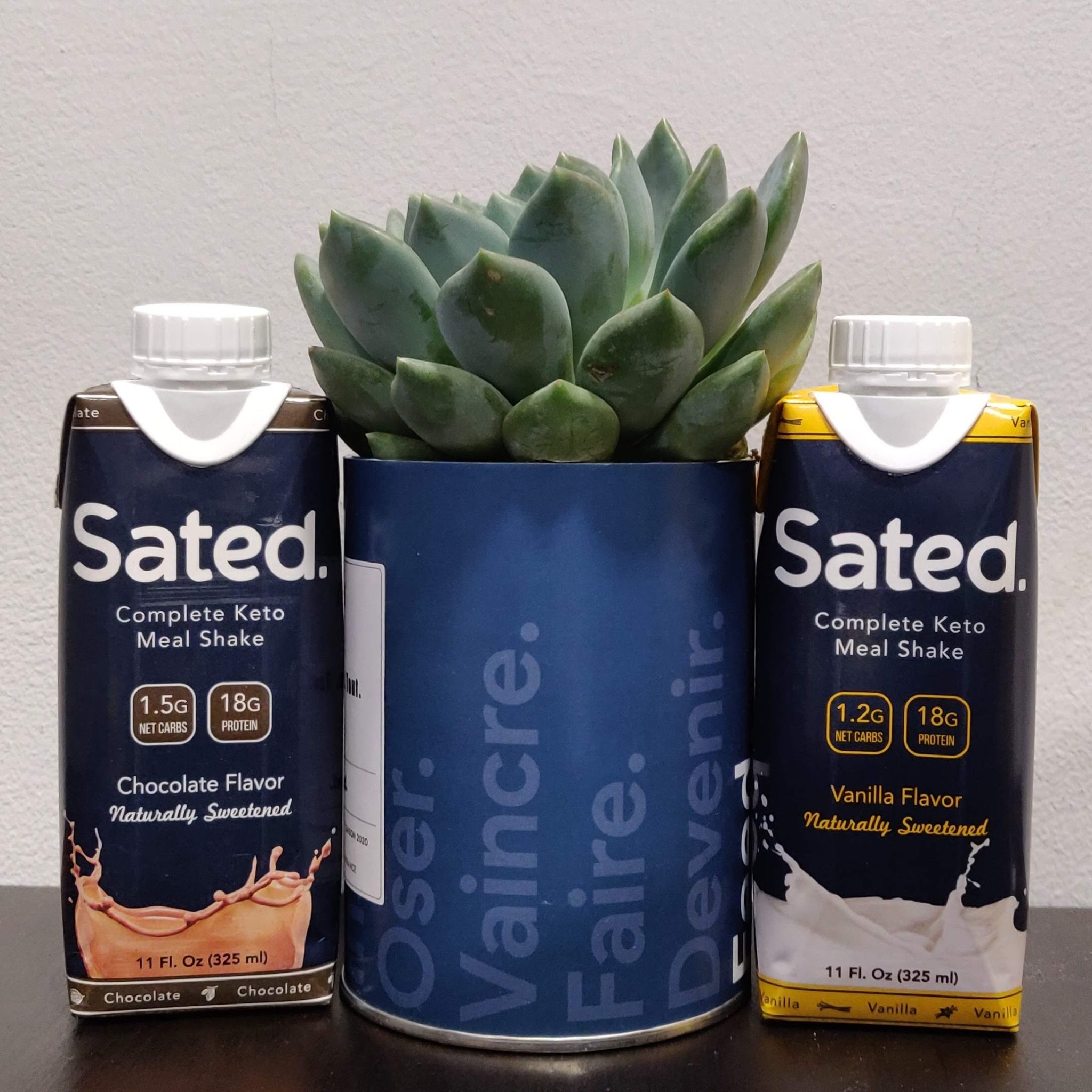 Ketogenic diets might prove hard to follow, since they require time and dedication to cook and consume the appropriate meals. Carbohydrates are everywhere: snacks, takeaways, sandwiches, salads, desserts… As a solution, Sated already offered a very successful keto powder product. But sometimes even this is not handy enough. That is what Sated Ready-to-Drink comes to solve. And apparently it is very needed, since it surpassed its original goal in Kickstarter 8-fold in the first 24h. The best opening for any food product. So, should we jump into the hype-train? Is it really that good? Let's find out in this Sated Ready-to-Drink review.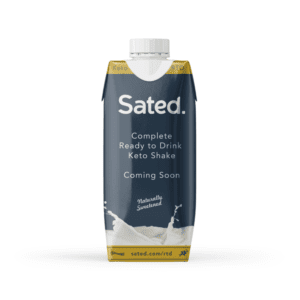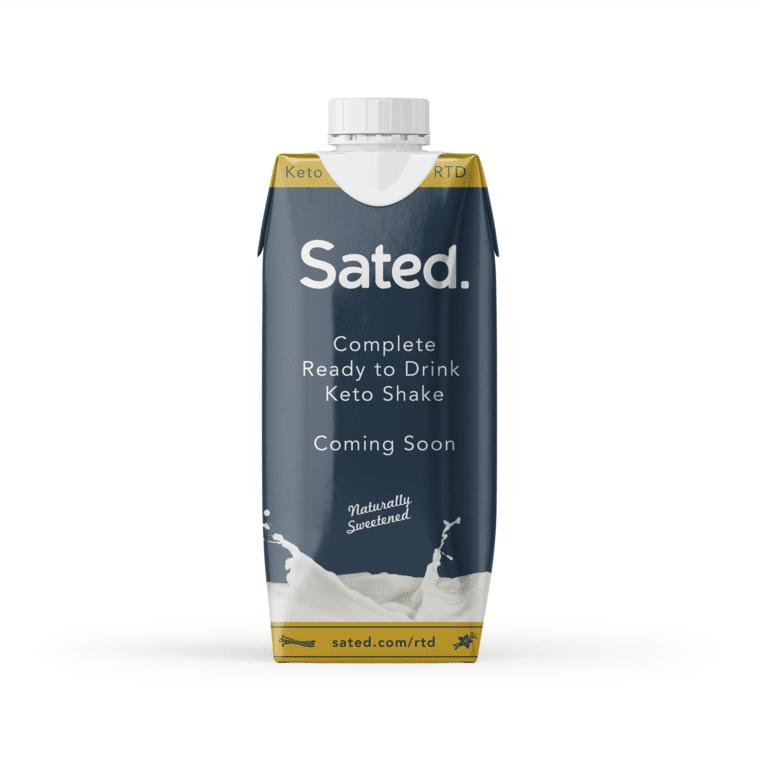 BUY NOW
Flavours: Chocolate and Vanilla.
Ingredients: Milk protein isolate, olive oil, erythritol, sunflower lecithin, flax oil, coconut oil, MCT oil, non-GMO soluble corn fiber, acacia fiber, salt, cellulose, vitamin & electrolyte mix, gellan, stevia, monk fruit, natural flavours.
Ready-to-drink products tend to shine for their smoothness and convenience. However, the taste is often hit and miss. In the case of Sated Ready-to-Drink, it does both plus the taste is great. In fact, this was the aspect that surprised me the most. Both flavours were incredibly enjoyable, and despite my fears, there was no oily or strong background taste to ruin it all. In all honesty, Sated RTD is one of the most enjoyable RTDs and thus I highly recommend it to anyone looking for a convenient keto meal.
What I like
1. Taste is very good and consistency is nice to drink. The chocolate flavoured RTD surprise me the most, with a darker profile and deep cacao taste. The vanilla one was also surprisingly good. Both without any taste of oil or nasty background flavours.
2. Unmatching convenience for a keto product. There is no ketogenic meal that is easier to consume than Sated RTD. On top of that, it provides you with all the nutrients that you need per meal.
3. Mixed packs. You often find that you have to choose between one flavour or the other. Not with Sated RTD, since you can try both flavours buying the mixed 6-pack.
4. 20% Subscription discount. The way to go if you are going to consume these regularly. It significantly lowers the price and makes it somewhat affordable.
5.Satiety. While small, each bottle kept me going for about 4h easily each time.
What I dislike
1. Price. This is not a very affordable product, with each 400kcal meal costing you $5 on average. This is $2 more expensive than the powder alternative that nutritionally is identical.
2. Vanilla aftertaste. With the Vanilla flavour, I noticed an olive-oil aftertaste. While it is not unpleasant, it get's boring after a while.
3. Worldwide shipping is not really affordable. I understand that offering worldwide shipping at an affordable price is nearly impossible. In fact, most companies do not even bother offering; and while Sated does, the shipping fees are just to high.
Improvements
1. A bigger version. What I miss the most with these RTDs is the chance to have bigger meals. I often consume 500-600kcal in a sitting. Thus, I would love a bigger size.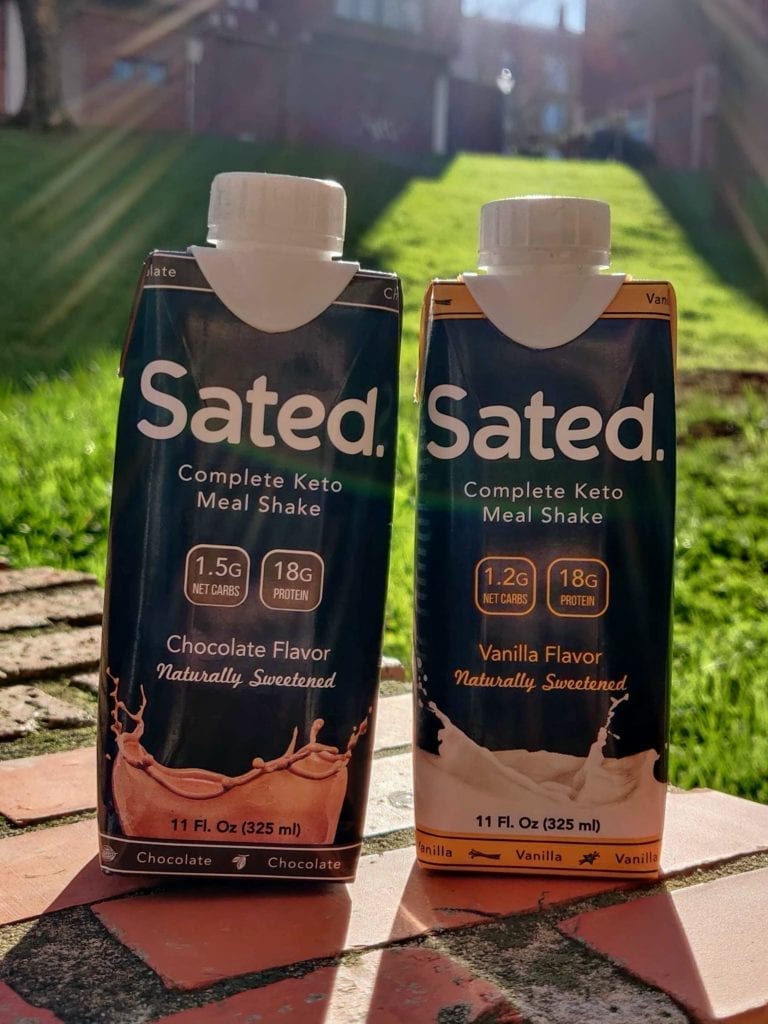 Undoubtedly, this is where the Sated RTD surprised me the most. While I was expecting an oily and fat dominated tasting experience, the reality was quite the opposite. Both flavours were quite sweet and on point. Particularly the chocolate flavour, a dark and flavourful chocolate.
Sated RTD Chocolate, The Best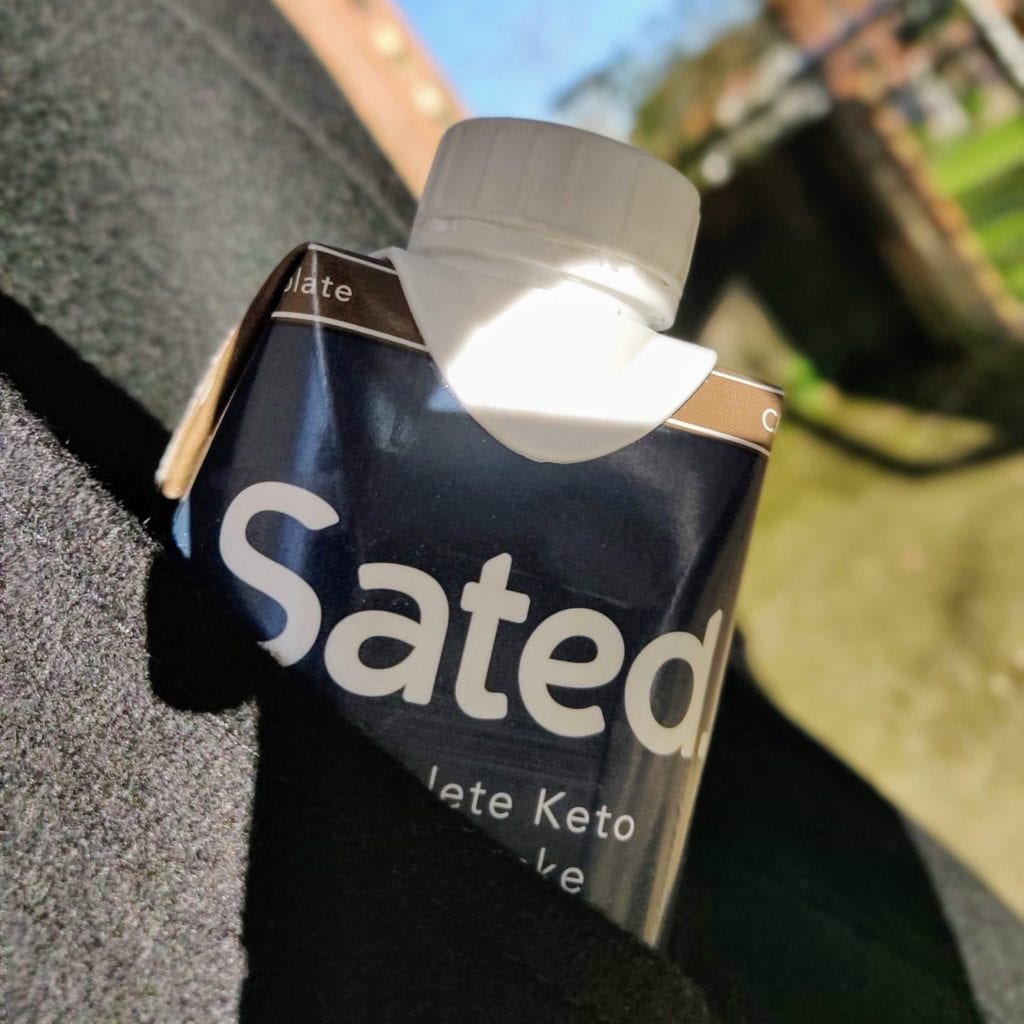 As stated above, this is the superior of both of them. Simply because it delivers a sublime experience of a true chocolate shake, with a great texture and no noticeable aftertaste. In fact, it is the chocolate flavour that dominates throughout, a lingering and pleasant taste.
Besides, despite not being the thickest of the shakes, it is silky smooth and more satiating that what I could expect from 325ml. I have no issues to feel full for three to four hours after consuming it.
Ultimately, it is one of the best chocolate flavoured RTDs in the market, vastly better than Huel RTD Chocolate and Soylent Drink Cacao.
Sated RTD Vanilla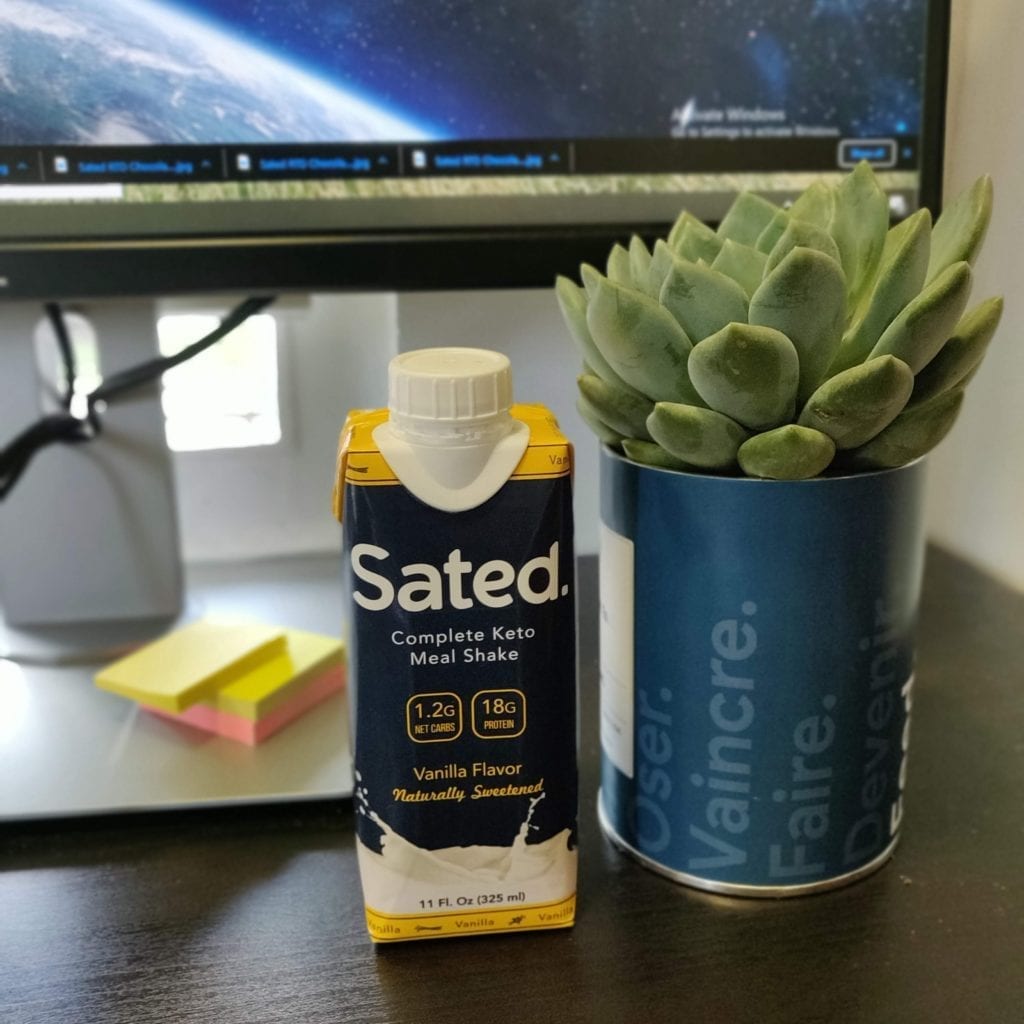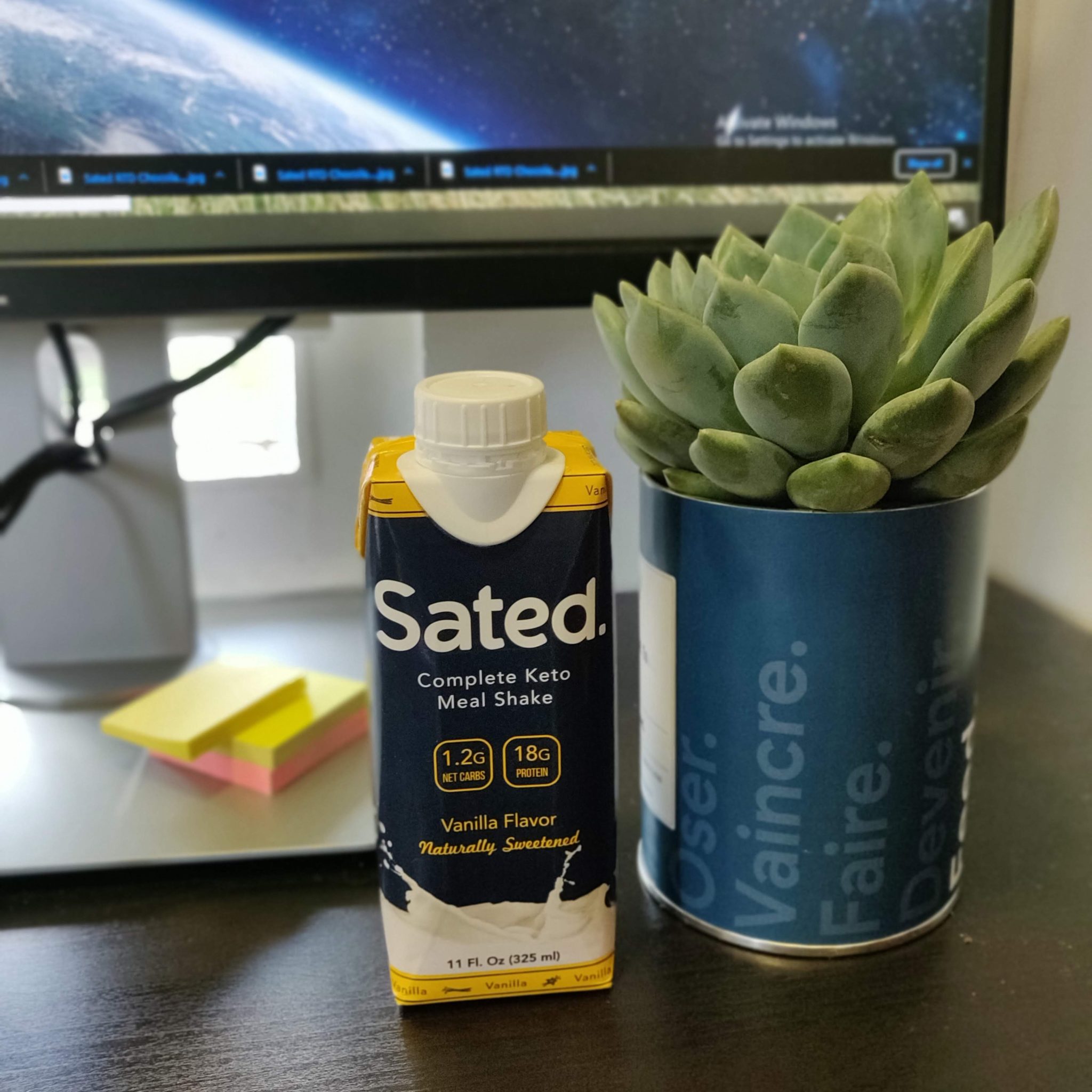 When it comes to Vanilla, the initial reaction was as positive almost as to that of Chocolate. It achieves a sweetness that's very pleasant and a good vanilla taste. However, there is an oily aftertaste. In my second try, I could taste the olive oil after finishing drinking it. To anyone that has try olive oil, they will be familiar with the lingering aftertaste that it leaves you with. Despite not being a bad one, I found it hard to wash (not possible with water), and thus, liked it less than the chocolate.
In any case, I strongly recommend having a bottle of water in hand, since they are both only 325ml or 11oz and hardly provide you with the water content that you would need in a meal.
Macronutrients per Serving (g)
Protein(g)
Carbs(g)
Fiber(g)
Fats(g)
% of Energy from Each Macronutrient
% of Recommended Intake per serving
RI based on 2,000kcal
RI based on 2,500kcal
The nutritional aspect is almost identical to Naturally Sweetened Sated. I have covered the nutritional aspects in that review in more detail.
Sated Ready-to-Drink comes with 1.3g of net carbs, 35g of fats and 18g of protein packed in 400kcal. The chocolate version has 1.5g of net carbs.
Net Carbs vs Total Carbs
While I cover this topic on the best ketogenic meal replacement rundown, here is a quick reminder.
Total carbohydrates are the amount of carbs that are present in the shake. This includes fibers, simple and complex carbs, and sugar alcohols.
Net Carbs, on the other hand, are the carbohydrates that will be converted into glucose. Thus, sugars and complex carbs mostly. In ketogenic diets, net carbs are usually the most important factor, since you are trying to burn fat by not consuming any glucose.
Variety of Fat Sources
Because in a ketogenic diet you will be using fat as your energy source, the quality of fats that you consume is important. In this regard, Sated Ready to Drink has a good array, including olive coconut, flax and MCT oil. Thus, you will get some fast burning fats (MCTs) and your source of omega-3 (flax).
One issue for people not following ketogenic diets might be the high saturated fat content. In fact, I would usually recommend replacing saturated fats with other fatty acids to reduce cardio-vascular disease risk.
No Sucralose
As I stated in the Naturally Sweetened review, they have chosen their custom natural blend over sucralose as sweetener. Sucralose might spike blood sugar levels in some individuals, thus I think this is the right approach if they are aiming for a true keto product.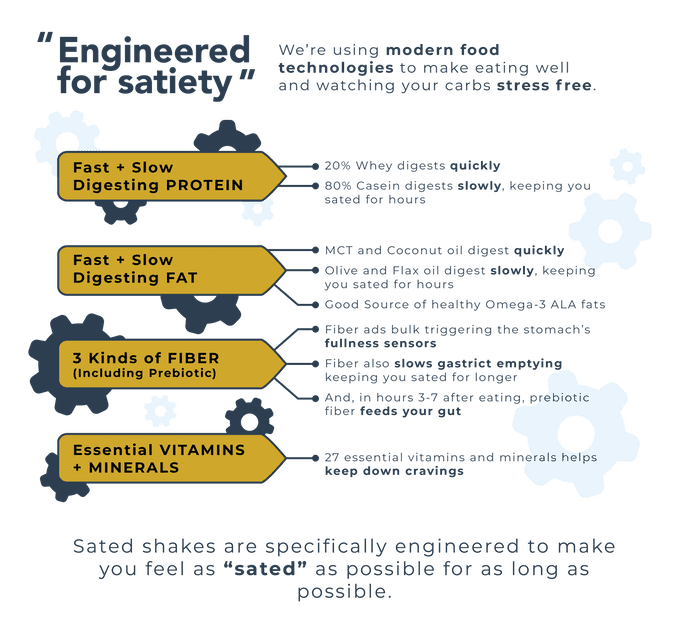 Allergens
Sated RTD contains whey, thus it is not suitable for lactose intolerants.
As a matter of fact there are very little to no ketogenic ready to drink options. Certainly, none of the meal replacement brands that I usually cover have it. As such, it is not only a niche product, but a very unique one as well.
Soylent Drink vs Sated RTD.
Sated RTD vs Ample K bottle.
Sated Powder vs Sated Ready to Drink.
Soylent Drink is perhaps America's favourite RTD product. It was the first RTD meal replacement and it has gotten so popular that now it's sold in Target, 7-Eleven and Walmart. Soylent's RTDs are low in carbs when compared to the dietary guidelines, but they are nowhere near what a ketogenic user would need.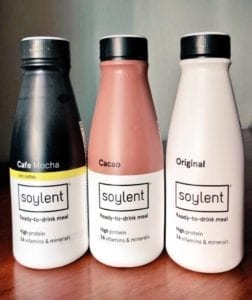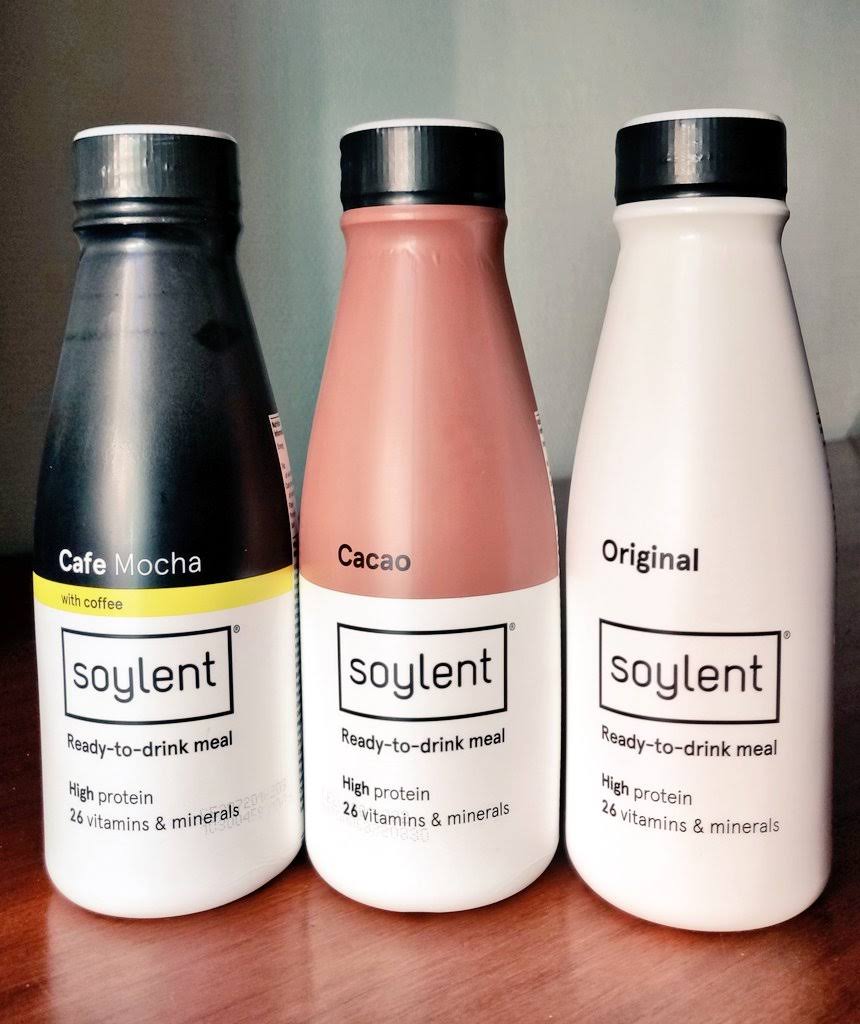 Flavours
Sated RTD: Chocolate and Vanilla.
Soylent Drink: Cacao, Mint Chocolate, Vanilla, Strawberry and Original.
Soylent also offers Cafe, which includes another 3 different flavours and Soylent Bridge.
Price
Price

Soylent Drink

Sated RTD

US ($)
per 400 (expensive)
3.25
6.00
per 400 (cheapest)
3.09
4.00
Taste
Soylent Drink has a more varied array, with neutral flavours like Original and more exotic options like Mint Chocolate. When it comes to chocolate, I prefer Sated's RTD to Soylent Cacao and it might be worth the extra buck. On the other hand, I think Soylent Vanilla is slightly better than Sated Vanilla.
Nutrition
| | | | | |
| --- | --- | --- | --- | --- |
| per serving | Sated RTD | DV (%) | Soylent Drink | DV (%) |
| Energy (C/P/F) | 8/17/75 | – | 35/19/46 | – |
| Energy (kCal) | 400 | 20 | 400 | 20 |
| Fats (g) | 35 | 45 | 21 | 32 |
| Saturated (g) | 10 | 50 | 2 | 10 |
| Cholesterol (mg) | 10 | 2 | 0 | 0 |
| Carbs (g) | 17 | 6 | 37 | 13 |
| Sugars (g) | 0 | 0 | 9 | 18 |
| Fiber (g) | 6 | 20 | 3 | 12 |
| Protein (g) | 18.0 | | 20 | 40 |
| Sodium (mg) | 460 | 20 | 300 | 13 |
Besides the clear macronutrient distribution differences, it is worth noting that Soylent is a vegan friendly product, since they use soy protein isolate. On the other hand, Sated uses milk as source of protein. Other clear differences are the saturated fat content (high in Sated) and the sugar content (much higher in Soylent).
What Should I Buy?
Ultimately, I think that both are directed to different people. While Soylent's Ready to Drink products are more inclusive, Sated aims to cater for the ketogenic users. Taking into account the extra cost of Sated's RTDs, it is hard to recommend them to the general audience, despite the chocolate shake being the best out of all of them.
---
Ample is another staple brand within the US meal replacement market. They specialise in high end, natural meal replacement shakes. Their offering includes the original (whey based), vegan and ketogenic powder formulas.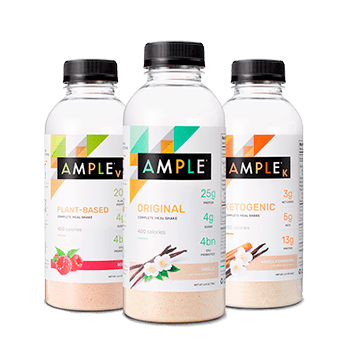 Flavours
Sated RTD: Vanilla and Chocolate
Ample K: Chocolate and Vanilla Cinnamon.
Price
Price

Ample K

Sated RTD

US ($)
per 400 (expensive)
8.00
6.00
per 400 (cheapest)
4.76
4.00
Ample K's price will vary greatly depending on the format that you buy in.
Nutrition
| | | | | |
| --- | --- | --- | --- | --- |
| per serving | Sated RTD | DV (%) | Ample K | DV (%) |
| Energy (C/P/F) | 8/17/75 | – | 10/13/77 | – |
| Energy (kCal) | 400 | 20 | 400 | 20 |
| Fats (g) | 35 | 45 | 34 | 44 |
| Saturated (g) | 10 | 50 | 17 | 85 |
| Cholesterol (mg) | 10 | 2 | 10 | 2 |
| Carbs (g) | 17 | 6 | 13 | 4 |
| Sugars (g) | 0 | | 2 | |
| Fiber (g) | 6 | 20 | 10 | 40 |
| Protein (g) | 18.0 | | 13 | |
| Sodium (mg) | 460 | 20 | 410 | 15 |
As it can be observed, these two products have much more similarities than the previous. Both are really high in fats, but Ample K is significantly higher in saturated fats. On the other hand, it is lower in protein content, too low for my liking.
One thing that must be noted from Ample K is the lack of sugar alcohols and use of "real food" (no synthetic or highly processed ingredients). However, they fail to deliver with all the essential micronutrients, which is a key point for any meal replacement shake.
What Should I Buy?
Sated RTD is overall the better product. Not only is cheaper, surprisingly; but it is also more convenient and better well rounded. There are no major flaws, like Ample's lack of vitamins and minerals. I think that Ample K is only for those looking to cut synthetic ingredients and sugar alcohols.
---
Finally, it is time to compare it to the other Sated product, the powder version. In reality, both are very similar, since the RTD was heavily inspired on their star product. Sated's powder is in my opinion the best ketogenic RTD because it offers the complete package at an affordable price tag.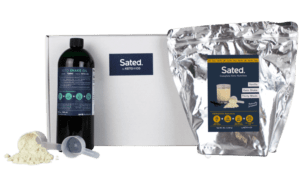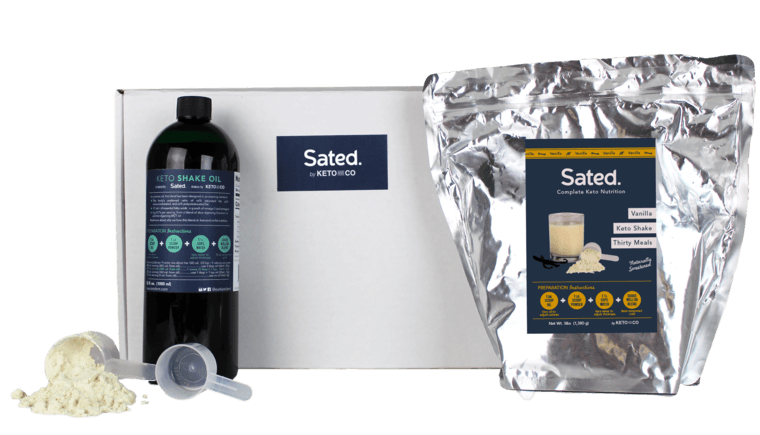 Flavours
Sated RTD: Chocolate and Vanilla.
Sated Powder: Chocolate, Vanilla, Strawberry, and Peaches & Cream.
Price
Price

Sated Powder

Sated RTD

US ($)
per 400 (expensive)
3.00
6.00
per 400 (cheapest)
2.40
4.00
Taste
Before going to discuss the taste, I must point out the preparation. While the RTD requires none, the powder is a little more complicated. You need to measure the powder, the oil and then add water before shaking it. These extra steps, while trivial, can be annoying.
Taste wise, I think that the RTD has more achieved flavours. The texture is much improved, too. There are no lumps, no powder that you can feel, making the RTD tasting experience superior.
Nutrition
| | | | | |
| --- | --- | --- | --- | --- |
| per serving | Sated RTD | DV (%) | Sated | DV (%) |
| Energy (C/P/F) | 8/17/75 | – | 8/17/75 | – |
| Energy (kCal) | 400 | 20 | 400 | 20 |
| Fats (g) | 35 | 45 | 35 | 45 |
| Saturated (g) | 10 | 50 | 10 | 50 |
| Cholesterol (mg) | 10 | 2 | 10 | 2 |
| Carbs (g) | 17 | 6 | 17 | 6 |
| Sugars (g) | 0 | | 0 | |
| Fiber (g) | 6 | 20 | 6 | 20 |
| Protein (g) | 18 | | 18 | |
| Sodium (mg) | 460 | 20 | 450 | 20 |
As you can observe, they are pretty much identical.
What Should I Buy?
Simply, for daily use I would go for powder. Not only it allows you to enjoy more flavours, but it is also much more affordable. However, for the meals that you have on the go, or if you only use meal replacement shakes sporadically, the RTD will give you a more satisfying experience.
Kickstarter/Indiegogo Madness
Sated RTD was largely funded by crowdfunding. The founder of Sated, Ted Tieken took his project to the public in order to make a query of many a reality
Certainly, one of the biggest stories is in fact about this product is the kickstarter campaign and its success. The $10,800 initial funding objective was reached under 2h and in the first 24h they achieved over $80,000. An incredible feat by all means, which shows how eager the Sated community was for an easier Keto alternative. Afterwards, they looked for a second round in Indiegogo, which caused some delays in the delivery. Nevertheless, I must say that the wait was worth it.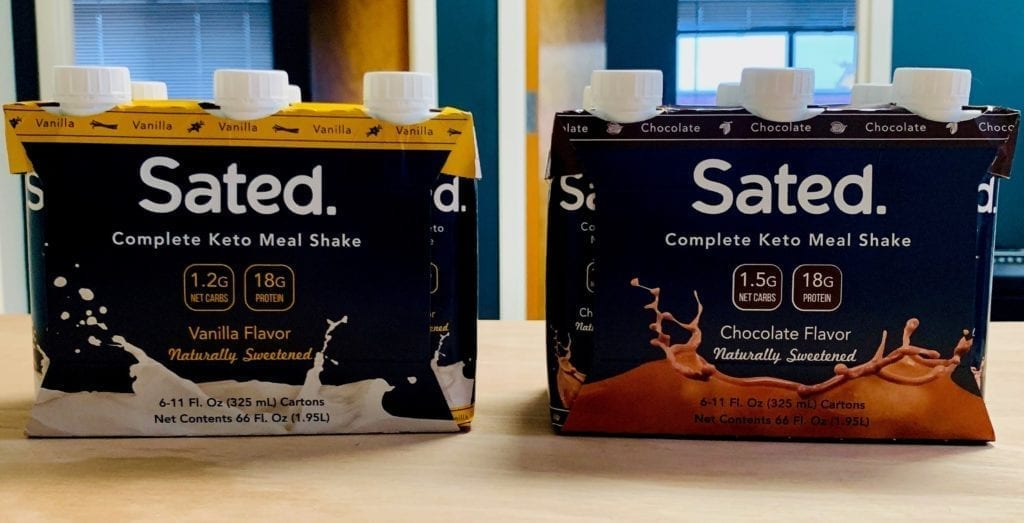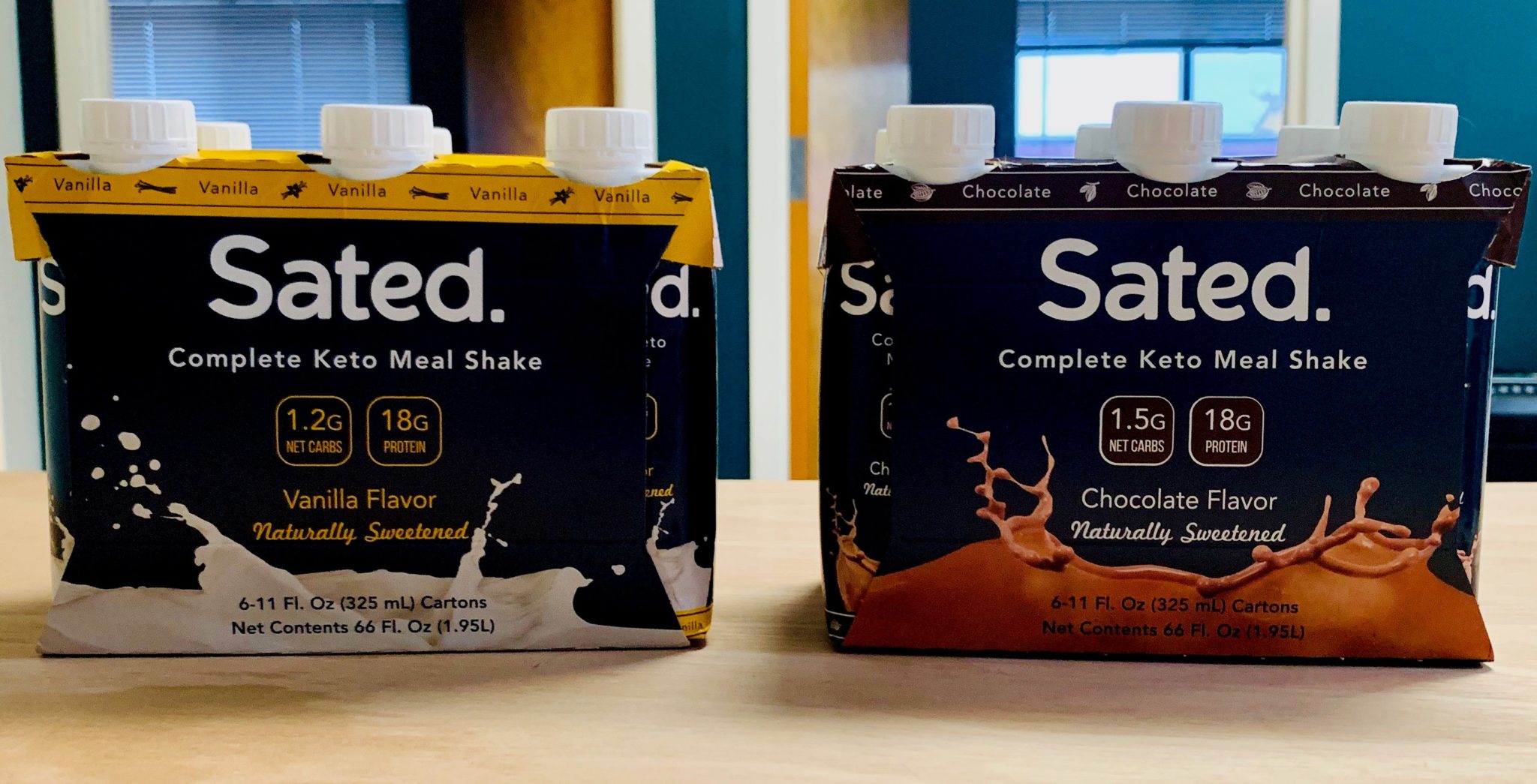 Pricing
Sated RTD is now available in the official Sated website. The Ready to Drink meal replacement comes in Vanilla and Chocolate. If you are undecided as to which one you want to try, you can even purchase a mixed order. Each bottle is 400kcal and 325ml, so make sure to have a bottle of water handy.
The Sated ready to drink comes in boxes of 6 or 18 and you have the option to purchase them in subscription (20% further discount). The price for both options (6 vs 18) is not equal; and the case of 18 is $1 per bottle cheaper:
| | | |
| --- | --- | --- |
| | No Subscription | Subscription |
| 6 ($ per bottle) | 6.0 | 4.8 |
| 18 ($ per bottle) | 5.0 | 4.0 |
Shipping
Despite as them advertising as shipping worldwide, the reality is that anywhere other than to the US will be very expensive. Within the US, you can opt for free shipping on orders above $50.
However, if you leave outside the United States, be prepared to pay shipping fees as big as the cost of the order. On top of that, you might have to pay for import duties (as I had to).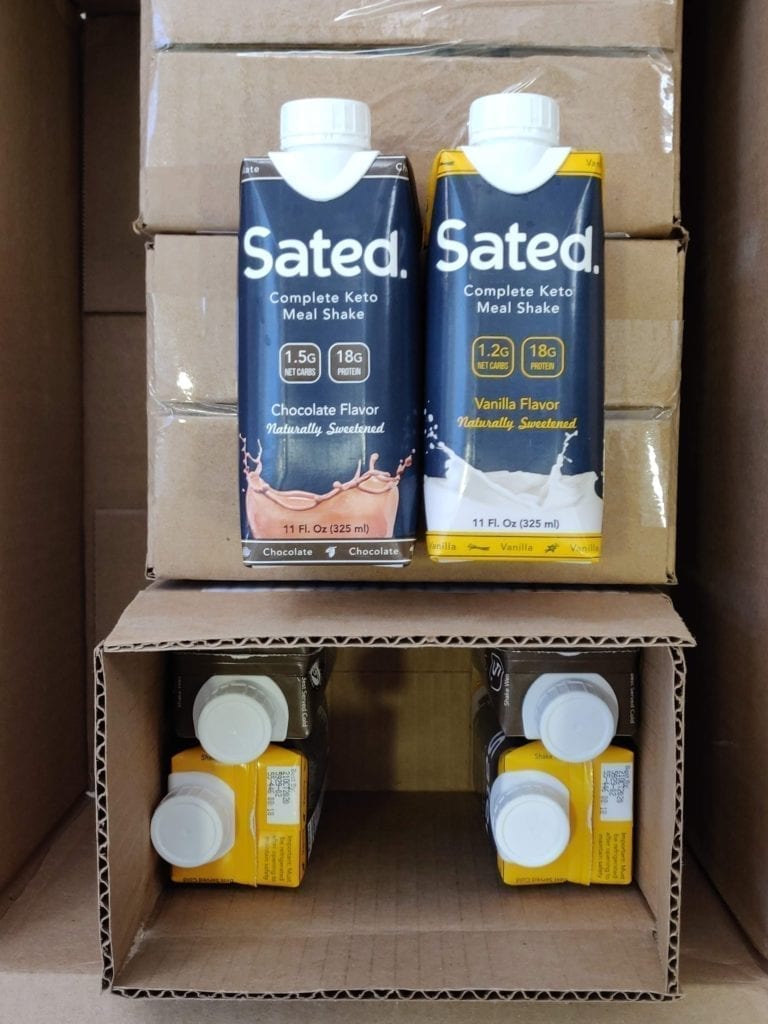 The Ready to Drink bottles have a shelf life of 12 months from the date that they were manufactured. They can be easily stored in a cool, dry place, and they do not need to be refrigerated.
Is Sated RTD vegan?
No, it contains milk protein.


Is Sated Ready to Drink gluten-free?
Yes, both flavours are gluten free.


Can I drink Sated RTD even if I don't follow a ketogenic diet?
Yes, but your body will struggle getting the nutrients, since it will not be used to burning fat as source of energy. On top of that, you might find the digestion difficult and feel stomach ache. Thus, I wouldn't recommend it.


Is Sated RTD available outside of the US?
In theory, yes. They ship worldwide using DHL, however the shipping prices are quite high. A shipment of 18 bottles, $90 worth, can cost you as much as the order. On top of that, you might have to pay import taxes if the order is stopped at customs.


Which Sated RTD is best?
The chocolate flavoured RTD is the best of both.


Where is Sated produced?
Sated Ready to Drink is produced in the USA.


Is Sated Ready to drink the first ketogenic RTD?
Certainly, it is among the first complete ketogenic RTDs.


---
Verdict
Sated RTD offers a sublime ketogenic meal in the most convenient form possible. The great taste, convenience and portability make it a great choice for those following a ketogenic diet.
Despite the fact that the price is higher than their powder meal replacement, the ready to drink version tastes better, has a better texture and gives the user more freedom. It is certainly worth the extra bucks if you can afford it.
In fact, I enjoyed the chocolate version so much that I would have it regularly if I was doing a keto diet. However, since I'm not, sadly I do not think the macronutrient distribution is ideal for me. Furthermore, I would not recommend it to anyone that is not following a keto diet, in spite of the great taste, since I believe it could trouble your stomach.
To sum up, I believe that Sated RTD is the best ketogenic meal replacement that you can consume: complete and tasty.