I have been looking forward to doing the Huel Complete Protein review, since they first announced it. Huel making a plant-based protein powder!? I could not wait to try it out.
For those unfamiliar with Huel, it's the world's leading meal replacement manufacturer with over 150 million meals sold since its inception in 2014. Their path to create plant based nutritionally complete meals has been incredibly successful with tons of awards and public recognition.
Nonetheless, developing a top notch protein powder is not an easy task. There are huge companies (MyProtein, TheProteinWorks, Bulk…) already providing you with tasty vegan protein options that have been developed with tens of years of experience.
In order to challenge them, Huel's Complete Protein has a small twist. Not only does it provide you with 105kcal and 20g of protein; but it also comes with 26 essential vitamins and minerals! The aim is to offer a nutritionally complete (has all essential nutrients) snack.
So in this Huel Complete Protein review, I will try to see if this is just a gimmick, if Huel's protein actually tastes good, and ultimately, if it's worth buying.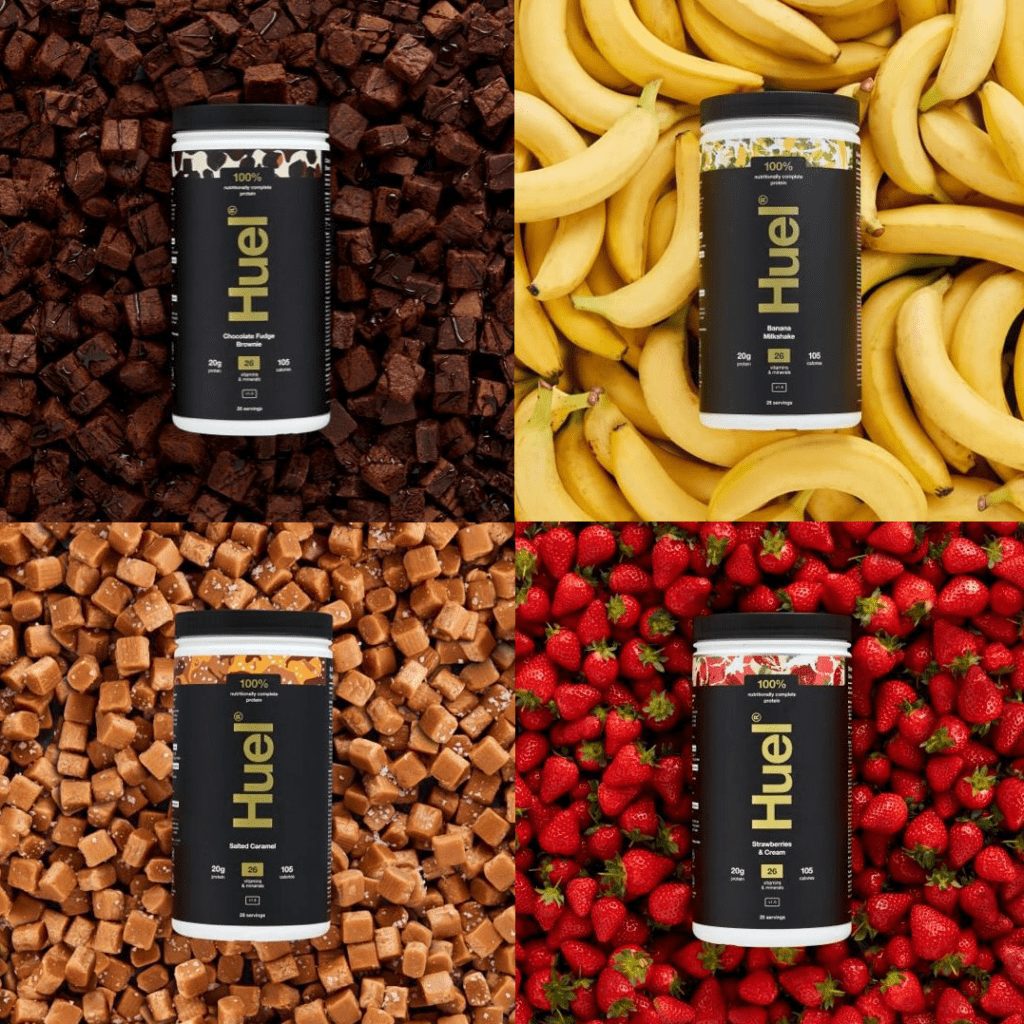 ---
Huel Complete Protein Review at a Glance
Flavours: Chocolate Fudge Brownie, Strawberries & Cream, Banana Milkshake, Salted Caramel, Vanilla Fudge, and Unflavoured & Unsweetened.
---
Opinion
Coming to this Huel Complete Protein review, I wasn't sure what to expect. Huel is a great complete food company. However, their specialty is nutrition and not taste; and this second is key for a good protein powder.
I've honestly been mind blown by Huel's first protein powder. It's not exceptional in any regards, but it covers all the basics well: good taste and texture, great source of protein, and it's quite affordable.
Their claim to be nutritionally complete is a little weak, and perhaps not something most protein consumers would care about. I've drank plenty of protein shakes myself and I've never cared if they had micronutrients or not.
Therefore, despite being annoyed with some of their marketing gimmicks, I do think that Huel Complete Protein is a remarkable product.
What I like
1. Good overall package with a unique twist. Protein powders are a tough market to enter. However, Huel Complete Protein offers something unique with the addition of micronutrients, without sacrificing essentials (good protein sources).
2. Tastes good. Definitely an above average tasting protein shake, and much better tasting than Huel Black or White.
3. Well priced. Surprisingly competitive, just below whey protein, and slightly above the cheapest vegan proteins.
4. 6 flavours to choose from, including an unsweetened version.
5. 20g of protein per 105kcal and 5g of BCAAs.
6. Slick recyclable tub, much better than the bags used for their meal replacements.
7. Bulk discounts. The more you buy the cheaper it gets.
What I dislike
1. Calling it nutritionally complete feels a little deceptive. While it does contain most essential (if not all) nutrients, some of them are not in significant values to call it complete.
2. Texture can be improved.
3. Added micronutrients are nice, but not necessary for a protein shake.
Improvements
1.A naturally sweetened version.

Nutritional Breakdown
One of the main appeals of Huel's new protein is their unique nutritional profile when it comes to protein powders:
Plant based, soy-free, sugar free and gluten free.
High in essential amino acids, and with 5g of branched-chain amino acids per serving.
Nutritionally "complete". Includes 26 vitamins and minerals, some omega-3 and -6 fatty acids and fibre.
Huel Complete Protein Nutrition Overview
| | |
| --- | --- |
| | Huel Complete Protein |
| Kcal/meal | 105 |
| Macros (C/P/F) | 14/76/10 |
| Protein (g) | 20 |
| BCAA (g) | 5 |
| Vegan | Yes |
| Features | GF, SF |
| Protein sources | Pea, Fava, Hemp |
| Organic | No |
| Artificial Sweeteners | Yes |
| Contains All Micronutrients | Yes |
| Controversial Ingredients | None |
Based on Chocolate Fudge Brownie.
Ingredients (based on Chocolate Fudge Brownie):
Pea Protein, Faba Pea Protein Isolate, Cocoa Powder (8.5%), Natural Flavourings, Hemp Seed Protein Powder, L-Leucine, Micronutrient Blend*, L-Lysine Monohydrochloride, Soluble Gluco Fibre Powder, L-Methionine, Stabiliser: Xanthan Gum, Flaxseed Oil Powder, Curcumin (from Turmeric Extract), Sweetener: Sucralose, Salt, Bacillus Coagulans, Piperine (from Black Pepper Extract).
*Potassium Chloride, Magnesium Phosphate, Potassium Citrate, Calcium Carbonate, Corn Starch, Vitamin C (as L-Ascorbic Acid), Lutein, Vitamin E (as D-Alpha-Tocopheryl Acetate), Lycopene, Niacin (as Niacinamide), Vitamin A (as Retinyl Acetate), Vitamin K2 (as Menaquinone-7), Pantothenic Acid (as Calcium-D-Pantothenate), Plant-Derived Vitamin D3, Potassium Iodide, Vitamin B12 (as Cyanocobalamin), Vitamin B6 (as Pyridoxine Hydrochloride), Riboflavin, Thiamin Mononitrate, Calcium-L-Methylfolate, Chromium Picolinate.
Protein
Per 105kcal serving:
Total Protein: 20g, 40% of RI.
Source: Pea protein, faba pea protein isolate, hemp seed protein powder, L-leucine, L-lysine monohydrochloride, L-methionine.
Let's start by looking at the plant based protein blend used in Huel's Complete Protein. In their meal replacement powders, they use a combination of pea protein and brown rice protein to deliver a complete amino acid profile.
However, it seems that this was not enough for their protein powder, since they've developed a new blend. In this, they've added faba pea protein and hemp seed protein, while removing brown rice. Achieving a good taste might have something to do with this.
 […] we've combined the more neutral-tasting hemp and pea proteins and layered them with faba protein which gives a smooth and creamy profile.

Huel Nutrition
Hemp is an interesting choice. Despite the negative connotations, it's a great source, rich in micronutrients (vit E, potassium) and almost a complete protein (only lacking some lysine).
Huel Complete Protein Better than Whey?
One of the main selling points of Huel's protein powder is that it's richer in essential amino acids (EAA) than whey.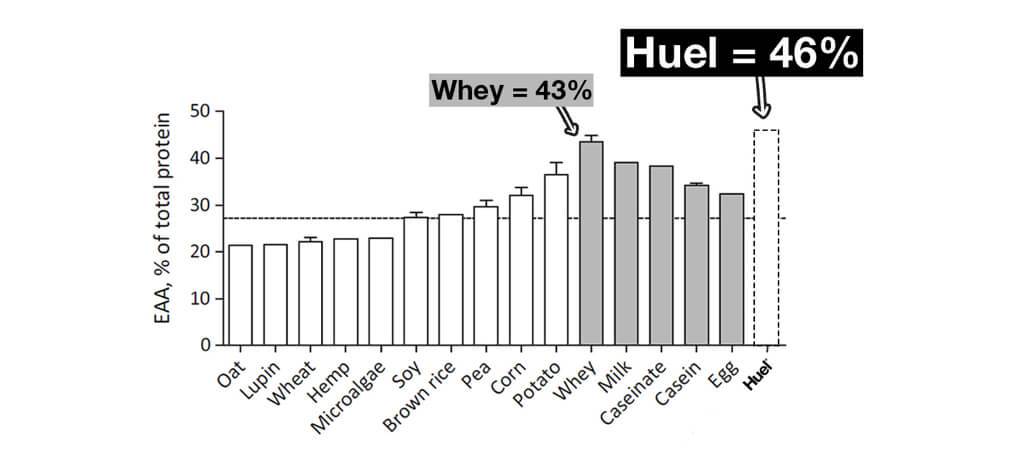 According to research, EAA's are the primordial kickstarter of amino acid induced muscle protein synthesis (i.e. EEAs promote muscle growth, mostly).
However, this does not take into account absorption rates, bioavailability, nutrient usage etc. Huel's staff has said that their protein has a PDCAAS score of 1.0, though.
It's also worth noting that Huel adds L-lysine (monohydrochloride), L-leucine, and L-methionine as single amino acids to boost the EAA content.
Below, I you can see the amino acid breakdown of Huel Complete Protein (100g of product) compared to whey isolate (whey isolate is the most pure, but also most expensive whey protein).
| | | |
| --- | --- | --- |
| | Huel Protein 100g | Whey Isolate 100g |
| Tryptophan | 676 | 1150 |
| Threonine | 2128 | 5490 |
| Isoleucine | 2614 | 5250 |
| Leucine | 10807 | 8690 |
| Lysine | 7241 | 7870 |
| Methionine + Cysteine | 1321 | 3600 |
| Phenylalanine + Tyrosine | 5300 | 4590 |
| Valine | 2962 | 4840 |
| Histidine | 1507 | 1390 |
| Total (EAA) | 34555 | 42870 |
Essential amino acids (in mg) per 100g of protein as sold. Notice that Huel's protein actually has only about 34g (32g if you read the labels) of EAAs or 34% when looking at protein as sold.
Does this really matter?
As a matter of fact, I believe it does not, and for 99.5% of the consumers Huel will offer a fantastic plant based alternative to whey protein.
Extra Ingredients
Besides, part of the filling to Huel's protein powder are micronutrients and other essential nutrients like omega-3 fatty acids (essential), omega 6, fibre or probiotics. These are there to provide you with "complete nutrition", and in Huel's eye's a healthier protein powder.
Micronutrients – Vitamins & Minerals
As a meal replacement company, or a nutritionally complete company, Huel aims to provide you with all essential nutrients. Thus, each protein shake will have at least 15% of each vitamin and minerals.
These include, iron, zinc, vitamin C, A, B…
Are these necessary in a protein shake? Perhaps not, but for sure they won't make you any harm.
Omega-3s, Omega-6s, and Fibre
Another step to be nutritionally complete it's to have the right fats and carbs. While the protein powder is not a good source for either, it does have significant amounts of soluble and insoluble fibre.
Similarly, for a protein powder having omega-3 is almost unheard off. Each serving provides you with 0.2g (ALA), which is not nearly enough for your daily recommended (and it's 4 times less than in their meal replacement shake). However, it's a noticeable enough boost, particularly if you consume more than one serving.
Probiotics
Lastly, it's worth mentioning that each Huel protein shake includes over 100 million probiotic spores (Bacillus coagulans MTCC 5856). This is not as unusual, but it can be beneficial for your gut health.
Besides that you will also find curcumin and black pepper extract, which are meant to act as anti-inflammatory agents and antioxidants.
Is Huel Complete Protein Truly Nutritionally Complete?
Personally, I would say no, it's not.
In my opinion, to be nutritionally complete you should be able to only (or at least largely) consume the product in order to survive. I would never advise to use Huel Complete Protein as sole or not even 50% of your daily nutrition. On the other hand, I could see this being a possibility for Huel's meal replacement shake.
In fact, I think that these are the points that Huel's protein lacks to be nutritionally complete:
Proper source of energy. Protein is not considered to be an efficient source of energy for the body. Instead, carbs and fats do this role.
Higher amounts of carbs, and fats. As pointed above. Your body needs MUFAs, PUFAs and SFAs to survive, as well as complex carbs.
More balanced macro profile.
Allergens
There are no major allergens present in Huel's protein powder. It's a dairy free shake, without soy, gluten or oats.
Tasting Test
Without a doubt, the area that I was most interested in before doing this Huel Complete Protein review was the taste.
Plant-based proteins are infamous for being awful tasting and having chalky texture. Honestly, I think this is overblown and a thing of the past, but Huel has boasted that this is the best tasting protein powder out there.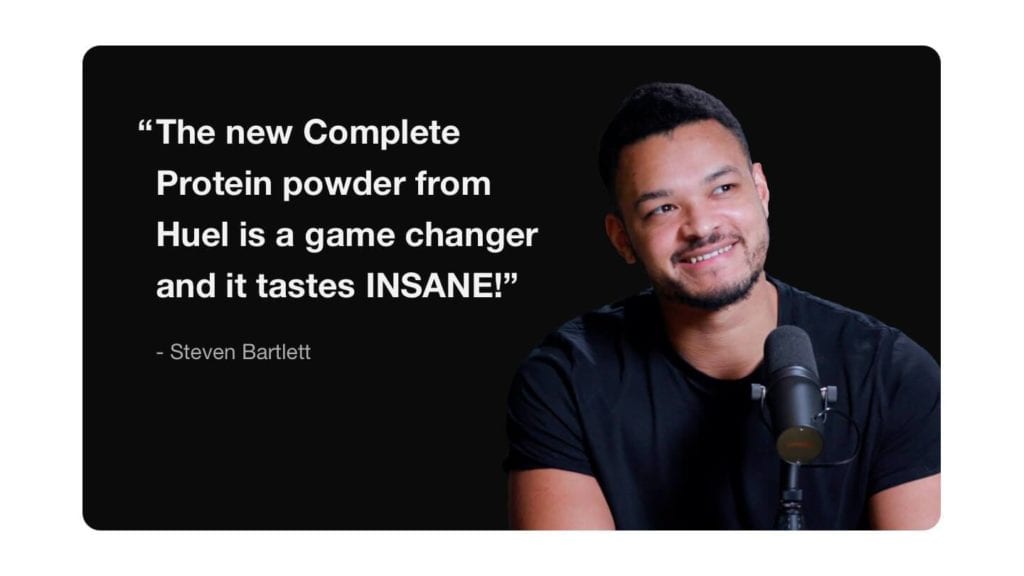 Therefore, is Huel Complete Protein as tasty as they promise?
Huel Complete Protein Taste Summary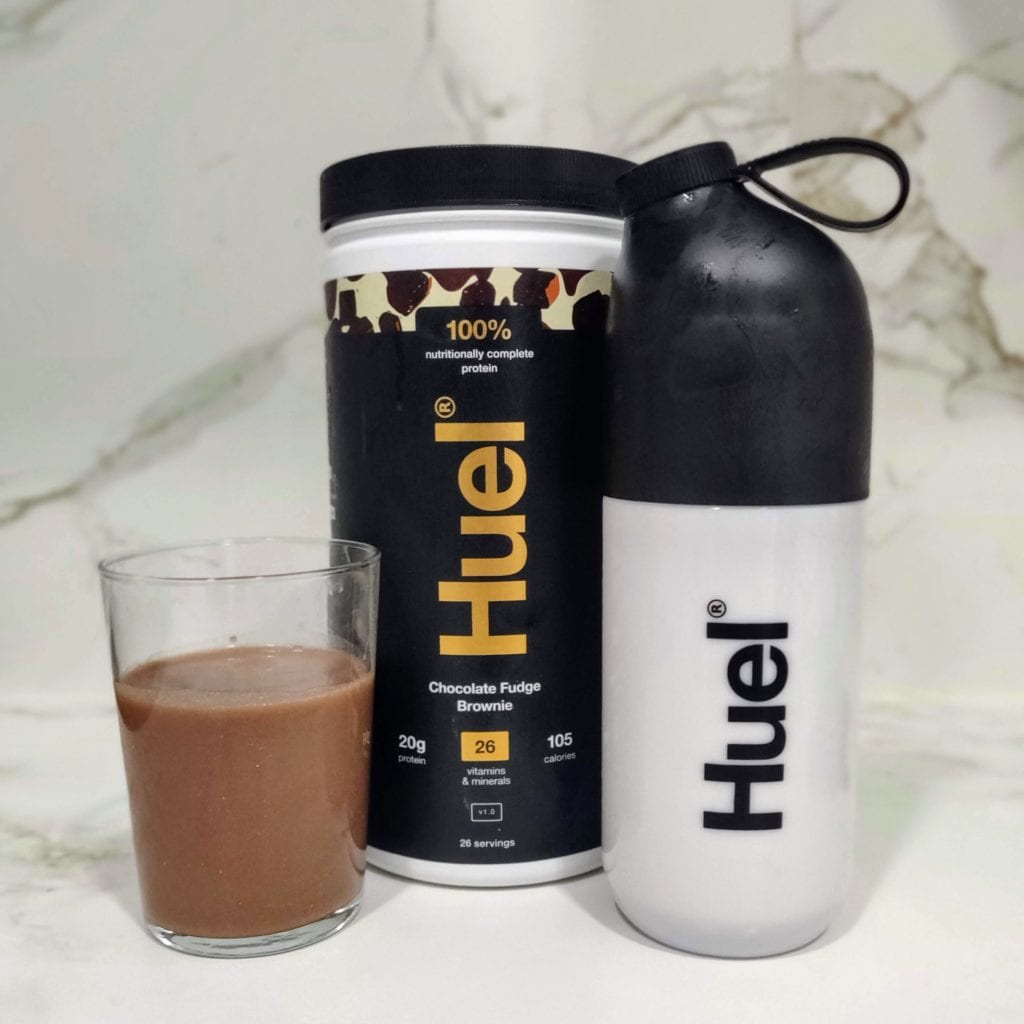 | | |
| --- | --- |
| Best flavour | Chocolate Fudge Brownie*. |
| Taste | Very good, slightly watery and not as chocolaty as I was hoping for, though. Not overly sweet or artificial tasting. |
| Texture | Thin and with good consistency, but has a little bit of chalkiness (very minor). |
| Easy to Mix | Excellent. Mixes without any issues and you will get 0 lumps. |
| Satiety | OK. |
| Easy to Clean | You'll find some red bits (curcumin) at the bottom of the shaker, but it cleans very easily. |
| Afterthoughts | It doesn't have a clean chocolate taste, and you can kind of perceive the protein's own taste. However, it's easy to drink and does not leave any lingering aftertaste. |
Pro-Tip: Use oat milk to make it more creamy and improve texture.
Huel Protein Taste Review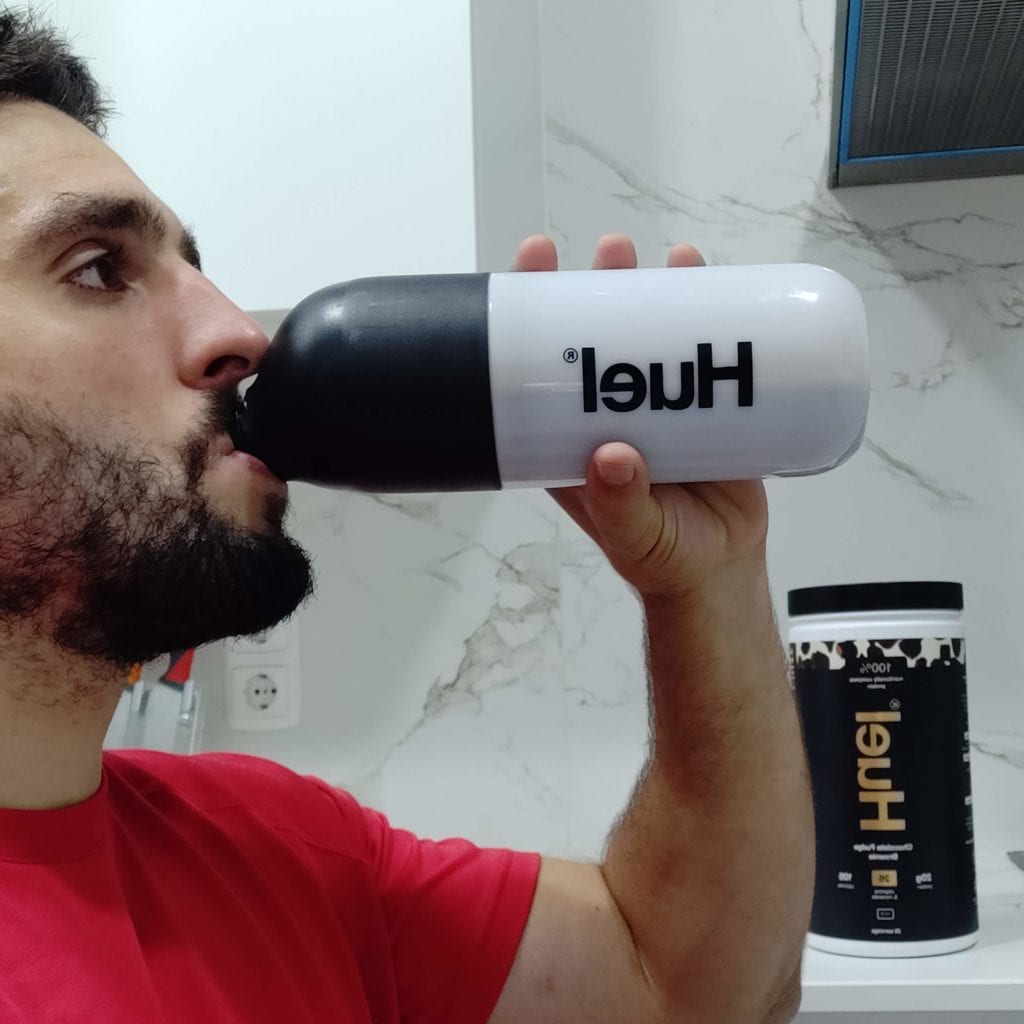 Unfortunately, I was only able to try out 1 of the 6 flavours available. However, this being Chocolate Fudge Brownie, and considering I mostly consume chocolate flavoured protein shakes (for over 10 years), I think I have a good grasp on it.
In summary, I would say this is an above average tasting shake. It's nothing mind-blowing, and not the best vegan protein shake that I've tried (that would be Wondershake).
If I were to highlight the strengths, the lack of strong artificial flavouring or any weird flavours would be two I would mention. It's a pleasant shake that mixes well with water, albeit I like it better with milk.
As for weaknesses, I think that the flavour falls a bit flat, and does not deliver what the scent promises. In fact, I would recommend adding less water than recommended to get a stronger flavoured shake.
Taste From a Huel Shake Consumer Point of View
Nevertheless, if you are used to the Huel meal replacement shake; you will find this to be vastly different:
No oaty taste, or earthy taste. Anyone who's tried Huel knows that it first tastes of Huel (oats, flax, ground earthy flavour), and then whatever flavour is meant to be. The protein shake tastes like chocolate powder with water, and has almost no backdrop.
Not as thick or consistent, more watery. Secondly, you will notice that it feels like it lacks sustenance. It does not have the same body or thickness, nor any bits at all. It's closer to drinking water than to eating, unlike Huel's shake.
Taste is closer to what's promised, it's cleaner.
It doesn't fill you up the same way and it's much easier to down it.
So What About the Other Flavours?
Since I wasn't able to test them out yet, here is a video made by fellow expert Clive:
More about Huel
Learn about Huel, Review
I've made a more in-depth Huel review in another article, so I'm not here to discuss Huel in detail.
However, for those who are unfamiliar with Huel or this is their first interaction with the British brand here's a short intro.
Huel is a complete food company, aka they specialise in making nutritionally complete meals. Launched in 2014 by Julian Hearn and James Collier, they aimed to provide a plant based meal that contained all the essential nutrients your body needed.
Since then, Huel has had a huge success with their vegan, high protein complete food. Their philosophy of nutrition first and taste a close second, great customer service, and clean branding has led them to sell over 150M meals all over the world.
They might not have been first, but they are the most successful.
Other Huel Products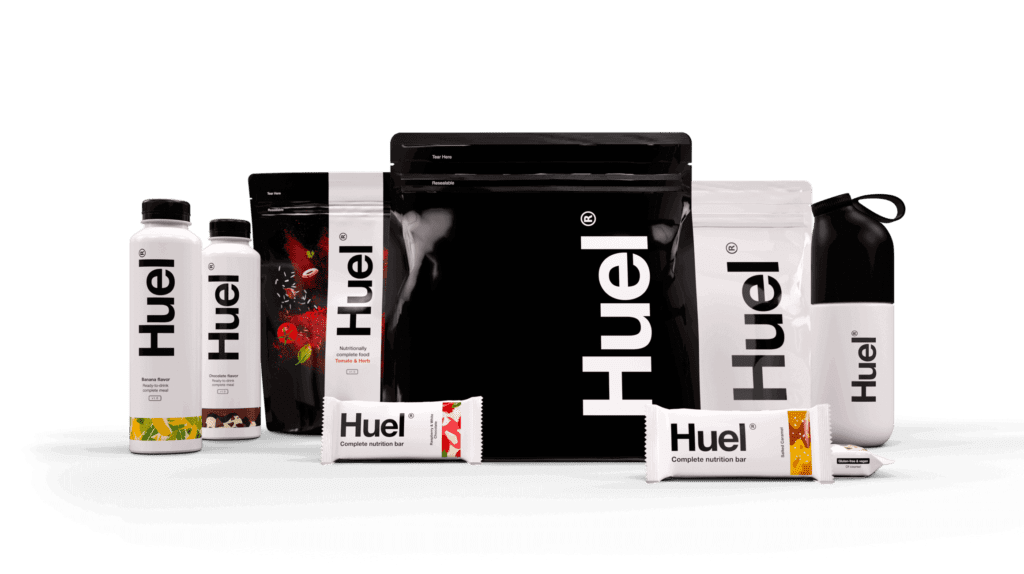 Again, there are individual reviews of each Huel product, so please make sure you check them out for more information.
Nonetheless, these are the other meals that Huel offers:
Huel Original Powder. Meal replacement shake.
Huel Black. Low carb, high protein meal replacement shake.
Huel RTD. Their ready to drink meal replacement.
Huel Bars. The ideal snack.
Huel Hot & Savoury. The meal replacement that you can chew on and have it hot.
As you might have noticed, up until now Huel has been focused on meal replacements, and this is their first protein powder.
Huel Protein Packaging
For the first time, Huel has also changed the packaging with their protein powder. While the meal replacements come in 1.75kg bags (non-recyclable), the protein comes in a ~750g recyclable tub.
This tub contains 26 servings of 105kcal. It has a very slick feel to it, and it's easy to use (unlike the bags that can be a pain to close).
Huel Protein Price and Shipping
The price of Huel's Complete Protein will vary depending on the country that you live in, how many tubs you buy and the subscription discount (10%). The minimum order is two tubs.
In the UK, it will be where the protein is cheapest, and you will be able to have free next day delivery on orders above £20.
In Europe, on the other hand, free shipping starts at €44, and the base prices will be a little higher.
Unfortunately, as for the 30th of June, this product is not available in the US, yet. This should come before the end of July, though.
| | | | |
| --- | --- | --- | --- |
| per serving | UK (£) | EU (€) | US ($) |
| Expensive | 0.96 | 1.32 | 1.38 |
| Cheapest | 0.72 | 0.84 | 0.98 |
| Free Shipping | 20 | 44 | 25 |
Each tub you buy will make the price per serving cheaper.
Is Huel Protein Worth it?
So how does Huel Complete Protein compare in price to other protein powders? I'll discuss other aspects and some more alternatives below.
| | | | | |
| --- | --- | --- | --- | --- |
| Price per serving | Wondershake | MyProtein | Four Sigmatic | Bulk |
| Expensive (£) | 1.46 | 0.77 | 2.83 | 0.91 |
| Cheap (£) | 0.82 | 0.54 | 1.89 | 0.63 |
Comparison among some of the top UK protein manufacturers. All servings are around 20g of protein.
As you can see, Huel's protein powder is not very expensive, and it's just above the cheaper vegan proteins (MyProtein and Bulk), but below the premium offering. Therefore, while it's not the cheapest shake, I think it's good value for money.
If I were to compare it with whey based proteins, Huel will be an even better option, since these tend to be slightly more expensive.
Huel Protein Powder vs
After having discussed the price and Huel Complete Protein fits within the market, let's do a deeper dive on how it compares to other vegan protein powders.
It goes without saying that there's a huge offering, multiple brands and the alternatives will vary according to your preferences. Furthermore, in vegan proteins you will find blends (mix of different protein sources), isolates (pea, soy, rice), etc.
Here, I've chosen 2 well known brands and a more premium protein powder to compare too.
Overview
| | | | | |
| --- | --- | --- | --- | --- |
| | Huel | Wondershake | MyP Vegan | Four Sigmatic |
| price (£)/serving | 0.96 | 1.46 | 0.77 | 2.83 |
| kcal/serving | 105 | 89 | 110 | 150 |
| Main Protein | Fava, Pea, Hemp | Pea, Soy, Hemp Rice | Pea, Fava | Pea |
| Protein (g) | 20 | 21 | 20 | 18 |
| Sugar (g) | 0 | 1 | 0 | 2 |
| Vegan | Y | Y | Y | Y |
| Organic | N | N | N | Y |
| Artificial Sweeteners | Y* | Y | Y* | N |
Prices shown are most expensive option. *Also offers unflavoured and unsweetened option.
It's worth noting that out of all these protein powders, only Huel Complete Protein provides vitamins and minerals (and the complementary nutrients). In fact, besides Huel, Soylent (in the US) is the only company offering a similar product: Soylent Complete Protein.
Does including micronutrients (and other essential nutrients) make Huel Complete Protein better or healthier than other plant-based protein powders?
Yes and no. It's a nice feature to have, but none of them are in high enough quantities to "change" your life. You will still have to consume your daily essential nutrients through your diet. Thus, I think it's more a nice thing to have, rather than game-changing.
Huel Protein vs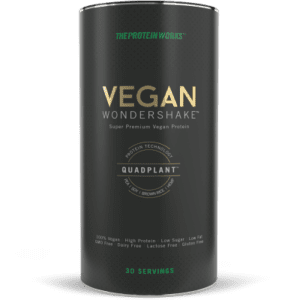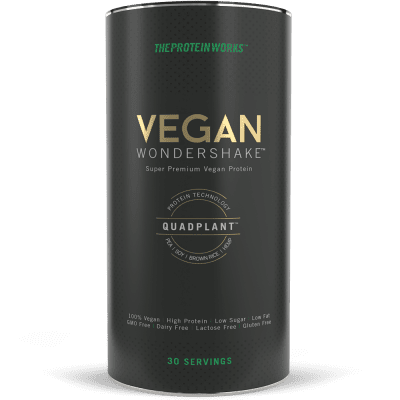 This "premium" vegan protein shake is the best protein powder that I've tried. It's creamy texture, delightful taste (Cookie's and Creme is astonishing) took me by surprise. It's undoubtedly much better than most whey based shake, and one that I strongly recommend. While being slightly more expensive than Huel, it offers a better taste, more flavours, and more protein/kcal.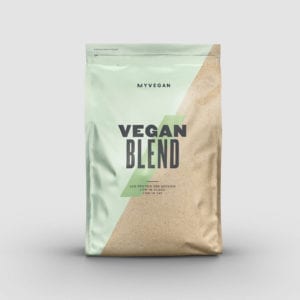 MyProtein Vegan
For most of my student (uni) life, I consumed MyProtein's protein powders. The cheap price tag, vast array of flavours, and OK price were good enough for me. It was mostly the whey based (Impact Whey) powder, though. The vegan one has always been worse. In fact, I think that Huel's powder is tastier and feels better.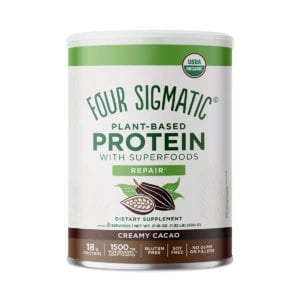 Looking at the higher end, we have Four Sigmatic's protein powders. These are creamy protein powders focused on providing you something extra. They are organic, without artificial sweeteners, and include ashwagandha, reishi, chaga, lion's mane (among others) to boost your mental and physical health further. Only for those who care about the details and are willing to pay extra.
Huel Complete Protein vs Huel Black
Some long time Huel users seem to be a little confused with Huel Complete Protein and what the differences are with Huel Black. In fact, many customers have stated that they use Huel Black as their primary source of protein.
| | | |
| --- | --- | --- |
| per serving | Huel Black | Huel Complete Protein |
| Energy (kcal) | 400 | 105 |
| Price (£) | 1.63 | 0.96 |
| Protein (g) | 40 | 20 |
| Macros (C/P/F) | 20/40/40 | 14/76/10 |
| Aim | Replace meal | Snack |
| Source of protein | Pea, Fava, Hemp | Pea, Brown Rice |
As it can be seen in the table above, the main difference is that Huel Black is designed to replace meals with, whereas Complete Protein is intended to be a snack.
In practice, this makes a huge difference:
Huel Black has more calories per serving. It's meant to keep you energized.
Huel Black is high protein, high fat. Much of that energy is provided from fat. Humans are better at getting energy from fat or carbs, rather than protein.
Huel Black has significant amounts of essential nutrients. Technically, you could live off Huel Black, while doing the same from Complete Protein would be unhealthy. This is because the first includes more of essential nutrients like carbs, fibre, omega-3, PUFA, MUFA etc.
The texture and the taste of the shakes is also vastly different due to the ingredients that they use. Black is a much thicker, more consistent shake, with a stronger taste of pea protein.
Huel Complete Protein FAQ
How's Huel Complete Protein different from other vegan proteins?
The main difference is the addition of micronutrients (vitamins & minerals) as well as some other essential nutrients (omega-3). This aim to make the shake "complete", providing you with all essential nutrients. Most protein shakes, on the other hand, only provide you with protein.


Does Huel Complete Protein contain caffeine?
None of the flavours contain any caffeine.


Is there any gluten in Huel Complete Protein?
No, it's gluten-free.


Does Huel's protein shake have artificial sweeteners?
Yes, all the flavoured options are sweetened using sucralose. However, they do sell an unflavoured & unsweetened option.


What is the difference between Huel Complete Protein and Huel Black?
While Huel Black is high in protein, it's not as high as Complete (40% vs 76% protein). Furthermore, the first is intended to replace a meal (400kcal) and has more nutrients (fats, carbs).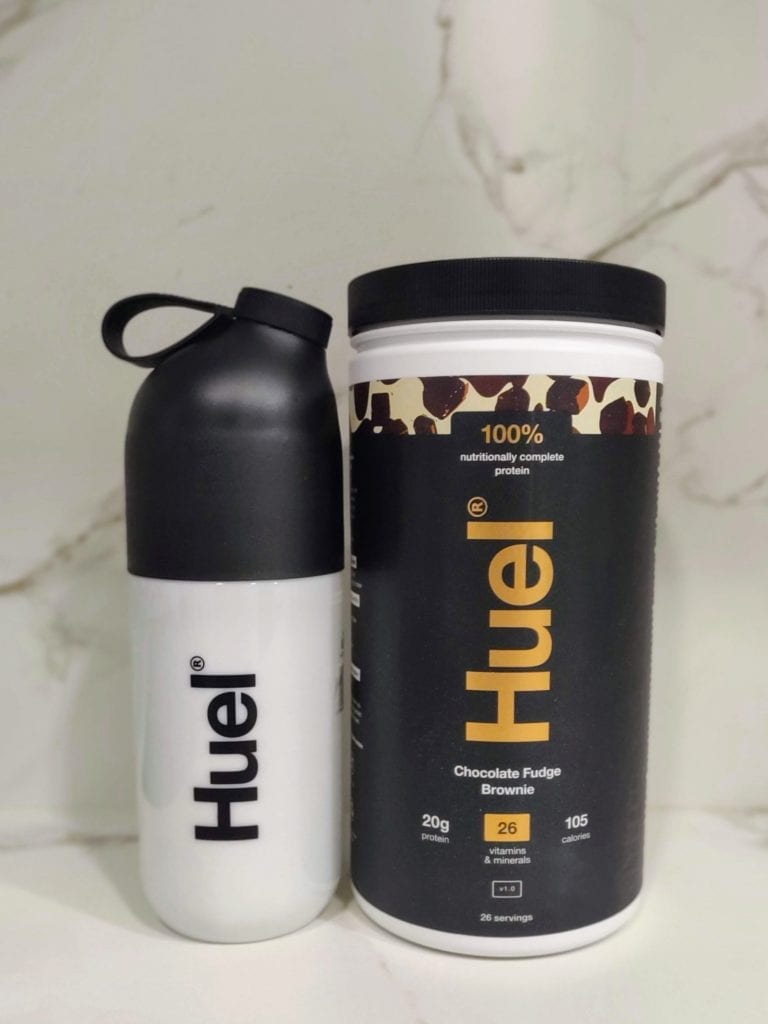 Verdict – Huel Complete Protein Review
This Huel Complete Protein review it's coming to an end.
If I had to sum up my thoughts, I would have to admit that I'm positively surprised by Huel's protein shake:
Huel Complete Protein tastes good, it has a competitive price, and a good array of flavours to start with. Plus, it offers something unique nutritionally, thanks to it's high EAA content and the added nutrients (vitamins, minerals).
Note: I would've liked to try more flavours to have a better idea about the taste.
However, I wouldn't call it a game changer. The added nutrients are nice, but they don't seem meaningful enough (if you are consuming a single serving). I do also think that calling it complete is slightly deceptive, since key nutrients are in very low quantities (carbs).
Nonetheless, this should not be an issue for anyone who's looking for a protein shake and Huel Complete Protein is a god damn good protein powder.
All in all, I think that Huel Complete Protein is a great option to anyone looking for a protein shake (vegan or not).
Huel Complete Protein
Starts at £0.96 | €1.32
Pros
6 awesome flavours
20g per 105kcal, 5g of BCAAs, high EAA content
Significant bulk discounts
Taste is pretty good, more enjoyable than the meal replacements
Includes 26 vitamins & minerals, probiotics, and some omega-3
Cons
Not really nutritionally complete
Texture can feel a little chalky
Added micronutrients are nice but not essential for a protein shake