KetoChow Review | Find Out Why This Is the Most Popular Keto Shake
In this KetoChow review, we will have a look to one of the most popular keto meal replacement shake brands in the USA. Behind the less stylized more practical website, there's one of the best keto shakes offerings, with dozens of flavours – both sweet and savoury- to choose from. However, the flavours are not the only thing that make Ketochow shakes beloved, there's also the competitive price and the customization they offer.
Alas, I come to this KetoChow shakes review with high hopes and expectations. Let's see if KetoChow is as good as their users claim!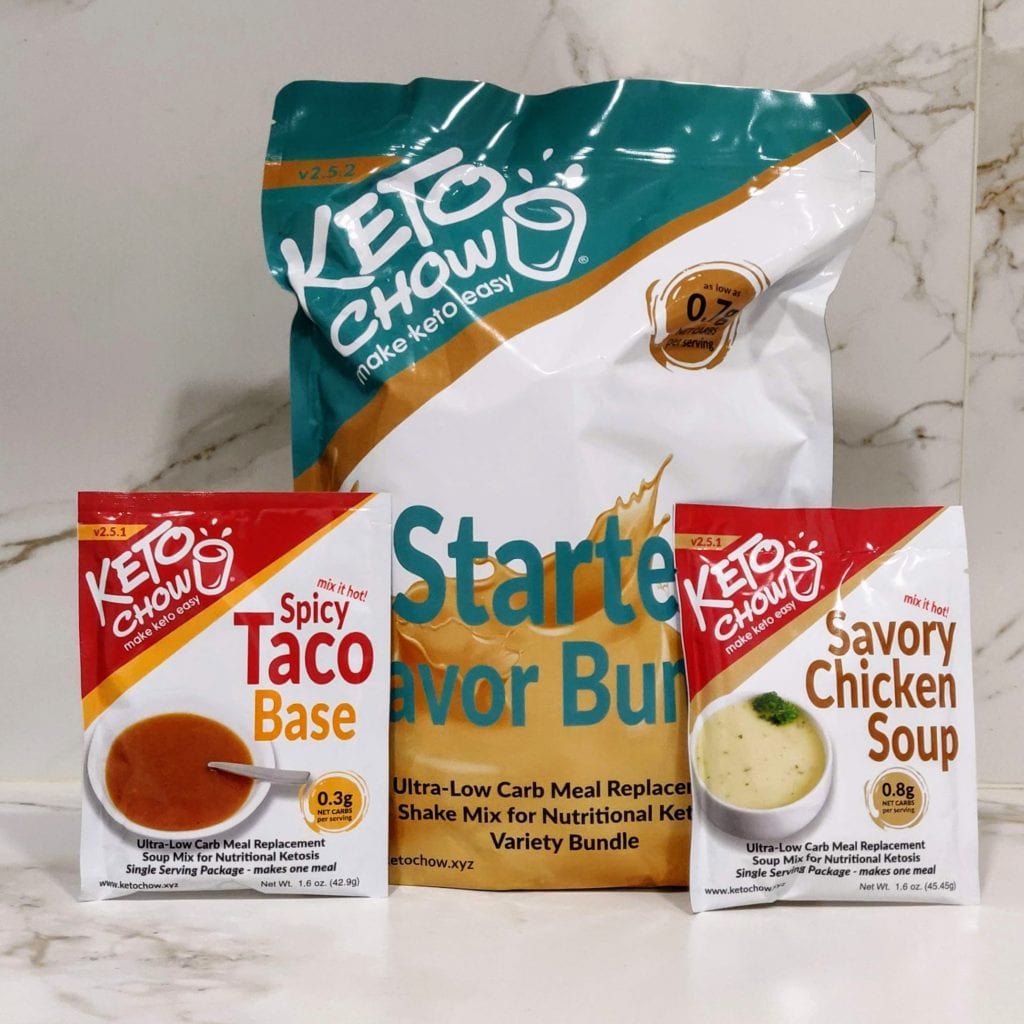 ---
KetoChow Review at a Glance
Flavours: Apple Pie, Banana, Chocolate, Chocolate Mint, Chocolate Peanut Butter, Chocolate Toffee, Cookies and Cream, Eggnog, Limited Edition, Meringue, Mocha, Natural Strawberry, Orange Cream, Peaches and Cream, Pistachio, Pumpkin Spice Caramel, Raspberry, Rootbeer, S'moores, Salted Caramel, Snickerdoodle, Strawberry, Vanilla, Chicken Soup, Creamy Tomato Basil, Spicy Taco, and Beef Soup.
---
Opinion
There's plenty I've learned during this Ketochow review; but I believe the company thrives due to 3 main factors:
Shakes are easy to like, pleasant to drink and have a lovely consistency.
Tons of flavour to choose from – helps you not to get bored.
Great community driven brand that rewards and incentivizes loyalty.
In fact, while their website can be messy and hard to navigate at first, it hides tons of information, plenty of resources to help you with keto, and good bundles for you to get the best deals.
As for the downsides, besides the website UI (which they've been working on), the fact that you need to add your own oil is an inconvenience. So, it's the lack of omega-3 in the keto powder mix.
However, I agree with most Keto Chow reviews: this is a great product that can make your keto diet easy and tasty.
What I like
1. The best array of flavours of any keto meal replacement. At any point you have 16 sweet flavours and another 4 savoury options. You won't find more options elsewhere.
2. Flavours actually taste different and are true to the description.
3. Great flavour bundles to start with. Without a doubt, this is the best way to start with Ketochow.
4. Tons of resources on the site. From personal experiments from the founder Chris, to keto guides and nutrition tips; you will find all the info you need for your Keto Chow journey.
5. Superb texture and consistency.
6. Great community to interact with. Like the r/ketochow subreddit.
7. 10,000+ Positive user reviews. Clearly, I'm not the only one who likes them.
What I dislike
1. High in saturated content. The base powder does not have any, but the recommended serving (using heavy cream or butter) will provide you with over 100% of your daily values. Despite new research disputing the daily values, I feel that it's a little too heavy on saturated fats.
2. No added fats option. For a brand that has been around since 2015, I would've liked to see an "added fats" option, for the sake of convenience.
3. Lack of omega-3 fatty acids.
4. I feel like it could be slightly cheaper. It's always hard to make meal replacements cheap, but I think Keto Chow could be a little more affordable, or offer bigger bulk discounts.
5. Shipping to anywhere but the US is expensive.
Improvements
1. Improve the UI of the website. Currently being done.
2. A base powder with fats included would be great. However, Ketochow believes on providing flexibility and options to their customers, so we might not get that in the near future.
Nutritional Breakdown
As far as nutrition goes, Ketochow is a fairly standard keto meal replacement shake: a dairy based, heavy fat, low carb formula.
Nonetheless, it is worth mentioning that KetoChow shakes require you to add your own oil to make them complete. This is, the powder that they provide lacks fat sources. Consequently, Ketochow recommends adding oil, butter, heavy cream or similar to make the shake complete.
KetoChow Nutrition Overview
| | | |
| --- | --- | --- |
| | Dry Mix | With 1/2 cup Heavy Cream |
| Kcal/meal | 126 | 533 |
| Macros (C/F/P) | 11/85/4 | 15/20/75 |
| Vegan | No | No |
| Keto | Yes | Yes |
| Features | GF, SF | GF, SF |
| Non-GMO | Yes | Yes |
| Organic | No | No |
| Includes Probiotics | No | No |
| Artificial Sweeteners | Yes | Yes |
| Synthetic Additives | Yes | Yes |
| Contains All Micronutrients | Yes | Yes |
| Controversial Ingredients | None | None |
Based on Banana. The features when adding heavy cream remain the same.
Milk Protein Isolate, Acacia Gum, Potassium Citrate, Salt, Xanthan Gum, Choline L-Bitartrate, Magnesium Malate, Potassium Chloride, Flavors, Vitamin Blend (Ascorbic Acid [C], Vitamin A Palmitate, Cholecalciferol [D3], D-Alpha Tocopherol Acetate [E], Niacinamide [B3], Zinc Gluconate, D-Calcium Pantothenate [B5], Ferrous Gluconate [Iron], Manganese Amino Acid Chelate, Copper Gluconate, Pyridoxal 5 phosphate [B6], Riboflavin [B2], Thiamine [B1], Potassium Iodide, 5-Methyltetrahydrofolate [Folate/B9], Lutein, Lycopene, D-Biotin, Chromium Picolinate, Selenium Amino Acid Chelate, Menaquinonem [K2], Molybdenum Amino Acid Chelate, Vanadium Amino Acid Chelate, Methylcobalamin [B12]), Sweetener (not in all flavours.
Note: The following look at the macros will be done looking at their recommended serving with added heavy cream.
Carbohydrates
Based on 533kcal serving (heavy cream):
Total Carbs: 8g, 3% of DV.
Sugars: 1g.
Of which added: 0g.
Fibre: 6g, 21% of DV.
Funnily, the carbohydrate content can be the most and least noteworthy part of a keto shake. Of course, you will care that the net carbs are low; so that your body will stay in a ketogenic state.
However, at the same time, you want to make sure you have enough fibre, as it is in the case of Ketochow. They use Acacia and Xanthan fibre for this. Interestingly, they swapped from psyllium husk (commonly used) to these new sources for an improved texture and extra benefits to ketosis.
Furthermore, it is worth noting that there are no sugar alcohols in Ketochow shakes.
Protein
Based on 533kcal serving (heavy cream):
Total Protein: 26g, 51% of DV.
Source: milk protein isolate.
When it comes to protein, most of the best keto shakes use dairy-based protein sources. In this case, Ketochow shakes contain milk protein isolate.
While whey is usually considered the gold standard, whole milk protein has been proven to be as effective to promote muscle protein synthesis. It contains slow release proteins, that are absorbed in a longer period of time.
Besides, milk protein is a great complete source of essential amino acids. Below you can see the breakdown, as provided by the manufacturer:
| | |
| --- | --- |
| Amino Acids | g per serving |
| Alanine | 0.81 |
| Arginine | 0.93 |
| Aspartic Acid | 1.83 |
| Cysteine | 0.27 |
| Glutamic Acid | 5.19 |
| Glycine | 0.45 |
| Histidine | 0.66 |
| Isoleucine | 1.29 |
| Leucine | 2.31 |
| Lysine | 2.04 |
| Methionine | 0.72 |
| Phenylalanine | 1.20 |
| Proline | 2.43 |
| Serine | 1.35 |
| Threonine | 1.05 |
| Tryptophan | 0.36 |
| Tyrosine | 1.32 |
| Valine | 1.56 |
Amino acid profile of Ketochow shakes, per serving.
Fats
Based on 533kcal serving (heavy cream):
Total Fats: 44.1g, 57% of DV.
Saturated Fats: 27.5g, 138% of DV.
Omega-3s (ALA): ?g.
Omega-6s: ?g.
One of the main "issues" is that Ketochow does not provide you with any fats in the mix. As such, the actual fatty acid composition will depend on what you add to your shake.
Consequently, I recommend you adding some omega-3 fatty acids to your shake, or supplement them with pills; since most common sources have none.
If you follow the recommended serving of using butter or heavy cream, you'll get more than 100% of your DV of saturated fats. Despite the WHO recommendations to substitute these with MUFA or PUFA, the owner of Ketochow found butter to work best for his health (check experiment and bloodwork).
There are in fact, more recent studies challenging WHO's current understanding of saturated fats and advocating for higher recommended values.
Note: the founder of Ketochow, Chris, has looked into adding omega-3s in the mix, but has opted against it due to cutting the shelf life to 3 months; or having to add ALA, which does not convert well into EPA and DHA.
Micronutrients
Besides, if we look at the micronutrients, KetoChow provides you with enough for almost all micronutrients. They even add vitamin K2 and D3 which are often hard to find.
You can read the exact amounts in the label, as well as the exact form of the chemical that they use; which is very welcomed for nutrition geeks.
The only issue is that the iron seems to be a little low (13%). According to the founder, this is to avoid toxicity issues with the upper limit. Instead, they follow a 4mg/day recommendation.
Allergens
KetoChow uses dairy based ingredients.
Tasting Test
For this Ketochow taste review, I bought the flavour bundle pack, which contains 6 flavours; as well as, 2 savoury options. Even though, these are not all the flavours they offer, I believe I have a good idea on what they offer.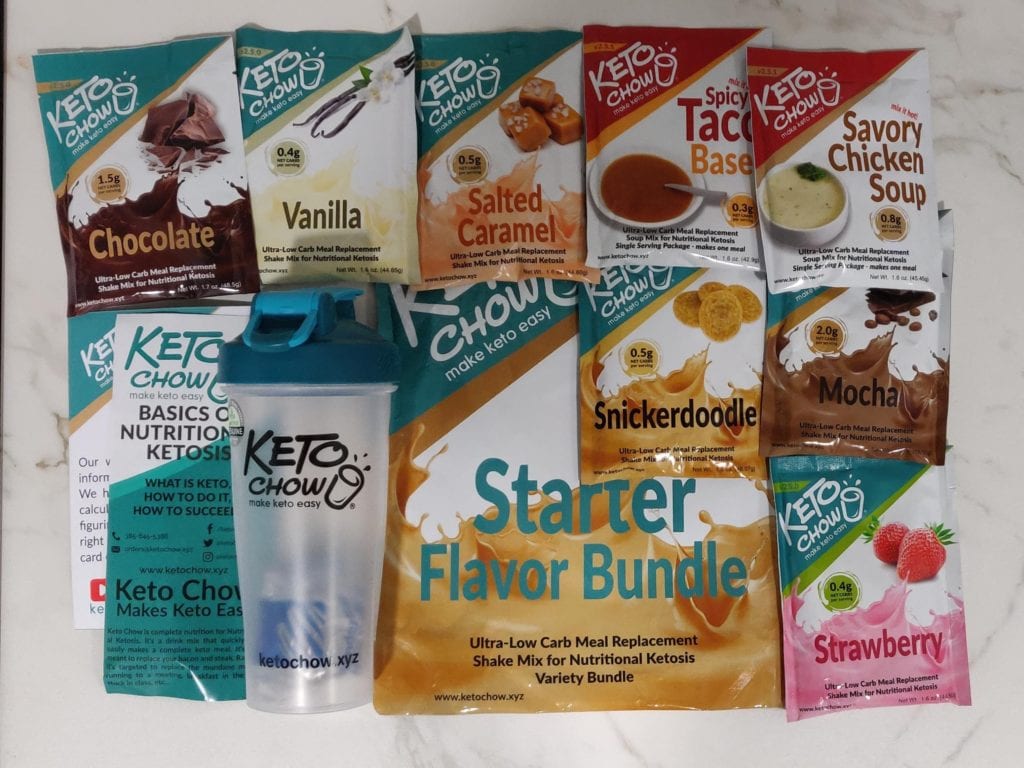 | | |
| --- | --- |
| Best flavour | Mocha. |
| Taste | Extremely sweet, which usually balance well with the fattiness that the fat of choice adds. Most flavours are very strong, but also close to what the name says. |
| Texture | The shakes are quite thin, with no bits at all. Ketochow blends very well, and achieves a great consistency – one of the shakes' best attributes. |
| Easy to Mix | Perfect. |
| Satiety | All shakes, no matter what I used to mix, kept me full for 4h. |
| Easy to Clean | The shaker is very easy to clean, although I would recommend scrubbing and using soap to clean the fat. |
| Afterthoughts | Lovely texture and actual taste makes drinking each one of these an adventure. It's important you play with your fat choices, since it can affect the taste considerably. |
Butter, Heavy Cream or Oil? Which Tastes Better?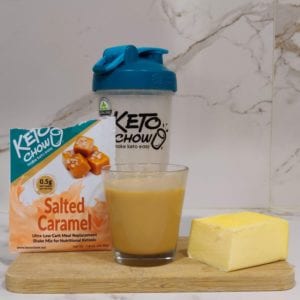 The short answer is butter. I believe that the creaminess/butteriness does the best job at "masking" or balancing the innate sweetness of Ketochow shakes. A balance that enhances the flavour, and makes it a delight to drink.
As for the other two, I enjoyed the oil better, but I believe it will come down to personal preference.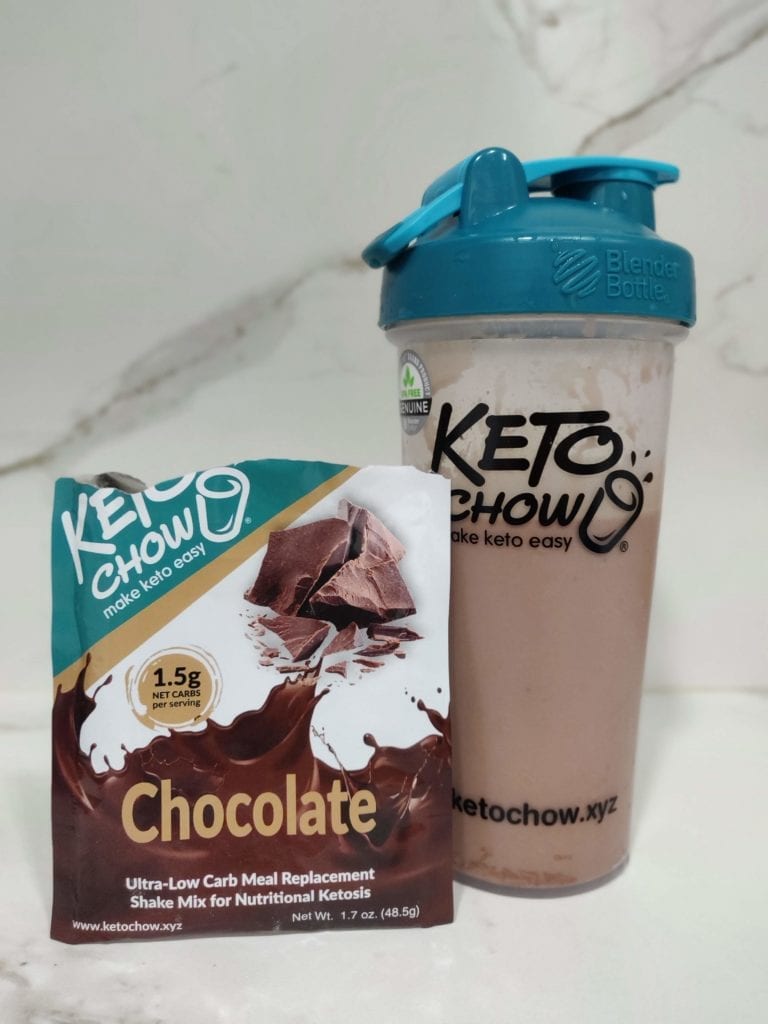 More about Ketochow

Learn about Ketochow, Review
The story behind Ketochow is very heart moving. Although, the company was started in 2015 by Chris Bair; he's first steps in keto were in 2009. Back then, it was the only way to treat his son's epilepsy. However, the keto diet was badly explained to them and hard to follow.
With this in mind, it was a few years later he heard about Soylent and started working on his own "easy" keto solution. Ketochow was born from an open sourced formula they created; with humble beginnings hiring friends and family.
Now, in 2021, they are one of the go-to keto meal replacement companies in the US. However, they still stand by their origins and try to provide with an actual meal replacement that puts quality above money.
Ketochow's Mission
As mentioned above, Ketochow is intended to be a proper meal replacement, and Chris himself uses it daily. To this day, Ketochow is about family, healing and superior nutrition.
Plus, they also focus on making keto easy, helping people avoid common mistakes (keto flu), and make a shake that's actually enjoyable.
As a matter of fact, Keto Chow's community is one of the largest in the meal replacement space, with a really active subreddit where Chris interacts regularly.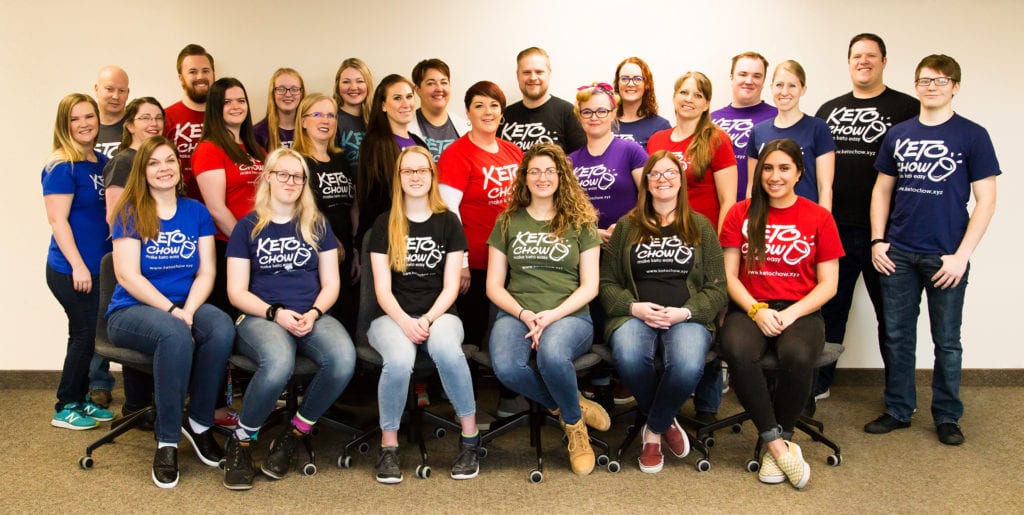 Keto Chow Products
Besides the meal replacements that I'm discussing in this Keto Chow review, there are other products that they offer to complement them. Among the many supplements they offer daily electrolytes, magnesium drops, fish oil and more.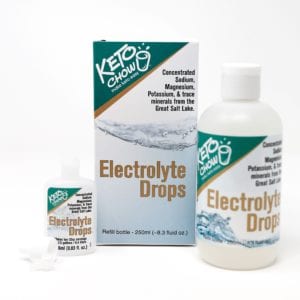 Electrolyte Drops
Combination of key minerals (electrolytes) that will help you vs the keto flu
Help you with water retention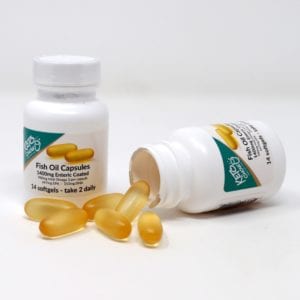 Fish Oil Capsules
Great way to get the omega-3 lacking in the shakes
647mg of EPA and 253mg of DHA
Best supplement to take alongside Ketochow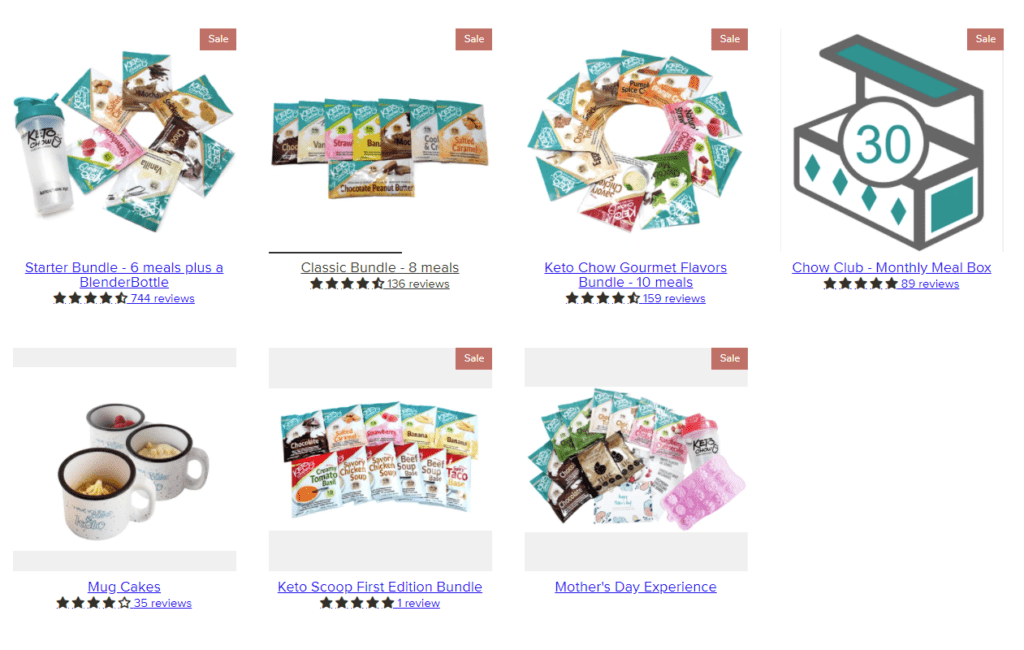 Beside these, I think that the best thing Keto Chow offers are the bundles. For this review, I bought the starter bundle – which I highly recommend as a beginner point.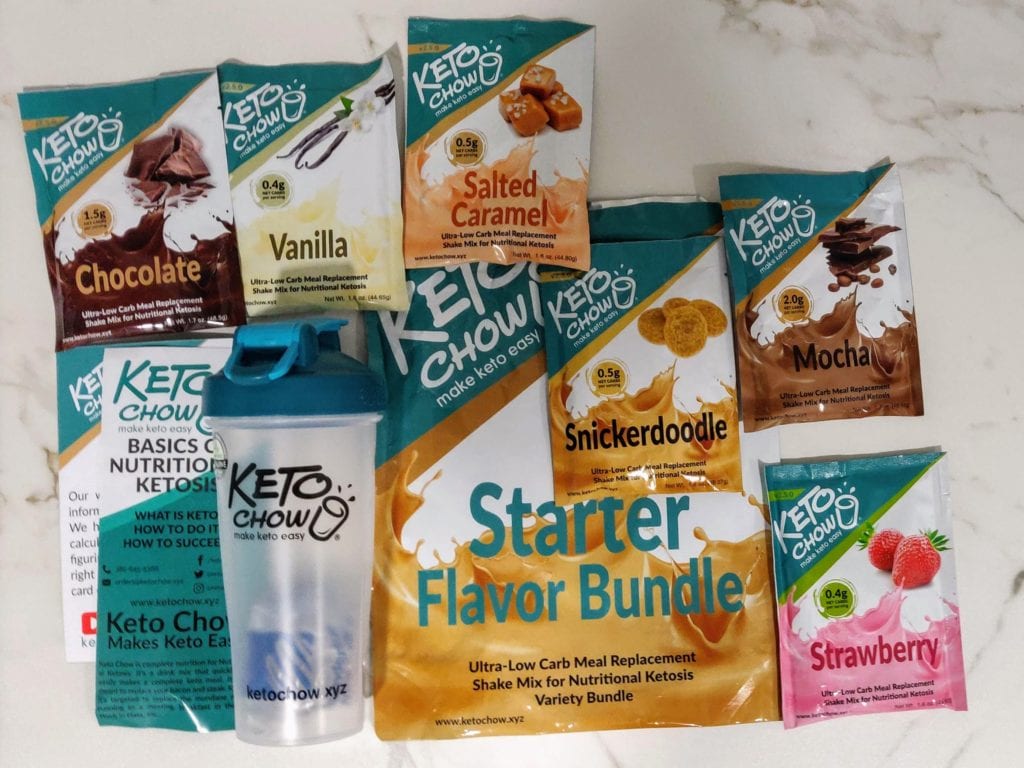 Pricing
Some of the best keto shakes can be quite expensive, costing upwards of $4/400kcal servings. Taking that into consideration, I do think that Keto Chow is quite affordable.
It does, however, benefit from the fact that they do not add the fats themselves, and when taking both together it's true that there are more affordable options out there.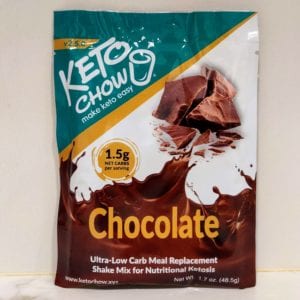 Let's have a look at Keto Chow shake prices:
Limited Edition –> $4.75/meal – Only available temporarily and sold in single serving sachets.
Single Meals –> $4.75/meal – One serving meals.
21 Bulk Meal Bag –> $2.81/meal – Total order costs $58.95.
21 Single Meals –> $3.42/meal – in total $71.93.
Besides, you can enjoy small bulk discounts (up to 6%) when you buy multiple bags or packs. They also do weekly discounts on the flavour of the week (10% off).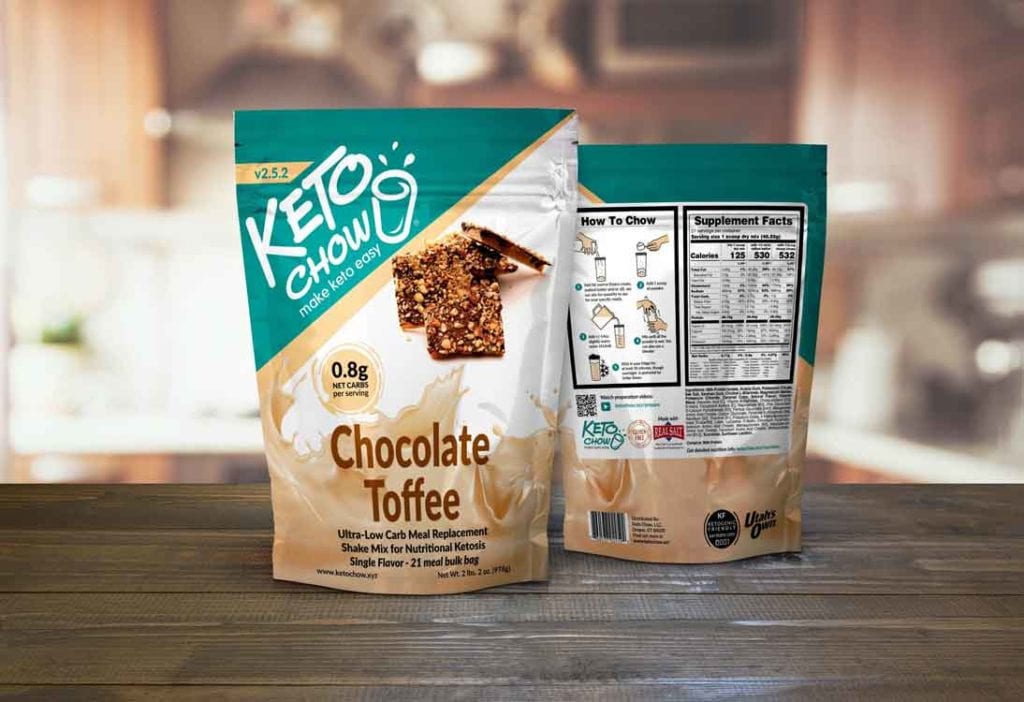 Let's have a quick comparison to other keto shakes:
| | | | | |
| --- | --- | --- | --- | --- |
| Price ($)/400kcal | Ketochow | HLTH | Sated | Ample K |
| Expensive | 4.75* | 4.00 | 3.00 | 5.27 |
| Cheap | 2.60* | 3.33 | 2.40 | 4.48 |
In Ketochow's case, that's' the price per serving. It will be cheaper per 400kcal, but it will vary with the fat source that you add.
Shipping
There's good news and bad news. On the plus side, they offer worldwide shipping; therefore you will be able to enjoy your keto shakes anywhere. However, this can be really expensive and it will depend on the weight (order size).
As for the US, you will be able to get free shipping and it will delivered next day.
The only place where you cannot currently get Ketochow is the UK, due to Brexit.
KetoChow vs
In the previous section of this Ketochow review, we've briefly looked at how it compares price wise to some of the best keto shakes. The fact is, that in the US, there are plenty of keto meal replacements. However, there's usually one key difference: those who have fats already included (Ample, Sated); and those who require you to add fats (Keto Fuel, Ketochow).
Overview
| | | | | |
| --- | --- | --- | --- | --- |
| | HLTH | Ample K | Sated | Ketochow |
| price ($)/400kcal | 4.00 | 5.27 | 3.00 | 2.80* |
| kcal/serving | 400 | 400 | 400 | 533 |
| Macros (C/P/F) | 12/27/61 | 10/13/79 | 5/18/79 | 15/20/75 |
| Protein (g) | 27 | 13 | 18 | 26 |
| Sugar (g) | 2 | 1 | 0 | 1 |
| Fiber (g) | 9 | 5 | 6.7 | 9 |
| Fats (g) | 27 | 35 | 35 | 44 |
| Net Carbs | 4 | 3 | 1 | 2 |
| Vegan | N | N | N | N |
| Organic | N | N | N | N |
| Real Food based | Y | Y | N | N |
| Artificial Sweeteners | N | N | Y* | Y |
| Synthetic Additives | Y | N | Y | Y |
| GMO | N | N | N | N |
Prices shown are most expensive option. For Ketochow, the price shown is the serving price on the 21 meal bag.
All but Ketochow include their own fats. Ample and HLTH Complete Meal are more natural shakes; and also include probiotics and digestive enzymes on their sakes. As for Sated, it's one of the most affordable but well rounded options. They also offer tons of flavours, although not as many as Ketochow.
Ketochow Shakes vs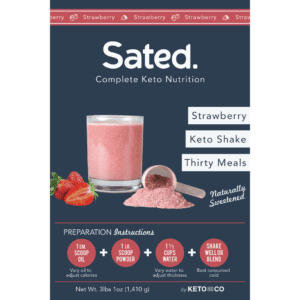 Sated Naturally Sweetened
Sated has 2 main advantages. On one side, they include the oil mix so that you don't have to add your own. Plus, they are also cheaper than Ketochow. As for the taste, I think that Ketochow is slightly sweeter, while Sated has a more oily touch. I really enjoyed both, it will come down to personal preference.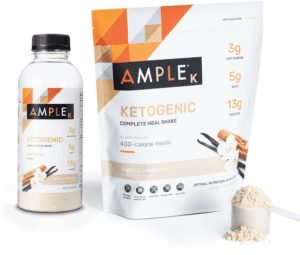 This is a great keto shake when it comes to quality of ingredients and taste. In fact, it's my favourite chocolate-flavoured shake; and I do think it's easier to drink than Ketochow. However, it lacks key vitamins and minerals, and it's also considerably more expensive.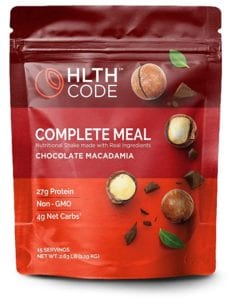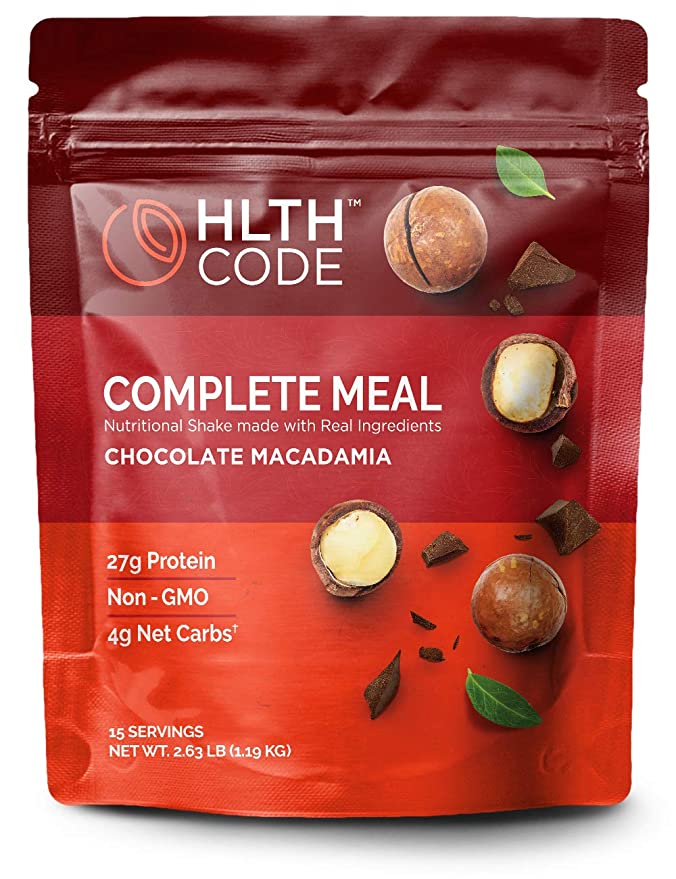 Lastly, one of my latest finds. HLTH Complete Meal is one of the easiest keto shakes that I've tried. Not only because of the great taste, but also because they add digestive enzymes and apple cider vinegar. In my experience, it did really make a difference. However, with only 2 flavours to choose from; Ketochow offers much more.
Ketochow FAQ
How do Ketochow shakes taste?
In my experience, extremely sweet. However, they have strong flavours, and are very pleasant to drink; reminiscent of milkshakes.


Is Ketochow vegan?
No, they use protein derived from animal products.


What is the best fat to add to my Ketochow shake?
According to Chris (owner), melted butter is what works best. Otherwise, if you want to avoid the saturated fats, you can add olive oil or avocado oil. I would recommend adding some fish oil, too.


Do I need to buy Electrolytes with my Ketochow shakes?
No, these supplements are not mandatory or necessary. The electrolytes can help you if you suffer from keto flu or is your first time doing keto (more likely to get the flu).


Where is Ketochow made?
Ketochow is made in Utah, USA.


What sweeteners are in Ketochow shakes?
They contain sucralose; but are free of stevia or erythritol. Some might contain monk fruit extract.


Can I lose weight with Ketochow?
Yes, in fact keto diets are often used for weight loss purposes.


---
Verdict – Ketochow Reviews
So you've made it until the end of this Ketochow review? Perhaps, you are wondering whether Keto Chow shakes are worth it or not?
Well, simply put, I think that Keto Chow's meal replacement shakes are some of the best keto powder meals that you can buy. For me, these are the highlights:
An unparalleled array of flavours, that actually taste good and different from each other.
A brand that cares about it's customers, has a great sense of community, and offers you with tons of free information on their site.
Reasonably affordable.
Therefore, it's to not surprise that they have tens of thousands of positive reviews on their site. However, I think that if you are not a fan of sweet flavours, you might not enjoy Ketochow as much.
Similarly, I believe that the more convenient keto shakes (with added fats) can be a very attractive alternative for many (including me) and perhaps easier for beginners. For those, I recommend looking at HLTH or Sated.
Pros
Over 21 delicious flavours
Great texture, nice consistency and pleasant to drink
Tons of info about keto in the site
Starter bundle is great
10k+ positive reviews - for a reason
Cons
Need to add your own fats
No omega-3 on the base powder
Recommended serving is high in saturated fats
Shipping outside the US is expensive