OWYN Review | Are Only What You Need Shakes All You Want?
Today in the LatestFuel labs, we have the OWYN review (pronounced O-Win). Mostly known for their protein shakes, they've recently released a high protein keto friendly offering, as well as a ready to drink meal replacement.
An acronym for Only What You Need, this particular product focuses on providing complete nutrition while remaining allergen free. They boast being free of the top 8 allergens which are dairy, gluten, soy, eggs, peanuts, tree nuts, fish and shellfish.
So now that we know that it shouldn't be harmful to you, is it good for you? Is it actually, ya know, good? Find out that, and more in today's review of OWYN.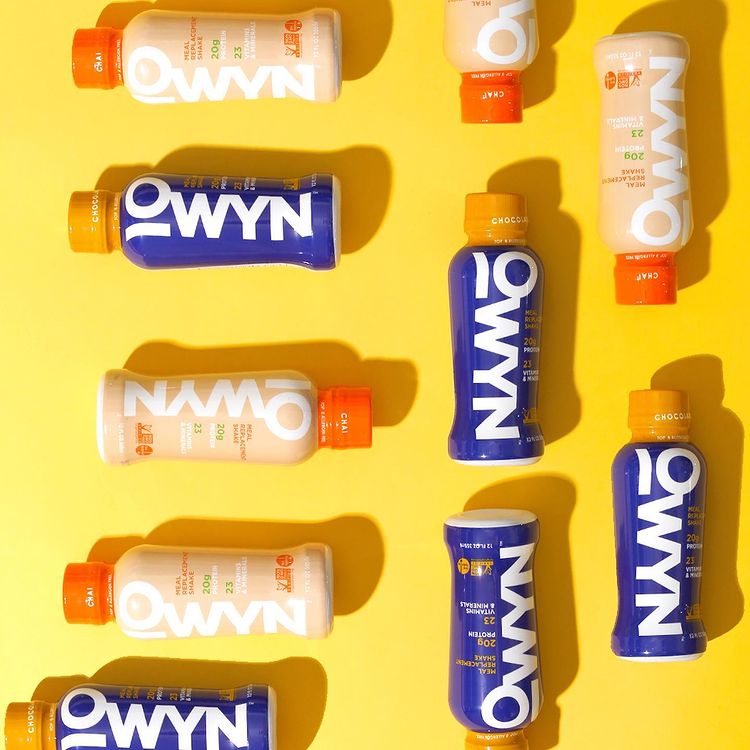 ---
OWYN Review at a Glance
Flavours: Chocolate, and Chai.
---
Opinion
Before I crack this open, I'd like to say that I really appreciate the allergy conscience approach. According to a study by FARE approximately 32 millions Americans (basically 1 in 10) have food allergies, and likely to one or more of the top 8 allergens. Personally, I'm allergic to tree nuts, fish, shellfish and have dairy sensitivities, so this hits home.
As for the product, its protein is part pea protein, which I've found to have a unique taste, not horrible, but not great. We'll see if the 300 kcal it offers can keep hunger at bay and is not a chore to ingest.
Also, I wish I could have found smaller packs. At one point they were selling a smaller four pack option, but it looks to be sold out and never replaced. So we had to go all in with a full case of each flavor.
Besides, I am quite impressed with the box and bottle branding. Bottles are slim, space efficient and have gone all in with the brand. Both have a high quality feel, clearly stated brand language and even a bit of bravado with the following printed on each box and bottle:
"Now replacing other meal replacements" on Chai
"More hungry. Less hangry" on Chocolate
They're clearly talking the talk, but can they walk the walk?
What I like
1. Commitment to being allergen free. Gluten Free, Soy Free, Nut Free, Dairy Free, Egg Free, Shellfish Free, Certified Kosher… In OWYN, you will get only what you need; which makes it ideal for those who suffer from allergies.
2. Perfect levels of sweetness. Despite the fact that the taste could do with some improvements, I enjoyed the fact that it wasn't overly sweet, or packed with artificial sweeteners (sucralose) like some close competitors.
3. Fairly priced. Generous subscription discount of 20%.
4. Well executed branding. Everything about the branding (the image, the message, the site) resonated with me. It's a brand that inspires trust.
5. Slim bottle. Takes up less space. Having consume RTDs frequently, I have not seen as a slim of a bottle as this one.
6. Unique meal replacement. There are no other ready to drink products (meal replacements) without artificial sweeteners.
7. High in protein, low in sugars and low in calories.
What I dislike
1. Only available in the US.
2. There's just 2 flavours of the meal replacement, while there's plenty for the protein. Certainly, it feels like their meal replacement product is an afterthought, and I would've loved to try more flavours.
3. No powder option unlike the protein drink. Furthermore, while the protein has the more affordable protein powder without artificial sweetener option, the meal replacement is only available as an RTD.
4. Watery texture. I usually like my RTDs to have a thicker texture, more consistency to help me satisfy for longer.
5. Chai was bland.
6. No vitamin C. But why?
Improvements
1. More options for the meal replacements. As mentioned above, having more flavours or even the option to buy powder would be great.
2. Improve texture of the shakes.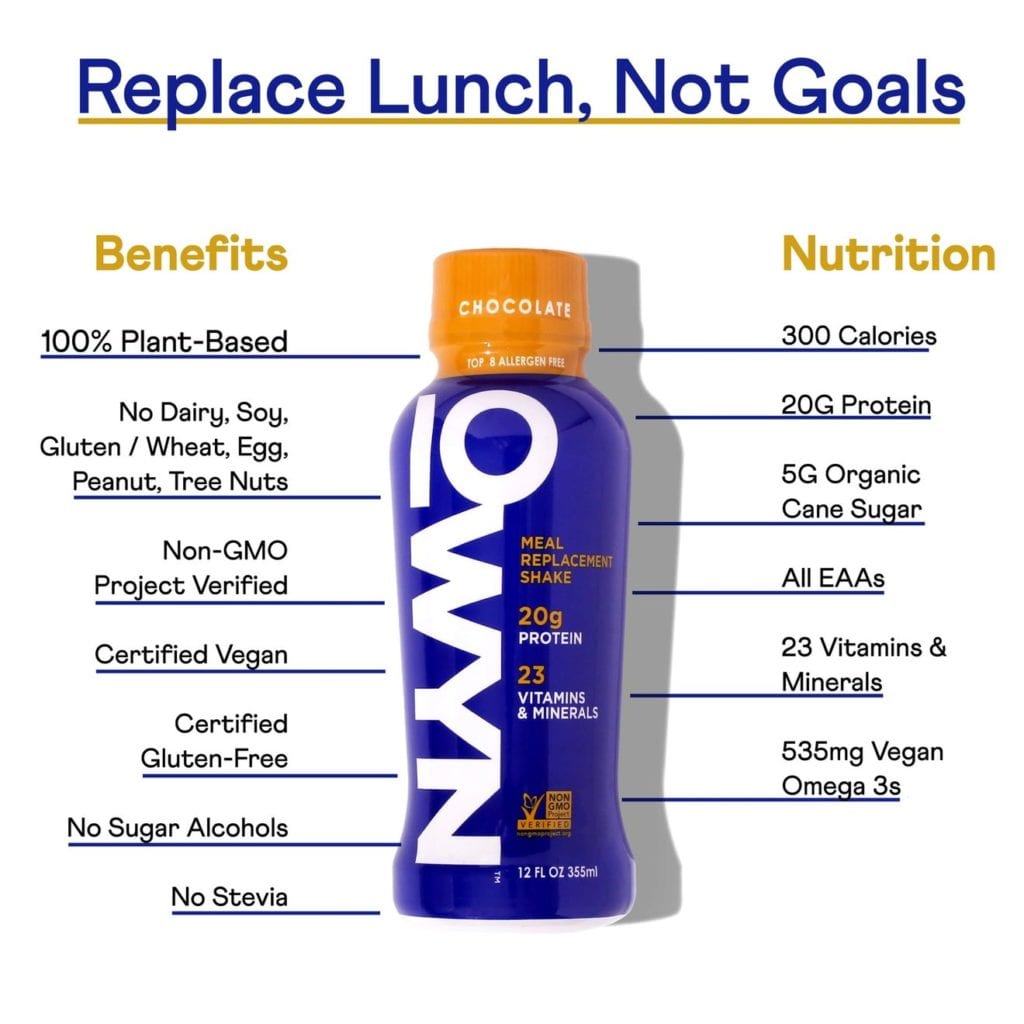 Nutritional Breakdown
The nutritional aspect is one of the defining features of OWYN meal replacement shakes. They are hypoallergenic shakes, which means:
Soy-free shakes
Plant-based
Egg-free
Free of artificial sweeteners
No nuts
etc.
As you can observe, they try to provide you with a meal replacement that will give you all the essential nutrients you need; but without any allergens. A commendable try considering that 1 in 10 Americans has some sort of allergy.
OWYN Shakes Nutrition Overview
| | |
| --- | --- |
| | OWYN Shakes |
| Kcal/meal | 300 |
| Macros (C/P/F) | 43/27/30 |
| Vegan | Yes |
| Keto | No |
| Features | GF, SF, EF |
| Non-GMO | Yes |
| Organic | No |
| Includes Probiotics | Yes |
| Artificial Sweeteners | No |
| Synthetic Additives | Yes |
| Contains All Micronutrients | Yes |
| Controversial Ingredients | None |
Based on Chocolate.
Water, OWYN Pea Protein Blend (Pea Protein, Organic Flaxseed Oil, Oat Powder, Organic Pumpkin Seed Powder), Tapioca Dextrin, Sunflower Oil, Organic Cane Sugar, Cocoa Powder, Natura Flavour, Vitamin & Mineral Mix, Sunflower Lecithin, Himalayan Pink Salt, Monk Fruit Extract.
Carbohydrates
Based on 300kcal serving:
Total Carbs: 31g, 10% of DV.
Sugars: 5g.
Of which added: 5g, 10% of DV.
Fibre: 3g, 10% of DV.
43% of the energy comes from carbohydrates in OWYN meal replacement shakes. Despite the fact that this is relatively low when compared to recommendations and the standard American diet, it's fairly standard for meal replacements.
Anyhow, the main carbohydrate sources are oats and tapioca dextrin. The latter is more common in RTD products, due to solubility issues for oats; however, I think oats are more nutritious.
On top of that, OWYN shakes also have 5g from organic cane sugar. This is quite uncommon, since most prefer to stay as low sugar as possible. However, OWYN prefers to provide sweetness from high quality real sugar, rather than artificial sweeteners.
Lastly, I would also like to point out that the OWYN meal replacements are a little low in fibre, sadly.
Protein
Per 300kcal serving:
Total Protein: 20g, 40% of DV.
Source: pea protein.
While other ingredients like oat powder, pumkin seeeds etc. might contribute slightly to the total amount of protein; the bulk of it comes from pea protein.
This has been the protein of choice for vegan shakes due to it being almost complete; allergen free and non-dairy based. In this case, OWYN claims to provide with all essential amino acids. While true, it might be lower in certain key amino acids than a whey based equivalent (leucine).
Nonetheless, both have similar efficiency to promote muscle growth after exercise.
Fats
Per 300kcal serving:
Total Fats: 10g, 15% of DV.
Saturated Fats: 1g, 5% of DV.
Omega-3s (ALA): 0.53g.
Omega-6s: ?g.
When it comes to fats, it's good to see that OWYN will provide you with all the essential fatty acids, including 535mg of omega-3 (from flaxseed).
In fact, they use a very common pairing of flaxseed oil and sunflower oil to provide you with a drink with a well balanced mono-/poly-unsaturated fatty acid profile. Plus, there's no added MCTs or other saturated acids, following the USDA guidelines.
Micronutrients
Regarding the micronutrients, you would expect at least 15% of all the vitamins and minerals in a 300kcal meal replacement.
Well, good news, since OWYN shakes provide you with 20-30% of all essential micronutrients. All with the exception of Vitamin V, which none is given. This comes to a huge surprise, considering how essential and easy to add this vitamin is.
Sweeteners
As mentioned previously, OWYN does not add artificial sweeteners. They do, however, add monk fruit extract (and sugar) to sweeten their drinks.
Allergens
Only What You Need shakes pride of not having any allergen.
They go even further with this through rigorous vetting of suppliers, maintaining a documented chain of custody and by testing, then retesting every ingredient. These tests are conducted independently by third party laboratories. In fact, OWYN is the first brand to be recognized by FARE (Food Allergy Research & Education), possessing it's seal on every bottle.
Tasting Test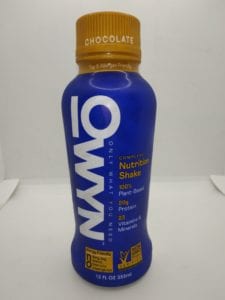 | | |
| --- | --- |
| Best flavour | Chocolate. |
| Taste | Chai was bland and forgettable, whereas Chocolate actually tasted stronger, but yet not overly sweet. |
| Texture | One of the biggest disappointments, considering RTDs have a lovely consistency usually. This one was a little watery and loose. |
| Easy to Mix | N/A |
| Satiety | Surprisingly good, I was able to be satisfied for over 2h with 300kcal. |
| Easy to Clean | N/A |
| Afterthoughts | Glad to see that there was no weird aftertaste, or the background taste left by artificial sweeteners like sucralose. It made it feel cleaner. Plus, I didn't truly notice pea protein, which usually overpowers everything else. Good drink. |
OWYN only has two flavors in their meal replacement stack, chai and chocolate….so we'll start with chai.
Chai is… Rather Forgettable
Upon opening the bottle, which has a tear-down plastic outer seal, and an aluminum under cap seal, I was greeted to a rich, spice filled aroma. Wide eyed and full of anticipation, I take my first sip. Hmmmm….not as flavorful as I had hoped.
On the plus side, it doesn't have an odd undertone like other pea protein products I've tried.
On the negative side, it's just kind of muted in taste. Now let down a bit, I finish the bottle, wishing I had blended it with something, which I think could work well for this flavor.
Furthermore, I noticed the texture of chai is kind of loose, and watery, much like skim milk. It felt closer to a juice drink seeking to quench my thirst, rather than rid me of my hunger. Not ideal for my preferences, but it was easy to drink, and I guess if you're in a hurry, it would be much easier to chug quickly, since it's not very thick. 
Chocolate is Good, Reminiscent of the Old Soylent Cacao
As for chocolate,  it had a stout chocolate scent, and I could already tell that its consistency was thicker than chai too. First taste…..it's nearly identical to Soylent!! Like seriously, if you blindfolded me, it'd be tough to tell the difference. Soylent Cacao specifically, not the newer, sweeter chocolate. But I can definitely say that it was better than chai.
OWYN vs Soylent, Which One Tastes Better?
Speaking of Soylent, when comparing it to the dominant player in the ready-to-drink space in the US, OWYN is not far off, but does fall a bit short. Soylent has it beat in availability, taste and satiety. Keep in mind that Soylent has been at this in some form or another for nearly ten years now, while OWYN is still new on the scene, with time to improve in these areas. 
As such, I prefer Soylent's Cafe flavours, when compared to Chai. They have a lovely texture, distinct flavours and are a delight to drink in the mornings.
As for the Chocolate, I was a big fan of Soylent Cacao, thus, I love OWYN Chocolate. I prefer it to Soylent Drink Optimized Cacao. Yet, there's no denying that the 6 flavours Soylent offers, gives the OG brand an advantage.
More about OWYN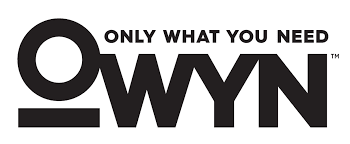 Learn about OWYN, Review
OWYN was founded by husband and wife duo, Kathryn Moos and Jeff Mroz in 2017. They both competed at the highest levels of athletics, soccer and football respectively, and realized the importance of clean, simple, and tasty nutrition.
As they searched for products that claimed to provide the "best nutrition" they only found products that were animal based, and contained synthetics or too much sugar. Deciding that there was nothing in the market to meet their standards, they endeavored to create their own.
OWYN (pronounced 'Oh-Win') stands for Only What You Need – and serves as the guiding principle behind how we live our lives and how we craft our products. We use Only What You Need, the essential ingredients of life, sustainably sourced from nature and slash out all the rest. No nonsense. Because proper nutrition has the power to change your life, and we don't let anything get in the way.

OWYN website.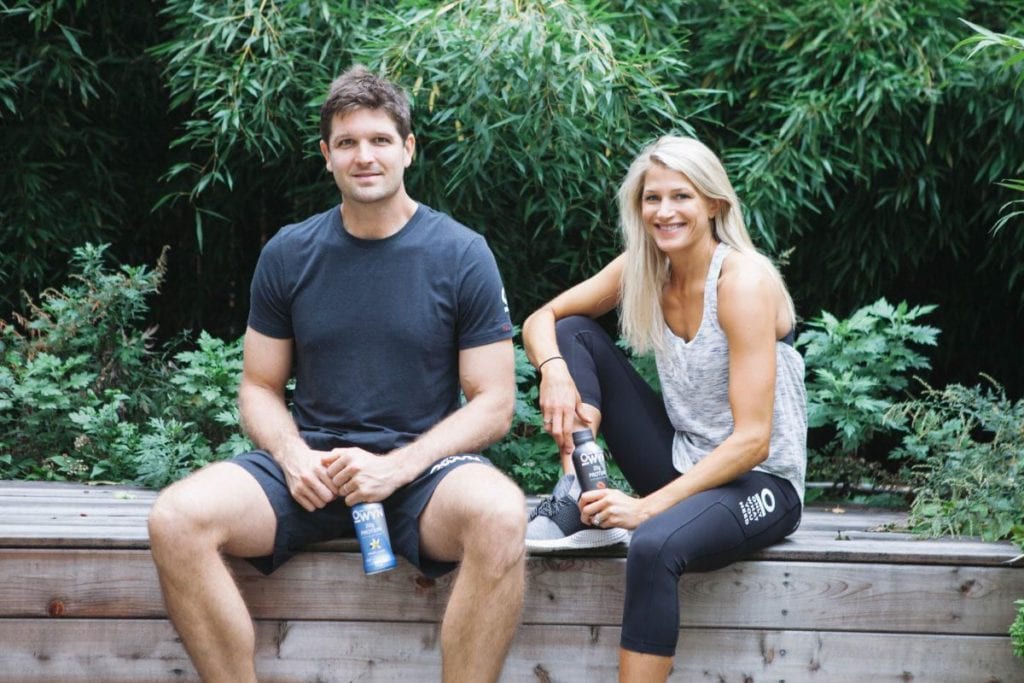 OWYN Products
So while I focused on their meal replacements; OWYN also offers soy free protein shakes on both RTD and powder formats.
Here is a quick overview of the protein powders OWYN offers: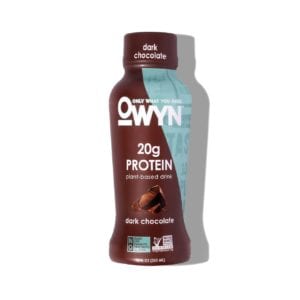 Protein shake
20g of protein per serving
180kcal
Vegan, soy free, dairy free, gluten free
Also has added green superfood blend
Designed to help you increase your protein intake, be used as post-workout meal
Available in 5 flavours
Starts at $3/serving
OWYN Protein Powder
Protein powder
20g of protein per serving
140kcal
Vegan, soy free, dairy free, gluten free
Includes superfood blend
Best to use as a boost for your protein intake
Use around workouts
Available in 2 flavours
Starts at $2/serving
| | | | |
| --- | --- | --- | --- |
| | RTD | Powder | RTD Elite |
| Kcal/serving | 180 | 140 | 230 |
| g of protein/serving | 20g | 20g | 35g |
| Source Protein | Pea protein, Organic Pumpkin seed | Pea protein, pumpkin, chia | Pea, Organic Pumpkin Seed |
| Allergen free | Yes | Yes | Yes |
| Vegan | Yes | Yes | Yes |
| Added Superfoods | Yes | Yes | Yes |
| Best for | Increase protein intake | Increase protein intake | Extra boost |
| Flavours available | 5 | 2 | 2 |
| Price per serving | $3.00 | $2.00 | $4.08 |
Allergen free includes: dairy, egg, nuts, gluten, soy.
Brief OWYN Protein Review
Similarly to the meal replacements, the main focus on OWYN is to offer a vegan protein shake without any allergens. Interestingly though, they have a bigger focus on ready-to-drink products, than the powder counterparts (usually cheaper), as seen in the table above.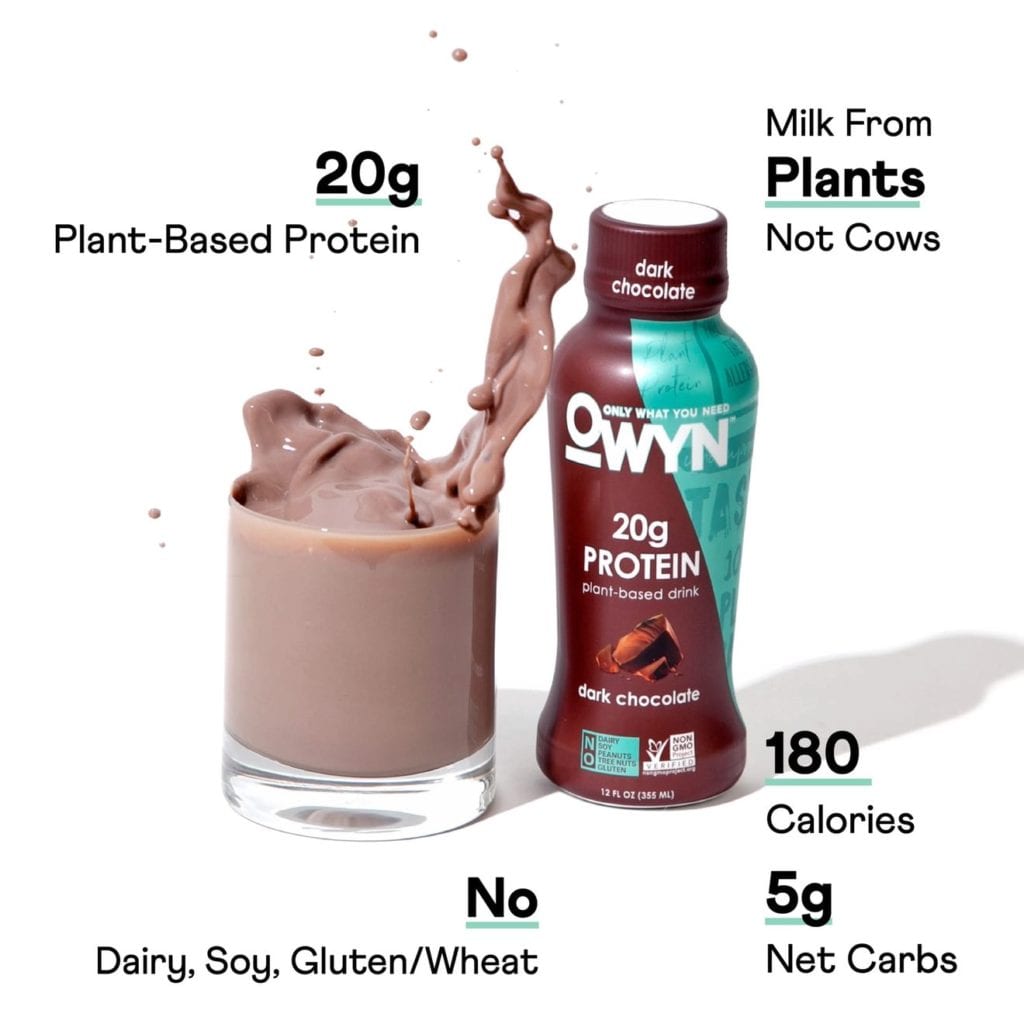 In fact, their standard OWYN protein shake (RTD) has 5 flavour to choose from (Dark Chocolate, Vanilla, Cookies and Creamless, Cold Brew Coffee, Strawberry Banana); and they are their best selling product.
Personally, I do think the offer nutritionally a solid product and I like the added greens and the omega-3 to boost my nutrient intake on my protein shake. While these add fats (7g/serving), there's research showing that fats improve protein absorption.
Is The Elite Protein Worth It?
For those looking to maximize protein, perhaps it is. However, I do not find the price tag increase worth paying for; even though it offers you 75% more protein with only 25% more calories.
The other difference between OWYN protein and OWYN Elite protein is the sugar content. The latter has 0g of sugars (as opposed to 4g); which might appeal those following a low carb diet or are looking for a keto shake.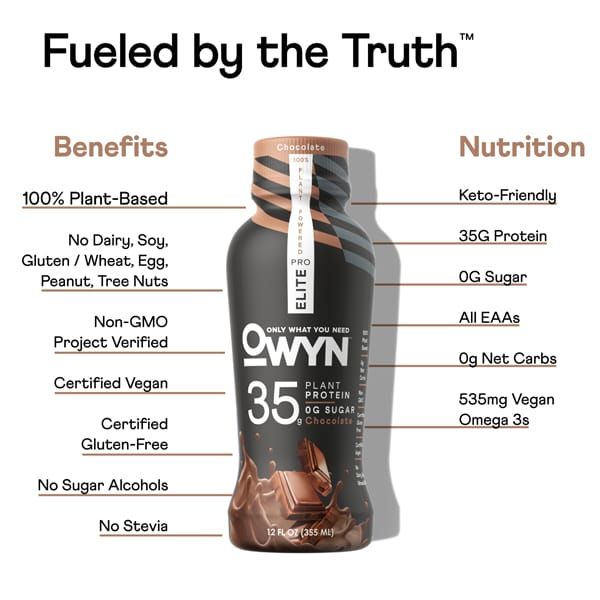 Packaging
Regarding the meal replacement, OWYN only offers the 300kcal – 355ml bottles. These are sold in 12 packs.
However, for the protein powder, they have the plastic bottles or the option to buy Tetra-Brick Cartons, which are actually cheaper as well. On top of that, they have the powder tubs, which serve 14 servings.
Pricing
Beforehand, I've mentioned the price of the different OWYN products. However, now I want to focus on the OWYN meal replacements.
OWYN's meal replacements are sold in cases of 12, 24 or 36 bottles. Pricing scales depending on how many you buy; but there's also a subscription discount:
| Quantity | Price/serving (Non-sub/Sub) | Total Price (Non-sub/Sub) |
| --- | --- | --- |
| 12 pack | $3.00/$2.40 | $35.99/$28.79 |
| 24 pack | $2.85/$2.28 | $68.38/$54.70 |
| 36 pack | $2.70/$2.16 | $97.17/$77.74 |
Subscription discount is 20%.
Shipping
Currently, the product is only available in the US, and shipping is free. Furthermore, while their protein drinks/powder are widely available (on stores), their meal replacement drinks can currently only be purchased through their website, or Amazon.
OWYN vs
Since this is mainly a OWYN meal replacement review, I will focus on comparing their complete food product to other similar ones. In fact, one of the most popular shakes in the US is Soylent, which also does very well with their RTD meal replacements.
Overview
| | | | | |
| --- | --- | --- | --- | --- |
| | Soylent | Huel RTD | Sated RTD | OWYN |
| price ($)/400kcal | 3.00 | 4.12 | 5.00 | 3.75 |
| kcal/serving | 400 | 400 | 400 | 300 |
| Macros (C/P/F) | 38/19/43 | 38/20/42 | 8/17/75 | 43/27/30 |
| Protein (g) | 20 | 20 | 18 | 20 |
| Sugar (g) | 2 | 1 | 0 | 5 |
| Fiber (g) | 3 | 6 | 6 | 3 |
| Fats (g) | 21 | 19 | 35 | 10 |
| Vegan | Y | Y | N | Y |
| Organic | N | N | N | N |
| Artificial Sweeteners | Y | Y | N | N |
| Synthetic Additives | Y | Y | Y | Y |
| GMO | Y | N | N | N |
Prices shown are most expensive option. Many of these include way to lower it.
The alternatives shown above are ready-to-drink products; however, all 3 companies have cheaper meal replacements in offer in powder form. As a matter of fact, powder is usually the more common format due to the lower cost.
Furthermore, it usually allows manufacturers to have more flexibility with the ingredients they choose. As such, you will get more natural meal replacements, or whey based shakes, etc.
OWYN Shakes vs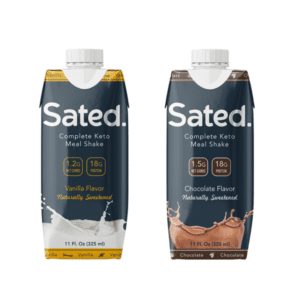 Sated's is the only keto RTD meal replacement you can buy. With only 1.3g of net carbs, it will allow you to stay in a ketogenic state after consumption. Unlike OWYN, it relies on fats to provide you with protein, and contains animal derived protein. As for the taste, it's got a more oily touch, and it's a little more dense.

Huel is the biggest brand in the world thanks to their successful powder meal replacement. However, their RTD is also quite unique, being vegan and not containing soy. It offers 4 flavours, but I think the OWYN's taste slightly better.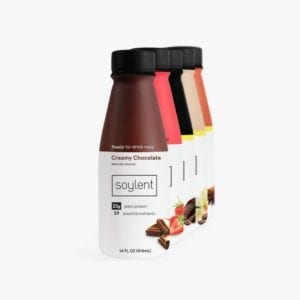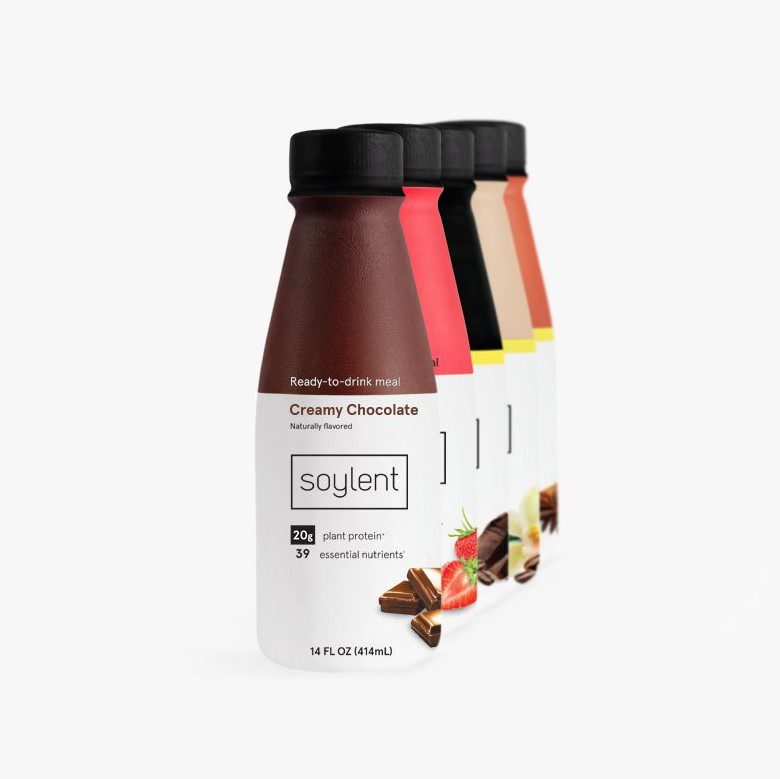 Nevertheless, when it comes to RTDs Soylent is king. While conceptually is quite different to OWYN (pro-GMO, contains soy, plenty of artificial/processed ingredients), it just tastes great. They offer multiple flavours including 3 caffeinated ones, and generally they are the best tasting RTDs in the market.
Besides these, I think it's worth mentioning that Orgain has a organic RTD shake.
OWYN FAQ
What is the shelf life of OWYN drinks?
OWYN Drinks have an 18 month shelf life. Drinks are shelf-stable without the need for refrigeration, except after opening. Once opened, OWYN RTD's will remain great for approximately 2-3 days if kept refrigerated.


Are OWYN products Non-GMO?
Yes. All OWYN products are made with GMO-free ingredients.


Do OWYN meal replacements contain caffeine?
The Chai variant has 35mg of caffeine, whereas the chocolate has none.


What is the pH level of OWYN shakes?
They have neutral pH, around 7.


Are OWYN products organic certified?
No. Despite that, they use organic ingredients as much as possible.



Verdict – OWYN Review
In this OWYN review I found it to be an interesting brand, one that has a lot going for it.
I'm genuinely impressed by how they've progressed in this competitive market in such a short time. They have really good pricing and a unique approach focusing on being allergen free.
Where I wish they'd improve mainly is on the availability of the meal replacement product specifically; which as mentioned, can only be ordered from them, or Amazon. Their protein drink is widely available at CVS, Walmart, Walgreens, Whole Foods, 7-Eleven, and many regional or local grocers, but does not contain the full scope of essentials like the meal replacement does.
Also, I'd like to see many more flavors. The protein drink has six flavors, and the option to buy cartons instead of bottles for even lower pricing. Tweaking of the formula would be welcomed to address the bland flavor and thin texture.
All that said, I find OWYN meal replacements to be a satisfactory product. They wouldn't be my first choice everyday, but I could definitely drink daily without them feeling like I'm being punished. Plus, considering they are the cheapest RTD you can find around the States, it's definitely worth keeping OWYN in mind.
OWYN Review
Starting at $3.00/serving
Pros
Hypoallergenic shake; no soy, no gluten, no eggs, no dairy, no nuts
Good options to lower the initial costs
A brand commited to bring quality meal replacements and protein powders
Unique RTD shake with no artificial sweeteners
Free US shipping
Cons
Could improve texture a little
Only 2 flavours for meal replacements
No powder option
Chai flavour is a little bland