SlimFast Review | Diet Shakes That Work, But Are Not Great
In this Slimfast review, I shall have a look at one of the best-known diet shake manufacturers.
As a matter of fact, Slim Fast has been around since 1977, and we could argue it is the original meal replacement. However, in the eyes of modern complete food consumers, it's also the devil.
For those enjoying the Renaissance of meal replacements thanks to Soylent, Slimfast shakes represent all the bad: shakes marketed for weight loss, full of sugars, lack of nutrients or good quality ingredients, etc. Aka, in theory, they are not for healthy or normal people; whereas modern complete foods are for anybody.
So today, I am here to review Slim Fast, to learn if they are truly as bad as people say, and if ultimately they should be considered a meal replacement.
Key takeaways
Slim fast offers a wide array of weight loss meal replacement shakes
Most Slimfast shakes and bars are below average when it comes to nutrition
There are no Vegan Slimfast bars or shakes
Taste is often extremely artificial and sweet
OK for rare occasions, but there are better weight loss brands out there
Find out about our top weight loss meal replacement shakes. Lose weight to never gain it back.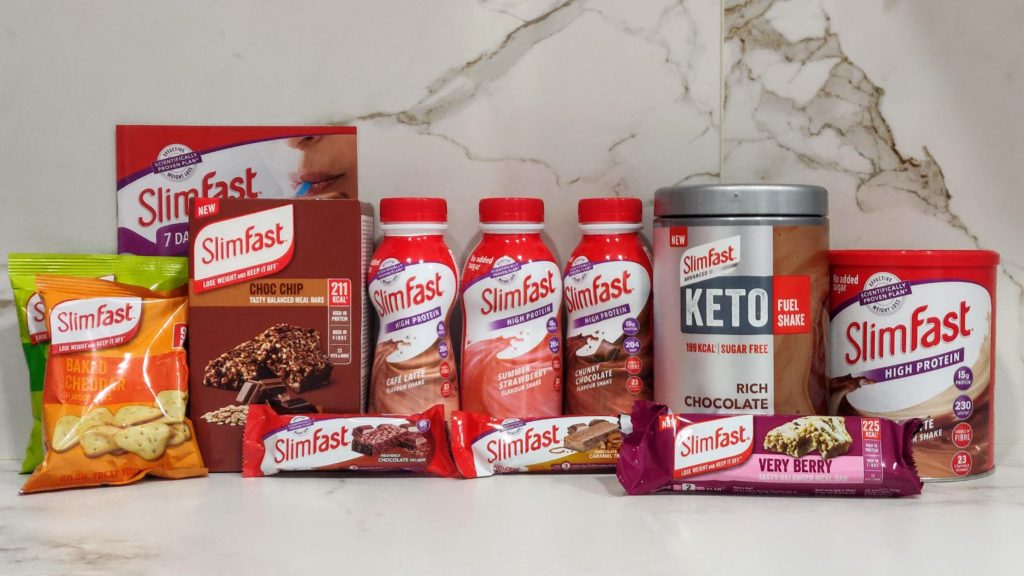 ---
Slim Fast at a Glance
---
Opinion
In all honesty, I had very low hopes coming to this Slim Fast review.
While I had some positive surprises, like the variety Slim Fast offers to its customers, I was also reiterated on my beliefs.
In short, Slim Fast can be a good shake for those looking to start a weight loss journey the first time. They offer plenty of variety, a plan and a service (app) that can help you with that goal.
However, for anyone who's looking to transition to a healthy lifestyle, Slim Fast shakes will fall short. Nutritionally they are average at best, taste is sickeningly sweet, and I didn't feel full after consuming them.
What I like
1. Variety. Powder meal replacements, RTDs, bars and snacks. Slim Fast offers you plenty of nutritionally complete meals.
2. Good bundles for beginners. On top of that, they have multiple bundles that can be very helpful to plan out your weekly meals; in particular, if you are a beginner
3. Slim Fast Original is very affordable.
4. Can be used for weight loss.
5. Widely available, and also can be purchased in stores.
What I dislike
1. Nutritionally lacking. Firstly, not all products are nutritionally complete. Secondly, even the original shake might be lacking essential nutrients. Thirdly, ingredients are low quality
2. Not good for long term use. For long term healthy lifestyle, I would recommend you looking for other complete food brands that focus more in nutrition.
3. Everything was excessively sweet.
4. The Slim Fast ready-to-drink was quite watery.
5. There are much better alternatives out there. Both for weight loss purposes and regular use.
Nutritional Breakdown
Slim Fast has many products that feature different nutritional profiles, like their Keto shakes or their high protein ones. However, there are few common nutritional features: they tend to contain artificial sweeteners, no real food based ingredients, and generally low quality nutrient sources.
Slim Fast Original Nutrition Overview
Note: The Original shakes recommend adding skimmed milk for complete nutrition. Also, the US and UK Slim Fast shakes are different nutritionally.
| | |
| --- | --- |
| | Slim Fast |
| Kcal/meal | 227 |
| Macros (C/P/F) | 45/36/19 |
| Vegan | No |
| Keto | No* |
| Features | |
| Non-GMO | No |
| Organic | No |
| Includes Probiotics | No |
| Artificial Sweeteners | Yes |
| Synthetic Additives | Yes |
| Contains All Micronutrients | Yes |
| Controversial Ingredients | Maltodextrin, soy bean oil |
*Slim Fast also sells a keto shake
Protein
Per 227kcal serving:
Total Protein: 15g, 30% of DV.
Source: Milk proteins.
There's no denying that Slim fast shakes are high in protein. Most of them use a combination of added milk proteins and those who are naturally occurring in milk (when you add skimmed milk).
Both are complete protein sources that will provide you with easily absorbable amino acids.
Fats
Per 227kcal serving:
Total Fats: 2.9g, 3% of DV.
Saturated Fats: 0.6g, 1% of DV.
Omega-3s (ALA): ?.
When it comes to fats, here's were we see some of the first deficiencies.
Not only the original Slim Fast extremely low in fats, but it also lacks some essential fatty acids, like omega-3.
Furthermore, the fat source used is soy bean oil powder, which is not very common in the industry. Soy bean oil is rich in polyunsaturated fatty acids, and low in monounsaturated and saturated fatty acids. The main issue is that soy oil can often be hydrogenated or from GMO origin.
Carbs
Per 227kcal serving:
Total Carbs: 33g, 11% of DV.
Sugars: 21g.
Of which added: 10g, 18% of DV.*
Fibre: 4g, 8% of DV.
In the US version, the first ingredient of the Slim Fast shakes is sugar; whereas in the UK is skimmed milk. Thus, in the US you will have a lot of added sugars, whereas in the UK version you'll have naturally occurring sugars in milk (lactose).
The second source of carbohydrate is maltodextrin, a complex carbohydrate with high glycemic index (85). This is, it will break down rapidly and raise your blood sugars.
All in all, Slim Fast's carb sources are very refined and low in nutrients.
Micronutrients
On the positive, at least you will get a good dose of vitamins and minerals. Each shake contains at least 15% of 24 vitamin and minerals, including, 35% of vitamin A, D, 32% of vitamin C, 30% of DV of iron etc.
Allergens
The Original Slimfast shakes contain milk and soy.
Tasting Test
As part of my Slimfast review, I had a few different products tested, including: meal bars, powder based meal replacements, ready-to-drink meals and some snacks.
All of the above were part of the 7 day starter kit. The Keto shake was bought aside.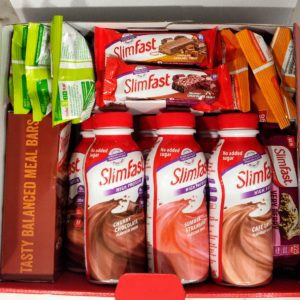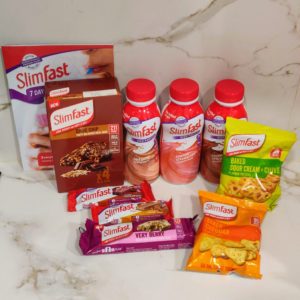 | | |
| --- | --- |
| Best flavour | Keto Chocolate |
| Taste | Sweet and artificial. Easy to like, but hard to enjoy in the long run |
| Texture | Powder based shakes mixed really well, creating thinner and smooth shakes. |
| Easy to Mix | Great mixability |
| Satiety | Ok. I have had diet shakes that have kept me full for longer. Good for about 1h30min |
| Easy to Clean | Yes, no issues |
| Afterthoughts | All products felt too artificial and sweet. I got bored of them fast, and I could not have them in a daily basis |
Holy Moly, This is Candy
I could describe most flavours with one word: sweet. In fact, all the shakes and bars were EXTREMELY sweet, with the exception of the snacks.
Therefore, you are warned. If you don't like overly sweet, and noticeably artificially flavoured food, you won't like Slim Fast.
And despite this harsh criticism, I can understand why people might wanna consume them. This sweetness makes them easier to like than the more natural, neutral meal replacement shakes.
Slimfast Original Shake Taste Review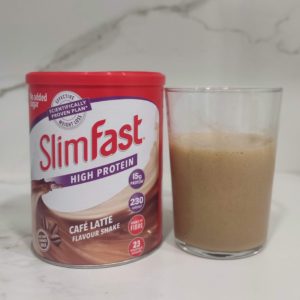 As a disclaimer, I must say that I only had 2 flavours. Even then, I'm pretty confident to say that all of them taste pretty similar: artificial and sweet.
For instance, Cafe Latte was similar to instant coffee with artificial sweeteners. The texture was fine, rather thin; so it's not the worst shake ever.
The Keto Chocolate, on the other hand, was a little darker, but didn't have the butteriness other keto shakes have. I would rather have something like Sated or HLTH, instead.
Slim Fast RTDs, Sweet Water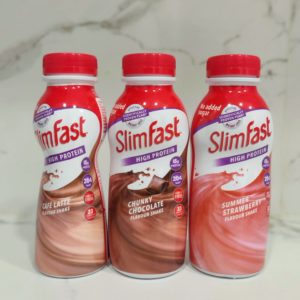 I've tried dozens of ready-to-drink meal replacements, but few have felt as watery as Slim Fast's. There's nothing wrong with all three flavors (Strawberry, Vanilla and Chocolate), but the consistency is just not there.
In fact, it almost feels like sugary water with some flavoring on top. Out of all three, Chocolate was the best in my opinion and I would stay away from Strawberry.
Slim Fast Bars Review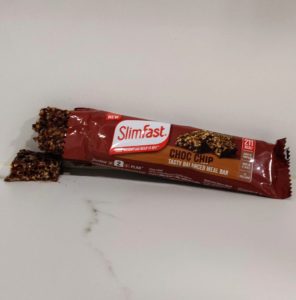 As part of the Slim Fast weight loss bundle, I tried two different types of bars: the meal bars (Berry flavored), and the snack bars (Caramel and Chocolate).
The latter were pretty nice, softer, more chocolaty and quite enjoyable.
As for the Berry meal bars, this were exceedingly sweet. My eyes twitched with the first bite. The rice pop-like texture was fine, but the taste was just not there.
More about Slim Fast

Slim Fast, One of the Original Meal Replacement Shakes
As mentioned in the introduction, SlimFast has been around since 1977. From its inception, Slim Fast has been focused on diet shakes to replace breakfast or lunch; and has a big market share in the US.
However, with the raise of "modern" meal replacements that aim to offer a healthy substitute to standard meals (not focused on weight loss); Slim Fast has been cornered to the diet spectrum even more.
That said, they have also expanded their range from powder to ready to drink, bars and snacks. All of them focused on providing you nutritious low calorie meals.
Slim Fast Products Reviewed
As part of 7-day weight loss bundle I was able to try out the various different options Slim Fast offers.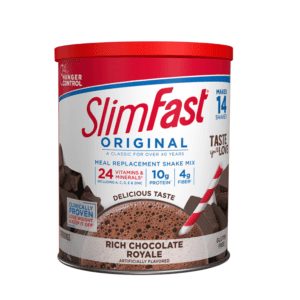 Slim Fast Original
Powder Meal Replacement
190kcal per serving
10g of protein (from milk), 22g of sugar
4 flavours to choose from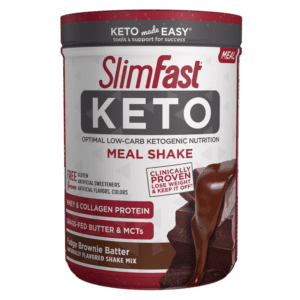 Slim Fast Keto
Powder Meal Replacement
Ketogenic (low carb/high fats)
190kcal, 8g of protein, 5g of carbs
3 flavours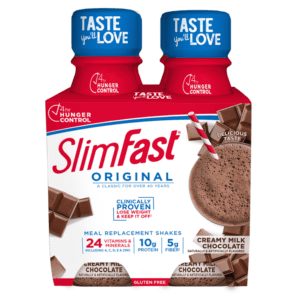 Ready to Drink Meal Replacement
180kcal per serving
10g of protein, 19g of sugar
5 flavours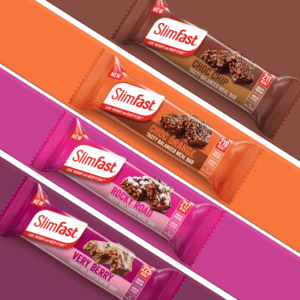 Slim Fast Bar
Meal Replacement bar
~215kcal per serving
15g of protein, 8g of sugar
4 flavours
Besides these, I was also able to try some of the Slim Fast snacks which were around 100kcal per pack.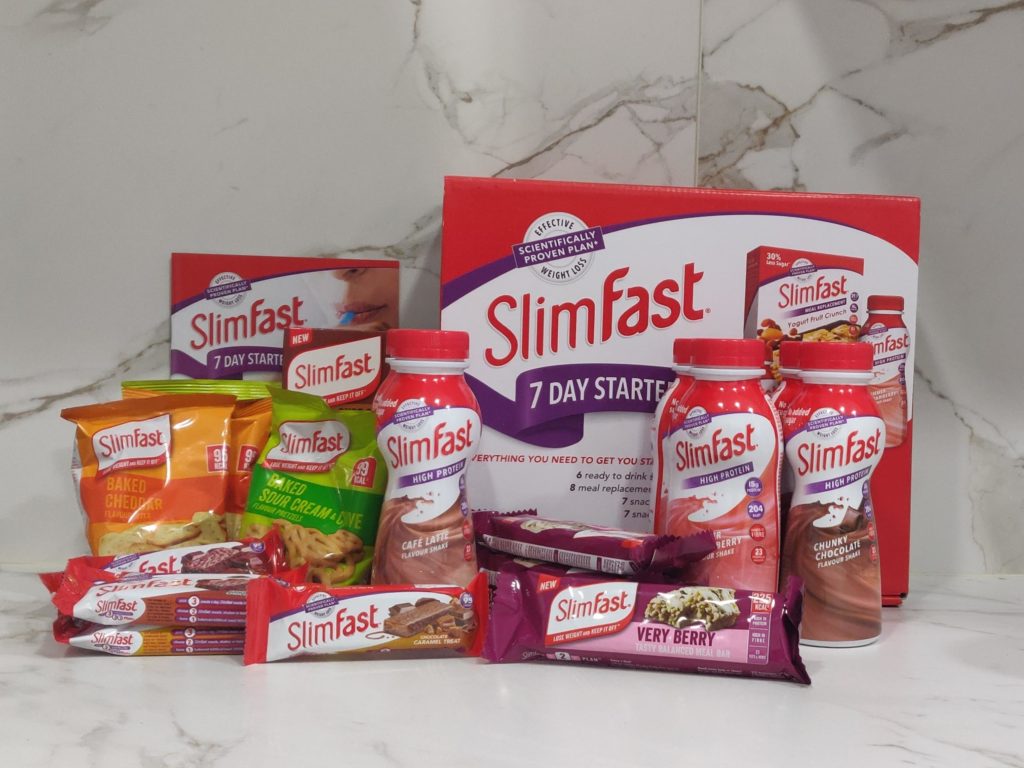 Vegan SlimFast
Is there any Vegan Slimfast shake?
No, unfortunately, Slimfast does not offer plant-based meal replacement shakes that are viable for vegans.
Slim Fast meal replacement shakes include milk within the powder, which makes them unsuitable.
However, there are many great vegan meal replacement shakes for weight loss or weight control available in the market, that are significantly better than any vegan shake Slimfast would offer.
Our favorites include LyfeFuel Daily Essential Shake and Rootana.
Is Slim Fast Good for Weight Loss?
So, obviously, the main aim of this starter bundle is to get you initiated and help you out with your weight loss journey. They offer some guidance, and include all sorts of meals so you don't have any excuses.
However, Slim Fast (7 day bundle) is not worth the money if your aim is to lose weight or eat healthily.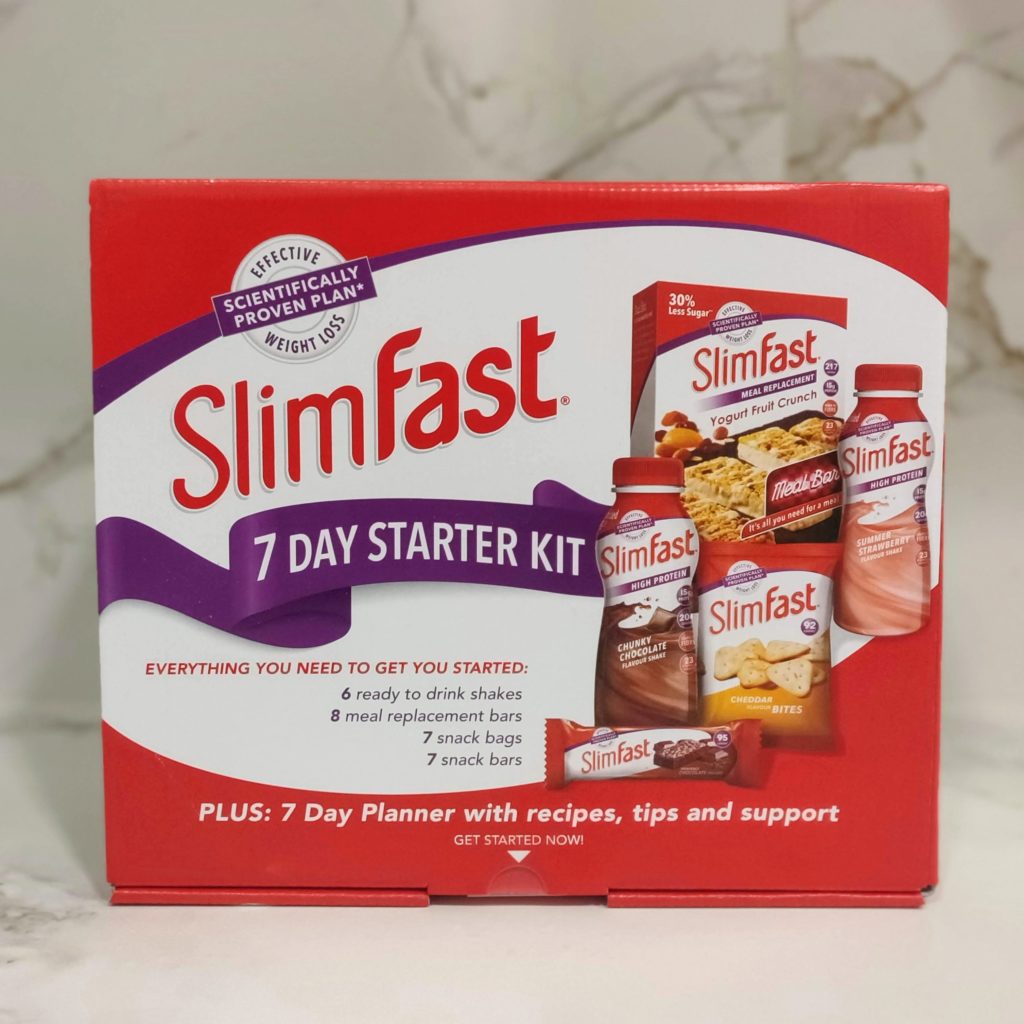 Cons
Here are a few reasons why I think so:
Taste: As mentioned above, all Slim Fast products are obnoxiously sweet. The RTDs, the powders and even the meal bars. The Very Berry bar made my eyes twitch. That said, the Choco Chip one is ok and the other snacks are quite enjoyable, too.
Nutrition: none of them are intended to be extremely nutritious. They might cover some basics, but often lack key nutrients (omega-3, some vitamins) or are imbalanced. Sugars are often high, fibre is missing in many items, and generally they are quite carb heavy.
Not enough meals: lastly, it's worth mentioning that there are too many snacks and not enough quality meals on the bundle. I would recommend getting some powder based meal replacements, too.
Not very filling: many of these items failed to make me feel full or satiated.
Pros
Nonetheless, there are some positives.
For instance, having so many options helps you not getting bored.
Besides, you can plan out quite easily your week and have a meal every time you need one.
Many of the meals are easy to carry with you, so that you can avoid any temptations.
All meals are relatively low-calorie, so that you can keep your calorie intake in check.
Alternatives
Therefore, here are some meal replacement shakes for weight loss that I can think they can help you out better: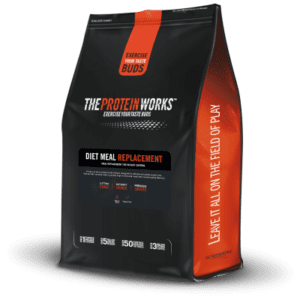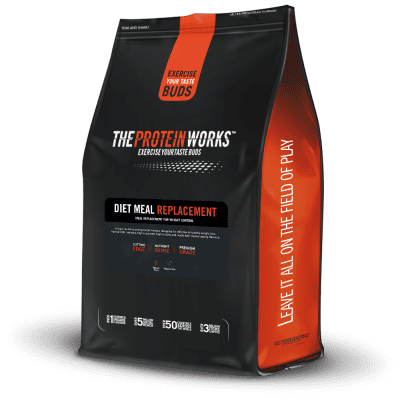 Diet Extreme
207kcal per serving, 1g of sugar, 4g of fibre, 24g of protein
Available in vegan and whey based versions
Up to 14 delicious flavours to choose from
Better tasting than Slimfast and more affordable
Unfortunately, it doesn't include any plans or bars or ready to go drinks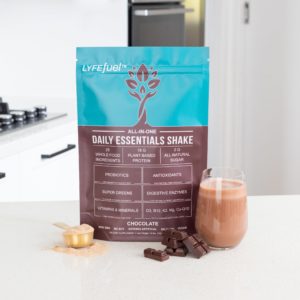 Lyfefuel Daily Essentials
~110kcal per meal, 18g of protein, 3g of sugar
Fully plant-based, only real food ingredients, no gluten, no soy
One of the most nutritious and healthy meal replacement shakes
Slightly more expensive than Slimfast
On top of that, if you are looking to lose some weight fast, you could use some of the best fat burners. These, however, are just an aid and no magic pill.
Pricing and Shipping
Unfortunately, the pricing of Slim Fast shakes will depend on where you live.
In the US, you can buy directly from the manufacturer, as well as, Amazon and some other big retailers.
| Price ($) | $ per serving | $ per 400kcal |
| --- | --- | --- |
| Slim Fast Original (Powder) | 0.71 | 1.50 |
| Slim Fast Keto (Powder) | 1.90 | 4.00 |
| Slim Fast Original (RTD) | 2.25 | 5.00 |
| Slim Fast Keto (RTD) | 3.00 | 6.67 |
Prices shown are for the smallest tub size in the Slimfast website.
In the UK and Europe, Slim Fast shakes are only available through 3rd party resellers and Amazon. Therefore, the price will depend on the 3rd party and can vary. Similarly, the products that you will be able to purchase might differ.
Slim Fast vs.
I've covered the best weight loss meal replacement shakes elsewhere, but in truth, this is the niche Slim Fast fits in the best. While they can be used for weight maintenance, too; Slim Fast markets the weight loss segment.
Previously, I've mentioned 2 of my favourite Slim Fast alternatives (Exante and Diet Extreme). You can see a small comparison table below:
Overview
| | | | |
| --- | --- | --- | --- |
| | Slim Fast | Exante | Diet Extreme |
| serving price | $0.71 | $2.86 | $3.30 |
| kcal/serving | 227 | 110 | 207 |
| Protein (g) | 15 | 12 | 24 |
| Sugar (g) | 21 | 3 | 1 |
| Fiber (g) | 4 | 5 | 4.2 |
| Fats (g) | 3 | 3 | 3.4 |
| Micronutrients | 23 | 26 | 22 |
| Vegan | N | N* | N* |
| Organic | N | N | N |
| Artificial Sweeteners | Y | Y | Y |
| Synthetic Additives | Y | Y | Y |
| GMO | ? | N | N |
| Protein Source | Milk | Soy | Whey |
Prices shown are most expensive option.
It's worth noting that if you are looking for keto shakes to replace Slim Fast Keto, I would recommend HLTH Code.
The first, HLTH Complete Meal is nutritionally more well rounded with 50% of vitamins and minerals per serving. Furthermore, it has more nutrients, includes probiotics and digestive enzymes to help you with digestion. In fact, it's one of the few keto shakes that doesn't cause me stomach pain.
The latter is a complete keto shake that offers both powder and ready to drink meals that are more affordable than Slim Fast Keto shakes. They have a better texture and taste than Slim Fast Keto, and it's much better for long term use.
Slimfast vs Shakeology
One of the most known diet shakes based in the US is Shakeology. Where Slim Fast offers affordable diet meals, Shakeology provides with premium nutrient-rich shakes.
In fact, the two major differences between both are price and the quality of ingredients. As mentioned, Shakeology goes for more natural ingredients, with tons of superfoods and vegetables added to the shake. On the contrary, Slim Fast opts for a more processed and smaller ingredient list to provide you with just the essentials.
When it comes to taste, Shakeology is more complex, you can taste multiple flavours and the ingredients that comprise the shake. Slim Fast, on the other hand, is simpler, sweet, and strongly flavoured.
In my opinion both are flawed, since Shakeology (while a good product) is grossly over priced, and Slim Fast (while cheap) is nutritionally lackluster.
Slimfast vs Atkins
Atkins offers meal replacement shakes that can easily be found in retail stores in the US. They are usually low carb, suitable for keto diets and focused on those who want to lose weight.
Again, both brands offer overly sweetened meal shakes with subpar ingredients. They can be quite tasty and easy to drink, but I think neither offers what a top meal replacement should have.
However, if you are trying to decide between Slim Fast Keto and Atkins, I would say try both and get the one you want. Neither will make a huge difference.
Slim Fast FAQ
Is Slim Fast good for weight loss?
Slim Fast shakes and bars can be an useful tool for losing weight. The variety and their diet plans can help easing beginners. However, for more advanced users, there are better weight loss meal replacement shakes in the market.


Is Slim Fast gluten-free?
Slim Fast shakes might contain traces of gluten, despite not having any gluten rich ingredients.


What's the difference between Slim Fast Original and Keto shakes?
Slim Fast Original shakes contain more carbohydrates than the Keto drinks, and are the ones I would recommend for most people. Slim Fast Keto, on the other hand, is low in carbs and suitable for ketogenic diets.


Can I buy Slim Fast in Canada?
Yes, you can buy most Slim Fast products in Canada.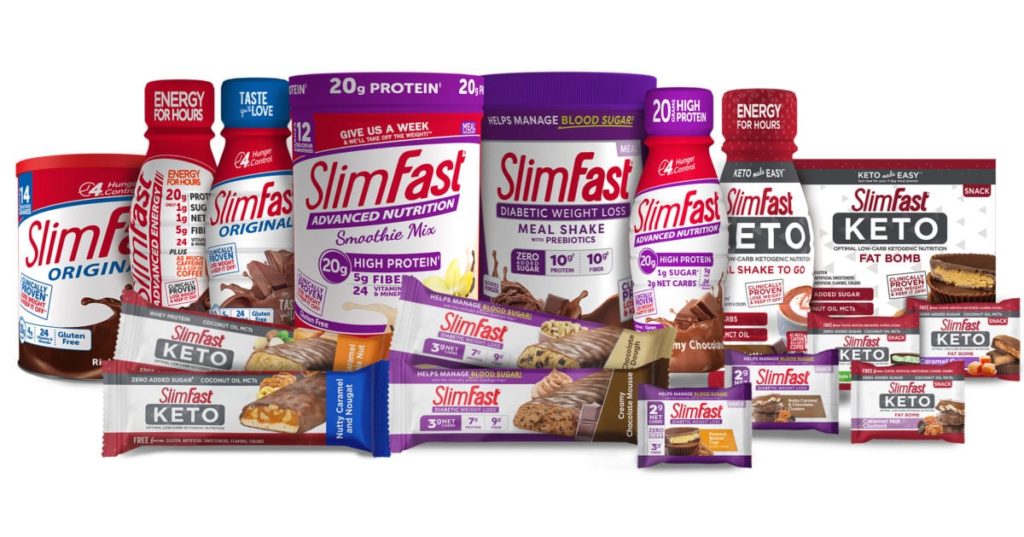 Verdict – Slim Fast Review
Coming to the end of this Slimfast review, I must admit that it's exactly what I expected:
SlimFast shakes are weight loss-oriented shakes that contain low-quality ingredients, sickeningly sweet, and fail to satiate me when using them. As such, I believe that there are much better alternatives that will improve your diet further.
Nutritionally, Slim Fast just covers the basics and often fails to provide with all the necessary nutrients. Plus, Slim Fast Original relies heavily on skimmed milk to provide you with nutrients.
Nonetheless, it's worth noting that the 7-day bundle can be helpful for those who are not sure where to start their weight loss journey. The variety of meals, together with some planning might be helpful for beginners to stick to their diets.
That said, I believe that there are better opportunities out there and I could not recommend Slim Fast meal replacement shakes for weight loss or daily usage.
Slim Fast
From $0.75/serving
Pros
Great variety of products: Bars, RTDs and powder
Superb bundles for beginners
Slim Fast Original is very affordable
Available in shops
Can help you with weight loss
Cons
Nutritionally lackluster
Wouldn't recommend for long term daily use
Most products are overwhelmingly sweet
There are better products out there