Plenny Shake Review (2022) | The Most Affordable Meal?
Jimmyjoy's main shake is a great bang for the buck available in both US and EU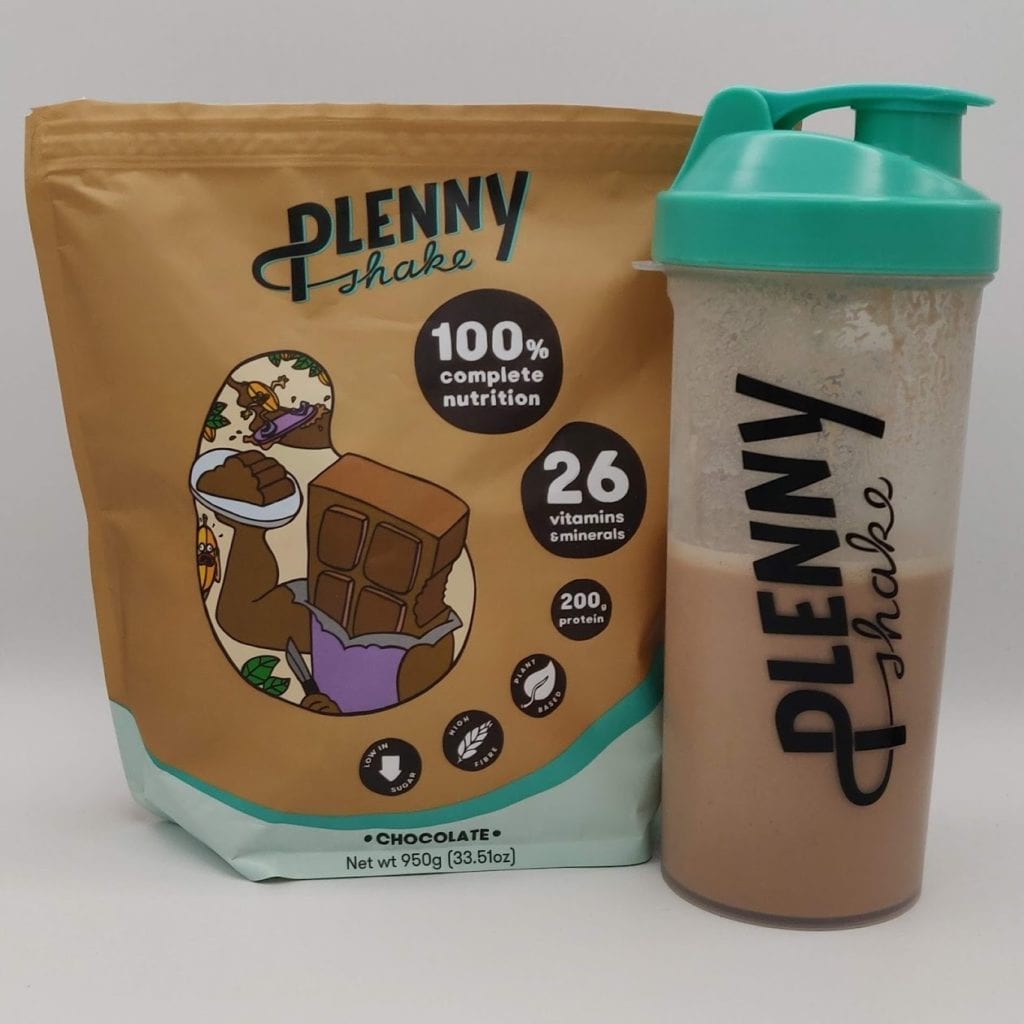 Jimmyjoy has become a popular brand among the meal replacement enthusiast. Why? Mainly because they offer some of the cheapest shakes in the industry with Plenny Shake. So, does cheap mean that they are bad? Not according to 100,000 plus customers that have left positive reviews on their website. Therefore, let's dig in and discover the wonders of Plenny Shake in this review. There is plenny to talk about.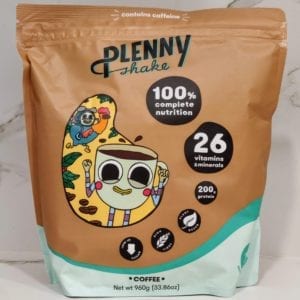 Flavour: Vanilla, Banana, Chocolate, Strawberry, Mango, Coffee, Chai Latte* and Neutral*. *Only in Active version.
Ingredients: Oat flour (39%), soy flour (26%), sunflower oil, rice flour, soy protein isolate (13%), inulin, ground golden flaxseed (3%), vitamin- and mineral mix (Potassium Chloride, Magnesium Salts of Orthophosphoric Acid, Calcium Carbonate, Potassium Salts of Orthophosphoric Acid, Choline Hydrogen, L-Ascorbic Acid, Vitamin K2 – Menachinon, DL-Alpha-Tocopheryl Acetate, Vitamin B3 – Nicotin-Amide, Ferric Pyrophosphate, Zinc Gluconate, D-Calcium Pantothenate, Manganese Sulphate, Vitamin B1 – Thiamine Mononitrate, Pyridoxine Hydrochloride, Cupric Sulphate, Vitamin B2 -Riboflavin, Retinyl Acetate, Folic Acid, Potassium Iodide, Sodium Selenite Sodium Molybdate, D-Biotin, Chromium(III) Chloride, Cholecaldiferol, Cyanocobalamin), flavouring, sweetener: Sucralose, Bacillus Coagulans.
As I will clarify in this Plenny Shake review, there's a lot to like about Jimmyjoy's main meal replacement shake. It is very easy to like, offers a good array of flavours, and has a great price. Those are the pillars of Plenny Shakes' success.
In fact, Plenny Shake is not exciting or flashy; it's just a good damn vegan meal shake. Superb for beginners and veteran meal replacement users.
What I like
1. The most affordable meals. Plenny Shake is the cheapest (or the 2nd cheapest) shake you can buy in both EU and the US. The starting price is great and you can reduce it by 15% when you subscribe. This makes it ideal for students, and those who are on a budget. A good meal for a good price.
2. Simple formula, solid nutrition. Plenny Shake is one of the few meal replacement shakes that adheres to health guidelines. It's not low carb, or ultra high in protein; it's just like your standard meal. All without fancy ingredients.
3. Array of flavours. Many You can choose from 6 different flavours; including classics like Vanilla and Chocolate, or extravagant ones like Mango.
4. Active version. I think that the normal Plenny Shake is what will work for most people. But if you are looking for extra protein, you can enjoy the active version for just €0.1 extra per meal.
5. Taste is average but easy to like. Most Plenny Shake flavours taste quite similar, oaty with some flavouring. However, they mix perfectly, there are no lumps and they are really easy to drink.
6. Available in the US and EU. In both places, Plenny Shake is very competitive in terms of price and what it offers. A great choice in either side of the pond.
7. Great free shaker. I really like the shaker. It's big, it's easy to clean and it's solid.
What I dislike
1. Nothing exciting. In my opinion, some of the flavour lack a little bit of punch. For instance, the chocolate flavour feels quite weak and I often end up mixing it with some more cacao. I think that in the long run, this can make customers look for other brands.
2. 10 meal bags are just OK. Jimmyjoy has increased the size of the bags from 5 meals to 10 meals. Finding the perfect bag size might not be possible, but I think they should have gone for bigger bags.
3. Vanilla is not great. My biggest disappointments in terms of taste were Vanilla and Strawberry. Both flavours were quite forgettable, and I would honestly not buy them myself.
4. Higher carb content. It's not truly something I dislike, but rather something I wish they hadn't changed. It is hard to find shakes that are richer in carbs and more aligned with WHO recommendations.
Improvements
1. Make the flavours a little more exciting.
2. Improve the scoop. Mine broke after the first usage.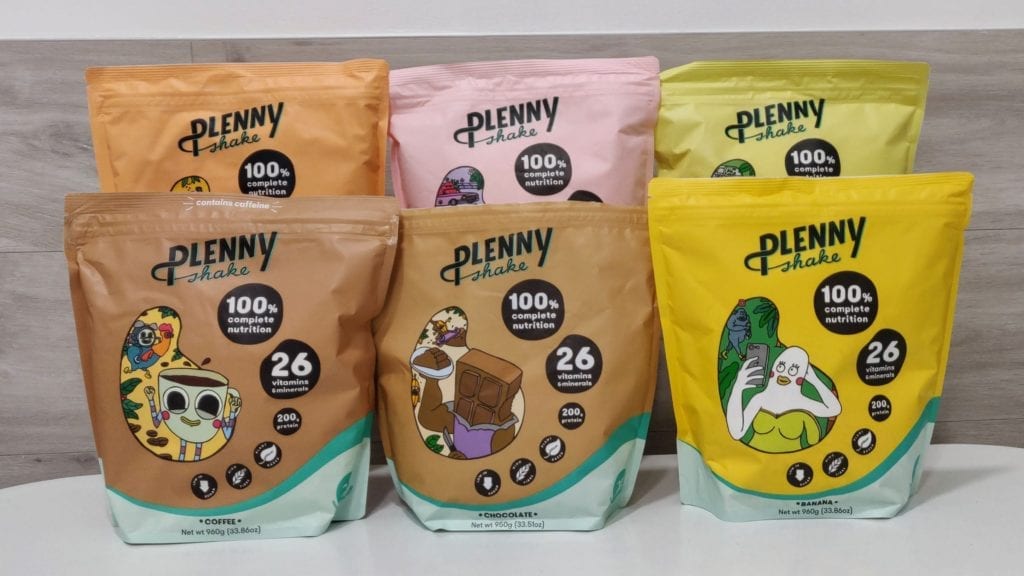 I always feel that this is the weakest part of my review, but I will try to give my honest opinion.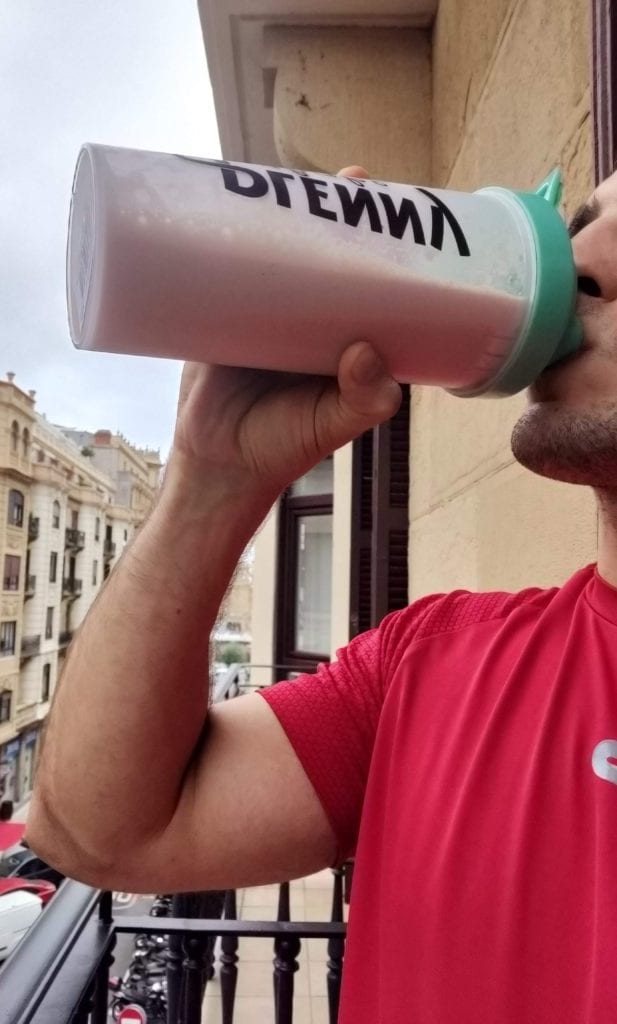 The truth is that all Plenny Shake flavours have a distinctive oaty background. The flavourings Jimmyjoy uses aren't very strong, and there aren't many sugars; therefore, the shakes resemble an oat meal with weak flavouring added. This makes the shakes easy to drink, since they are not sickeningly sweet; plus, quite easy to like, even if you are not used to meal shakes.
Besides, I found the texture to have improved tremendously over the past versions. The shakes are fairly thin and mix perfectly, to my surprise. There are not many bits or fibres that make drinking the shake odd.
Another positive is that the shakes don't have any weird aftertaste (unlike those with a lot of artificial flavourings). However, when it comes to quenching your hunger, you might find that it falls short (3h consistently per shake). For me, it comes down to how thin the shake is, when compared to other more consistent, thick shakes (which I tend to enjoy more).
Which Plenny Shake Tastes the Best?
In my opinion, there's little competition on which flavour is the best. I enjoyed Chocolate the most, even thought it was a little too weak for my liking (I strongly recommend adding some cacao).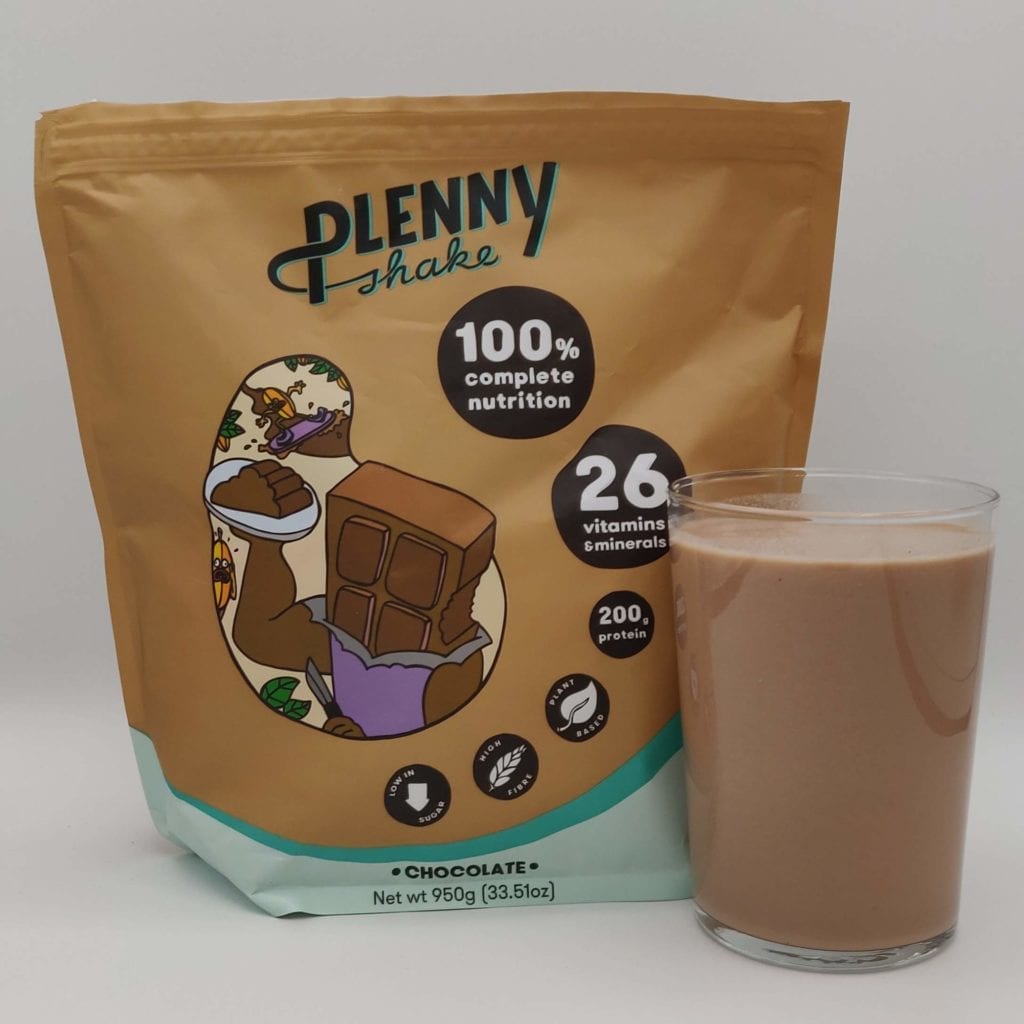 Besides the Chocolate, Coffee (great as a breakfast shake) is also pretty enjoyable and I can see Banana being a favourite of many. I, personally, don't tend to enjoy fruity flavours as much. All fruit flavours strike me as a little artificial. The worst of them all is Strawberry, that even if it has some freeze dried Strawberry it's not very tasty.
Chocolate > Coffee > Banana > Mango > Vanilla >> Strawberry.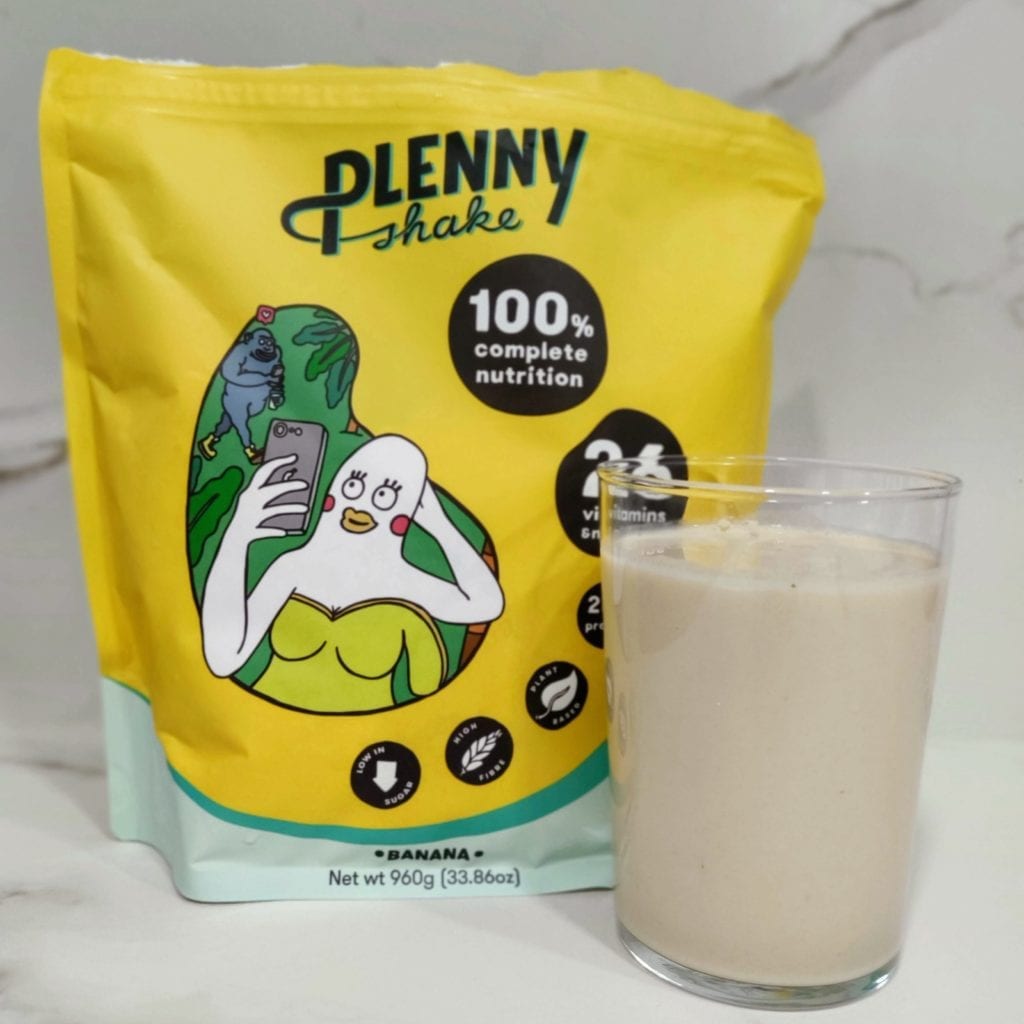 Plenny Shake is the foundation for all Jimmyjoy powders. Each serving is based on a 100g serving that provides about 1/5 of your daily nutrients. Their nutritional reference is the EU's daily intake guidelines and the research from World Health Organisation and European Food and Safety Authority.
All Jimmyjoy products, as discussed in the reviews, are vegan-friendly. Plenny Shakes are one of the healthiest meal replacement shakes.
Energy
The Plenny Shake formula has changed a lot over the years. For instance, Plenny Shake v1.0 used to offer 50C/25P/25F macronutrient split; whereas the v2.1 was 55C/15P/30F. The new v3.0 has increased the protein content and decreased the carbohydrate content: 47C/20P/33F.
While Jimmyjoy tends to follow the guidelines of WHO; the amount of energy provided by fats is now in the borderline of what WHO recommends (20-30% of energy).
Carbs
Per 400kcal serving:
Total Carbs: 43g, 16% of RI.
Sugars: 3.2g, 4% of RI.
Fiber: 8.2g, 41% of RI.
Jimmyjoy decided to remove maltodextrin in the new Plenny Shake formula. Instead, they have replace it with rice flour and added more oats. They have done so, in order to lower the glycemic index of the shake.
Maltodextrin has a bad name in the industry, mainly because is solely breakdowns to glucose. Among other things, this might cause a high glycemic index and an unnecessary spike in your blood sugar.
Plenny Shake is noticeably low in sugars. It has sweeteners to add sweetness to the shake, but only 3.2g of added sugars. Great in this society where hidden sugars are everywhere.
It also comes with 8.2g of fiber which is about 40% of the recommended intake. You should have no problem reaching you fiber goals, and in fact, Plenny Shake could help you with your gastrointestinal flow.
Fats
The amount of fats have not only increased but also the ingredients have changed.
Total fats: 13g per serving (19% of RI).
Saturated Fats: 2.1g per serving (10% of RI).
Omega-3 (ALA): 1.1g per serving.
Omega-6 (Linoleic): 4.2g per serving.
Jimmyjoy has added sunflower oil, which is naturally high in omega-6 fatty acids and low in omega-3 (1/70 -3 to -6 ratio). The reason for the popularity is that is widely available in Europe, it is cheap and contains beneficial compounds like Vitamin E.
However, in order to get a balanced omega-3 to -6 ratio (somewhere closer to 1/3), sunflower oil often needs to be paired with flaxseed. It is rich in alpha-linoleic acid (omega-3) which is linked to many health benefits, including cardiovascular risk prevention (Fleming JA).
Changes in PUFA MUFA Balance
In previous formulas, Jimmyjoy put a lot of emphasis on the balanced of fatty acids. They decided to use more monounsaturated fatty acids than polyunsaturated fatty acids. With Plenny Shake v3.0, they have increased the amount of PUFA (also overall fats).
In the bigger picture, it doesn't seem to have any major consequences as long as the composition is MUFA-PUFA>>SFA, which is related to healthy living.
Protein
Total protein: 20g, 40% of RI.
In the previous update, I think they made a "mistake" by lowering the protein to 15g. Consequently, there was a community backlash that "forced" Jimmyjoy to increase the amount of protein per serving. Still, this is lower than the 25g on the very first Plenny Shake.
Since, there have been very little changes; and Jimmyjoy continues to use soy protein isolate as main source. Other ingredients, like oats and the rice flour will provide with some protein, too.
Plenny Shake Amino Acid Profile
So let's compare the old formula's essential amino acid (can only be adquire through diet) profile vs Plenny Shakes EAA profile:
| | | | |
| --- | --- | --- | --- |
|   | Plenny Shake 3.0 | %RI | Plenny Shake v2.1 |
| Histidine | 296 | 37 | 307 |
| Isoleucine | 527 | 33 | 531 |
| Leucine | 885 | 28 | 937 |
| Lysine | 723 | 30 | 772 |
| Methionine (plus cysteine) | 315 | 26 | 346 |
| Phenylalanine (plus tyrosine) | 993 | 50 | 1009 |
| Threonine | 464 | 39 | 498 |
| Tryptophan | 155 | 48 | 163 |
| Valine | 550 | 26 | 563 |
Essential amino acids present in each serving of Plenny Shake. Recommended intake is taken from WHO.
Only the essential amino acids are displayed, which should be taken into consideration.
Micronutrients
You will get around 20% of most vitamins and minerals.
Vitamins-Minerals 

Per portion

RI* (%)
Vitamin A 
160
μg
20%*
Vitamin D 
5.0
μg
100%*
Vitamin E 
4.0
mg
33%*
Vitamin K 
16
μg
21%*
Vitamin C 
30
mg
38%*
Thiamin
0.4
mg
36%*
Riboflavin 
0.3
mg
23%*
Niacin 
3.6
mg
23%*
Vitamin B6
0.4
mg
29%*
Folic Acid 
60
μg
30%*
Vitamin B12 
3.2
μg
128%*
Biotin 
10
μg
20%*
Pantothenic acid 
1.2
mg
20%*
Potassium
400
mg
20%*
Chloride 
279
mg
35%*
Calcium 
185
mg
23%*
Phosphorus
140
mg
20%*
Magnesium
75
mg
20%*
Iron
3.2
mg
23%*
Zinc
2.0
mg
20%*
Copper
0.4
mg
40%*
Manganese
1.0
mg
50%*
Selenium
18
μg
33%*
Chromium
8.0
μg
20%*
Molybdenum
13
μg
26%*
Iodine 
30
μg
20%*
* % of the daily reference intake (RI) for vitamins and minerals
Allergens
Soy and Gluten. The new formula is vegan does not contain any diary.
Nutrition Changes
Maltodextrin has been replaced by rice flour.
Amount of sugars has been decreased and fibre increased.
Fatty acid profile has been changed slightly in favour of more PUFAs.
Choline and probiotics (Bacillus Coagulans) have been added.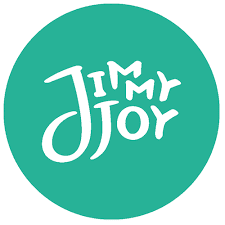 Jimmyjoy Review; Learn About the Company
Jimmyjoy, former Joylent, has always been about offering a fun, affordable and enjoyable alternative to food. It has a very different vibe to other complete food companies, which is transmitted through their art style.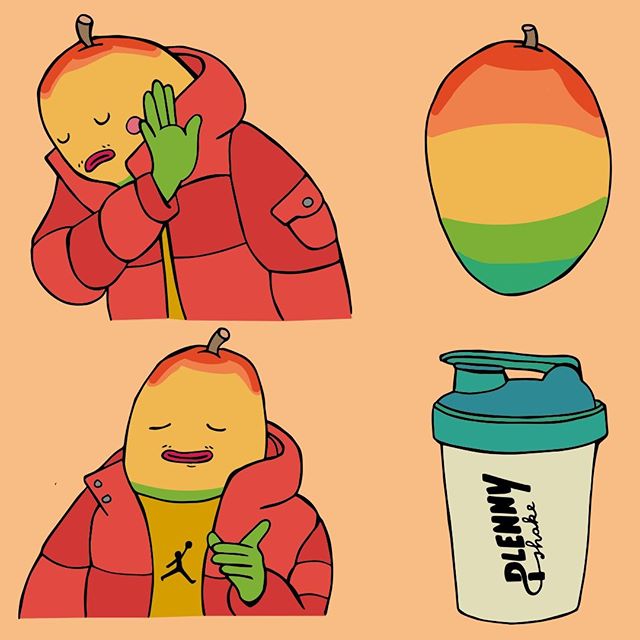 As such, Jimmyjoy has been able to connect with their customer base since it was founded by Joey van Koningbruggen back in 2014. Joylent, as it was known back then, is one of the oldest companies still around and has grown to have over 17 employees.
Still, Jimmyjoy is a company with very similar foundations: affordability and sustainability. As a matter of fact, the brand moved to a fully vegan product line-up to reduce their CO2 impact.
Other Jimmyjoy Products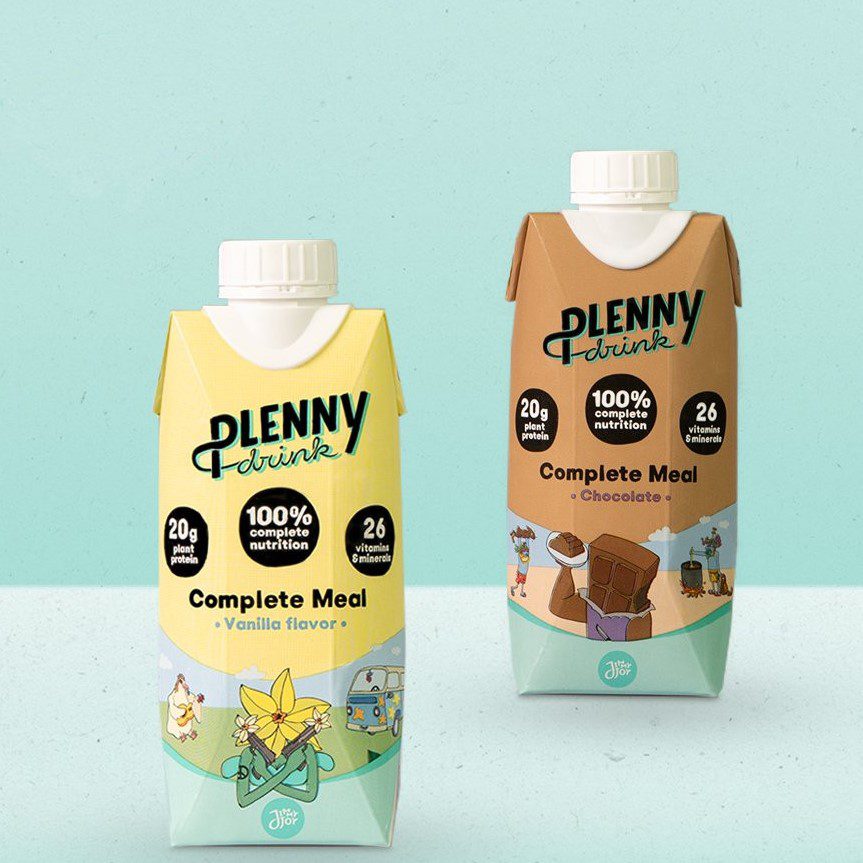 Plenny Drink
400kcal
€2.50/bottle
2 flavours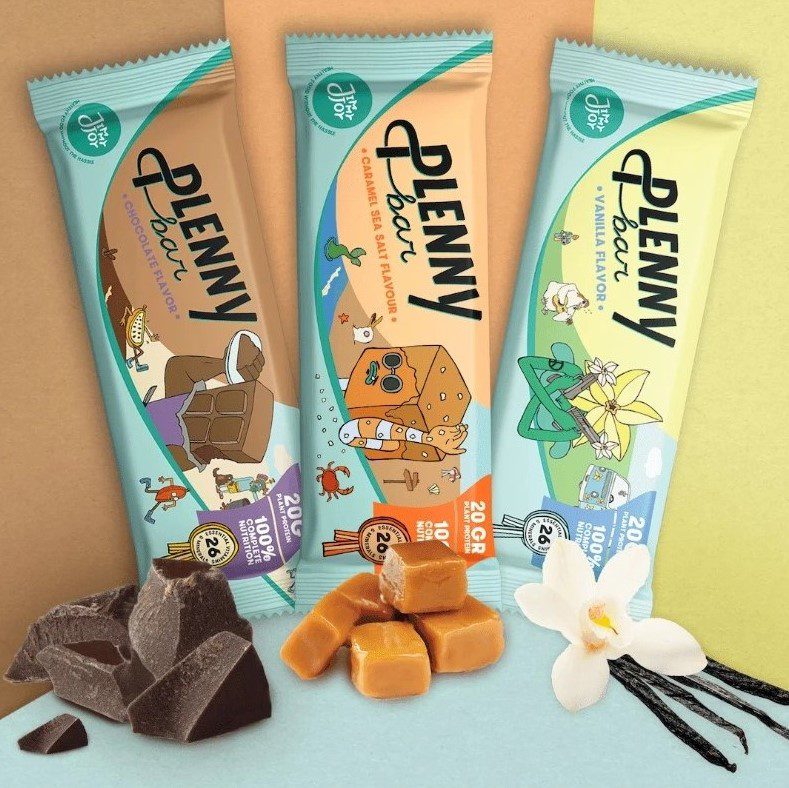 Plenny Bar
400kcal
€2.50/bar
3 flavours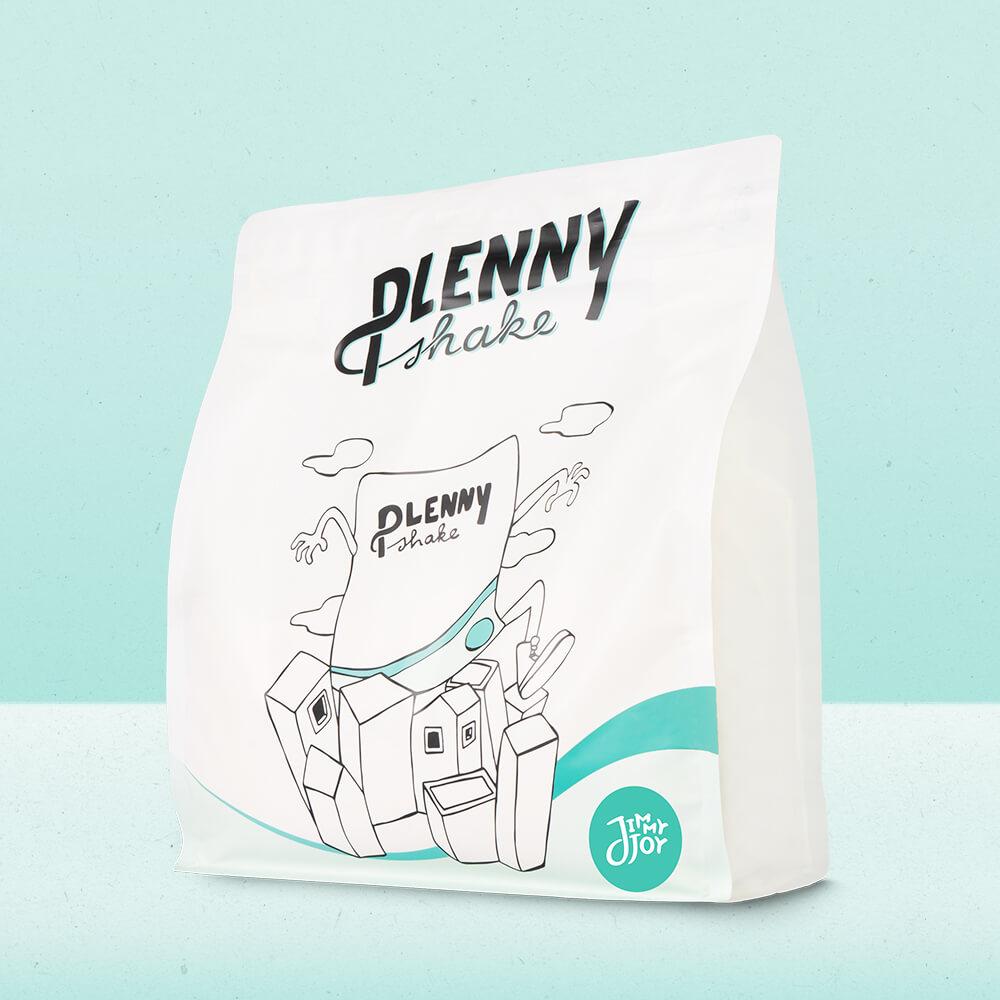 Plenny Shake Active
400kcal
€1.54/serving
5 flavours
The Dutch brand Jimmyjoy also does other vegan meal replacements, which are, again, remarkably affordable. You can read my thoughts on the reviews, but I strongly recommend you having a look at the Plenny Bars.
Quick Plenny Shake Active Review
Throughout this Plenny Shake review, I have almost forgotten its bigger brother: Plenny Shake Active. It is a very similar formula to Plenny Shake's but contains more protein and less carbohydrates (40C/29P/31F). As such, each 400kcal serving provides you with 29g of protein. This is the version that I would recommend to those who live a more sporty lifestyle.
Unfortunately, I cannot make any comments on the taste, since I wasn't sent any. However, I do not expect to be many differences, besides the fact that it is likely thicker.
Packaging
One of the biggest changes with the introduction of the new formula has been the change in bags. While the format of the bags reminds the same (wide and not very tall); the bags now pack 10 meals instead of 5.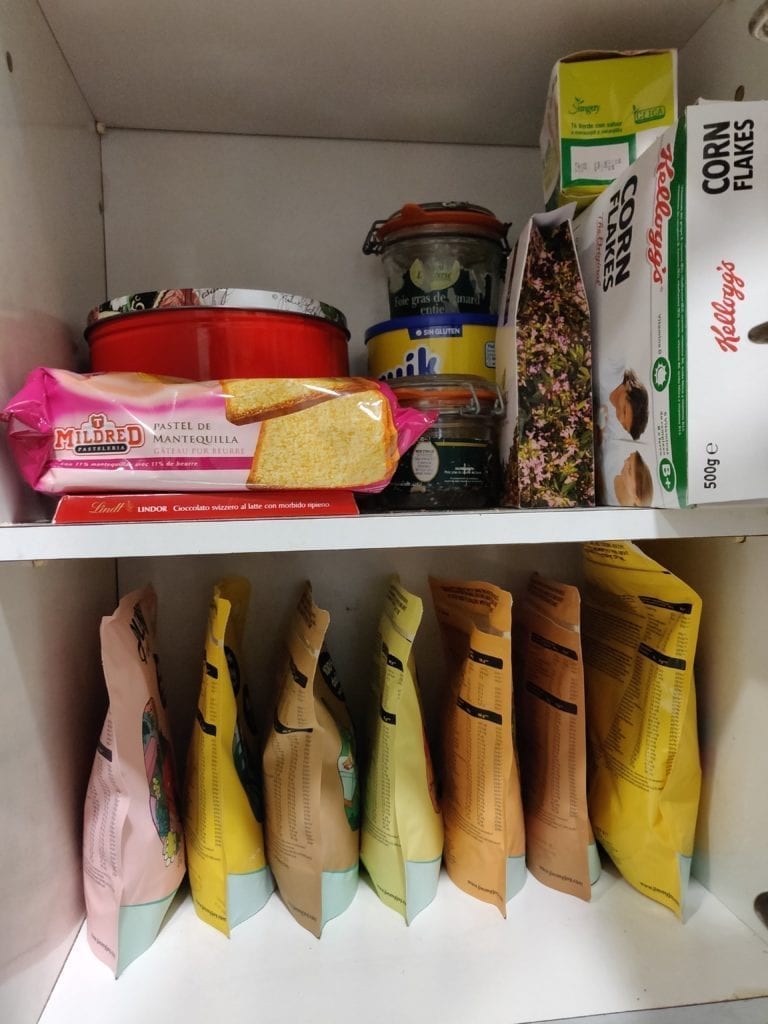 I do think, this is a welcomed change, while I do wonder why they didn't go for a bigger one. Most likely is to keep the price of the individual bags low, but I do feel that it's a wasted opportunity to reduce their waste even further. Furthermore, when we consider that Plenny Shake Active comes in 25 meal bags.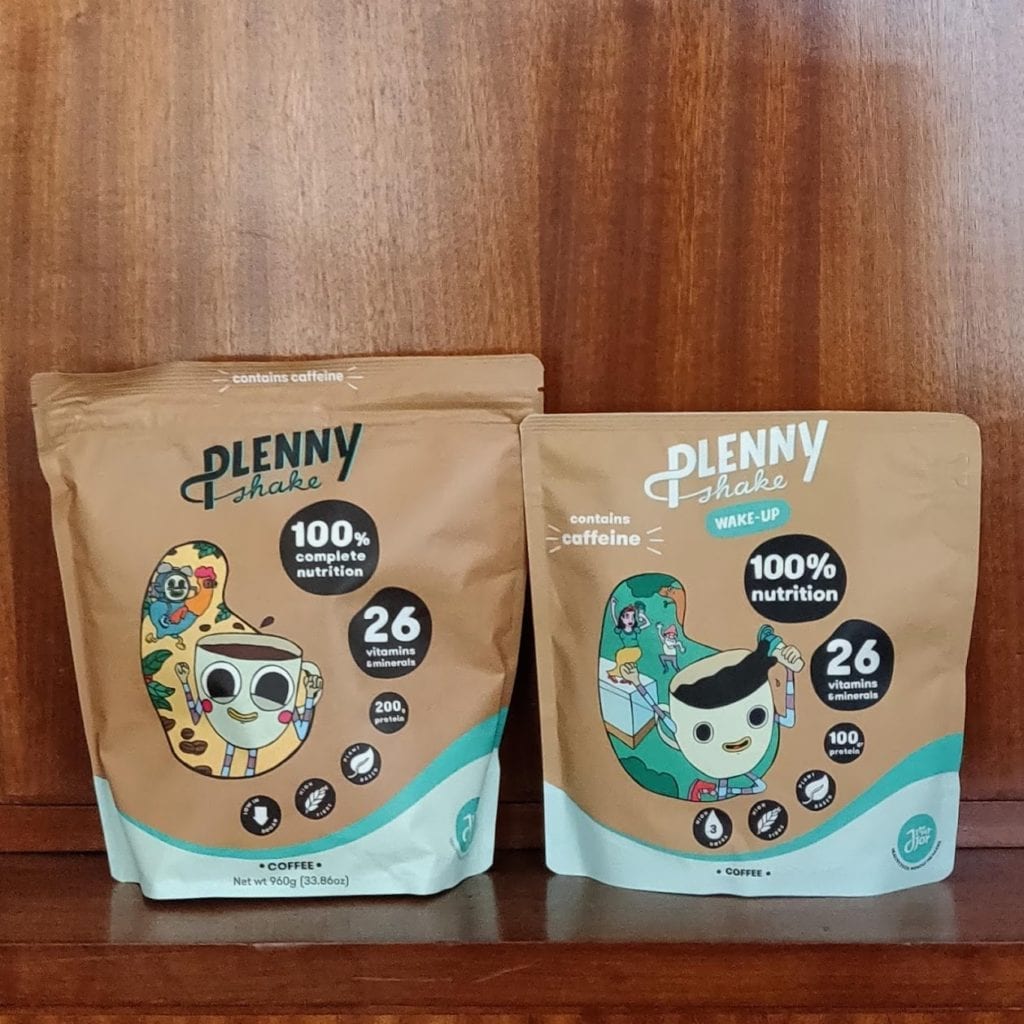 One last thing worth mentioning about the bags is that I recommend storing them up-right even when they are not opened. If not the zip will be filled with powder and will cause you issues when trying to close the bag.
The Shaker
I just want to make a small diversion to mention the free shaker. It is one of the best shakers that you get from companies. It can hold 1L, it is very sturdy, and it's easy to clean. It's exactly what the average shaker should be like.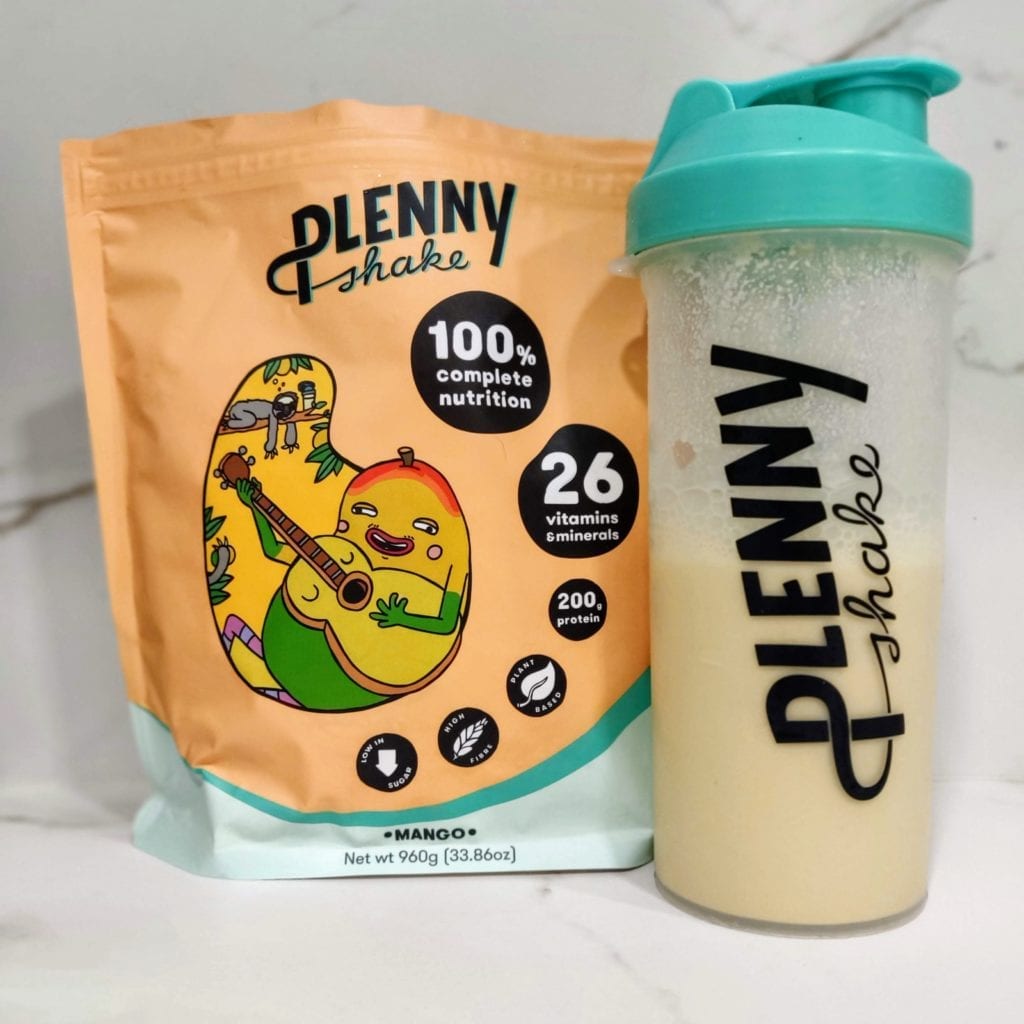 Pricing & Subscription
As previously mentioned in this review, Plenny Shake is one of the most cheapest meal shakes you can buy; both in EU and the USA. When you buy without subscription, each bag will cost you €14 ($1.40/meal). However, you can subscribe and enjoy a 15% discount to reduce the cost per bag to €11.9.
The minimum order is 2 bags.
Shipping
You can find out Jimmyjoy's shipping policies in their site.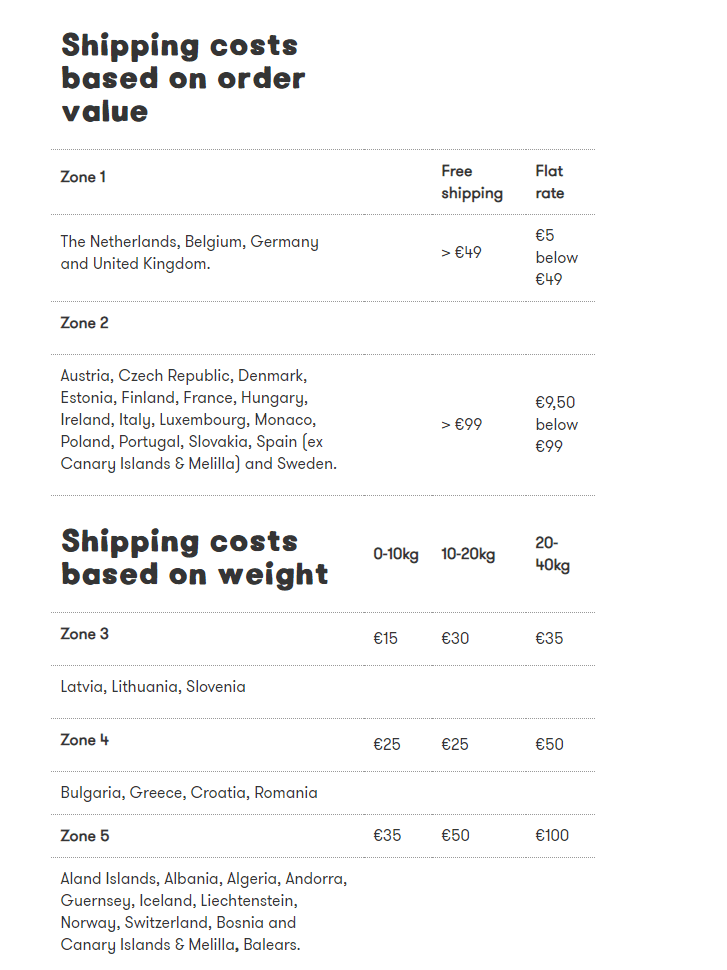 If you live in the US, you will get your shipment from their LA depot. They offer free shipping after $75 orders.
Why I can't find the latest Plenny Shake on the US store?
The US store always lags behind, since the products are manufactured in Holland first and then shipped to the US. Thus, it is possible that products will be out of stock temporarily, or the newest products not being available at first.


Is Plenny Shake gluten-free?
No, Plenny Shake contains oats that have been processed in a factory that handles gluten products.


What is the shelf-life of Plenny Shake?
Plenny Shake should last up to a year if it hasn't been opened, stored in a cool and dry place avoiding direct sunlight.


Is it safe to consume Plenny Shake after the Best Before date?
In theory, it shouldn't be harmful, unless the package has some foul smell. Nevertheless, it is not recommended you consume products past the best before date.


Plenny Shake is a very well rounded meal replacement that I quite enjoy. I have included it as one of the best Soylent alternatives in the US, as well as being one of the shakes that's easiest to like. As such, I often include it on my best meal replacements lists.
However, it has many competitors that are also worth trying. YFood Powder, Huel, Soylent, Feed., Satislent… just to name a few. I will cover some of them here. For a more comprehensive list you should check the ultimate meal replacement list.
Soylent Powder is the original meal replacement shake. One beloved by enthusiasts and a very popular choice in the US, thanks to its texture and taste.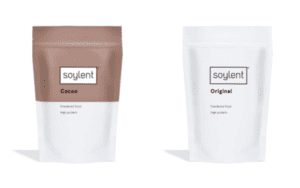 Flavours
Plenny Shake: Vanilla, Chocolate, Mango, Coffee, Banana and Strawberry.
Soylent Powder: Original, and Cacao.
Price
Price

Plenny Shake

Soylent Powder

US ($)
per 400 (expensive)
1.75
1.82
per 400 (cheapest)
1.45
1.50
Taste
Plenny Shake's taste has a clear hint of oats, and not much sweetness to it. On the opposite hand, Soylent shakes are sweeter and creamier; as well as slightly smoother. They can, however, be slightly more artificial.
I find Plenny Shake more enjoyable, but Soylent might be the more popular choice in the US.
Nutrition
| | | | | |
| --- | --- | --- | --- | --- |
| per serving | Plenny Shake | DV (%) | Soylent Powder | DV (%) |
| Energy (C/P/F) | 47/20/33 | – | 38/19/43 | – |
| Energy (kCal) | 400 | 20 | 400 | 20 |
| Fats (g) | 15.0 | 20 | 20.0 | 26 |
| Saturated (g) | 2.4 | 13 | 2.5 | 13 |
| Carbs (g) | 43.0 | 16 | 41.0 | 15 |
| Sugars (g) | 3.2 | 6 | 15 | 30 |
| Fibre (g) | 8.2 | 29 | 6.0 | 21 |
| Protein (g) | 20.0 | 40 | 20.0 | 40 |
Soylent uses more processed ingredients like maltodextrin and isomaltulose. Not only that but some of the ingredients could be from GM origin.
What Should I Buy?
Plenny Shake is the more flexed-out meal replacement. When comparing to Soylent, it's nutritionally better balanced, has more fiber, less fats, and fits most people's diets better. Not only that, but it also has more flavour options and it's slightly cheaper. Soylent Powder will be for those looking for a low carb shake.
---
Plenny Shake vs Huel
The British brand Huel is the most successful one in the planet. They have some of the best dairy free meal replacements, from powder to RTDs and bars. Plus, they compete with Jimmyjoy in both sides of the Atlantic.
Flavours
Plenny Shake: Vanilla, Chocolate, Mango, Coffee, Banana and Strawberry.
Huel Powder: Original, Vanilla, Chocolate, Coffee*, Berry, Banana*, Mint-Chocolate*, and Unflavoured & Unsweetened. *Only available in Europe
Price
Price

Plenny Shake

Huel Powder

US ($)
per 400 (expensive)
1.75
2.12
per 400 (cheapest)
1.45
1.51
EU (€)
per 400 (expensive)
1.75
2.03
per 400 (cheapest)
1.45
1.30
Huel also offers Black and Gluten-free versions, both of which are slightly more expensive. Besides, they have even better prices in the UK, where it is even cheaper than Plenny Shake.
Taste
Both brands offer oaty, not very sweet shakes. That said, Huel's shakes are considerably thicker than Plenny Shake's and also require more water volume. Besides that, I would consider Plenny Shake to be the tastiest out of both, particularly for those not very accustomed to meal replacements..
Nutrition
| | | | | |
| --- | --- | --- | --- | --- |
| per serving | Plenny Shake | RI (%) | Huel Powder | RI (%) |
| Energy (C/P/F) | 47/20/33 | – | 40/30/30 | – |
| Energy (kCal) | 400 | 20 | 400 | 20 |
| Fats (g) | 15.0 | 21 | 13.0 | 19 |
| Saturated (g) | 2.4 | 12 | 2.3 | 12 |
| Carbs (g) | 43.0 | 17 | 38.0 | 14 |
| Sugars (g) | 3.2 | 4 | 1.0 | 1 |
| Fibre (g) | 8.2 | 41 | 7.0 | 35 |
| Protein (g) | 20.0 | 40 | 29.0 | 58 |
| Salt(g) | 0.3 | 5 | 0.7 | 12 |
Both brands use oats as main carbohydrate source and contain no maltodextrin. Nevertheless, where Plenny Shake uses soy, Huel uses pea plus rice protein; since Huel offers soy-free shakes. On the other hand, both brands, pack probiotics and choline.
What Should I Buy?
Plenny Shake is the safe choice for those who consider taste important. Huel is slightly more boring in this regard, even though they do offer some unique flavours (mint-chocolate). In reality, both powders are very competent and I recommend trying out both.
Verdict
The simple truth is that almost nothing will be as good value for money as a Plenny Shake. They are solid shakes that are easy to drink and like.
Despite that, I must admit that I've tried more exciting shakes and I wouldn't only consume Plenny Shake if it was my choice. I also wish they had kept the higher carbohydrate content, to differentiate themselves nutritionally a little more.
Nonetheless, if you care about budget and you want your shake to taste good, it should be one of the first products you look at.
Plenny Shake
From €1.19 | $1.45
Pros
Good array of flavours, most of them good tasting.
One of the most affordable meals in the market.
Easy to like and drink.
Vegan.
Great free shaker.
Cons
Taste lacks excitment.
Some of the flavours seem too artificial.
Might fail to keep you full for long.