Labrada Lean Body Review | How Good Is This Shake?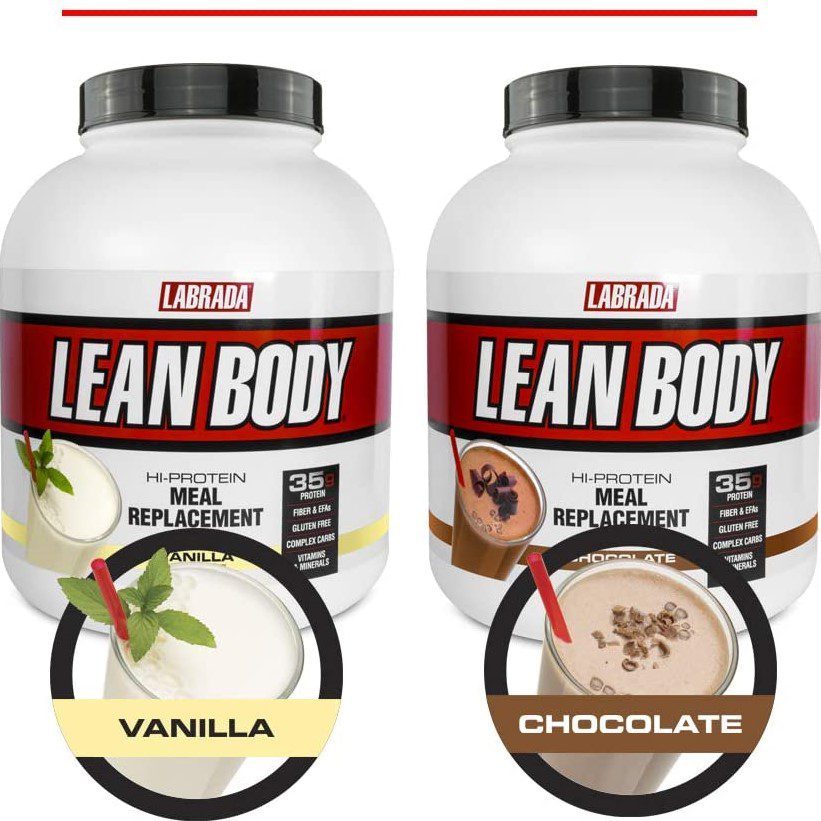 In this Labrada Lean Body review, I will have a good look to one of the most popular low calorie, high protein meal replacement shakes in the US. It's main appeals are the superb taste, the 35g of quality protein per serving, and that each shake only contains 290kcal. All of this packed with 22 vitamins and minerals, 6g of BCAAs and 7g of fibre. So, what is behind the numbers and is Lean Body Labrada a healthy meal option?
Spoiler: It's an OK option for those who don't mind having more processed ingredients in their shakes. However, if you are looking for a more natural high protein shake for weight loss, this is not it. Check out our best weight loss page to find better alternatives.
Flavours: Chocolate, Chocolate Peanut Butter, Cinnamon Bun, Molten Dark Chocolate, Power Latte, Salted Caramel, Strawberry, and Vanilla.
Ingredients: Whey protein concentrate, non-dairy creamer (sunflower oil, corn syrup solids, sodium caseinate (milk) mono- and diglycerides, dipotassium phosphate, soy lecithin, tocopherols), milk protein isolate, natural & artificial flavours, polydextrose, fibersol-2 fiber, vitamin & mineral blend, cellulose gum, medium-chain triglycerides, salt, acesulfame potassium, sucralose.
To sum up shortly what my thoughts are after this Labrada Lean Body review, I would say that you will either love or hate this meal replacement. Let me explain why:
If you don't care about the quality or origin of the ingredients; and all you are looking is a shake that's high in protein (and might help you with weight loss), then you will like it. It has a good taste, vast array of flavours, and will provide you with the nutrients you need.
However, if you care about nutrition mostly, having whole food ingredients, complex carbs and balanced macros; then this is not the product for you. The presence of highly processed ingredients, poor carb sources and macro imbalances will push you away.
What I like
1. Taste. Without a doubt, one of the strongest points of Labrada's meal replacement shakes is their taste. While they are a little too sweet and artificial, this makes them easy to like and drink.
2. Also available on RTD. Even though the RTD is an slightly different product, it's good to see that still has the vitamins and minerals. It's nutritionally weaker, but the ready-to-drink is tastier than the powder. My choice for post-workout meals.
3. 10 flavours to choose from. You'll find classics like chocolate and vanilla, but also exotic shakes like cinnamon bun, power latte or salted caramel.
4. Good formula for satiety and weight loss. The shakes are high in fibre, high in protein and low in calories (280kcal). Even then, they do great at keeping you full for 3-4h.
5. 5-15% subscription discount on Amazon.
What I dislike
1. Highly processed ingredients. One of the main reasons I would't have them regularly. The lack of more whole ingredients (like oats, fruits, vegetables) might cause you to miss some nutrients.
2. Price. Protein is not the cheapest ingredient, and perhaps due to that the price it's a little higher than other meal replacements. That said, I wish it was few cents cheaper per serving.
3. Macronutrient balance. When it comes to balance, Lean Body shakes are just too high in protein (50% upwards). You need more carbs and fats for a balance nutrition.
4. Might lack some essential nutrients. Even though it contains 22vitamins and minerals, it's lacking some like Vitamin K or Choline. It's also unclear whether it contains omega-3 fatty acids.
Improvements
1. Better carb sources. One of the areas that this meal replacements can improve the most is adding good quality complex carbs and not corn syrup solids.
2. Add the missing nutrients. There's really no reason not to offer a complete vitamin and mineral package. A good source of omega-3 fatty acids would be welcome, too.
Lean Body Labrada Nutrition
% of Energy from Each Macronutrient
Carbs 31%
Prot 48%
Fats 21%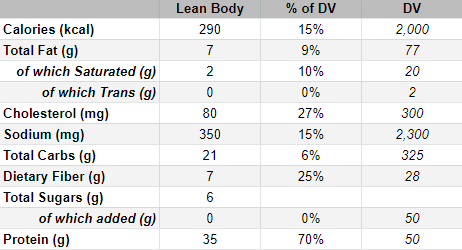 Labrada's Lean Body meal replacement is a high protein low fat shake designed for muscle and weight loss. While on paper the nutrition looks solid, albeit too rich in protein, the chosen ingredients are the main issue. Most of them are very processed and far from their original form.
In a world where whole food and natural shakes are trendy, this might be off-putting for some. The lack of naturally occurring nutrients in these ingredients is also a concern.
Carbohydrates
On the plus side, Lean Body shakes are low in sugar and contain no added sugars (naturally occurring from milk). This, paired with the relative low carb content, will reflect on a medium-low glycemic index.
It is also positive to see that it has tons of fibre (7g/serving) which will help you with digestion and satiety. That said, this comes from synthetic fibre sources: polydextrose (soluble fibre), and fibersol-2 fibre.
One negative aspect is the presence of corn syrup solids, which should be considered as sugar and not a complex carbohydrate source (such as oats). They are absorbed quickly by the body and increase your body glucose rapidly.
Protein
Considering that each 290kcal serving provides you with 35g of high quality protein, this is without a doubt the best aspect of these shakes. They use a mixture of whey protein concentrate (the most popular source of protein) and milk protein isolate.
This duo has two main benefits:
Complete amino acid profile rich in essential and branched-amino acids (6g).
Slow and fast absorption. Casein present on milk is more slowly absorbed by the body; as opposed to whey, more readily taken.
Consequently, you will get complementary sources that promote lean muscle growth.
| | Whey | Casein |
| --- | --- | --- |
| Complete protein | Yes | Yes |
| PDCAAS | 1.0 | 1.0 |
| High in leucine | Yes | No |
| High in glutamine | No | Yes |
| Absorption rate | Fast | Slow |
| Duration of elevated blood amino acids | Short | Long |
Adapted from Precisionnutrition.
Fats
Besides protein and carbs, each Lean Body shake will also provide you with the necessary essential fats. These include monounsaturated, polyunsaturated and saturated fats. Some of the saturated fats will come from the added medium-chain triglycerides (MCTs).
Interestingly, Labrada claims to have 7g of essential fatty acids. However, there's no ingredient on the labels that could provide you with omega-3 fatty acids.
Sweeteners
It's worth mentioning that even thought the advertise as "aspartame free", Labrada shakes still has acesulfame K, and sucralose. Thus, this is not a shake without artificial sweeteners.
Allergens
While on paper the only allergen is milk; I want to note that Labrada's Lean Body shakes also contain small amounts of soy (soy lecithin).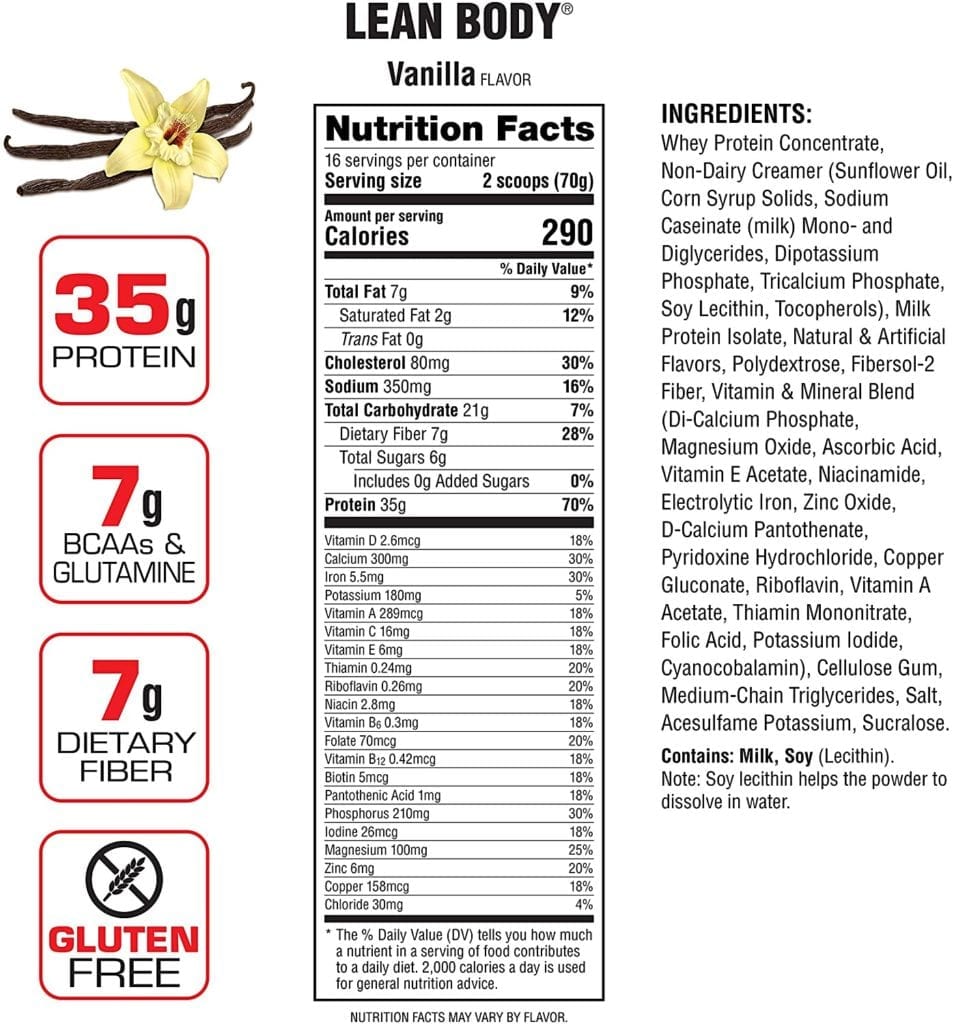 More about Labrada Lean Body
Labrada Nutrition is a company based on nutritional supplements, mainly protein powders, protein shakes and meal replacements. It was founded by Lee Labrada (current CEO) who used to be a professional IFBB bodybuilder and it's in the IFBB Hall of Fame.
Pricing & Shipping
Lean Body is only readily available in the US. In other countries, you will have to go through resellers. In the US, you can buy it through their website or Amazon if you prefer.
The powder-based All-in-One Meal replacement is available in two sizes: 4.6lb or 2.47lb. The price for both is similar, just below $2 per serving. That said, you can further lower the price using the Amazon subscription discount (from 5-15% off).
Other Lean Body Products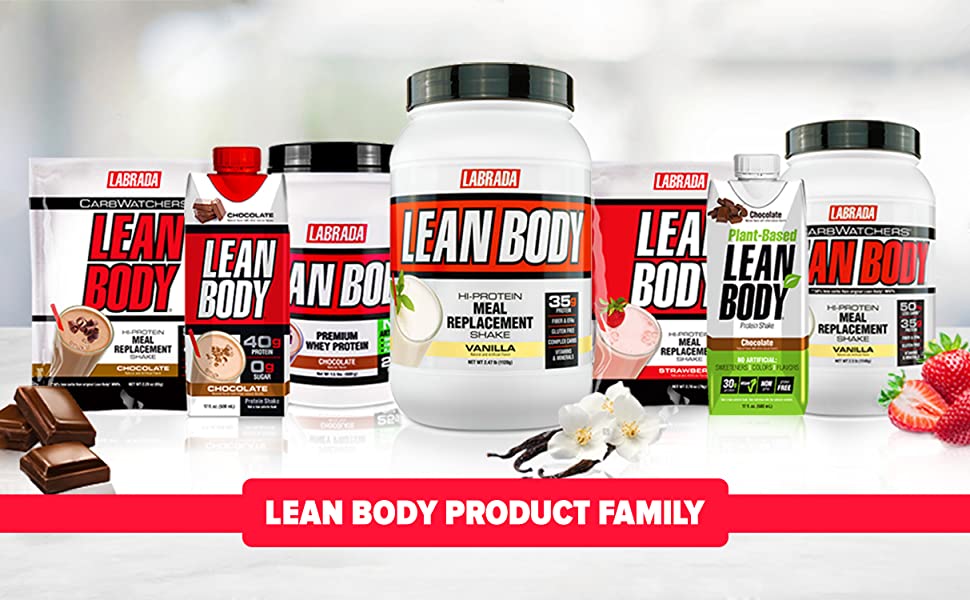 As mentioned previously, Labrada's best selling products are their Lean Body protein shakes and meal replacements. These are focused on providing you products that will help you get into great shake.
Besides the Lean Body Meal Replacement powder discussed here, you can also purchase the following: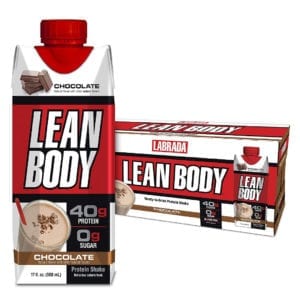 Lean Body Protein Shake
Meal replacement
Ready-to-drink
280kcal, 40g of protein, 0g of sugar
Macros: 14C/57P/29F
Vegetarian, gluten-free, includes vitamins & minerals
10 flavours available: Banana Chocolate, Cookies & Cream, Mint Chocolate, Mocha, Plant Chocolate, Plant Vanilla Caramel, Salted Caramel, Strawberry, and Vanilla.
Better suited as post-workout meal or protein-rich snack.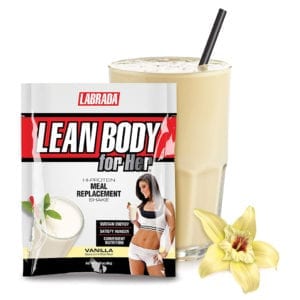 Lean Body for Her
Meal replacement
Powder
190kcal, 30g of protein, 2g of sugar.
Macros: 20C/63P/17F
Vegetarian, gluten-free, includes 22 vitamins and minerals
3 flavours: Chocolate, Strawberry, and Vanilla
Designed for women or those with lower caloric needs.
The first one, Lean Body RTD, is their most popular shake with over 2000 reviews and a 4.6 score. The main keys for this success are its improved texture over the powder, sweetness and variety of flavours. According to many reviews, it also does a great job keeping you full:
This is the best tasting protein shake on the market. It has served meal well as a meal replacement and as a pre/post workout supplement. With it I have lost 13 pounds in 12 weeks so far while weight training. My favorite flavors are the salted Caramel and the cookies & cream. My least favorite is the banana and chocolate. The chocolate has a weird after taste. There are so many flavors that you'll find a few you like. I can't stop buying this product because it's so good

Dr. Durane Walker Amazon reviews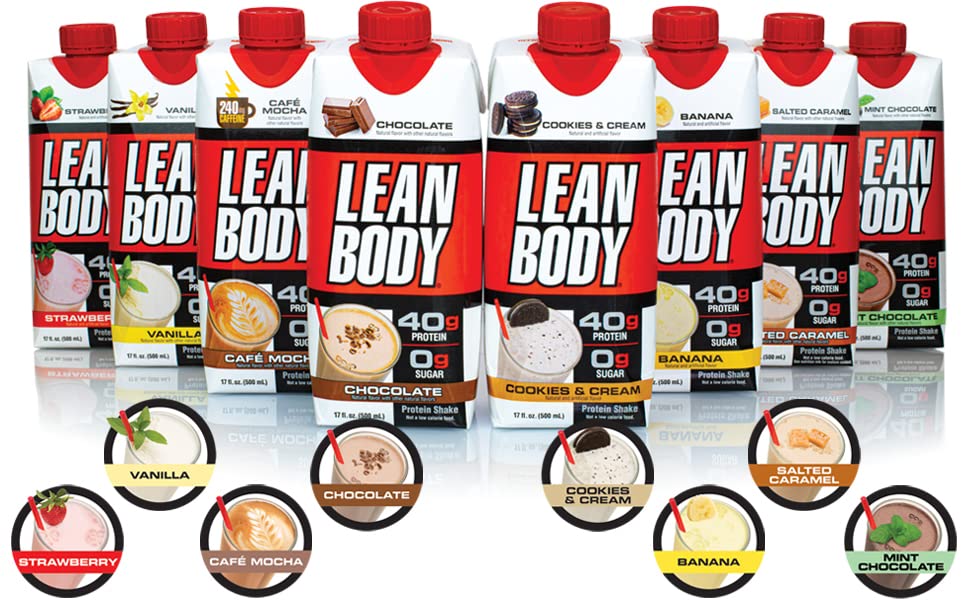 As for the second, Labrada markets it as "meal replacement shake designed especially for women". When compared to the other two, there are some nutritional changes, like the inclusion of soy protein isolate, lower calories per serving, and inclusion of maltodextrin. Besides the lower caloric content, I am not sure what makes this product so especial for women.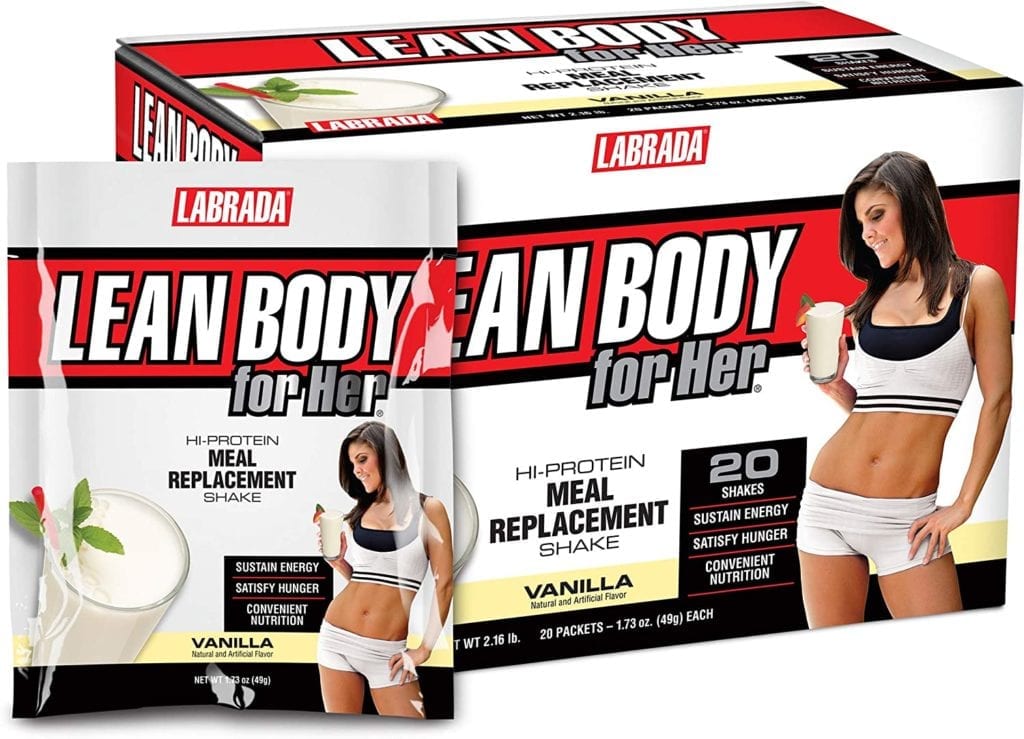 Taking into consideration the name and the nutritional formulation, it's clear that Labrada Lean Body shakes are intended for weight-loss, muscle gain and lean eating. There are multiple other meal replacements in the US with similar goals in mind, including Shakeology or Muscle Milk.
Lean Body Powder vs RTD
When comparing both Lean Body meal replacement products, powder and RTD, there are 3 key things to consider:
Price. First, you will have to consider which one fits your budget better. The powder based meal is the cheaper alternative of both. If you are willing to pay extra for the convenience, then Lean Body RTD might be better for you.
Taste and Texture. This is where the ready to drink option will shine. Not only does Labrada RTD offer tons of flavour options; but the taste and texture are better. The shake will be better mixed, more silky and closer to what you would expect. For instance, the Chocolate RTD tastes considerably better than the powder.
Nutrition. Lastly, it will be important to look at the nutritional aspect. I think that Lean Body Meal replacement powder is more balanced and more appropriate for heavy use. That said, the RTD contains 10g more of protein and less carbs (less sugars), which is great as high protein snack.
All things considered, I think that the RTD is a great choice for those who are looking for the better tasting shake; whereas the powder meal replacement is the more budget option.
Labrada Lean Body vs Shakeology
One of the most well-known shakes, particularly when it comes to weight loss, it's Shakeology. According to them, they offer a high quality, whole food-based shake rich in nutritens and phytonutrients.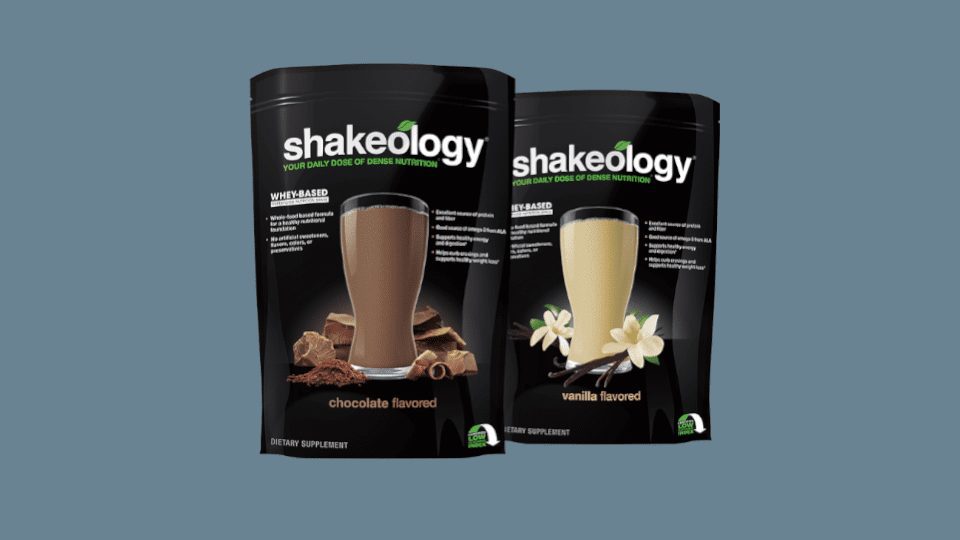 In spite of both being low calorie shakes (according to their recommended servings), Shakeology opts for less processed ingredients, more fruits and vegetables. They use no artificial sweeteners, artificial flavour and colours, or preservatives. In comparison, Lean Body is a much more processed shake. On the other hand, Shakeology is rich in sugars whereas Lean Body is not.
However, the other main difference, and the main reason why people look for Shakeology alternatives, is the price. These shakes are 4 times more expensive than Labrada's Lean Body meal replacements.
Key Differences
Shakeology has more natural ingredients, more vegetables, mushrooms and fruits used.
Both are high in protein
Lean Body Labrada is much more affordable, even the RTD version
Labrada Lean Body shakes taste better.
Labrada Lean Body vs Muscle Milk
Similarly to Labrada Nutrition, Muscle Milk is a company focused on nutritional supplements; protein drinks mostly. As such, these are not real meal replacements, and lack some of the essential nutrients that your body needs.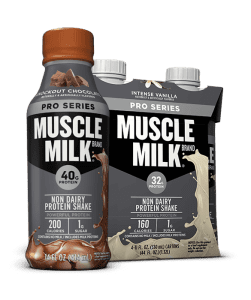 For instance, Muscle Milk does not have many essential fatty acids, or vitamins and minerals. Consequently, Labrada's meal replacements are much better suited to be used to replace your meals with. They will provide you with all the essential nutrition.
When it comes to taste, Muscle Milk's Pro series RTDs are absolutely delicious. The powder's, however, are not as good, as they don't achieve the smooth texture and silkiness. I think that Labrada Lean Body offers a better tasting shake for most flavours.
---
Other Meal Replacement Options that I Like
Despite the fact that Lean Body drinks are OK, I think that for daily consumption there are more balanced and healthier meal replacements. Those that will include less processed ingredients, more nutrients, a better balanced nutritional profiles, more calories, and might fit your budget better.
These are 3 of those alternatives:
Ample. Ample has more natural ingredients, probiotics added, and offers a vegan, a whey based and a ketogenic option. All the shakes are incredibly smooth and tasty. While they are slightly more expensive than Lean Body shakes, for those looking for quality nutrition and low calorie shakes, Ample will be better.
Complete 360 Meal. One of my personal favourite meal replacement shakes that blends affordability, taste and nutrition to perfection. It's still high in protein, nutritionally more balanced than Lean Body shakes (less sugar, more carbs, better ingredients). Taste-wise, Complete 360 meal is far superior to Lean Body powder.
Plenny Shake. Solid all around, Plenny Shake shines for it's price ($1.75/400kcal) and taste of their powders. While they are lower in protein, these plant-based shakes will provide you with all the essential nutrients you need according to the nutritional guidelines.
Are Labrada Lean Body meal replacements healthy?
It depends. While they are not the healthiest meal replacements in the market; they do provide with most essential nutrients, have low amount of sugar and are a good source of protein and fibre.


Is Lean Body meal replacement vegan?
No, Lean Body meal replacement contains milk and whey concentrate.


Can I use Labrada Lean Body to lose weight?
Yes. These are fairly low calorie shakes, high in fibre and protein. This combo, combined with appropriate calorie deficit is very efficient for weight loss.


Can I only consume Labrada Lean Body shakes?
I wouldn't strongly advise against it, since it's too rich in protein and low in quality carbohydrates. It also lacks phytonutrients, and other compounds that can have beneficial effects in your health.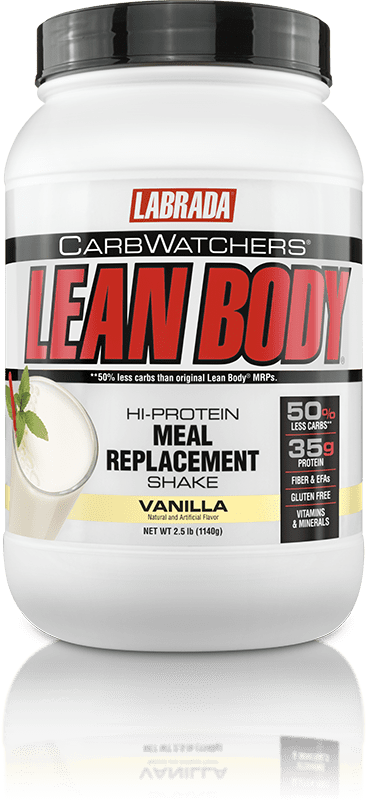 ---
Verdict – Labrada Lean Body review
Taking everything to consideration, I must say that I can see the appeal in this product and can help people looking to lose weight or gain lean muscle. Nonetheless, it does not suit what I currently look for in meal replacements, since it's not complete nor balanced. I would instead look for better rounded shakes like Lyfefuel or Diet Extreme.
Furthermore, it has many processed ingredients, it's too high in protein to be balanced and lacks good carb sources. I would also consider it a little pricey for those who want more than 290kcal per shake.
That said, this is a good alternative to unhealthy snacks or fast food meals. Labrada Lean Body shakes are tasty, contain 7g of protein, 7g of fibre, most essential fatty acids and the micronutrients your body needs. Thus, it can be the right product for you. Particularly if you are looking for a low calorie shake(per serving) to help you with weight loss.
Labrada Lean Body
Pros
8 different flavours. My favourites are Chocolate Peanut Butter and Cinnamon Bun
35g of protein, 7g of fibre and 290kcal make it appealing for weight loss or post-workout snack
Contains most essential nutrients
Good alternative to protein shakes
Filling
Cons
It's not a complete and balanced meal replacement
Lacks some vitamins & minerals; and perhaps omega-3s
Too high in protein to be balanced and used as a proper meal
Highly processed ingredients