Huel Daily A-Z Vitamin Review | Should You Buy It?
In today's Huel A-Z Vitamin review, we will have a look at the latest nutritional product by Huel, the British Complete Food company.
For those who are not aware, Huel is the leading meal replacement or complete food product manufacturer (powders, bars, ready-to-drinks), and they've been expanding their offering to new areas in nutrition supplements like green powders, and protein powders.
Huel Daily A Z Vitamins is an odd addition to their line up. It is a mix between an energy drink like Red Bull and a healthy drink like Vitamin Water.
As the name suggests, Huel Vitamins drink contains all 26 vitamins and minerals, 925mg of electrolytes, 3.5g of fiber, in only 30kcal.
It comes in two versions, caffeinated (100mg) or non-caffeinated, and only one flavor: Cherry & Raspberry.
So without further ado, let's dive into this Huel Daily AZ Vitamin review, and let's see who this product is for and whether you should buy it.
Key Takeaways
Huel Daily Vitamins is a great way to take your daily vitamins and minerals
It provides you 100% of 15 vitamins and minerals
It can act as a clean energy drink, but there are more efficient alternatives
Taste is good, but there's only one flavor available
---
Huel A-Z Vitamin Review at a Glance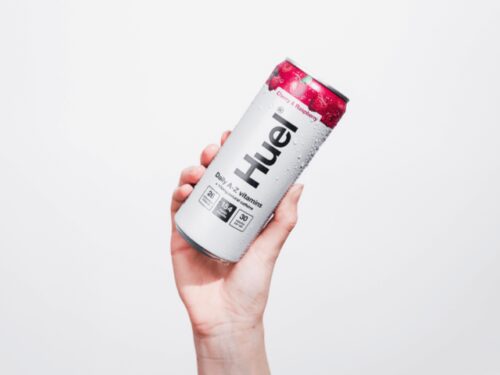 Flavors: Cherry & Raspberry.
Pros
Good as multivitamin
Caffeinated and caffeine-free versions
Taste is OK
Cons
Not the best as an energy drink
There's not 100% of all minerals
Only one flavor
---
What Is Huel A-Z Vitamins?
This was the first thought that popped up into my head when I first saw the product.
Here at Latestfuels, I've reviewed a plethora of nutrition products from meal replacement, to green powders, mushroom coffees, joint supplements and brain supplements.
In fact, looking at Huel's marketing messaging, I think that they even don't have it clear.
First of its kind: fizzing with 154 science-backed health benefits, including vitamin D for immune support, vitamin A and selenium for healthy skin, hair and nails, vitamin B12 for reduced fatigue + many more.

Huel, on Reddit
So is it vitamin- and mineral-fortified water, similar to Vitamin Water, then? Well, no, since Huel themselves compare Huel Vitamin A-Z to RedBull and Monster, which are energy drinks.
This is a baffling comparison, in my opinion, since it does not contain many energy boosting compounds that most energy drinks do.
Huel customers seem to also compare to pre-workouts.
Ultimately, it does not really matter that much, and what we should find out is if Huel Vitamins drink is the right supplement for you.
Huel Daily A-Z Nutrition & Ingredients
In essence, Huel Daily Essentials is a multi-vitamin drink composed mainly of water with added fruit juices (5.6%), corn fiber, a micronutrient blend, acerola powder and natural caffeine.

One thing that's worth noting is that Huel Daily is artificially sweetened with sucralose and erythritol. Even though a study recently linked erythritol to an increased risk of CVD, it is still deemed safe to consume.
As showcased in the nutrition label above, you will get 100% of 11 vitamins, namely: vitamin A, D, E, K, C, thiamin (B1), niacin (B3), B6, folate (B9), biotin (B7), pantothenic acid (B5), B12.
Plenty of Vitamin Bs, Great for Energy
Arguably, the vitamin b complex are most important vitamins in an energy drink as they are essential for energy-yielding metabolism, oxygen transport, DNA synthesis and even brain functions. Only riboflavin (B2) is short in Huel's vitamin drink, which has essential roles in glucose-energy pathways and fat metabolism.
925mg of Electrolytes, Good for Hydration – But Missing Sodium
Another positive about Huel A-Z vitamins is the electrolyte content (potassium, magnesium). These minerals regulate cellular fluid levels, and maintain electrical neutrality.
However, Huel does not have any sodium (salt) which is one of the most important electrolytes when it comes to water balance. Because we tend to have enough salt in our diets, it shouldn't be a big issue, but those who plan to use Huel Daily A-Z to hydrate while exercising should take this into consideration.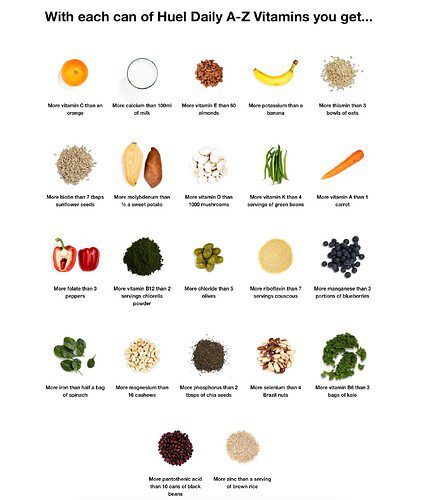 Huel Daily A-Z Vitamins Benefits Reviewed
So what are the benefits of drinking Huel A-Z?
According to Huel, A-Z vitamins comes with 154 health benefits including:
Fatigue reduction
Immune support
Provide you with electrolytes
Improve skin, hair, bone, and nail health
Boost collagen production
Improve brain function
Support heart health
Digestive support
Help proper muscle function
While it might sound impressive at first, these benefits are very similar to what you could claim with a multivitamin mix, as they are derived from what vitamins and minerals do.
Fatigue Reduction
For instance, the B-vitamin group can help you feel more energized, and reduce fatigue, as they are involved in energy pathways. Vitamin B12 is essential for red blood formation, and it's often lacking in vegan diets.
Similarly, iron is essential to carry oxygen around our body and to the formation of red blood cells. Iron deficiency, or anaemia, is linked to extreme fatigue and tiredness.
Both are often lacking in plant-based diets, unless you regularly consume vegan meal replacement shakes or multivitamins. Thus, Huel A-Z Vitamins could be an easy way to supplement your diet.
Immune Support
Likewise, vitamin D, folate, vitamin A, vitamin C etc. are essential for the proper functioning of our immune system.
Famously, vitamin C deficiency leads to scurvy which used to be very common among sailors.
Vitamin D, on the other hand, has antimicrobial and anti-inflammatory properties. It prevents pathogens from growing in the skin and the gastrointestinal tract.
Consequently, proper supplementation of vitamins does boost our immune system.
Caffeine: Energy, Focus and Fatigue Reduction
We are all familiar with caffeine. It's a central nervous system stimulant that increases alertness, athletic performance, focus, reaction speed, and reduces fatigue.
You can opt for the caffeine version (100mg) or caffeine-free version. 100mg of caffeine is enough to activate most adults, even those used to caffeine, but it's short of the 150mg most energy drinks contain.
Other Benefits
In a similar manner, improving your dietary intake of most vitamins and minerals will have a generally positive effect on your body and health.
Huel Vitamin drink will still not deliver 100% of all vitamins and minerals, and you will still have to get more calcium, zinc, magnesium, phosphorus… through your diet.
Some of these like zinc and calcium are extremely important, as they are often lacking in plant-based diets. Zinc boosts the immune system, supports DNA synthesis and protein synthesis, and even promotes cellular tissue repair.
Huel Daily A-Z vs Energy Drinks
One of the main competitors for Huel Daily A-Z vitamins seem to be energy drinks (according to Huel).
While in my opinion, they target different audiences, there is an overlap, especially if you plan to go with the caffeinated version.
When comparing Huel Daily Vitamin vs Red Bull and vs Monster, you can see that Huel is a healthier alternative. It provides more vitamins and minerals which have essential roles in your health.
However, both Red Bull and Monster are specialised in providing you with energy, focus, and increasing your attention. Thus, they have less vitamins, but they contain the vitamins that enhance this area.
They also have increased caffeine content and include taurine, l-carnitine, guarana extract, glucuronolactone to provide you with a bigger boost. For example, L-carnitine is primordial for energy production and brain function.
Furthermore, the sugary version will have more calories and will be more efficient fueling physical activity.
Thus, if your goal is to use Huel Daily A-Z as an energy drink, you better look elsewhere.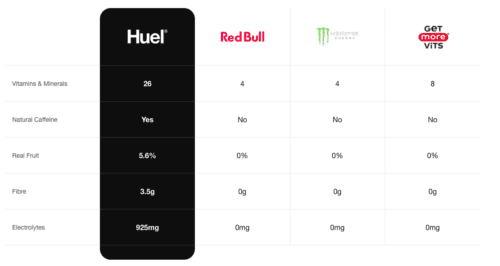 Huel Daily A-Z Drink Price & Shipping
So what's the price of Huel Daily A-Z?
At the time of writing this Huel A-Z vitamins review, it's only available in the UK, although I suspect it will soon be released in Europe and in the US.
Both the caffeinated and the caffeine-free versions have the same price:
Not subscribed –> 1 box (12 cans) is £22 or £1.88/can
Subscribed (10% off) –> 1 box is £19.8 or £1.65/can
The minimum order is 2 boxes.
Is Huel Daily A-Z Drink Worth It?
Taking the price, the nutritional output and the benefits, is Huel Daily Vitamins worth it?
Ultimately, it will depend on what you are looking to get out of the drink.
As a multivitamin, even the most premium multivitamins are cheaper than Huel Daily (although they come in capsules.
As an energy drink or pre-workout, Huel A-Z cannot compete with most energy drinks (~£1/can). Furthermore, it is not well suited to be an energy drink or a caffeine-free pre-workout.
As an all-in-one health boost, it's OK. However, I would argue that Huel Greens or any of the best green powders will be better suited as they also have more antioxidants, anti-inflammatory agents and digestive enzymes.
Therefore, I don't really think Huel Vitamins is worth it, and I believe that even Huel Greens is a better alternative. However, Huel Daily Vitamins does come in a more fun and easy-to-consume format.
Huel Daily A-Z Vitamins Reviews from Users
At the time of writing this Huel vitamins review, there are very few customer reviews.
However, from Huel Daily A-Z Vitamin Reddit reviews and comments, I have gathered that the drink is rather sweet but easy to drink.
First sip, big flavour, really quite sweet, again with the slight yeast flavour. The bubbles certainly pull back on the sweetness, breaking it up on the tongue.

u/OliverKennet, on Reddit
I tried mine after the gym, it was quite nice and refreshing!

u/MrOxxi
Gathering the initial reaction from people, the reception of Huel Vitamins has been quite positive. Most people seem to like the convenience factor and think of it as a clean energy drink.
Huel Vitamins FAQ
Is Huel Daily Vitamins an Energy Drink?
Despite the high caffeine content in the caffeinated version, Huel Daily A-Z vitamins is not a standard energy drink. It lacks active ingredients like carnitine or taurine found on popular energy drinks. It's more similar to a drinkable multivitamin.


Who is Huel Daily Vitamins for?
Huel Daily A-Z vitamins is ideal for those looking to increase their micronutrient intake and don't want to consume capsules.


What are the benefits of taking Huel Daily Vitamins?
Increased micronutrient (vitamin and mineral) intake can boost your immune system, energy levels, reduce fatigue, and promote your skin, hair and bone health among other things.


Is Huel Daily A-Z Vitamins available in the US?
No, Huel A-Z vitamin drink is only available in the UK for now. However, it's likely going to be available in the US and Europe soon.


Is Huel Daily A-Z Vitamins vegan?
Yes, Huel Vitamins is vegan, gluten-free, and soy-free
Verdict – Huel Daily A-Z Vitamins Review
Coming to the conclusion of this Huel Daily A-Z vitamins review, I have mixed feelings.
Huel A-Z Vitamins is not a bad product, and it will be great for those who are looking to increase their micronutrient intake in a fun way.
Perhaps, it could also act as a clean energy drink, although I think that there are better alternatives out there.
It is nutritionally a good supplement, and it tastes good, so it's not a bad product.
However, I don't think this is an essential product for most people and I believe there are better products even in the Huel lineup.
In particular, Huel Greens, since it's also packed with leafy greens and vegetables that are rich in phytonutrients.
If you have spare cash, then buy and try it out, but for most people, I don't think Huel Daily Vitamins is an essential product.
Huel Daily AZ Vitamins
From £1.86/serving