Is Ka'chava Truly Healthy? The Truth from Experts
Is Ka'chava healthy? Yes, end of the story. You can now close this page.
But wait… Why? Are Ka'chava meal replacement shakes really as healthy as they claim?
Now, you are probably asking that question to yourself. Don't worry, we are here to find out how healthy Ka'chava meal replacement shakes are and clear all your doubts about how good for you they really are.
Spoilers, as highlighted in our in-depth Ka'chava review, they are great.
Quick Links
What's a Meal Replacement Shake?
A "meal replacement" shake is a mixture of many ingredients that people take instead of eating a full meal.
Preparing and eating a full meal takes time, and meal replacement shakes help save time while giving the body more nutrients in a more balanced way because the formulation is perfect for a human adult.
In fact, the best meal replacement shakes are formulated following the latest nutritional guidelines and scientific research. They are based on nutritional guidelines such as:
As well as, guidelines by the local governments (UK, AUS).
What Is On a Meal Replacement Shake?
But what's really inside a meal replacement shake?
Well, it varies from product to product but normally is a combination of:
A source of carbohydrates and fibers. For instance, oats.
Few sources of healthy fats. Sunflower oil, seeds, or canola oil, to name a few.
Protein. Depending on whether is a vegan shake or not it can contain, pea protein, soy protein or whey protein, among others.
A mix of all the essential vitamins and minerals. Iron, zinc, vitamin A, vitamin D… there are over 25 essential micronutrients!
All of the above are ESSENTIAL nutrients. This is, your body cannot survive without them and we need to consume them regularly.
That's why you will see them listed on the product labels as well as their % of DV (daily value) or RI (recommended intake).
Ka'Chava Goes a Step Beyond
So, firstly, Ka'chava provides you with all of the above.
It contains plenty of protein, fiber, complex carbohydrates, healthy sources of fats (including omega-3 fatty acids) and all the vitamins and minerals. Great!
However, it goes a step further.
Firstly, all of the ingredients come from real food. This enhances the absorption, bioavailability and quality of the nutrients that you get. Your body gets its nutrients from real food.
Info: some of the cheapest meal replacement shakes tend to use processed ingredients that have low nutritional value. Ka'chava doesn't.
Secondly, using real food means that you will get even MORE nutrients. How is this possible?
Well, each food (ingredient) contains multiple nutrients. For instance, oats are a great source of fats, carbs, protein, vitamin E, iron… Similarly, spinach is a great source of iron, vitamin C, magnesium… and antioxidants.
Yes, you will not only get the essential nutrients, but you will also get non-essential nutrients or phytonutrients with Ka'chava, as it is made from real food.
Phytonutrients
It might sound mouthful, but phytonutrients are very important. They help with essential processes within our body, like controlling inflammation (anti-inflammatory), fighting free radicals (antioxidants), maintaining our immune system healthy (beta-carotene) etc.
Furthermore, they are especially rich in plants and vegetables.
If you consume food that has been heavily processed, you won't get any of these and it could cause chronic diseases like obesity or faster aging.
That's why getting nutrients from real foods is primordial.
Note: Ka'chava is made from 70+ superfoods that are packed with nutrients and phytonutrients.
Rigorously Tested
One last point to make about Ka'chava meal replacement shakes is that they undergo rigorous tests and have very high standards when it comes to the ingredients they put on their shakes.
In fact, many meal replacement shakes undergo much more scrutiny when it comes to quality as opposed to regular food.
This is another reason why Ka'chava shakes are healthy.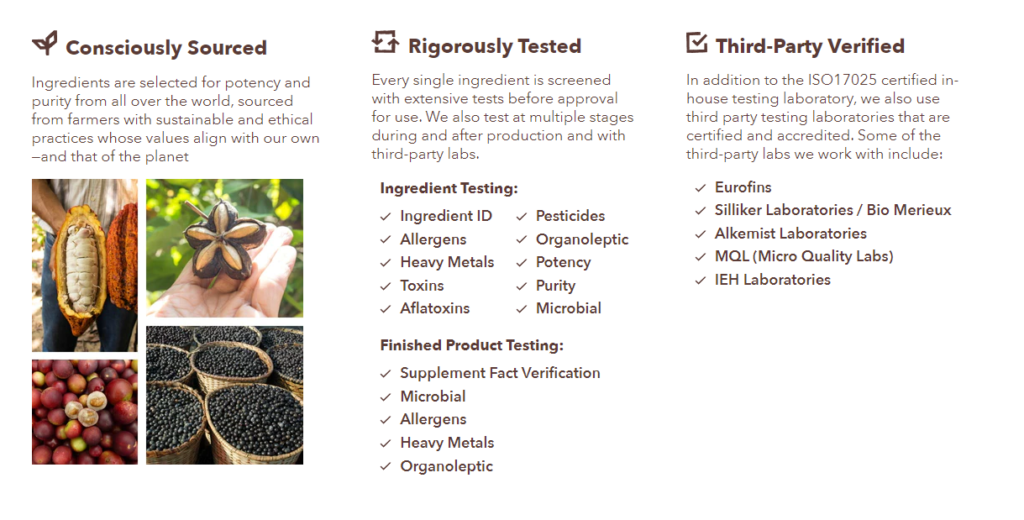 What is Ka'Chava Superblend?
Ka'Chava is a daily super blend of superfoods.
The Ka'Chava meal replacement shake is very convenient to use, contains more than 70 organic components, and is loaded with protein.
Some of these superfoods include organic spinach, kale, organic maqui berry, organic blackberry, chlorella, organic acai berry, and organic shitake mushroom… The list goes on and on.
Everything, including protein, fiber, adaptogens, digestive enzymes, and super greens, can be easily found in the Ka'Chava powder. The entire mixture can be consumed immediately and at any time of day, boosting your health at the most convenient time.
What Are Superfoods in Ka'chava?
Superfoods are simply foods, usually plant based, that are naturally rich in significant complex nutrients such as vitamins, minerals and antioxidants that may provide health benefits more than others.

From Ka'chava
This is, superfoods are ingredients that contain significantly more nutrients than others, often without providing you with many calories. As such, they help you boost your nutritional intake.
Are Ka'chava Shakes Healthy? A Real Life Example
Until now, it has all been good and pretty.
But how do Ka'chava shakes compare to other "healthy" smoothies or drinks that we think are good for us? Is Ka'chava good for you?
Is Ka'chava really as healthy as I pointed out above?
Ka'Chava vs Green Smoothie
You will see many green smoothies in the supermarket, all filled with fruits, superfoods and claiming that they can help you detox your body.
Most of us associate them with healthy and good nutrition.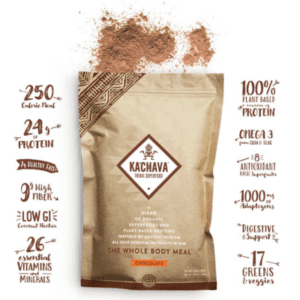 Contains all essential nutrients
Has 24g of protein
No added sugars
High in fiber
Includes digestive enzymes, antioxidants, adaptogens, omega-3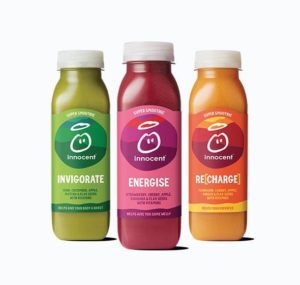 Lacks essential nutrients (vitamins, fats, protein…)
1.5g of protein per serving
26g of naturally occurring sugars
Only 2g of fiber
As you can see above, green smoothies are not as rich in nutrients as they claim. While they are a great source of phytonutrients and micronutrients, they will always lack some essential vitamins and minerals.
Furthermore, they are not a great source of protein or healthy fats.
Thus, Ka'chava is a healthier drink.
How Do Users Feel about Ka'Chava? Does Ka'chava Work?
When you look at Ka'chava user reviews, you will see that the vast majority feel like Ka'chava works for them.
Even though many are initially skeptical about the price and are not sure if Ka'chava is worth it, many become big advocates of the brand.
Look at Geneive, for instance:
Does Ka'chava Work?
Why are then users convinced about Ka'chava? Does it really work?
Well, Ka'chava obviously works at providing you with an extremely healthy meal. As discussed extensively here and in the review, it is an excellent source of nutrients.
Because it has a blend of 70+ plants and fruits you will get a boost of nutrients that will elevate your diet to the next level.
As such, if you've been lacking vitamins and minerals, you will feel re-energized, revitalized, and in a better mood.
Here are some examples:
Lack of vitamin D. This is a common occurrence in the US, and yet, lack of vitamin D is linked with chronic diseases like rheumatoid arthritis, cardiovascular diseases etc. Having this in your diet is a MUST.
Lack of iron. Feeling unusually weak? It might be because you are lacking iron and your body is not delivering oxygen to your body.
Not enough omega-3. Another nutrient missing in Western diets is omega-3. However, omega-3 is very important for its anti-inflammatory roles, reducing joint pain, promoting neural development etc.
Protein boost. Having extra protein in our diets is important too. It's a primordial nutrient to keep us full, hormone production, as a building block for our muscles etc.
Vitamin B12. This is particularly important for vegans, as it's usually found in animal products. However, vitamin B12 is required to create red blood cells and DNA synthesis. If you are low in vit B12, you might feel weak.
As you can see, ensuring that you get enough of these nutrients might be enough to cause a significant change on how you feel.
Is Ka'Chava Healthy? Is It Right for Me?
In our Ka'chava review, we made it clear that Ka'chava will be great for anybody who's willing to pay the price.
To assist consumers and nourish their bodies while taking on the day, Ka'Chava uses greens, protein, antioxidants, vitamins, minerals, probiotics, and other nutritious elements. They assert that the more than 70 plant-based superfoods and nutritional components in each serving aid to nourish the body and mind.
Ka'chava Side Effects
We've discussed the reason of Ka'chava side effects extensively in another article.
However, to sum it up, the majority of people should experience no side effects, which is primarily attributable to the product's natural and harmless ingredients.
Some of the chemicals in Ka'Chava may cause minor, transient adverse effects that were primarily abdominal in nature. Superfoods may also have certain unfavorable side effects, particularly if your body is allergic to them or if it's your first time taking one.
The potential negative effects of an allergy to this superfood are:
Stomach ache
Gas and bloat
Pain
Nausea
Benefits of Ka'Chava
Food is transformed into energy by iron, the B-complex vitamins, vitamin D, and other nutrients included in Ka'Chava.
Here are a few of the main benefits of this blend.
Immunity: Vitamins C, D, and zinc are nutrients that support the development of new immune cells, the protection of existing immune cells, and the prevention of numerous diseases.
Digestion: Ka'Chava's probiotics, digestive enzymes, fiber, and other gut-friendly nutrients help control digestion and maintain a healthy microbiome.
Mental health: Lack of magnesium, vitamin D, and other nutrients can cause sadness and interfere with concentration, but Ka'Chava helps you meet your goals.
Protein, iron, electrolytes, and other nutrients support muscle protein synthesis, endurance, hydration, and recovery in order to promote muscular growth.
Healthy weight: Ka'Chava has optimal levels of protein, fiber, and healthy fats — as well as other nutrients that assist control metabolism — making it very filling and fulfilling for not many calories.
Appearance: Ka'Chava's nutrients, including omega-3 fatty acids, vitamin E, vitamin C, and others, can help improve the appearance of your skin, nails, and hair.
Sleep: Ka'Chava has important nutrients that encourage relaxation and enhance the hormones and neurotransmitters involved in good sleep.
Stress: Ka'Chava's nutrients can assist optimum mental well-being in addition to supporting your physical body.
Heart: Research has indicated that 5 nutrients in Ka'Chava are essential for maintaining healthy blood vessels and heart function.
Joints & Bones: 5 nutrients that promote healthy joints and strong bones.
Ultimately, it's clear that Ka'chava is a very healthy source of food and nutrients.
Verdict – Is Ka'chava Healthy?
If you're looking for a meal replacement shake that can boost your metabolism, improve your appearance, and help you lose weight, then this high-protein shake is a perfect choice.
Ka'chava meal replacement shakes are among the healthiest meals you can consume.
They are also extremely healthy, and there are no reported serious side effects, besides the occasional stomach issues.
For us, Ka'chava has been incredible. It makes us feel energized, positive and rejuvenized. I can clearly notice how it increases my productivity and makes me less sluggish, as opposed to having a regular lunch, for instance.
Consequently, I highly recommend Ka'chava meal replacements.