Flexagain Review | Why This Is The Best Joint Supplement
In this Flexagain review, we will discuss and analyze what we think it's the best joint supplement for pain relief and joint mobility.
I've already spoiled what we think in Latestfuels about Flexagain joint supplement, it's the best.
However, we say this after having reviewed dozens of joint supplements (Physio Flex Pro, Arthrozene, Biotrust 33x Joint…). There's none as good as Flexagain when it comes to improving your joint health.
It certainly is not the cheapest, but the answer to both questions is the same: it is the only joint supplement that provides you with all the effective ingredients at the right doses.
Flexagain does not sacrifice the serving size or serving price, like many competitors.
Instead, it provides you 11 science-backed ingredients at effective dosages, and no fillers. That's what makes Flexagain effective vs joint pain, swollen joints, fighting inflammation and improving overall joint health.
Anyhow, let's dive into this Flexagain review to carefully analyze this joint supplement
No time to read the full Flexagain joint review? These are the 5 most important takeaways:
The most effective joint supplement to relieve joint pain and help repair
Ingredients are in effective dosages
Good source of omega-3, boswellia, turmeric extract, and resveratrol
All ingredients are in effective doses
Slightly more expensive than some alternatives, but worth every penny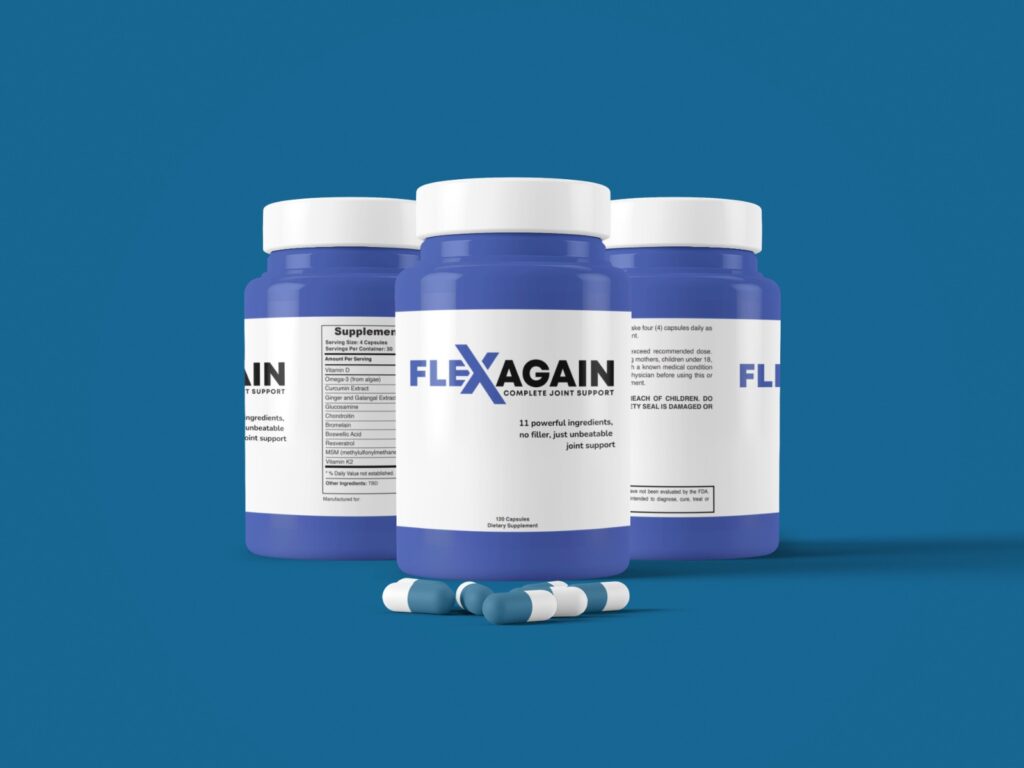 Quick Links
---
---
What Are the Ingredients of Flexagain?
When looking at Flexagain ingredients, two things stand up from the get go:
There are 11 ingredients (the most of any joint supplements).
No proprietary formula hiding the quantities of each ingredient.
Consequently, we can observe from the get-go that the ingredients in Flexagain are in the right doses (like 1,100mg of Omega-3!).
It is clear that a lot of thought and research has gone in order to create this product.
On the down side, there could be traces of shellfish in Flexagain, which means that this product is not suitable for vegans.
Anyhow, here is the ingredients list in Flexagain:
Omega-3 (1100mg)
Curcumin Extract (500mg)
Methylsulfonylmethane (50mg)
Eurovita Extract 77, ginger (250mg)
Glucosamine HCl (400mg)
Chondroitin (250mg)
Bromelain (100mg)
Boswellic acid (100mg)
Resveratrol (100mg)
Vitamin D (15mcg)
Vitamin K2 (70mcg)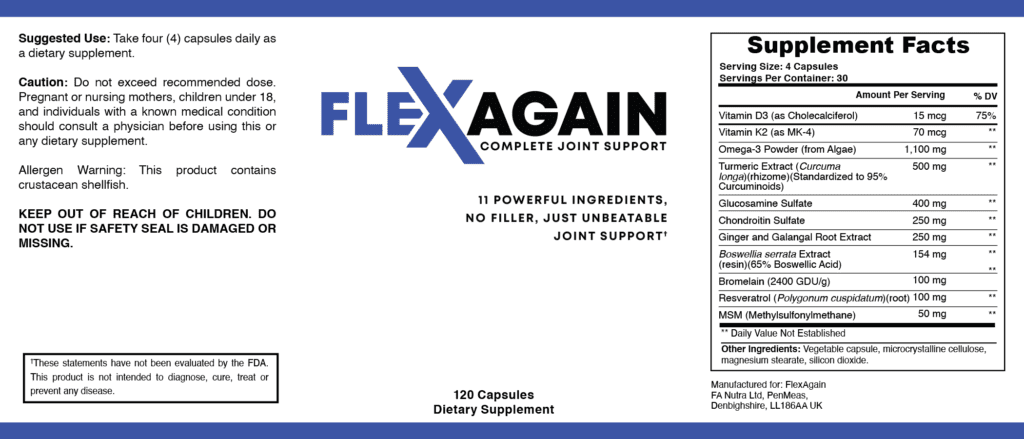 Let's now anaylise the most important ingredients.
1.Omega-3 – 1,100mg
Omega-3 is a highly effective anti-inflammatory agent with proven benefits against rheumatoid arthritis (RA) and osteoarthritis (OA), but one that's often underdosed (like in Omega XL) or missing (Physio Flex Pro).
Flexagain provides 1,100mg of omega-3 fatty acids (EPA and DHA) which studies have shown to have potent anti-inflammatory roles.
In a research study carried out in 2020, more evidence was found about the effect omega-3 fatty acids had on reducing swollen joints and alleviating morning stiffness.
2. Curcumin Extract – 500mg
This is the only joint supplement using curcumin extract instead of turmeric. Curcumin is the active ingredient in turmeric, which means you will get a more effective ingredient.
Curcuminoids have anti-inflammatory effects that can help with joint pain relief.
A meta-analysis of 11 studies with 1,258 participants discovered that patients with knee osteoarthritis showed significant improvement in pain when treated with curcuminoids.
3. Methylsulfonylmethane (MSM) – 50mg
Recent evidence has shown that MSM can be effective in inhibiting pro-inflammatory agents in OA and RA patients.
It is also effective at pain relief (partially due to it's anti-inflammatory properties) and can even induce improvements in joint mobility.
However, the doses in Flexagain are significantly lower than those uses in the studies, and it's the only ingredient that is underdosed.
4. Chondroitin – 250mg
Often paired with glucosamine HCl and MSM, some research suggests that it's efficient in reducing pain and stiffness, while increasing joint mobility.
However, the exact mechanisms by which this occurs are still and clear, and there's also other evidence suggesting that it's not as effective for pain relief.
5. Glucosamine HCl – 400mg
As mentioned above, it's often paired with chondroitin to achieve better results.
Besides, glucosamine hydrochloride is three times as potent as glucosamine sulphate, found in many Flexagain competitors.
A study published in the Journal of the American Medical Association (JAMA) in 2000 found that glucosamine was effective in reducing pain and improving physical function in patients with knee osteoarthritis.
While there have been conflicting reports since, most recent research (2022) suggests that glucosamine can be highly beneficial for OA patients.
6. Eurovita 77, Ginger – 250mg
Ginger extract is not a common ingredient in joint supplements.
However, pure ginger extract has been shown effective at stopping mild OA.
Other studies showed that ginger was able to reduce inflammation by 40% in OA patients, showing that this is a great ingredient to have in any joint health blends.
7. Bromelain – 100mg
Bromelain is an enzyme found in pineapple.
Evidence in animal models and clinical studies shows that it has analgesic and anti-inflammatory properties that can stop cartilage degradation and downregulate inflammation by acting in the MAPK signaling pathway.
8. Boswellia serrata – 100mg
Boswellia is a very common anti-inflammatory found in most joint supplements. Terpenes found in boswellia can stop inflammation in RA patients in doses as 100mg when it's in its purest form.
9. Resveratrol – 100mg
Resveratrol is a very interesting ingredient that acts in multiple ways in your joints.
It has an anti-apoptotic effect, this is it stops your cells from killing themselves, stopping cartilage degradation. Plus, it is also an anti-inflammatory and activates the immune system supporting the repair of swollen joints.
10. Vitamin D – 15 mcg
RA and OA patients are often deficient in vitamin D. While the exact link between vitamin D and these joint disorders is not fully understood, low vitamin D in OA patients is associated with bigger pain.
11. Vitamin K2 – 70mcg
Studies have linked vitamin K with the stoppage of calcification of your cartilage in OA patients.
Even if the exact dose is not fully known, given the dietary deficiencies (including the rarer vitamin K2 form) this is a great addition for anyone suffering from arthritis.
What Are the Benefits of Taking Flexagain Joint Support?
When it comes to discussing the potential benefits of Flexagain, there are many. These include:
Comprehensive joint health support
Anti-inflammatory effect
Reduce swollen joints
Joint pain relief
Improved joint mobility and flexibility
Combat OA and RA symptoms
Even if it seems that we are just listing all the benefits you would want in a joint supplement, these are real benefits of taking Flexagain.
As we discussed in-depth in the ingredient section, Flexagain contains multiple ingredients that could improve help you relieve your knee joint pain, and reduce joint inflammation.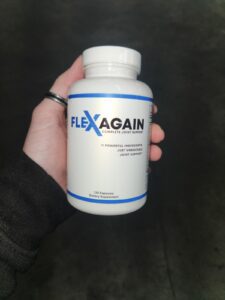 Does Flexagain Work?
Yes, Flexagain works and is the most efficient joint support supplement in the market.
It is particularly efficient in 3 areas:
Reducing joint pain
Decreasing inflammation
Rejuvenating your joints
Firstly, there are many anti-inflammatory ingredients like 1,100mg of omega-3 fatty acids, boswellia, MSM and curcumin extract. They all act in different pathways stopping joint inflammation and therefore also reducing joint pain.
However, Flexagain also has ingredients that have been proven to reduce joint pain like glucosamine, or vitamin D.
On top of that, ginger, bromelain and vitamin K2 can delay OA and even improve joint health by stopping cartilage degradation and calcification.
What Are the Side Effects of Flexagain?
We have experienced no real side effects with Flexagain.
On top of that, the only allergen in Flexagain is shellfish, so it should be generally safe to consume.
That said, if you have any adverse effects like nausea, vomiting or diarrhea, you should stop taking Flexagain immediately.
Is Flexagain Legit?
As a recently founded company, it is understandable to have some doubts about the legitimacy of Flexagain.
However, our research suggests that Flexagain is 100% trustworthy and there are already multiple expert reviews online remarking on the potency of this joint supplement.
Plus, we haven't found any negative user reviews or online Flexagain reviews suggesting this company is a scam.
Flexagain Price
For many, the price of any joint supplement will be the tipping point.
You can purchase Flexagain on their own website and enjoy free shipping within the US. They also offer great bulk discounts that we would recommend making use of, as joint supplements require long-term healing.
1 Tub (30 days supply) –> $69.47 in total, $2.32 per serving
2 Tubs (60 day supply) –> $129.19 (8% off), $2.15 per serving
3 Tubs (90-day supply) –>$182.01 (13% off), $2.02 per serving

Is Flexagain Worth It?
Arguably, this is Flexagain's weakest point as it is slightly more expensive than its competitors like Heal 'n' Soothe, Physio Flex Pro, or Relief Factor.
That said, pound-for-pound Flexagain is a better deal, as it offers more comprehensive joint support.
For instance, Physio Flex Pro is cheaper, but it does not contain any omega-3, which is essential fighting swollen joints.
Similarly, it has more effective ingredients than Biotrust 33x joint and Arthrozene, two popular Amazon joint supplements.
Therefore, from our expert view, Flexagain is 100% worth it.
Real User Flexagain Reviews
Unfortunately, there aren't many real user Flexagain reviews online yet. Hopefully, they add a reviews system or sell via Amazon in the future to see more user reviews.
This is relatively common for new brands.
They do, however, have some user testimonials:
After I was in a serious road accident, I was told I'd never have mobility back in my shoulder without surgery and would probably need pain medication or stronger for the rest of my life. With dedicated physio and the supplements from Flex Again I function again. The pain didn't completely vanish, it's not a magic pill, but it's 100 times better than it was and I don't need to pump myself full of meds that wiped me out to get through the day. I got my life back

Mike L, Flexagain
We will update this page once more Flexagain reviews are public.
Flexagain Reviews FAQ
Does Flexagain offer a money-back guarantee?
Yes, Flexagain offers a no questions asked money-back guarantee.

Is Flexagain good for hip joint pain?
Yes, Flexagain is the best supplement for hip joint pain.


How long until I notice any effects?
You should see some joint pain relief within the first few days, but at wait at least 2 weeks to see any improvements in your joint flexibility.

Is Flexagain vegan?
No, Flexagain might contain shellfish traces, which means is not vegan.

What Is the Best Flexagain Alternative?
We have reviewed over 15 joint supplements, and we still believe that Flexagain is the best joint supplement for most users out there.
That said, there are some exceptions.
For instance, if you don't deal with anti-inflammatory supplements very well, Cosamin ASU might be better for you.
Similarly, if you are looking for a joint supplement without omega-3, Physio Flex Pro will be your best bet. It's also a great product with a well-rounded formula.
Alternatively, for a vegan-friendly joint supplement, look no further than Performance Lab Flex. It's slightly more expensive than Flexagain, but does not include any animal-derived products.
#1 Alternative to Flexagain – Take Care of Your Diet with LYFEfuel
This is cheating, as LYFEfuel Daily Essentials is not a joint supplement but a meal replacement shake.
The best meal replacement shake that is. One that will provide you with all nutrients that your body needs without filler calories.
You will get all the omega-3 you need, plenty of vitamin D, vitamin K2, boron etc as well as plenty of quality plant-protein.
Ultimately, you need a healthy body and an energized immune system. LYFEfuel Daily Essentials is ideal to provide your body with nutrients it needs, as well as a boost in anti-oxidants, anti-inflammatory agents, flavonoids etc.
---
Verdict – Flexagain Review, Simply the Best
We have now reached the end of this Flexagain review.
To sum it all up, Flexagain is simply the best joint supplement you can buy.
It has all the right ingredients (11) that tackle joint pain, inflammation, flexibility, cartilage health, and helps you fight OA and RA.
The trick is that Flexagain does not sacrifice the price and the serving size. As such, it might be a little bit more expensive per serving than its closest competitors, but it's much cheaper in the long run.
Similarly, 4-pill servings might not be for everybody, but it's the only way you can cover all areas related to joint health.
This is why Flexagain is the best joint supplement for arthritis, joint pain and joint health in general.
Flexagain
From $2.02 per serving
Pros
The most comprehensive joint supplement in the market
Highly efficient vs joint pain and inflammation
Reasonably priced
No filler ingredients
Best for knee pain relief
Cons
MSM slightly underdosed
No user reviews
Not for vegans