Eve Biology Review | Shakes To Help You Through Menopause
Welcome to this Eve Biology review, a look into this unique meal replacement brand that has created a shake for women experiencing perimenopause and menopause.
Tailored and or targeted meal replacements are nothing new. There are products for those looking to lose weight, gain weight, supplement nutrition, recover after medical procedures and for many other purposes.
As mentioned, Eve Biology is a meal replacement marketed towards women experiencing perimenopause and menopause, which can cause fatigue, dry skin, hot flashes and night sweats as minor symptoms, but also major ones like decreased bone density, joint pain, brain fog, and migraines.
Eve Biology shakes seek to combat that with their nutritious shakes that intentionally exclude many common allergens, along with other ingredients that can be inflammatory or may exacerbate present symptoms.
Is this new company on the "eve" of something great? Let's find out!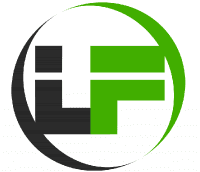 Not up for a long read? Here are LatestFuels quick takeaways:
Eve Biology is a new company based out of the UK
Their meal replacement specifically designed for to combat the symptoms of menopause.
It comes in 3 flavors, and is completely allergen free
It is formulated to not only lessen the effects of menopause, but also won't interfere with hormone replacement therapy
Not the cheapest at $5.20/serving
No subscription, but a 25% discount on a three-bag order
---
Eve Biology at a Glance
Flavors: Vanilla, Chocolate, Strawberry
---
Opinion
The story – One evening, an unexpected package lands at my door. Wasn't sure what it was exactly, but I could tell it was likely some company's powder to try. As I open it and take a look, seems very run of the mill, the front mentions weight control…something I can certainly use. So, I flip it over to read the back, and there it is…MENOPAUSE! At this point, my mouth drops 😮
Shock aside, and after realizing I wasn't pranked, I came to notice that it had a decent profile and wasn't infused with hormones I personally didn't need. It's just product that skipped many under the radar additions so as not to make any symptoms from menopause worse.
What They Got Right
1. Completely allergen free. Unless you have a unique sensitivity, nothing in Eve should cause issues
2. Informative nutrition panel. Full breakdown of every ingredient and its contained amount.
3. Chocolate is rather good. Good enough to have daily or multiple times a day.
4. Low calories. Supports weight loss and lends room for additions.
5. Decently filling. I had low expectations at 209 calories, but was pleasantly surprised
6. Efficient at combating the side effects of menopause.
Room For Improvement
1. Not great when not blended. Was a chore when shaken, blending is the way to go.
2. Expensive. At north of $5 per serving, only discounted with three bags orders and no subscription…it definitely costs.
3. Better flavoring for vanilla/strawberry. Neither contain any of what they purport to taste like.
Nutritional Breakdown
Eve Biology Nutrition Overview
Kcal/meal
209
Macros (C/P/F)
12/25/5
Vegan
Yes
Keto
No
Features
Weight Control, Allergen Free,
Menopause Focused, HRT Friendly
Non-GMO
Yes
Organic
No
Includes Probiotics
No
Artificial Sweeteners
No
Synthetic Additives
No
Contains All Micronutrients
Yes
Controversial Ingredients
None
Carbohydrates
Based on 209kcal serving:
Total Carbs: 12.2g, 4.8%% of DV.
Net Carbs: 7g, (Total Carbs – Dietary Fiber – Non-digestible Carbs)
Sugars: 5.2g, 21% of DV
Fiber: 5.3g, 21% of DV.
Eve opts for the use of coconut flour, as well as gluten-free oat flour. Coconut flour is also gluten free and contains higher fiber, potassium and iron than wheat-based flour. Chicory root is also in play here, which has been shown to benefit regularity, healthier blood sugar and weight loss.
Protein
Per 209kcal serving:
Total Protein: 25.4g, 18% of DV
Source(s): Brown Rice Protein, Pea Protein
We have the usual suspects here with pea protein and brown rice protein, who's benefits we've spoken about in many past reviews.
Something different though…fava bean protein. Fava beans are not only protein packed but come with decent amounts of many important minerals such as magnesium, iron and zinc.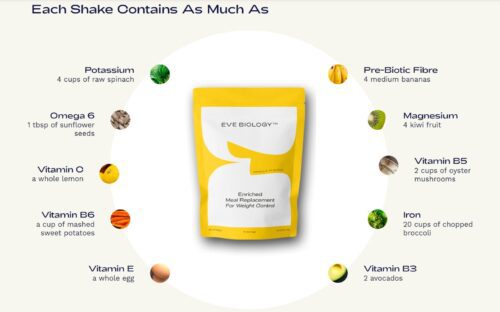 Fats
Per 209kcal serving:
Total Fats: 5.3g, 8% of DV.
Saturated Fats: 1.8g, 9% of DV.
High-linoleic safflower oil is rich in polyunsaturated fats, while high-oleic safflower oil contains more monounsaturated fats. Eve contains 1011mg of omega-6 linoleic acids.
Also, the use coconut flour, the byproduct of coconut milk & oil production, will contain a couple grams of healthy fats as well.
Micronutrients
Eve contains 24 micronutrients, and all are at least 30% or greater of your recommended daily intake.
Allergens
Eve Biology contains none of the primary allergens that affect most people, and has also nixed many other additives, so it should be safe for all. Check out this impressive list:
No Dairy
No Gluten
No Fish
No Nuts
No Animal Products
No Corn
No Tapioca Flour
No Soy
No Caffeine
No Allulose
No Maltodextrin
No Modified Starch
No Maltitol
No Palm Oil
No Sulphur Dioxide
No Lupin
Taste Test
Taste test time. Hopefully, these are good, let's find out.
Vanilla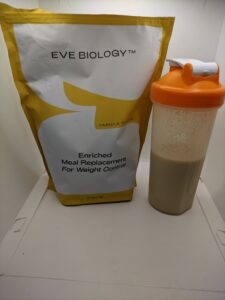 Starting with vanilla, I found the powder to be somewhat thicker than others. Had an almost wet sand like consistency.
With two scoops, it made for a medium thick shake, but texture wise it was not great. It had a grainy feel with lots of little bits in it. I think I'll stick with blending these.
Taste wise, it was only ok. It wasn't bad and took some getting used to. I was able to get it down but is not a flavor that I'd want to have often.
Chocolate
I opted to blend chocolate for a better texture, which helped a lot.
This one tasted better than vanilla and was much easier to drink.
I think that having actual cocoa in it went a long way in making it more palatable.
An overall good experience.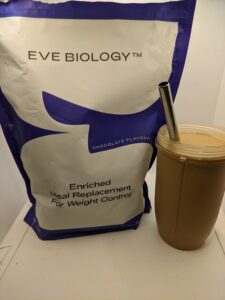 Strawberry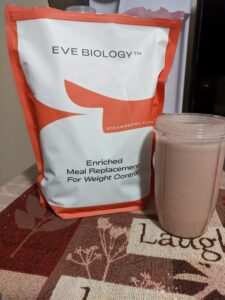 For the record, if having a natural product without artificial flavoring is the goal, you may very well have to spend a bit more to get flavoring where you need it to be.
This flavor did NOT do that…as there were no strawberries in this mix. Therefore, what do you think it tasted like? Definitely not strawberry.
This was by far the worst flavor.
Summary
In summary, chocolate was pretty good, vanilla only ok, and strawberry can be skipped. Despite the lower calories, I found myself decently full for a while. Also, blending is must, and plan to blend a bit longer than you would with other products.
About Eve Biology
Eve Biology founder, Angela Patton launched Eve Biology recently in June 2023.
Menopause brought with it weight gain, uncharacteristic anxiety and memory lapses which started to affect her confidence and career, so she sought to reclaim who she was.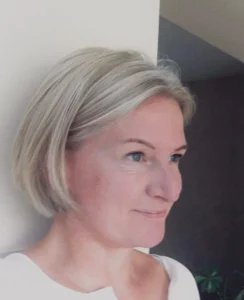 I was struggling to finish an easy exercise class after work one day when I joined the dots and realized I was in perimenopause. Weight gain, anxiety, brain fog, and sleep issues suddenly all made sense. My once boundless energy, focus, and confidence were slowly being sapped away each month. Numerous visits to my GP had ended with no definitive answers or solutions. I simply couldn't accept that this was my new reality.

So, I began to experiment with adding supplements to my morning shake routine, hoping to find an easy and effective way to feel like myself again. There was a lot of trial and error, researching and testing various options, until I landed on the idea of replacing my meals with an enriched shake to reduce my calorie intake and alleviate my symptoms.

After convincing my business partner and meeting a brilliant formulator, we spent over a year testing countless versions until we finally created the best meal replacement for women over 40. It has made a huge difference in my life, and I truly believe it can do the same for other women.

– Angela Patton
Founder
Pricing
Eve Biology can only be purchased from their website. While no subscription options are available, they do offer a 25% discount on three-bag orders.
Order Amount
Total Price
Serving Price
Single Bag
£78
£5.20
Triple Bag
(w/25% discount)
£178.50
£3.90
Shipping
Orders in the UK ship free with express delivery, and there is no added cost for non-mainland UK addresses. Arrival is expected within 2-3 days.
To Europe (DE, ES, FR, IT) shipping costs are €15 and arrives within 7 days.
International shipping is available, and subject to international shipping charges.
Shipping to the US is based on weight and delivery will take 2 to 10 days. 3 pouches would cost you $17.
Customer Eve Reviews
Eve Biology is still very new and does not have many reviews, however the handful that were left at the site TrustPilot seem to be very positive so far.

These meal replacement shakes are not available on Amazon, yet, so no Eve Biology Amazon reviews are available
Eve Biology vs. Team UK
Now we're going to take a look at Eve Biology up against some of the best meal replacement shakes in the UK.
It's worth noting that none of the brands mentioned below are focused on helping women with menopause, but there are a lot of meal shake brands for women like Dare Motivation, Feel, Exante…
From those, we love Dare Motivation.
Also, we'll compare it to Rootana, a fairly new, all-around meal replacement that has many of the bases covered and has left out some of the more common less healthy additions you find in other products. It has become our daily meal shake, due to its clean formulation and excellent taste.
Head to Head
Category
Eve Biology
Rootana
serving price
£5.20
(GBP)
£3.57
(GBP)
kcal/serving
209
400
servings per
15
14
Flavors
3
3
Protein (g)
25
20
Sugar (g)
5
12
Fiber (g)
5
9
Fats (g)
5
14
Carbs (g)
12
46
Vegan
Y
Y
Certified
Organic
N
N
Micronutrient
24
26
Artificial Sweeteners
N
N
Synthetic Additives
Y
Y
GMO?
N
N
Protein Source
Pea/Rice/
Fava Bean
Oat/Pea
Availability
International
US/UK/EU
The Results
First thing of note is the initial sticker shock, at north of five pounds per serving, higher than both Dare Motivation & Rootana.
The other thing that stands out is the lower calories and carbs, lending itself to the weight loss crowd as its marketing is aimed at. It provides a nice amount of protein and fiber for its lower calorie count.
Dare Motivation has high protein vegan meal replacement shakes that are very sweet. It also has 4 exciting flavors. Eve Biology shakes are better for older women, and actually help you with menopause symptoms, unlike Dare. For the younger generation, Dare is an excellent shake.
Eve is a fair bit leaner than Rootana which is to be expected. I found Rootana better tasting and the fact that its lighter on the wallet can't be overlooked.
One thing to note is that Eve shakes are much better than the white-label ASDA Great Shape shakes that you can buy on retail. Those will not do you any good.
Eve Biology Alternatives in the US
If the Eve and others are a bit too pricey for you, try out Huel Essential. It has 20g of protein and 27 vitamins and minerals, at only £1 per serving!! It's not as tailored as Eve is but should cover many bases.
However, Huel Essentials is not as healthy as LyfeFuel Daily Essentials shake. Furthermore, the low calorie content and the higher vitamin and mineral content is much better suited for women. LyfeFuel shakes are an excellent Eve Biology alternative, if you want faster and cheaper shipping.
Alternatively, you can try out Ka'chava which has a wider array of flavors.
Eve Biology FAQ
How do I know this product will help me to lose weight? 
It's been formulated to meet EU regulations which lays down the compositional requirements for foods for use in energy restricted diets for weight reduction.


Can I take your products post menopause?
Yes. Our prebiotic fibre is a natural fructose–oligosaccharide, which has been shown to calm IBS symptoms.


I have IBS. Can I take your meal replacement?
One serving of flaxseed provides a good amount of protein, fiber, Yes. Our prebiotic fibre is a natural fructose–oligosaccharide, which has been shown to calm IBS symptoms.


Please outline the return policy?
If it's not for you, no problem. Send your purchase back to us and we'll refund your money.


---
Verdict – Eve Biology Review
I was raised by some of the best women ever to walk god's green Earth. While amazing, they were surely women of a certain age and not without various struggles, one of which was the "change of life" as we call it.
After having the product, I do believe that Eve Biology's formula would help dampen some menopause symptoms if used in conjunction with an improved diet and exercise regimen.
It certainly is the easiest step to take before popping supplements or undergoing hormone replacement therapy (HRT). And even if that is what is recommended by your doctor, Eve works alongside HRT.
Eve Biology can also be a useful tool for weight management during menopause and help you weight loss.
Strictly as a meal replacement, it's a decent first run. Some improvements to consider are texture improvements so it doesn't take extra blending and tinkering with the vanilla & strawberry flavors to get them in line with how good chocolate was. Additional ways to work in discounts would be appreciated too.
Bottom Line – If you are suffering due to menopause Eve Biology may very well be worth a shot. If not, maybe consider LyfeFuel as a weight management meal replacement.