Muniq Shakes Review | Resistant Starch To The Rescue?
We have another awesome complete food to look at, Latest Fuelers! This year is winding down fast and today we're doing the Muniq meal replacement review.
Note: The brand has rebranded to Supergut, so I might say Supergut review or Muniq review, but mean the same thing!
Pronounced MEW-NEEK, this is a fairly new meal replacement that seeks to treat "food as medicine". That said, Muniq is engineered with a primary focus on improving gut health.
According to Muniq, their team reviewed more than 300 clinical studies on the gut microbiome while designing this meal replacement shake!
Consequently, Muniq is an all-natural, diabetic-friendly shake with zero sugar, 15g of protein, 15g of fiber, 7g of net carbs and 26 vitamins and minerals. They also offer vegan and milk protein-based formulations.
But arguably, the star of the show is the amount and type of fiber. Those two main ingredients consist of prebiotic-resistant starch, and prebiotic fiber. 
The TLDR is that prebiotic-resistant starch passes through the small intestine, and ferments in the large, which feeds the good bacteria therein. This is achieved by using green banana powder, which is rich in this particular starch. So in theory, this should greatly reduce and virtually eliminate blood sugar spikes. A huge win for those with diabetes, and also those with certain gastrointestinal issues.
Now that we've all learned something new, let's see if Muniq can get our seal of approval! Let's go!
Short in time? Can't read the full Muniq/Supergut review now? Here are the 5 most important points:
A premium brand that it's ultra-focused on gut health
Vegan and dairy-based shakes: 15g of protein, 20g of fiber, 6g of net carbs, 26 vitamins & minerals
The taste wasn't as good as other premium shakes, and the plant-based shakes were chalky
Muniq/Supergut did help with our intestinal flow, and we think could help improve our microbiome
That said, it's too expensive, lacks omega-3 essential fatty acids, thus, we can say this is the best meal replacement shake out there. We recommend LYFEfuel Daily Essentials, instead.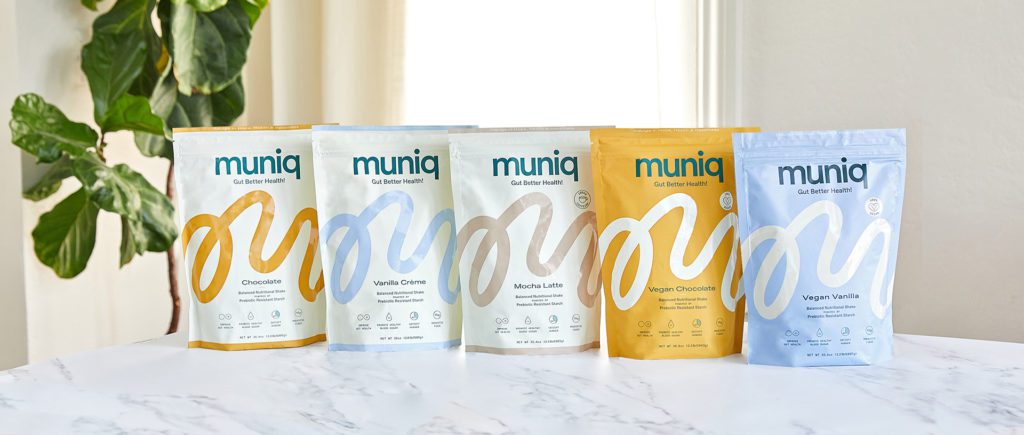 ---
Muniq Review at a Glance
Flavors: Vanilla Creme, Chocolate, Mocha Latte, Vegan Vanilla, Vegan Chocolate
---
Opinion
Ya know, after Atkins, I had my fill of high-fiber offerings, but here we are again.
This time, I'm curious about satiety. The recommended meal it's only 170kcal per serving, but does have tons of fiber which does help to keep you full for a while. In fact, they claim up to four hours, which would be quite a feat. We definitely shall see!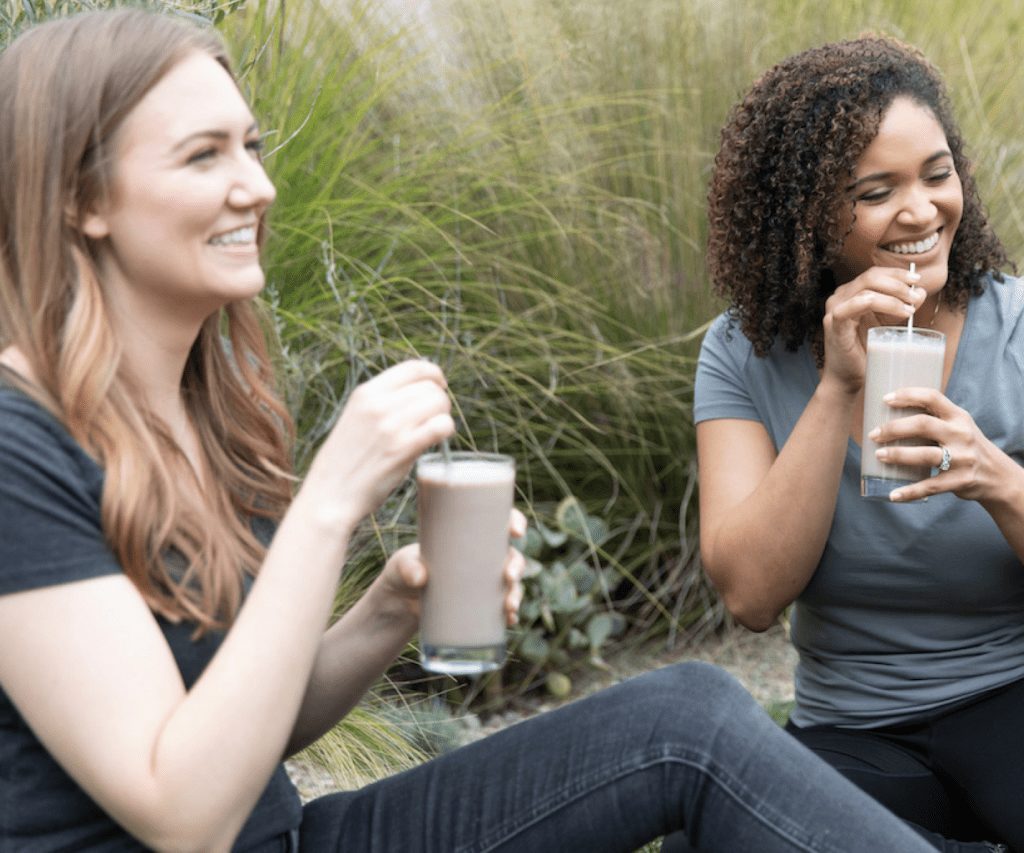 With that out of the way, I'm actually looking forward to this review. I like products that take differing approaches, and Muniq is unique in that way (see what I did there). Looking at common issues with differing perspectives and fresh eyes is how we will keep innovation moving forward in the meal replacement and complete food spaces.
I do like that it's all natural and low allergen. They don't lean into this as much as I think they should, but just looking at the ingredient panel, I appreciate that it's really straightforward.  With easily recognizable items like oats, corn, and bananas, it's reassuring knowing that Muniq harbors nothing controversial or problematic.
I'm also captivated by the company profile. It's a black-owned business with a backstory sure to tug on your heartstrings. But more on that later, time for likes and dislikes.
What I like
1. All natural. No artificial junk to worry about.
2. Great breakdown of net carbs. Easily found on the nutrition panel.
3. Option for single-serve packs. If you don't want a big bag.
4. Free of major allergens. No soy, no tree nuts, no peanuts, no shellfish + a non-dairy option. Seems like all bases are covered for everyone.
5. Shipping was fast. Nearly overnight!
6. Clearly stated caffeine content. Finally!!
7. Variety pack.
What I dislike
1. EXPENSIVE! Even with discounts…it's just too damn high!
2. Directions are super small. I'd redesign the panel layout on the back. Instructions are at the very bottom right, below all marketing jargon.
3. Expand reach.  Only shipped to lower 48 states.
4. Plant-based shake are not as good as dairy-based ones, mainly due to their chalky texture. I've experienced this with other brands as well.
5. Need more flavors. Vanilla/Chocolate get old quickly.
6. No clear omega-3 sources.
Improvements
1. Improve texture of vegan options. It was very chalky, bordering on unpleasant.
2. Try to be more flexible with pricing. I get they are new, but at over $6 per serving, the barrier for entry is steep.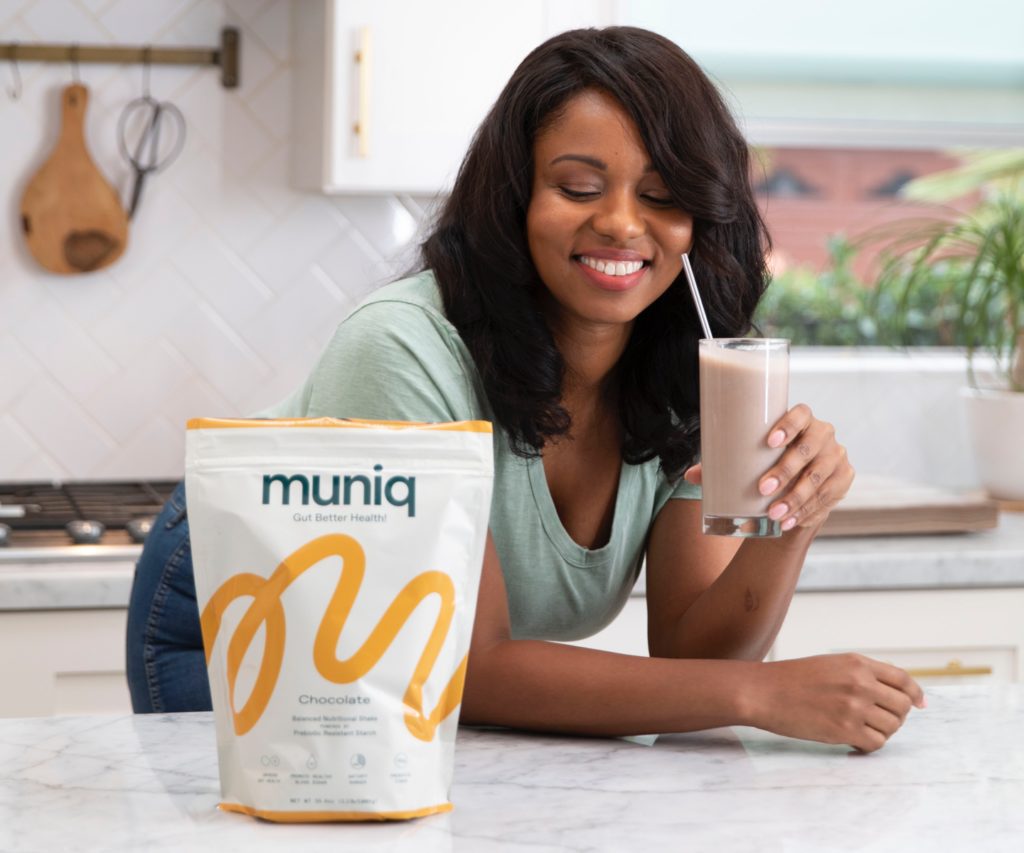 Nutritional Breakdown
Muniq is laser focused on accomplishing a handful of specific goals with their meal replacement shake. See the graphic below to get an idea of it's main objectives.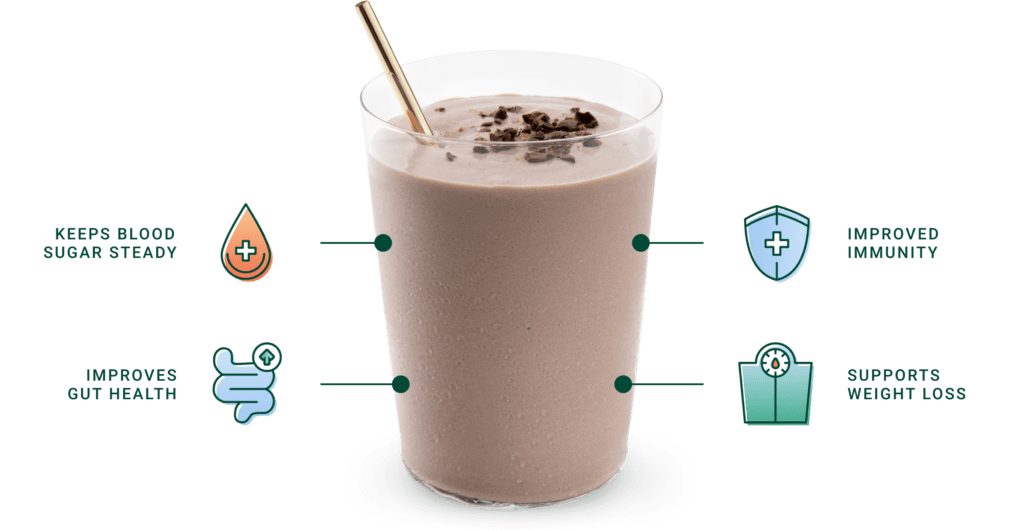 As you can see, from a nutritional standpoint, they try to offer a clean and natural shake, without sugar or soy.
Muniq Nutrition Overview
| | |
| --- | --- |
| Kcal/meal | 160 – 180 |
| Macros (C/P/F) | 34/35/31 |
| Vegan | Yes (Vegan Vanilla/Chocolate) |
| Keto | No |
| Features | Soy Free, Nut Free, High Fiber |
| Non-GMO | Yes |
| Organic | No |
| Includes Probiotics | No |
| Artificial Sweeteners | No |
| Synthetic Additives | Yes |
| Contains All Micronutrients | Yes |
| Controversial Ingredients | None |
Some values vary. Depends on if plant based or dairy.
Milk Based: Prebiotic Resistant Starch Fiber Blend (Green Banana Powder, High Amylose Maize Resistant Starch, Beta Glucan (Oats), Soluble Vegetable Fiber (Maize)), Milk Protein Concentrate, Natural Sweetener Blend (Allulose, Rebaudioside M), Creamer Blend (High Oleic Sunflower Oil, Xanthan Gum, Guar Gum), Natural Chocolate Flavour, Alkalized Cocoa Powder, Vitamin and Mineral Mix.
Vegan: Prebiotic Resistant Starch Fiber Blend (Green Banana Powder, High Amylose Maize Resistant Starch, Beta Glucan (Oats), Soluble Vegetable Fiber (Maize)), Vegan Protein Blend (Pea Protein Concentrate, Pumpkin Seed Protein, Brown Rice Protein Concentrate), Natural Sweetener Blend (Allulose, Rebaudioside M), Creamer Blend (High Oleic Sunflower Oil, Xanthan Gum, Guar Gum), Natural Chocolate Flavour, Alkalized Cocoa Powder, Vitamin and Mineral Mix.
Carbohydrates
Based on 180kcal serving:
Total Carbs: 41g, 15% of DV.
Net Carbs: 7g, (Total Carbs – Dietary Fiber – Non-digestible Carbs)
Sugars: 0g.
Fiber: 15g, 54% of DV.
This is the star of the show, what the entire product is designed around.
Resistant starch from green bananas and high-amylose maize both combine to provide 15g of fiber per serving. Both of these resistant starches have been shown stabilize blood sugar and reduce the risk of type-2 diabetes.
The sweeteners used are allulose, and rebaudioside-M, a fermented version of sugar cane. This equates to zero sugar in Muniq. Allolose is a fairly new addition to the complete food industry, and only Muniq and Soylent use it currently.
Protein
Per 180kcal serving:
Total Protein: 15g, 30% of DV.
Source: Milk Protein Concentrate or Pea/Pumpkin/Brown Rice
Muniq has products containing dairy, as well as plant-based flavors.
They both offer an identical amount of protein, making it easy to purchase whichever you prefer, without sacrifice.
In fact, both have similar efficiency to promote muscle growth after exercise.
Fats
Per 180kcal serving:
Total Fats: 6g, 8% of DV.
Saturated Fats: 1g, 5% of DV.
Omega-3s, 0g.
Omega-6s: 0g.
Muniq is very low in fats of all types.
They list it as their "creamer blend" and contains sunflower oil, xanthan gum and guar gum.
Unfortunately, this means Muniq falls short in the fatty acids department.
Furthermore, it also means that it lacks essential nutritens like omega-3 fatty acids. These are a must in any healthy diet, since they have key roles in healthy brain functioning.
Micronutrients
Muniq does contain 26 micronutrients, most of which are 20% or better or your daily needs.
Ironically, only 6% of potassium is present. Considering the product's cornerstone is bananas, I raise an eyebrow to this.
Allergens
Supergut is virtually allergen free, but doesn't mention if lactose free milk was used for the dairy based version. Something to keep in mind.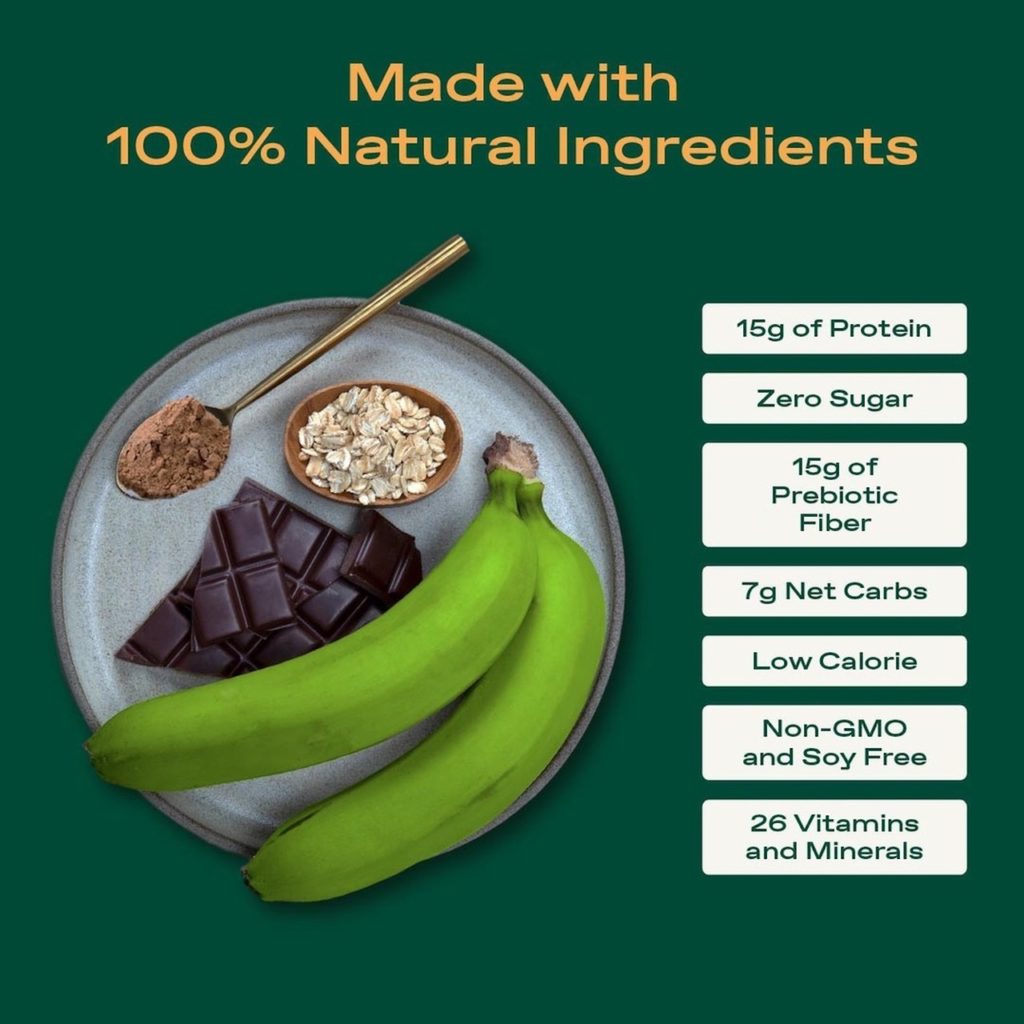 Taste Test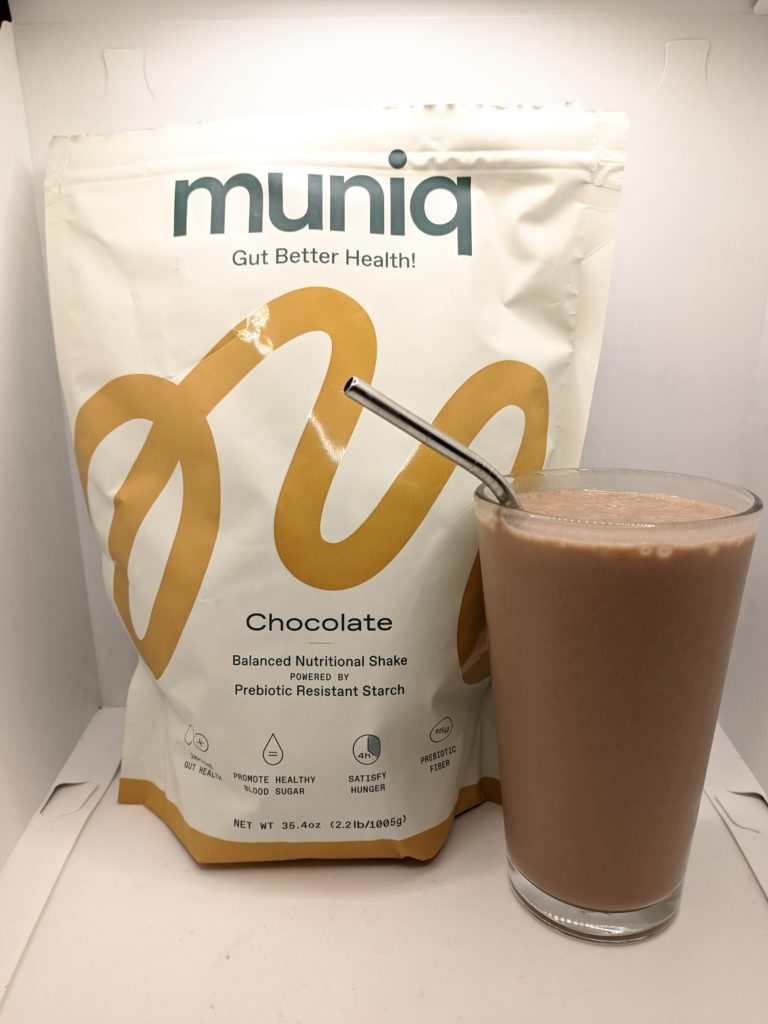 | | |
| --- | --- |
| Best flavour | Chocolate |
| Taste | Chocolate was solid. Vegan Chocolate wasn't as good and the texture was a challenge to deal wtih. |
| Texture | Chocolate was fine. Vegan Chocolate felt like a mouth full of sand. |
| Satiety | Around 2:45 for Chocolate, and about 2:30 for Vegan Chocolate. Not quite 4h, but not a bad showing! |
| Easy to Clean | Chocolate – Yes. Vegan Chocolate – No. |
| Afterthoughts | The chalky texture of Vegan Chocolate is my primary complaint, and a deal breaker. |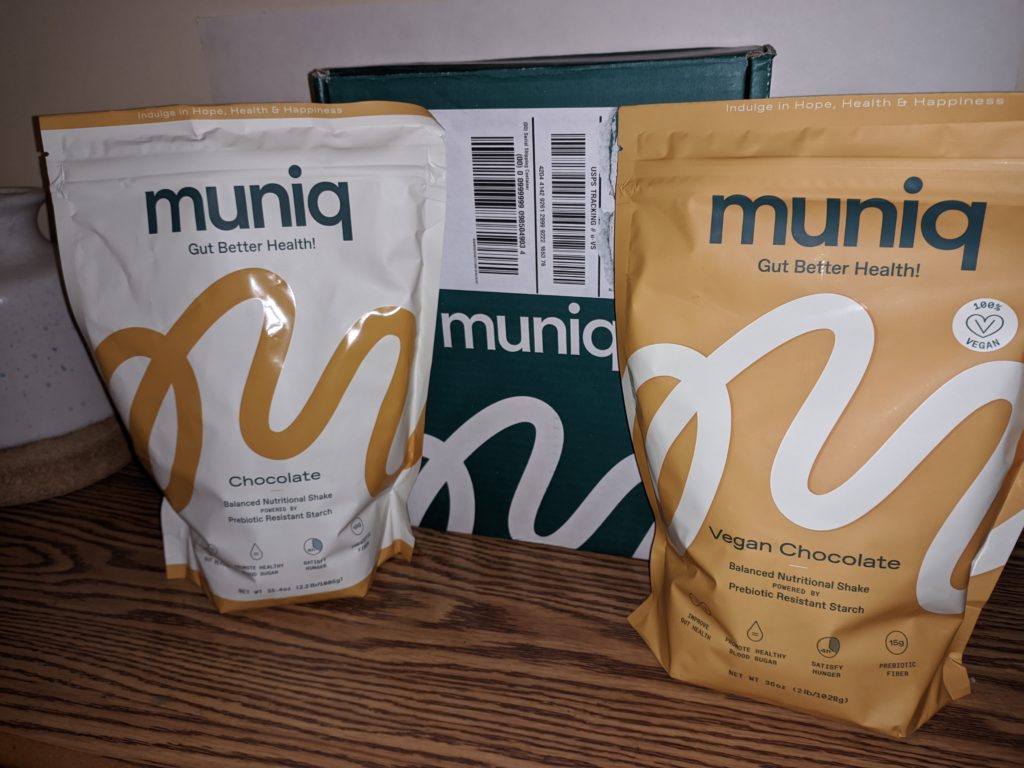 So, we have an all chocolate affair this time around, with Chocolate & Vegan Chocolate in the lab today.
At first glance, the packaging looks and feels well made, with only the product found inside its forest green box. No inserts, booklets, or other materials present. The bags were easy to open and reseal, and included a long-handled scoop.
Nothing to see here really, so let's get into how Muniq tastes, and if it's as filling as advertised.
Chocolate
First up…Chocolate. This is the milk based one. Upon opening the bag, I was greeted by a nice hot chocolate smell. Seems to be finer powder than expected too. Anyway, I decided to use my blender and mix with 350ml of water and some ice. The shake came out super smooth and pretty thick, but had a very different smell, almost like a green smoothie.
As for the taste, it was not what I expected, but tasty nonetheless. Not hardly sweet at all, with a more dark chocolate taste. Even the chocolate taste wasn't too bold, it was kind of an undertone. It did have a slight sour aftertaste. Not a bad one, but one like you'd have after eating an unripe banana, or plain oats….both major ingredients in the shake.
Overall, I liked it. It was easy to drink and before I knew it, I had polished off the entire glass, and was decently full. Also, it was just as good shaken, as it was blended.
Vegan Chocolate
On to Vegan Chocolate. This one smells similar to the other Chocolate, but with a more pronounced earthy/organic scent to it. Same deal as before, using ice and the blender. While they both shake well, this is ideal IMO. 
The taste of this one isn't bad, but definitely a step back. I think this is due to the plant protein sources combined with the oats and green bananas. They just don't all play nice. Also, the texture is very gritty.
Summary
In summary, both are palatable, but there is a clear winner between the two. I was full for two and a half hours, give or take, with each shake. While short of the lofty "up to four hours" I still found this impressive. So clearly, it's not the best-tasting shake in the market, but it's OK.
Lastly, they weren't kidding with all this fiber. I felt the effects within an hour. I'll spare everyone the details, but let's just say, it's as advertised.
*UPDATE*
Adding this post review. It's recommended that to start off, you should only use one scoop of Muniq, until your body is used to that level of fiber, then move up to two scoops.
Sage advice that I wish I had beforehand. Moral of the story… READ INSTRUCTIONS.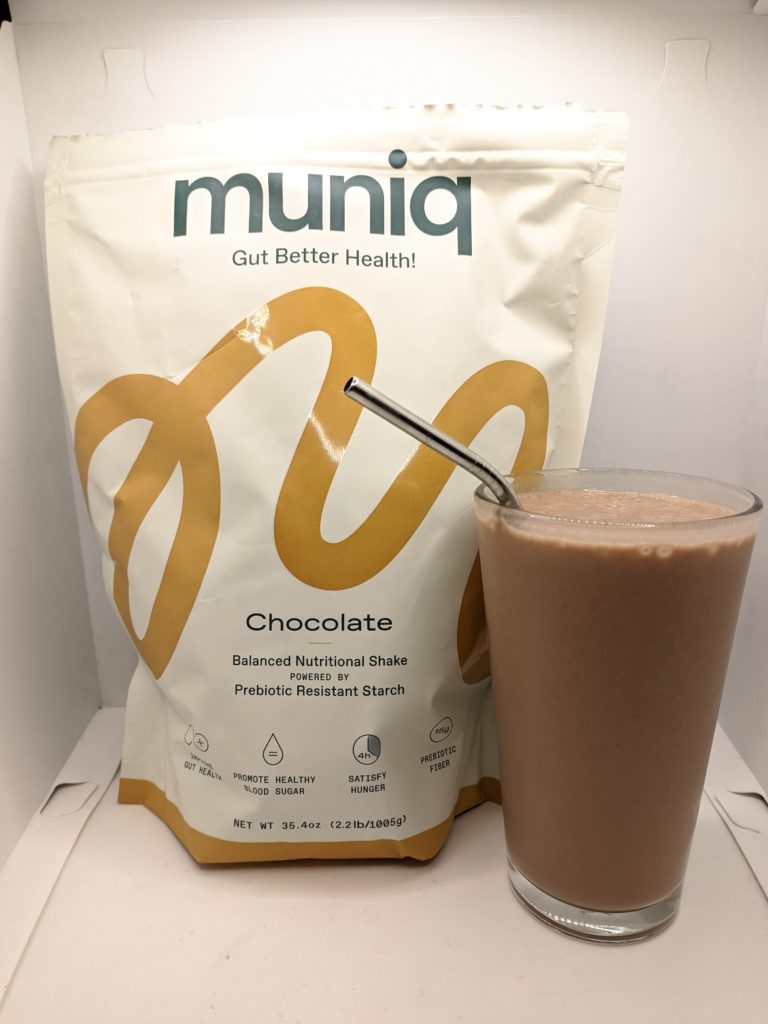 More about Muniq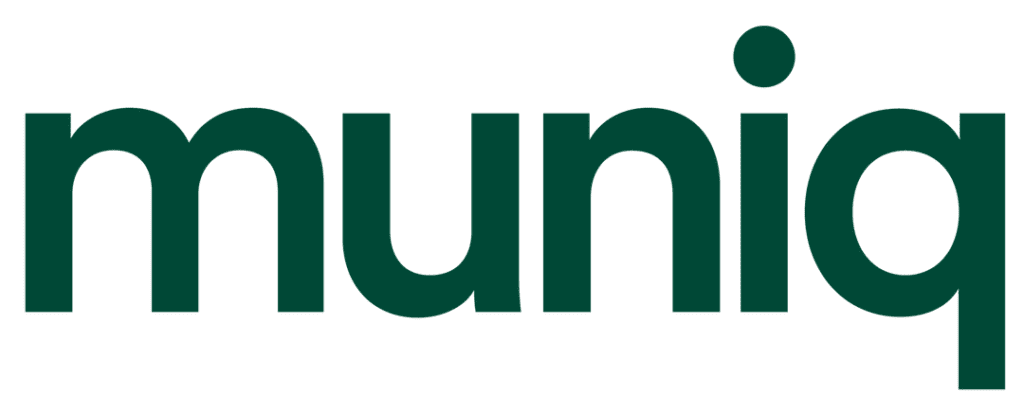 The Muniq Story
Marc Washington, a Princeton & Harvard graduate, is an industry veteran who has held several executive positions in the health and wellness industry since the early 2000s. His career started at the Wonderful Company, a multibillion-dollar enterprise that owns multiple brands, including Fiji Water and POM Wonderful. After nine years there, Washington served as president and chief operating officer of Beachbody, a nutrition and fitness company (maker of Shakeology); and he served as CEO of Irwin Naturals, a supplements maker and leading producer of soft-gel herbal formulas sold in over 90,000 retail outlets.
Here is Marc's story, in his own words:
As a founder of a black-owned health and wellness business, he also felt an obligation to help reduce health disparities in black and other minority communities with his products (health, but not wealth…).
Muniq is Now Supergut
In 2022, Muniq decided to rebrand to Supergut. A name that arguably fits better with their purpose.
The aim keeps being the same, focusing on your gut health and microbiome to ensure your best health.
Their star product is now Supergut the Gut Balancing Shake, which is the same one as covered in this review under the name of Muniq.
SuperGut Review – Same as Muniq Shakes
So truly, there's not much more than a new packaging when doing the Supergut shakes review.
They added the strawberry and mocha flavor, which we have not tried. They sound promising, though.
Besides that, Supergut shakes will offer you the same package of 15g of protein, no sugar, 20g of fiber, a full scope of all vitamins and minerals.
All in all, Supergut meal replacement shakes are a great product, but the price is still on the high end.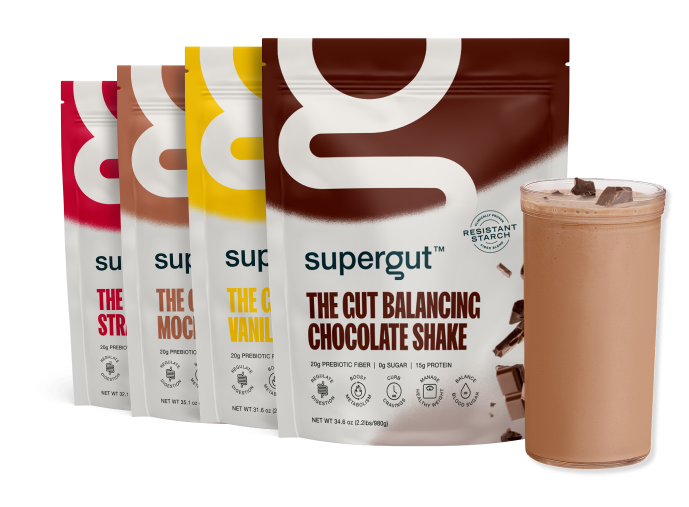 Packaging, Pricing & Shipping
Muniq can be purchased as 36oz (1.02kg) bags which contain 14 servings. Or if grab and go is your thing, they all offer single serving packets, which are sold 12 packs per order.
Pricing
Here lies one of the biggest issues with Muniq shakes.
They are some of the most expensive shakes on the market. At $5.36/170kcal meal, a Muniq meal is 5 times more expensive than some of the best meal shakes out there!
Muniq pricing structure is a bit different from other products. Subscription discounts are either 20% or 33%, and intervals are every 2 weeks, 4 weeks or 6 weeks. The 20% applies to single subscription orders, whereas you can get a 33% discount for subscription orders of two or more.
Bag With Scoop (14 Servings)
Quantity
Sub.
Discount
Per Serving $
(Non-sub/Sub)
Total
(Non-sub/Sub)
1 Bag
20%
$5.36/$4.21
$75/$59
2+ Bags
33%
$4.50/$3.54
$150/$99
Prices are in USD
On The Go Packs (Single Serving)
Quantity
Sub.
Discount
Per Serving $
(Non-sub/Sub)
Total
(Non-sub/Sub)
12 Packs
20%
$6.25/$4.91
$75/$59
24+ Packs
33%
$5.25/$4.13
$126/$99
Prices are in USD
It's Muniq Worth the Price?
Having reviewed multiple premium, natural meal replacement shakes; I must say that Muniq is not my favourite in this category.
Usually, those shakes that are more expensive offer a more complete meal and they taste better than Muniq does. The perks that Muniq shakes offer are not that unique; and in fact, it's shameful that it's lacking some key nutrients (omega-3).
I would personally look into HLTH, Ka'chava, or LYFEfuel Daily Essentials, instead.
Shipping
Muniq is only available via the product's homepage. Shipping is always free, and only shipped within the continental US. This excludes military addresses.
In our experience, the shipping was incredibly fast and smooth. No complaints.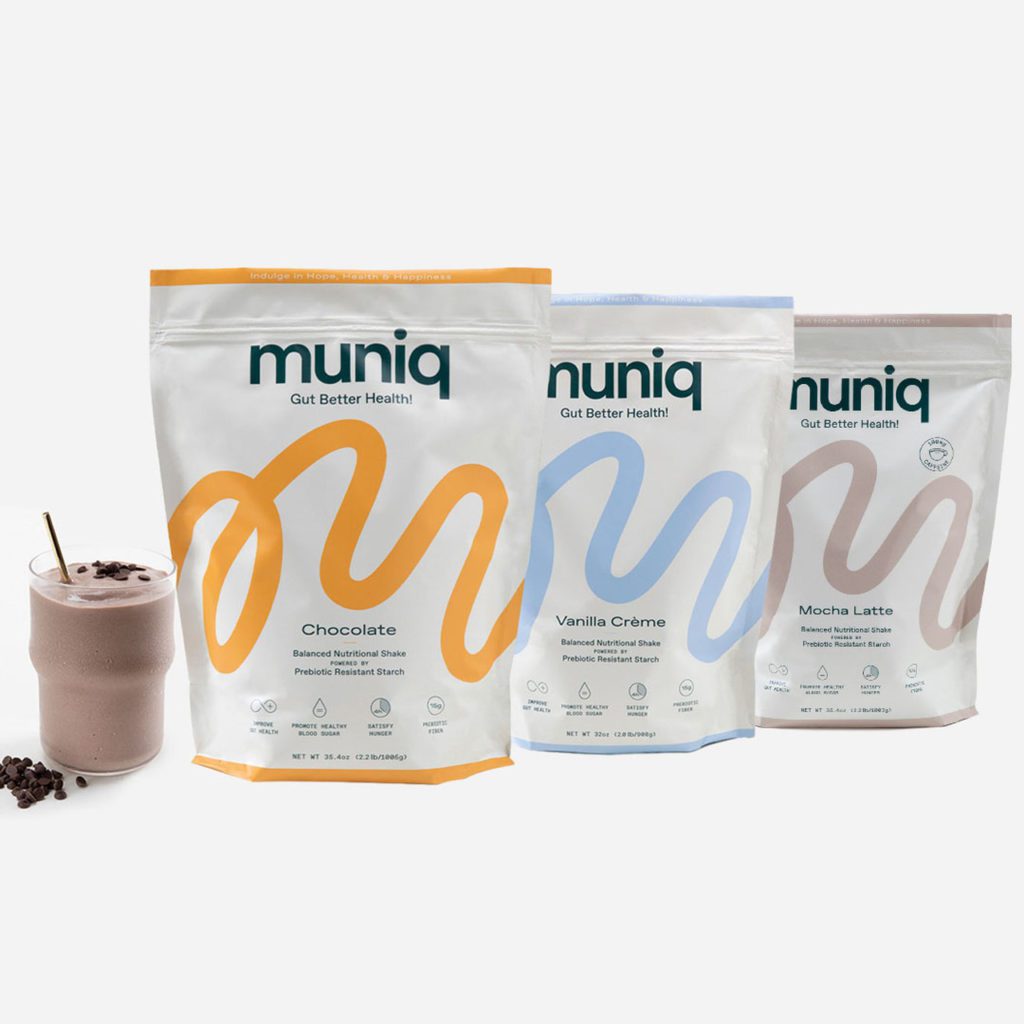 Real User Muniq Reviews
So what do other customers think about Muniq? Do they agree with our Muniq shake review?
Unfortunately, there are no Amazon Muniq shake reviews, since the product is only available on their website.
Therefore, we will have to trust the Muniq reviews there.
Currently, Supergut reviews are 4.6-stars from 600 user reviews.
However, people highlight the fact that it seems to be working for them, as well as how effective Supergut shakes are at keeping them from snacking.
Love them. I average taking them 6-7 days a week and usually in the evening. Results that I've seen are lower A1C, 6.3. Four months ago it was 6.2.

Doctor noted I'm doing well at controlling my diabetes. My fasting blood sugar has a range of 90 to 135. The higher reading is likely due to the carbs I'm eating. To offer a comparison, when initially diagnosed (3 yrs ago) with T2D my A1C was over 10 and FSB had a wide range of 145 – 285. The shakes were introduced slowly 1-2 a week. As I continued changing my diet and drinking the shakes I released 65 lbs and have better control of the diabetes. One of the biggest changes was drinking 6-7 shakes per week. Having the daily check-ins has helped with my consistency. I still have more weight to lose and am happy with having a better foundation in my eating plan for better health. Thank you!

Verified buyer
It is easy to adapt to my daily routine. Good flavor and taste. Makes it easy to add fiber and nutrients to my daily routine. Even have fewer cravings through out the day.
As far as the negative Supergut user reviews, they are mostly focused on the subscription model and the issues with delivery times.
[…]The subscription service doesn't work— it sends me too much and seems to ignore the last shipment and my desired frequency (I get notifications that I'm getting a new shipment every ~2 weeks instead of the 6-week cadence I have selected in my account). At least I can pause.I really enjoy supergut.
Some Supergut reviews also remark that it's a little too sweet for them.
The amount of the artificial sweetener impairs the taste. Every flavor is too sweet, to my palate, and I find the aftertaste objectionable. Would it be cost-prohibitive to switch to monk fruit, and to lessen the amount of sweetener?

Pamela B Hughes
Muniq vs. Kachava vs. TUSOL
In this comparison, I wanted to compare Muniq to other products that occupy a similar segment, the wellness space. There aren't too many that are firmly in that space in the US, but Ka'chava and TUSOL seemed to fit the bill and we have full reviews of each on LatestFuels. Before the head to head, a brief synopsis of each:
Ka'chava is a meal replacement formulated to provide the absolute best nutrition possible, using all natural ingredients and is a plant based complete meal.
Our other competitor is TUSOL,  which offers individually formulated smoothie mixes designed as functional blends with specific purposes, such as energy, focus, immunity & gut health.
Let's how Muniq measures up to its contemporaries.
Head to Head
Category
Muniq
Ka'chava
TUSOL
serving price
$6.25 (USD)
$4.66 (USD)
$6.45 (USD)
serving size
350ml
350ml
350ml
kcal/serving
180
240
150-200
Packaging
Bags/Packets
Bags
Packets
Protein (g)
15
25
20
Sugar (g)
0
6
4
Fiber (g)
15
9
4-8
Fats (g)
6
7
13
Net Carbs (g)
7
16
8-13
Vegan
Y
Y
Y
Organic
N
N
Y
Micronutrients
26
26
4
Artificial Sweeteners
N
N
N
Synthetic Additives
N
N
N
GMO
N
N
N
Protein Source
Dairy or Pea/Pumpkin/Rice
Pea/Rice
Pea/
Pumpkin
Prices shown are the most expensive options
The first thing that jumps out is that you will have to dig deep in your wallet for all of them.
TUSOL is the most expensive, has the highest total fat and only offers packets. They fall short on micronutrients too, but in their defense, the product relies more on its choice of exotic ingredients, and is not marketed as a meal replacement. They also are the only organic option, and based on how their shakes are designed, allows you to tailor your experience to pinpoint what benefits mean the most to you.
Ka' chava is the least expensive, and carb heavy compared to the others. They only sell multi-serving bags, which is not as on-the-go friendly as single serve packets. They make up for this with highest offered protein and calories.
Muniq is the most versatile of the bunch. You have options of which protein you prefer, as well as the choice between multi-serving bags and single serve packets. Matching Ka'chava in micronutrients, Muniq boasts zero sugar, and tons of fiber which allows it stand apart from the crowd.
What Would Latestfuels Recommend?
From the previous 3, Ka'chava is the best out of the bunch, by far. For once, it has the most nutritionally rich shake; with all the essential nutrients, plus a superb blend of greens and phytonutrients to boost you performance.
Furthermore, it was our favourite when it comes to taste, and surprised us a lot in this regard. On the contrary, Muniq shakes fall short, and the vegan one has an off-putting chalky texture.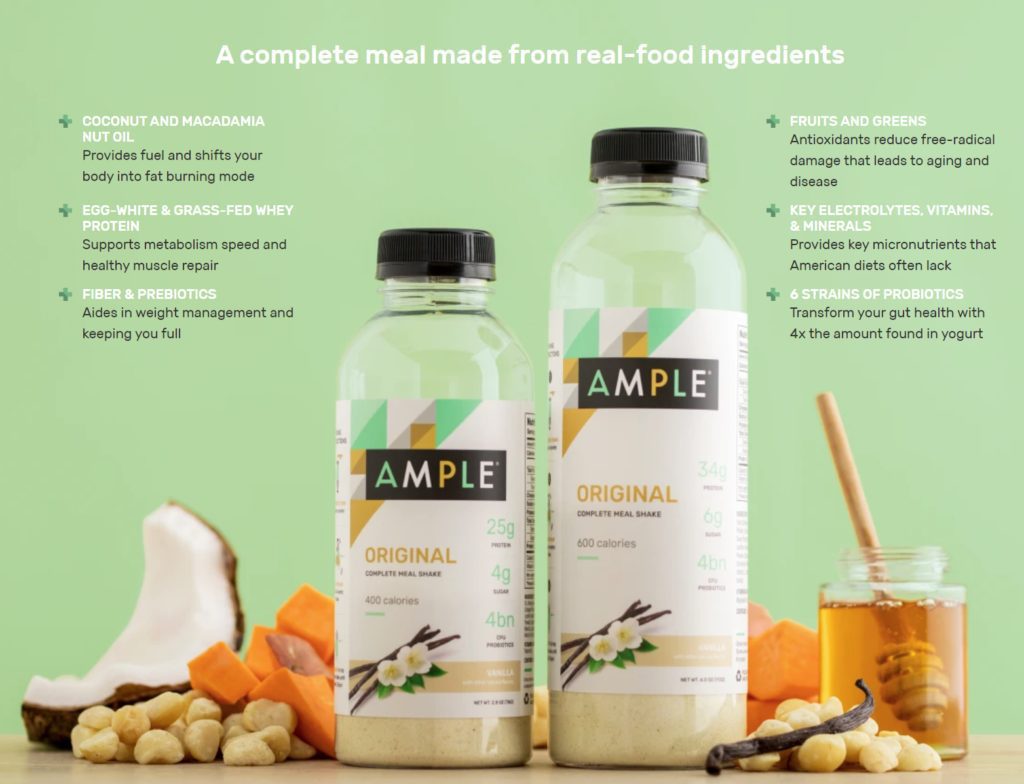 Besides Ka'chava, I think that Ample is a very good alternative to Muniq. It's also packed with fiber and prebiotics; probiotics to help your gut microbiome and natural ingredients only (no synthetic additives). In fact, it's gut health and easy digestion is also their primary focus. Their shakes are also much tastier, albeit sweeter.
Muniq FAQ
What is the Gut Microbiome?
Think of your gut microbiome as the control panel for the major systems in the body, including the digestive system. This control panel sends orders to your digestive system so it can do its job as best as possible, breaking down carbohydrates, fat, and protein. Proper digestion allows your body to absorb those nutrients, use them for energy, and build and repair cells.


What are the clinical studies behind Resistant Starch?
It's been well studied and researched for decades, and there are more than 200 clinical studies showcasing its beneficial effects. These studies draw pretty incredible conclusions for improving weight, blood sugar, heart health, digestive health, balancing the gut and more.


What's the difference between good gut bacteria, and bad gut bacteria?
The good bacteria is responsible for keeping us healthy by helping to improve blood sugar levels, digestion, metabolism, relaxation and sleep, blood pressure, and even our mood! Meanwhile, if the bad bacteria grows too fast, they can disrupt the balance of the entire ecosystem creating all sorts of problems including blood sugar imbalances, inflammation, and mental health and digestive issues


Is Muniq made from organic ingredients?
All ingredients are always 100% natural, non-GMO, and our supply chain is fully transparent. Because of the limited or lack of availability of organic sources of specific prebiotic fiber and other ingredients, Muniq ingredients are not certified organ


How much caffeinie is in Muniq?
Only present in the Mocha Latte flavor, there is 100mg per serving.


Where did the name Muniq come from?
Muniq was inspired by our founder Marc's sister, Monica. She was colorful and unique, so by combining her name "Monica" with the word "unique", you have Muniq.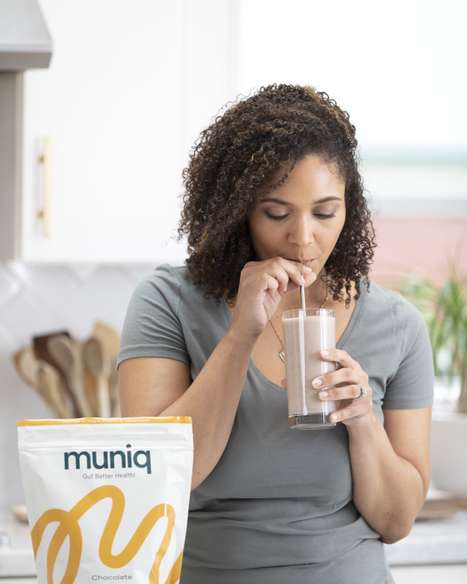 Verdict – Muniq Review
---
Editor's Note: From a numbers point of view; Muniq shakes are not great. They are super expensive (the most), they lack omega-3 (essential nutrient), and only offer 2 flavours (one of which isn't amazing). Therefore, I think that there are better alternatives out there (as discussed above).
However, our reviewer Johnny, despite all these factors, felt extremely positive about Muniq.
---
Despite some of the negatives pointed out in this Muniq review, I really like Muniq. Mainly because I feel that it has struck a good balance of being a purpose focused wellness product, and a complete food product for someone that values grab and go.
Generally, it tastes good, mixed well, and I could immediately feel the intended effect in my stomach.
Launching in 2019, it's definitely the new kid on the block, so in time, I'd like to see it grow in the following ways. 
Explore expanding into retail
Begin to ship internationally (Challenging at moment, I know)
As sales expand, try to be more competitive with pricing.
They've surely rolled all costs into the price, including shipping. I believe that's what makes it pricey, so hopefully that changes as the business continues to grow.
Also, the vegan options need some improvements. Something may need to be added to better balance out the flavors, and the texture needs work, it's gritty and may be off putting to some.
But personally, I've also lost loved ones to complications due to diabetes, and a cousin of mine wrestles with it today, so I really appreciate having a product that speaks to those health struggles, as well as the disparities that affect outcomes within our community. 
All in all, do I recommend Muniq? Yes, yes I do; but I also understand that there are more affordable options for most people that will be as good.
Muniq Shakes Revie
From $6.25/180kcal
Pros
Natural, low in allergens and friendly to your stomach
Fast shipping
Nice chocolate flavour (whey)
I felt healthy and energized after drinking
Cons
It's too expensive
The vegan powder is a little chalky
Not the best vanilla
Nutritionally incomplete; no omega 3