Bulk Powders Complete Greens Review | The Most Affordable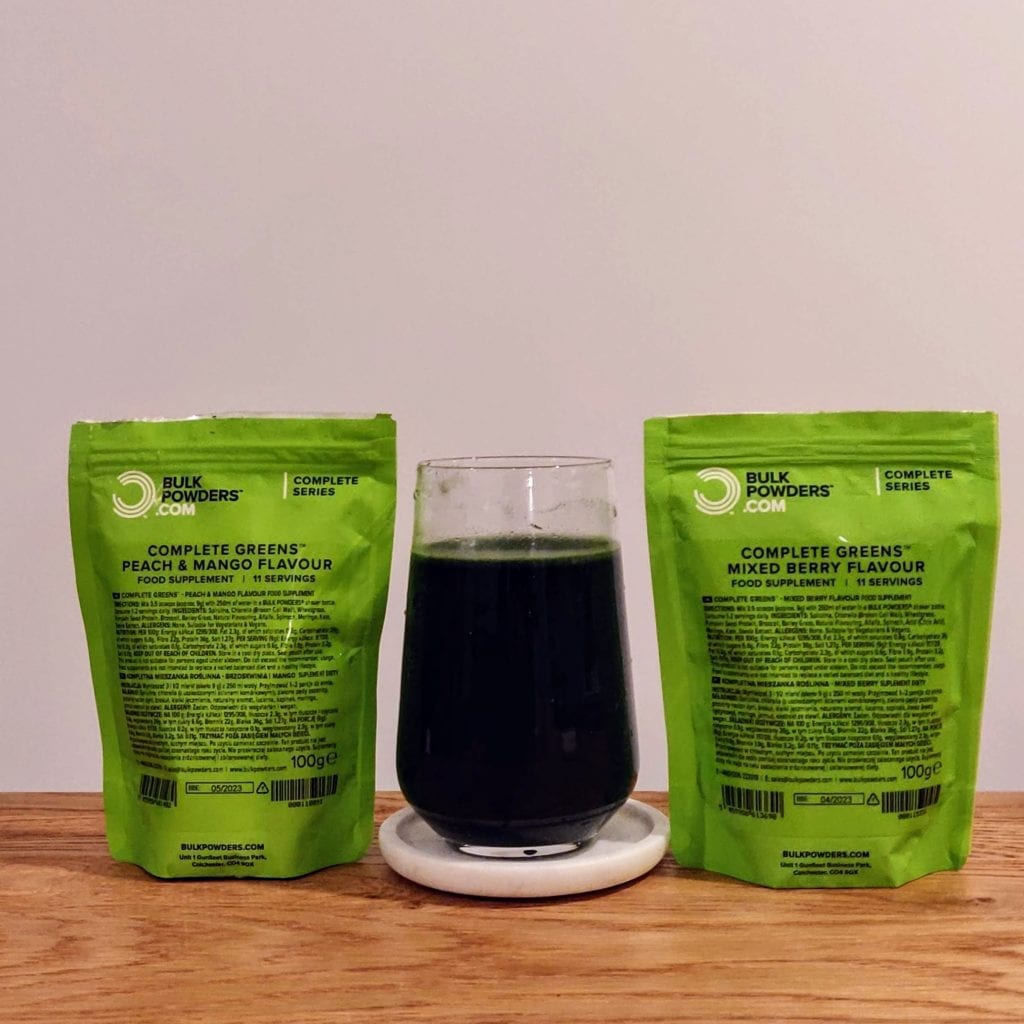 Bulk Powders is the UK's fastest growing nutritional company. In this Complete Greens review, I will have an in-depth look to their superfood powders. In fact, Complete Greens is one of their oldest products, a staple since 2012 and a customer favourite. It has evolved a lot throughout the years, and recently they have reduce the amount of greens from 25 to only 10. In contrast with many of the other best green powders, Bulk believes that less is more. Let's find out in this Complete Greens review.
---
Complete Greens Review at a Glance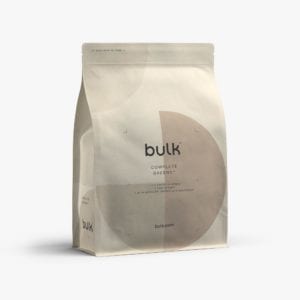 Flavours: Apple & Lime, Mixed Berry, Peach & Mango, and Unflavoured.
---
Nutrition
| | Complete Greens |
| --- | --- |
| Kcal/serving | 28 |
| Sugars (g) | 0.7 |
| Protein (g) | 3.7 |
| Fibre (g) | 2.3 |
| Vegan | Y |
| Organic | N |
| # of Greens | 10 |
| Adaptogens | N |
| Probiotics | N |
| Digestive Enzymes | N |
| Sweetener | Stevia Extract |
| Unwanted Ingredients | None |
Often, green powders tend to pack countless vegetables, mushrooms and other greens in order to provide you with the widest array of phytonutrients. However, the effectiveness of such small dosages can be negligible. In turn, that's what Bulk Powders believes, since they offer one of the most simple green powders with only 10 ingredients (not counting flavouring and sweeteners).
Ingredients
Core Greens Blend
Complete Greens is composed of 10 main greens: spirulina, chlorella (broken cell wall), broccoli, wheatgrass, pumpkin protein, barley grass, alfalfa, spinach, moringa and kale.
Most of these greens are commonly present in all Complete Greens alternatives. Spinach, for instance, is a very well-known superfood loaded with nutrients (such as, insoluble fibre, iron) and antioxidants. These among other things might reduce the risk of prostate cancer (also broccoli).
However, there is an odd addition to this mix: pumpkin protein. As a protein source, Complete Greens has a negligible amount of protein (only 3g). Thus, it seems slightly out of place.
Adaptogens
Interestingly, Complete Greens has no adaptogens.
Enzymes/Probiotics
There are no digestive enzymes or probiotics in Complete Greens.
Sweeteners
The flavoured versions contain stevia extract. Arguably, this is "greener" than sucralose or other artificial sweeteners.
Other Interesting Ingredients
None.
All Ingredients
Spirulina, Chlorella (Broken Cell Wall), Broccoli, Wheatgrass, Pumpkin Protein, Barley Grass, Alfalfa, Spinach, Moringa, Kale.
Spirulina, Chlorella (Broken Cell Wall), Broccoli, Wheatgrass, Pumpkin Protein, Barley Grass, Natural Flavouring, Acid (Citric Acid) Alfalfa, Spinach, Moringa, Kale, Stevia Extract.
Taste
| | Complete Greens |
| --- | --- |
| Best Tasting Flavour | Mixed Berry |
| Taste | 4.7/5 |
| Texture | 4.4/5 |
| Easy to Mix | Yes |
| Goes Well With | Water, Smoothies |
When it comes to Complete Green's taste there not much to complain. All versions mix very well, although, you might find some sediments in the end; and there don't from any major clumps (even when mixed with a spoon).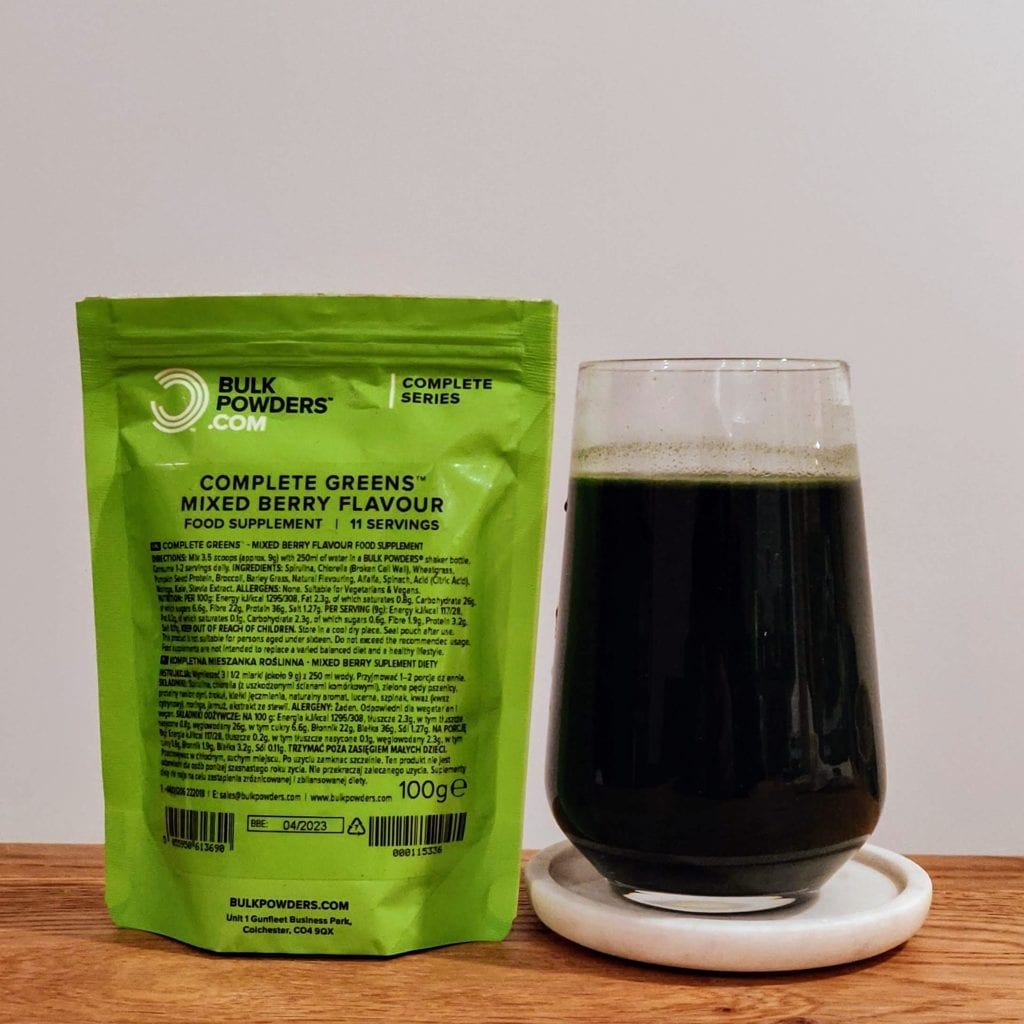 In regards to the flavoured versions, it must be said that they are certainly sweet. My favourite was Mixed Berry, but I the Apple & Lime was very nice, too. The latter was more punchy and acidic, which certainly goes well with green drinks.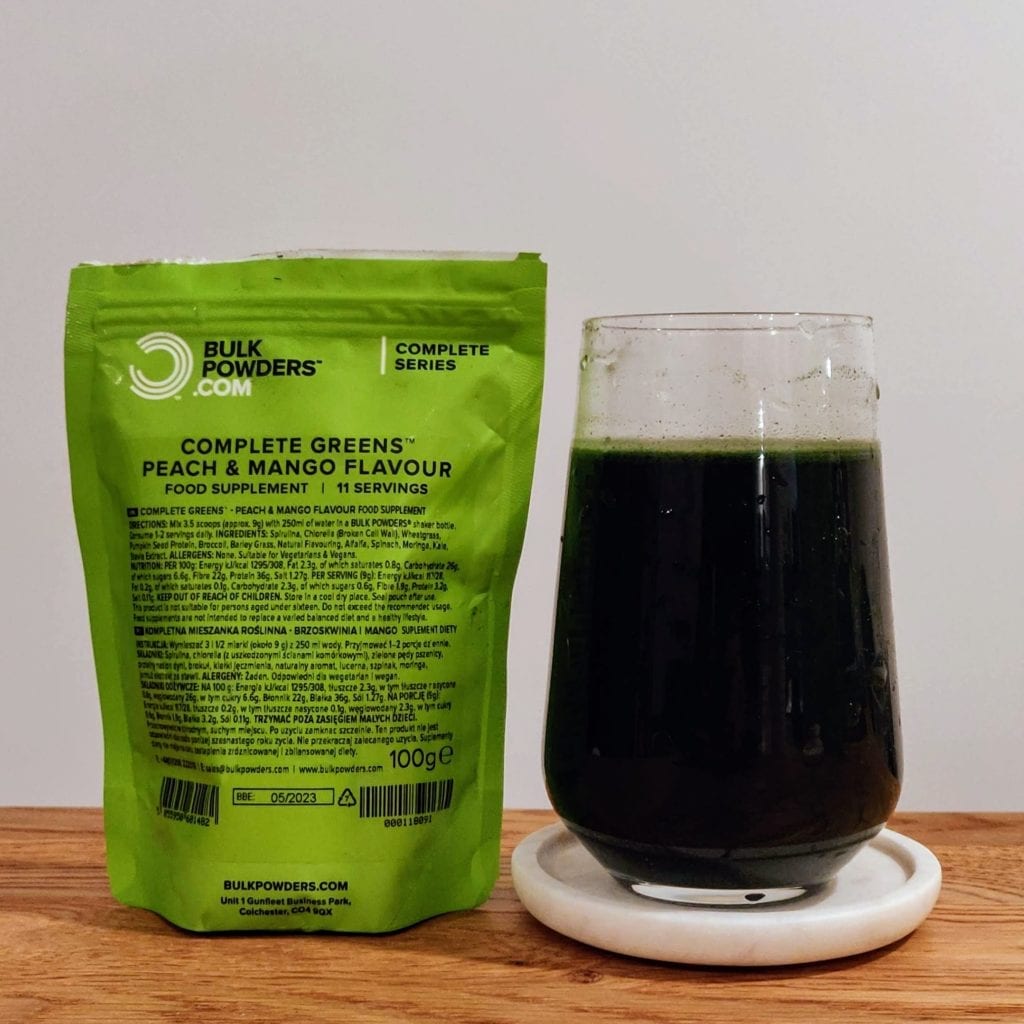 On the opposite hand, I thought that the Unflavoured version was not as tasty. In my opinion, the pumpkin protein gives it a strong seed (pumpkin seed) taste that doesn't blend very well with the rest. Unfortunately, there are better unflavoured options out there.
Price & Shipping
Besides the taste, the pricing of the green powders is usually one of the most important factors. In that regards, Bulk Powders has always been a very affordable option.
Nonetheless, the exact price per serving will depend on the size of the bag you opt for:
100g bag (11 servings): £0.82/serving – £8.99/bag
500g bag (55 servings): £0.58/serving – £31.99/bag
1kg bag (110 servings: £0.58/serving – £54.99/bag
Pro-tip: There are usually good discounts on their site, above 40% most of the time. Search for Bulk Powder deals before buying!
As far as shipping is concerned, Bulk Powders only ships to Europe and the UK. In the UK, you can get next day delivery if you order before 9pm!
Goes Well With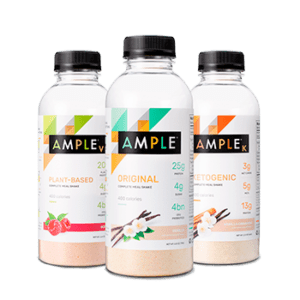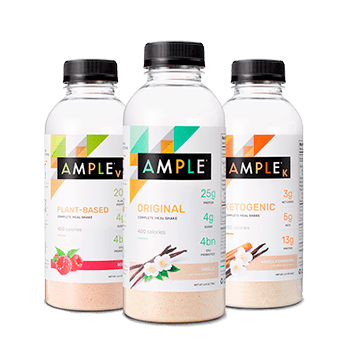 Best Meal Replacements
Balanced and nutritious meals that provide you all your body needs.
Good to boost your protein intake while keeping calories in check.
Great source of omega-3, protein, vitamins and minerals.
Check all my favourite brands!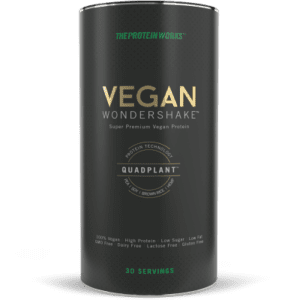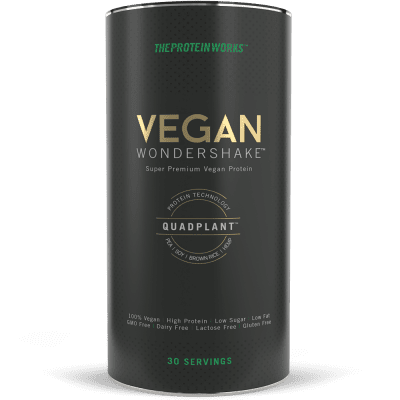 Wondershake Vegan Protein
Superb vegan protein.
Best suited to increase your protein intake.
High quality plant-based quad-blend: pea, rice, hemp, and soy protein.
Absolutely delicious.
FAQ
How should I drink Complete Greens?
You can drink them with water, milk, juice or by adding to your morning smoothie.


Is Complete Greens vegan?
Yes, it is fully vegan.


Is it safe to consume Complete Greens?
Yes, Complete Greens is safe to consume for most people. It contains no major allergens, it's gluten free, soy free, dairy free and non-GMO.


What are the benefits of consuming Complete Greens?
While individual benefits might vary, regular consumption of greens will boost your nutrients and phytonutrient intake. These can have positive effects, such as, reduce oxidative stress, improve recovery, or help the immune system.


Pros/Cons
Pros
Extremely affordable, specially the bigger bags
Flavoured versions are truly enjoyable
No artificial sweeteners; only greens
Free of unwanted ingredients
High in fibre
Cons
Unflavoured is not very tasty
Only available in the UK and in EU
Just 10 greens, would like to see more
No digestive enzymes, probiotics or adaptogens
Verdict
When taken everything learnt in this Complete Greens review into consideration, I must say that I end up with mix feelings. Despite the fact that Complete Greens are affordable and have good taste; I feel that it could benefit from having more greens.
In fact, even if I believe that simple is often best (even in green powders), the addition of bilberry, beet root or grapeseeed – to mention a few- would be welcome.
Furthermore, I believe that much of this powder is taken by pumpkin protein, instead of more beneficial vegetables or mushrooms (more nutritious).
Nonetheless, if you are in a budget, or just looking for a simple greens powder; Complete Greens will suit you perfectly. Make sure to avoid Unflavoured, though.
Complete Greens
From £0.58/serving
Pros
One of the most affordable greens
Flavoured versions are very tasty
No artificial sweeteners, only stevia
Bulk discounts
Cons
Would like to see more greens
No exact values on each ingredient
Not available in the US
Lacks probiotics and digestive enzymes