After the recent rebrand of the popular US meal replacement brand SuperBodyFuel, we were able to interview the founder, Alex Cho Snyder (Axcho on Reddit).
It is not often that we are able to look behind the curtain and learn about what it takes to create a successful meal replacement shake brand.
In this case, we were able to pick the brains of one of the most transparent and down to Earth founders, Alex. Alex has always prioritized open communication, community building, and transparency.
This brought a lot of success to SuperBodyFuel, and hopefully, it will carry on to the new brand Basically Food.
Introduction to SuperBodyFuel and Alex
Alex founded SuperBodyFuel back in 2014 in San Francisco, and from the start, it was a fan favourite.
The recipe was simple: clear and direct communication with the customer, and unbeatable prices. In particular, Milk Fuel (now rebranded as BOOST) was the cheapest meal replacement shake available in the US since its inception.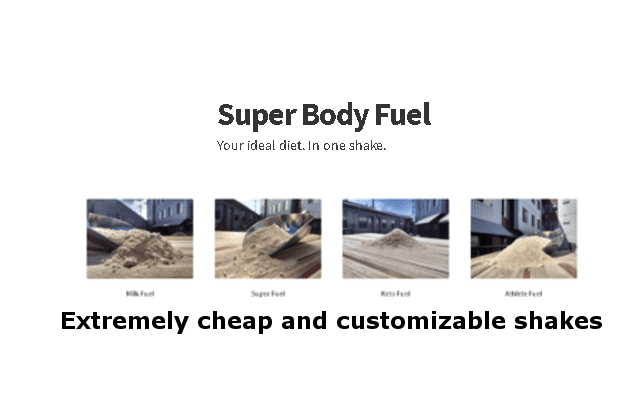 On top of that, SuperBodyFuel offered quality and customizable meals, which allowed users to prep the shakes as they needed. Gluten-free, low carb, high in protein… whatever suited your needs best.
Besides, Alex always provided a clear reason for all the updates done in the formulas, as well as openly asked SuperBodyFuel customers for feedback. Not only he asked for feedback, but also listened and act upon it.
Now, SuperBodyFuel has rebranded to Basically Food. As you can see in our Basically Food review, it's basically the same.
With new fancy tubs and logo, but the core remains.
Interview with Alex
That said, we got a chance to pick the brain Alex. He was gracious enough to answer some questions for us.
We know from your blog posts that you aren't afraid to tinker. Have there been any changes made to the SBF formulas as they become Basically Food?
Because we printed the Basically Food labels back in 2021, this first production run is the same as the SBF formulas from that year, right before we started adding glycine. Because we're making the first run of Basically Food plain flavors ourselves, that will be an updated formula, with glycine, and with the newer vitamin mix, but rolling back the glucomannan experiment and using our time-tested xanthan gum instead, as we've had complaints about separation and thickness with glucomannan.

Future production runs will include glycine and the new vitamin mix as well. If our customers don't object, I'm also interested in adding a small amount of the amino acid taurine to the mix, as it is considered conditionally essential, and can provide benefits to sleep and energy. I've been supplementing with it myself for many months. We'll also be looking into alternatives to the algal DHA ingredient we've been using, to see if we can find one that is more stable and resistant to oxidation, which is what can create a "fishy" smell at times.
Looks like you guys are taking the gradual approach to roll out. Are there any current products that won't make the cut once the transition is complete?
We started with our most popular flavors and products, like chocolate, vanilla, and cinnamon. We're starting to make a small run of plain, but we don't have plans to make original or pumpkin spice anytime soon. We'd like to bring back strawberry, but the lead time for freeze-dried strawberry powder is three months and we also don't have the money to have it manufactured yet. So, we'll see! :d Oh, and we're working on bringing some of our DIY ingredients over, like our vitamin mix and electrolytes and protein, though we probably won't bother with the MCT powder as hardly anyone ever orders it. Let us know if you want it though!
Can you share any details regarding changes to order processing, fulfillment or shipping if there are any as you make the transition?
Basically Food is being shipped out of a warehouse in Illinois in the middle of the US, instead of our Super Body Fuel facility in San Francisco, California. Because it's all made ahead of time, there's no waiting days or weeks for backorders to be produced, which I think everyone can be happy about! The new fulfillment center in Illinois mostly uses UPS instead of USPS, so PO boxes are no longer supported. And we're offering free shipping on all US orders! 🙂
Lastly, you are a legend when it comes to community engagement. How do you manage all these moving parts, yet still are able to reach out so frequently?
Honestly, I work too much and don't sleep enough. :p Though hopefully that will change once this rebrand transition is complete and I can try to find some balance again in my life. As far as community engagement through reddit, however, my secret is that I don't use social media *at all* except for hanging out on r/soylent and r/SaturatedFat, so it's kind of my daily dopamine hit that doubles as community outreach and self-education. I do genuinely enjoy helping and responding to people online. Emails are generally less fun and more "work" and I can sometimes go days without checking them when things get busy – my apologies to anyone who's had to wait around for my response. :d
We also asked about the product/site backstory, which is largely outlined here.
You can also read more about the rebrand in his own blog post.